Travel Notes & Beyond Wins Gold in the 2016 NATJA Awards Competition for Excellence in Travel Journalism
Last updated: May, 2018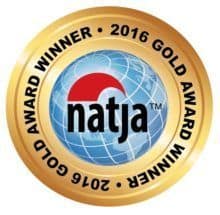 In 2016 Travel Notes & Beyond participated again in the NATJA Awards Competition for Excellence in Travel Journalism and won two gold prizes for the article "Dark Secrets of the Corner House" in two different categories: "Historical Travel" and "Illustrated Story." Travel Notes & Beyond was also a finalist in the "Personality and Profiles" category with the article "Money, Power, Immorality and the 'King' of Hearst Castle." This is a great honor for me. As a writer, you are never sure if people find what you write interesting, coherent or entertaining. And that's actually the reason why I write – to hopefully provide the readers with an article that they may find useful, interesting and sometimes humorous. These awards give me some confidence that I am accomplishing my purpose and motivates me to work harder on my next blog posts. For me the biggest reward is when I receive a comment from a random person saying: "I enjoyed reading this."
NATJA (North American Travel Journalists Association) is the second largest travel media association in North America, whose members include: travel media professionals, convention and visitors bureaus, social media and other travel marketing agencies. NATJA Annual Awards are open to travel media (writers, photographers, broadcast journalists, bloggers, app developers, travel websites), as well as online travel magazines, in-flight magazines, visitors bureaus and destination marketing organizations (CVBs/DMOs) from the United States, Canada, Mexico and internationally.
The competition which is now in its 25th year, honors the "best of the best" in travel journalism. Submissions are judged by seasoned journalists, editors, photographers and PR professionals with a lot of experience. Prizes are awarded as: Grand Prize: Overall outstanding accomplishment across the competition. Gold Prize: Awarded per category. Silver Prize: Awarded per category. Bronze Prize: Awarded per category.
The 2016 NATJA Awards for Excellence in Travel Journalism and Literature will be awarded this year at the NATJA conference in Chapel Hill, North Carolina, to be held in May, 2017. A very special thank you to the judges for selecting my posts and a big salute to all this year's winners and finalists. And of course, thank you to my family and friends for always supporting and encouraging me every step of the way.