La Recoleta Cemetery: the Final Rest of the Rich and Famous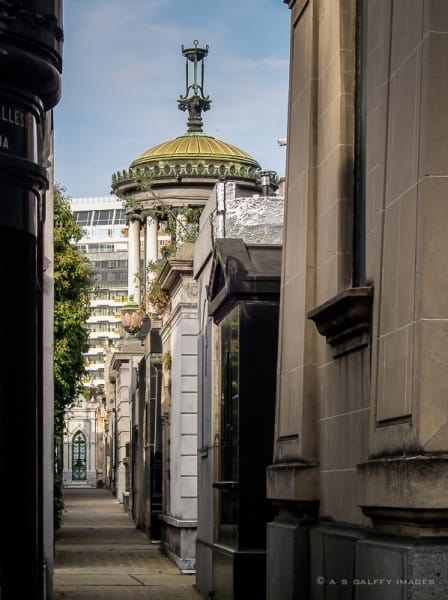 Last updated: February, 2018
If you are lucky to visit La Recoleta cemetery on a day when the tourists don't crowd its narrow alleys, you may get a sense of peace and sadness. Without the camera clicks and the visitors' giggles this places may look a little haunting, but nevertheless beautiful. Cemeteries always trigger emotions. They are a perpetual reminder of our transient existence. And yet I like rambling through them. I like visiting the graves of people I don't know, reading their epitaphs and wondering about their stories. But before you find that morbid, let me take you for a walk through the Recoleta cemetery, the final rest of the rich and famous.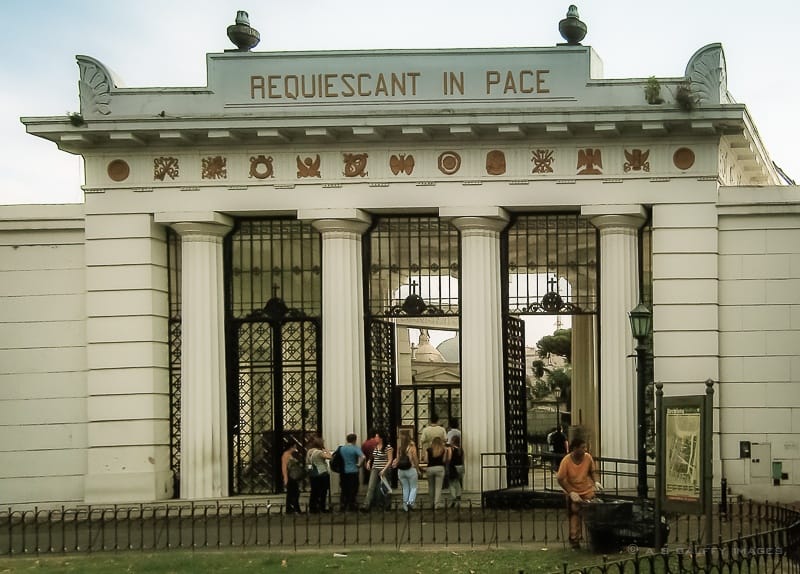 Cemeterio de la Recoleta sprawls over 14 acres of land in one of Buenos Aires's oldest and most upscale "barrios", Recoleta. It is rarely that a cemetery will make the must-see list of attractions, but the elegant and aristocratic Recoleta seems to be drawing a lot of interest. You may credit this to Eva Perón's tomb, but Evita is not the only one who brings fame to the cemetery. Many historic figures, national heroes, former presidents and famous personalities rest here in peace for eternity.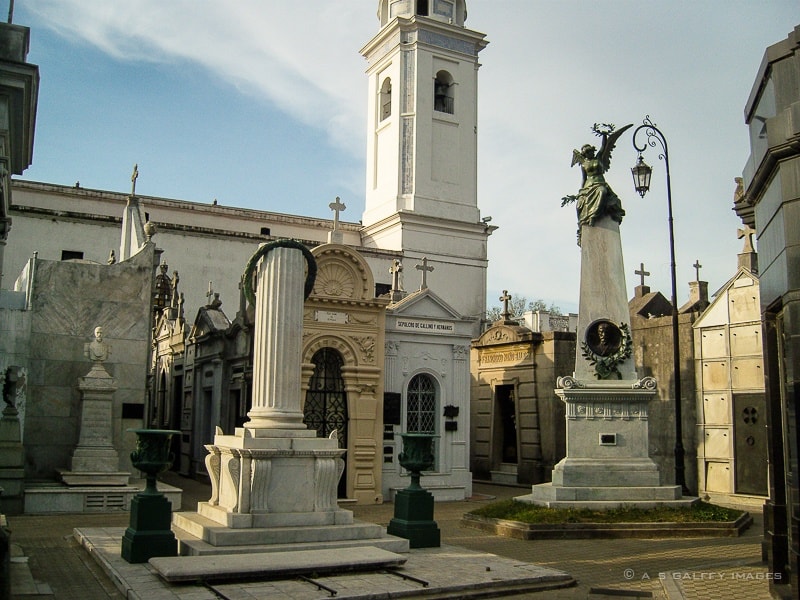 This place is captivating. I have never seen such an extraordinary graveyard before: a strange collection of monuments to the dead. From the moment you pass through its majestic iron gates you find yourself in the middle of a miniature city, where rows and rows of lavish vaults and mausoleums line up the little streets.
It seems like each family tried to outdo the other with grandeur and extravagance. Some mausoleums look like Gothic chapels, or Greek temples with domes and obelisks. Others stay guarded by life-size statues of nymphs, cherubs, babies, crying widows, generals, soldiers, and even boxers.
Most of the crypts we've seen are well preserved and in good shape. But we came across several ones that have fallen into complete disrepair and neglect. The dusty sarcophagi that lay abandoned and forgotten on the cold floor are a sad and chilling scene.
Like all those who visit the cemetery, we were curious to see Eva Duarte Perón's tomb. As you look at the big map at the entrance, the Duarte family mausoleum is on the left side of the cemetery, but it took us a while to find it. I guess we missed it in the first place because we were expecting something more impressive. Instead, we found just a simple family grave, very modest looking. No statues, no obelisks, no laurel wreaths, just an elaborately carved bronze door on which the Argentinians always hang fresh flowers.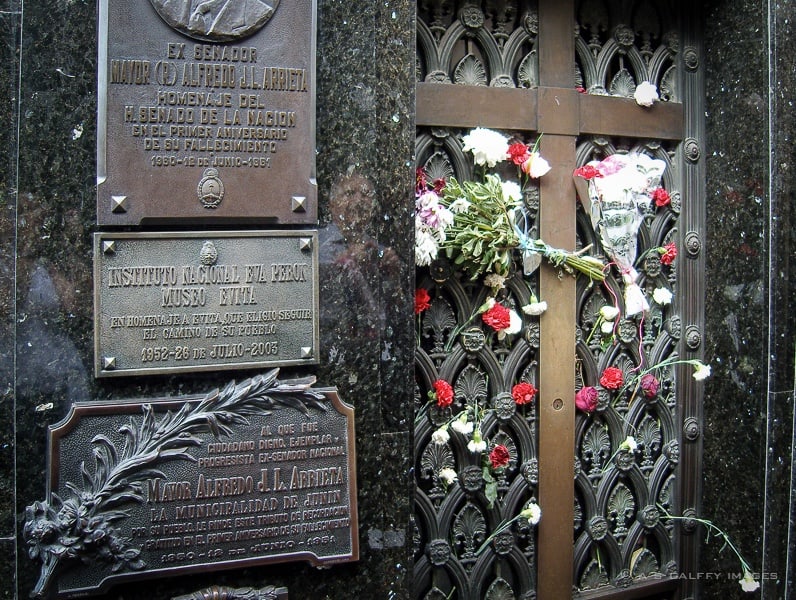 Evita's posthumous story is as tumultuous and her short life. Three years after her passing, her body was secretly removed from the crypt because of a coup that overthrew her husband, President Juan Perón. She spent many years being moved from one location to another by the Argentine military who feared that her grave may be turned into a shrine by her fans. Eventually Evita was shipped out of the country and buried in Milan under an assumed name. After almost 20 years, she was finally returned to the Duarte family mausoleum in Recoleta Cemetery. The most beloved and controversial First Lady of Argentina is now buried in a heavily fortified crypt where no one can disturb her remains.
There is another thing that I liked about the cemetery: a small colony of cats that wander all around the place and relax in the sunshine. They seem to be the watchful guardians of the lonely tombs, as a gesture of compassion for the abandoned spirits.