The Weekly Postcard: Hoover Dam on Colorado River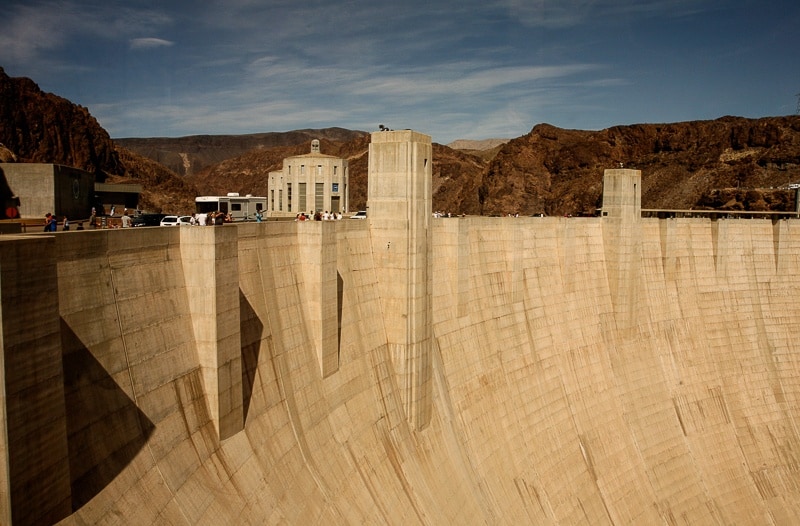 What do you know about Hoover Dam? If you've ever been to Las Vegas you most likely heard your hotel Concierge talking about the great day trip they offer to Hoover Dam. The Dam is located in the Black Canyon of the Colorado River, on the border of Arizona and Nevada.
Built in 1930s, during the Great Depression and initially called Boulder Dam, the gigantic concrete structure was intended to prevent flooding and also provide irrigation for the arid areas around. At the time of its construction the Dam was the tallest and the largest man-made structure in the world. The building of the dam created Lake Mead, one of the largest water reservoir in the USA.
Trivia:   Building Hoover Dam required more than 5 million barrels of concrete. The finished dam contains enough concrete (4.5 million cubic yards) to build a two-lane highway from Seattle, Washington to Miami, Florida.
The view from the top of the Dam is absolutely spectacular. You can walk across the viewing bridge to get a panoramic perspective of the dam along with the Intake Towers on Arizona and Nevada side. The water level is very low, which makes the Dam look even deeper and larger.
Like in most massive, early 20th century construction projects, lots of men died at Hoover Dam. A memorial was erected to honor the 96 men who lost their lives there. At the lower level there is an excellent museum featuring the history and the construction of the Dam. You can even see the inside of a turbine. The tour is guided by a well informed "Dam" tour guide. And the "Dam" jokes go on and on while you visit the "Dam" Dam.
Hoover Dam is a National Historic Landmark that draws about 7 million tourists a year.  So if you are ever in Las Vegas take the 30 miles drive to Hoover Dam. You'll be glad you did.