The Weekly Postcard: The Lone Cypress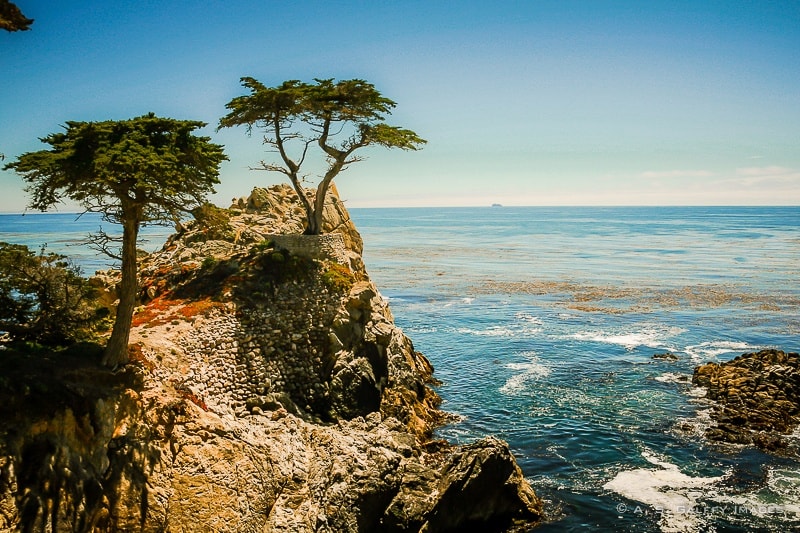 The Lone Cypress – You probably have seen this picture before. The 250-plus-year-old tree stands alone on its high granite pedestal. A symbol of resilience and persistence. A symbol of strength. Braced against the wind with steel cables, it keeps watch over the cold waters of the Pacific. This is not just any old tree. Located on the most scenic stretch of coast in Pebble Beach – the 17-Mile Drive – this tree is to the Monterey Peninsula what the Golden Gate is to San Francisco, or what the Eiffel Tower is to Paris.
As a species, the Monterey cypress grows naturally nowhere else on Earth but in this area. These trees can grow as high as 80 feet, but the Lone Cypress barely reaches 25 feet. Because it is growing on a rock, its roots can't develop too much which limits the growth of both its height and its canopy. Some years ago a group of vandals attempted to burn it down. They did plenty of damage but the tree survived.
On busy days in the summer traffic is backed up for miles on this two-lane road and since there are only a few parking spots available in front of the tree, you may not even be able to stop and take a photo. Keep in mind this is a tourist spot so it will have lots of people around it year-round, but it is truly majestic and worth stopping. We visit this area relatively often and the best time to avoid the crowds is in late fall, winter, or early spring. The weather may be cold, but sunny California weather will not disappoint you.