The Weekly Postcard: Stavropoleos Monastery in Bucharest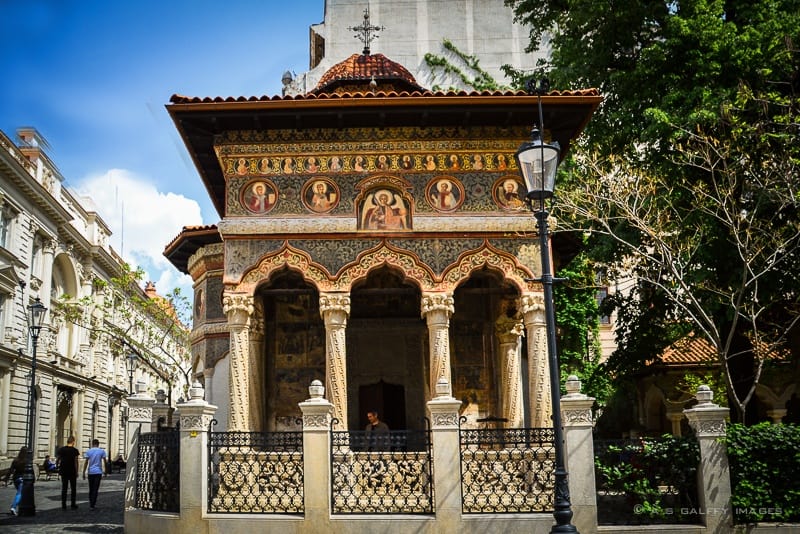 Last updated: July, 2019
Hidden between buildings in the Old City Center of Bucharest, behind the National History Museum on Calea Victoriei, the  historical Stavropoleos Monastery is an island of silence and spirituality. If you don't look for it you may very easily miss it.
The original monastery was erected in 1724, almost 300 years ago, but neglect and misfortune damaged most of the original structures –the dome came down in an earthquake. Much of what you see today are restorations done in the 20th century after the original designs. The name Stavropoleos comes from the Greek word 'Stauropolis' meaning "The City of the Cross". Although small, the Eastern Orthodox monastery for nuns is monumental and represents a specific space in the Byzantine architecture – the Brâncovenesc style. The patrons of the church –the saints to whom the church is dedicated– are the Archangels Michael and Gabriel.
 The church is famous for its beautiful stone and wood carvings. The chapel is very tiny and it only takes a few minutes to visit, but the art and architecture are incredibly beautiful. Every little detail is worth looking at. The interior is classically Orthodox with an interesting blend of Islamic elements. Portraits of the saints and the Archangels mix with delicate floral designs and pointed arches, so characteristic for the Islamic art. The complex houses an important theological library and a collection of 18th century icons and ecclesiastical objects. Adjacent to the church, there is a lovely peristyle court where you can relax and spend some peaceful moments escape away from the hustle and bustle of the city.
Stavropoleos Church is a functioning house of worship where you can experience very beautiful Byzantine music during the services. In fact they brag about having the largest collection of Byzantine music books in Romania and one of the best choirs in the world. The entrance is free and the church is open daily from 8:30 am to 6 p.m. Since this is a place of worship, church etiquette must be observed: dress decently, restrain from talking in the sanctuary, respect worshipers and do not use flash photography.
If you only have time to visit one church in Bucharest, it should be this one.The church is a must-see landmark of the city for anyone visiting Bucharest.