The Weekly Postcard: The Exploratorium in San Francisco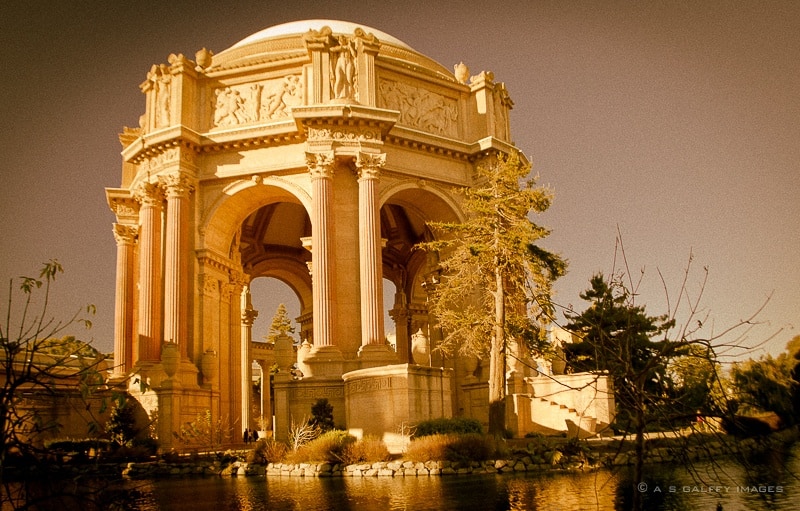 Today's postcard features the Exploratorium, San Francisco's legendary science museum in the Presidio.
The building was initially known as The Palace of Fine Arts and  was designed by architect Bernard R. Maybeck for the 1915 Panama-Pacific International Exposition. The city of San Francisco offered to host the Fair to honor the completion of the Panama Canal and also in celebration of its own resurrection after the devastating earthquake and fire of 1906.
After the closing of the Exposition the Palace of Fine Arts continued to house art exhibis for a while. But when the Depression came, the building started deteriorating and gradually turned into a genuine ruin. After many years of neglect when it was used as storage space for the Army, the structure became so shabbily that it was declared "unsafe for public use". The City tried to preserve it as it was – a designated ruin – but there were serious concerns that it won't last for too long.
In 1957 a serious and fully supported movement to save the Palace was started. With funds from the State of California, the City of San Francisco, art institutions as well as generous private donations the Palace of Fine Arts was up for reconstruction. But the building still didn't have a definite purpose.
In 1966 professor Frank Oppenheimer from the University of Colorado came up with the idea of creating a there a museum of science and technology, where people could learn explore the natural phenomena. The suggestion was widely embraced and in 1969, with a $50,000 grand from the San Francisco Foundation, the former Palace of the Arts became the Exploratorium. The idea behind the museum is that understanding and respecting nature, arts and sciences will eventually help humankind  solve many of the problems that it now faces.
The Exploratorium is a hands-on-experience kind of museum, with six main galleries, each one representing a different area of exploration. Visitors can see different objects being made or repaired in the carpentry, welding and electronics shops. The Exploratorium also hosts concerts, movies and special exhibitions.