I'm thrilled to start the 2016 interview series with Meg Jerrard, an Australian journalist and the Founder and Senior Editor of Mapping Megan – an award-winning adventure travel blog. She and her husband, Mike, are incredibly active travelers who embraced travel as a lifestyle in 2007 and are dedicated to documenting their journey through entertaining, candid articles and brilliant photography.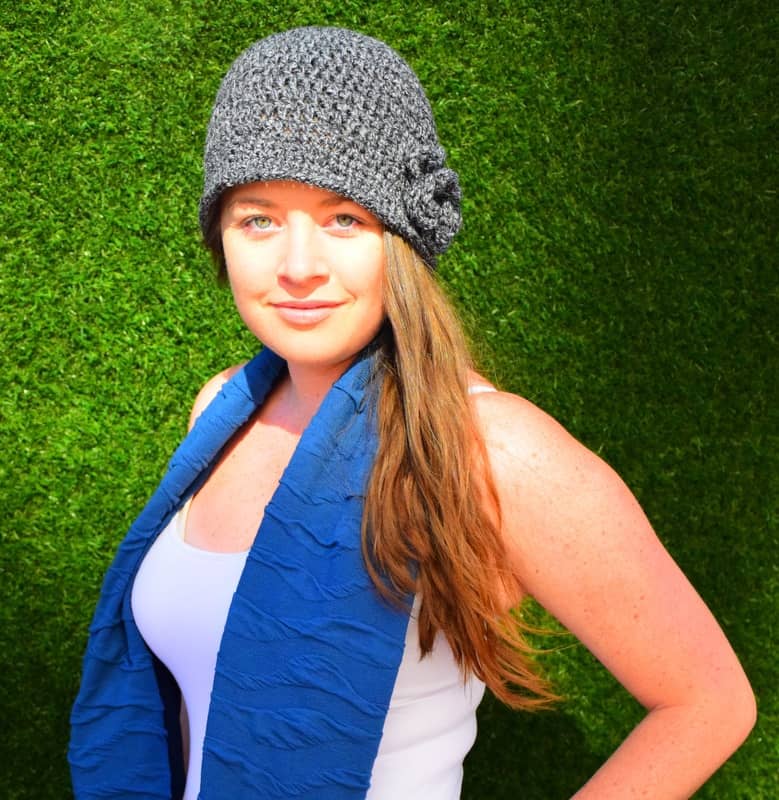 Tell us a little about yourself: Who are you? Where are you from?
I am a 27 year old travel addict from Australia, an outdoor adventure enthusiast and adrenalin junkie with an incurable disease called "the travel bug". My husband Mike (from America) is equally as afflicted, and after having met by chance after having climbed Mt Kilimanjaro in Africa, we kept meeting up around the world, finally married in a destination wedding in Hawaii in 2013, and have been traveling the world ever since!
With the main aim of inspiring others to embark on our own worldwide adventure, we believe travel has the potential to inspire change in people, and in turn inspire change in the world. From mountain biking the most dangerous road in the world (Bolivia), to skydiving over the Swiss Alps and summiting Mt Kilimanjaro, there is no mountain too high, and no fete too extreme! We haven't been everywhere, but it's on our list.
I have a degree in both journalism and law, though what it ultimately came down to was my passion for traveling and writing overtook my desire to sit in a corner office. I am now a professional travel blogger, my office ranging from villas in the Galapagos Islands, to beaches on the Great Barrier Reef, bungalows overlooking volcanoes in Costa Rica, and everywhere in-between!
What is your blog about and how did you start blogging?
Mapping Megan is a travel resource which brings you the best in adventure travel from all around the globe. We're on a mission to inspire people from around the world to get out there and travel, and we do this through inspiring stories, video, photography, travel tips and advice, all listed on our blog.
Aiming for something different, above the regular travel blog experience, the homepage of our blog is an interactive Google map where you can click on the country you want to learn more about and pull up blog posts based on location. You could spend hours on that thing zooming in and out and getting lost in some of the greatest destinations from around the world!
I've been blogging as long as I've been travelling, though when I began my journey abroad in 2007 the blog was a means for everyone back home to keep up with my adventures. It was in journal style and chronicled my day to day life while I was travelling overseas. As such some of the posts were a ridiculous 2,000 words long!
By the time I realized that people were blogging for a living and as a way to prolong their travels it was 2012, and the idea that I could take what I had been doing as a hobby for the last five years and monetize that into a career rocked my world. It was by chance that I was seated next to Gary Arndt (from "Everything Everywhere") on a flight home to Australia from the US, and after hearing that he blogged for a living, I figured why couldn't I do that too! I bought my own domain, set up social media accounts, started promoting my work and focused on turning my blog into a business. I now live a location independent lifestyle and can work remotely from anywhere in the world.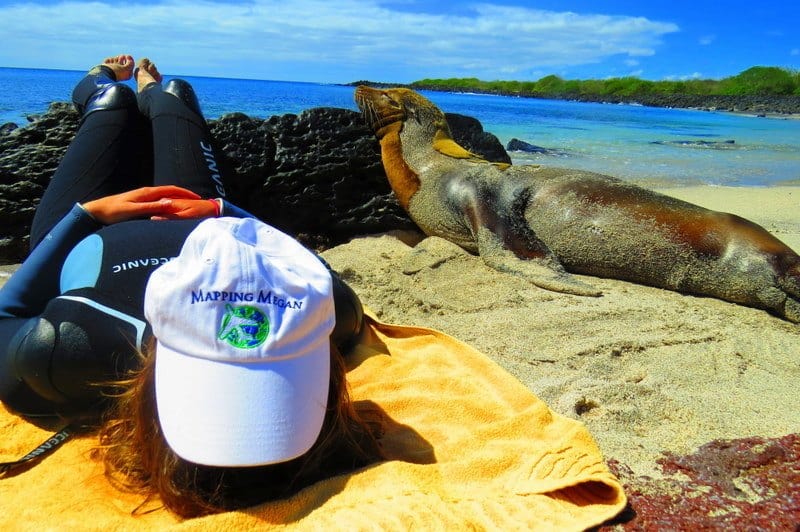 Do you feel that blogging takes time away from your social and/or family life?
The issue when you combine a hobby/passion with a career is that you can very easily let it consume you. If you're focused on achieving something, it's very easy to sacrifice everything else to become completely lost in it.
I've quickly learned that blogging, like anything in life, requires balance. Even though I don't work in a typical office, I make sure I set a certain number of work hours, and then physically shut my laptop lid at the end of the day. This way I have time for relaxing, getting out of the house, spending time discovering and exploring a new destination, or enjoying time with family and friends.
There were some days at the beginning where Mike would go hiking, come back 10 hours later, and find me still sitting at the computer fervently typing away in my pajamas not having eaten breakfast yet! So it definitely requires balance otherwise yes, it's very easy to become lost and allow other aspects of life to fall by the wayside.
What is your travel style? Luxury, backpacking, or maybe something in-between?
I love all forms of travel, so can't really be pinned down by one definition. Generally speaking though, our travel style has evolved over time from backpacking to luxury adventure.
What is the one thing that is too large or impractical to travel with that you wish you could take with you when you travel?
A washing machine!! There's nothing I hate more than having to hand-wash while traveling. The skin on my knuckles gets rubbed raw, my nails get bent out of shape, and it's usually done in the dirty sink of a shared hostel bathroom. Or a questionable looking lake.
Though hand-washing is pretty much a necessarily evil when on a long trip/trek where you have to pack light and can only travel with a couple of pairs of clothes. Though I've recently found this amazing product called the "Scrubba Washbag" which is a portable washing machine (the world's smallest!), and that's far better than hand-washing for now!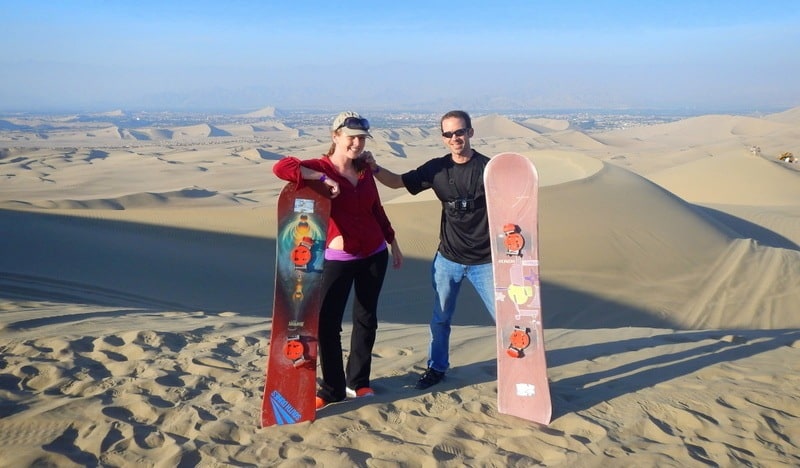 Do you have any funny travel story?
Kissing a Giraffe while in Africa… well actually she kissed me! We visited the Giraffe Sanctuary while in Kenya, and part of the experience was being able to feed the Giraffes. Pellets were provided and the normal way to go about feeding them was to let them eat from your hand.
I on the other hand thought it would be fantastically funny to place a pellet in-between my teeth, not realizing that a giraffe's tongue is about as big as my face itself! (Slight exaggeration but that's what it felt like!) I was wiping saliva off my face for what felt like a week! My grandfather found it quite amusing to spread the rumor throughout my extended family that I had been caught kidding a tall, handsome Kenyan in public and we were running off together!
Also, flying from Milan to Prague I wore 5kg of clothes onto the plane to avoid paying excess baggage fees. And I have the kind of friends who would prefer to video the process and post it to YouTube rather than help to unpack! Needless to say, me dressing myself in everything from pyjamas to towels in the middle of the Italian airport provided entertainment for the whole terminal – and I couldn't stop laughing myself!
How important is comfort for you when you travel? If you had a limited budget for a trip, would you rather spend it to book a better hotel, or use it for shopping, restaurants, or activities?
I traveled as a solo backpacker for many years, and during this time comfort really didn't faze me. I viewed accommodation as a place to crash at the end of the night and somewhere to rest my head. I don't know if it's that I now travel as a couple with my husband, or if it's just that I'm getting old, but I'm definitely starting to appreciate the value of traveling in comfort more and more. I'm at the stage where I would absolutely rather spend more money on comfortable accommodation and forgo shopping, restaurants or souvenirs.
Because comfort really does make for a much more enjoyable experience, and that usually means a more memorable stay. I enjoy getting back to a nice hotel after a full on day of flat out adventure, and being able to collapse into soft pillows. Or blast the air-con if it's stiflingly hot outside. Or having a shower which doesn't flood the room. We usually aim to book apartments or home stays when we travel now, with kitchen facilities which gives us the freedom to cook. #1 priority is now a decent hotel!
Which country would you want to live in if you had to leave the country you are currently living in?
Iceland. Iceland by far is one of our favorite places in the world, and I would love to live there if I could. It is one of the last untouched destinations left on earth. It's exotic, so naturally beautiful, and largely untouched by tourism which we absolutely love.
The scenery takes your breath away. Waterfalls, glaciers, dramatic fjords, there is inspiring scenery at every turn. Majestic glaciers grind their way through cracked lava fields, gushing geysers explode with a powerful force, glittering ice caps pierce the sky, and vibrant green fjords rise from the mist of geothermal lagoons. Iceland is a country defined by its outdoors, and there is so much opportunity here for adventure. Outdoor adventure is what we live for, so what better reason to pick up and move!
What is the most adventurous thing you have ever done?
Between skydiving, rappelling down waterfalls, summiting Mt Kilimanjaro (the tallest freestanding mountain in the world), fishing for piranhas, hunting for pythons in the Amazon, and cycling the world's most dangerous road ("death road" is a 69 kilometer narrow one way road which snakes it's way around the side of a very sheer cliff in Bolivia) we've managed to rack up a pretty decent resume of adventurous things.
I'm an adrenaline junkie, so adventure is my vice! Though that's not to say I wasn't absolutely terrified as I made the bungee jump off a bridge in Costa Rica!! In the video, you could hear me screaming the ENTIRE way down, and fairly certain you can faintly make out the actual words coming out of my mouth – sorry Grandma!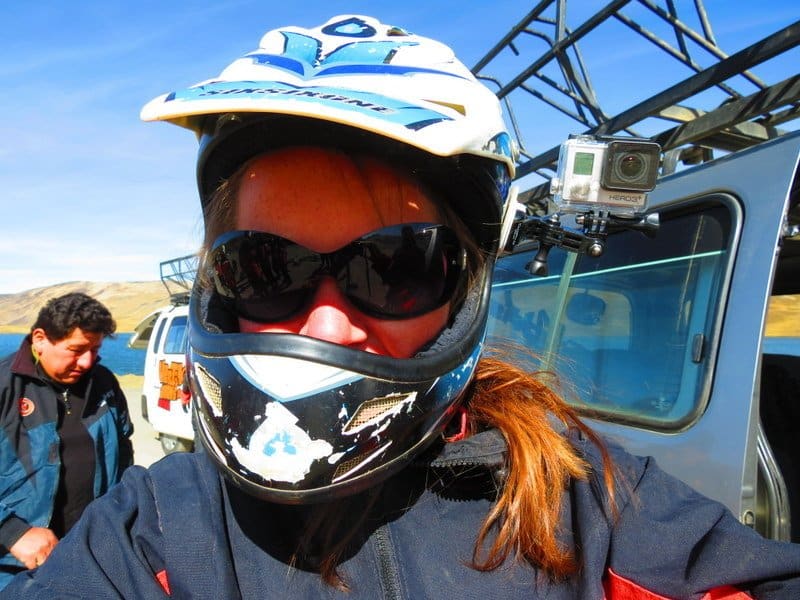 I think though that the most adventurous thing I have ever done was quitting my job, selling our home, getting rid of most of our things, and then taking off to travel the world. Giving up everything you have ever known in pursuit of a passion and your dream lifestyle is a scary thing. It takes a lot of courage to make that move because you're stepping into the unfamiliar and completely outside of your comfort zone. It was a pretty huge step. So I think this was the most adventurous thing.
What is your greatest passion?
Travel! Of course! I started traveling for the adventure, adrenaline and excitement because there is nothing monotonous about travel! It didn't take me long to realize I wanted to see the world in living color as opposed to watching it on a television screen. I wanted to actually feel, taste and experience the world instead of settling for the version I was reading in books. It's a completely different experience to journey to the Pyramids of Giza than to watch it on a History Channel documentary. It's a completely different emotion to watch the sun set over the African Plains while on safari than it is to see someone else's photo and think "wow!"