According to Shakespeare, it is not in the stars to hold our destiny but in ourselves. Debbra Dunning Brouillette decided early on in her life that nothing was going to keep her away from the tropics. Not even being born and living most of her adult life far away from them. Here is my interview with Debbra, the editor, writer and photographer at Tropical Travel Girl.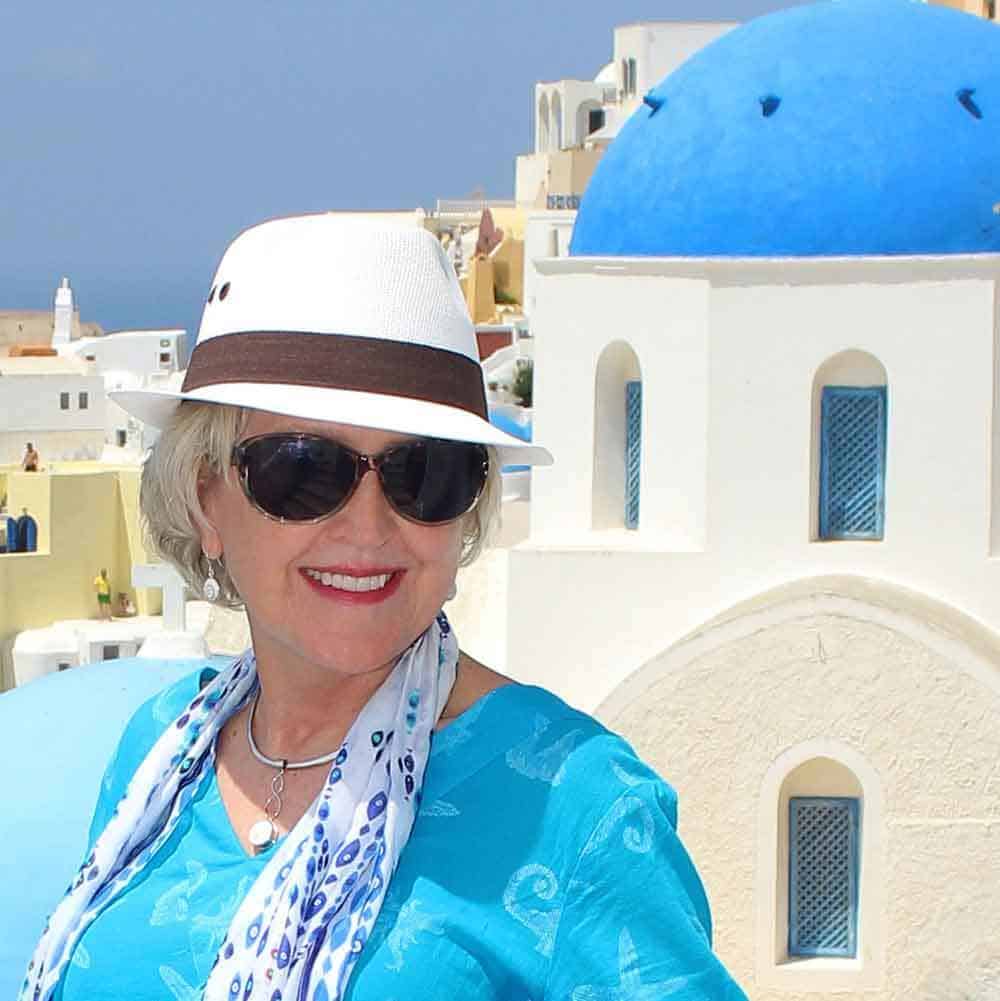 Tell us a little about yourself: Who are you? Where are you from?
Even though I was born and raised in the Midwest, I've always been a tropical girl. I grew up in Mt. Vernon, a small town in southern Indiana, and lived most of my adult life in Evansville, situated on the banks of the Ohio River, far away from the turquoise ocean waters I love. I relocated to the Dallas/Ft. Worth area in 2006, but after five years, my husband's job brought us back to Muncie, Indiana, northeast of Indianapolis, where we live with our Maine Coon cat, Bula.
Florida vacations during my childhood exposed me to the beauty of the sea, but on my first Caribbean trip to Jamaica in 1990, a snorkeling excursion introduced me to the world that exists below the surface. In 1992, I became a PADI certified diver and have been passionate about scuba diving and tropical travel ever since. My love of exploring the underwater world is what fueled my interest in visiting islands, long before I began writing about them.
I have visited a long list of islands, 28 (so far) in the Caribbean, and another dozen or so covering destinations in French Polynesia, Fiji, Mexico, Hawaii, Canary Islands, the Galapagos and several of the Greek isles. Many more are still on my list.
What is your blog about and how did you start blogging? (How did you choose your niche?)
Tropical travel was a natural niche, since I'd been traveling to tropical destinations outside the U.S. regularly since going to Jamaica in 1990. I really consider myself more of a freelance travel writer than a blogger, although the terms are often used interchangeably. I do write blog posts for my site, but not as regularly as I'd like, since I work them in around my travels and my deadlines for print publications and online sites. I'm looking forward to some down time this winter to catch up on blogging!
Tropical Travel Girl contains information about each of the tropical destinations I've visited (with a few others outside of the tropical niche), along with PDFs of the articles published about them and/or links to articles accessible online. I also include information about what to do "If You Go," as I hope to be a resource for others who may be considering travel to a tropical destination.
I've been a writer all my life, starting out after college working in hospital public relations, then as a self-employed consultant doing newsletters and brochures for hospitals, industries, and a travel agency, handling all the writing, photography and graphic design. I've also co-authored a book and still do occasional book editing projects, but transitioning to travel writing later in my career has been a total pleasure. A couple of years ago, I decided to develop my own website, to be able to blog about my travels, to serve as an online resume of my published articles, and to be a resource to anyone considering a tropical vacation.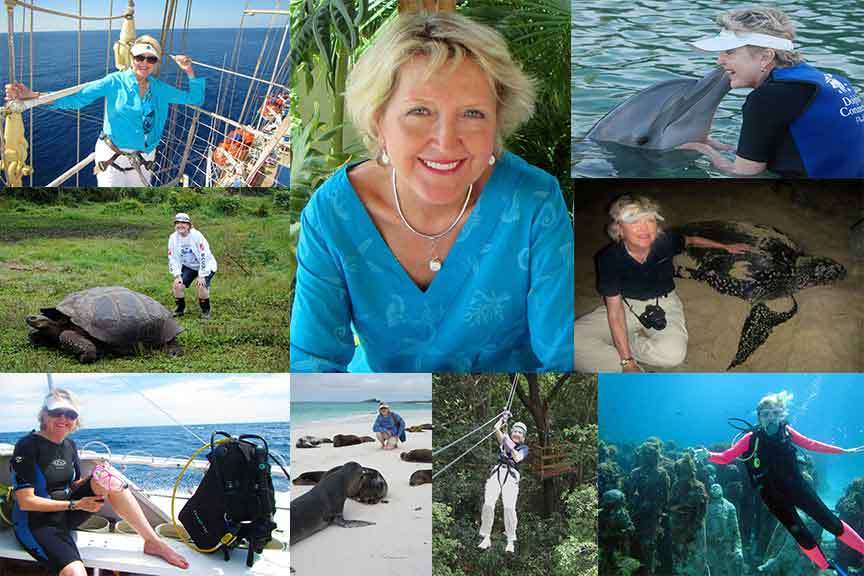 Do you travel for work or for pleasure?
While the majority of my travels now are "on assignment," I don't really think of them as "work." I consider it a huge privilege to be able to visit places across the globe that I had dreamed of visiting for many years.
I love documenting my travels with photos, even when I am not on assignment. When I travel on my own, I have to admit, it's sometimes difficult to totally chill out and be in "vacation mode." Especially since I've been writing about my travels, I just naturally think about what I could share with others about wherever I have been.
I wouldn't want to have a job where I traveled to a fantastic destination and had to be in meetings all day, or barely had time to see my new surroundings. So, even if I'm on a press trip with a fairly hectic itinerary, I love and appreciate every minute of it. It gives me a taste of that destination that I can always go back to at a later date.
What is the most stunning place that you have ever visited?
The lagoon surrounding Bora Bora in French Polynesia is at the top of my "most stunning" list, and it was my first tropical trip on assignment as a travel writer. You can read more about my trip here: http://www.tropicaltravelgirl.com/french-polynesia/
Since that time, I've visited other stunningly beautiful places; most recently, the cliff-side setting of Santorini in the Greek Isles.
Do you feel that blogging takes time away from your social or family life?
No, not unless I'm on deadline for an article, but that doesn't happen often.
What is the one thing that is too large or impractical to travel with that you wish you could take with you when you travel?
My memory foam pillow! I take it with me on road trips, but it's too large to take on planes and I almost never find the pillows in hotels to be to my liking. One thing I do take is my satin pillowcase, which slips over whatever pillow I end up sleeping on. It not only helps eliminate facial creases, but also keeps my fine hair from tangling up during the night. (I give kudos to the Grand Residences Riviera Cancun resort in Mexico that offers a "pillow menu," so you can choose the type of pillow you prefer. I wish more hotels would offer this.)
Are there any countries that you would not consider visiting and why?
Other than those that would be under a U.S. State Department Travel Warning for "unstable government, civil war, ongoing intense crime or violence, or frequent terrorist attacks," I'd be pretty open to visiting most places, however, there are "too many places, too little time," so I plan to visit destinations that are high on my list first.
What is your greatest passion?
My greatest travel-related passions include photography, scuba diving, food and wine, and learning about as much of this beautiful world as I can. I'm also passionate about the natural world, in general, including the protection of endangered and threatened species, and the health of our oceans and coral reefs.
What is the most adventurous thing you have ever done?
I think everyone has his or her own idea of what is adventurous. I've done a lot of things that my younger self (and those who knew me way back when) would have thought extremely adventurous. Just learning to scuba dive was a big step for me, as someone who hadn't put her face in the water until the year before I snorkeled for the first time!
Since then, I've dived with sharks in Bora Bora, kissed a stingray's barb in Antigua, ziplined through the treetops in Trinidad, ate a termite in the Tobago rainforest (it really did taste like a carrot!), snorkeled with sea lions in the Galapagos Islands, taken a helicopter ride "with the doors off" over Kauai to get the best photos, and swam with whale sharks in Mexico.
In the past year or so, I've mustered up the courage to indulge a somewhat forgotten fantasy of being a singer in a jazz club by getting up and singing a song at Sandals LaSource in Grenada on Talent Night, and again on the last evening of a recent Windstar Cruise in the Greek Isles. Tropical Travel Girl sings!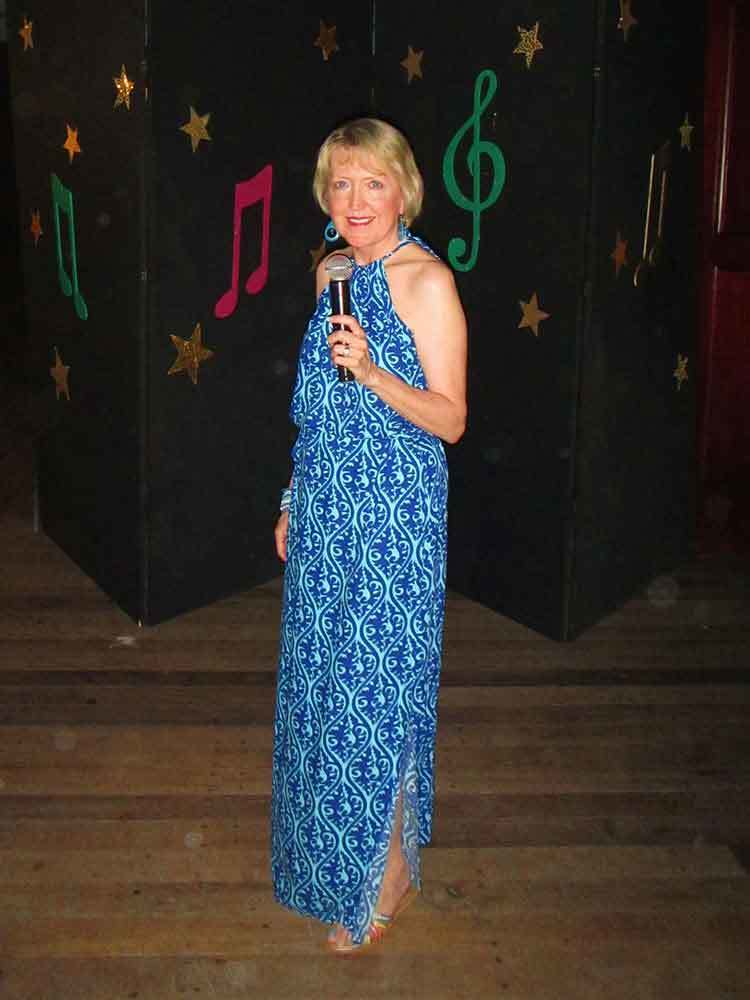 What is your favorite means of transportation (plane, train, car, ship)?
I love being able to get on a plane and be somewhere totally different in just a few hours. Even flying eight to 10 hours is worth it to be transported across the globe. I have come to dislike long road trips. I just want to hurry up and be there! Cruising is great, too, though, to be able to see multiple destinations in a week's time.
What is your favorite quote (not necessarily related to travel)?
I have several favorite quotes, but this is one I have on a plaque on the wall:
"Life is not measured by the number of breaths we take, but by the moments that take our breath away."
And this one is part of my email signature:
"Nothing makes the earth seem so spacious as to have friends at a distance; they make the latitudes and longitudes." – Henry David Thoreau
Find Debbra on Social Media:
Tropical Travel Girl Website/Blog: www.tropicaltravelgirl.com
Facebook "Tropical Travel Girl" Page: https://facebook.com/tropical.travel.girl
Twitter: www.twitter.com/debbradb
Instagram: http://www.instagram.com/tropicaltravelgirl
Pinterest: www.pinterest.com/debbradb
LinkedIn: https://linkedin.com/in/debbrabrouillette