My guest for this month's Travel Blogger Interviews series is no other than "The Guy," the mysterious mastermind behind Flights and Frustration. We all like to put a face on name or a name on the face, but this "guy" won't let us do either. He wants to remain an anonymous and faceless blogger. Intrigued? Let's try to find out more about him.
Tell us a little about yourself: Who are you? Where are you from?
Hi, I go by the pen name of "The Guy" or more appropriately "The Guy Who Flies." I'm a long term international frequent flyer, mostly on business. I hail from the beautiful county of Yorkshire in England although my parents are Irish. I've been based in Yorkshire most of my life and I still live here. Between May 2000 and September 2001 I did have an overseas work posting in Riyadh, Saudi Arabia.
What is your blog about and how did you start blogging?
My blog is called Flights And Frustration. It is a personal travel blog with a fair amount of focus on air travel as passenger. I've been fortunate enough to take a lot of Business Class and some First Class flights so I offer reviews of those. I appreciate that most people are not fortunate enough to fly in the front of the plane so by my experiences they can get an idea as to what it is like. I also offer a range of reviews of airports, lounges and of course destinations. There are also a number of personal travel experiences too.
The frustration element of the name reflects the personal side of the blog. I express my personal opinion on things so if something is not going well or service is poor it is going to be a frustration. Readers, prepare yourself for a bout of travel tips, reviews, rants and a dose of humor.
I started blogging with this site in late September 2012. Initially I thought that would I retell my tales via an e-book on Amazon, however all my notes were lost due to an unfortunate incident with my computer. I didn't have a back up at that time of the draft for my book. So I decided it was probably easier to start a website instead. So here I am 🙂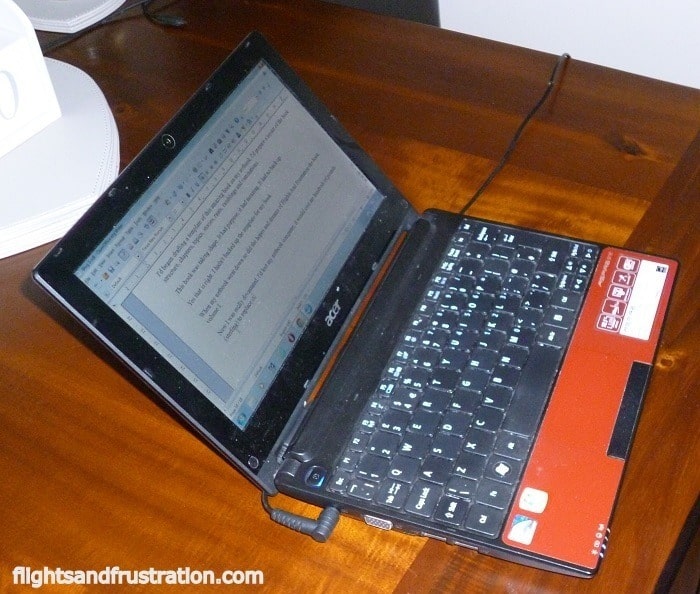 Do you feel that blogging takes time away from your social/family life?
After being a long term frequent flyer my social life has always been on and off due to various factors. I am now in my 40s so I'm in a totally different social way of life than in my 20s. Most of my friends are settled down with families themselves so wild nights out are not a regular occurrence (does that make me sound boring?).
I am also happily married too. My wife always comes first so if she's around then the blogging stops. However, since I travel so much the time on the road is a great opportunity for me to work on the blog. I must admit though if anyone is serious about blogging please don't underestimate the time you need to devote to it. I am admittedly a "hobby blogger" as I have a professional job, however the hours devoted to the website in some weeks can be immense.
Of all the places that you've visited, where do you feel most at home?
Naturally Yorkshire feels like home since it is 🙂 It is a wonderful place with so much history, character and beauty. I can't sell the story enough really. I become disappointed when foreigners visit Britain and all they seem to want to see is London and Oxford. You need to explore people! Especially the Americans who say they love the fact that we have so much history in our country yet maybe they don't venture out enough around Britain to appreciate all the history around.
Do you have a roll model as a blogger, someone whom you admire and hold in high esteem?
Oh that is so difficult to single anyone out. I've been reading travel blogs for close to 3 years and currently get RSS feeds from more than 100 bloggers that I follow. If I may I'd probably say 3 travel blogs/bloggers have made a very positive impression on me:
The first are the couple behind E-Tramping (Agness and Cez). They are one of the first travel blogs I followed and I try to read every new article when I can. I've worked with them on a few projects and had the pleasure of meeting them in person which confirmed that they are truly lovely people. Since meeting up Cez Krol has become a good personal friend and a big mentor in helping me develop my site. I really wouldn't be this far ahead with my sites if it wasn't for him.
The next two nominations I haven't met in person (yet) but hope it will happen one day. Firstly there is the couple behind AngloItalian Follow Us – Dale and Franca. I must say out of all the blogs I read, theirs must be the most well written. The emotion, thought and intelligence put into their high quality articles impresses me every time. I aspire to write as well as they do.
My third and equal choice would be the delightful Megan Claire behind Mapping Megan. I've watched her site grow from her early days and there is little doubt she is totally professional in everything she does. She is a social media genius as well and I need to learn from her strategies. Most important of all from my online interactions with her she is a true sweetheart. Very caring, considerate and thoughtful. Whilst I've never met her in person she is definitely a blogging friend I admire.
What is the one thing that is too large or impractical to travel with that you wish you could take with you when you travel?
The contents of my wallet? – No, only joking. I wish. I must admit that after 15 years of frequent travel I've still not totally mastered the concept of travelling light. My typical trip consists of one checked suitcase and one roller carry on bag. The suitcase naturally contains my clothing. As for the roller bag that is work stuff then all my valuable items. So immediately the carry on contains my work computer, my personal computer (I can't and nor should I blog and do personal stuff on my work computer) plus other essentials. This can include work papers, cameras (compact/action/bridge), iPod, kindle and so on. I often end up making a choice with my cameras because whilst the bridge camera is the best one it can sometimes be too bulky for the case.
What is your biggest frustration with the airline industry?
Where to start? Various things bug me but I guess I can sum it up in one word, "consistency". There is so much lack of consistency in how they do things. I'm very much a person of a compliant mindset, so the rules are the rules for a reason. I will comply with those rules, even if I don't understand why they exist. So what annoys me is when I strictly comply with the one carry on bag policy yet I see people load up with 3-4 carry on bags which are all bulky. The airlines clearly state their policies yet don't enforce it for every flight.
Then to top it all off, one of the most frequent flights I've taken in 15 years suddenly sees me have my one (appropriately sized) carry on put in the hold because the staff say the plane is full. I then see people in front of me board the aircraft with massive bags (yes plural) and space available in the overhead bins as we are about to take off.
I also find frustration when they don't apply boarding and unboarding policies consistently. Whilst I'm very grateful to have the privilege of numerous Business Class flights it does frustrate me seeing half of the economy class cabin leave the plane before I do when I have a tight connection to my next flight after passing US borders and customs control. (I'm sorry if I come across as a bit snobby in these comments but the multi-thousand pound Business Class ticket comes with the promise of priority when getting on and off the plane, airlines should adhere to that or lower their prices.)
Do you think that applying extra screening in the airports will make the flights safer, or would waste tax payers' money and time?
I'm not sure how much tighter the screening can become. With regards to the US they have pretty detailed screening techniques yet when they test the systems by trying to put weapons etc. through they often go undetected. Then there is the farce of getting a flight to the US. Whenever I do this, typically from the UK I face a set of questions from a security person before I can go to the check-in desk. Then I get the next set of questions at the boarding gate from someone else. "Where are you going?" "What is the purpose of your trip?" "Has anyone given you anything to take on board the flight?" I understand the need to know the real answers, but asking these 2-3 times before you board is just so darn annoying, costly and in my mind not been a deterrent to anyone. They also have the ESTA process which I don't think achieves much apart from make us pay money. I don't think "extra" screening at airports is required but I do think "smarter" screening techniques would benefit everyone.
Do you think racial profiling would be an unjust security measure in an airport?
Can we honestly say this doesn't exist already? The stereotypical profile of a terrorist is mostly consistent and has some weight. If you look at the recent reports of British people who've been detained on suspicion of trying to travel to Iraq/Syria to join ISIS then yes, they are mostly not caucasian or of multi-generational history in the UK. I think that speaks volumes for the type of people who can be led into terrorism. However, the world has changed so much in our lifetimes. Extremist views and radical, misinterpreted definitions of the true meaning of some religions is becoming a global phenomenon which appeals to people from all backgrounds. So yes, I agree with your question from a human rights point of view. However based on historic results the overwhelming volume of identified and known Islamic terrorists are not caucasian.
Are there any countries that you would never consider visiting and why?
At the moment Israel, Turkey and Russia are pretty low down on my must visit list. This isn't really about the people, but more to do with my knowledge of their politics, the security situation and some historical factors.
What is the most adventurous thing you have ever done?
When I was in my mid-twenties I would probably say taking that 1 month to inter-rail around Europe. Now I guess it would be an amazing few days in Cairns, Australia when I both took a skydive then qualified as a PADI certified scuba diver. Both come highly recommended.
What is your greatest passion?
My wife and Wakefield Trinity Wildcats rugby league team 😉
For more travel stories, you can follow "The Guy" on the following social media networks:
Website: http://flightsandfrustration.com
Twitter: @TheGuyWhoFlies
Facebook: Flights And Frustration
Google+ : +FlightsAndFrustration
Pinterest: theguywhoflies
Instagram: @theguywhoflies
Scoop.it: the-guy
StumbleUpon: TheGuyWhoFlies