Mendenhall Glacier is one the best things you can do in Juneau. The first time I saw the Mendenhall Glacier was earlier that morning, when we were walking to the Nugget Falls. But when you see it from the distance you can't anticipate its size. I suspected this ice monster must look totally different when you see it up close, so we signed up for a helicopter tour to the Mendenhall Glacier.
Visiting this glacier is something that I will never forget. Something that needs to be experienced at least once in a lifetime and totally worth adding to any Alaska bucket list!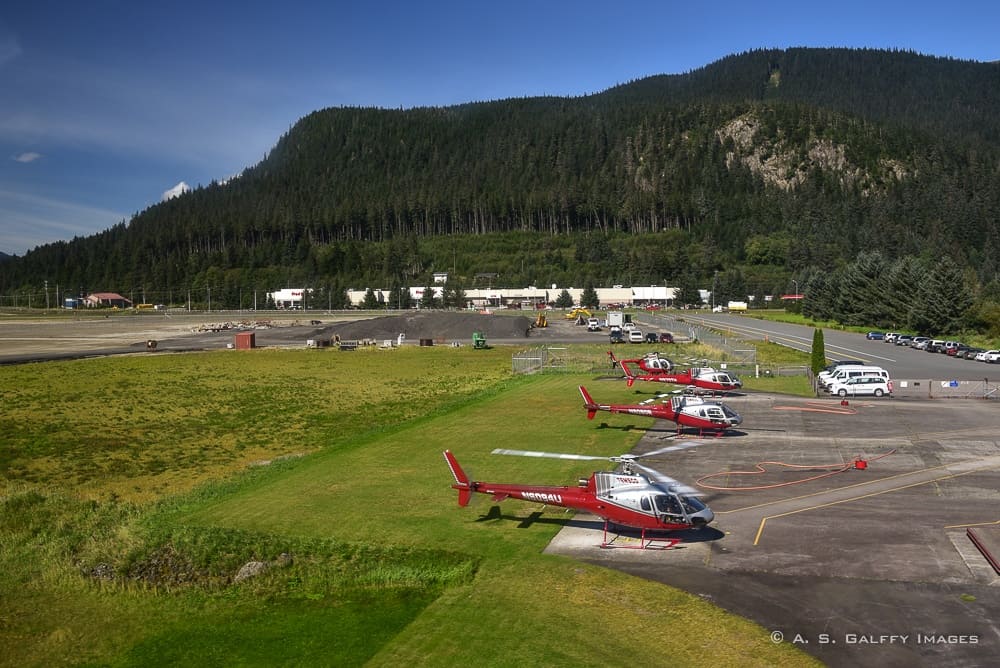 What to Expect in the Helicopter
As we were driving towards the little heliport for our helicopter tour I was trying to imagine walking on that huge stretch of ice. If just seeing it from a distance was so intimidating, how would it feel flying over the sleepy giant and then descending on it? It was not only my first time on a glacier, but my first time on a helicopter too and I was feeling a little uneasy.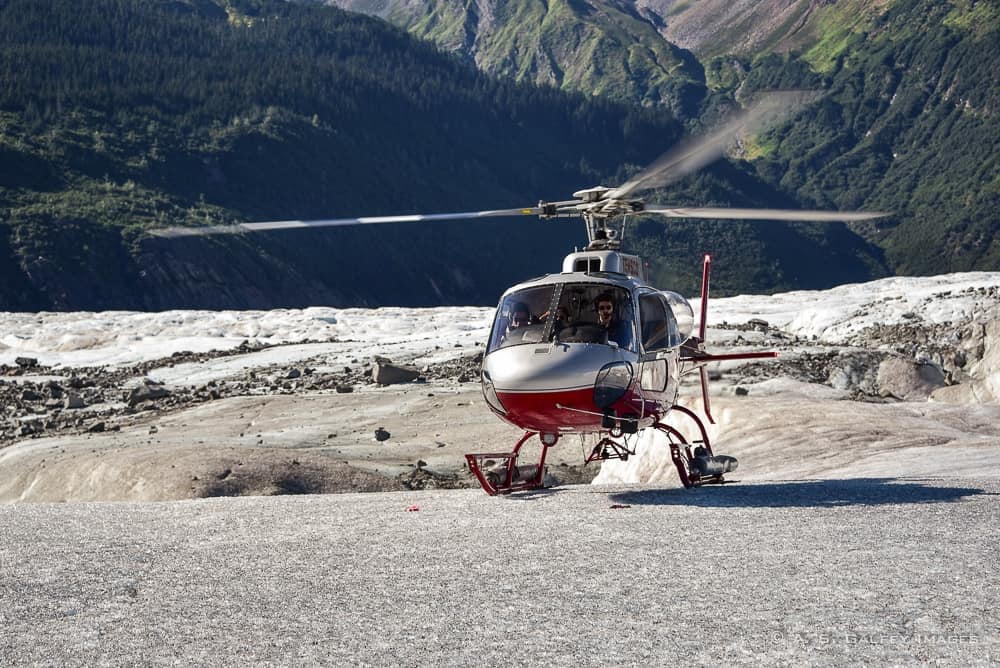 After getting off the bus we were invited to a large waiting room where we had to sign a waiver. Hmmm! Why do we need to sign a waiver? Is this helicopter thing safe after all? "Hey! Do you want to grab a snack?" my husband asked as we were waiting to be fitted with some special glacier walking boots.
"A snack? How can you eat now?" A rock began forming in my stomach as a ton of worrisome thoughts were flooding my mind. What if … oh no, that cannot happen. These helicopters are pretty safe. Just look at all these happy people lining up for the rides. Nothing bad can happen, just don't think about it.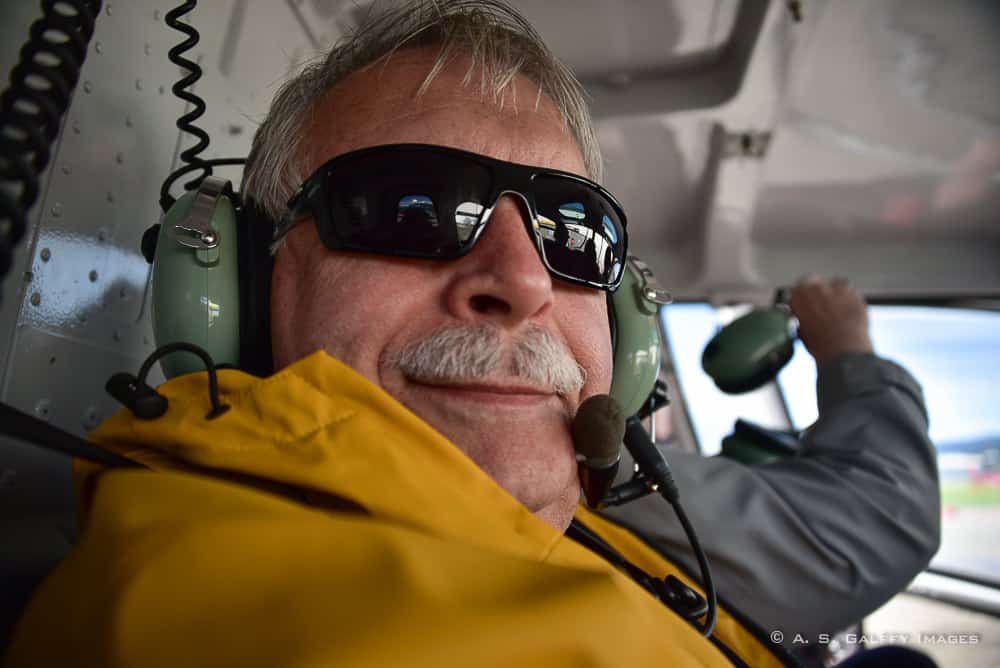 As we boarded the helicopter we were quickly instructed as to the use of the headphones and the switch-type button that can be used to signal for verbal communication with the pilot. We were seated in the back together with another couple. She was a little scared too. He acted like he was not, but who knows.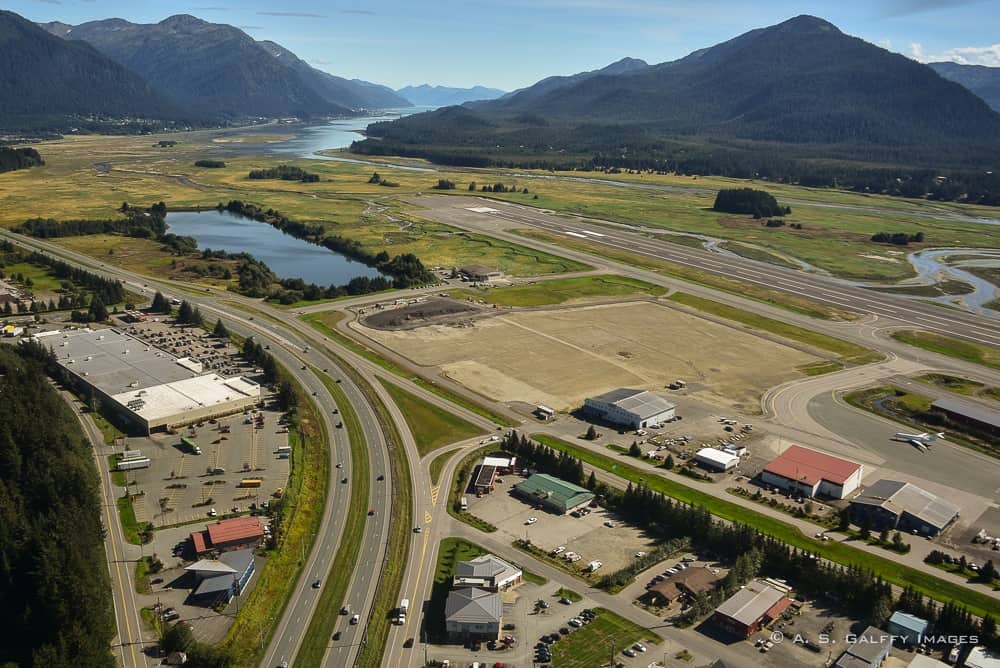 As we climbed above the trees, we saw Juneau getting farther and farther away and only soft green stretching to the horizon. It was a sunny afternoon with perfect visibility for miles and miles in all directions.
The helicopter swayed a little, but the pilot maneuvered it precisely knowing just how far to swing out to give us a perfect view of the glacier. It was so beautiful! A few minutes into the flight all my fears have disappeared.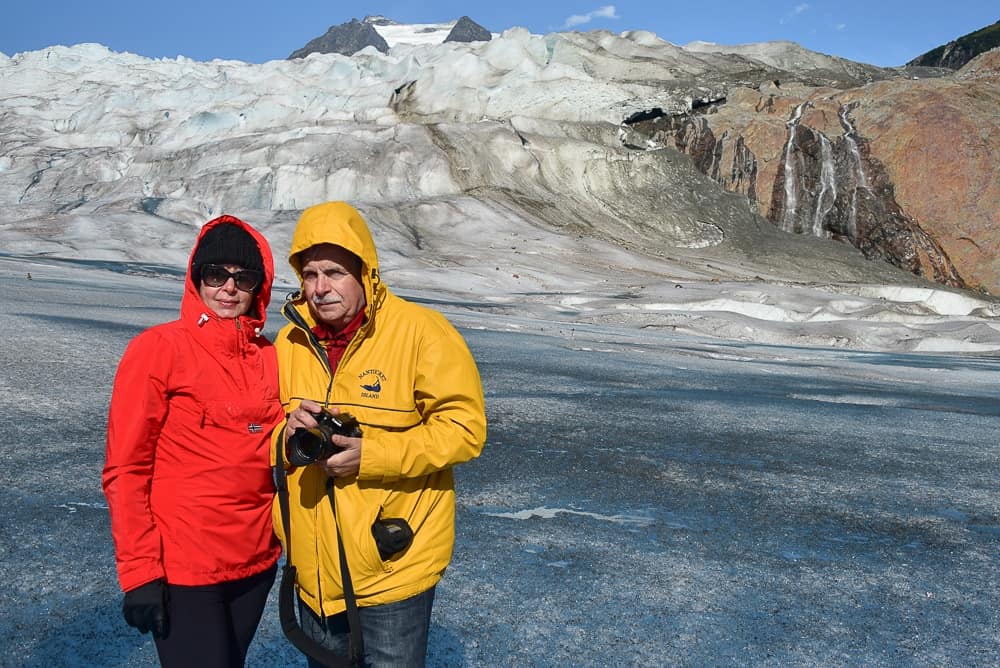 We were now approaching the landing point. From above we could see the sapphire-blue color of the glacier. Why is it blue? Snow is white, isn't it?
It appears that although snow is white, after it gets pressed into glacier ice it turns into a beautiful sapphire blue color. Glaciers can even be red where certain algae have started growing…or may have a brownish/grayish color where debris or dust has accumulated.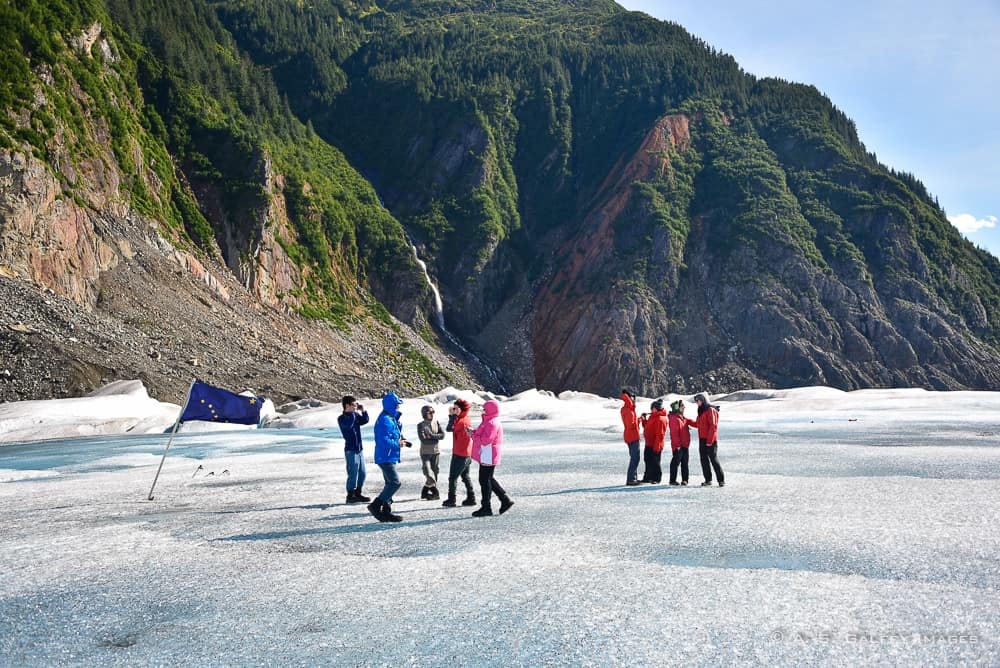 What to Expect on the Mendenhall Glacier
We exited the helicopter and proceeded towards the meeting point which was marked by a flag. Two other helicopters landed together with ours. When the entire group was gathered at the flag, we began walking on the slippery surface led by a local guide.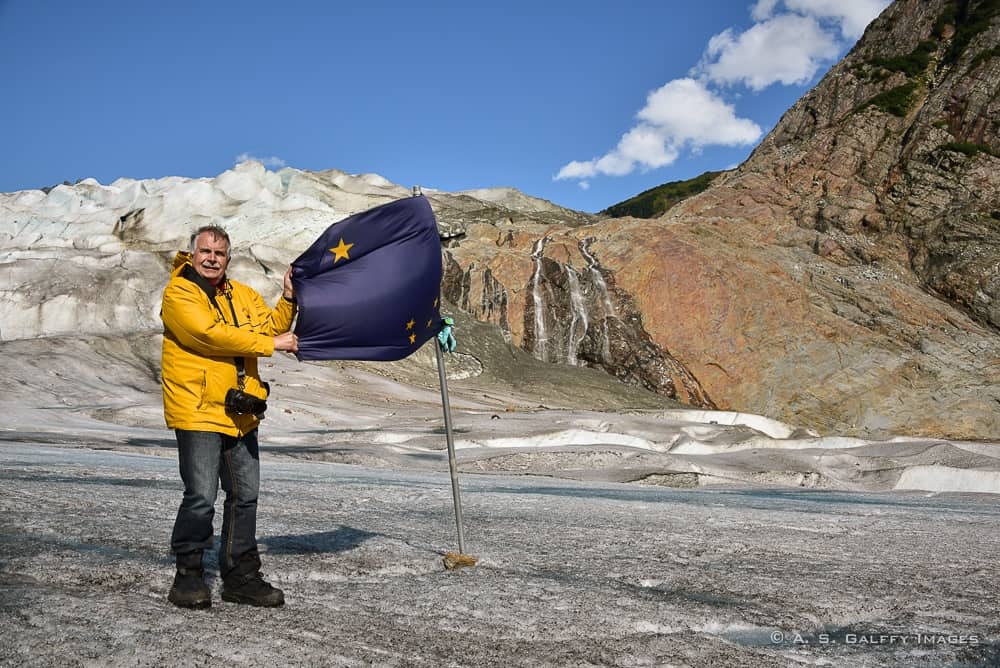 As you get closer to the glacier you'll begin to see it transform before your eyes. What looks like a crumpled up piece of blue and white paper from above turns into huge peaks of ice stretching toward the distant mountains. To my surprise, the edge of the ice proved even more intriguing than what I could see from above. I could see a big torrent of melted water that made a hole into the glacier's side, carving out a huge void. It looked really treacherous.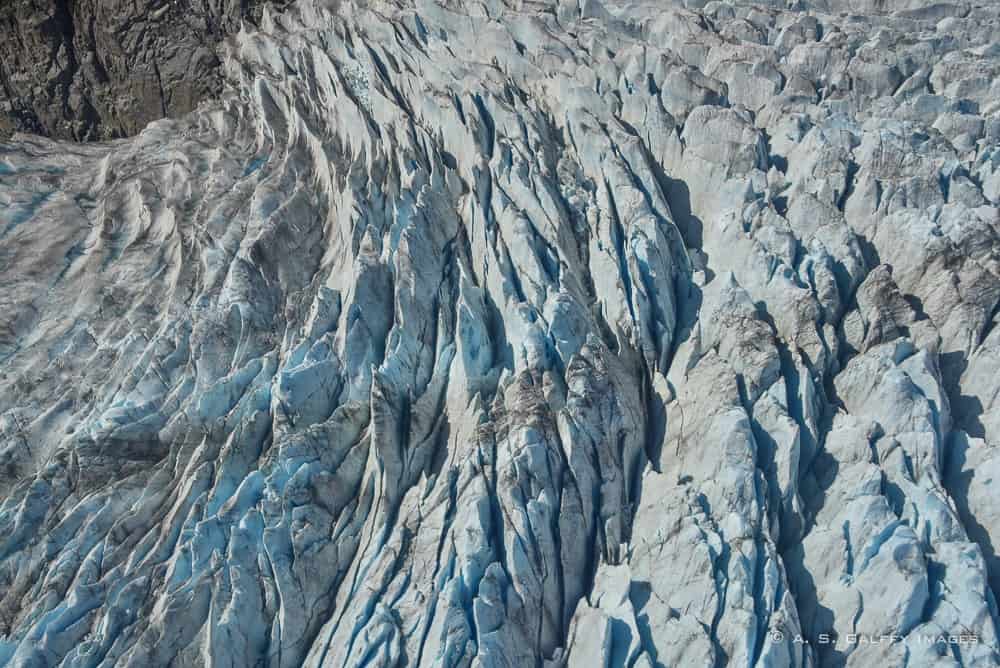 The guide told us that during the warm summer months the surface of the Mendenhall Glacier is dotted with blue melt water pools that fluctuate a lot in size throughout the year.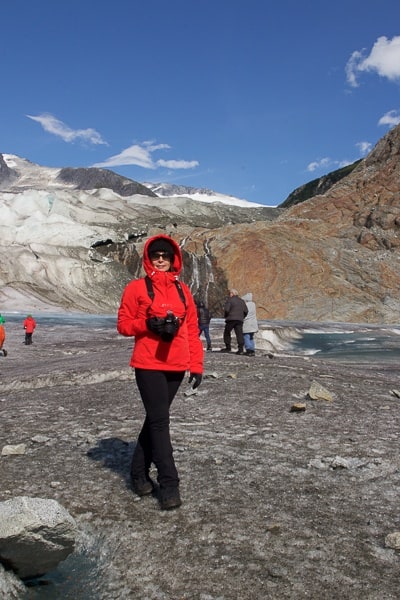 Depending on the path taken by the water, a melt water pool can empty out on the side of the glacier, or into its depths. There are several ice caves that are quite challenging to access and are very dangerous.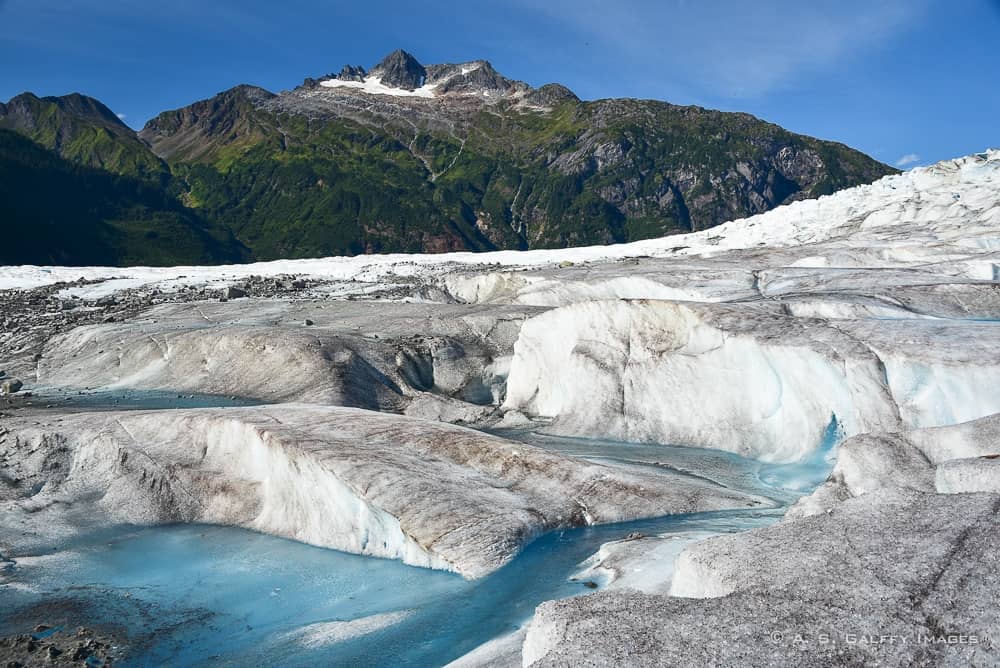 Our glacier-top stroll lasted about 30 minutes, but it seemed more like 5. Once you are up there time really flies. Looking up close at this forceful colossus of ice you realize that its majestic beauty masks an incredible danger for those who venture out here without a guide. In spite of being so beautiful, the glacier is never safe.
Mendenhall Glacier has been retreating since around the turn of the 20th century. The glacier is certainly one of nature's wonders that we are loosing to climate change. Locals say they have seen in their life time how astonishingly the glaciers have receded, so enjoy the beauty of this glacier while it's still visible.