Silence and Serenity at Quebec City's Monastère des Augustines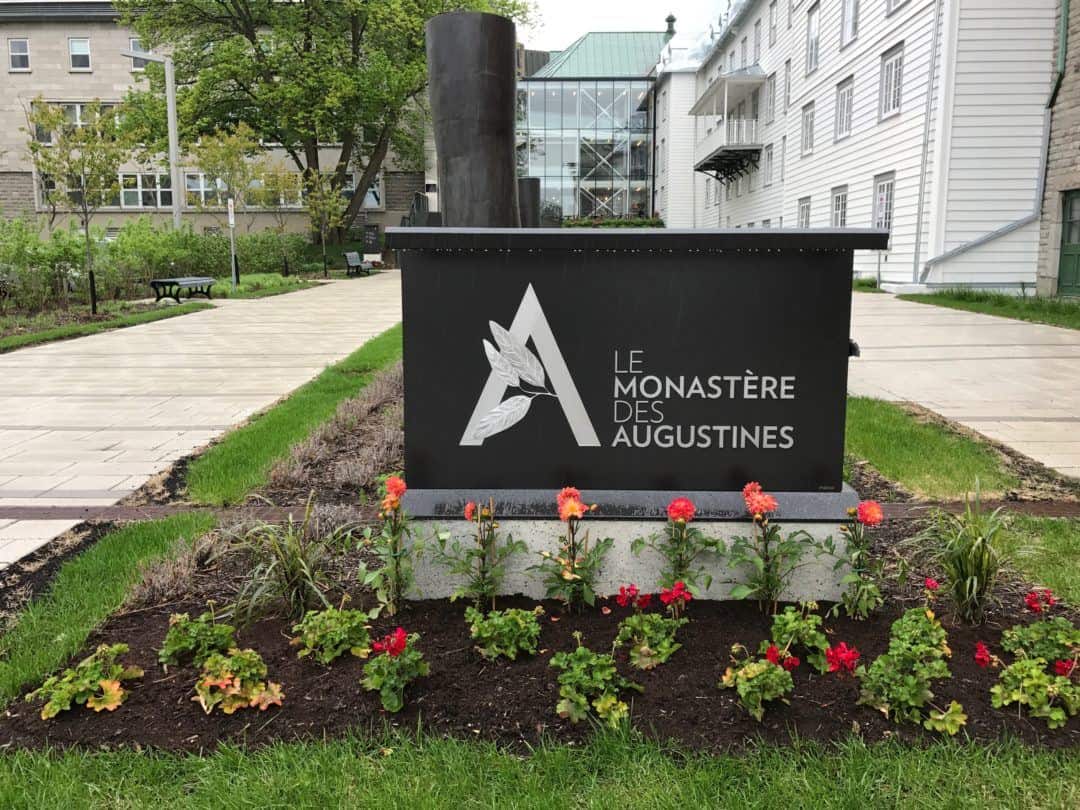 I didn't know what to expect when I checked into Quebec City's Monastère des Augustines that afternoon. Are there going be nuns at the reception desk, or serving at the restaurant? The modern, imposing structure of glass and steel that greeted me as I got off the taxicab had nothing even vaguely reminiscent of a convent. And yet, the silence that flows with the light all across the sheer white walls of this edifice reminded me of a monastery. The noise of my suitcase dragged across the tiled floor was the only sound disturbing the peace that descended over this place some centuries ago.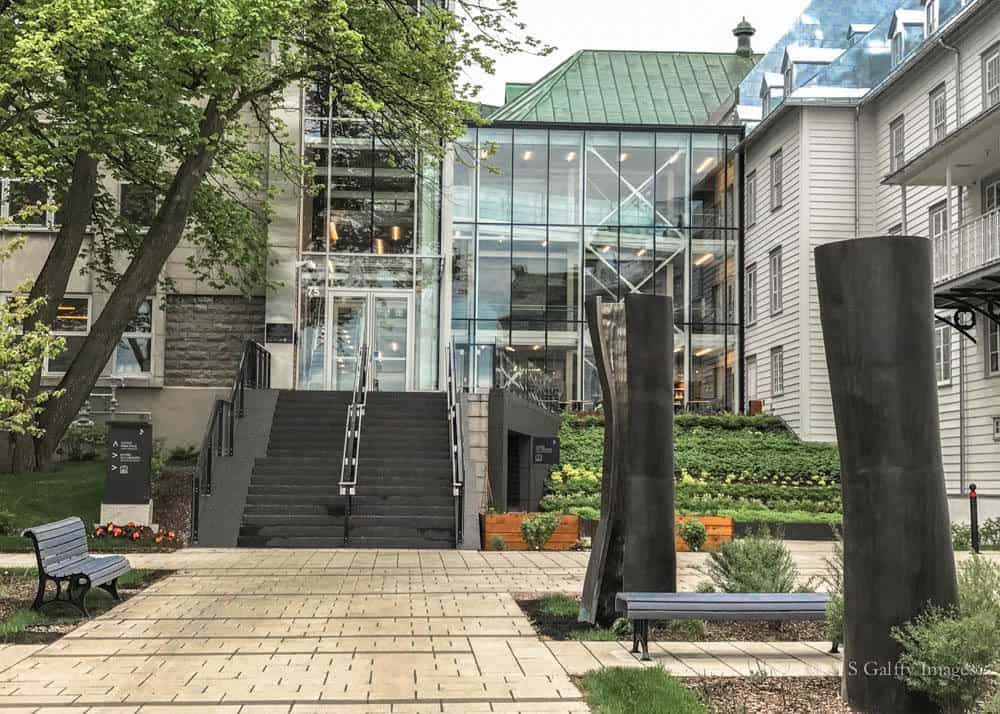 "I am here for one night," I tell the girl behind the desk who doesn't seem to notice my presence right away. She looks preoccupied with a stack of papers that sits in front of her computer. "Ah, oui. Madame Galffy? We were expecting you." As I wait for my key I can't help noticing her unassuming appearance: a simple gray dress, a pair of low heel shoes, no make up, no jewelry… Is she perhaps a nun? "We've put you in one of the contemporary rooms on the 4th floor," she says. "However, this elevator will only take you to the 3rd floor and from there you'll have continue on the corridor in front of you, then make a right…" "Can anybody show me to my room?" I ask, anticipating a labyrinth of intricate galleries. "Of course," she says and hands the key over to one of her colleagues who starts leading me to the elevator.
A Rich History
In 1639, three Augustinian nuns came to Quebec City with a dispensation from King Louis XIII to care for the sick and wounded in New France. Their first hospital was established outside the colony of Québec, in what is today known as Sillery. However, after several attacks by the Iroquois, the sisters decided to move the hospital within the city walls for more protection. In 1646 they opened Hôtel-Dieu monastery–hospital in Quebec City's Upper Town, which they operated till 1962. The Augustinian Sisters not only took care of the sick at the hospital, but also took in abandoned children for whom they tried to find adopting families. They also welcomed and cared for immigrants upon their arrival at the port of Quebec City. Hôtel-Dieu is the oldest hospital established in North America, north of Mexico and is still in operation today.
Over the centuries, the nuns of the Augustinian Order founded a total of 12 monastery-hospitals throughout Quebec, where they acted as administrators, nurses and pharmacists. All the 12 hospitals are still active today, but only six of the monasteries retained their original function. The other six have been converted to serve other purposes.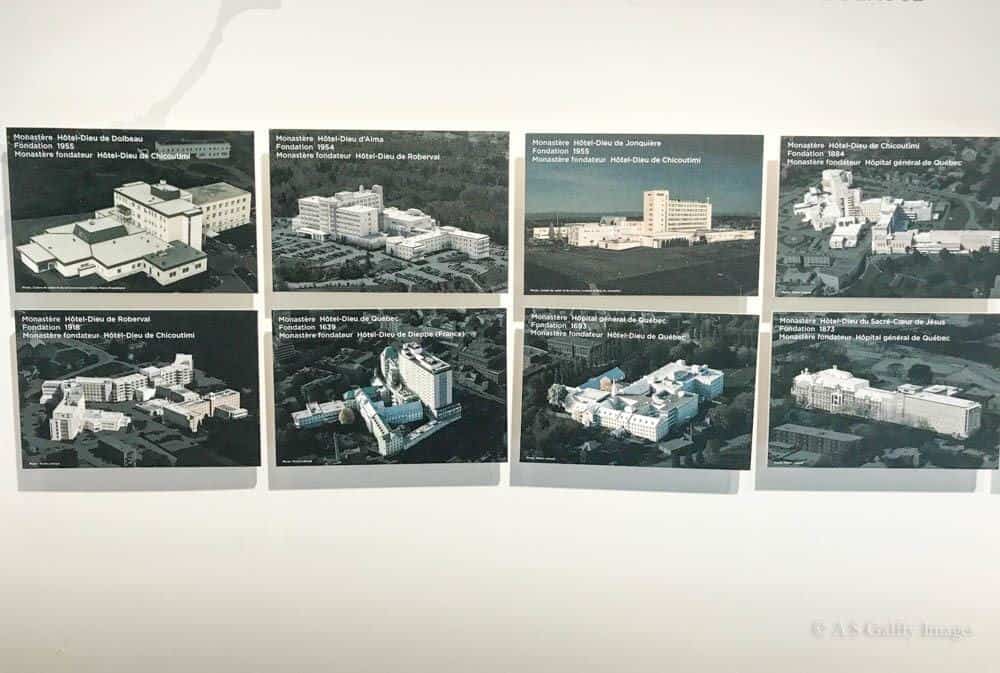 Le Monastère des Augustines Today
Out of the 800 members that the Order of the Augustinian Sisters once had, only around 100 nuns remain today. Ten of them still reside in an adjoining wing of Le Monastère des Augustines and attend Mass and Vespers every day in the Chapel.
In the 1980s, faced with an aging population and a steep decline in their numbers, the Augustine Sisters began evaluating new ways to use their building. They created a trust to preserve their rich heritage and in 2013 they took the initiative to start a hotel. Their idea was to combine accommodation services with a holistic retreat center that will give the guests a chance to relax and connect with their own emotions and senses. The concept was new and very versatile: centrally located, the hotel was a good starting point to explore the city, but could also be used as a full-service retreat. The hotel also has a social mission, by offering a special rate for people of Quebec who need to accompany their loved ones in the city's hospitals. Le Monastère des Augustines Hotel is a non-profit organization. All profits go back into their social mission of providing care to those who need it—including their caregivers.
An Unconventional Hotel
We exit the elevator on the 3rd floor and continue over a connecting bridge toward the old building of the convent. I take one last look outside through the large window wall before following my guide into the dark passageway of the old abbey.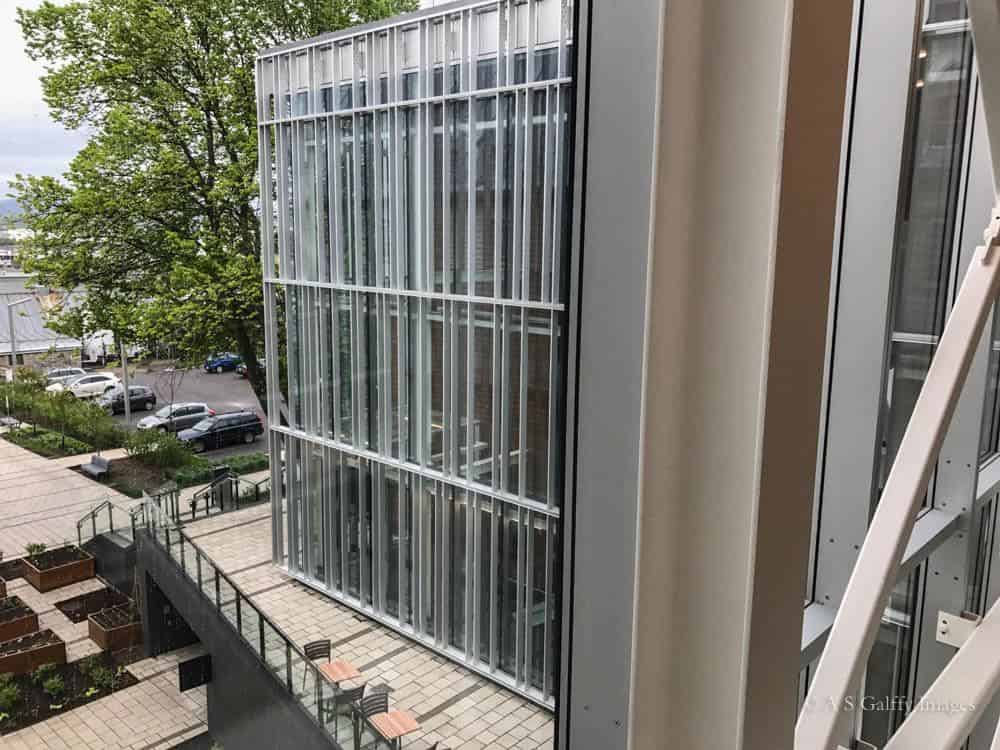 Not much has changed here since the time the nuns inhabited this part of the convent. Except for the shared bathrooms that have been completely renovated, this floor has been preserved its original form. Burnished wood doors with transom windows line up the austere corridor. I could imagine a novice nun lowering her head to enter the loneliness of her cell in the evening. Dark ceiling beams and religious paintings garnish the white walls. Scattered throughout the hallway, there are original pieces of furniture and other artifacts that belonged to the Augustine Sisters. The cells have been converted into 33 authentic single rooms, furnished with the same simple desks and small iron beds. The rooms retain the history and spiritual feel of the original cells, where the nuns used to live.
As I follow my guide through the convent's corridors I get a sense of inner calm and peace which I can't quite explain. I'm trying to imagine what it must be like to live your life within the confines of a cloister. A life of solitude and isolation. A life dedicated to helping others. Life in a monastery couldn't be more different from the stressful and dynamic world we live in. And yet, there are people who willingly choose it.
We now pass along a wider corridor with large bay windows and religious wood statues. The windows face an interior courtyard. "A former parking lot that was recently transformed into a garden," my guide explains. Alcoves and private spaces are scattered throughout the building.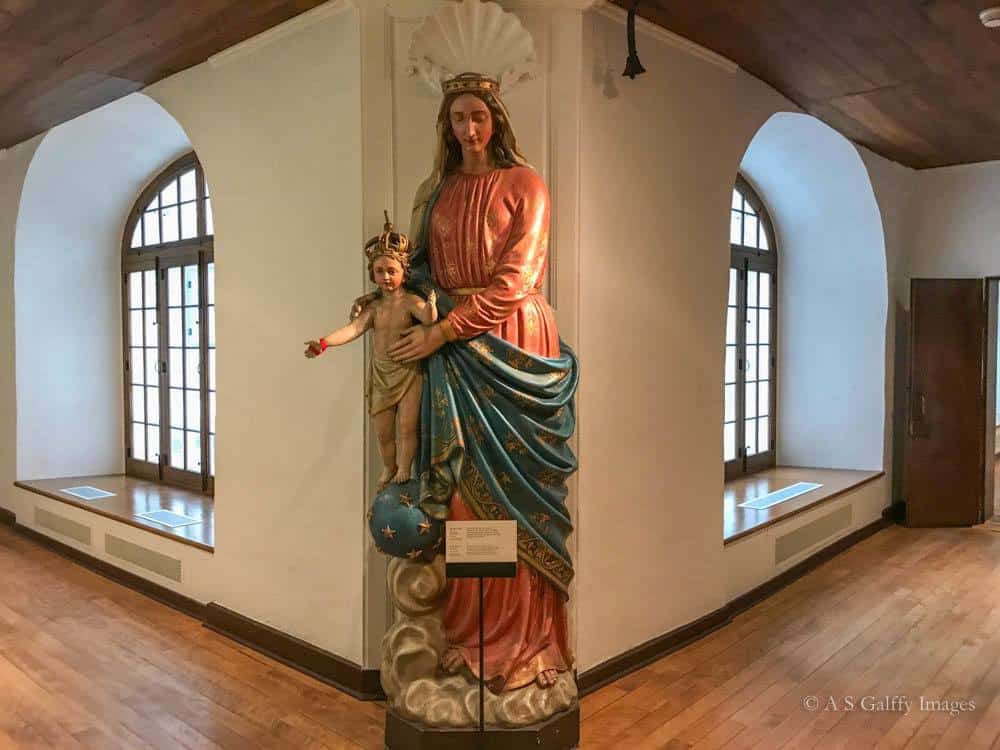 As we reach the forth-floor the ambiance changes completely. The corridors here have a more contemporary look. There is also a sitting area and a small business center. The 32 rooms at this level are more spacious and include ensuite bathrooms. Alhough very simply furnished, the bedding seems quite luxurious, with crisp bedsheets and handmade quilts or wool blankets on each bed. To encourage relaxation and tranquility, there are no televisions or telephones in the room, but free WiFi is available, so guests can use their electronic devices if they choose to.
Body and Mind
My next day starts with a morning practice that includes breathing, movement and meditation. These classes are included in several different rate packages, but there are numerous other wellness options, ranging from sleep therapy and posture instruction, to holistic health evaluations, aromatherapy and reflexology.
To honor the traditions of the nuns, breakfast is served in silence. I play along with this intentional mood, but I'm not used to that. Eating a full, healthy breakfast in the company of strangers give me time to reflect on my life. Such peaceful moments are rare for me. My usual breakfast is a cup of green tea savored in front of the computer.
A Legacy
After breakfast I meet with Ms. Perron, the hotel manager, for a visit of the Monastère. We first go to the beautiful chapel on the second floor that is still being used by the nuns for their morning prayers and vespers. "Le Monastère welcomes people from all paths of like, no matter of their color, sexual orientation, religious beliefs, or denomination" Ms. Perron tells me.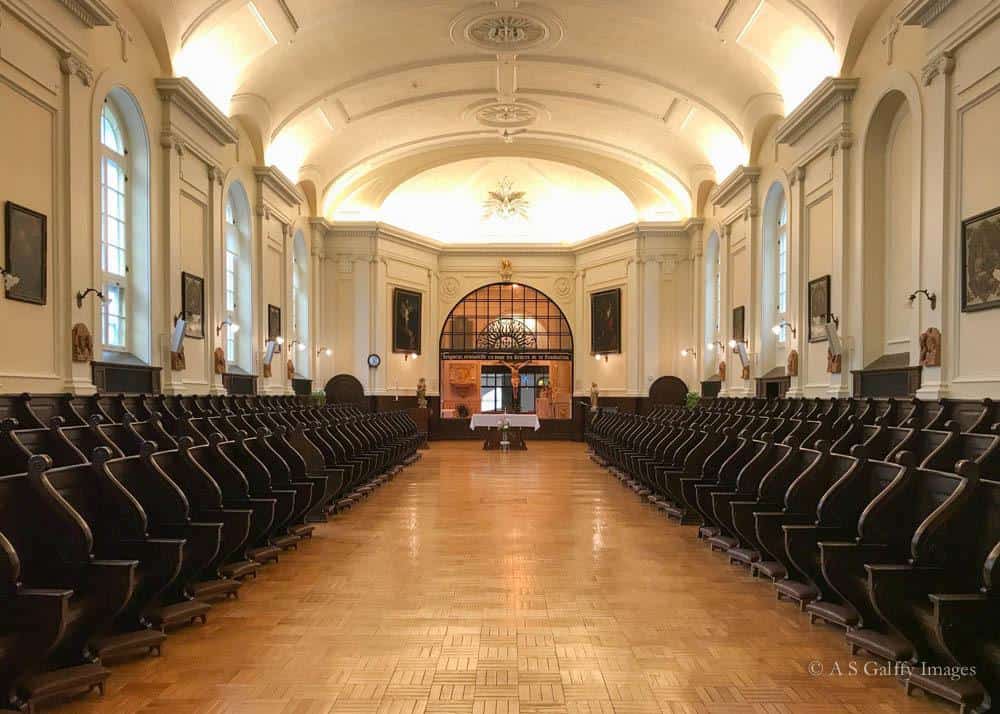 We then move to the on-site museum where the nuns displayed their treasured artifacts. There is a collection of over 40,000 artifacts that occupy the entire first floor. From centuries-old furniture, paintings, writings and ceramics to gifts from Native Americans, the Augustinian Sisters have preserved everything that was connected with their history. Among these treasured artifacts in the museum there is the original document signed by Louis XIII granting the rights of the land and the original 17th-century trunk the three sisters brought with them when they came to New France.
As I stroll through rooms I am amazed to see old medical instruments, hospital beds, surgery tables and other rare and impressive objects and manuscripts. The museum traces the evolution of medicine through the ages, but also gives you an insight into the lives of the Augustine nuns of Quebec. How they cared for the sick, how they lived their community life and their spiritual beliefs.
A Final Thought
Le Monastère des Augustines is more than just a hotel, it's an experience. A time capsule that gives you a fascinating insight into the life and work of the Augustinian nuns and their legacy. It is a place to reflect and relax, a quiet and peaceful retreat right in the heart of the city. Staying here reminded me of the time before the World Wide Web, when people knew how to disconnect and live a simpler life.