Traveling the Australian Outback: Take the Red Centre Way Itinerary for Locations You Must Visit
Guest post written by Ian Toledo
The great thing about Australia is that although most of its regions have been highly urbanized, you can always visit the Outback to take a breather. When you feel like you want to get away and explore the wilderness for a little while, you can always count on the open spaces and the picturesque natural locations of the Outback. One of the most recommended itineraries for an Australian Outback trip is the Red Centre Way. It is all about the mountain ranges, desert plains, and Aboriginal sacred sites. In this article, we will talk about some of unmissable locations and experiences at the Red Centre.
Alice Springs
The first stop on the Red Centre Way itinerary is Alice Springs. You can visit the Araluen Arts Centre to look at a collection of Aboriginal art or check out Aboriginal rock art at the Emily and Jessie Gaps Nature Park. Then you can choose to rent a camper van and drive around, or simply hike or bike to the Simpsons Gap where a sacred waterhole is located. You can also see Australian evergreen trees called Ghost Gums around the Simpson's Gap, take a scenic walk to Standley Chasm, or get a cool view of the Serpentine Gorge from above the cliffs.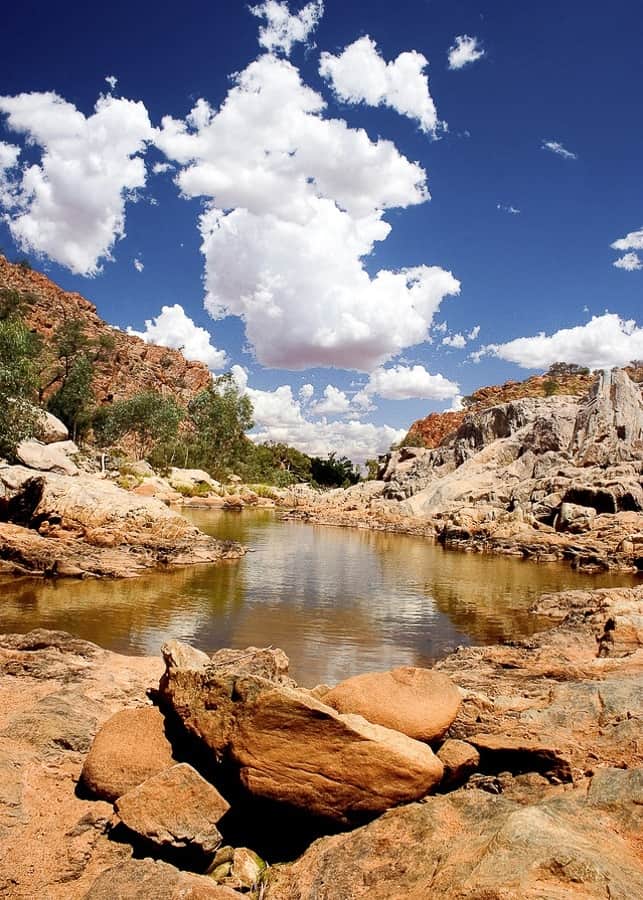 Afterwards, you can make your way to the West MacDonnell Ranges where you can visit the swimming holes of Ormiston Gorge, Ellery Creek Big Hole, Redbank Gorge, and Glen Helen Gorge. If you want, you can pitch a tent by any of these swimming holes and spend a star-filled night before going to your next location.
Finke Gorge National Park
You can also visit the Fink Gorge National Park, which is home to 458 kilometers of rare plant species that can only be found in the park. Be sure to check out the Fink River, towering sandstone cliffs, salt pans and beautiful mountain ranges. Here, you can also see the remarkable desert oasis of Palm Valley. This is the only place in the world where you get to see the Red Cabbage Palms, a tree that was a remnant from the time when Australian outback was wetter.
Uluru and Kata Tjuta
Uluru, also known as the Ayers Rock, is a sandstone monolith in the Red Centre. It is considered sacred to the Aboriginals and is thought to have formed 550 million years ago. The reason why you should not miss Uluru is that it changes colors at sunrise or sunset, glowing hot red in the Northern Territory. No wonder it gained the name, "Australia's most natural icon." During your visit, you can also swim in the tropical pools of Garden of Eden and check out the rock domes of the Lost City. The flora and fauna is also something that will amaze you. Aboriginals would often inform you about the rare plants endemic to the area. The ambiance of the place makes you feel like you are in a different world.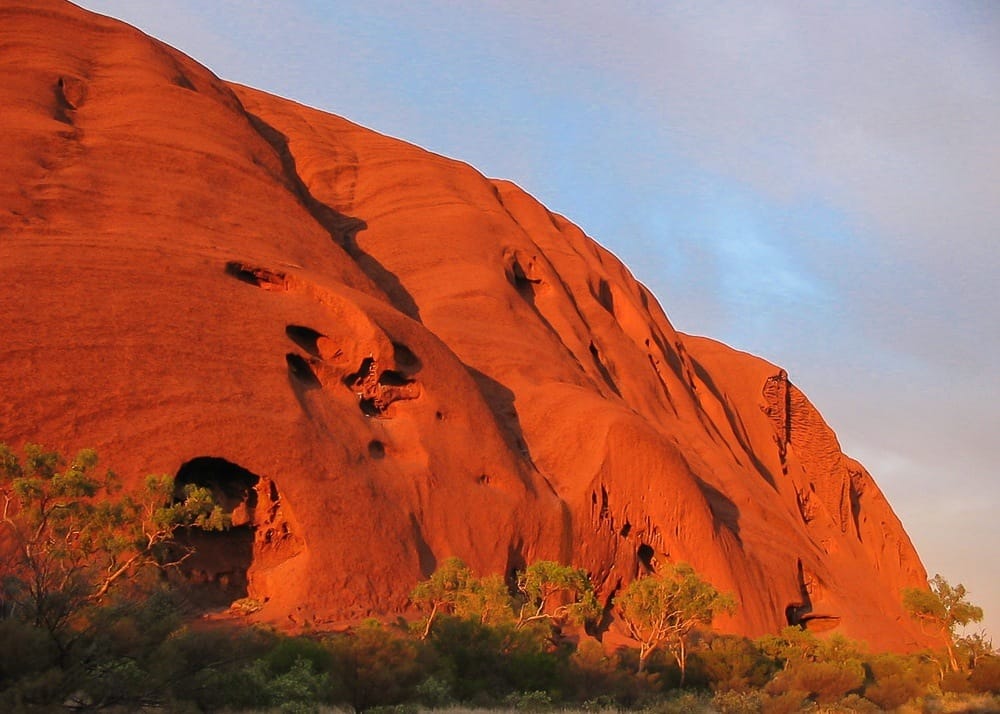 Within the Uluru-Kata Tjuta National Park, you can also visit the 36 red-rock domes of Kata Tjuta, also known as Olgas. There are bushwalking trails you can follow if you want to spend a couple of hours hiking the area.
Kings Canyon
Take one last trek to the rim of Kings Canyon where you can see amazing views of the gorges of Watarrka National Park. You can also check out the cattle or camel station at the Kings Canyon Wilderness Lodge on Kings Creek Station. Don't forget to visit Tnorala, a 20 kilometer wide comet crater that is special to Aboriginal people. It is believed to be 140 million years old.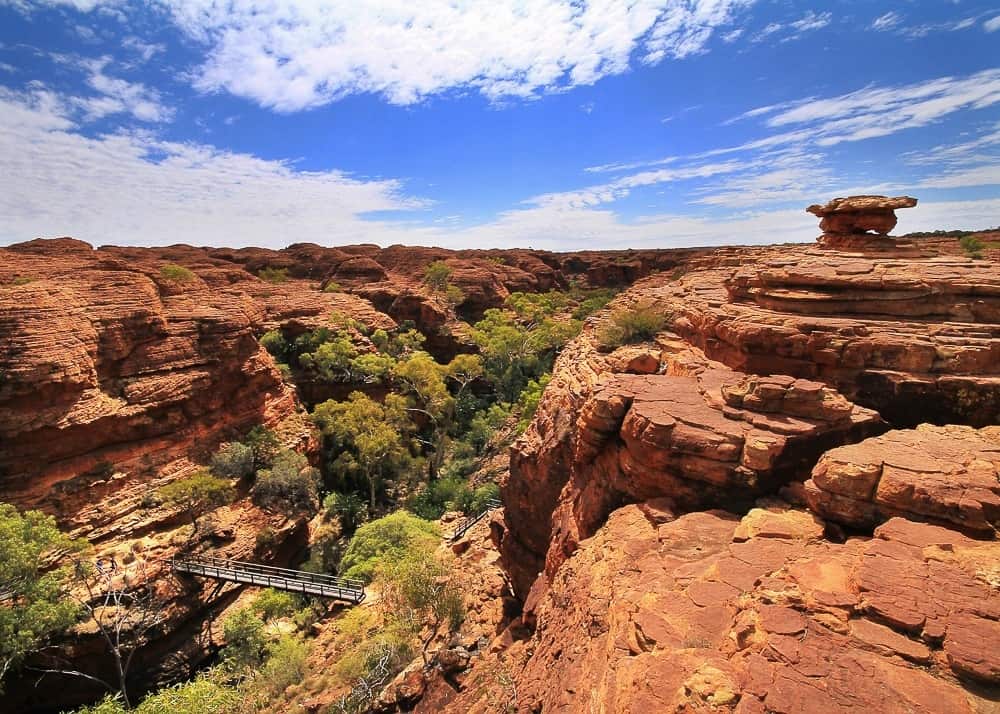 Afterwards, you can cap off a long Red Centre Way tour by relaxing and enjoying gourmet meals at the Kings Canyon Resort. There are activities such as helicopter flights or quad bike rides if you want one last look of the rugged bluffs in Kings Canyon.
Tips on Traveling the Red Centre Way
When you decide to go forward with this trip, remember to research the areas first. The whole trip might take 4 or 5 days, so you might want to look for accommodation in each of the locations or prepare camping equipment. If you are going camping, pack light but make sure you have the following with you:
Fly nets
Non Perishable food (for when you have cravings and there is no restaurant near you)
Extra clothes (pack more than what you will need)
Sunscreen
Extra money (for food and other purchases you want to make)
And make sure to drive a vehicle that can take the changing terrains like a caravan, a 2WD, or a 4WD. The Australian Outback is not an easy place to visit, despite driving your own caravan or 4WD to roam around the vast land, the travel can be long and winding. You have to be ready with enough food and survival gears to be sure that you'll enjoy your visit. The Outback in the Red Centre Way can be challenging but it is one of the experiences that you will forever be thankful for doing.