Packing for Patagonia requires more careful planning than packing for your other trips. My main concern after deciding to visit Patagonia was packing the right items for this trip. I knew the weather in this region was quite unpredictable and can go from one extreme to the other in a matter of hours, so my Patagonia packing list had to cover all four seasons.
How is the Weather in Patagonia?
You cannot fully grasp or appreciate how absolutely crazy the weather in Patagonia is until you experience it in person. You may have heard of winds so strong that they can push you over. Or of sunny summer days that turn into fierce winter storms without warning. But until you set foot in Patagonia, all these stories remain well, just stories.
I still can't fully comprehend the moodiness of this climate that doesn't leave room for any weather predictions. But I guess that's what makes this region so unique. And as the weather is unique, so should be your Patagonia packing list.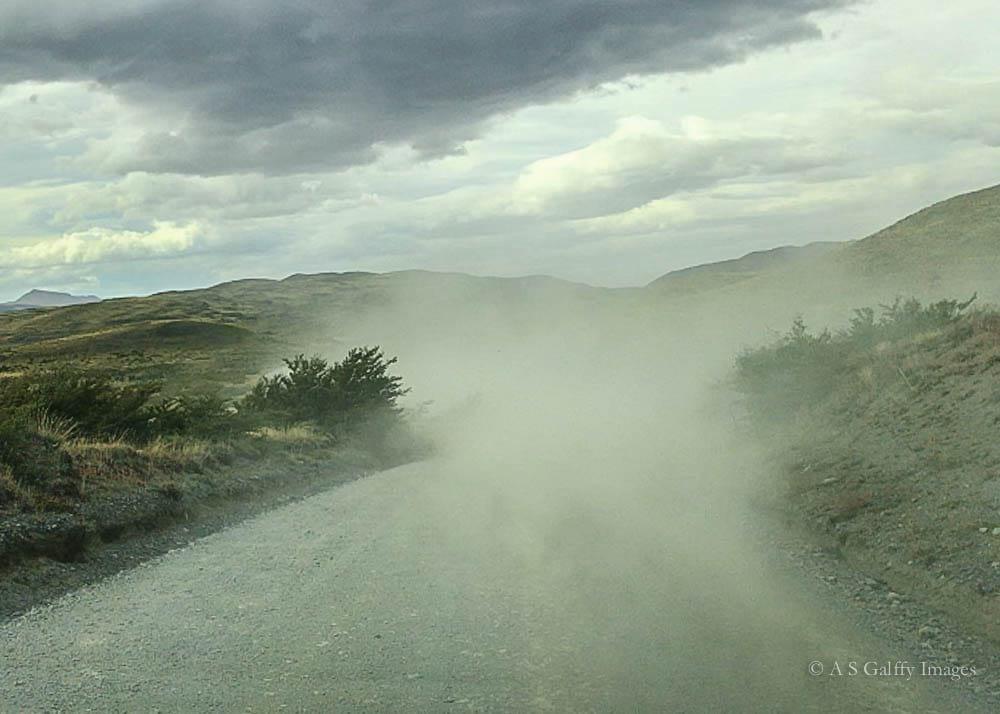 Things to Consider When Packing for Patagonia
What dictates the content of your rucksack depends of the kind of hiking you are planning to do in Patagonia. But wether you plan to do day hikes in Torres del Paine, or trek the beautiful mountains of El Chalten, what you wear when you go hiking is important. Picking the best carry-on backpack will make your hiking experience significantly better.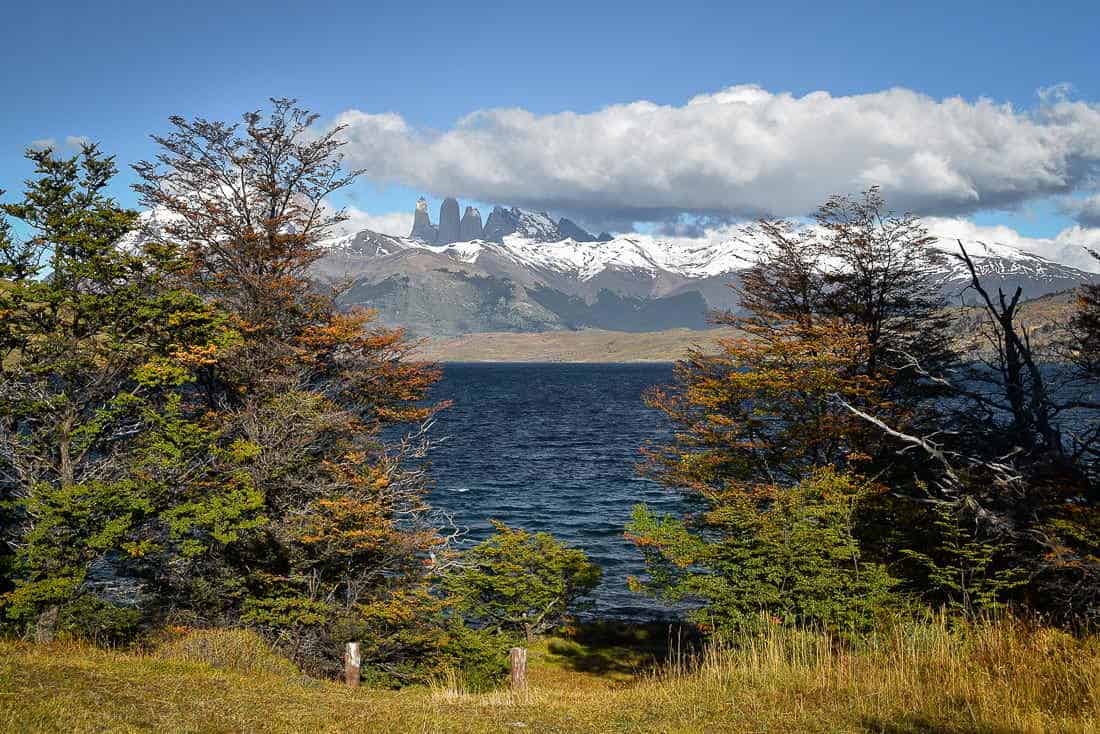 Having good gear and carrying a manageable amount of weight on these treks is crucial. As you see, there are many things to factor in when deciding what to pack for Patagonia. Therefore, minimalist packing is essential on this trip. Carrying too much stuff with you is both difficult and unnecessary.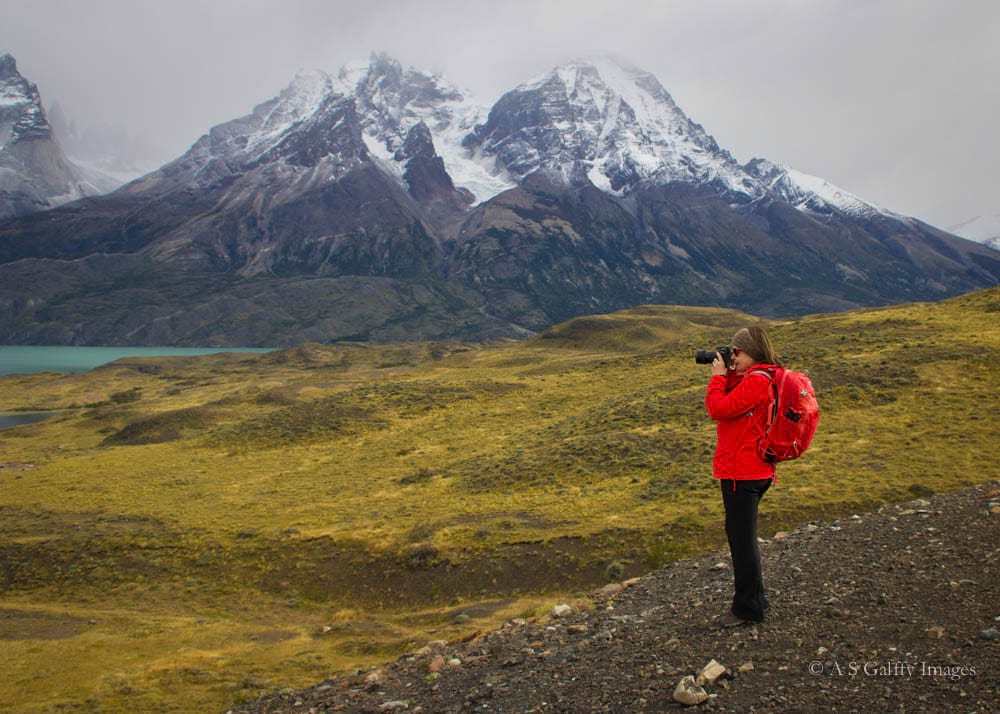 What's on My Patagonia Packing List
The packing list below is designed for all types of Patagonia weather and activities, but it assumes you are staying at a lodge or a hotel each evening. If you are camping, you will have to bring camping gear with you.
The refugios in Torres de Paine provide blankets or sleeping bags, so you only need to bring your own camping gear if you plan to sleep in a tent.
What Clothing Items to Pack for Patagonia
Let's start with the essentials – good outdoor clothing for hiking and backpacking is needed for your daily activities. Because the weather conditions vary so much in this region, your clothes should be comfortable, functional and lightweight.
Layers and waterproof are the keywords when packing for Patagonia. Also, it's always good to pack eco-friendly travel accessories and products and leave as little behind you as you can. There is a wide variety of hiking clothes for women and men out there, so here is what you need for Patagonia.
Sturdy ankle-high waterproof hiking boots. I can't stress enough the importance of buying good quality hiking boots. This is

the

one piece of equipment that will make or break the 'deal' on these hikes. Wear comfortable boots that you already broke in, because you'll be in them for days.In addition to hiking boots you should also bring a pair of sturdy walking/running shoes for lighter hiking, or for the evenings. Wearing the same pair of shoes every single day is unhealthy and not recommended for your feet. I like Keen because they have a lot of room in the front and don't squeeze my toes, but there are many good brands to choose from. They make a great gift for hikers.
Hooded Waterproof/breathable jacket. The ones I would recommend are the Patagonia jackets, which are the best. This type of rainwear keeps rain from getting through to your skin, while also allowing sweat to move out. When hiking, both rain and perspiration can soak you.
Socks. You need both thin and thick socks for trekking. I always wear my boots with

two pairs of socks

(one thin, one thick) to avoid blisters. On long hikes compressions socks work great. Also, wearing clean dry socks is essential, so bring enough socks for every day of your trekking.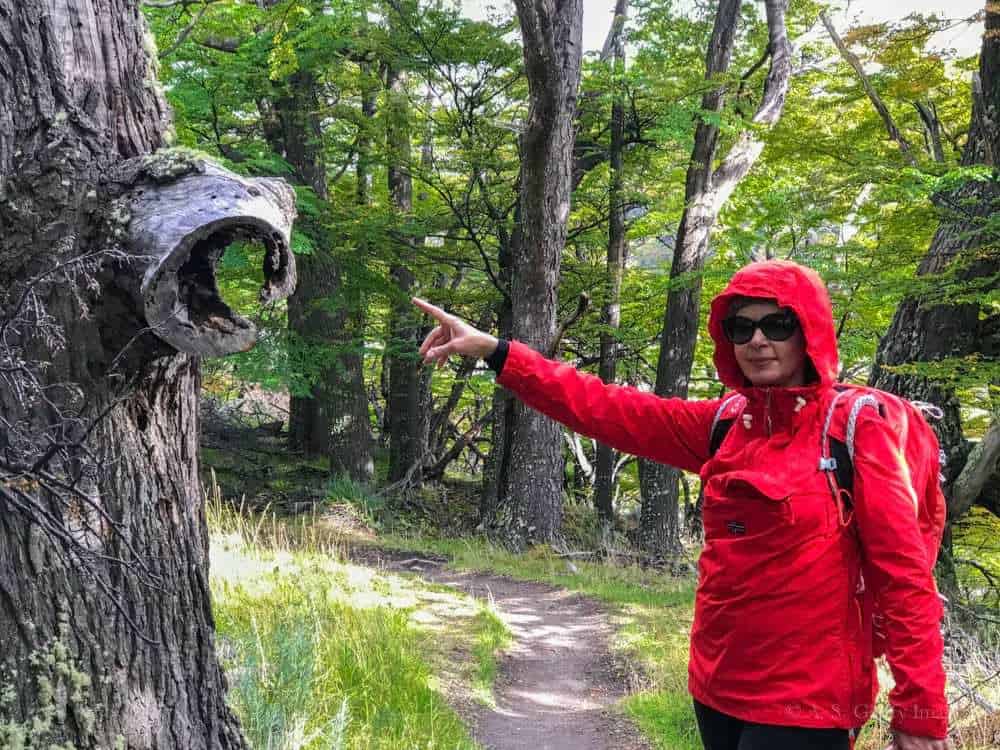 Base layer clothes are absolutely essential when packing for Patagonia. Because of the temperature fluctuations, you'll need to consider dressing in layers so you can take off or put on layers quickly. As much as I love cotton, it is not a good fabric for hiking. Cotton traps the sweat inside and your clothes will stay wet longer. For layers, I personally prefer wool and wear a lot of Icebreaker tops on my hikes, but my husband likes polyester. Both are a good choice because they dry very fast.
Waterproof pants. I used a pair of waterproof running tights as the base layer which I doubled with a pair or thick polyester pants for hiking. I also brought a pair of stretch jeans for the evenings. Many people wear waterproof pants which are a great choice for rainy days. I personally don't like them too much. They are bulky and expensive and not absolutely necessary (depending on the time of year you travel to Patagonia). However, I found that wearing a pair of waterproof gaiters on top of my pants made a big difference when it rained.
Waterproof gloves are a must! Thin, polyester or cotton gloves will not work if it gets cold and rainy. There may be days when you don't need gloves at all, but I recommend wearing them for protection as well.
Hat/Beanie. Bring a wool, thick beanie that you can pull down on your ears and forehead when the wind blows. You'll use this for sure!
Packable down vest/jacket. I wore mine when I was on the boat, or on the road. I found it to be too warm for hiking though.
Hiking Gear Recommendations
Backpack and bags. The kind of backpack you need depends on the kind of hiking you are planning to do, but you should definitely try to use only top rated backpacks.



For multiple day treks, an internal frame backpack is a must (e.g. a 50-60 or 70 liter). But I recommend an internal frame for short hikes as well. Most of them also have a mesh to allow ventilation, so your back doesn't sweat too much. For day hikes an 18-24 liter bag should do).





When choosing a backpack, keep in mind that different manufacturers use differing methods to measure the capacity, or volume. Also, some models are ideal for men, or for women. Hiking with a backpack that doesn't fit properly can be extremely uncomfortable.



A dry bag. Most of the professional backpacks come with a rain cover which is very helpful anywhere else, but not in Patagonia where winds are so strong. For that reason, I also recommend buying a dry bag for your camera and some ziplock storage bags to help protect anything else you carry in your backpack. Remember: it rains in Torres del Paine and everywhere else in Patagonia!

Trekking poles. Many hikers argue that you can get by without them. BIG MISTAKE! People kept telling us that hiking poles didn't look cool. Seriously?

Those poles saved us so many times. Especially when we hiked to Laguna de Los Tres, in Los Glaciares National Park. Patagonia is famous for rocky and very rough terrain, so using trekking poles will come in very handy. Especially when you walk downhill, or cross a stream. I strongly recommend packing lightweight, packable, and sturdy trekking poles.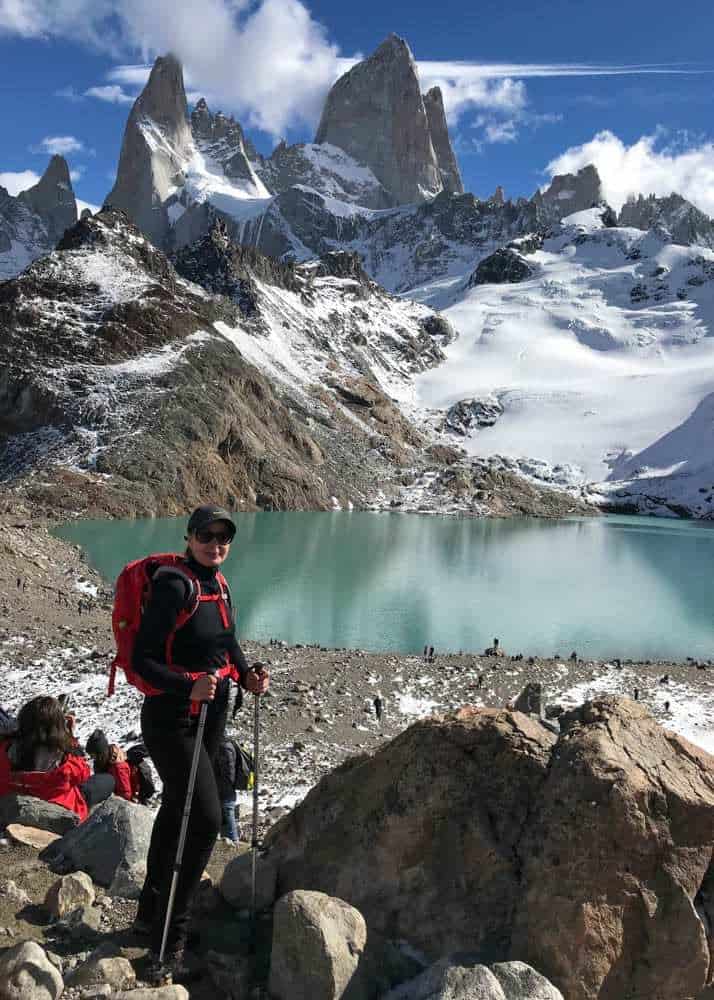 Hiking at Laguna de Los Tres in Los Glaciares National Park, Argentina
Other Useful Items to Add to Your Patagonia Packing List
In addition to the above list, you should also bring the following items:
Sunglasses
Basic first aid kit
Mosquito repellant
Sunscreen
Snacks
Refillable water bottle
Small towel
Scarf
Plug adaptor for Chile and one for Argentina
Battery pack and a high-speed charging cable to charge your phone
And last but not least, your CAMERA! This is the one thing that you will deeply regret leaving behind (in case you forget to bring it).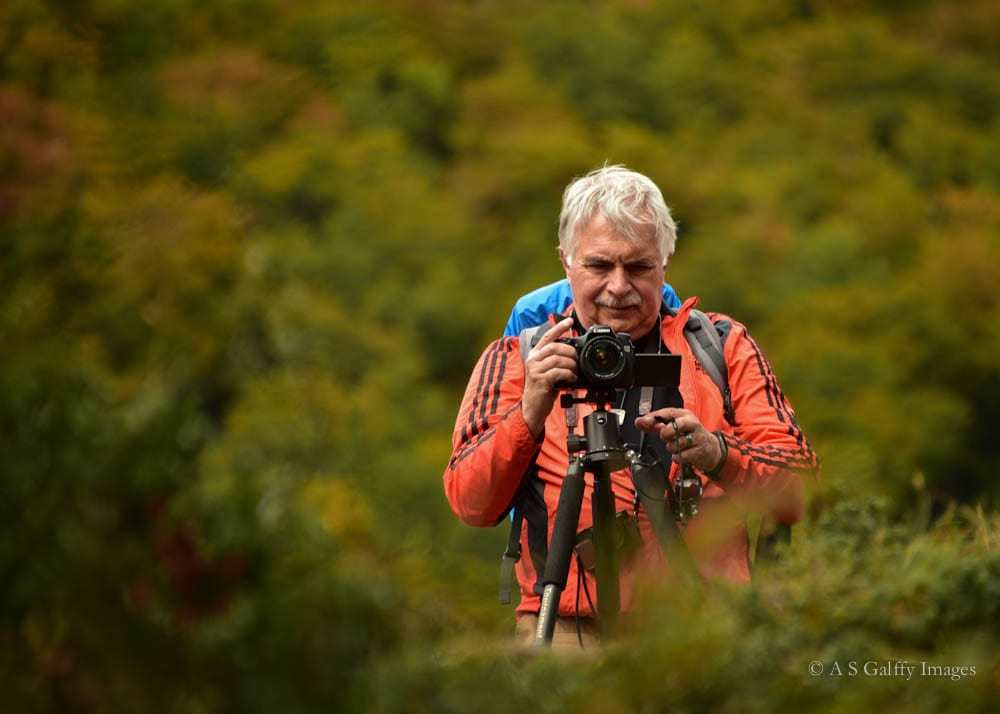 Pack it ahead of any other item on this list and don't forget your charger, extra memory cards and a tripod. Patagonia is one of the most stunning places on Earth and you won't be able to stop taking pictures
A Final Point
Since on this trip we stayed in a hotel and not in refugios or campsites, the above Patagonia packing list does not include any references to camping gear. However, we hiked extensively in Torres del Paine and Los Glaciares National Park, so all of these suggestions apply to trekking and backpacking just the same.
For ideas on where to go backpacking in Chile, read this post.
Did you find this Patagonia packing list helpful? Pin it to help other travelers to Patagonia.