Hotel Las Torres Patagonia was quite a surprise. When you travel to the end of the world, in the heart of wild and moody Patagonia, luxury and comfort is the last thing you expect. But comfortable accommodations are not hard to find in Torres del Paine.
A journey through the wilds of Torres del Paine National Park is no small endeavor. To make it to the heart of Chilean Patagonia you have to fly to the end of the world, drive gravel roads, hike rocky trails, and battle harsh and unpredictable weather. But the rewards are a dream-come-true for any outdoor enthusiast: jagged mountain peaks, azure blue lagoons, roaring waterfalls, and an abundant wildlife that will not cease to amaze you every day you'll be here. Considering how huge this area is and also the fact that roads and packed gravel in the park, your best bet for lodging in Torres del Paine is inside the park.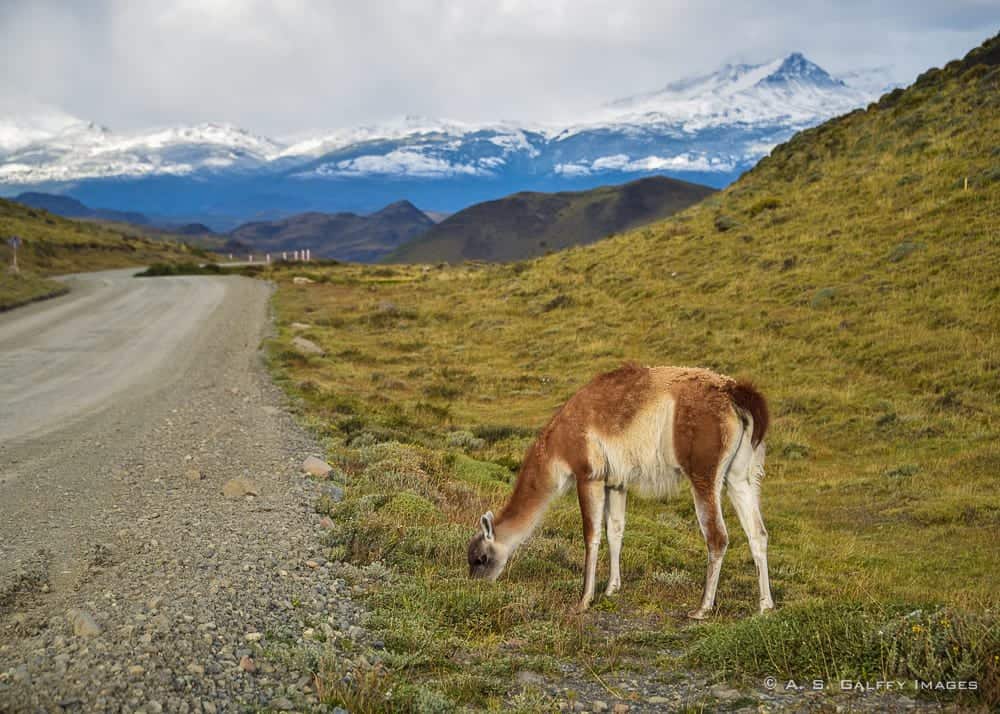 There are several options for lodging in Torres del Paine, from campgrounds and refugios to estancias and more luxurious hotels. One thing to keep in mind is that hotels in Torres del Paine are quite expensive, so if you are a budget traveler, or if you are planning to do one of the trekking circuits, you may choose to stay in a tent or a refugio. However, if you are like me and you like a hot shower and a warm bed after a hard day of hiking, you should probably choose a hotel. We stayed at Las Torres Hotel Patagonia, which is located very close to one of the park entrances.
Location, location, location
Las Torres Hotel enjoys a location that is hard to beat: on the trailhead to the base of the towers on the W circuit, so you're right in the hustle and bustle of the park. It is also close to all excursions and tours tours on foot, horseback or by vehicle. This is the ideal place to as a base if you are planning to do day hikes or even one of the trekking circuits. The hotel is nestled at the foot of the Paine towers, thus enjoying stunning views of the Patagonian landscape from all sides.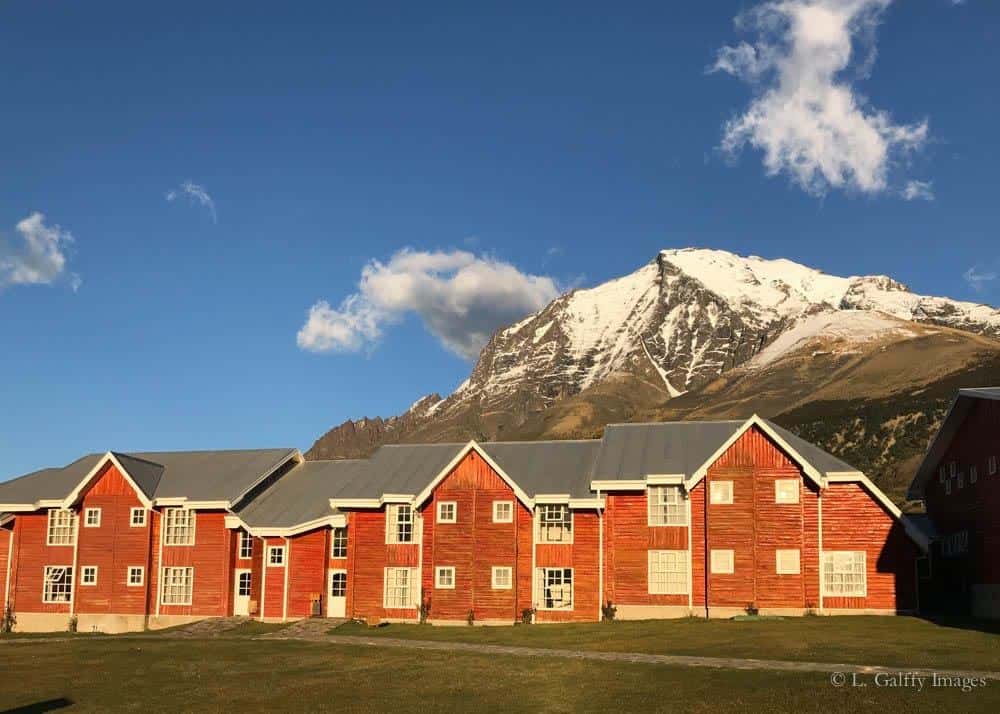 Don't be deceived by its rustic, log cabin appearance. Las Torres still preserves its estancia appearance, but inside you'll be greeted by top notch amenities, two restaurants and a bar-lounge, a sauna /massage center and a very welcoming staff.
History of Las Torres Hotel
Owned by one of the earliest families that settled in this area, the hotel has an interesting history. Long before becoming a lodge Las Torres was an estancia (ranch) and the home of Antonio Kusanovic Senkovic, the son of a Croatian immigrant. In 1979 his father acquired Cerro Paine ranch located at the foot of the Torres del Paine massif and began breeding cattle. Following in his father's footsteps, Antonio and his family continued to raise cattle till the early 90s, when Torres del Paine started to become a popular destination.
As more and more visitors began coming to the park every year, Kusanovic and his wife decided to add some rooms to welcome the visitors. In 1992 Hostería Las Torres was opened with 10 rooms and a small restaurant. Since then the lodge has expanded to 84 rooms, together with a spa, restaurant and a stable with 150 horses.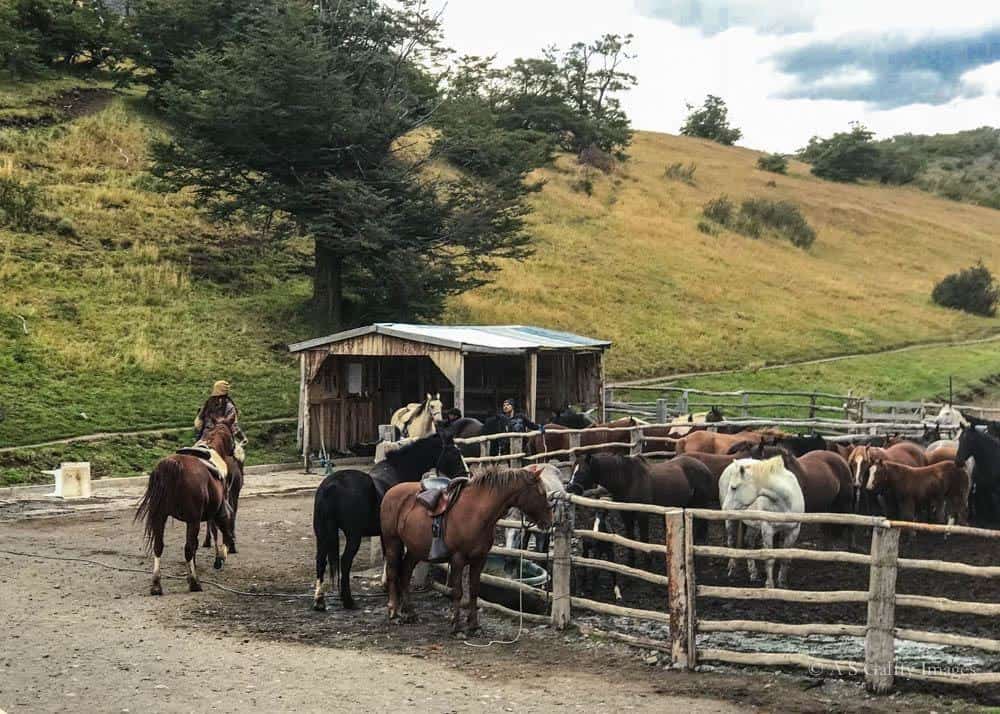 Rooms at Las Torres Hotel
Las Torres hotel has a lodge-like feel, but with a touch of luxury. Rooms are comfortable, with a warm countryside-style atmosphere, an elegant décor and amazing mountain views. Our room featured a separate entrance area with a huge closet for clothes and hiking equipment. All guest rooms have twin or double beds, en suite bathrooms, central heating, a closet, hairdryer and Wi-Fi. There are four categories of rooms:
Superior Canelo – Very cozy and comfortable rooms with decorations that evoke the history and culture of Patagonia.
Superior Ciprés – New, spacious and cozy rooms, with excellent isolation and large windows to enjoy the scenery.
Suite Rooms – They are the most spacious rooms, equipped with mini bar, a small living room and a jacuzzi.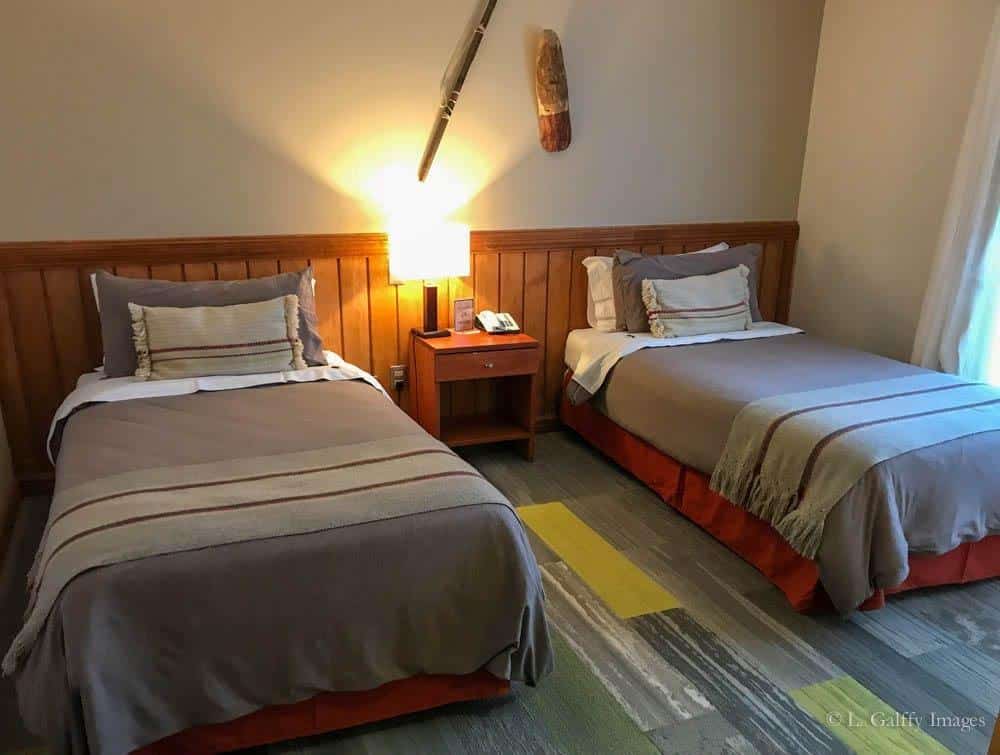 You can stay at Las Torres on a bed and breakfast or all-inclusive basis. Those who choose only bed and breakfast option can also pay for day tours in the park. For the all-inclusive guests include the tours are included in the package. The hotel also has a spa where you can enjoy a massage or some other spa treatments.
An authentic Patagonian experience
Las Torres hotel is more than just a bed-and-breakfast. The family strives to expose their guests to the local culture and traditions. You can meet the baqueanos (Patagonian cowboys) and see them caring for the horses in the stables at the hotel. These master horsemen, who also lead guests on horseback excursions throughout the park, are excellent guides.
From the food that focuses on regional and traditional gastronomy, to the furniture that features simple elements of decorations, staying at Las Torres hotel is a very authentic experience.
Food and drinks at Las Torres Hotel
Las Torres Hotel is also a great culinary experience. From the buffet breakfast they serve every morning to the delicious dishes in their restaurants, there is a unique blend of modern flavours and traditional recipes from Chilean Patagonia.
The first night we checked into Hotel Las Torres we decided to dine at the on-site Restaurant Coiron. We were really impressed with the quality of of the food. The service was also very prompt and courteous. There is an organic garden just behind the hotel where they cultivate 30% of the vegetables used in the restaurant.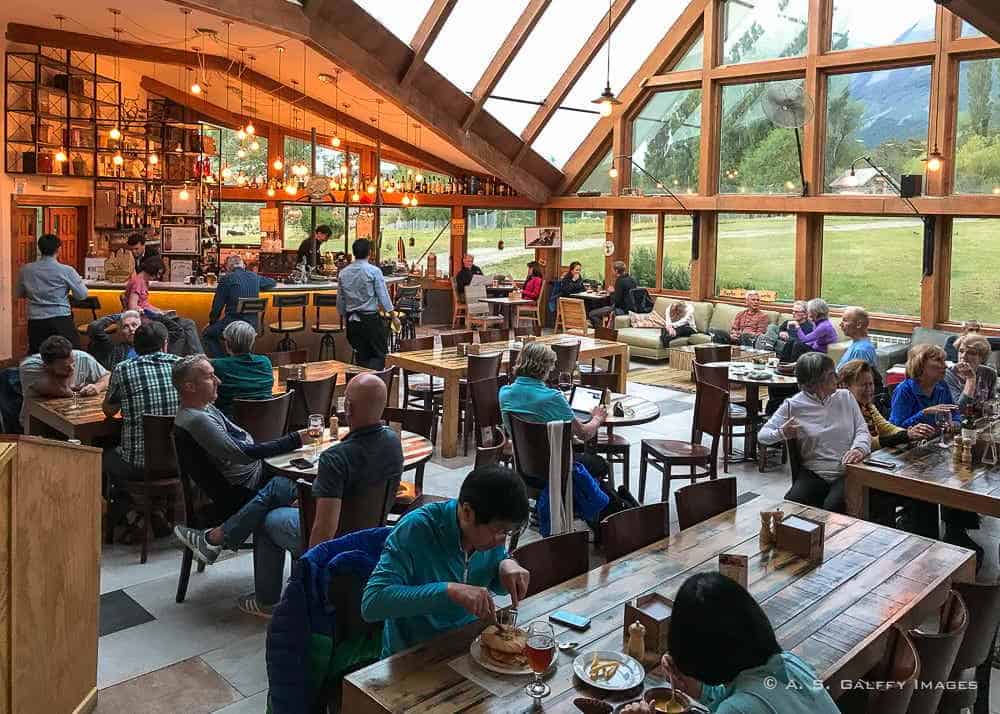 The next evening we dined in the Bar Pionero. The lounge-bar serves hot sandwiches, salads, soups, pizza and all sorts of deserts. But dining at the bar comes with a perk: you get to taste some very unusual and sophisticated cocktails. Federico and Maximiliano Gil, two brothers from Uruguay who moved here and created their own microbrewery that uses glacial water. They also pride themselves in making very original and sophisticated cocktails.
We also tried the Quincho, a traditional rustic restaurant that serves barbecue lamb, beef and chicken.
The bottom line and our opinion
If you are traveling to Torres del Paine and want to see the park in style, Las Torres hotel is the place for you. It's so comforting to know that when you return from a hard day of hiking, wet, cold and exhausted, will find a hearty meal, a hot bath, and comfortable bed to sleep in.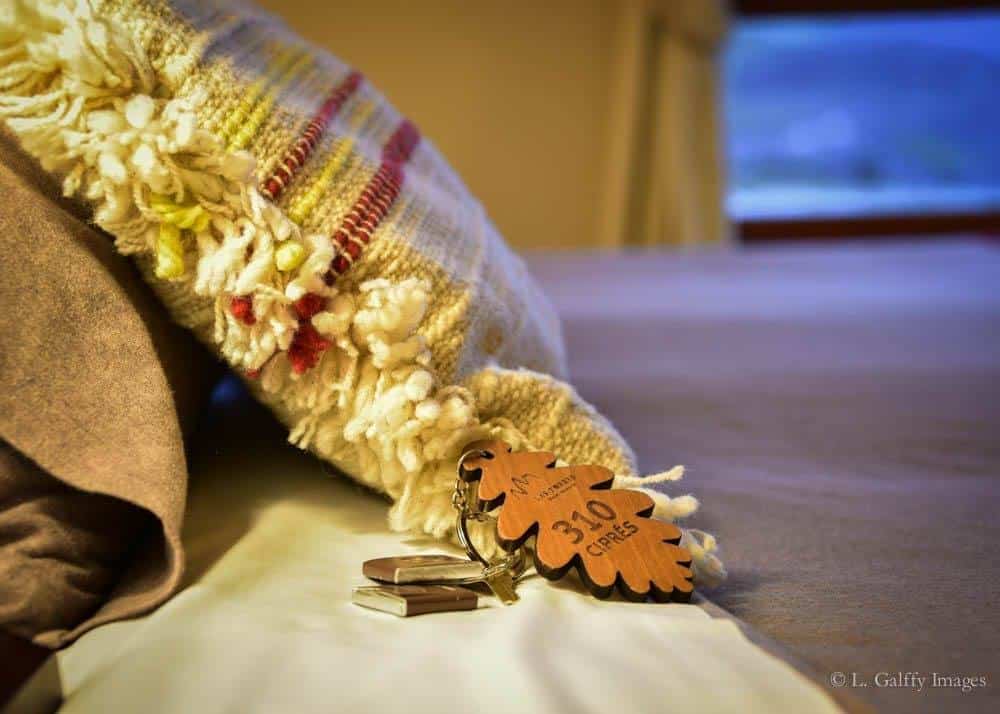 The hotel is also a great choice for lodging in Torres del Paine if you want to do one of the circuits. You can use it as a base and stay here the night before your track. You can also leave some of your luggage in storage at the hotel. Then, on the return, you can stop to relax for a couple of more days. Las Torres hotel has the ideal location for exploring the park, riding horses or simply relaxing in an idyllic setting.
Disclaimer: Our stay at Las Torres Hotel was provided courtesy of the hotel. However all opinions expressed in this review are solely ours.
If you liked this post pin it for later