A journey to Torres del Paine National Park in the heart of Chilean Patagonia is no small endeavor. To make it there you have to fly to the end of the world, drive gravel roads, hike rocky trails, and battle harsh and unpredictable weather. But it's all worth it, because Chile's National Park is one world's most amazing destinations. Unfortunately, bucket-list destination don't come cheap, so finding affordable lodging in Torres del Paine is one of the main priorities when planning your Patagonia hiking trip.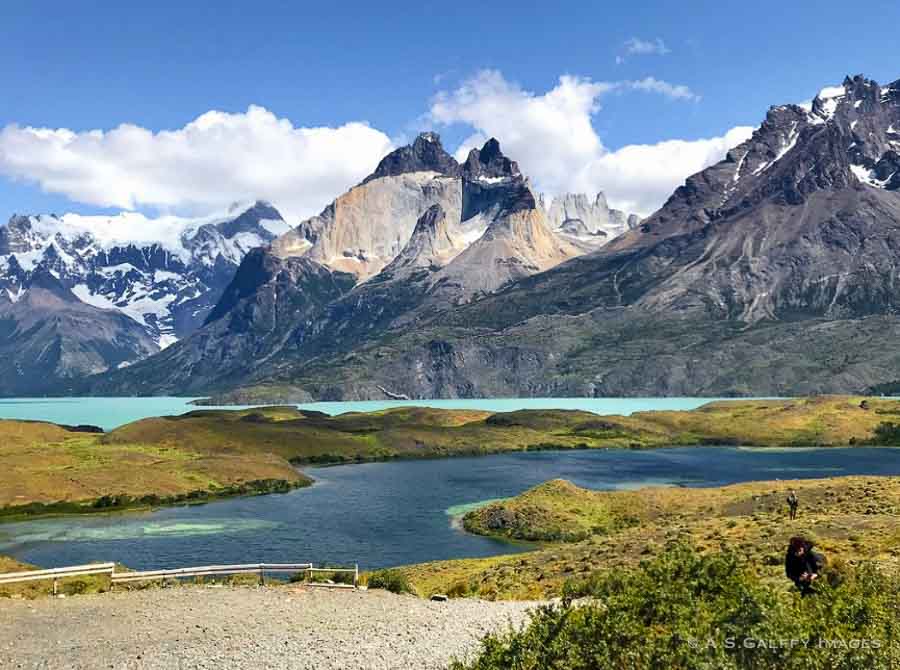 LODGING OPTIONS IN TORRES DEL PAINE
Despite its remoteness, Torres del Paine has a pretty good tourist infrastructures and lodging options. Inside the park you can find a wide range of accommodations, from campgrounds, refugios, to hostels and luxury hotels.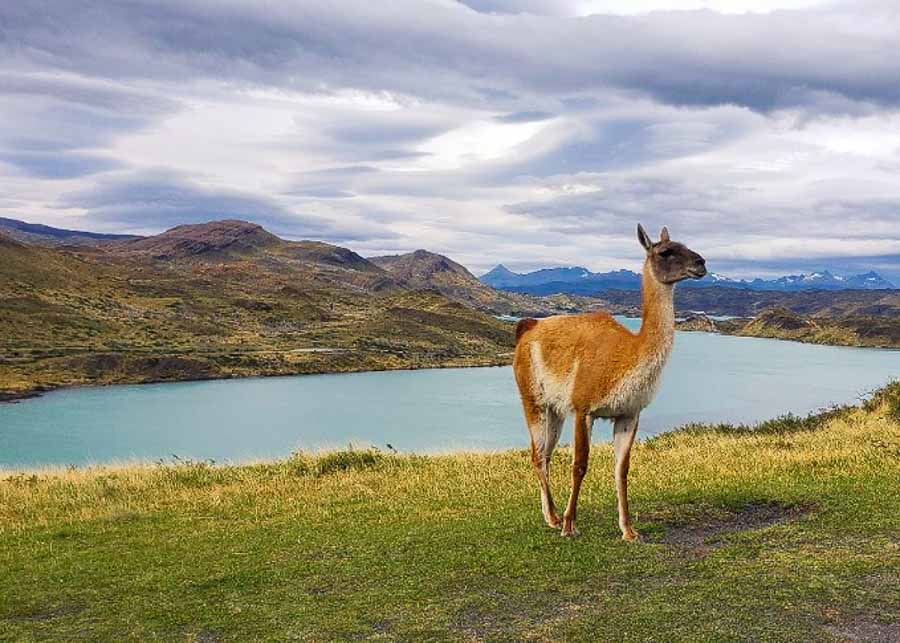 If you are a budget traveler, or if you are planning to do one of the trekking circuits, you'll have to stay in campgrounds or refugios.
Planning a trip to Torres Del Paine? Read next: Patagonia Packing List – Essential Items to Pack for a Hiking trip in Patagonia
Campgrounds
There are two types of campgrounds in Torres del Paine: free park campgrounds administered by CONAF and paid camping areas run by the refugios.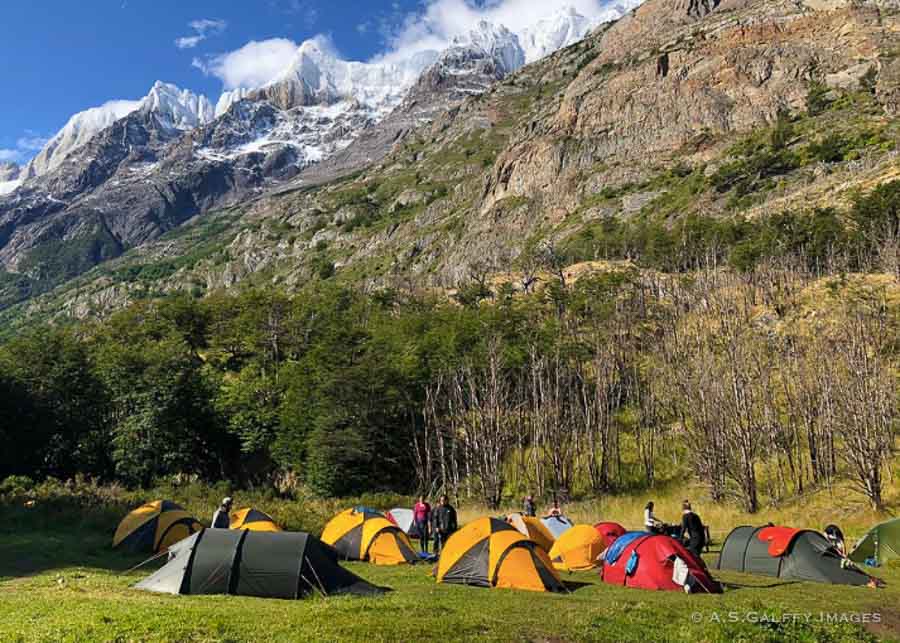 The free park campgrounds are very basic, offering only a cooking shelter (fires are not allowed) and rustic bathroom facilities.
The paid campgrounds around the refugios ($8–$18 per person) give you access to more facilities (cooking areas, bathrooms, and showers).
Refugios in Torres Del Paine
Refugios are a compromise between hotels and campgrounds, but they are considerably more expensive than campgrounds ($81 and $112 per person for full board). They offer dorm-style rooms with bunk beds, shared toilets and bathrooms with hot showers accessible for all hikers.
The accommodations are generally clean and well located on the main trails. Here are some of the most reputable refugios in Torres Del Paine:
Refugio Grey
Refugio Grey enjoys a spectacular location, on the shore of Lago Grey. It is also very conveniently located, at one end of the W trekking circuit, where hikers either begin or end their 5-day hike around the park. For this reason, Refugio Gray is one of the busiest hostels in Torres del Paine.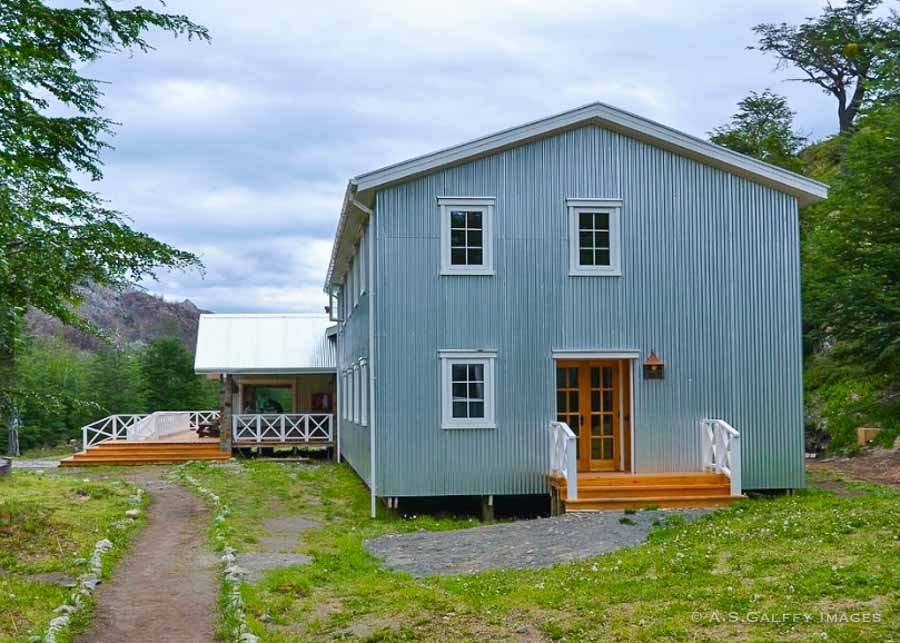 This shelter is few minutes away from the glacier Grey, which emerges from the Southern Ice Fields. Access by car is not possible. To reach the Refugio you will either have to hike from the Shelter Vértice Paine Grande, or sail by catamaran from the Hosteria Lago Grey or from Paso Gardner.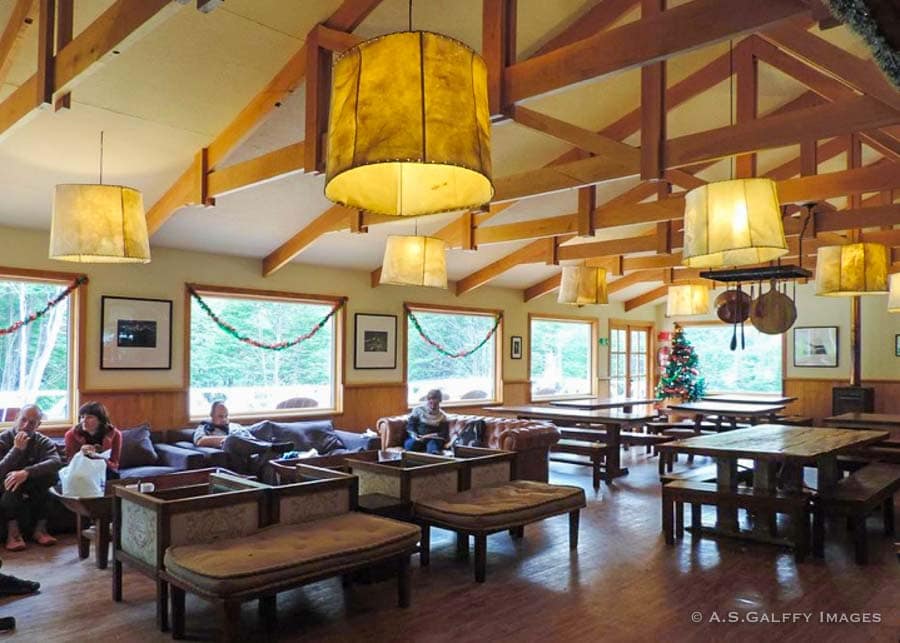 Rates are:
Simple bed: $37 USD
Bed and full board: $81 USD
Refugio Los Cuernos
Refugio Los Cuernos sits at the base of "Los Cuernos" of Paine Massif, about 4.5 hours hike from Las Torres area. The hostel enjoys an unbeatable view of the Cuernos and Nordenskjöld Lake.
Because it's located right in the heart of the W Circuit, hikers stop here during their second or third night, depending on their itinerary. As a result, Refugio Los Cuernos is always crowded.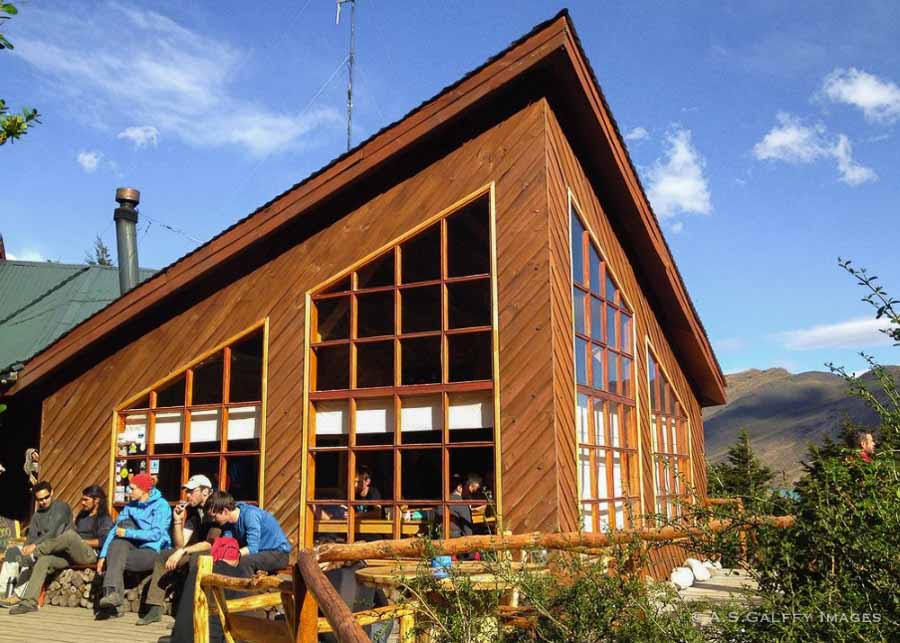 The refugio has 4 shared-mixed dorms for 8 people each. If you want more privacy, there are also 8 double cabins with shared bathrooms and a hot tub, exclusive for the cabin guests.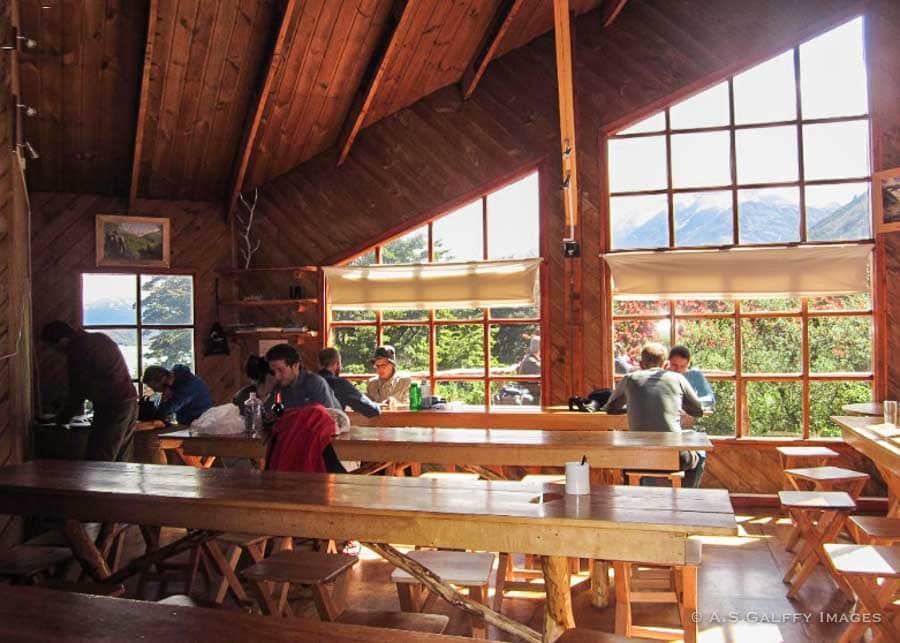 From this area you may hike to the French Valley that has some of the best views in the park. You can see the impressive amphitheater formed by the Granite Mountains and then continue to Pehoé Lake and Grey Glacier.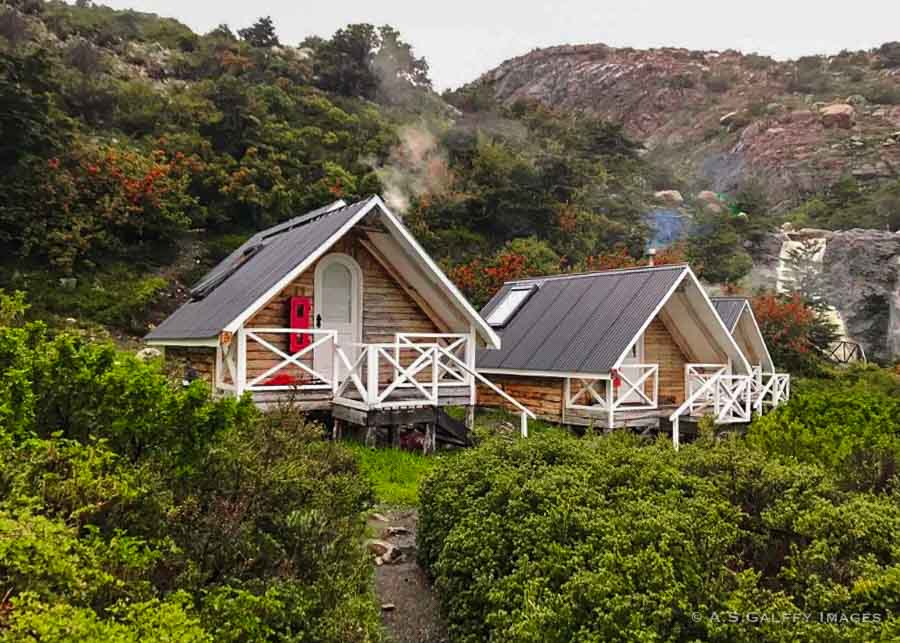 Rates are:
Simple bed: $50 USD
Bed, sleeping bag, and full board: $112 USD
Hosteria Pehoé
Sitting on a small island in Lake Pehoé, right across from the majestic Cuernos del Paine, Hosteria Pehoé enjoys one the best locations in Torres del Paine.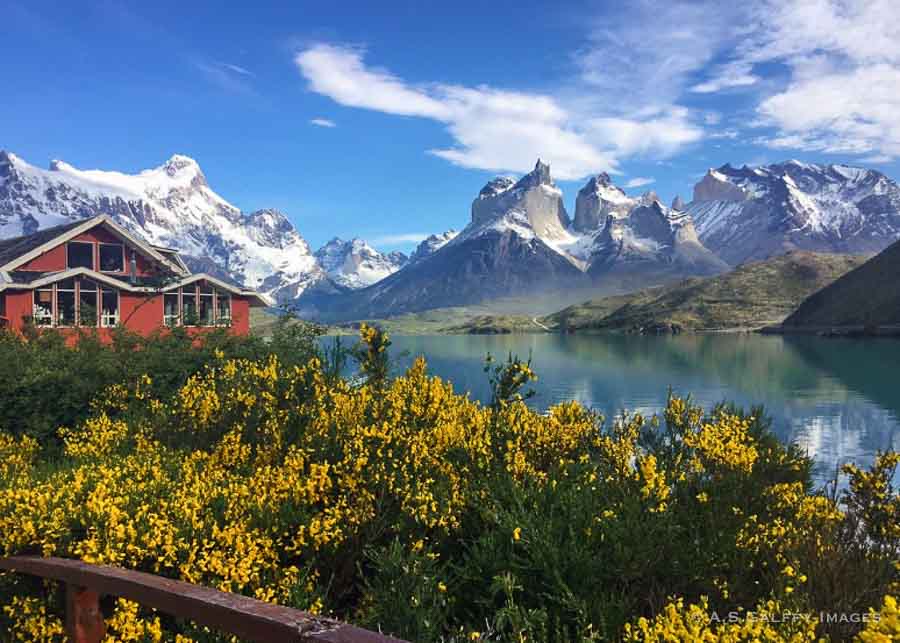 Hosteria Pehoé offers rooms with private bathrooms and breakfast included. On the second floor there is a large lounge, a bar, and a dining room with a beautiful views of Lake Pehoé and the Horns of the Paine.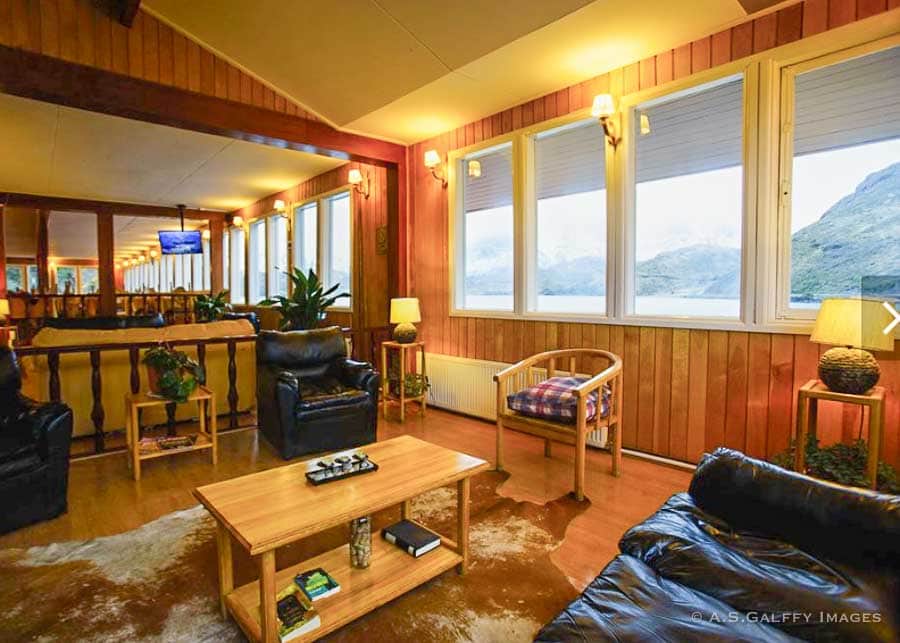 Rate is: Double room with private bathroom rate: $200 – $300 USD, depending what room you reserve.
Hotels in Torres Del Paine
One thing to keep in mind is that hotels in Torres del Paine are quite expensive. However, if you want privacy and more comfort after a hard day of hiking, you should probably choose a hotel.
Hotel Las Torres Patagonia
Las Torres Hotel enjoys a location that is hard to beat: on the trailhead to the base of the towers on the W circuit. So you're right in the hustle and bustle of the park. The hotel sits at the foot of the Paine towers, thus enjoying stunning views of the Patagonian landscape from all sides.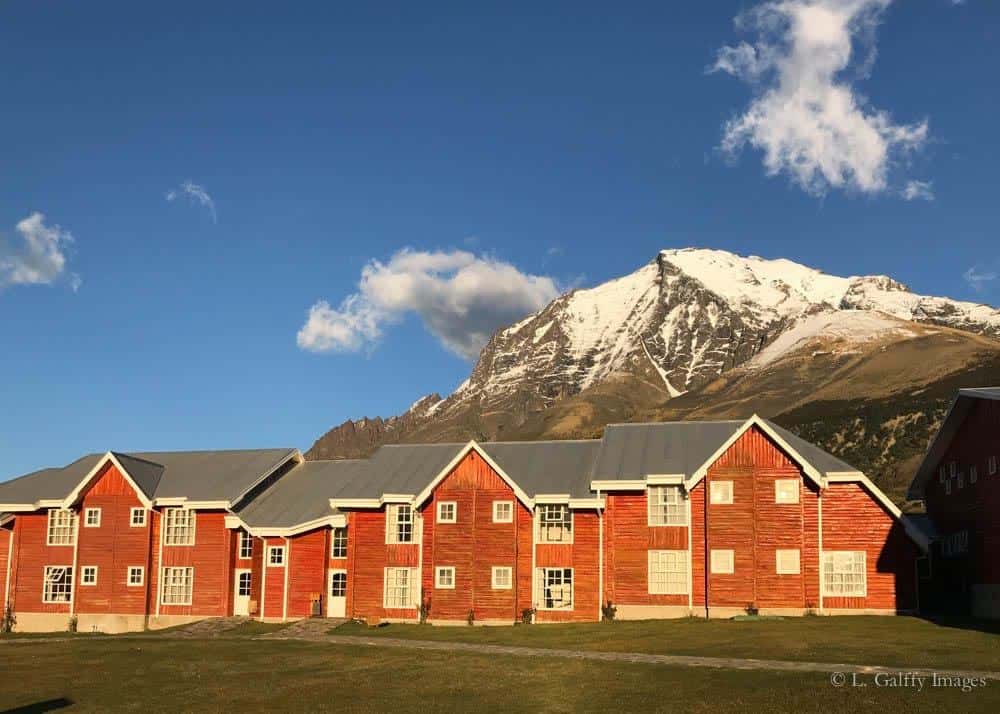 Las Torres Hotel is also close to all excursions and day hikes in Torres del Paine. This is the ideal place to as a base if you are planning to do day hikes or even one of the trekking circuits.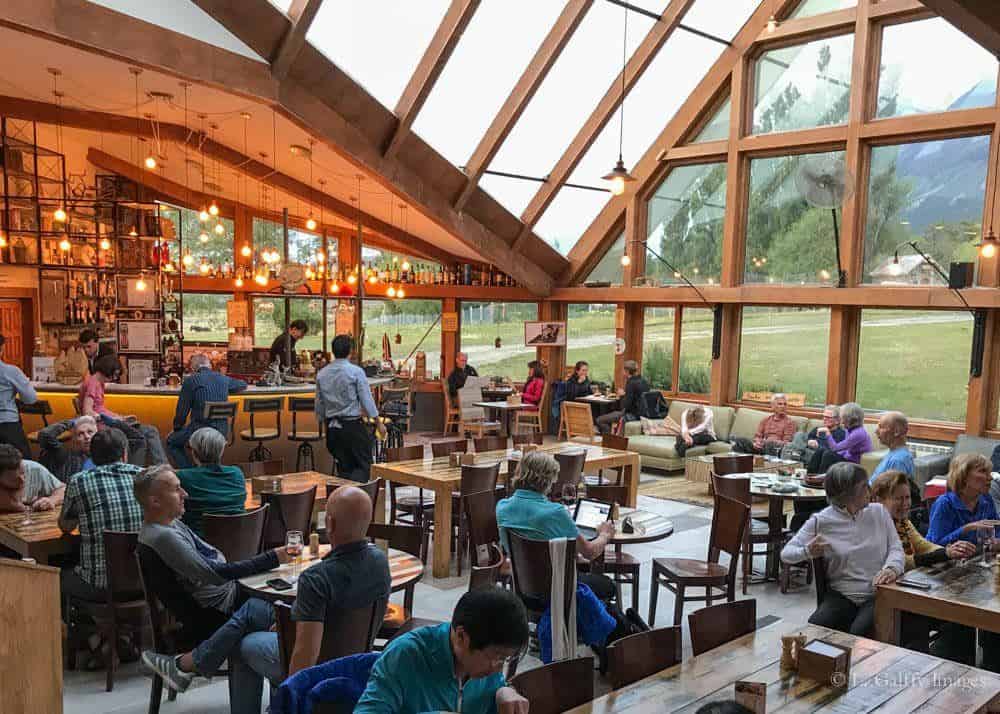 Don't be deceived by its rustic, log cabin appearance. Las Torres still preserves its estancia appearance, but inside they have top notch amenities, two restaurants and a bar-lounge, and a sauna /massage center.
Rates are between $415 USD (during low season) and $555 USD (during high season).
Book rooms for Hotel Las Torres Patagonia here.
Hotel Lago Grey
I can't think of a more beautiful location in Torres Del Paine than the one of Hotel Lago Grey. The hotel sits on the shores of Grey Lake, overlooking the crystalline glacier, and is surrounded by granite mountains peaks, forests and rivers.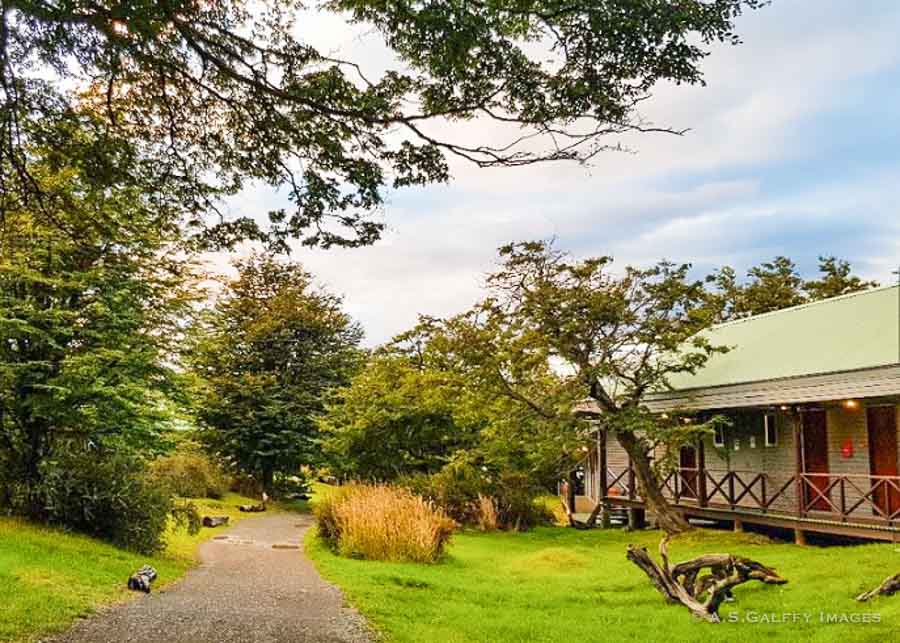 The rooms as well as the amenities (restaurant, bar, lounge) are really luxurious and well maintained. The hotel offers complimentary breakfast, as well as free parking and free WiFi in every room.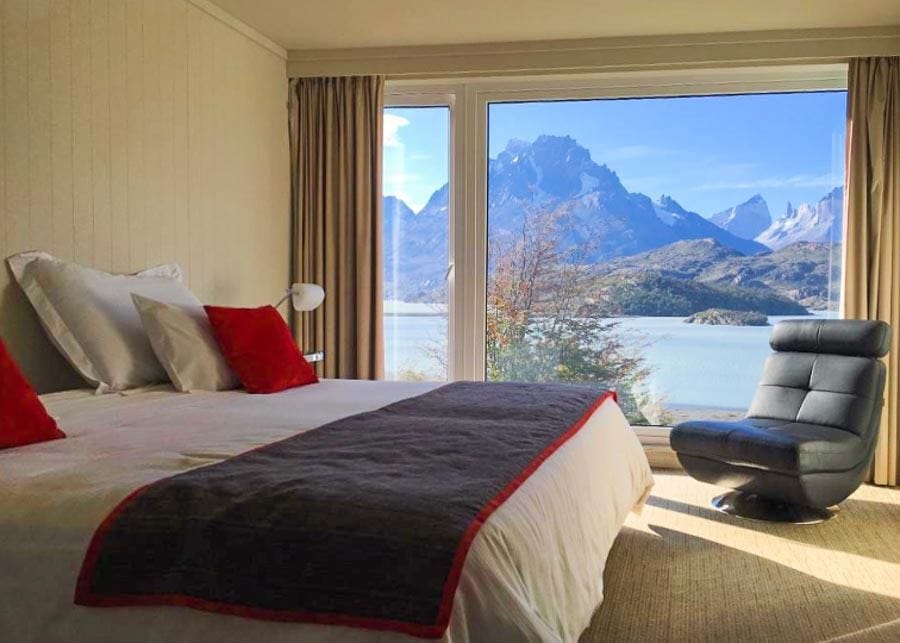 Location wise, Hotel Lago Grey is farther away from the most popular trails in the park and if you don't have a car you'll have to pay to book a trip to anywhere else. However, if you are staying here you can easily go on a boat trip to Glacier Grey, or go kayaking on Lago Grey.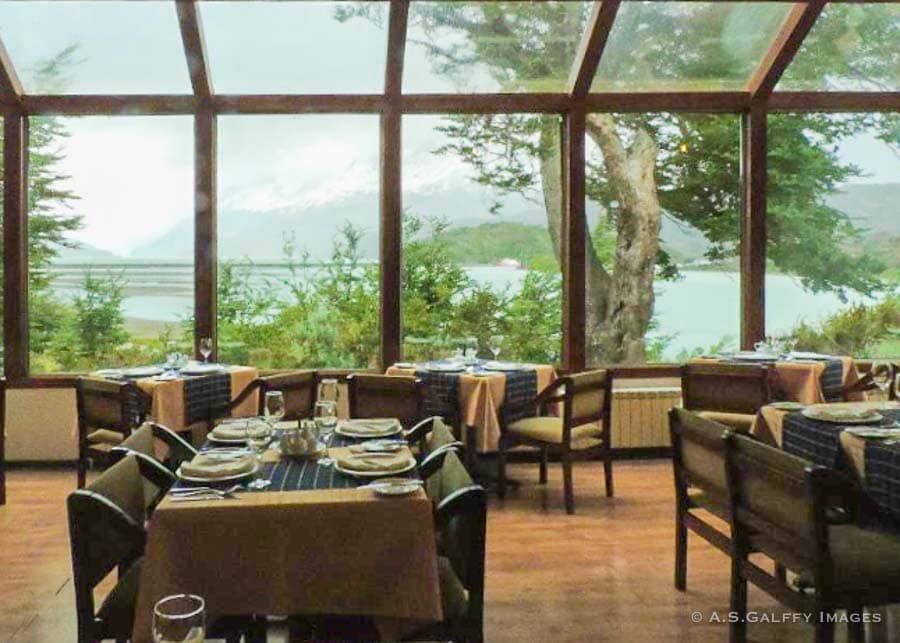 Rates start at $330 USD (during low season) and can go up to $485 USD (during high season)
Book rooms for Hotel Lago Grey here.
Hotel Explora Patagonia
By far the most exquisite (and expensive!) hotel in Torres del Paine is Explora Patagonia. The hotel enjoys a privileged location, on a high cliff overlooking overlooking Lake Pehoé and the towering granite peaks of the Cuernos del Paine.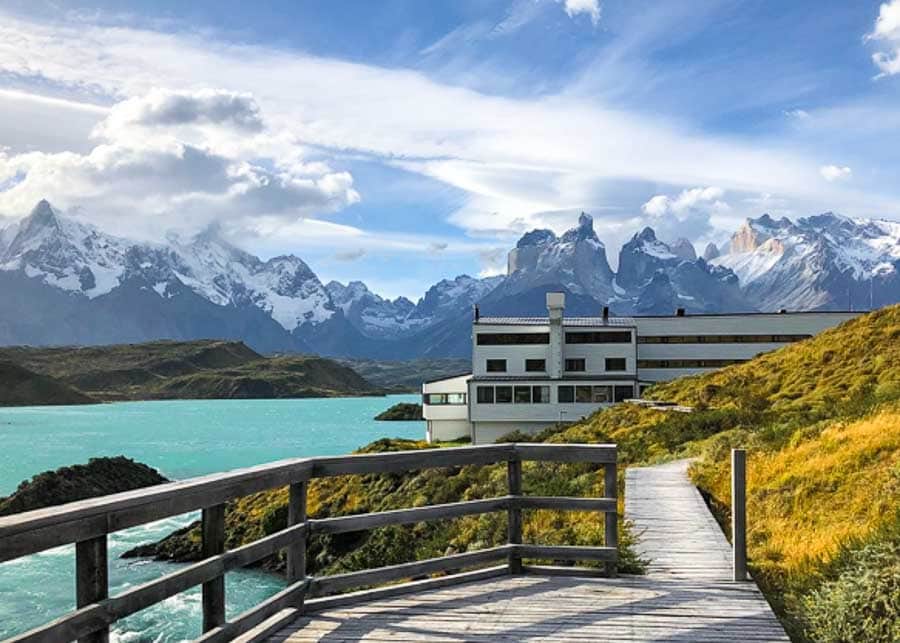 If you choose to stay here you'll be surrounded by 600,000 acre of breathtaking wilderness, glaciers and snow-capped mountains.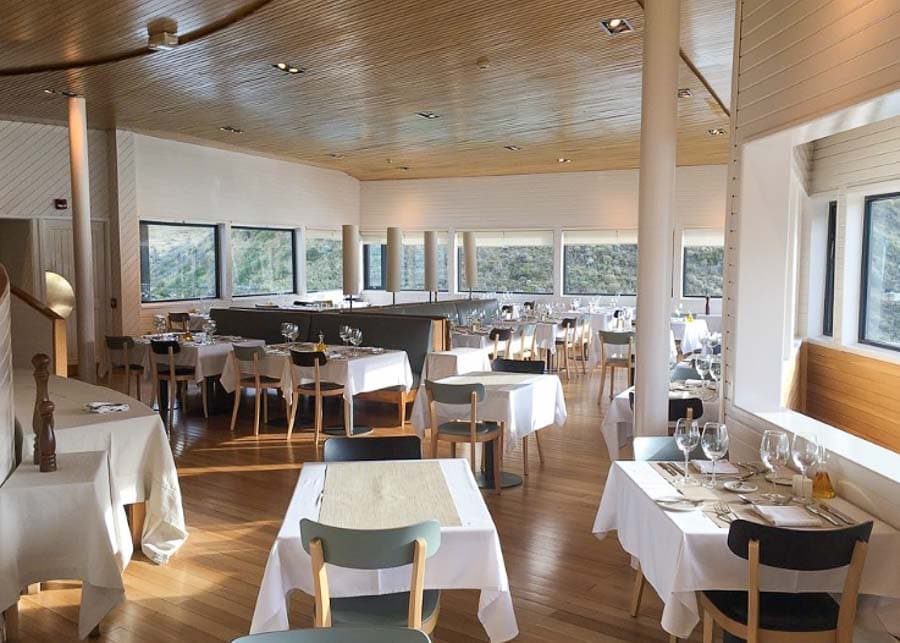 The hotel has very modern lines. Rooms are simple, but very nicely decorated and all have fabulous views over the park.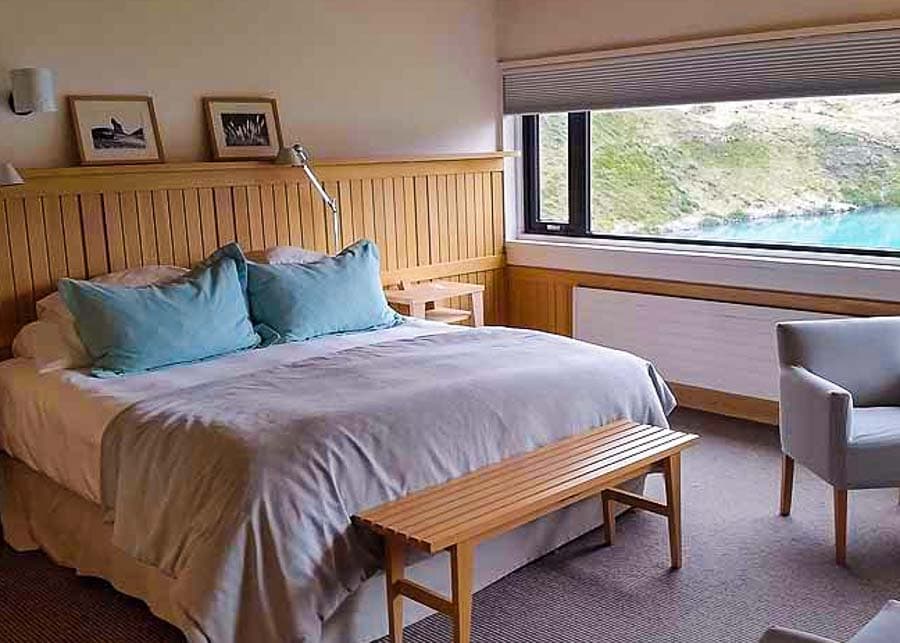 Rates are all-inclusive and can be anywhere from $677 USD (the cheapest!) to $2,250/night, but rooms are very difficult to book even at this whopping prices.
Book rooms for Hotel Explora Patagonia here.
YOU MIGHT ALSO LIKE:
• 5 Incredibly Exciting Things to do in El Chalten, Argentinean Patagonia
• Cueva del Milodon – Face to Face with Prehistoric Beasts in Chilean Patagonia