Trekking Torres del Paine – Essential Guide to Planning Your Trek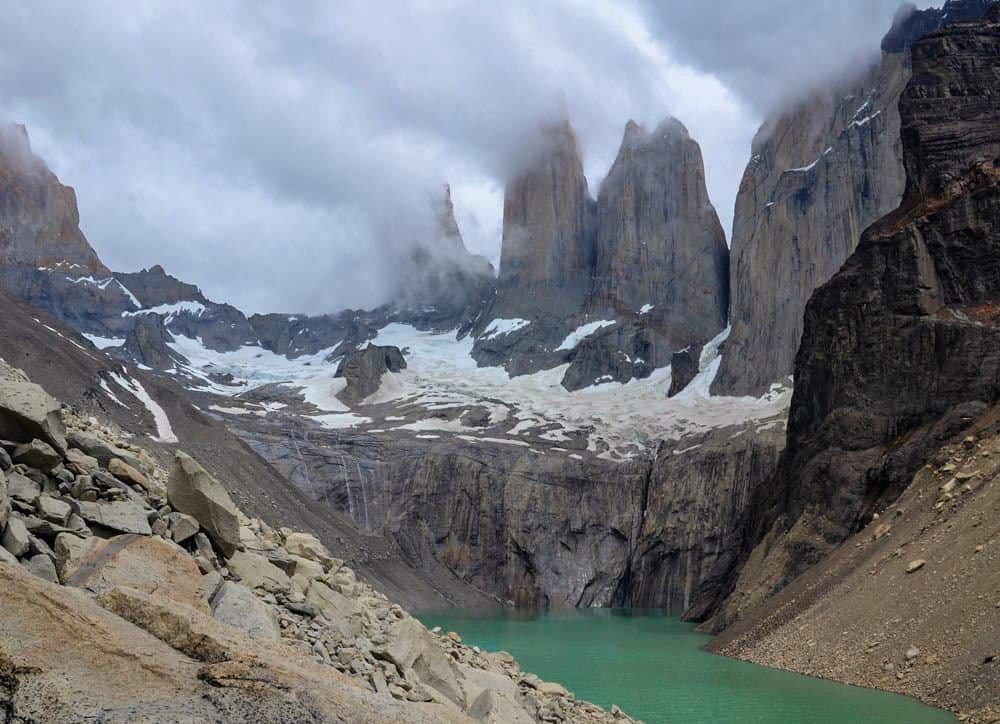 Southern Patagonia: a land of baqueanos, tall mountain peaks and huge swatches of scrubland, dotted with roaming guanacos, lamas and ñandús. There is a reason why hikers from all around the world consider trekking Torres del Paine an experience of a lifetime. Chile's Torres del Paine National Park has gained the reputation as South America's best hiking destination and once you see it you'll understand why. Massive glaciers, jagged granite peaks, azure lakes, roaring waterfalls, and sublime flower fields. There are not many places in the world where you will fill a deeper connection with nature or witness its tremendous power.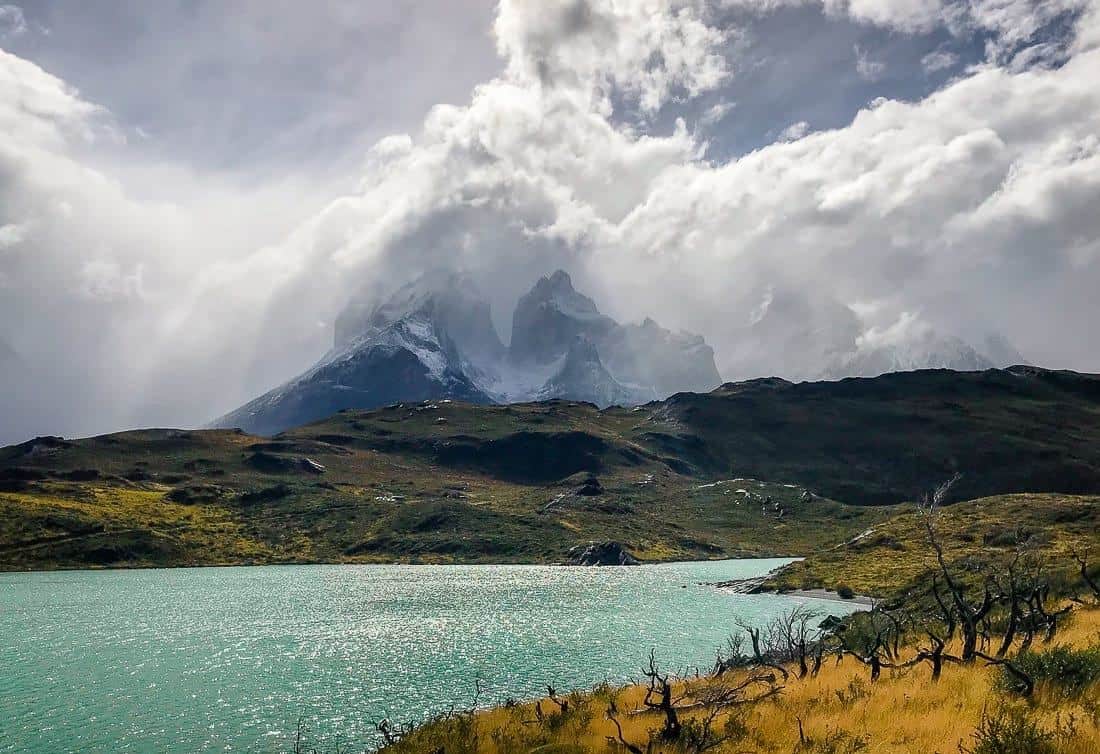 Torres del Paine National Park is one the most spectacular places to see in South America. But it is as wild as it is beautiful, so in order to have a great time here there are a few things that you should know BEFORE touching down in Patagonia.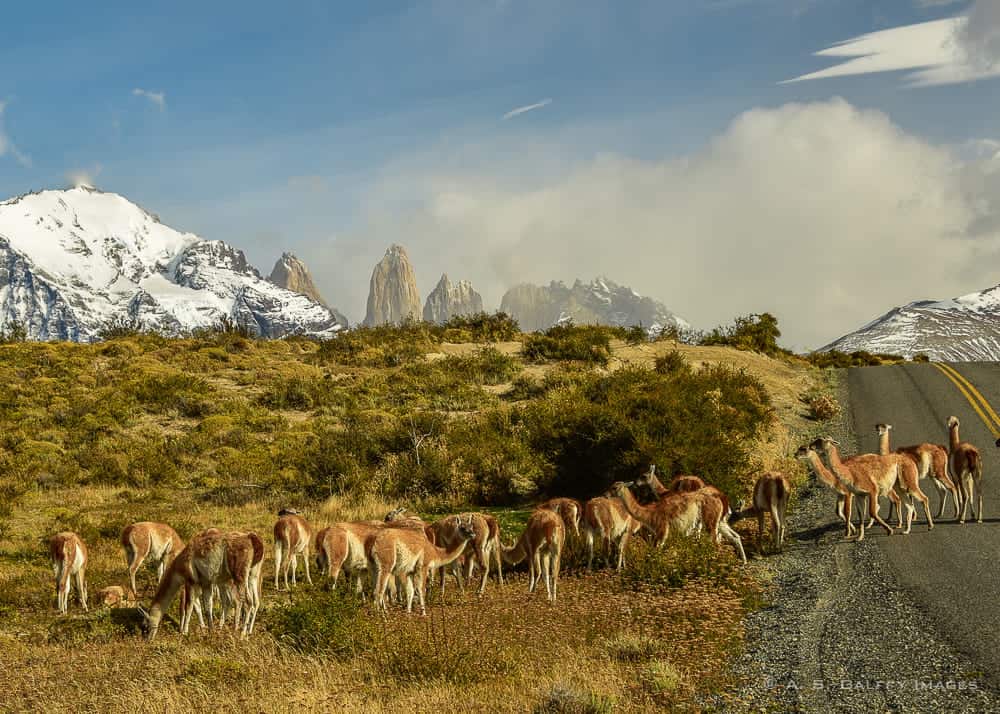 Best time for trekking Torres del Paine
Climate in Patagonia is pretty strange. The weather may go from one extreme to the other in less than a couple of hours. You can pretty much count on very strong winds, rain, mud, and sometimes snow at any time of year. Deciding what would be the best time for you depends on your preferences, expectations and budget.
• Spring (early September to mid November) is a great time for hiking. The weather is almost as nice as in summer and the park is not yet full. This is one of the two shoulder seasons when you may get better prices and still enjoy good weather.
• Summer (mid November to early March) is the best for trekking in Torres del Paine. You can enjoy warmer nights in the campgrounds and have less rain. The winds are quite strong in summer, but the temperatures are in the mid 50sF to low 60sF, so they may not feel so bad. Summer the busiest season of the year and the park is full to capacity. If you choose to visit Torres del Paine in summer you should plan to make reservations at least 6 months in advance. Prices are also higher than in any other season.
• Fall (late March to early June) is considered a shoulder season and is a fair alternative to the summer season. The temperatures are cooler, but there is generally less wind. The weather is still great for hiking. You may experience more rain and possibly even snow, but many prefer to visit during fall because the park is less crowded and the prices are lower.
• Winter (late June to August). The weather is cold and very unstable. Refugios and campgrounds close down for the winter and so do most of the hotels in the park. Many of the trails are closed also because of the harsh conditions. They say Torres del Paine looks particularly picturesque in winter, but for hiking and trekking this is definitely not a good season. The best reason to visit Chilean Patagonia in the winter season, would be the occurrence of the Southern Lights. With almost 17 hours of darkness, you'll have plenty of opportunity for viewing them.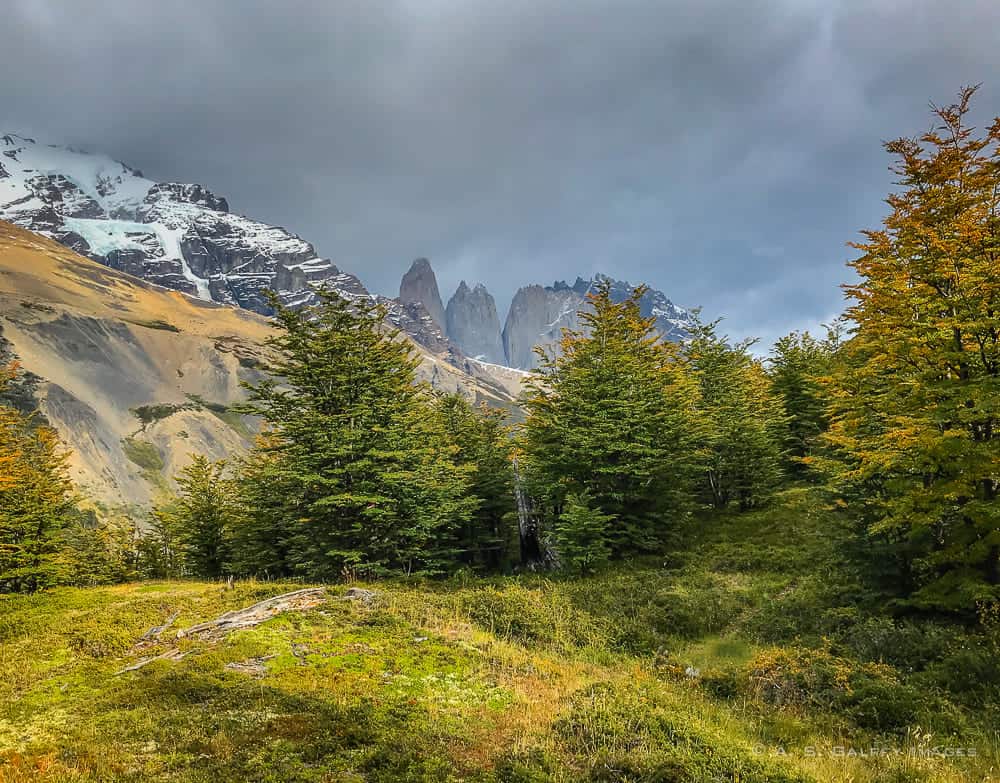 Multi-day treks vs. day hikes in Torres del Paine
Trekking in Torres del Paine requires athleticism, endurance and a spirit of adventure. Doing one of the circuits can take anywhere from 4 to 8 days and is physically very challenging. You hike a lot of miles each day (mostly uphill) on very rocky trails. At night you sleep in a refugio or a tent that is exposed to the elements. So whatever weather is out there you will feel it all: wind, rain, snow or sun. Leave alone the horrible food, the bed bugs, and the horrific sewage odor in campsites and refugios.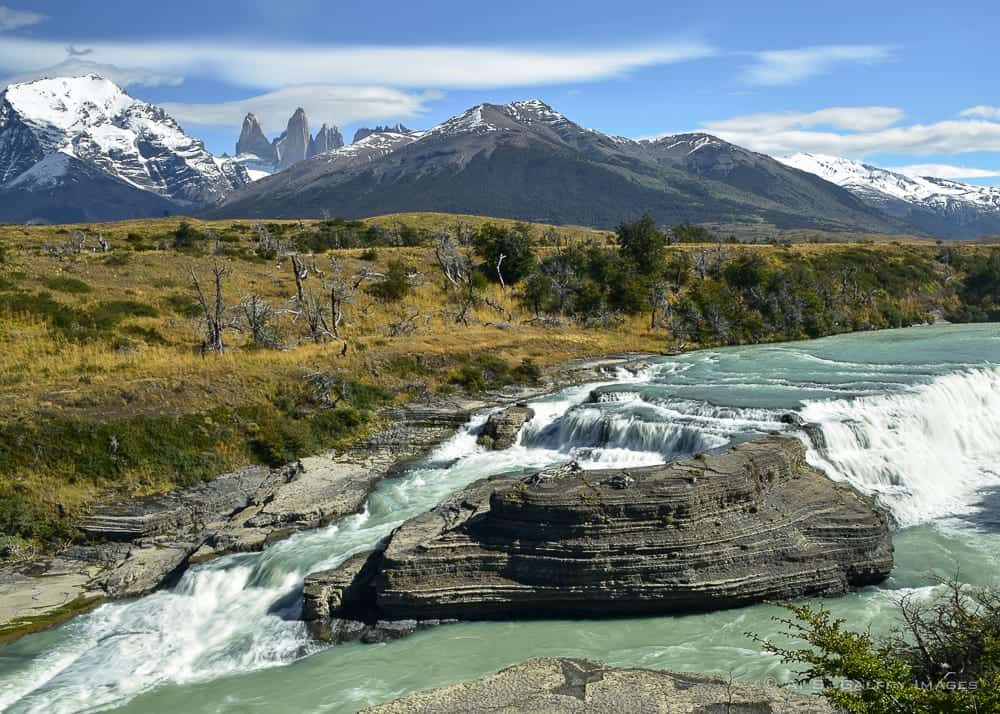 On the other hand, doing day hikes in Torres del Paine can be just as beautiful and rewarding. The park is a maze of hiking trails varying from easy, to moderate and more difficult. So if you have no interest in carrying a huge backpack and setting up a tent in the Patagonian wind, you have the option of staying in a nice hotel room and doing day trips. I just need to mention however that this option is more costly. Hotels in Torres del Paine are quite expensive and considering the huge distances in the park, you will also need to rent a car. Unfortunately, there is very little information out there about the day hikes in Torres del Paine. Most websites only describe the trekking circuits.
Tips for trekking Torres del Paine
There are several ways to explore the beautiful Torres del Paine.
• The W Circuit is the most popular route. where you get to see many of the highlights of the park. The name of the trek derives from the shape of the route, which pretty much looks like the letter "W". This is a challenging route that takes 4-5 days, but is doable even for people with an average level of fitness.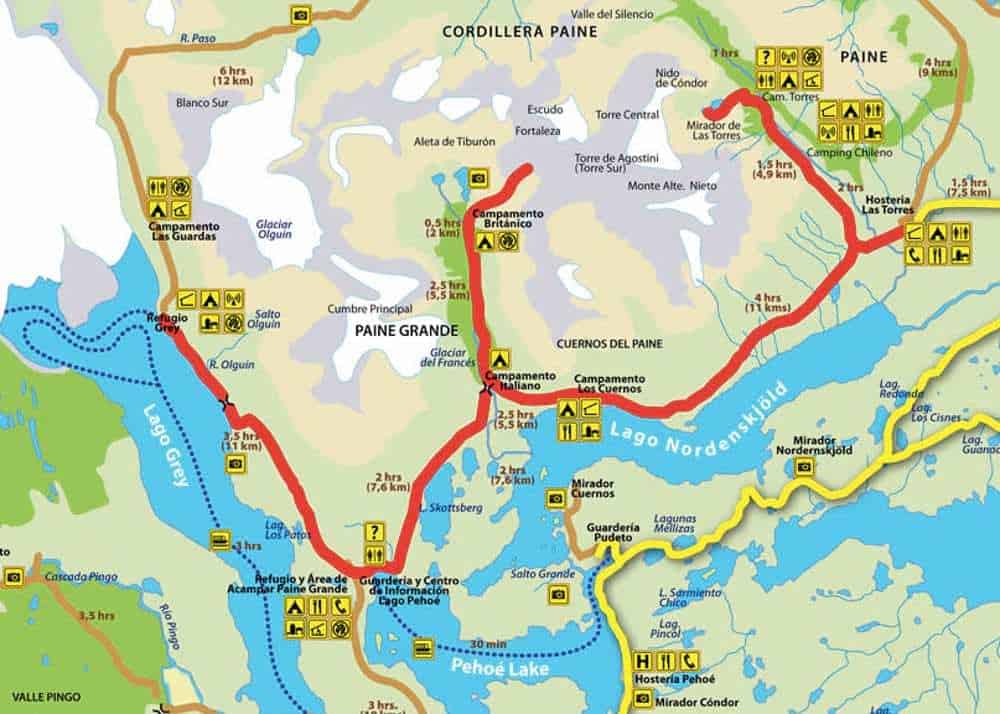 • The full circuit (a.k.a the O Trek) is the most challenging way to experience the park. The route takes you along the W Trek and also the back side of the park, giving you access to even more glaciers, lakes and incredible views. The O Circuit takes 8-9 days and is a great choice if you have more time in the park.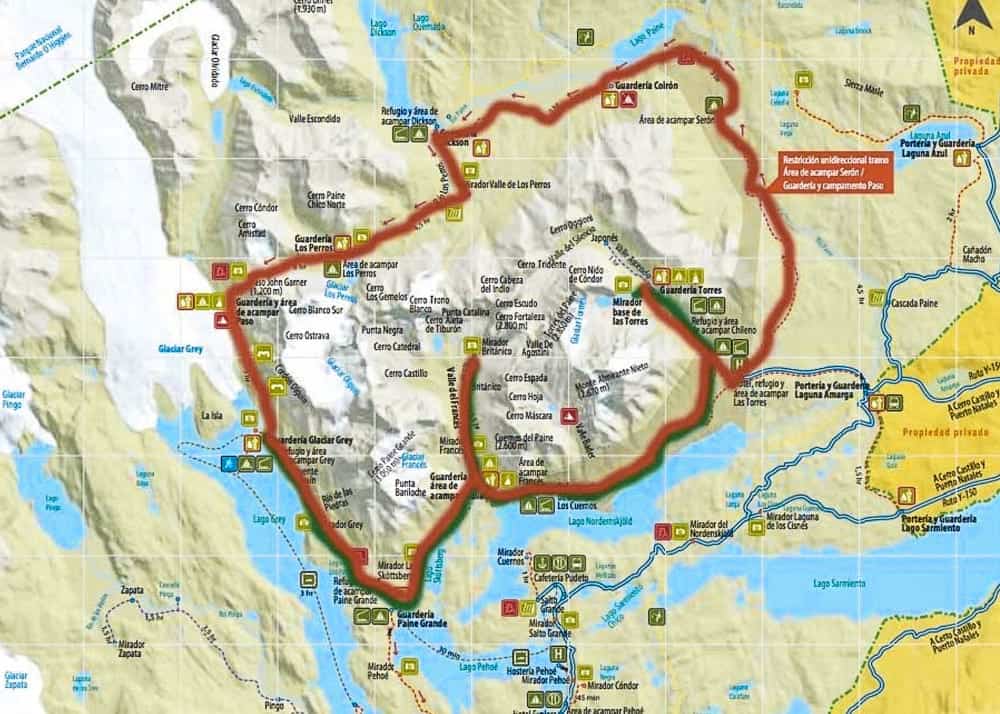 • Day trips are another great way to explore the park. If you don't have a special desire to spend your nights in campgrounds and refugios, I definitely recommend this option. There are some incredible day hikes in Torres del Paine, varying from easy to moderate and more difficult. You can choose from guided to self-guided tours, but you don't really need a guide for visiting the park.
How difficult are the hikes?
Trekking in Torres del Paine is no walk in the park. Especially if you want to do one of the circuits. It's not the technical difficulty of the hike or the altitude that makes it seem strenuous. It's the length of the trails, the moodiness of the Patagonian weather, and the weight of your rucksack that will drain your strength. That doesn't mean that hiking in Torres del Paine is only for the pros or the extreme adventure seekers. In fact, thousands entry level backpackers and trackers hike every year in the park. But it certainly helps to have some hiking experience under your belt before you venture here.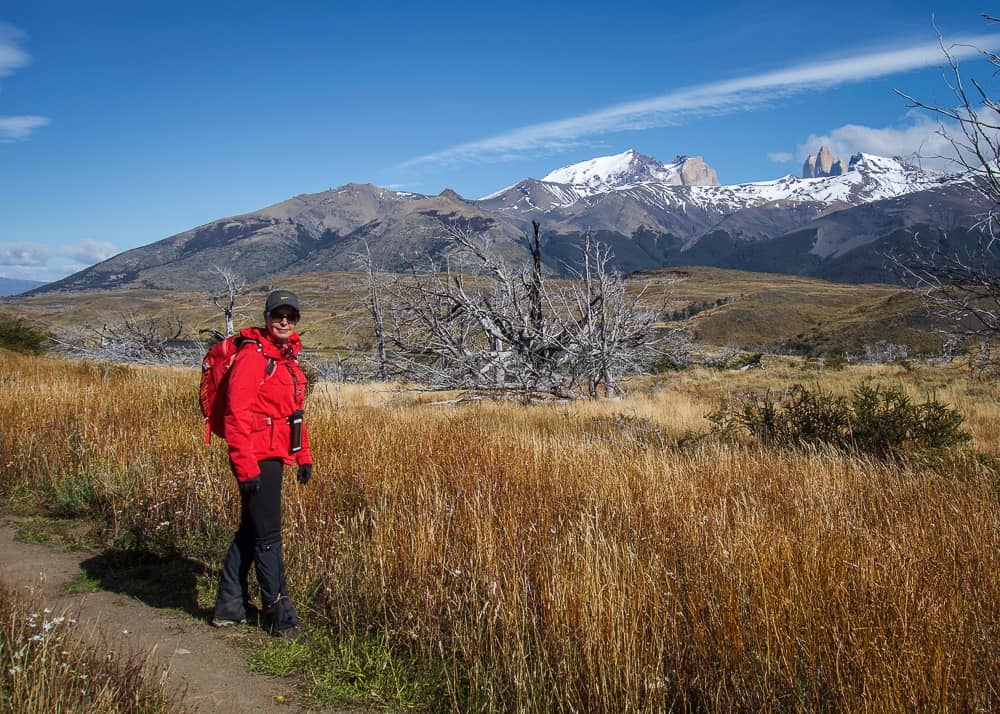 The park has well maintained and well marked trails, so it's almost impossible to get lost. There are ranger stations or campgrounds every few hiking hours. There is plenty of water all around, so you can fill your bottle from any stream. Just make sure you bring a refillable bottle with you on the trek.
The bottom line
There is no set way to see Torres del Paine. Some choose the rough and spartan camping experience; some seek a little more comfort in the refugios; and others prefer to explore the park from the comfort of a luxury hotel, taking day trips. Each route is unique and beautiful, which makes trekking in Torres del Paine a great experience for everyone attempting it. And this couldn't be more obvious then when you see the wide diversity of tourists in the park. If you are planning a trip to Torres del Paine, please read my Patagonia packing guide post.
Did you find this information useful? Pin it to help other travelers to Torres del Paine.