Are you planning an Everest Base Camp trip, but you don't know where to begin? I know, Everest may sounds intimidating, but don't worry. If you are not sure what to do or what to expect, you've come to the right place. From what to pack to what to eat, this is a complete guide to trekking Everest Base Camp.
How difficult is trekking to Everest Base Camp?
More than 40,000 travelers trek to Everest Base Camp. Backpacking in Nepal to the Everest Base Camp is not considered to be difficult at all. It's about the same level of difficulty like for the Annapurna Circuit, or the Poon Hill trek. And also like for the Poon Hill trek, you don't need any prior experience or license to trek here. All you need for the Everest Base Camp is a permit from TIMS (Trekkers' Information Management System).
You might have difficulty if you get altitude sickness. Just to be safe, take the medicine with you and drink a lot of water. If in case you get altitude sickness, come down to a lower altitude if possible. Listen to what your guide has to say.
Weather in Everest Base Camp
It is going to be cold. In the winter you can expect the temperature to get as low as to -16℃ (3.2℉) at night. In Summer, even though it becomes warm and the temperature can reach up to 18℃ (64℉), you can expect it to fall down to 2℃ (36℉) at night. So, pack your bags as per the season you are planning to go. Layer your clothes to stay warm and quickly wear and take off when required.
When to go to Everest Base Camp?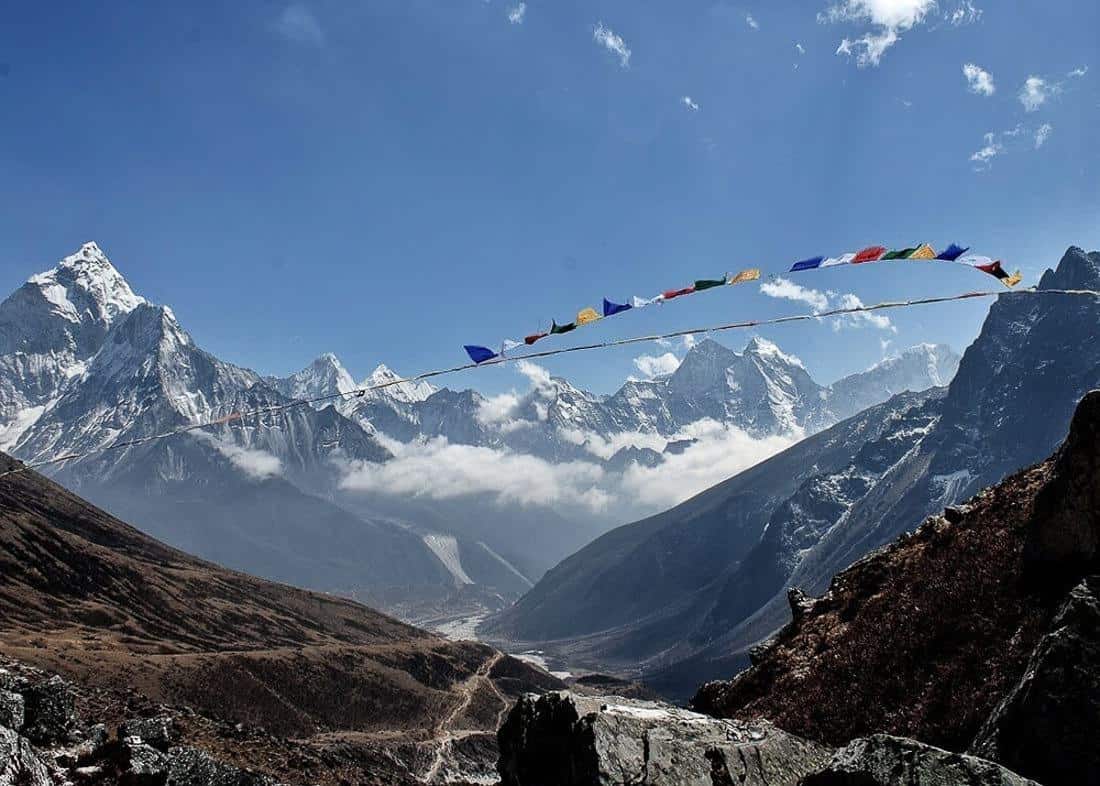 The best time to travel to Everest Base Camp is during pre-monsoon and post-monsoon season. It lies in March, April, May, September, October, and November in Nepal. However, it is not a bad idea to travel during off-season as well. There will be very less to almost no travelers on the trail. In rainy season too, as it usually rains in the evening and the whole night, you can trek in the morning. But, you will have to keep some buffer days at hand in case of any kind of cancellation.
How to reach the Everest Base Camp?
First, you fly to Tribhuvan International Airport, Kathmandu, Nepal. There are some airlines that will take you there and you can check them here. In Katmandu you can get the tourist visa on arrival, for 15, 30, or 90 days. Make sure you have a whole new page in the passport and the passport is valid for at least 6 months. If you have a little extra time, you should do some sightseeing in Katmandu.
There are many routes to reach the Everest Base Camp which may take you from 11 to 18 days. You can opt for Gokyo lake trek, the route used by Edmund Hillary and Tenzing Norgay Sherpa from Jiri, high pass trek, or the standard route trek.
The standard route trek takes 13-14 days to complete. I will be discussing the itinerary here.
Day 1: Kathmandu to Lukla (Flight) to Phakding
On your first day you will take a short but thrilling ride to the Lukla airport. From the plane, you'll be able to see the beautiful landscapes and the mountains below. After landing, you begin our trek to Phakding. The scenery is absolutely beautiful: a lot of greenery, suspension bridges, and prayers carved stones.
Day 2: Phakding to Namche Bazaar
On the second day you will do an uphill hike to Namche Bazaar. You will cross the Khumbu river various times in swing bridges. In this trip, you officially enter the Sagarmatha National Park.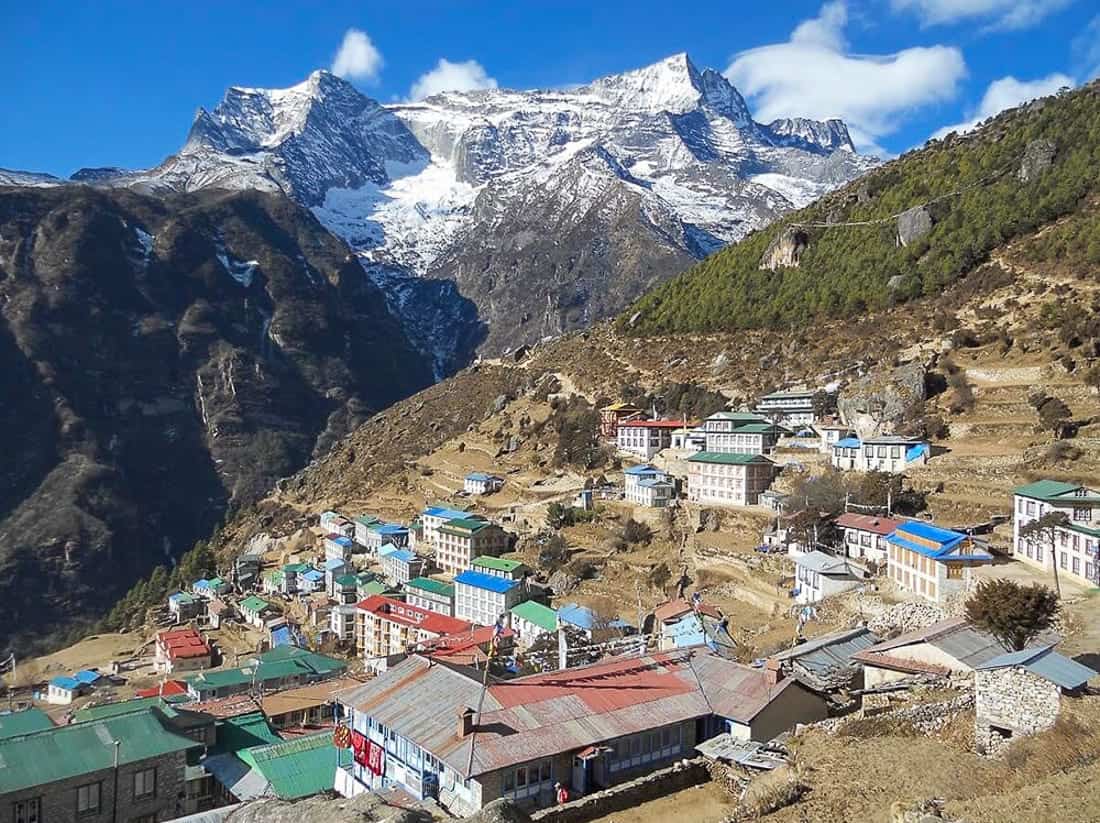 Day 3: Acclimatization day (Day trip to Khumjung)
After my bad experience atop the Jungfraujoch, I think acclimatization is extremely important. You will be spending another night in Namche Bazaar to acclimatize to the altitude. It is very important to drink plenty of water.
On day 3, as you are waiting to acclimatize, you can take a day trip to Khumjung and see Mt. Ama Dablam and Mt. Thamserku. You can even go to the Khumjung Monastery.
Day 4: Namche Bazaar to Tengboche
From Namche Bazaar to Tengboche, the trail will be a steep climb, flat walk, and downhill along the pine forest. You can also go to the Tengboche monastery and see the amazing range of the mountain peaks including Mt. Everest.
Day 5: Tengboche to Dingboche
From Tengboche to Dingboche is an easy walk. You walk through the forest and walk a flat trail for hours. However, be advised that the altitude will make the walk seem a little harder than it actually is. Remember! Drink water.
Day 6: Acclimatization day (Day trip to Nagarjun Hill)
Another acclimatization day. This day, you will climb the Nagarjun Hill. Take few steps at a time and rest. It is important to take it slow to adjust to the altitude.
Day 7: Dingboche to Lobuche
You will go up 500m from Dingboche to reach Lobuche. You can see the world's highest glacier; Khumbu Glacier. You can also see the memorial for those mountaineers who had lost their lives in the Everest.
Day 8: Lobuche to Gorak Shep (Day trip to EBC)
Finally, the day to reach EBC! From Lobuche, you will hike to Gorak Shep. After resting for sometime, you will go to the Everest Base camp! You will return to Gorak Shep for the night stay.
Day 9: Gorak Shep to Pheriche (Morning trip to Kala Patthar)
Due to the position of the mountains, The mountains are clearly visible from Kala Patthar (5,545m). So, the morning trek to Kala Patthar will provide you the immense beauty of the mountain ranges of Mt. Everest, Mt. Nuptse, Mt. Lhotse etc. You will descend down the same day to Periche.
Day 10: Pheriche to Tengboche
Pheriche to Tengboche will be ease on your mind, mood and lungs, but might not be exactly in your joints. The ride will be downhill and flats but make sure you descend without hurting your knees.
Day 11: Tengboche to Jhorsalle
As more oxygen enters your body, you might feel pretty excited. Enjoy the beautiful scenery on your way back.
Day 12: Jhorsalle to Lukla
Celebrate your last day in the mountains. You will head down the hill you had climbed, cross back those suspension bridges from the other side.
Day 13: Lukla to Kathmandu (Flight)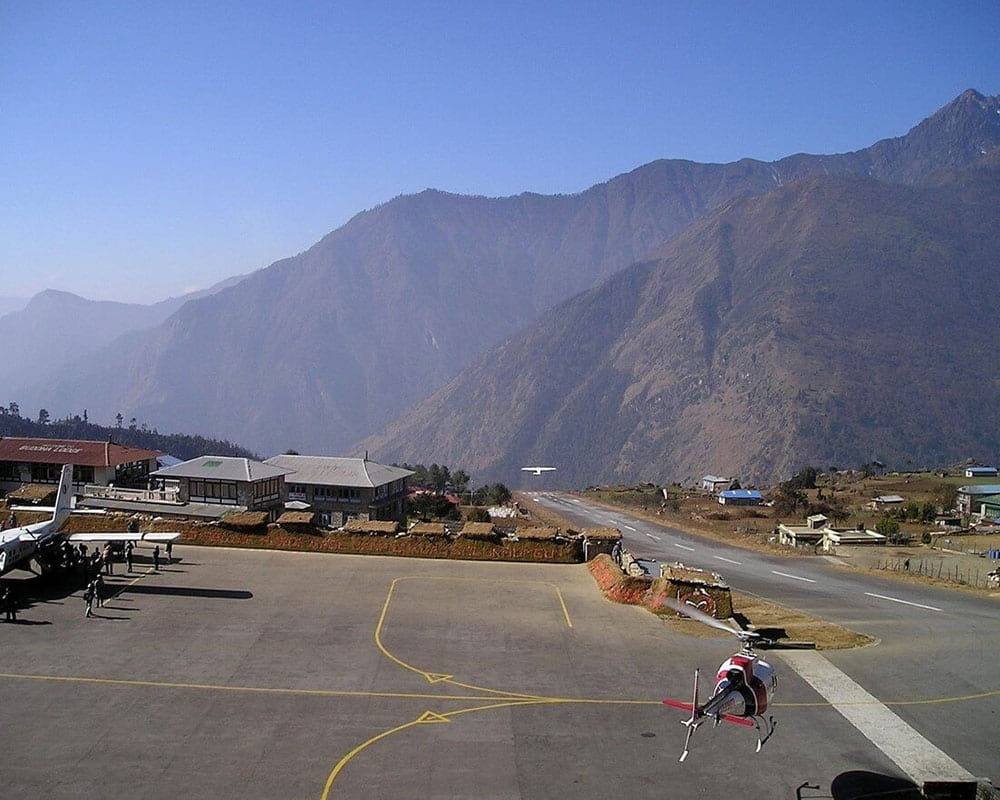 Catch the plane early in the morning as the chances of cancellation is low. Back to Kathmandu and back to your next destination.
If you are planning to do this trek, check out this article to find out how much to budget for Everest Base Camp.
What to eat while trekking Everest Base Camp?
Nepali people eat Dal(lentil soup), Bhat(rice) and seasonal vegetable every day which is really filling. There is a saying that goes, "Dal Bhat power, 24 hour!" In tea houses and lodges along the trail, you can even get varieties of dishes from Indo-Chinese to Continental food. I recommend you to eat Dal Bhat at least once a day. You will feel fuller for a longer time.
As a rule of thumb for trekking, it is best to avoid meat products. Also, as the region lies in Sagarmatha National Park, you are not supposed to kill any animals there. So, the Yak steak you get there might not be as fresh as you think it is. Also, carry some chocolate and snacks you like. Sometimes that bar of chocolate can be a boon for your body and mood. You can add in some granola bars or cheeses in your bag to replenish your energy.
Interested in other destinations in Nepal? Read about a Chitwan Jungle Safari in the Chitwan National Park.
What can I expect from tea houses/ lodges?
At some lodges, if you eat two meals a day, then you might get a room for free. Every other thing costs money, though. You need to pay a couple of dollars for the hot shower and also for charging your devices. Carry 4G sim card from Kathmandu for the internet.
What to pack for Everest Base Camp?
Packing for Everest Base Camp is quite similar with packing for Patagonia. You will need:
Sunglass
Lightweight sleeping bag for backpacking
High SPF Sunscreen
Sun hat
Woolen cap
T-shirts
Shorts
Waterproof gloves
[amazon_textlink asin='B078SXLPKT' text='Sleeping bag' template='ProductLink' store='travelnotes10-20′ marketplace='US' link_id='0fd56e58-77e2-11e8-b9d2-cd75167bff42′]
[amazon_textlink asin='B0793P4HY4′ text='Rucksack' template='ProductLink' store='travelnotes10-20′ marketplace='US' link_id='b436ec73-77e3-11e8-9c7a-6994f350a0a6′]
Lip balm/moisturiser
Refillable water Bottle
Water Purification Tablets
Hand sanitizer
Wet wipes/ hand towel
[amazon_textlink asin='B01D93Z89W' text='Camera' template='ProductLink' store='travelnotes10-20′ marketplace='US' link_id='ac6c2fd9-77e4-11e8-877f-7f0091c7d928′]
Portable charger
First aid kit
Snacks
[amazon_textlink asin='B074C9D8FK' text='Headlamp' template='ProductLink' store='travelnotes10-20′ marketplace='US' link_id='b9425146-77e4-11e8-b4f8-9da9a7980c74′]
Whistle
For more detailed advice on Dos and Don'ts when trekking in Nepal, read this post.
Tips for trekking Everest Base Camp
Take gifts for children
It is not mandatory to take the children gifts but if you do, they will like it. It need not be very expensive kind of gifts. You can give them copies, crayons or even balloons!An easy way to make those little friends happy.
Water purification tablet
You should carry a water bottle for two reasons: 1. It gets expensive as high as you go up and 2. it adds to the pollution. So, carry a water bottle for yourself with water purifying tablets.
Build your stamina
You will be walking for hours! It is important to increase your stamina before challenging this task. Get walking or jogging for a couple of hours, several weeks before you start Everest Base Camp trek.
Do not travel alone
Solo travelers have gone missing and found dead. So, as much as you love to travel alone, don't do it. Get a porter/guide. Porter/guides are really very helpful and you'll be glad you hired one. They have knowledge about the trail and places. They can introduce the culture there. If you get hurt in any way or get altitude sickness, they can also help you. Besides, hiring a porter you will be supporting the family of four.
Travel insurance
It's a good idea to buy travel insurance when trekking Everest Base Camp. When applying for the insurance, make sure you get the one that covers at least 5545m altitude. Also, add in the clause of helicopter rescue; it costs a lot there.
Keep the area clean
It is a really sad thing to say that the trekkers litter around a lot. They just throw away plastic bottles, aluminum cans, and other things. These add up to make tons and tons of garbage. So, please bring back any kind of possible pollutants. Take a garbage bag with you.
Are you interested in trekking? Check out some other posts about trekking in Argentinian Patagonia and in Chile's Torres del Paine.
Disclaimer: This post contains affiliate links for products I'm using on my travels – therefore I can highly recommend using them. By using these links you won't pay any additional fees, but support me to keep this site running!