If you were to do just one hike in Patagonia, it should be the one to Laguna de Los Tres, at the base of Mt. Fitz Roy. This iconic trek which is every hiker's dream and one of the world's most amazing destinations. The hike will take you to the base of the majestic mountain complex – the Fitz Roy – which consists of three peaks: Cerro Fitzroy (3,405m), Cerro Torre (3,128m), and Poincenot (2,558m). Hence the name of the lagoon at its foot – Laguna de Los Tres (which in Spanish means the Lake of the Three).
People compare the hike to Laguna de Los Tres with the famous and equally impressive trek to Torres del Paine, in Chile, and they are right. Both granite peaks are very similar in shape and both hikes are really amazing. However, the hike to the base of the Fitz Roy massif enjoys a much more spectacular scenery. It is also much more difficult than most other hikes in Torres del Paine.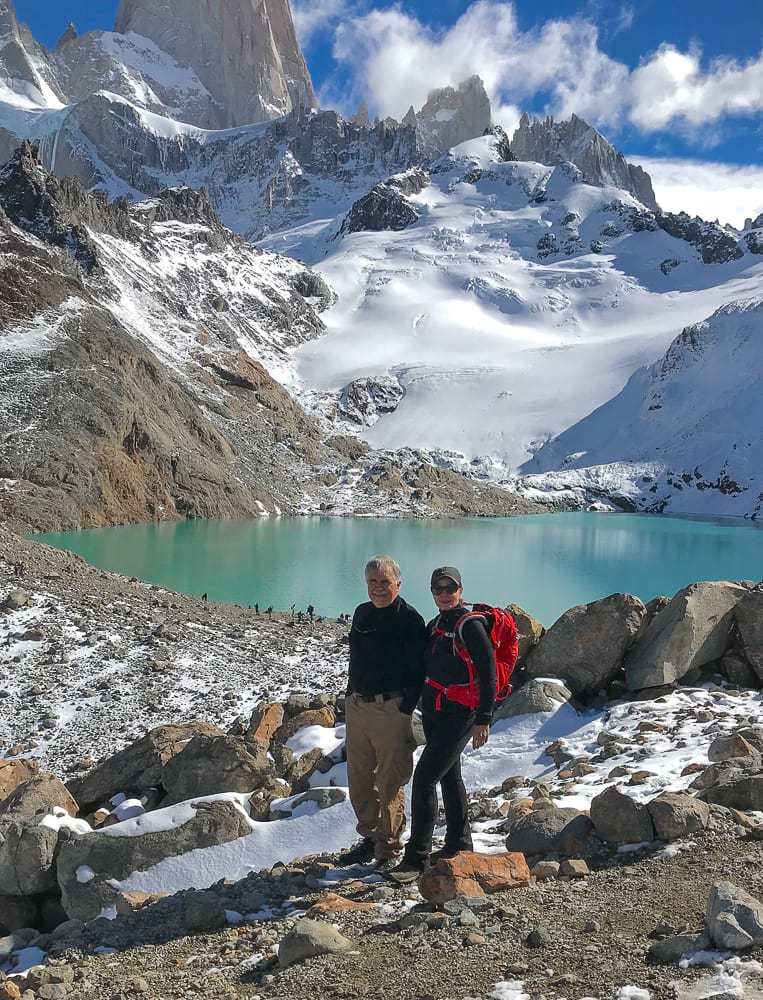 We made two attempts to complete the Fitz Roy trek to Laguna de Los Tres and when we finally reached the top we just couldn't believe our eyes!
How did Mt Fitz Roy get its name
Mt Fitz Roy was originally called Chaltén, which in Tehuelche dialect means "smoking mountain". The Tehuelche (South American Indians) thought the mountain looked like a smoking volcano. This is due to a rare eolian phenomenon that makes the clouds surrounding the granite peak appear as smoke is coming out of the mountain.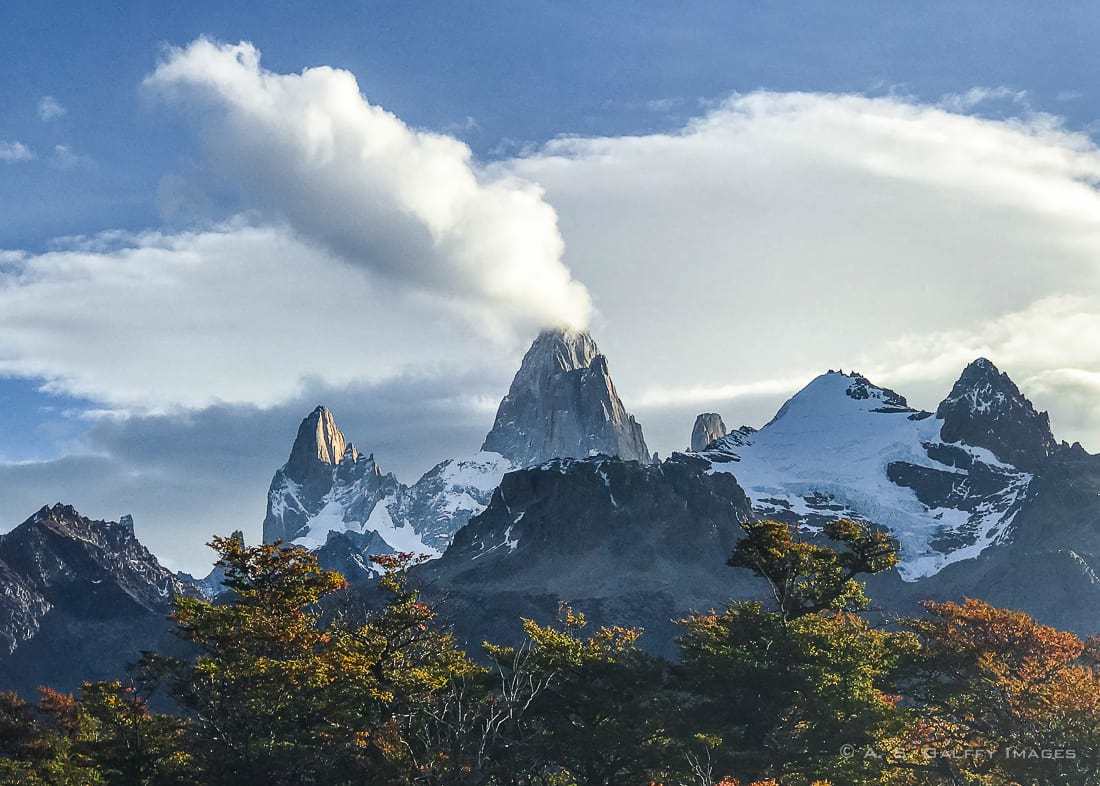 In 1877, Francisco P. Moreno, an Argentinian explorer, wanted to embark on a major expedition to Patagonia. He knew the British had chartered much of this territory back in the 1830s, so he asked them for a map.
The Brits agreed to give him the map on one condition. He was to name the highest peak he will discover in Patagonia after Robert Fitz Roy, the captain of the HMS Beagle, who led Charles Darwin's famous expedition to Tierra del Fuego. And that's how Cerro Chaltén became Cerro Fitz Roy.
Hiking to Laguna de Los Tres
Distance: 17.5 miles (28km)
Time: 9-10 hours (before breaks and photography stops)
Difficulty: Difficult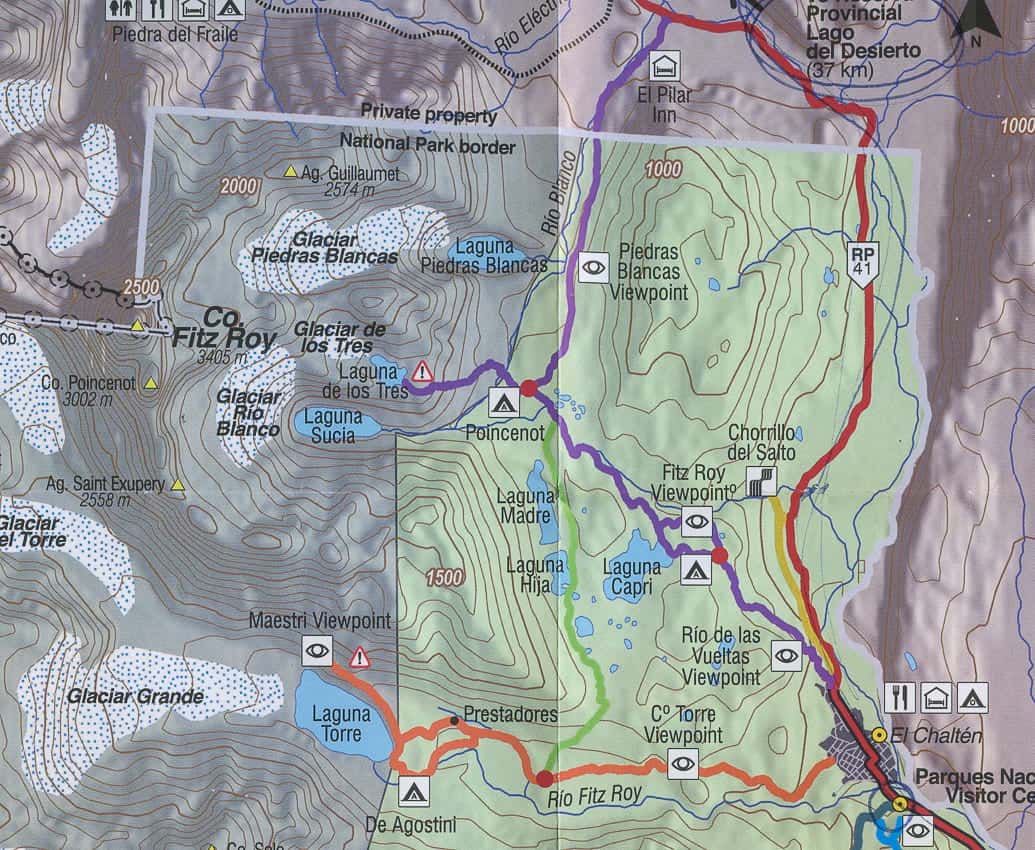 You can hike to Laguna de Los Tres and the base of Mt FitzRoy either starting from El Chaltén (via Laguna Capri), or starting at Hosteria El Pilar (via Mirador Piedras Blancas). The trail from El Pilar is actually shorter, but it requires a car since it's 15 kilometers away from El Chaltén.
The trail goes along Rio Blanco then climbs up through a beautiful Beech forest, passing Mirador Piedras Blancas and then getting to Camp Poincenot. From Poincenot the trail merges with the one coming from El Chaltén and goes up to Laguna de Los Tres.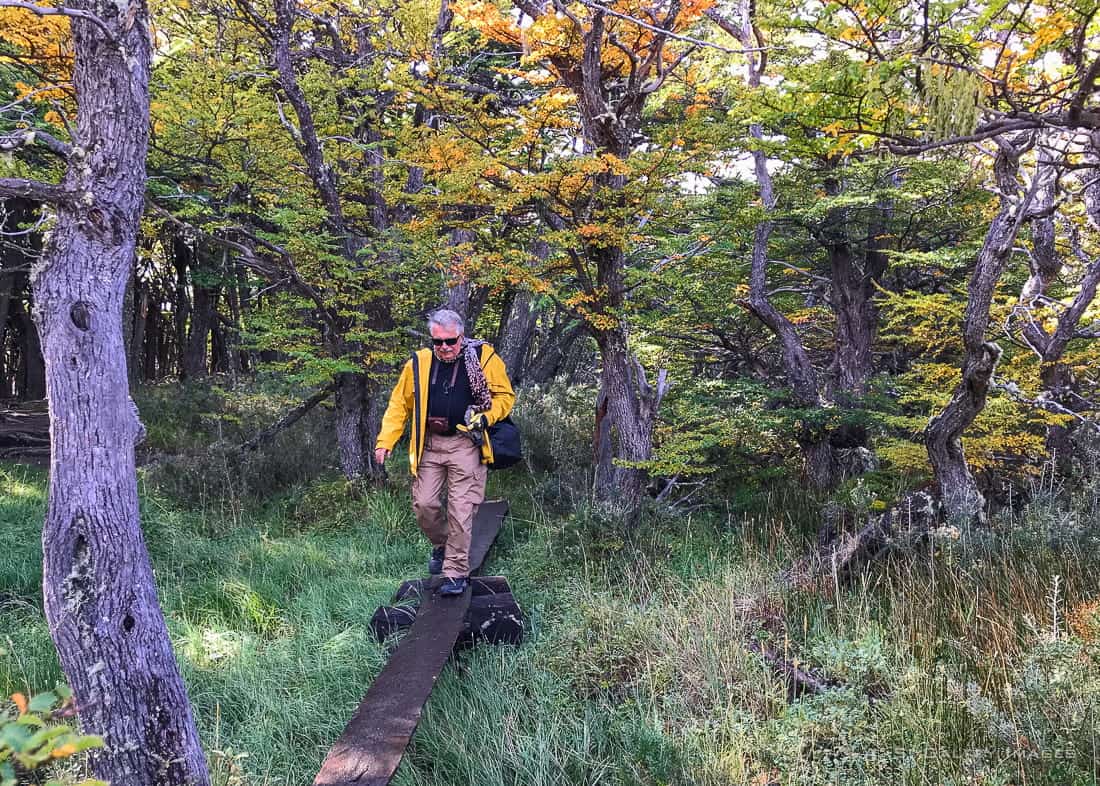 Points of Interest Along the Hike to Laguna de Los Tres
We started our hike at Hosteria El Pilar. Initially, the trail follows the rocky river bed of Rio Blanco, winding through some beautiful calafate bushes.
After about 1/2 km it passes through a gate that marks the entrance to the Los Glaciares National Park. From this point on the hike goes constantly uphill, passing through a dense forest and crossing small streams.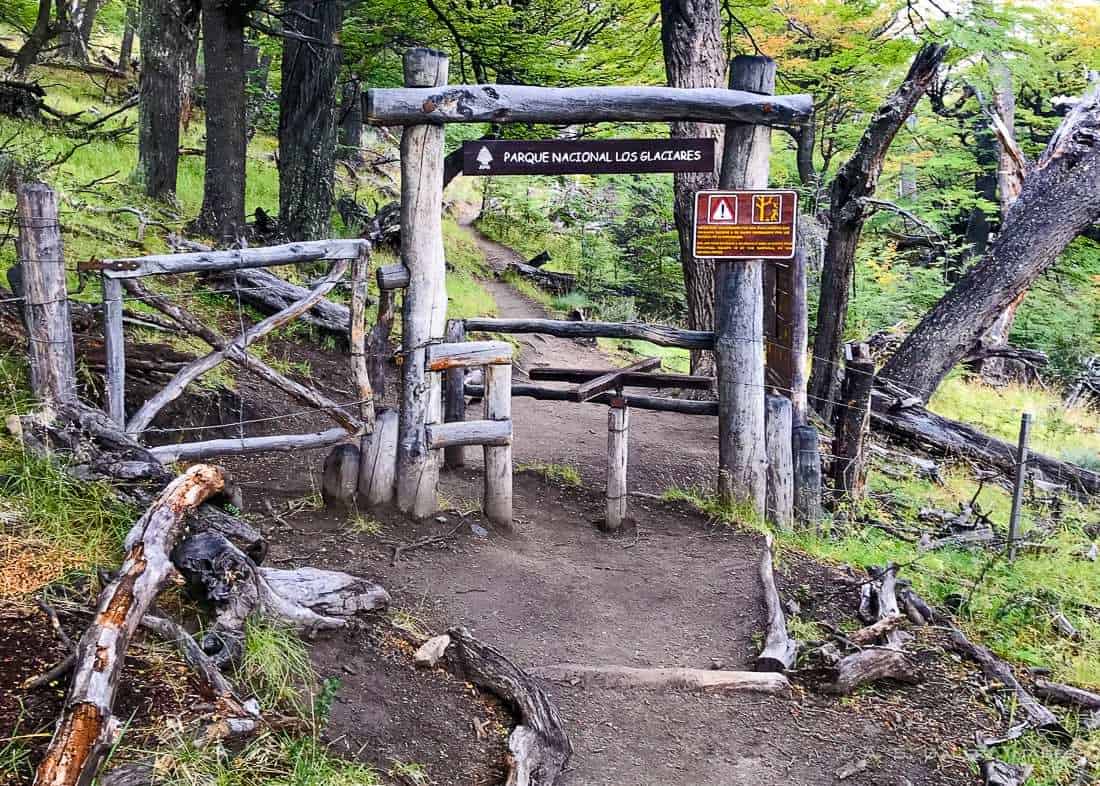 The first 10 km of the hike are not particularly difficult, so if you don't have the energy to do the entire Fitz Roy trek, you can stop along the way at a couple of points and turn back. This trek is extremely picturesque, so doing just part of it won't make you feel like you wasted your time.
•

Mirador Piedras Blancas
The first point where you can choose to stop is at Mirador Piedras Blancas, which offers a fantastic view of the Piedras Blancas Glacier across the valley. Most people starting on this trail actually come only to this point (8 km away from Hosteria El Pilar).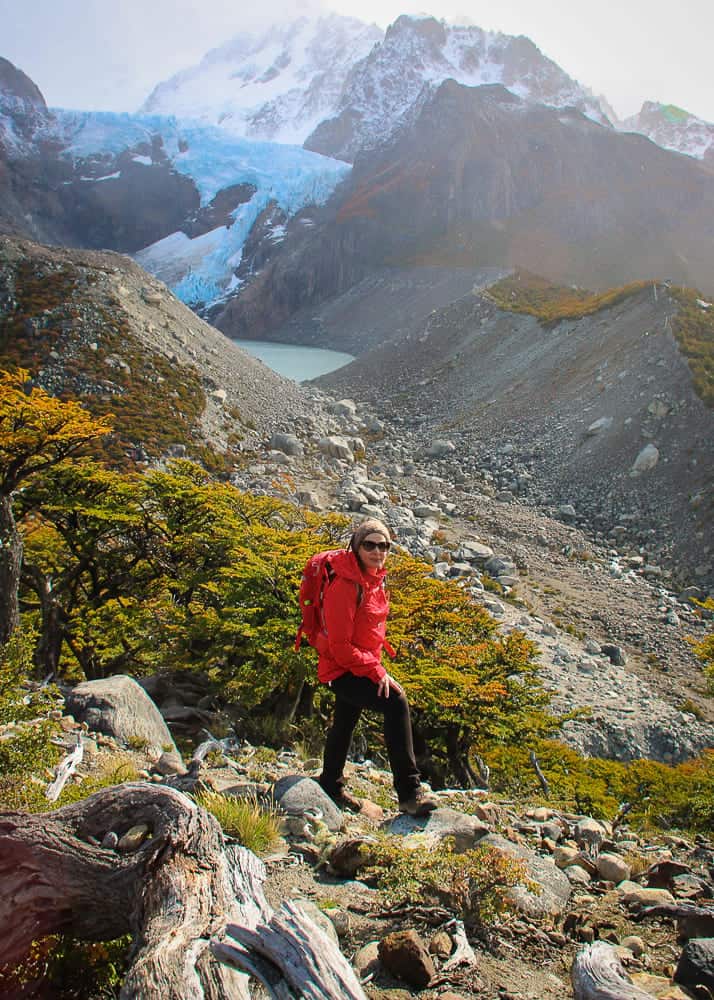 Once you reach the Mirador, you can continue to Campamento Poincenoit and Laguna de Los Tres. Or you can choose to turn back to El Pilar, which was what we did on our first attempt to reach the mighty Mt Fitz Roy.
Our initial plan was to go all they way up, but the weather began to change so we decided to turn back and try again the following day. Hiking the Fitz Roy trek in bad weather is quite dangerous, even if you are an experienced hiker. Besides, there is no point if attempting this difficult ascent if you can't enjoy the beautiful scenery.
•

Campamento Poincenot
From Mirador Piedras Blancas the trail continues through the woods for another 2.5 km, after which it emerges into a large grassland area with awesome views of Fitz Roy massif.
Just a short walk from this beautiful, flat area, you arrive at Campamento Poincenot, a small campground in the forest. This is the second point where you can choose to call it a day and turn back. From Poincenot you can either return to El Pilar, or you can take the road towards El Chaltén and pass by Laguna Capri.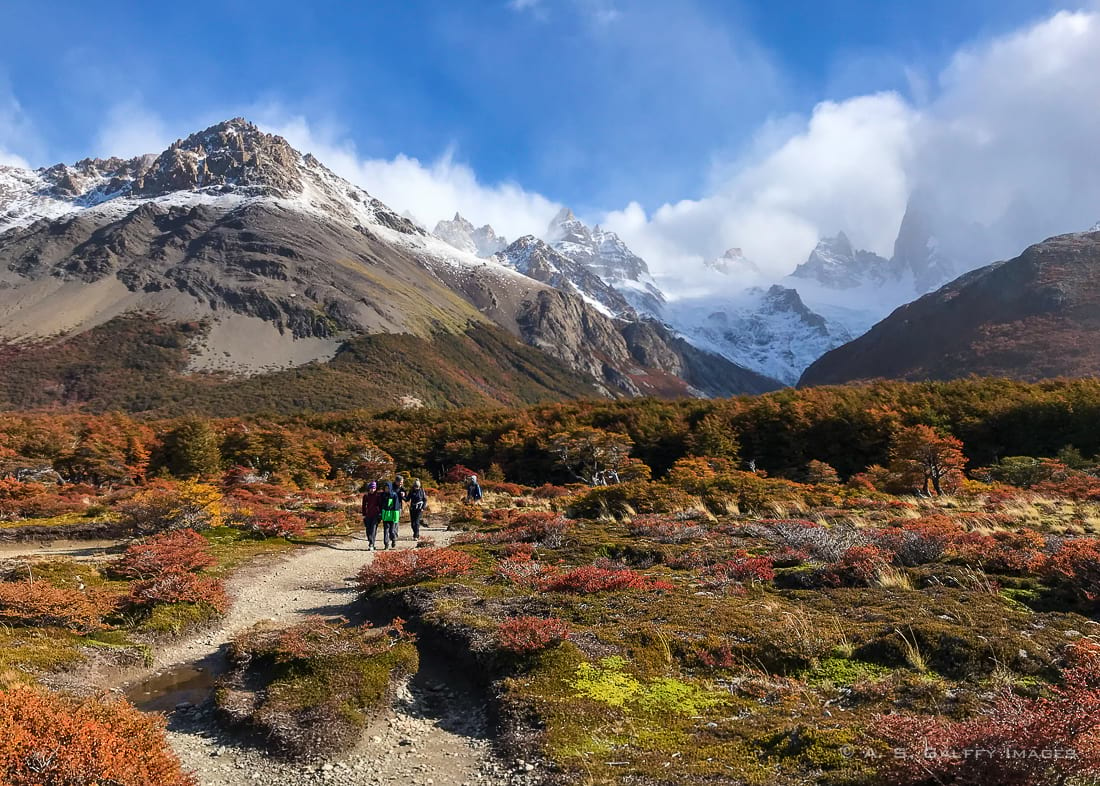 Camp Poincenot is the starting point for one of the world's most challenging ascents: Mount Fitzroy. Many hikers choose to split the FitzRoy trek into two days with an overnight stay at Campamento Poincenot, since the most difficult part of this trek starts right after you pass the campsite.
We chose not to stop and spend the night at the camp. Although we were really tired after 4 hours of intense hiking, the perspective of facing the dreadful Patagonian winds in a small, flimsy tent didn't seem too appealing.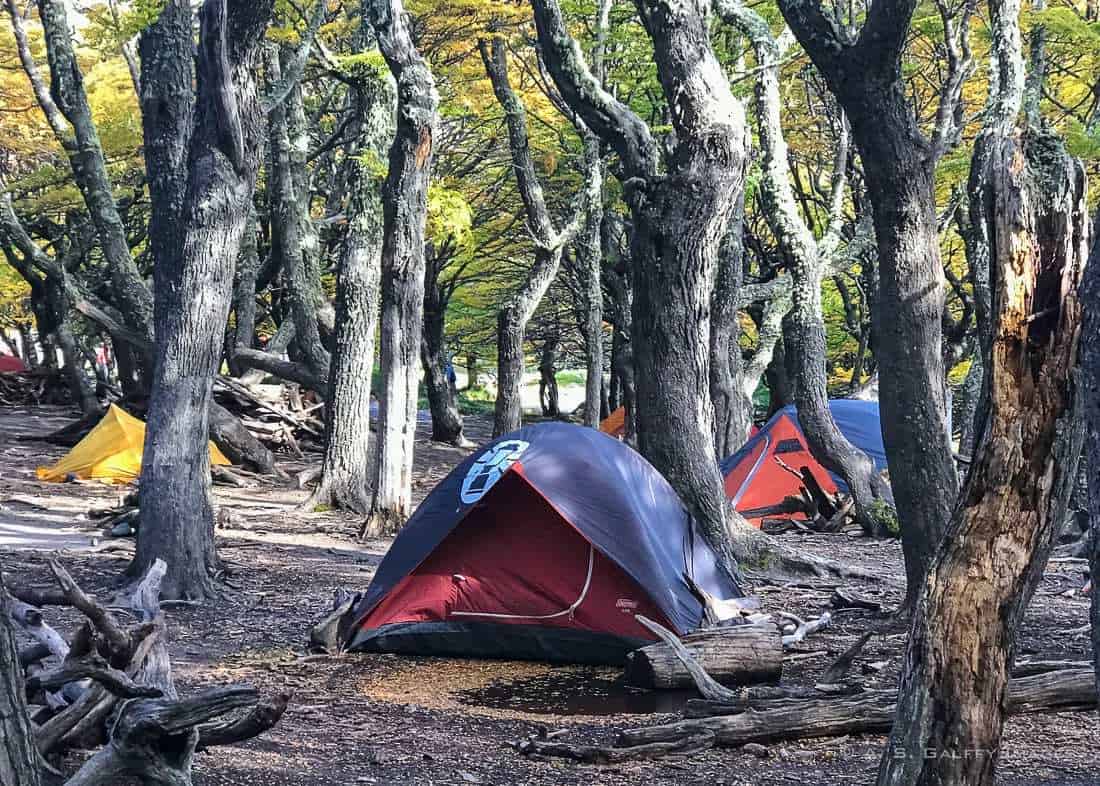 •

The last stretch to the top
Up until this point, the change in elevation is not so dramatic. But as soon as you cross the Río Blanco, the landscape changes completely. There are only 2 kilometers left to go, but 400 meters to ascend! This is the equivalent of climbing approximately 1,300 feet in 1.3 miles. It is really steep! The final hurdle to overcome, before reaching the cobalt blue waters of the Laguna de Los Tres and the three granite peaks behind it.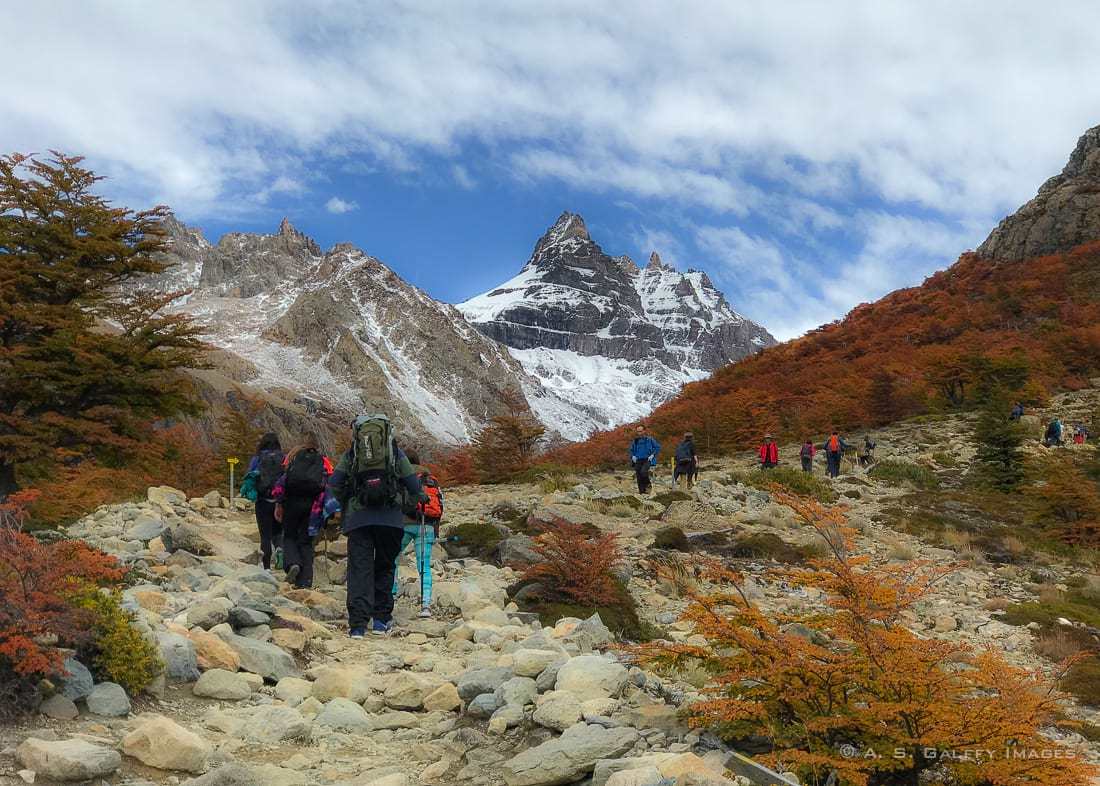 The last hour of the hike is almost straight up, more like a rock climbing than a hike. Without trekking poles, this stretch of the trek is really difficult to do.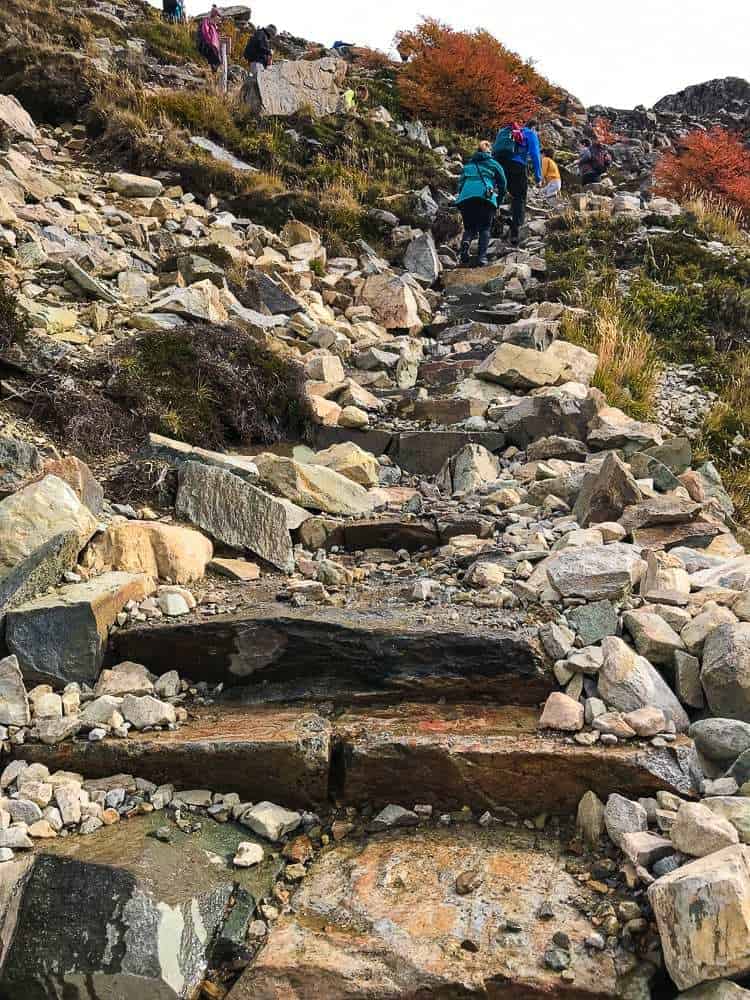 At the top of the steepest section of trail we came across a false summit. That feels a little demoralizing. Just when you think you've made it to the top, you realize you still have some hiking to do. But from from that point on the slope becomes a little more relaxed.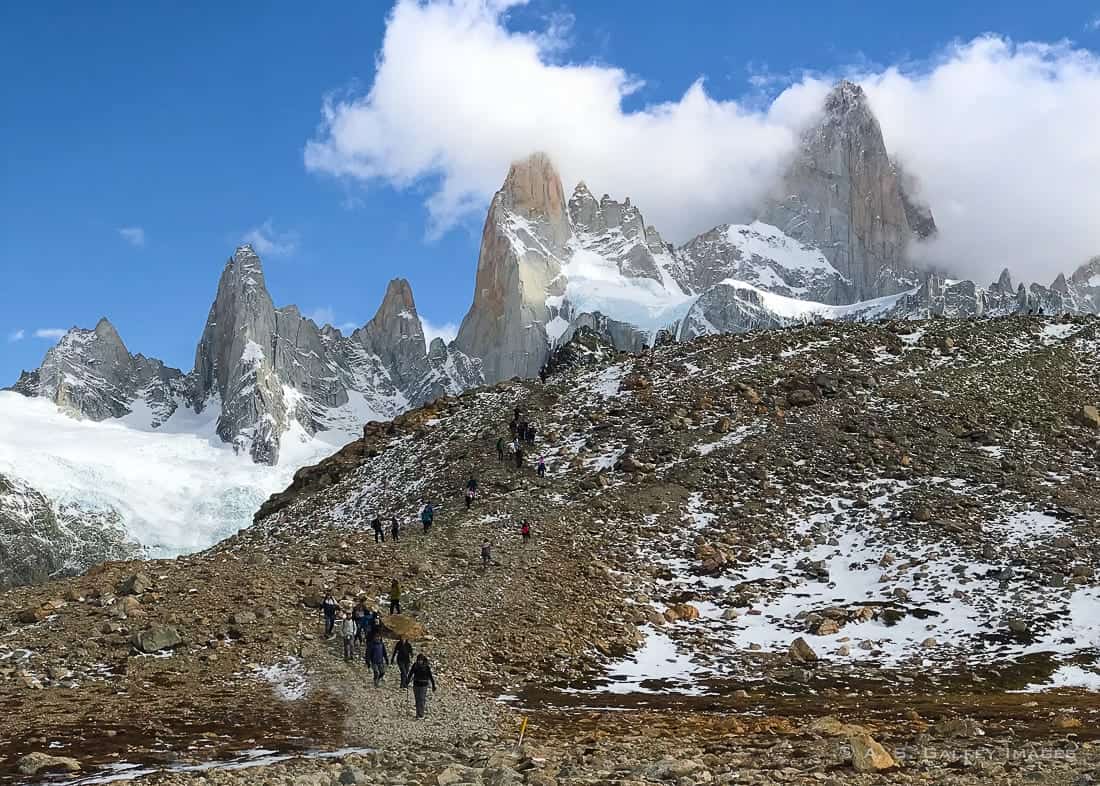 The final ascent takes you onto a moraine overlooking the Laguna de Los Tres, with the glaciers, snowfields and the three granite peaks behind it. Once you reach the top and see that view, all your efforts seem justified and worthwhile.
Words can't express the feeling you get when you realize that you finally made it! You are now face to face with the mighty Fitz Roy peak and the blue waters of Laguna de Los Tres!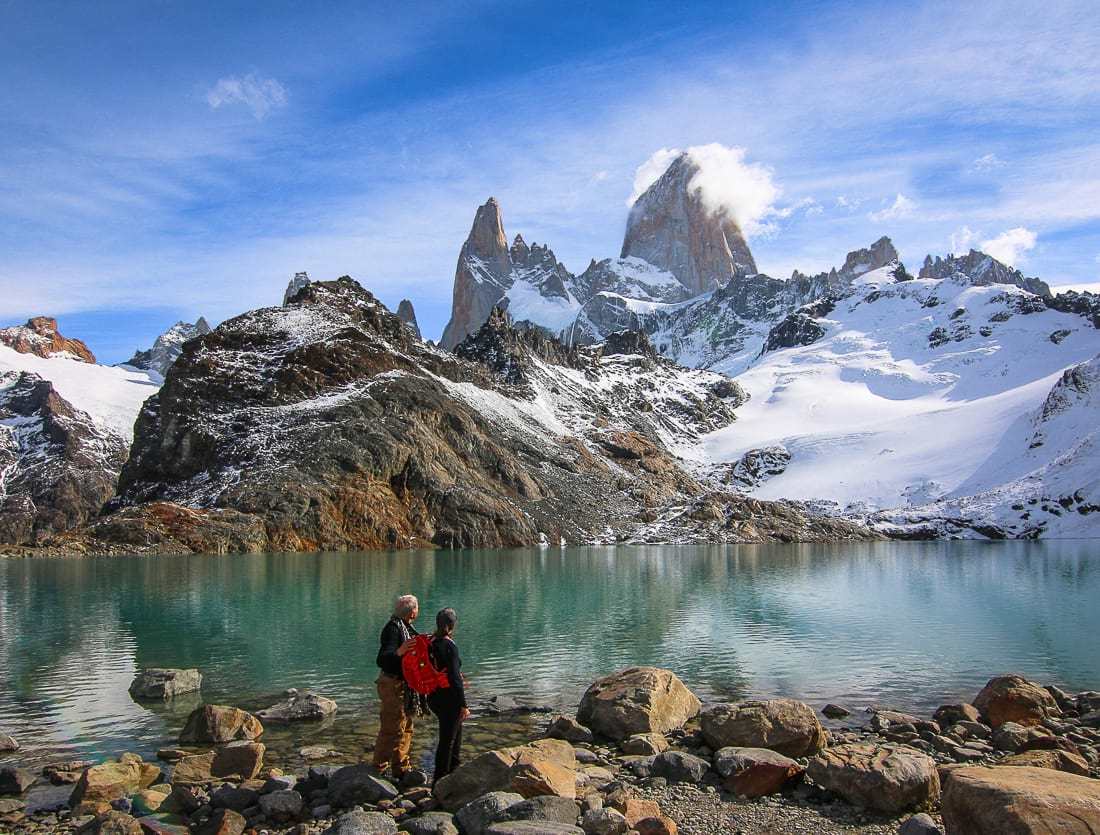 It's so beautiful, that you don't want to go back. But you cannot stay on the summit forever, so eventually you have to come down again!
Hiking Back to El Chalten from Laguna de Los Tres
Our way down was harder than we thought. Despite relaxing at the top for almost two hours, we felt pretty tired. Scrambling back the same rocky path didn't seem much easier on the way down.
The stream of water that was flowing down the trail was making some boulders quite slippery. And to make things worse, just a few turns from the top, we came a cross a gruesome accident.
One of the hikers we saw earlier on the trail, an older guy, just had a heart attack. People were gathered around trying to resuscitate him, but to no avail. In just a few short minutes he passed away. Witnessing this terrible scene was a sad reminder of how fragile life can be. Hikes like these are not a joke!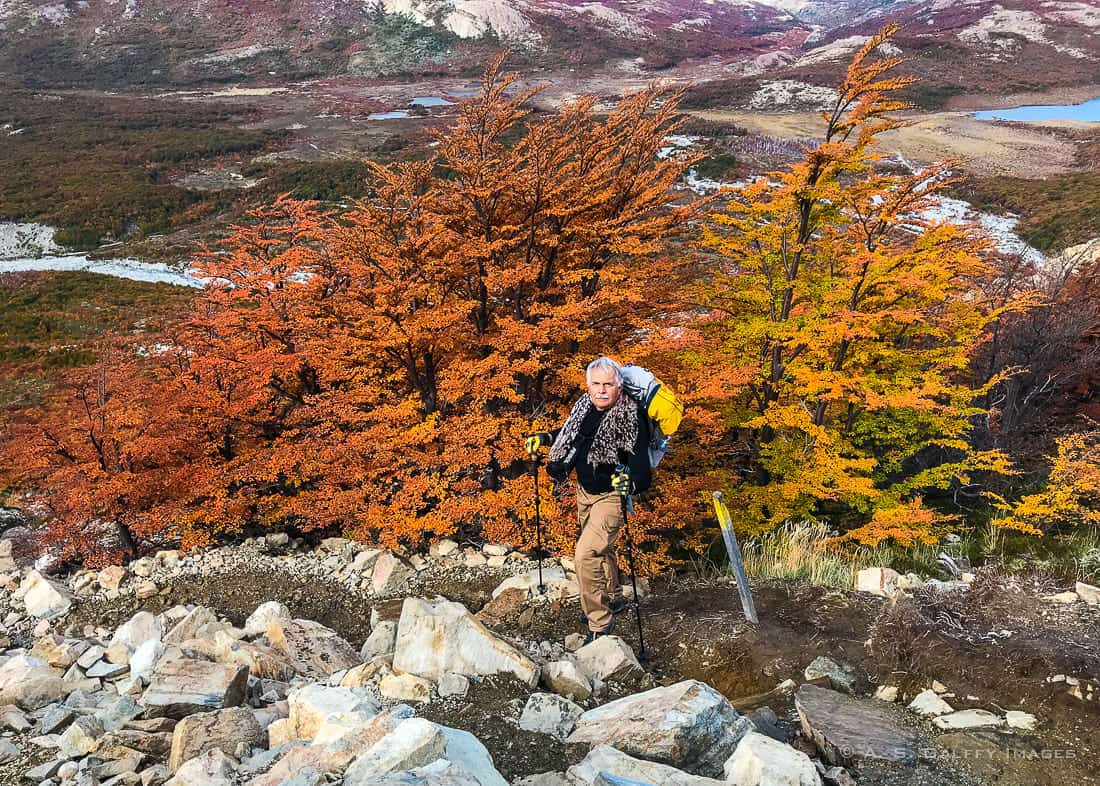 Is the hike to Laguna de Los Tres worth the effort?
Most of us embarking on long and difficult hikes seek challenge. We try to push ourselves into a new body, or a new state of mind. But sometimes, when the effort is too big, even though you succeeded it feels unnerving.
More often than not, after starting a difficult hike I begin wondering whether it was a good idea. A loud voice inside my head keeps screaming at me: "this was a terrible mistake, you shouldn't have started this… walking uphill sucks!"
Truth is that strenuous hikes are not fun, but when you manage to get to the top of the mountain you feel that your efforts were worth it. And that's when you realize that good things always come from being able to push through the difficult parts. So although very difficult, the hike to Laguna de Los Tres at the base of Mt. Fitz Roy is totally worth it.
What to pack for this hike
The packing list for the hike to Laguna de Los Tres is pretty similar to the one I wrote about packing for Patagonia. Be sure to check that out if you are planning to visit El Chaltén and the Argentinian side of Patagonia.
The only thing I could add is that Los Glaciares National Park has a NO FIRE policy. So if you are planning to camp in the park, be advised that no cooking over an open flame is allowed.
However, there are plenty of places in El Chaltén that sell delicious food packages, with sandwiches and baked goods. These pre-made sandwiches are a good idea even if do the Fitz Roy trek as a day trip. Just make sure you don't load your backpack too much. The last stretch of the hike is a killer!
Liked this post? Pin it for later