The Weekly Postcard: Basilica of the National Shrine in Washington D.C.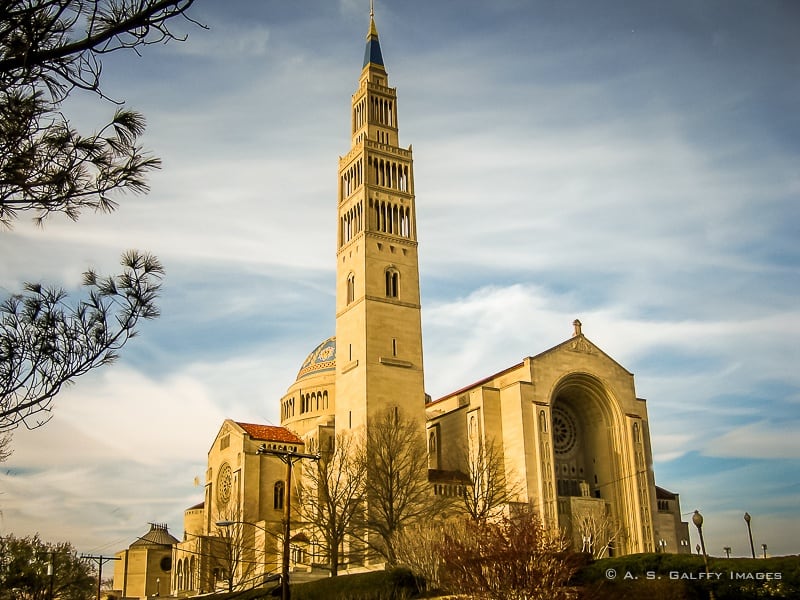 Magnificent, grandiose and overwhelmingly beautiful! These were my first thoughts as I entered the Basilica of the National Shrine of the Immaculate Conception in Washington, D.C. Indeed, the elegance of this church that transcends the realm of religion left me completely mesmerized. I am not a fan of contemporary church architecture,  but this is the most astonishing modern church I have ever visited.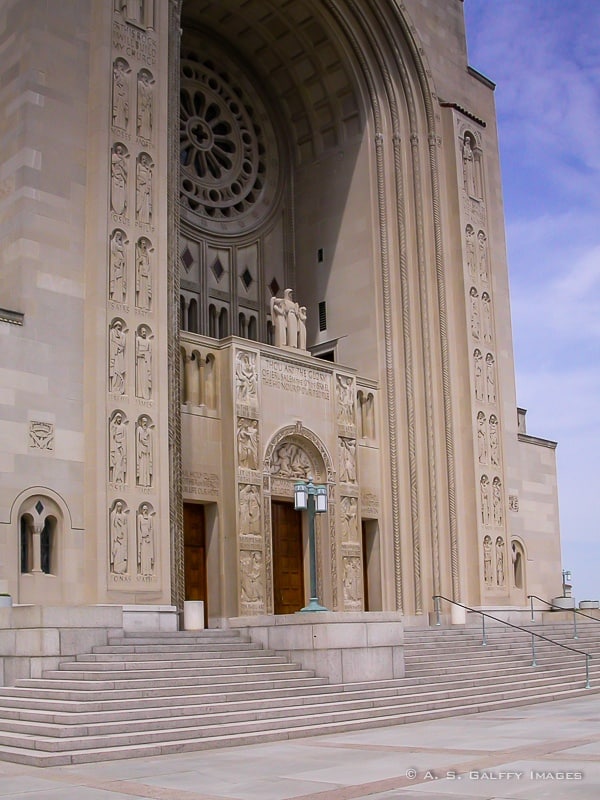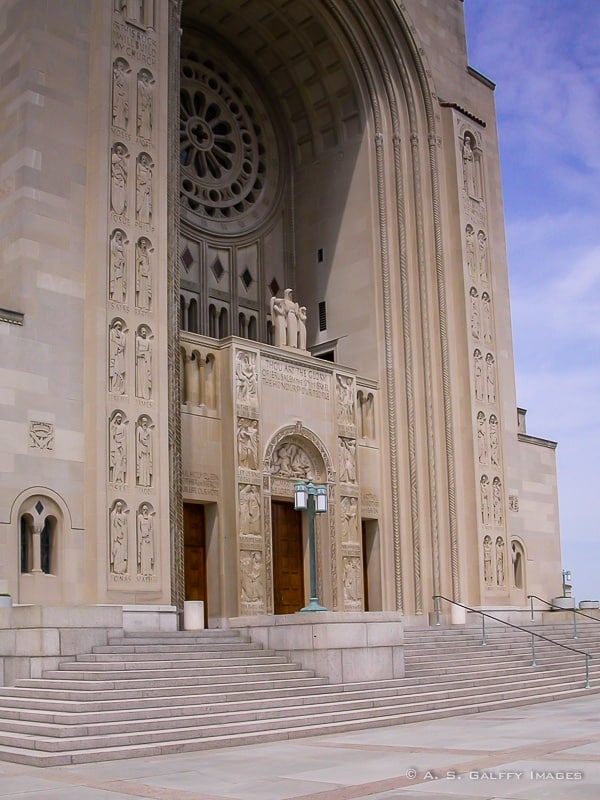 Construction of the shrine began in 1920 under Philadelphia contractor John McShain. The church opened unfinished in 1959 and the ornamentation of the interior has continued since. The Basilica of the National Shrine is a great example of Neo-Byzantine architecture,  most frequently seen in religious buildings and characterized by the use of brick and plaster, with mosaics replacing the carved ornaments. It is estimated that over 1 million pilgrims visit the Basilica of the National Shrine each year.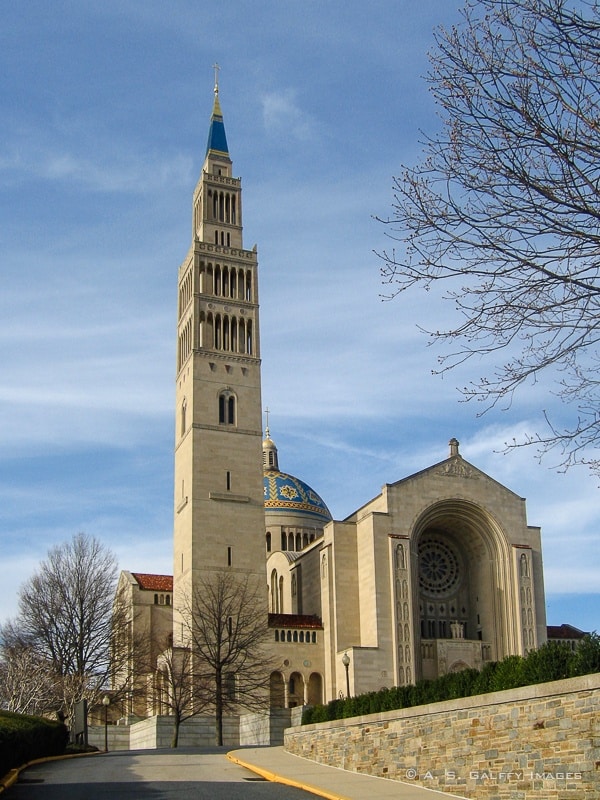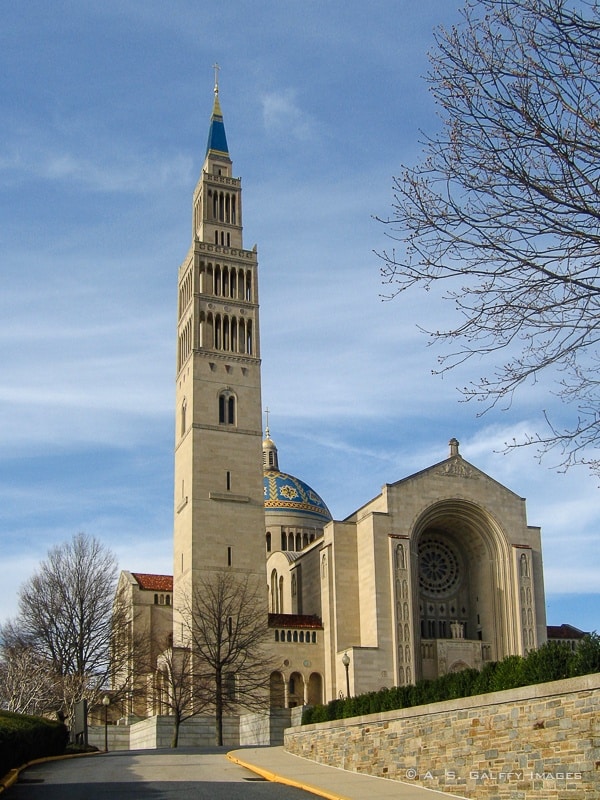 This is a truly a unique structure. At 237 ft. tall, it is the largest Catholic basilica in the United States. It's adjacent bell tower reaches 329 ft. into the sky.  To give you an idea about the hight of this church: the Tower of Pisa could fit inside the main dome (even if it wasn't leaning) and two Statues of Liberty, one atop the other, could fit  into the Basilica's bell tower. Quite impressive, don't you think?
The first thing that attracted me to the National Shrine was the towering interior space of the nave. It is massive. So massive, that it can't be captured in a landscape photo, even with a wide angle.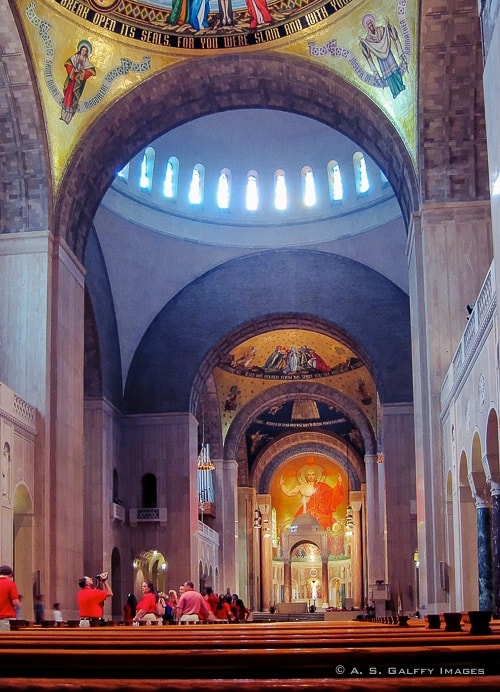 The main church is surrounded by 70 small chapels honoring the Virgin Mary. Each chapel has a different color palette and a different character representing many countries' vision of Mary – from China, to Mexico, to European countries, etc. Below the main church is the Crypt Church, a much smaller and dimly lit sanctuary, almost dark, with rows of pews.
The Basilica of the National Shrine is located just a short distance from The Capitol Building. It is easily accessible by Metro's Red Line, getting off at the Brookland-CUA station, then walking about 10 minutes towards the Catholic University. It is open every day and should be one of the highlights of any trip to Washington D.C. It looks gorgeous at any time, whether the skies are clear and blue, or gray and overcast.
Both photography and video-recording are permitted for private, non-commercial use, but you need to be respectful and reduce the noise to the minimum. Tripods and free-standing lights are not allowed.
We did a self guided tour of the shrine, but getting a guided one is most likely better.