It is for a good reason why Jordan is on so many people's bucket list. The country has stunning natural landscapes, amazing archeology and world-renowned religious sites. There are so many wonderful places to visit in Jordan that it's hard to include them all in a 5-day itinerary.
Truth be told, Jordan deserves way more than just 5 days, but our main goal for this trip was to visit Israel. We decided kind of last minute to make room for a short Jordan itinerary, but we'd definitely want to return for more.
Planning a Trip to Jordan
Planning a trip to Jordan requires a lot of preparation which involves not only planning your itinerary, but also informing yourself about what to expect when you get there.
Booking a Guided Tour vs. Traveling Independently
After spending 5 days in Jordan we can say it's entirely possible to visit the country independently. It's definitely cheaper and you'll have more freedom to arrange your schedule any way you want. If we were to go a second time, we would probably go on our own and just hire local guides for different activities (diving, snorkeling, camel riding, etc.)
However, if his is your first time in Jordan, I would recommend arranging your trip through a tour company. Although it's more expensive, you'll have less things to worry about and more time to enjoy your trip. From your Jordan Itinerary, the tour company will arrange everything for you in advance: visas, a driver, a guide, entrance fees and accommodations.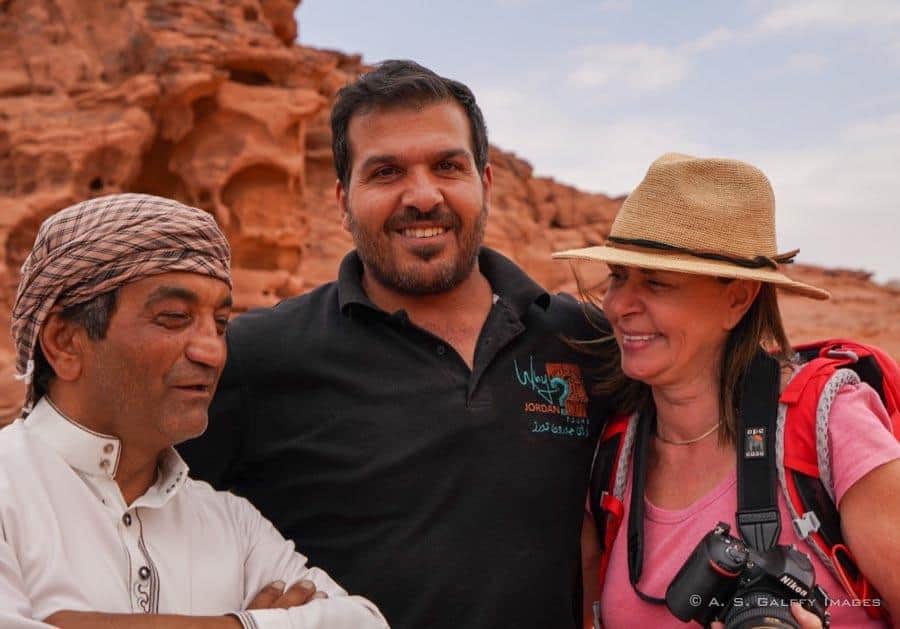 We booked a 5 day tour through Jordan with Desert Eco Tours, an Israeli company with a Jordanian partner, Why Jordan, based in Wadi Musa. They picked us up from the airport in Eilat and helped us across the border to Jordan where we met up with our Jordanian guide. Our Jordan Itinerary was arranged by Desert Eco Tours, with some small changes made by ourselves.
Best Time to Visit Jordan
Spring and autumn are the best times to travel to Jordan as the days are warm, with temperatures into the high 20°Cs, but nights are cool. Summers here are very hot, with temperatures reaching up into the 40°Cs.
Late November and early March are the best months for hiking in the nature reserves and archeological parks. We visited Jordan at the end of October but the temperatures were still up in the higher 30s (90ºF). If late October was so hot, you can only imagine how summer temperatures must feel here!
The Perfect 5 Day Jordan Itinerary
Jordan is an incredibly beautiful country, with so many interesting sights to see. Five days will barely give you enough time to take note of some of them, but not to explore everything that's out there. We would have like to liked to take a trip into the Wadi Mujib, but that wasn't possible in such a short amount of time. So in this post I'm going to tell what we were able to cover in 5 days and also try to answer some basic questions that you may have about visiting Jordan.

Jordan Itinerary Day 1: Driving the King's Highway to Petra
We started the first day of our itinerary in Eilat, Israel, where we crossed the border from Israel to Jordan. From the border we drove straight to Petra, a 2-hour drive via the Desert Highway (Route 15/Route 47M) and the King's Highway (Route 35).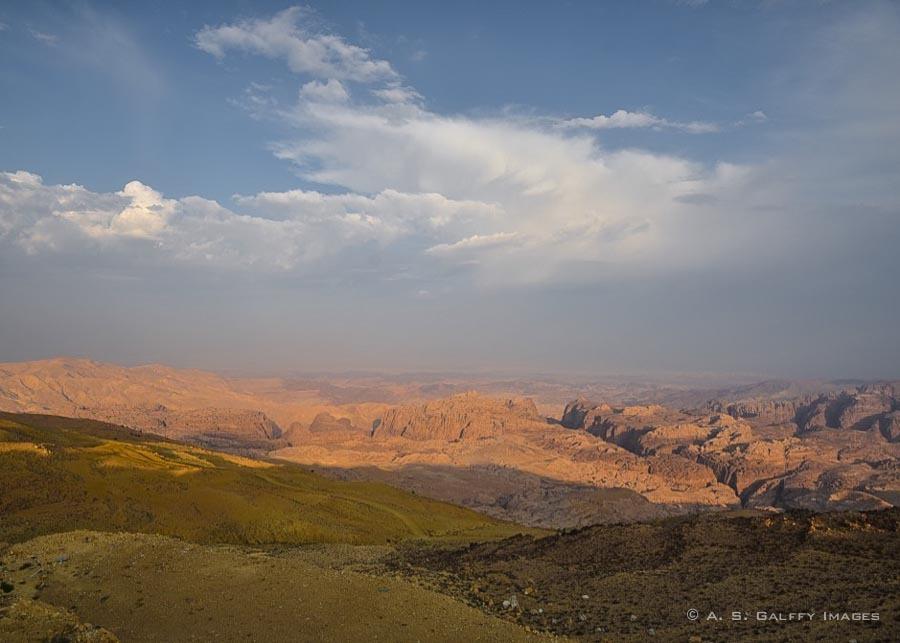 The King's Highway is a very scenic route that runs over the high ridge of the Great Rift Valley. Along the winding road you pass through rolling plains scattered with barren cliffs, mountain towns and tiny villages. For over 5000 years, this ancient route was traveled by kings, pilgrims, and Crusaders.
After reaching Wadi Musa, we dropped our luggage to the hotel and proceeded to Petra. It was just a short 10 minute walk from our hotel in Wadi Musa to Petra archeological park.
Visiting Petra
We reached Petra around 8:00 a.m., which was pretty early, but not early enough to beat the tour buses.
Of all the places to visit in Jordan, the archeological site at Petra was by far the most impressive one – an absolute must for every itinerary. A vast conglomerate of elaborate tombs and altars half-built and half-carved into red sandstone cliffs. Petra was built by the Nabateans around 312 BC.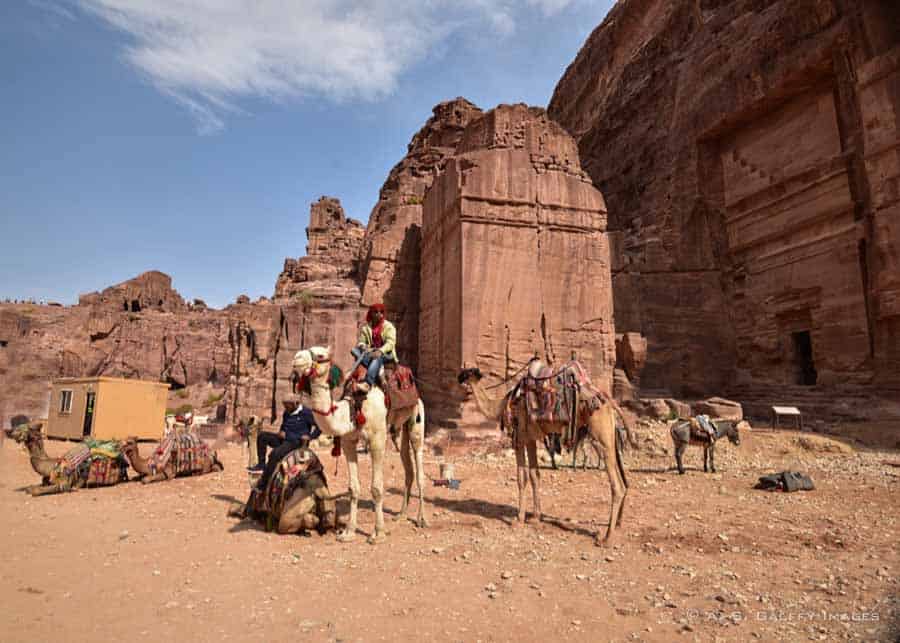 The entrance passage to the hidden city of Petra is via a mile-long narrow canyon, called the Siq. At the end of the Siq is the Khazneh, or Treasury, an ornate tomb that became Petra's most iconic site. That first glimpse of the Treasury through the narrow passage is a sight you'll never forget.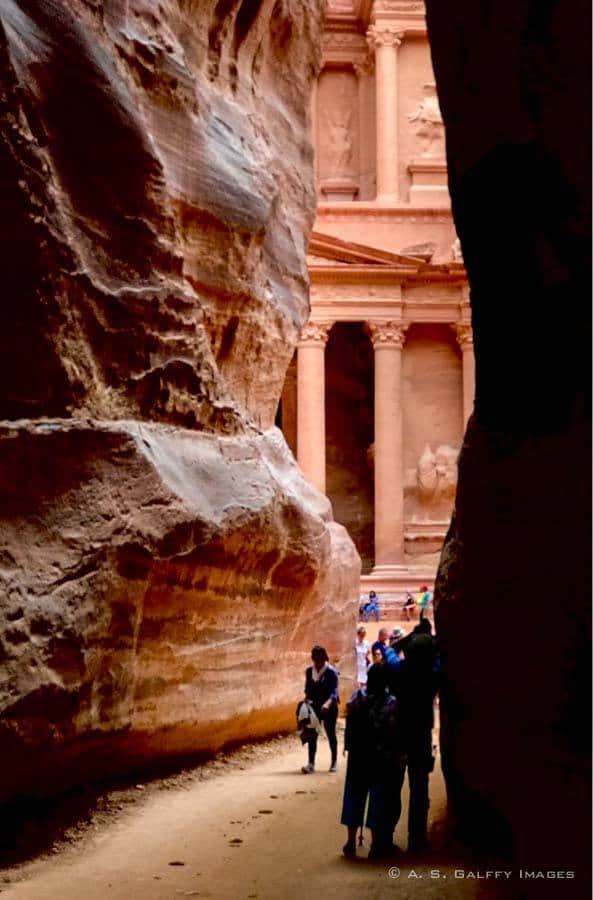 Petra is huge. It extends for at least 60 square kilometers through canyons, up the mountains and along river beds. Unless you have several days to explore the site, you should choose some bits to focus on. You can concentrate to walk along the main pathway towards the centre of Petra past the Street of Façades and the grand Royal Tombs. These are the biggest and most impressive tombs in Petra.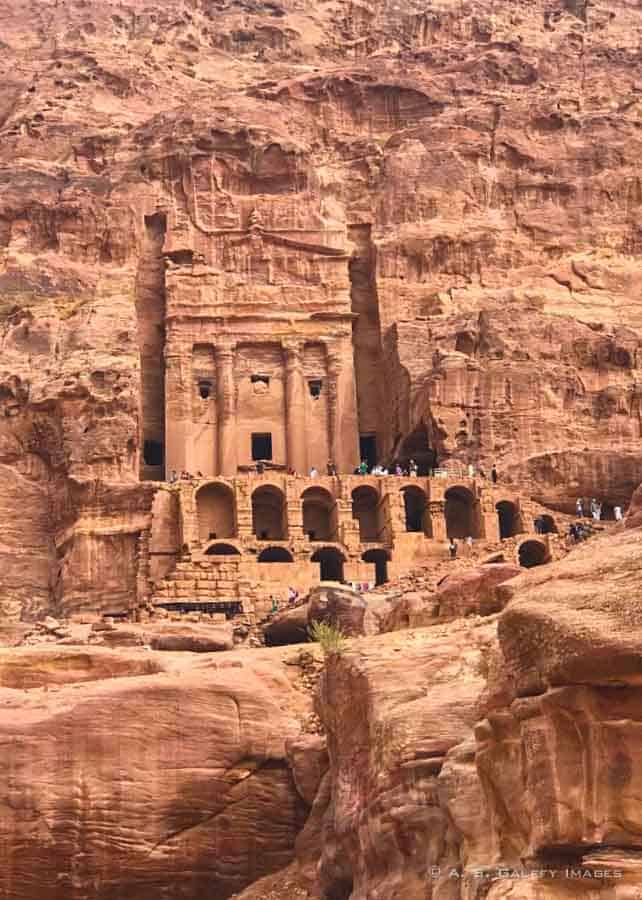 There are several important hikes in Petra that will take you to some other dramatic structures. Depending on how much time you have, you can hike the 800 steps up to the Monastery (there are donkeys at the head of the trail that can take you up). You can also hike to the High Place of Sacrifice and the Al Khubtha trail for that famous view of the Treasury from above.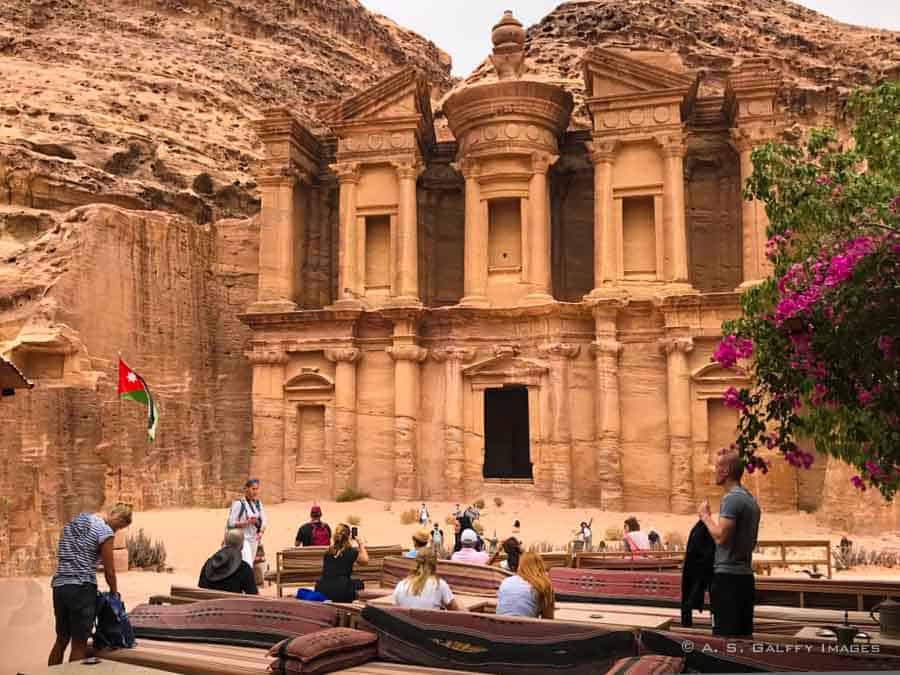 TIP: Petra is Jordan's most popular site and thus it's always crowded. The park opens at 6:00 am, so try to be there before the tour busses arrive. Mornings are also cooler, thus it's easier to hike the trails.
Jordan Day 2: Mt. Nebo and Madaba
On the second day of our trip we visited two of Jordan's most important historical sites: Mt Nebo and Madaba.
Mt. Nebo
Mount Nebo is a very important biblical site. It was here, on this elevated ridge overlooking the Dead Sea, that God allowed Moses to view the Promised Land. But Moses would never enter it, in spite of leading the Israelites through the desert for more than 40 years.
On a clear day, from the top of Mount Nebo you can see the beautiful Jordan Valley, the Dead Sea, Jericho, Bethlehem and the distant hills of Jerusalem. There is a helpful sign that points out exactly what you are looking at. A view that you shouldn't miss!
Moses died here in the land of Moab and was buried on Mt. Nebo. In the 4th century a small basilica was built here to mark the spot. The present church, which is a recent reconstruction, is rather plain a modest, but contains some fabulous mosaics depicting rustic scenes.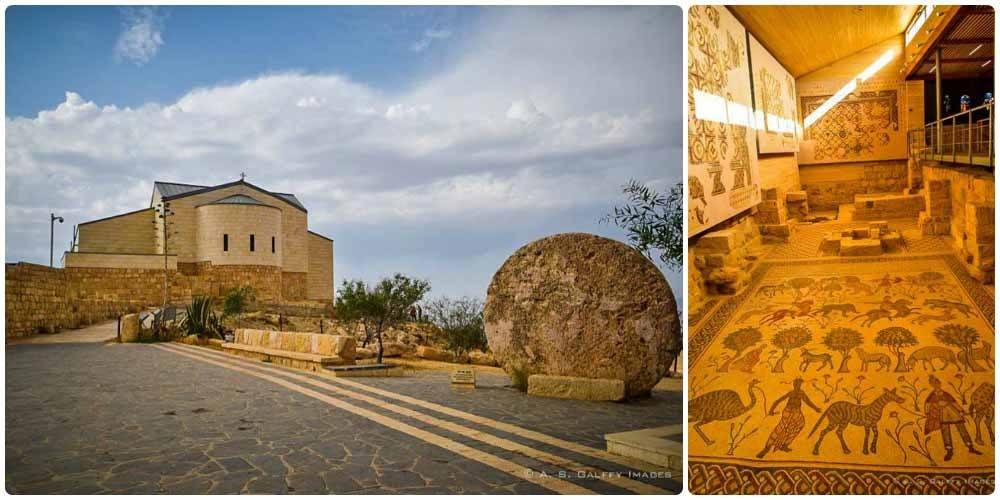 There is a lot to watch at Mt. Nebo besides the view. A very interesting piece is the renowned Brazen Serpent Monument, a representation of the bronze serpent lifted up by Moses in the wilderness.
During their 40 year wanderings, the children of Israel often murmured against Gods provision, so God sent deadly serpents as a judgment. In response to Moses prayer for the people, God instructed Moses to set up a bronze serpent on a pole, and everyone who looked upon it would live.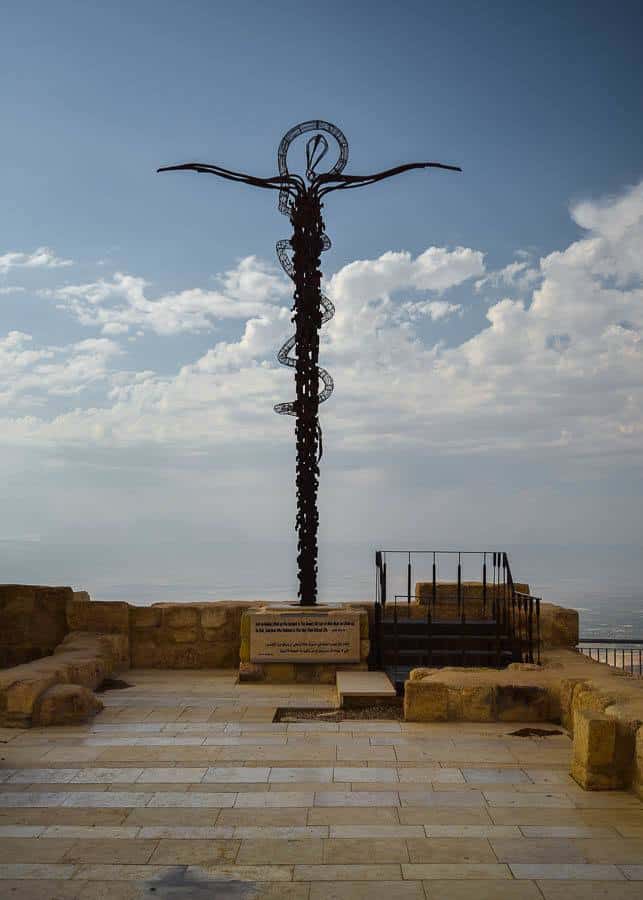 Also, don't miss the Mosaic Handicraft Center, the excavation work and the small museum next to the gift shop. From the gate to the basilica and the view point it's a good climb, though with many stops to make it comfortable.
Madaba
The town of Madaba is best known for its collection of mosaics from the Byzantine era. The most famous of these is the map of the Holy Land on the floor of St George's Church, created in exquisite detail. The church itself is rather small and plain, but it's a very popular tourist spot because if this mosaic.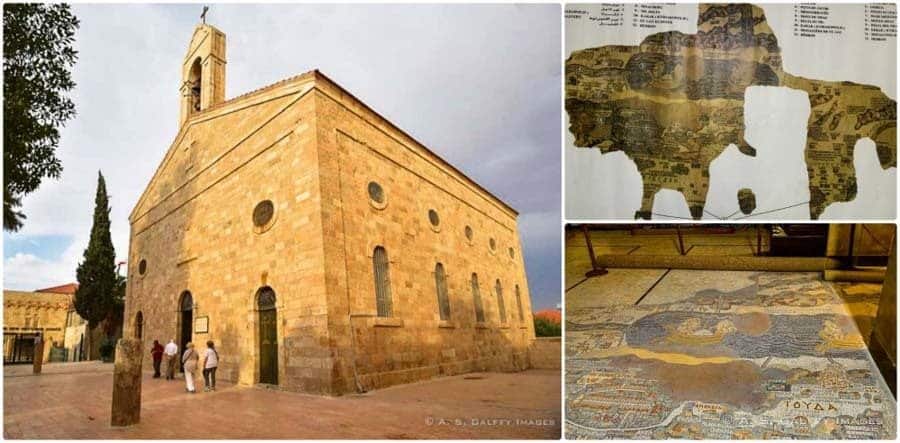 There are many other mosaics in different parts of the town. Several of them are even more vibrant and complete than the one at St. George's Church. You can see some beautiful mosaics at the Archeological Park and the Virgin Mary Church as well.
Jordan Itinerary Day 3: Jerash
After experiencing the majesty of mythical Petra, I thought nothing can impress me more than that. But on the 3rd day we discovered the ruins of Jerash, one of Jordan's best preserved archeological sites. I was really glad we included this in our Jordan itinerary!
Jerash was a powerful and significant outpost in ancient times, dating back to the 1st century AD. This Roman wonder was once part of the "Decapolis" – the 10 most important Roman cities in the Middle East.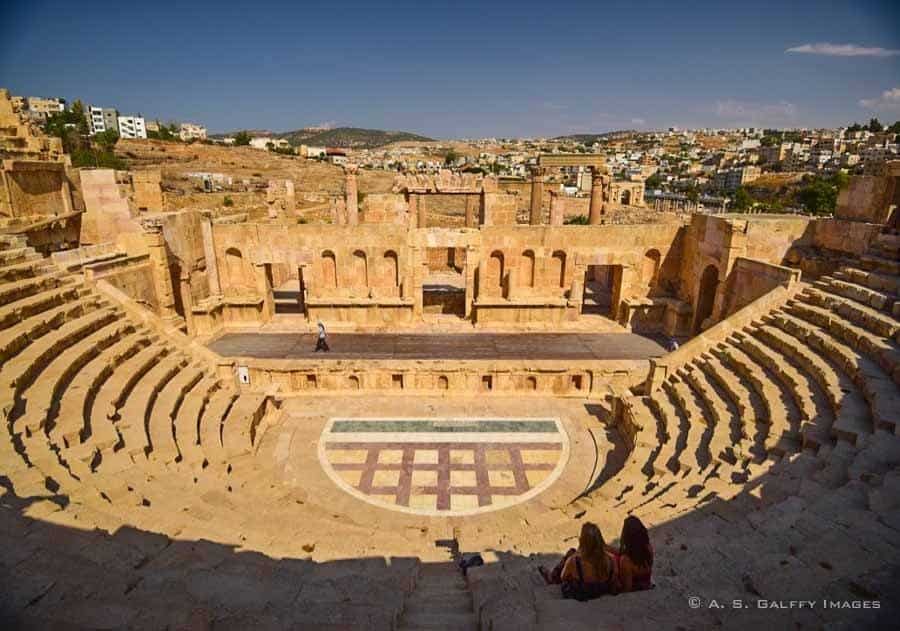 Located only 50 km away from Amman, Jerash is a small quiet town split into two main sections by a river valley. On the eastern side is the modern-day Jerash, which is mostly residential. On the western side is the beautifully preserved ancient town which is where most visitors spend their time.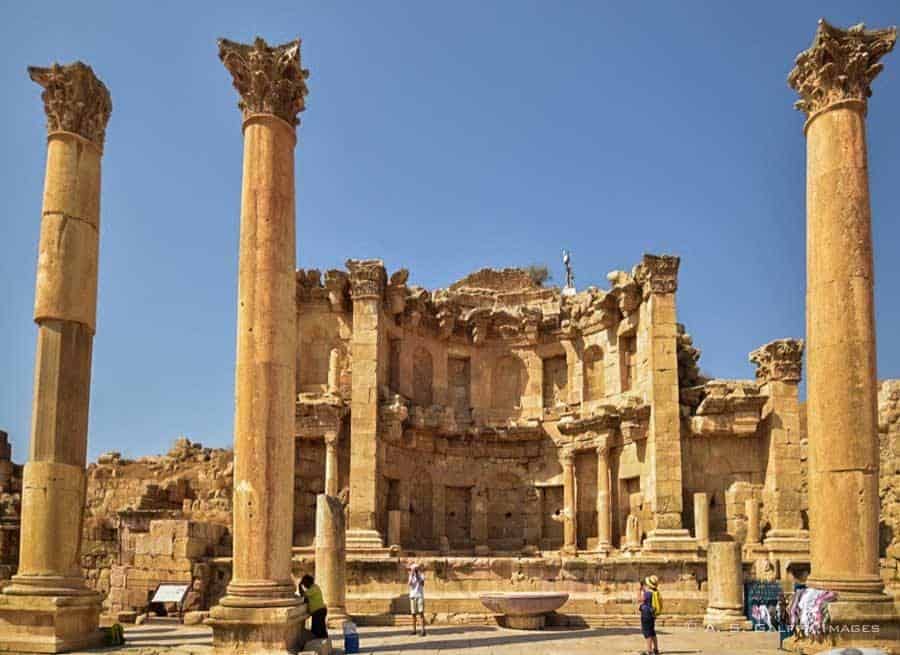 The archeological park in Jerash includes:
Hadrian's Arch which was originally built in honor of its namesake emperor. The arch is really impressive and was meant to be the city's southern gate, but it wasn't finished.
The Forum – a massive limestone plaza surrounded by columns and complete with its own temple and theater.
Cardo Maximus – an impressively straight wide street that goes from the Forum all the way to the North Gate.
Temple of Artemis – an impressive sanctuary built for the patron goddess of Jerash.
Nymphaeum, a Roman-style fountain that was carved in the shape of seven lion heads.
The Hippodrome, a huge field where once gladiator fights and chariot races took place.
If you have time, you should also visit the Archeological Museum at the southern end of the cardo. The museum has a small collection jewelry and mosaic tiles excavated from the area.
Jordan Itinerary Day 4: Wadi Rum Desert
We've spent the 4th day of our Jordan itinerary touring the desert. Wadi Rum is one of the most spectacular places to visit in Jordan – a desert valley in the southern part of of the country. It is also known as "Valley of the Moon." What surprised me about Wadi Rum is that it's not so much made of sand dunes, but rather of soaring cliffs and granite mountains.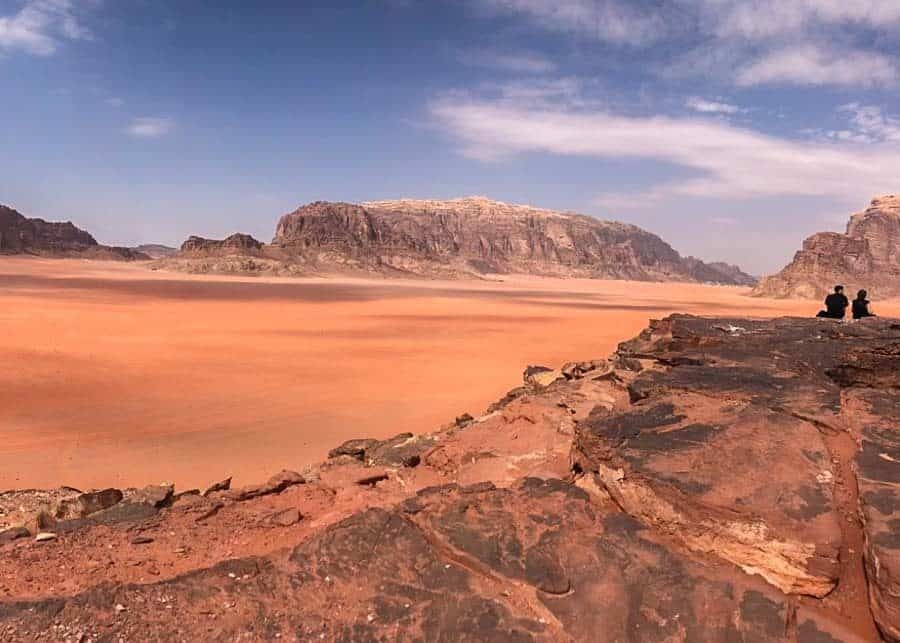 But as beautiful as it is, Wadi Rum is a very inhospitable place to live. The only inhabitants of this area are a few Bedouin tribes and their goats and camels.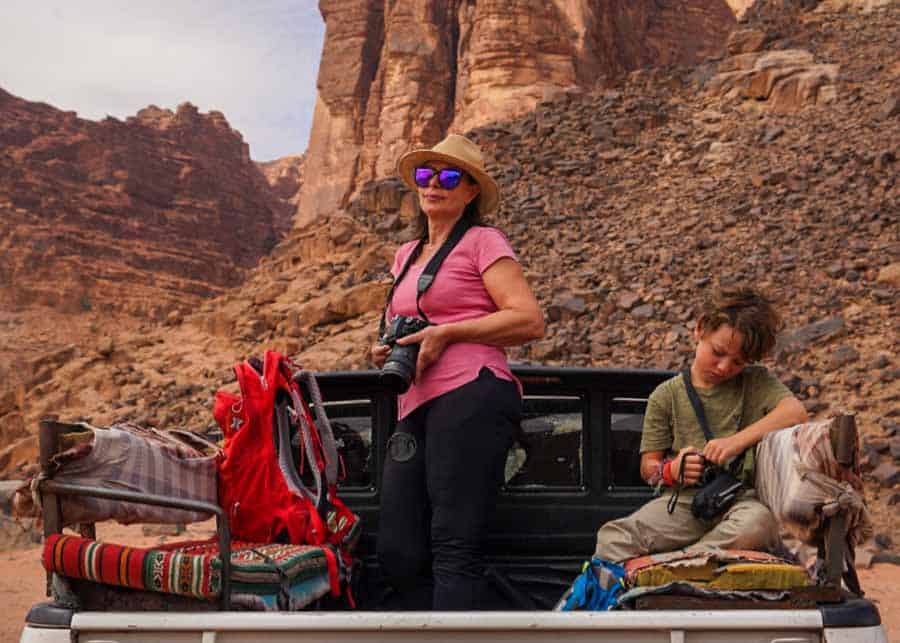 One of the best ways to experience the beauty of Wadi Rum is to take a tour in a 4×4 Jeep. The local Bedouins lead organized tours that depart daily from the Wadi Rum visitor center and take you to the most notable attractions. The groups are usually small (4-6 people).
The Bedouin guides will also cook you lunch on an open fire, in a beautiful canyon. We ate delicious grilled chicken served with salads and pita.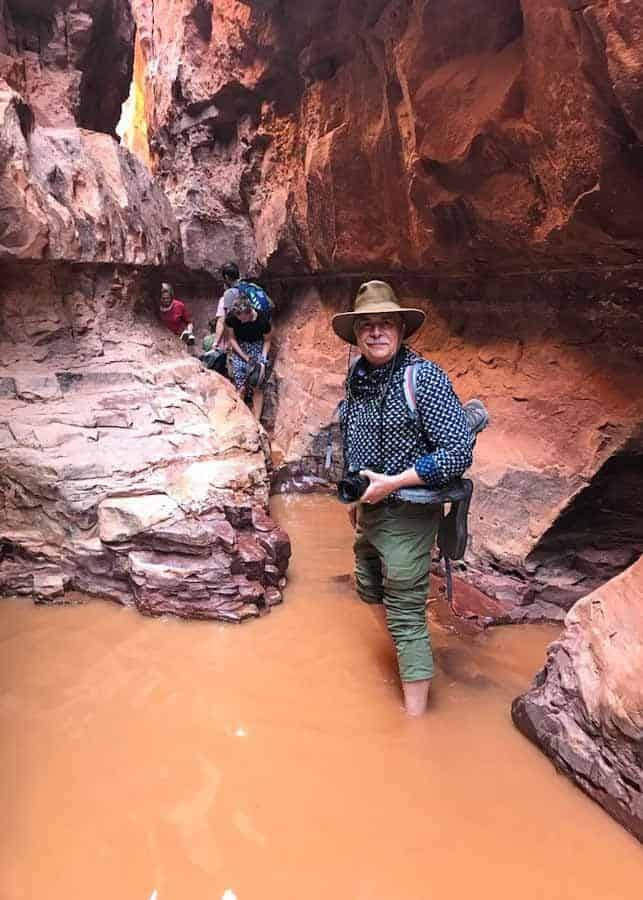 You can also choose to stay overnight in one of the Bedouin camps, and enjoy the full splendor of the night sky in the desert. Unfortunately, we made up our mind too late about that and couldn't find any more rooms available in the Bedouin camp.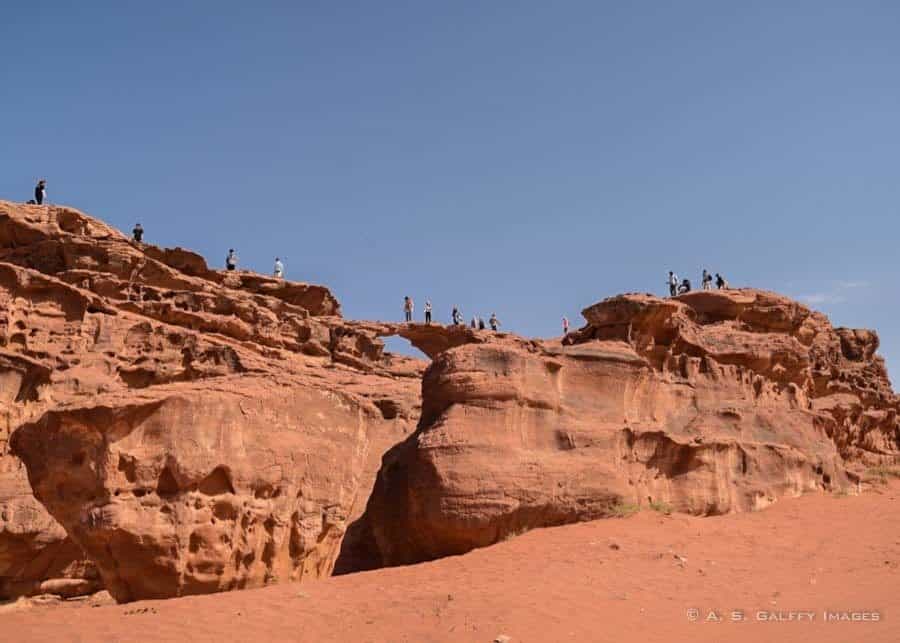 Because of its spectacular beauty, the Wadi Rum desert has been used as a filming location for many movies over the years. Starting with Lawrence of Arabia in 1962 and continuing with more recent ones like Transformers 2, The Last Days on Mars and The Martian.
Jordan Itinerary Day 5: Aqaba
We ended our 5-day trip to Jordan in Aqaba, a port city on the Red Sea's Gulf of Aqaba. This is the perfect place to enjoying some lazy time on the beach and wander around town without a fixed schedule. After walking an average of 15 miles a day, hiking up and down the Wadi Rum sand dunes and the steep steps of Petra, we felt a day on the beach was a well deserved break.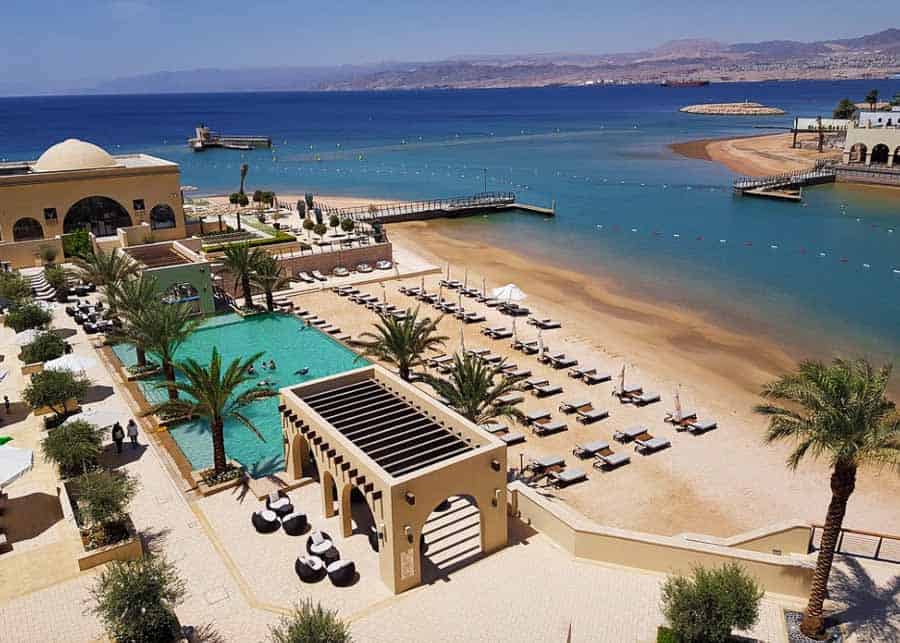 Aqaba is famous for its beaches, world-class diving sites and laid-back atmosphere. It's definitely one of the places that you must visit if you are in Jordan. The city has an interesting mix of cultures, which is characteristic to many port towns in the Middle East. Listening to the Muezzin's call to prayer in the evening while gazing at the sunset was so relaxing!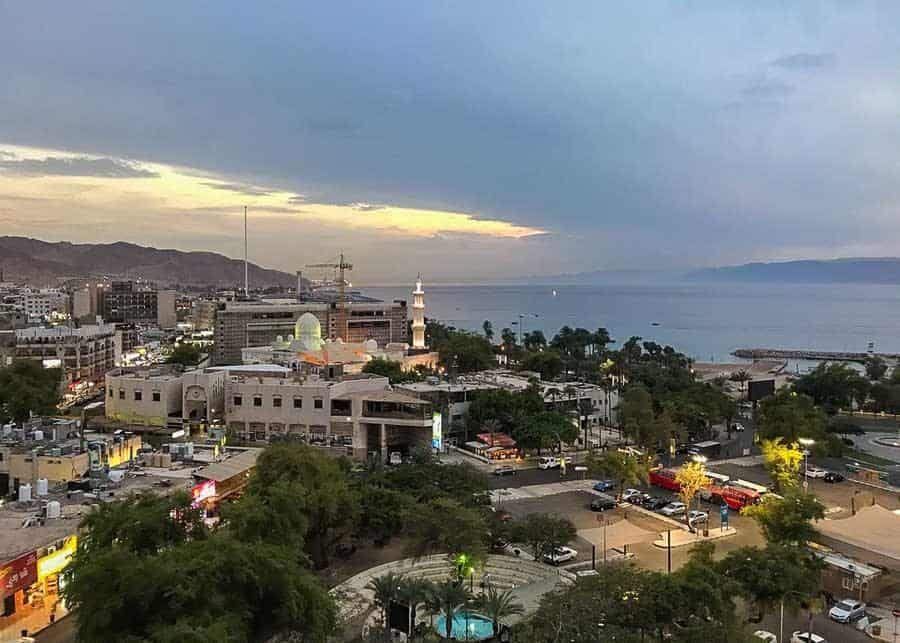 Given its close proximity to Wadi Rum and Petra, Aqaba is the perfect base to explore Jordan's most popular attractions.
Is it safe to visit Jordan?
Most people I know believe that traveling to Jordan is a rather risky affair because they constantly hear of the dangers in the Middle East. Although tensions and conflicts in this area are very real, not all countries in the Middle East present a risk for travelers. Such is the case of Jordan, which suffers guilt by association, but when you actually travel there you realize it's a pretty safe and hospitable country.
After spending 5 days Jordan, we left touched by the generosity and kindness of its people. Not even for a moment did we have the feeling that our lives were at risk, or that we had to watch our backs.
There are so many amazing places to visit in Jordan! It would be a pity to skip them because you fear Jordan is an unsafe country to visit.
What to pack for a trip to Jordan?
One of the questions that was my mind when planning our Jordan itinerary was what to wear in Jordan. Knowing that we were going to travel to a Muslim country, made me a little cautions about what to pack. As a general rule, wear modest clothes. Don't bring shorts, tank tops, or anything above the knee.
Also, think convenience before fashion. Some of the best places you'll visit in Jordan require a lot of walking and even hiking, so so bring very comfortable shoes and even hiking boots. I brought my sturdy ankle boots that I used for hiking in Patagonia and I was very happy with them (although a little hot!)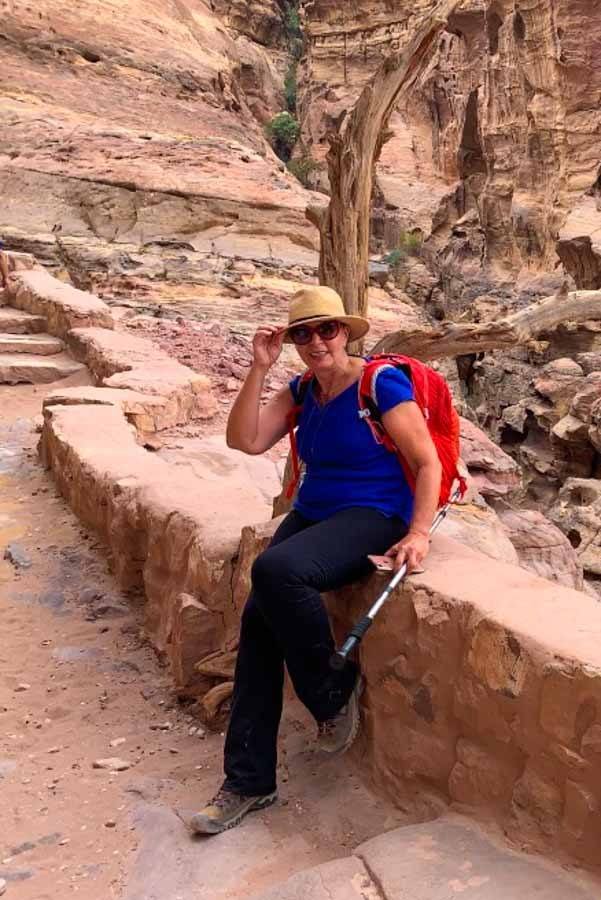 No matter what time of the year you travel to Jordan, you need to dress in layers. The day may start cooler, but then gets very hot and in the evening it cools off again. Bring long and short sleeve shirts, stretch canvas cargo pants, or trail convertible pants.
Other items to bring: portable battery charger for your smart phone, a backpack, lots of sunscreen, sunglasses, a bathing suit and a hat. Walking in the sun an entire day without a hat is unbearable.
If you plan to hike in Petra, I would suggest buying a hiking stick from the bazaar in front of the entrance. They sell them for $6-$7 a piece and you will use it heavily on the way down on those steep rocks. Especially if it rains and they become slippery.
Pin this for later: