If you are lucky to visit La Recoleta Cemetery in Buenos Aires on a rare day when tourists don't crowd its narrow alleys, you will get a sense sadness. Without the camera clicks and the visitors' giggles, this places looks strange and unnerving, yet peaceful and fascinating.
Cemeteries always trigger emotions. They are a perpetual reminder of our ephemeral existence. And yet I like rambling through them. I like visiting the graves of people I don't know, reading their epitaphs, wondering about their lives. But before you find that morbid, let me take you for a walk through this extraordinary graveyard that is the most expensive piece of land in Argentina.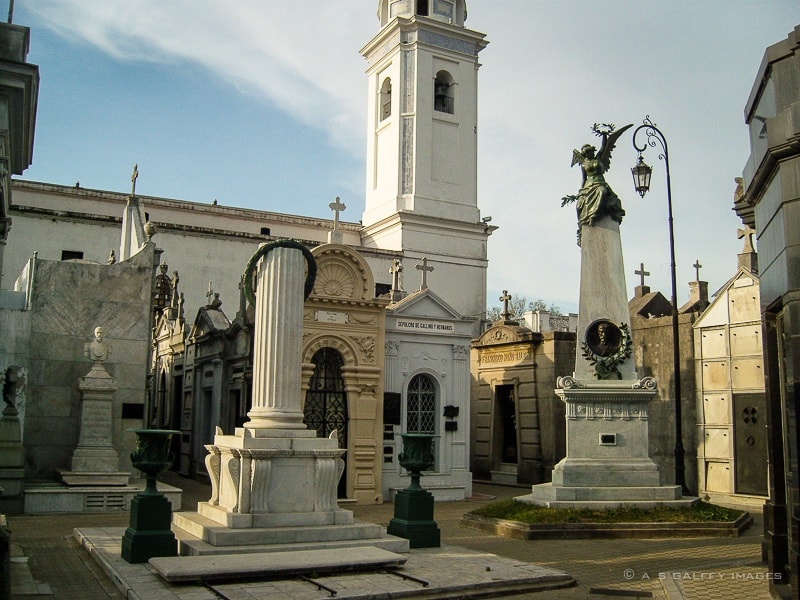 A Brief History of the Cemetery
La Recoleta was inaugurated on November 17, 1822 under the name of Cemeterio del Norte (Northern Cemetery). The cemetery was built around an abandoned convent established by the Order of the Recoletos. The order was disbanded in 1822, and the garden of the convent became the first public cemetery in Buenos Aires.
What to Expect at La Recoleta Cemetery
La Recoleta is a captivating place! A labyrinth of towering marble mausoleums, built in many architectural styles. There are over 6,400 statues, sarcophagi, coffins and crypts in the city of the dead. And 90 of them are national historical monuments.
It seems like each family tried to outdo the other with grandeur and extravagance. Some mausoleums look like Gothic chapels, or Greek temples with domes and obelisks. Others stay guarded by life-size statues of nymphs, cherubs, babies, crying widows, generals, soldiers, and even boxers.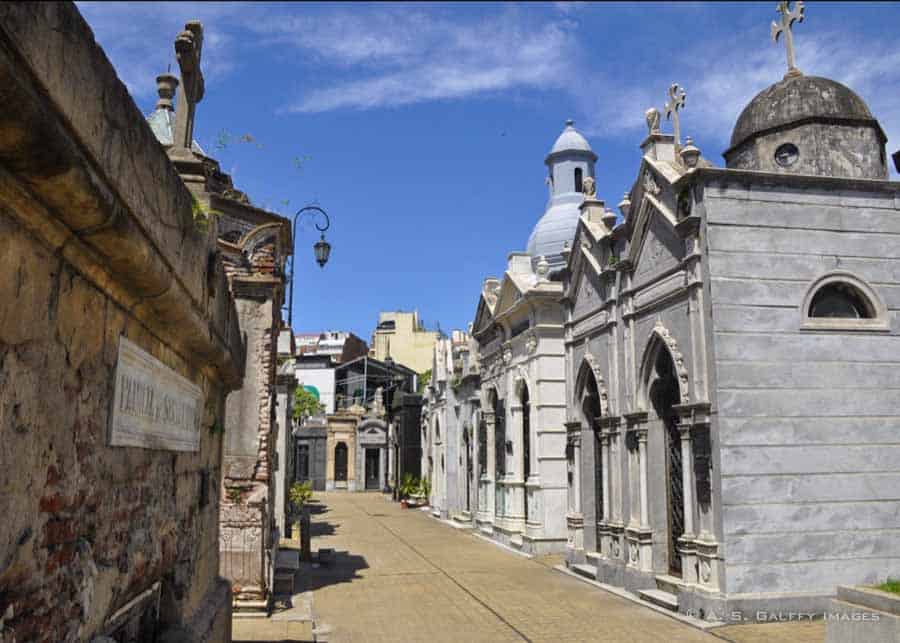 Most of the crypts we've seen are in good shape. However, there are many that have fallen into complete disrepair and neglect. The dusty sarcophagi that lay abandoned and forgotten on the cold floor are a sad and chilling scene!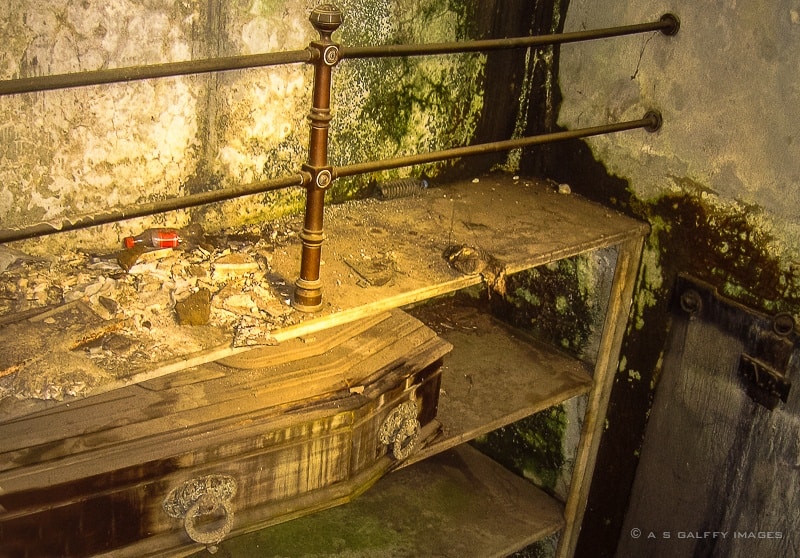 Famous Graves at La Recoleta Cemetery
It's not often that a cemetery will make the must-see list of attractions. But the elegant and aristocratic La Recoleta Cemetery seems to be drawing a lot of interest in Buenos Aires. You may credit this to Eva Perón's tomb, but Evita is not the only one who brings fame to the cemetery. Many historic figures, national heroes, former presidents and famous personalities rest here in peace for eternity.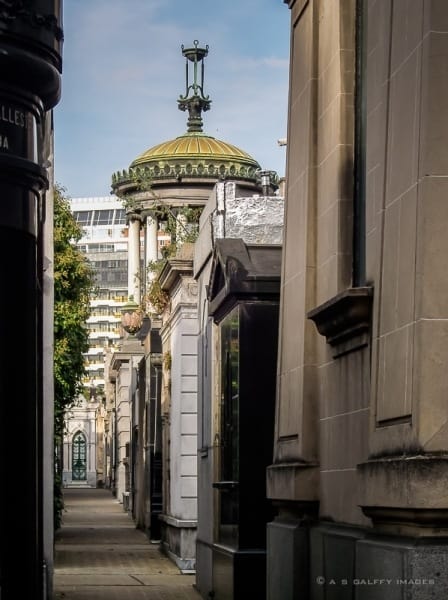 Eva Peron's Tomb
The most celebrated figure of the Recoleta Cemetery is without a doubt Eva Peron. She was the wife of Argentine President Juan Perón ( 1895–1974) and First Lady of Argentina from 1946 until her death in 1952. Almost all those who visit La Recoleta Cemetery are curious to see her tomb. Evita seems to generate as much interest in death as she did in life!
Finding the grave is a little tricky. As you look on the big map at the entrance, the Duarte family mausoleum is on the left side of the cemetery. It took us a while to find it tough. That was because we were expecting something much more impressive. Instead, we found a simple family grave with no statues, no obelisks, and no impressive mausoleums. Just an elaborately carved bronze door on which the Argentinians always hang fresh flowers.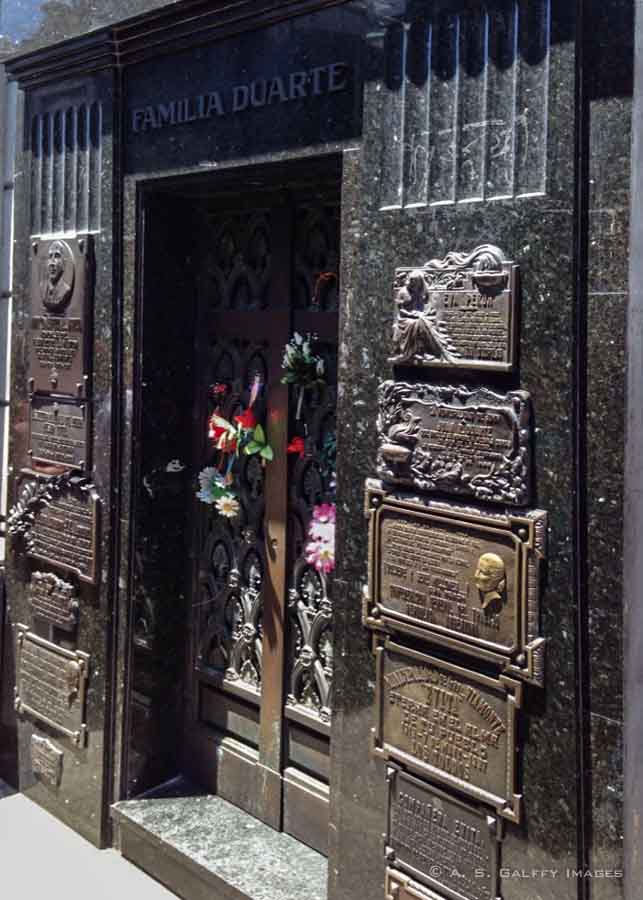 Evita's posthumous story is as tumultuous and her short life. Three years after her passing, her body was secretly removed from the crypt because of a coup that overthrew her husband, President Juan Perón.
The Argentine military moved Evita's body from one location to another for fear that her fans will turn the grave into a shrine. Eventually they shipped the body out of the country and buried it in Milan, under an assumed name.
After almost 20 years, Evita's body finally returned to the Duarte family mausoleum in the Recoleta Cemetery. The most beloved and controversial First Lady of Argentina resides now in a heavily fortified crypt where no one can disturb her remains.
The Paz Family Mausoleum
José Clemente Paz (1842-1912) was an Argentine statesman, diplomat and journalist. He founded the newspaper La Prensa.The mausoleum of the Paz family is a majestic black stone structure, designed by French artist Jules-Felix Coutan, head of the École de Beaux Arts in Paris.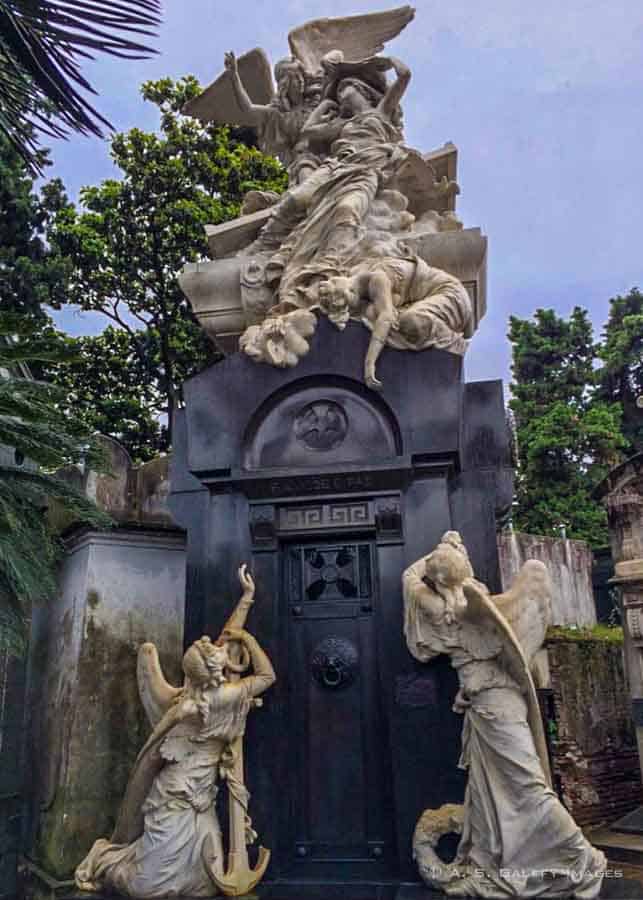 In front of the mausoleum are two gigantic marble angles reaching towards the top of the vault. On top of the mausoleum lies a collapsed woman with an flameless lamp in her hand. Next to her there is a casket from which a dove seems to fly out, while the soul of the deceased rises up to be greeted by a third angel. The statues have very delicate features and are so expressive, as if they are alive.
Dorrego-Ortiz Basualdo Mausoleum
The family vault of Dorrego-Ortiz Basualdo (1849 – 1920) is one of the largest and most majestic structures in the Recoleta cemetery.
The mausoleum was designed by the French architect Louis Dubois as a chapel. The lavishness of the structure reflects the enormous wealth of the Basualdo family. In front of the mausoleum there is a niche decorated with symbolic scenes from the Gospel.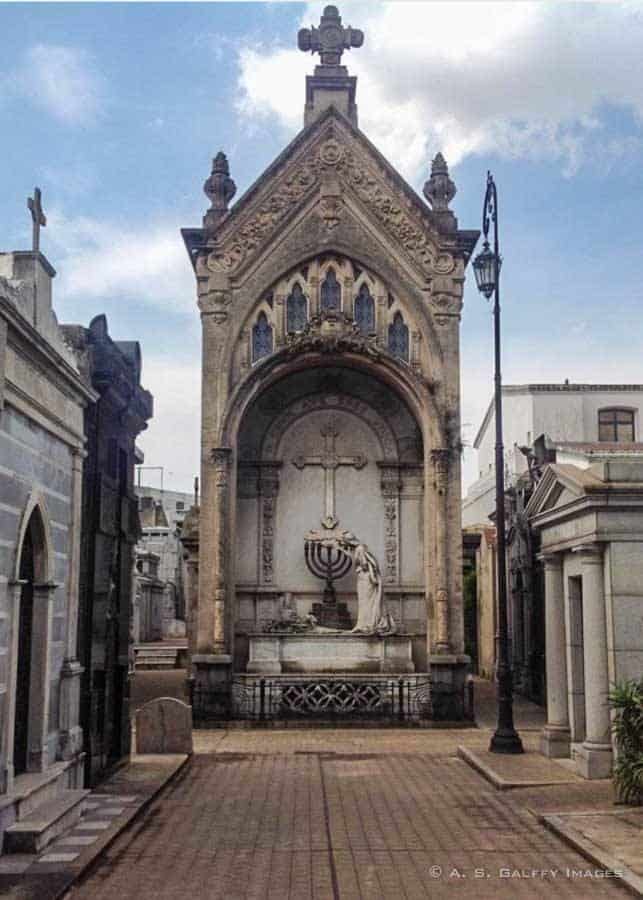 In front of the mausoleum there is a white marble statue of a virgin lighting a menorah, a seven-branched candelabrum that is one of the oldest symbols of the Jewish people.
Rufina Cambaceres Mausoleum
There are two very sad burial places in La Recoleta Cemetery that make the heart of every parent shrink. One is the crypt of Rufina Cambaceres, a young Argentine girl who entered into coma in 1902 and was pronounced dead at age 19.
The story says that a few days after her burial, the graveyard workers heard screams and noises coming from her tomb. They dug up the grave and when they opened the coffin they discovered scratches on it and on the girl's face. That led to the conclusion that she was probably buried alive and attempted to escape her grave when she woke up from her coma. What a horrific thought!
Struck with grief, her mother ordered a beautiful Art Nouveau mausoleum with sculpted flowers and a life-size marble statue of her daughter. The statue depicts a girl pushing the crypt's door.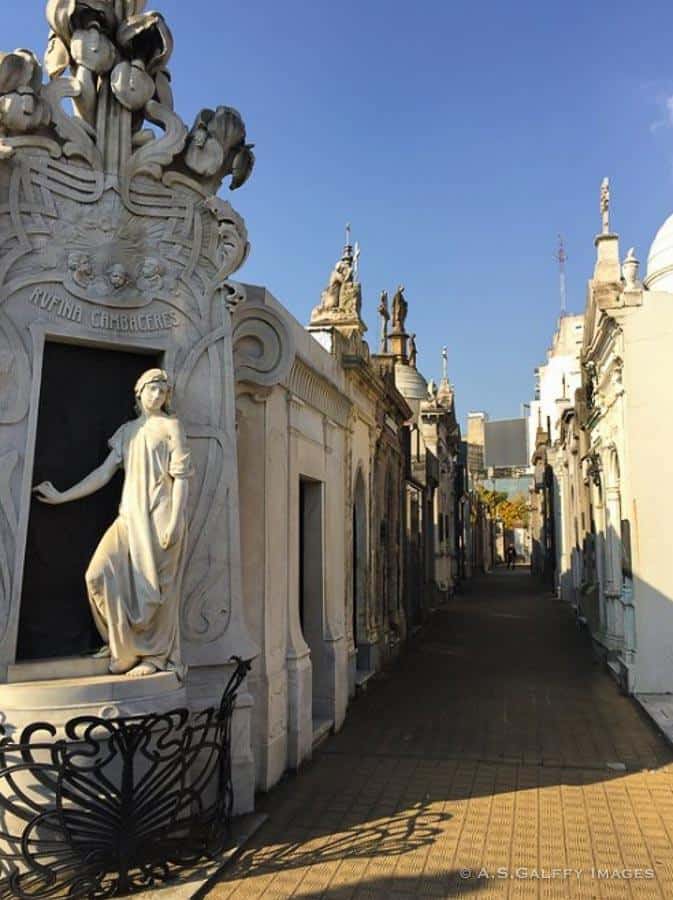 Although the story of Rufina's tragic death has never been verified, the beauty of this mausoleum captures the hearts of thousands of people who come to visit it every year.
Liliana Crociati de Szaszak Tomb
The second of the saddest graves in La Recoleta Cemetery is the one of Liliana Crociati de Szaszak. The twenty-six-year old woman died tragically in an avalanche while skiing in Innsbruck, in 1970.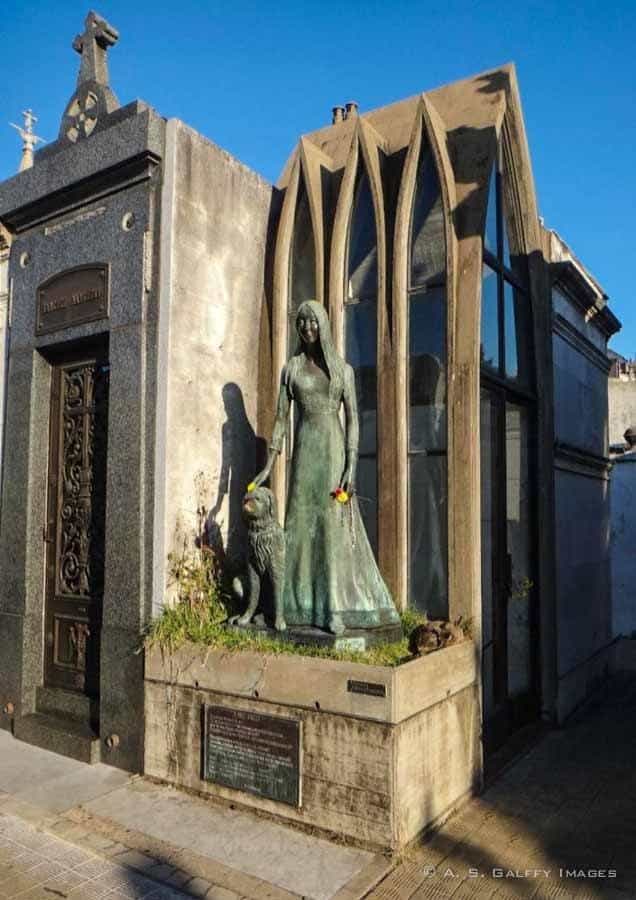 Her grief-stricken parents built her a beautiful Neo-Gothic style crypt and modeled it on their daughter's childhood room. The crypt is made entirely out of wood and glass.
Carlos Pellegrini Tomb
Another beautiful tomb is that of Carlos Pellegrini, a former military man who became the President of Argentina in 1890's. When he took office, Argentina was in the middle of a deep economic crisis. His administration he cleaned up the country's finances and created Argentina's National Bank.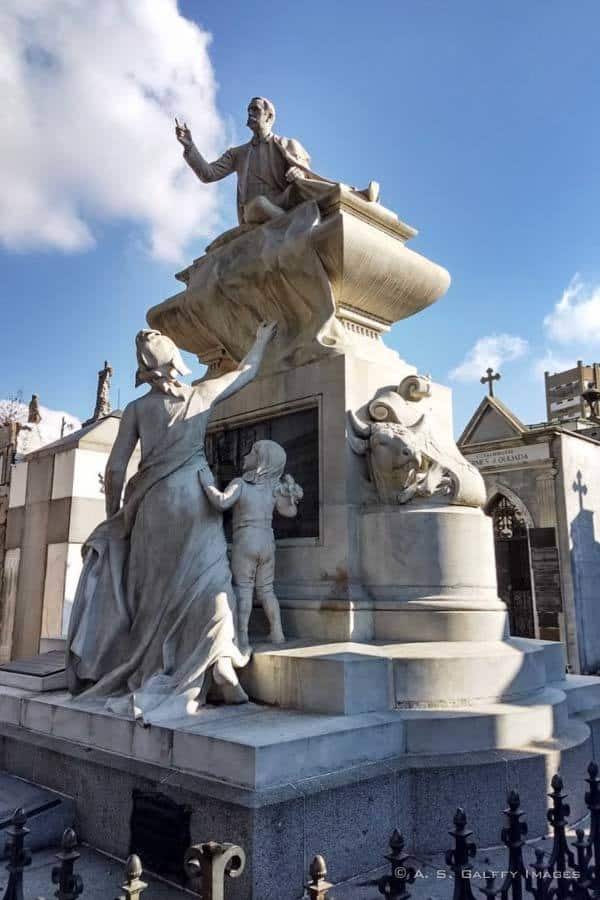 The marvelous white marble statue on his tomb displays a life-size statue of Carlos Pellegrini sitting atop of a coffin. At the foot of the coffin is a female figure and a child, symbolizing Argentina.
The Cats of La Recoleta Cemetery
I can't close this post without mentioning the big colony of cats that reside at La Recoleta. They are the live residents of the cemetery, that wander the alleys days and night, sleep in the abandoned crypts and relax in the sun. They seem to be the watchful guardians of the lonely tombs. Maybe a gesture of compassion for the abandoned spirits…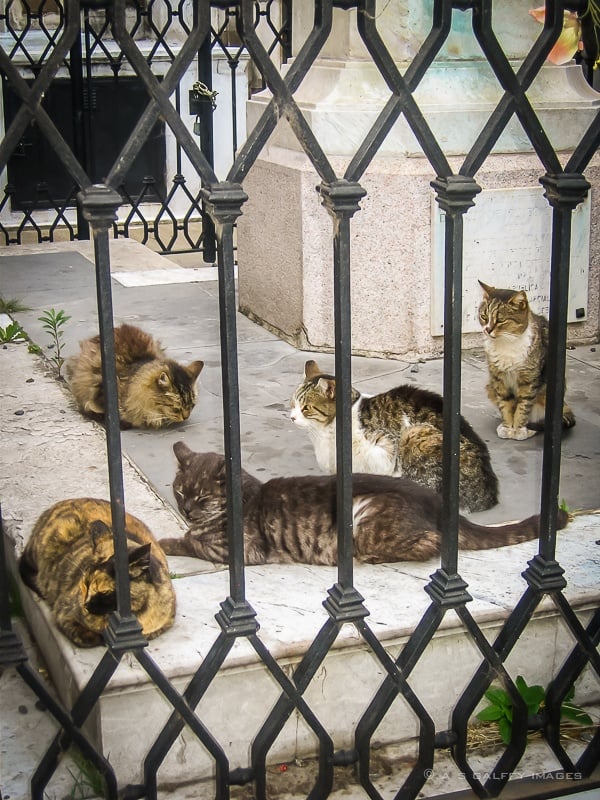 Apparently the cats have a benefactor: a woman who feeds them and makes sure they are taken care of. With so many cats roaming around, rats have very little room to invade the graves.
How to Get to La Recoleta
La Recoleta Cemetery sprawls over 14 acres of land in one of Buenos Aires's oldest and most upscale "barrios" – Recoleta. The main entrance is on 1760 Junín St., close to Plaza Mujica Láinez.

Practical Information
There is no charge to visit the grounds of the Recoleta Cemetery. If you want to get to specific graves, you can hire a tour guide from the entrance rather than try to find them yourself. If you don't want to pay for a tour, you can buy a map of the cemetery for a few pesos and try to find your way around.
On Tuesdays and Thursdays there are free tours of the cemetery that leave from the main entrance at 11:00 a.m. Opening hours for La Recoleta Cemetery are from 7:00 a.m. to 5:30 p.m. daily.
Din you enjoy reading this post? Please pin it for later: