There are some things that are so deeply embedded in every city's life and culture, that they become almost defining for that place. One of the things that I found most fascinating about Buenos Aires is tango. In fact, Buenos Aires IS tango. There is tango everywhere. You can find it in special venues, in cafés and restaurants, in people's homes, or on the streets. Tango never goes out of style in Buenos Aires because it is not just a hobby, it is a culture. A lifestyle that is passed on from generation to generation. Buenos Aires is filled with tourist attractions, but there are three things that will stand out in the city: tango, soccer and Malbec!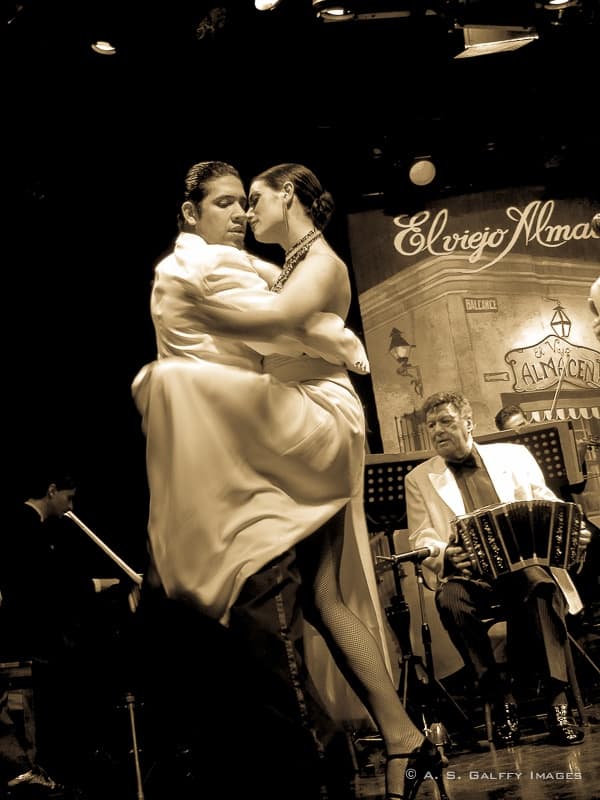 A Unique Kind of Tango
Argentine tango is very different from the tango danced in the international and American ballrooms. It is more of an interpretive and improvisational dance with slow and very sensual movements, foot drags and leg hooks. It exults passion like no other dance I know. The two partners dance intimately close, like in an embrace, with the man slightly leaning forward. Their bodies touch in the chest area making the two appear to move as one body, in perfect coordination.
Tango in Buenos Aires
There is a wide variety of locations where you can see tango shows in Buenos Aires. Two of the most remarkable locations where you can see tango at its best are Teatro Avenida and the Confiteria. There is also a multitude of tango parlors, clubs, and music venues that have performances every night. Some programs include dinner and a tango show. Others may just offer drinks. We've spent two weeks in Buenos Aires and have seen a tango show almost every night, from low-budget to very lavish ones. There are a few that still stick to my mind as very unique experiences. One was the Esquina Carlos Gardel which had a very romantic atmosphere and an authentic tango show with dinner.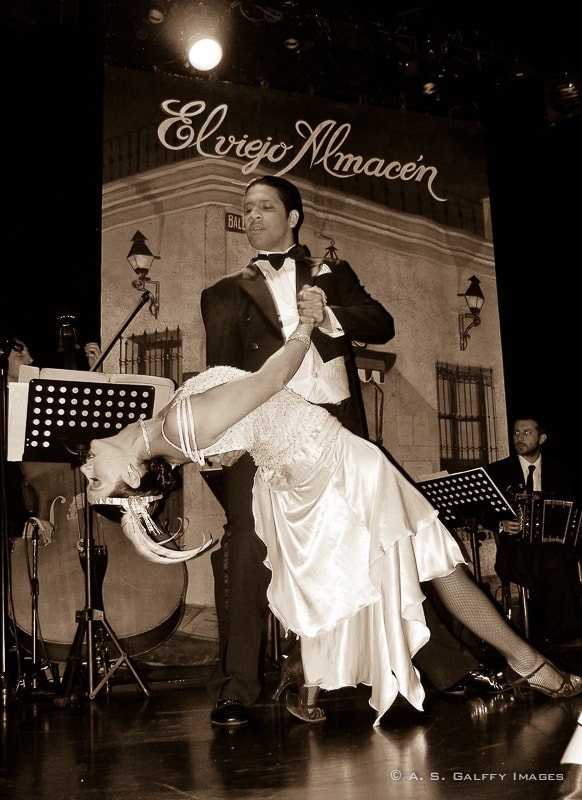 Another very entertaining show with dinner was Tango Porteño, that re-enacts the golden age of tango – the 1940s. El Viejo Almacen, also a tango show with dinner, was held in a historic building in Buenos Aires and last but not least, La Ventana, a tango show in a refurbished historical "Conventillo," like the ones we've seen in La Boca, one of the most famous barrios of Buenos Aires.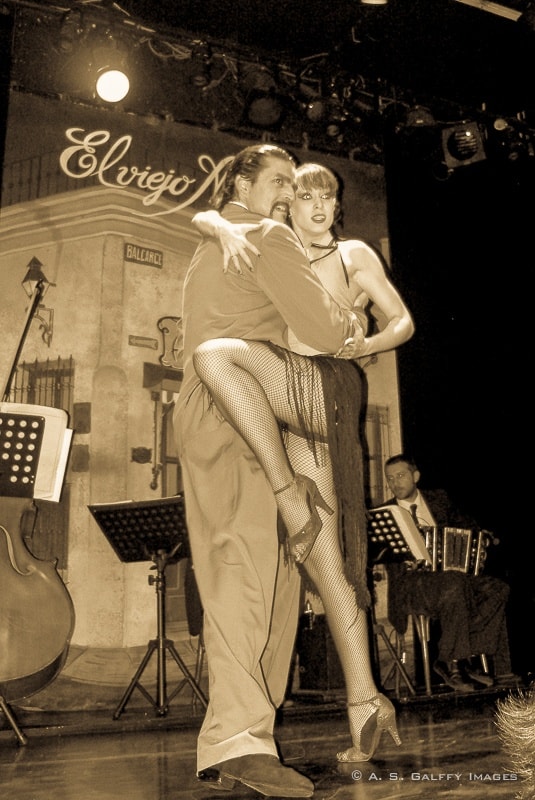 If you want to be more than a watcher, you can go to a milonga – an organized event where people can dance tango. A milonga is also a special type of music that you can dance to and a style of dance related to tango . So you you can go to a milonga and dance milonga to a milonga tune. The good news is that you don't have to be able to dance tango to go to a milonga. You can just sit around the dance floor and watch other people dance, while enjoying a glass of wine. Which brings me to the second most attractive thing in Buenos Aires –and Argentina by this token– the wine.
The Best Malbec
Argentina happens to be one of the largest producers of wine in the world and Malbec is its signature wine. The dark purple grape is very high in tannins and makes full-bodied red wine. But before it became associated with Argentina, Malbec was grown in the Southwest of France, where it was known as Cot and was used as was one of the six grapes that made the blend of red Bordeaux wine.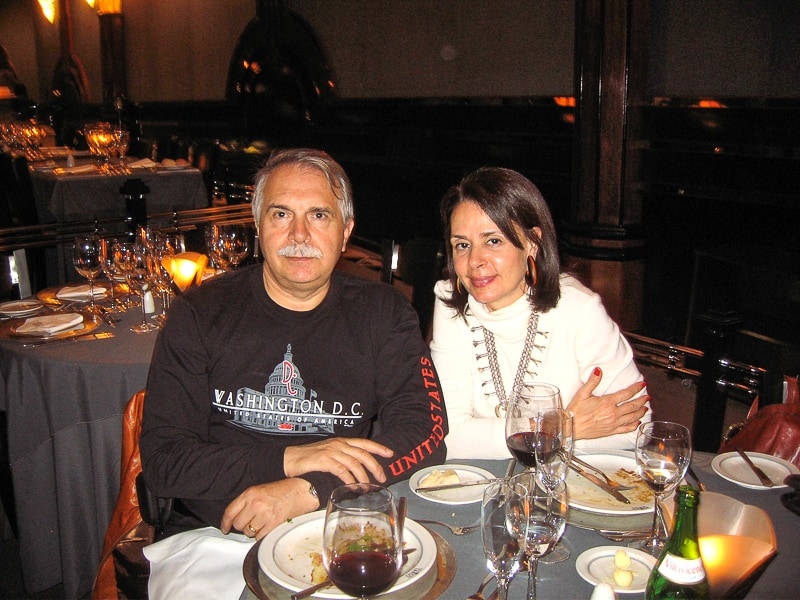 After the phylloxera epidemic in the late 1800s, much of the vines used for Malbec were destroyed. In 1860 the grape was brought to Argentina and found a new home in Mendoza where the climate is sunny and dry. Interestingly enough, the Argentine Malbec turned out better than its French ancestor. While the French Malbec has a very high acidity, Argentine Malbec is very fruity and intense. I am by no means a wine connoisseur, but after tasting it in Buenos Aires, Malbec became one of my favorite wines. So I did my fare share of wine tasting while visiting the city.
The Soccer Culture
Argentineans are by nature huge sports lovers, but soccer is by far their most beloved sport. For years, Argentina has been almost identified with names like Messi, Maradona, Boca Junior, or River Plate. Those of you who are soccer fans know what I am talking about. Many travelers come to Buenos Aires just to experience the great tradition of a good soccer game. Weekends inn Buenos Aires bring out huge crowds of enthusiastic fans that fill the soccer stadiums.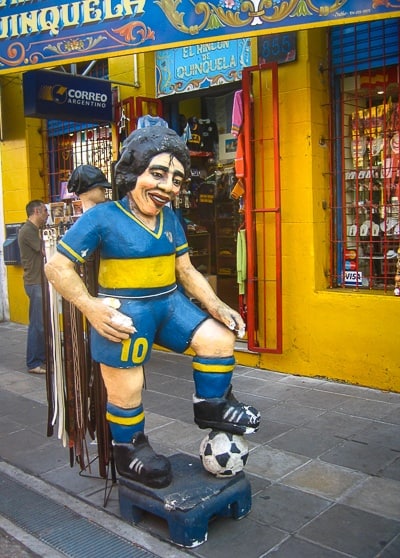 I am not a soccer fan at all, but my husband is. So while we visited Buenos Aires, every time there was a game in town, we had to find a restaurant that would have big screen TVs where he could watch the game. And there is no shortage of such places, where loyal fans flock to watch the soccer game. There seems to be no language barrier for those who share the same passion!