Beauty and the Feast – Spoiled at Santa Marta Hotel in Lloret de Mar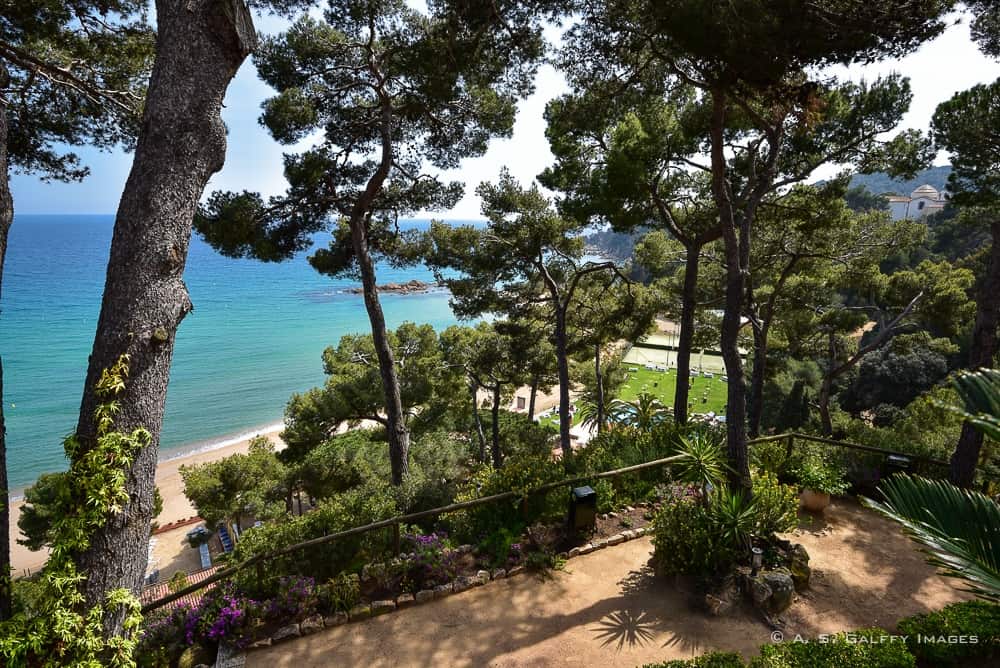 It was late afternoon when we arrived in Barcelona. By the time we claimed our luggage and headed for the car rental agency it already started raining. Darn it! As if driving in a foreign country after 16 hours on the plane was not hard enough, the rain was making our road to Costa Brava even more difficult. Our plans for walking around town that evening seemed lost. Exhausted and disappointed, we started to drive toward the Santa Marta Hotel in Lloret de Mar, a little town on Costa Brava where our TBEX conference was held.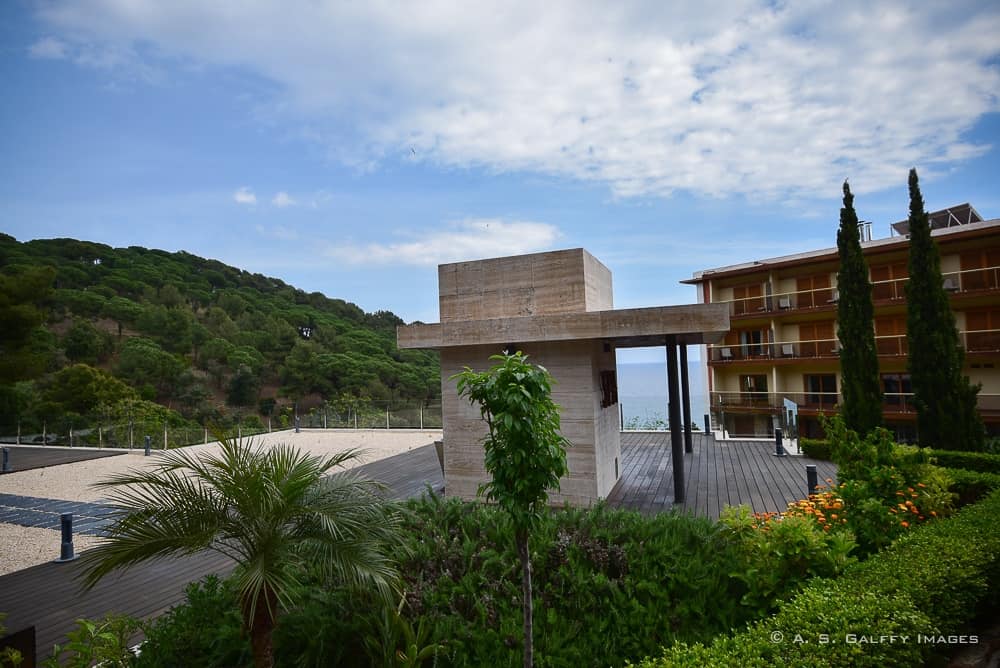 Lloret de Mar is about an hour away from Barcelona, so we arrived at our hotel just a little before the sunset. As you approach the hotel, the road descends along a dirt track from where you can admire the different green areas of the hotel estate. Hotel Santa Marta sits up on a high cliff overlooking the small bay of Santa Cristina. The front of the hotel may not look very impressive, but once you step in you realize this is not just another beach hotel. Starting with the coquette hallways and lounge areas, there is a lot of attention to detail and a very cozy atmosphere.
The rooms are quite luxurious, beautifully decorated and comfortable, with dawn pillows and blankets and crisp white bedsheets with monogram. They all feature balconies with tables and chairs from which you can admire the gorgeous view of the Santa Cristina beach.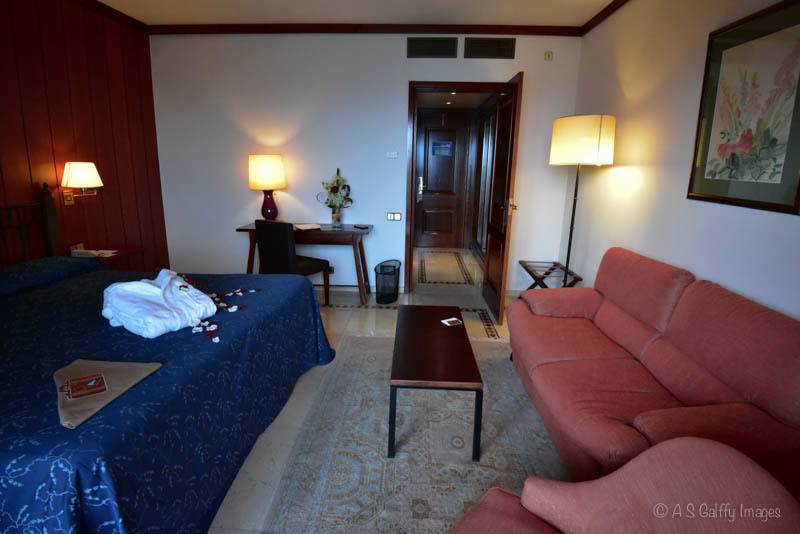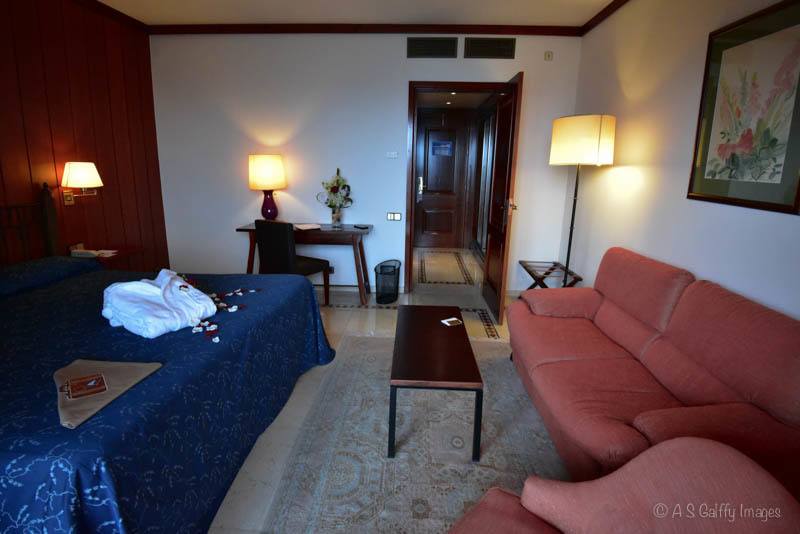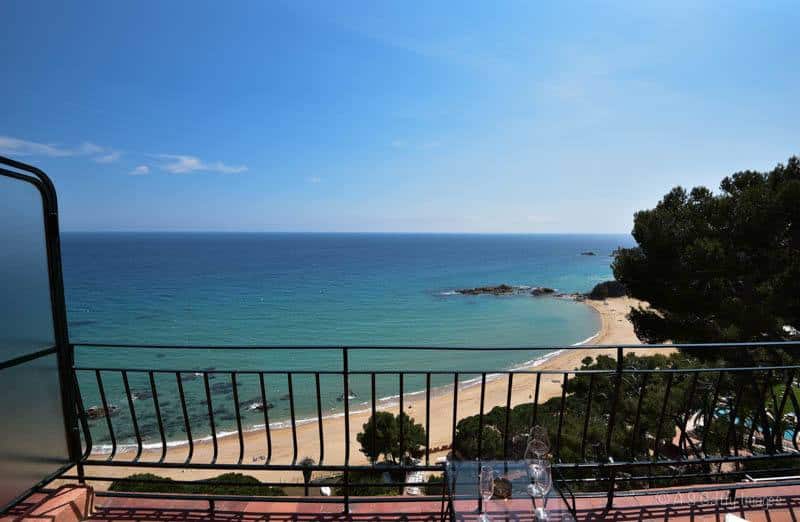 But what impressed me most about this hotel was not the view or the location. It was the VIP treatment that you get as a guest. As we arrived they greeted us at the door and carried our luggage upstairs without us asking for help. Soon after we checked into our room they brought us a welcome gift: a bottle of chilled Champagne and a tray of strawberries and macarons.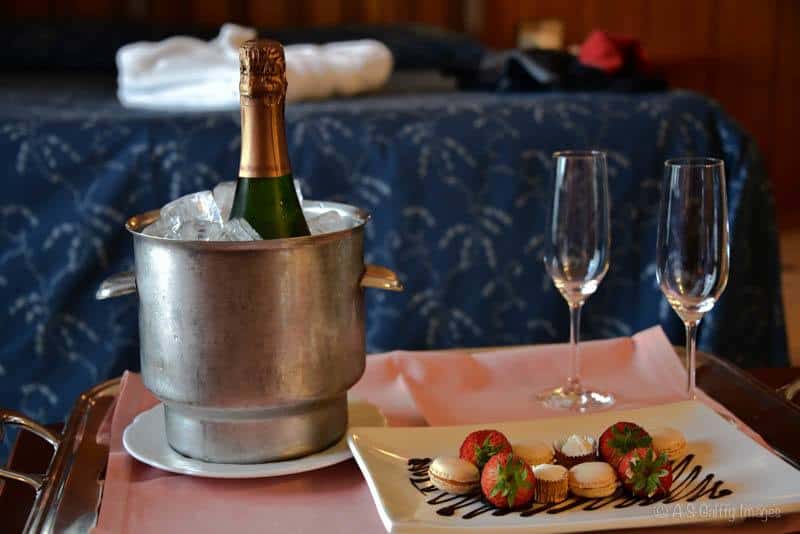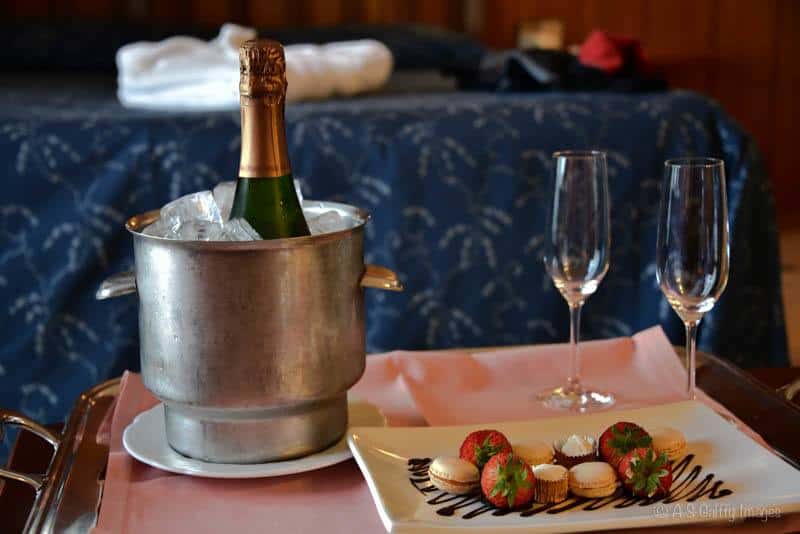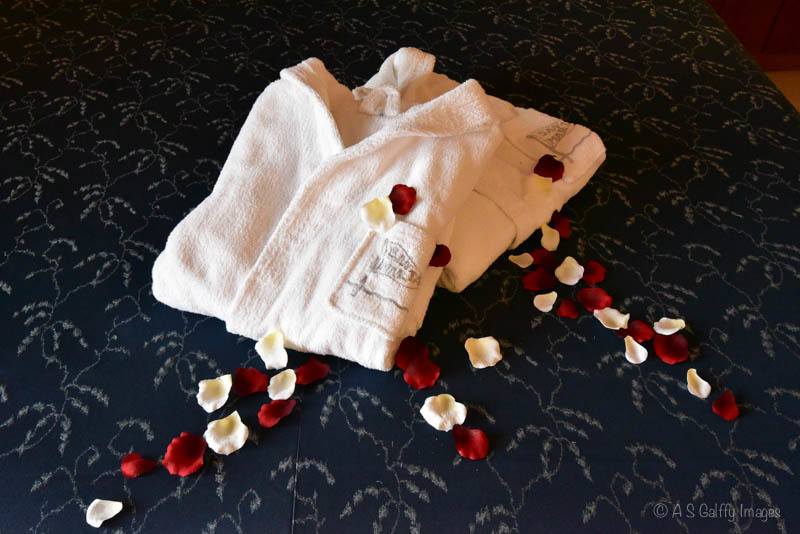 On the bed there were robes and slippers with rose petals spread around and on the desk there was a fresh bouquet of roses and lilies. Every time we left the room, we found it tidied up upon returning. If we used a towel during the day they would replace it immediately after we left the room. If we sat on the bed or left things a little messy, we found them back in place. The bedding and the towels were changed daily without us having to ask for it (unlike in our hotels in the USA!) Every night upon returning from dinner, there were chocolates on the nightstands and the bed cover was removed so that we can go straight to bed. You could never see the maids or their carts in the hallways, but somehow they were always present to meet your needs. Oh, how I loved this! I think I could get used to this kind of treatment very easily.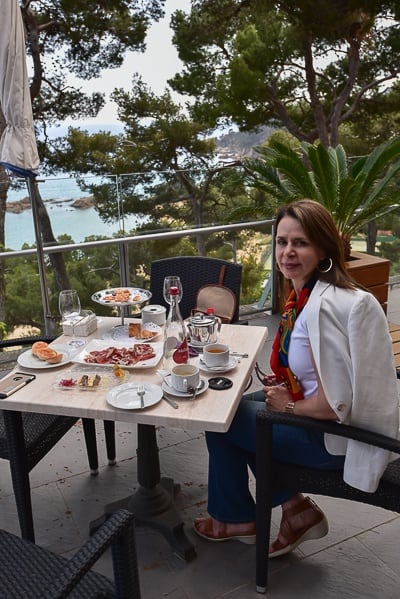 Breakfast was served every morning on a beautiful large terrace overlooking the bay. The cool breeze of the sea, the gorgeous view and the delicious food would have been enough to keep me there for the rest of the day. But for the TBEX meeting, I would have lingered there for hours…
From the breakfast terrace there is a beautiful trail that goes down to the beach. The shaded 200 meters long path is surrounded by different types of trees and flowers, making it a pleasant evening or morning walk.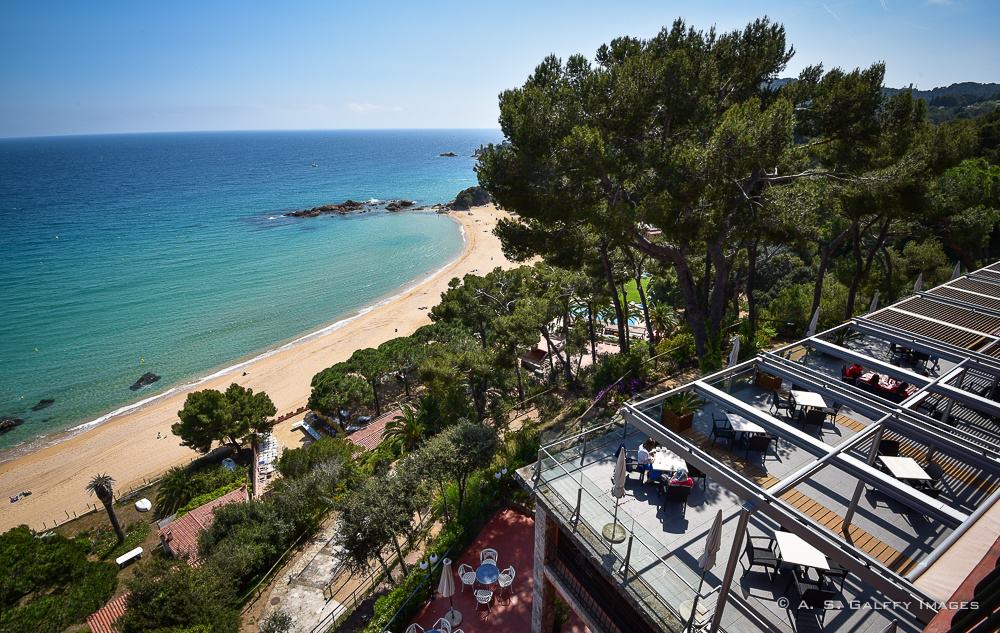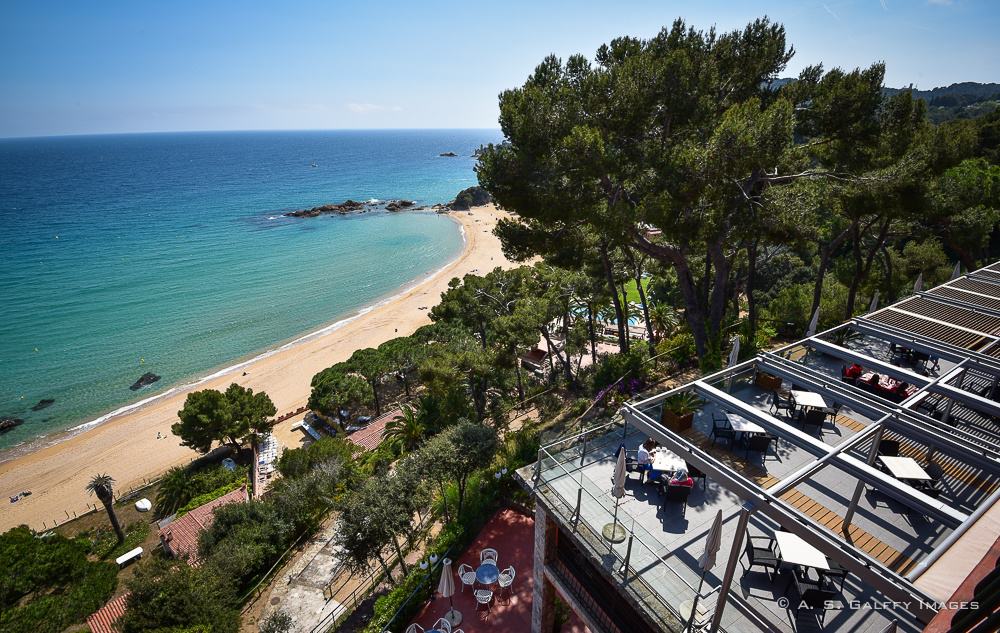 Hotel Santa Marta also features a restaurant where we dined on our first night in Lloret de Mar. Both my husband and I are very fond of good eating and we tried some excellent restaurants over the years, but there is only a handful of places that left a mark on our food memory. The restaurant at Santa Marta hotel has a place on this list now.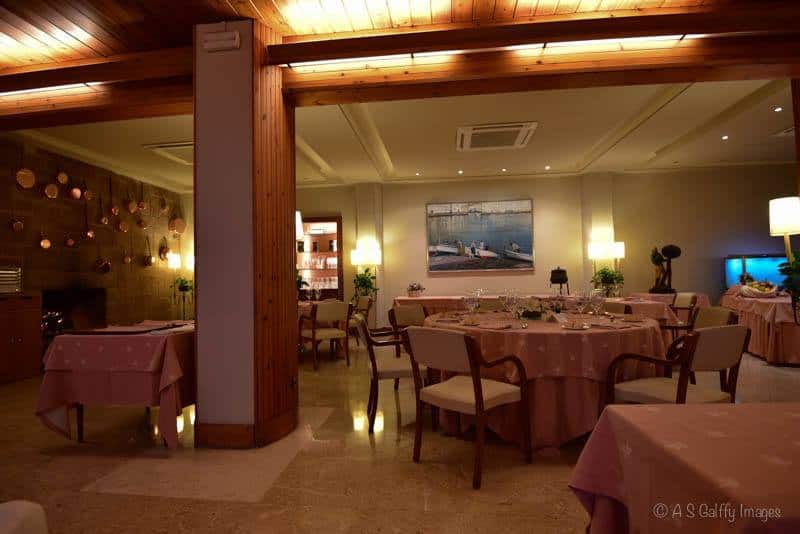 Starting with the service that was impeccable and ending with the food that was out of this world, we had a fantastic dining experience. The delicacy of the flavors, the preparation, the presentation, everything was just perfect. The restaurant uses the best quality produce and features some of the best Costa Brava recipes based on fresh fish and meats.
We tried some Navajas (razor clams), a foie gras and a white fish that were so perfectly prepared and so delicious that it's hard to describe.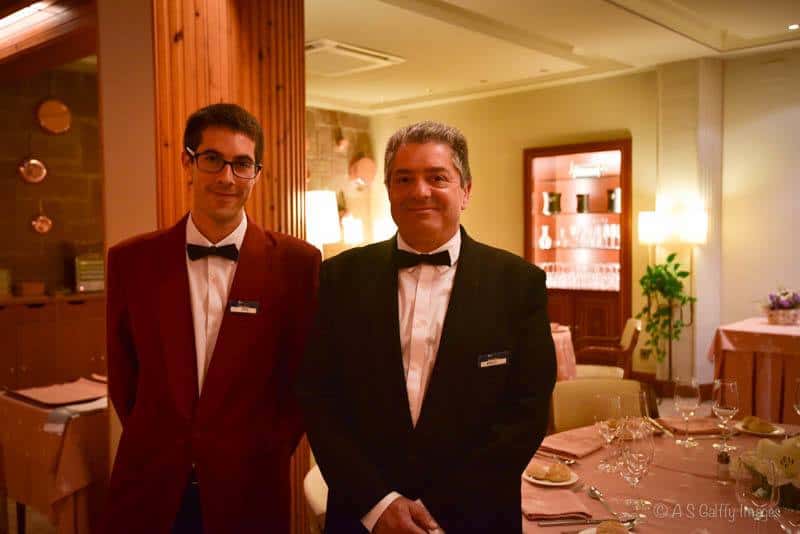 We might have been just lucky that evening, but I doubt that experiences like this are accidental. And our waiters were both knowledgeable and enthusiastic, observing our every move and trying to make this a very special evening. And here is the good part: this was not an experience that broke the bank. The hotel room was only $175/night and the dinner was around $120 (with wine). Too bad we had only three days in Llored de Mar. Should I have known how beautiful this place is and how pampered I would be at Hotel Santa Marta, I would have stayed longer. Well, maybe next time.