Buenos Aires – Argentina's chic capital – is a place like no other! The neoclassical architecture and cosmopolitan atmosphere give the city a European feel that blends perfectly with its Latino spirit. Buenos Aires is divided into 48 neighborhoods ('barrios'), each with its own distinctive look, flavor and character.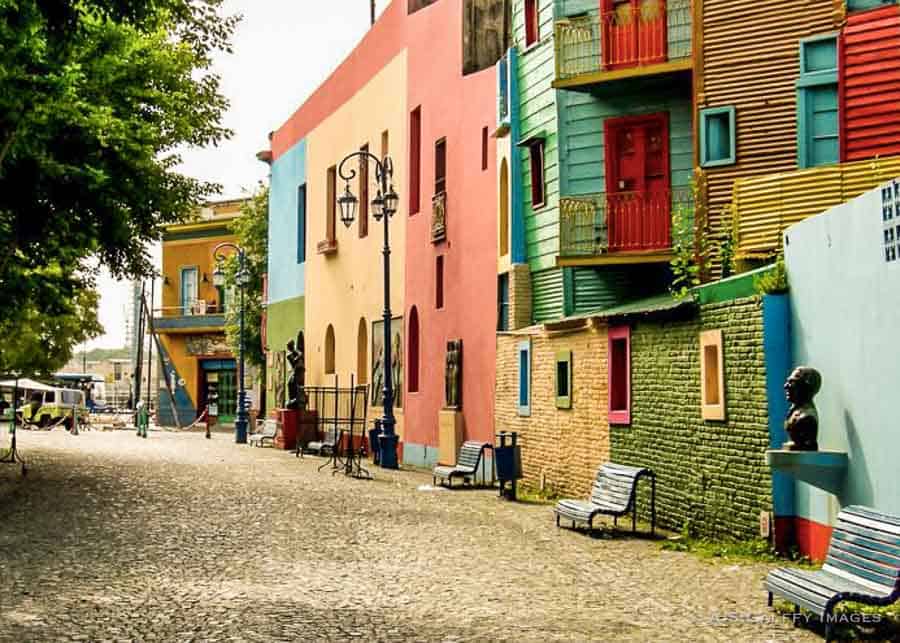 Best Neighborhoods to Visit in Buenos Aires
Like any big metropolis, Buenos Aires can be disorienting and confusing at times. We know from our own experience. Although some people don't mind getting lost in a new city, I personally think it's better to know where you are going and what to expect in each place you visit.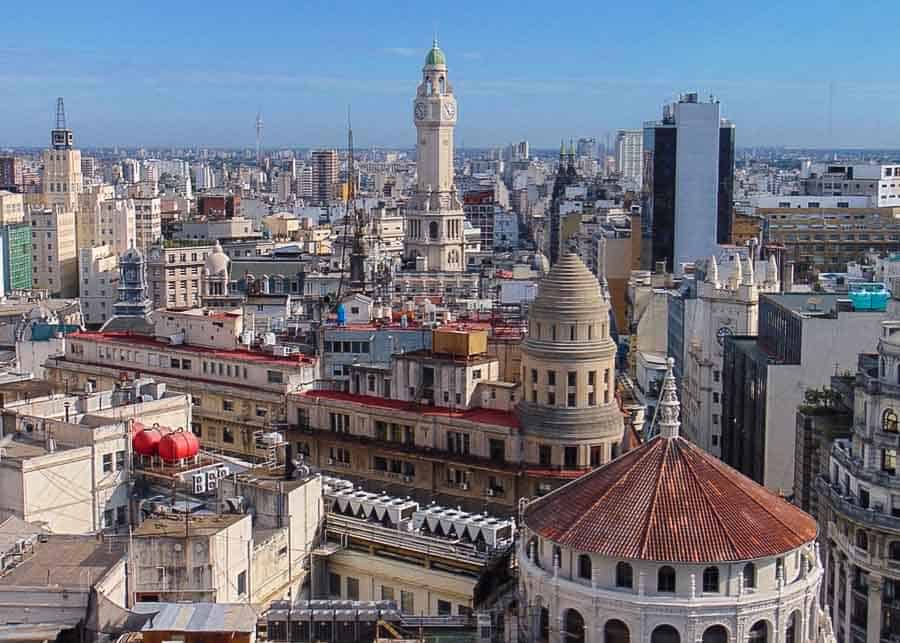 One thing to remember about Buenos Aires is that not all its 48 districts will be of interest to you, as a tourist. Although at some point you may be passing through some of the other neighborhoods, you'll most likely spend your time in Buenos Aires visiting the areas around the port and the city center.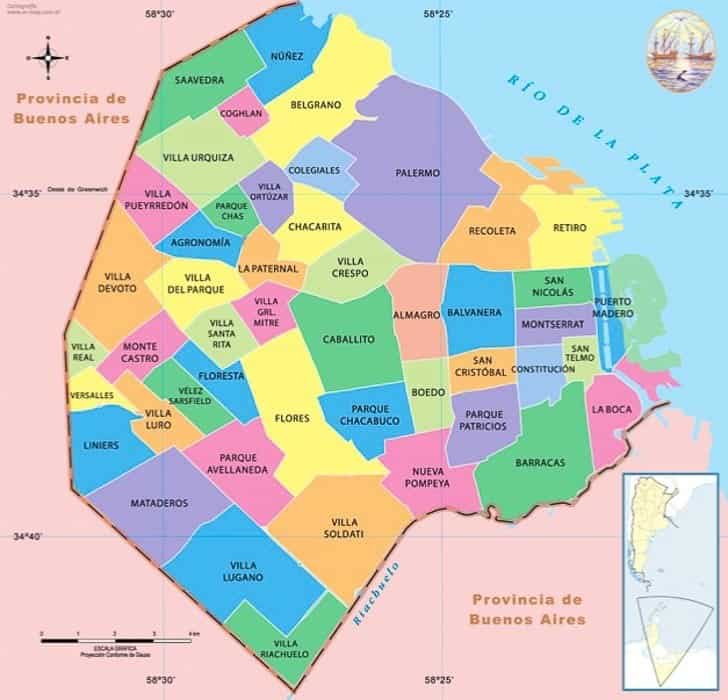 With that in mind, I've put together a neighborhood guide that will help you discover the liveliest and most picturesque parts of Buenos Aires.
Downtown Buenos Aires
Downtown Buenos Aires is not a district in itself, but rather a group of three neighborhoods: San Nicolás, Retiro and Monserrat.

1. San Nicholas
Also called El Centro, San Nicolas is the business district of Buenos Aires where most of the governmental buildings are. San Nicolas was one of the first barrios in Buenos Aires and therefore is very rich in history.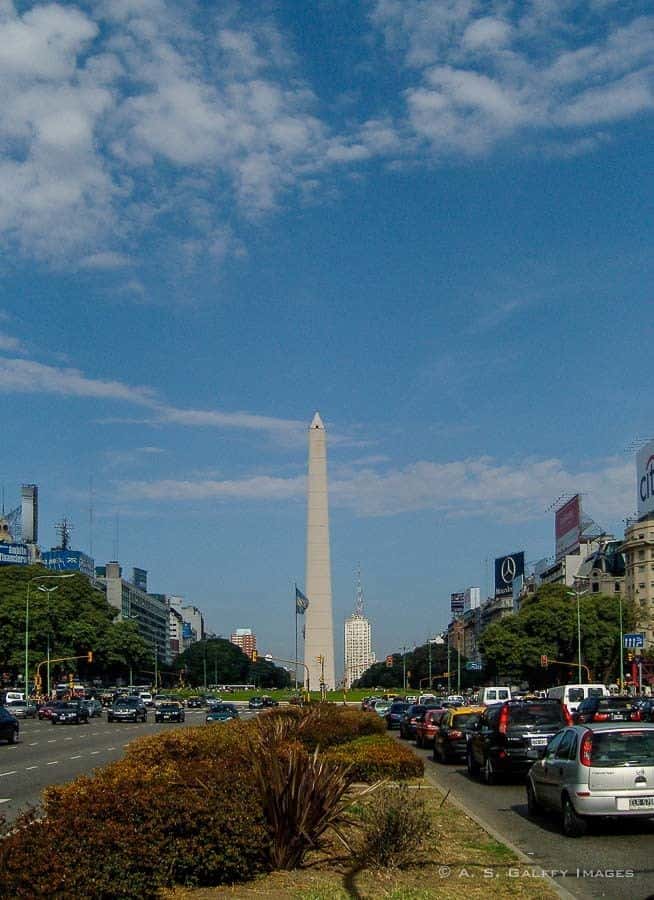 Running through the heart of San Nicolas is Buenos Aires' busiest road – Avenida 9 de Julio. This is the widest boulevard in the world, with a total of 14 lanes and a width of 140 meters. I think it will impress you!
Some interesting landmarks to notice on Avenida 9 de Julio include the Obelisk (El Obelisco), a 67 meters tall structure, Teatro Colon opera house, and the beautiful building of the French Embassy.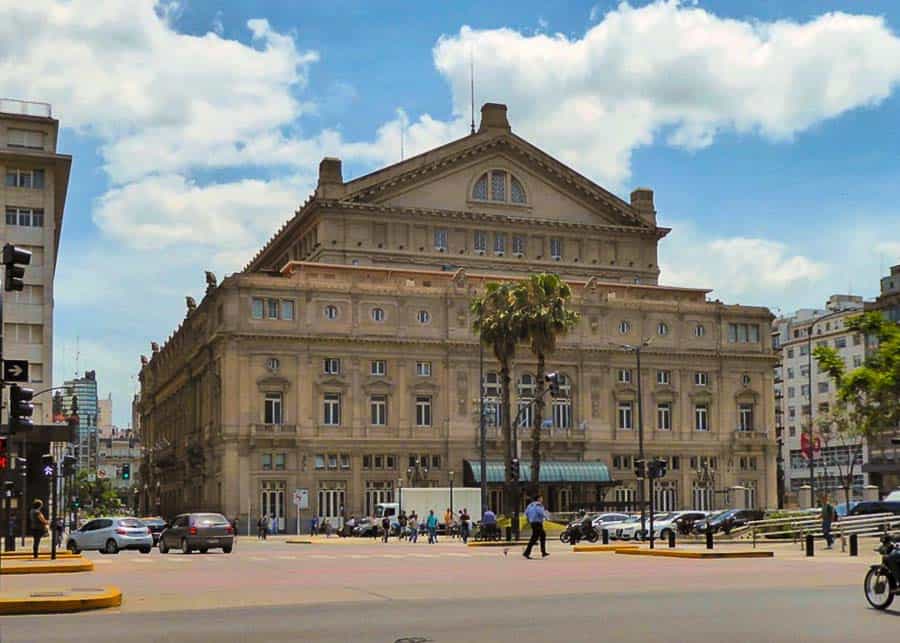 If you continue walking down on Avenida Florida, you'll come across some of the best cafés and clothing shops in the city. This is one of the best shopping areas in the city, especially within Galerías Pacífico, an elegant shopping mall.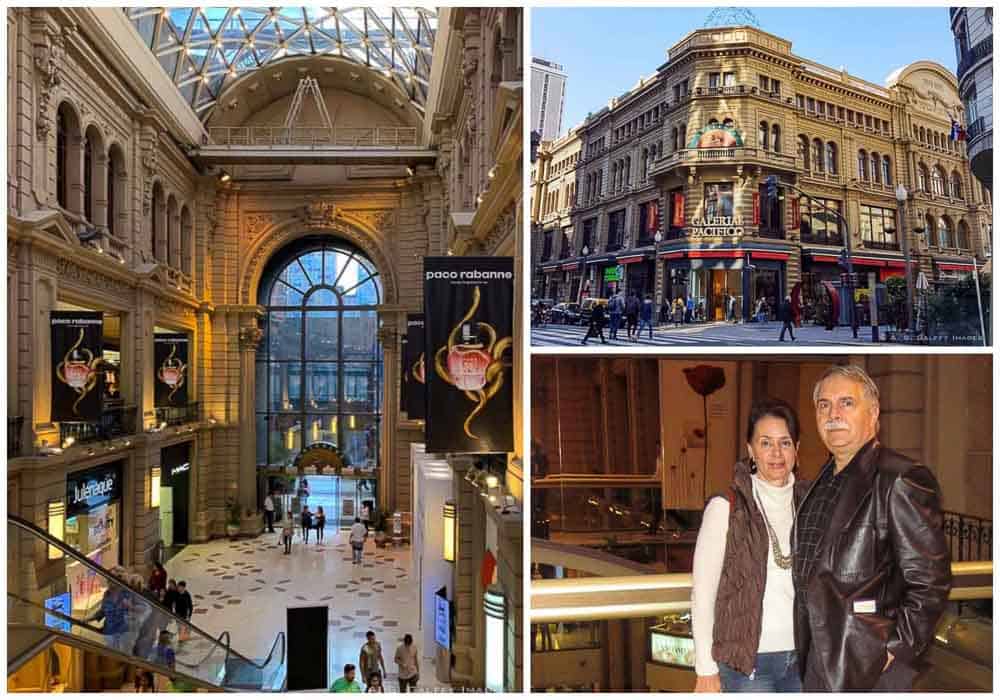 Even if you don't care much for shopping, you should still visit the Galerías Pacifico, which is quite unique. Its glass-vaulted arcade reminds me a lot about Galleria Vittorio Emanuele II, in Milan.
On the west side of San Nicolas district is the beautiful Plaza Lavalle, a three block park in Buenos Aires located near the Argentine Supreme Court.
This is a nice park to relax and it's less crowded than the other larger parks in the city.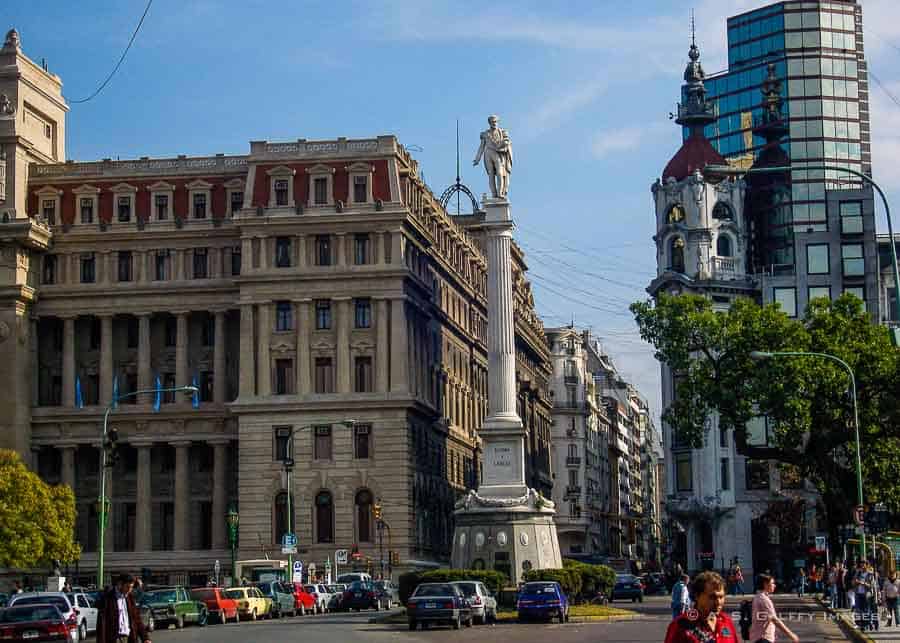 The plaza is dominated by the imposing statue of Juan Lavalle, a hero of the War of Independence, after which the park and the square have been named.
2. Retiro
Retiro was once one of the wealthiest neighborhoods in Buenos Aires. Here you'll find many of the city's five star hotels. Today, this neighborhood is the busiest transportation hub because it's home to the Estación Retiro (Retiro Terminal Station), and Retiro bus station.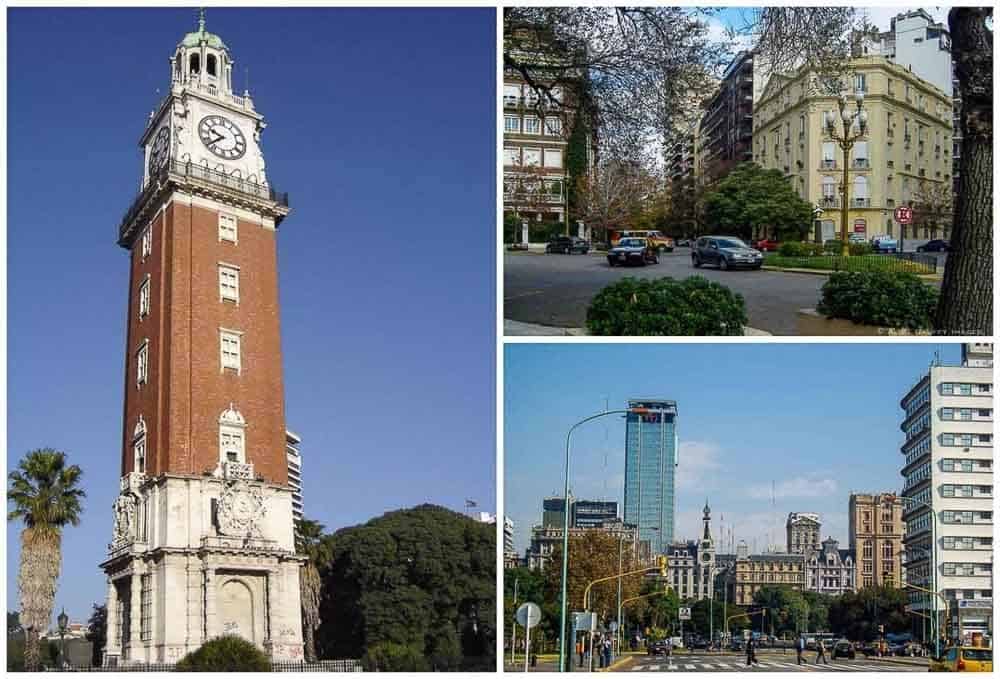 Retiro is famous for its wide leafy boulevards, beautiful architecture and great shopping. This is one of the nicest neighborhoods in Buenos Aires for walking and also offers some fantastic photo opportunities.
3. Montserrat
The barrio of Montserrat, also known as Microcentro, is a culturally rich neighborhood that pretty much sits at the center of Buenos Aires. During the 1950s, Montserrat was a favored place with the artists and the tango community, due to the cheap rents.
The focal point of Montserrat is Plaza de Mayo, the historical and political heart of the city, which dates back to the 1580.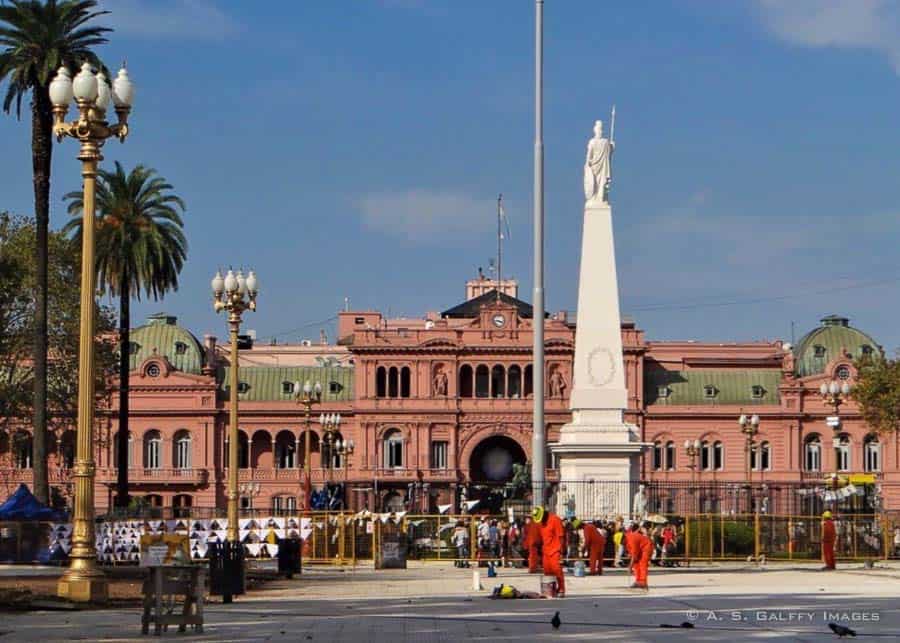 Plaza de Mayo is the main site of political demonstrations and a shelter area for homeless and demonstrators who often camp out here at night. Two of the landmarks you shouldn't miss in Plaza de Mayo is the famous Casa Rosada (Presidential Palace) and the Catedral Metropolitana, which dates back to the late colonial era.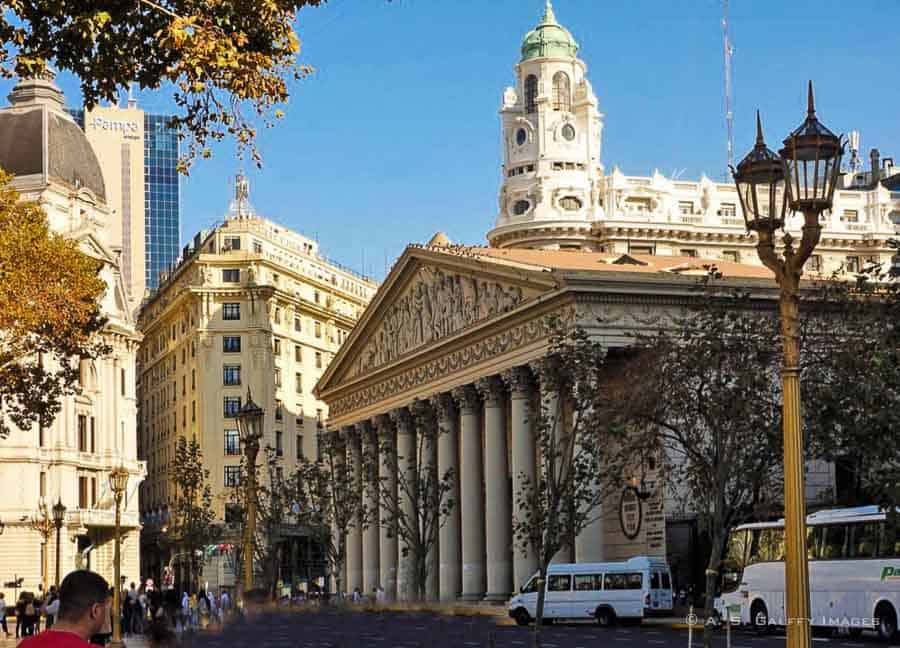 4. Palermo
Palermo is the largest and trendiest neighborhood for sightseeing in Buenos Aires, filled with restaurants, boutiques, bars, and clubs. The district is split up into several smaller and distinctive areas. The ones that I found the most appealing are: Palermo Chico, Palermo Hollywood and Palermo Soho.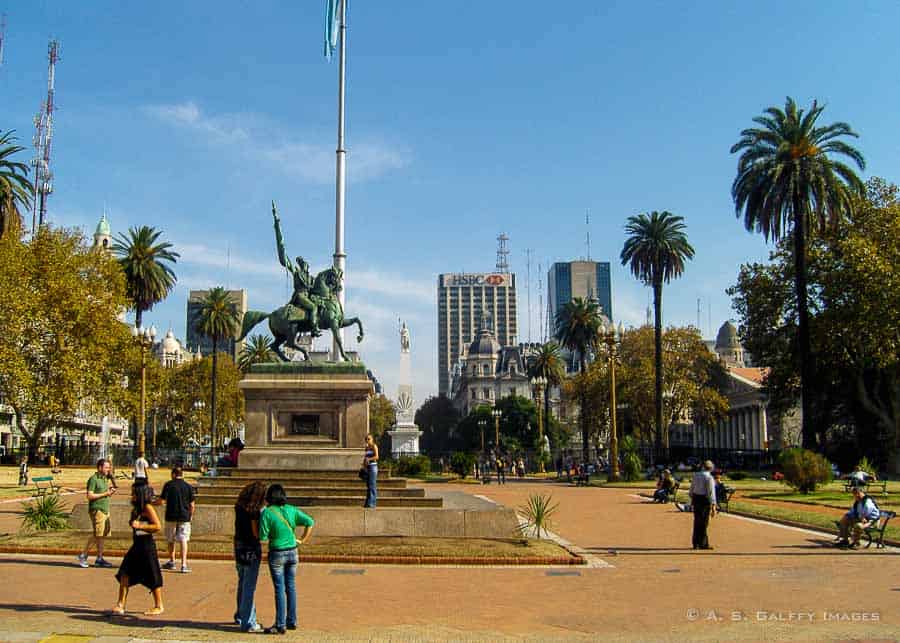 Palermo Hollywood gained its name due to the concentration of TV and film production studios. This sub-neighborhood is home to many fancy restaurants and clubs and therefore is quite lively at night. Palermo Hollywood seems to be the part of town that never sleeps and knows no difference between weekends and weekdays.
Palermo Chico (Small Palermo) is a rather exclusive area with palaces-turned-embassies and luxury apartment buildings. Some of Buenos Aires' rich elite live here. The district sits on 350 acres of parks and lakes, so it's a great sub-neighborhood to visit if you want to escape the hustle and bustle of Buenos Aires.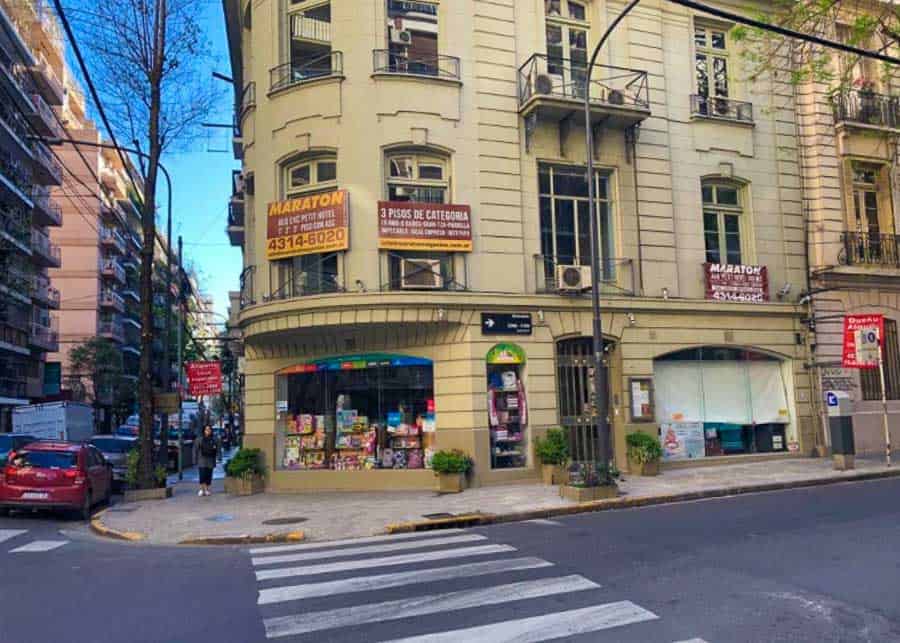 Palermo Soho is the heart of fashionable Palermo, famous for its upscale boutiques and cool cafés. Many of the middle class Porteño homes around here are painted in pastels colors that give the area a very picturesque appeal.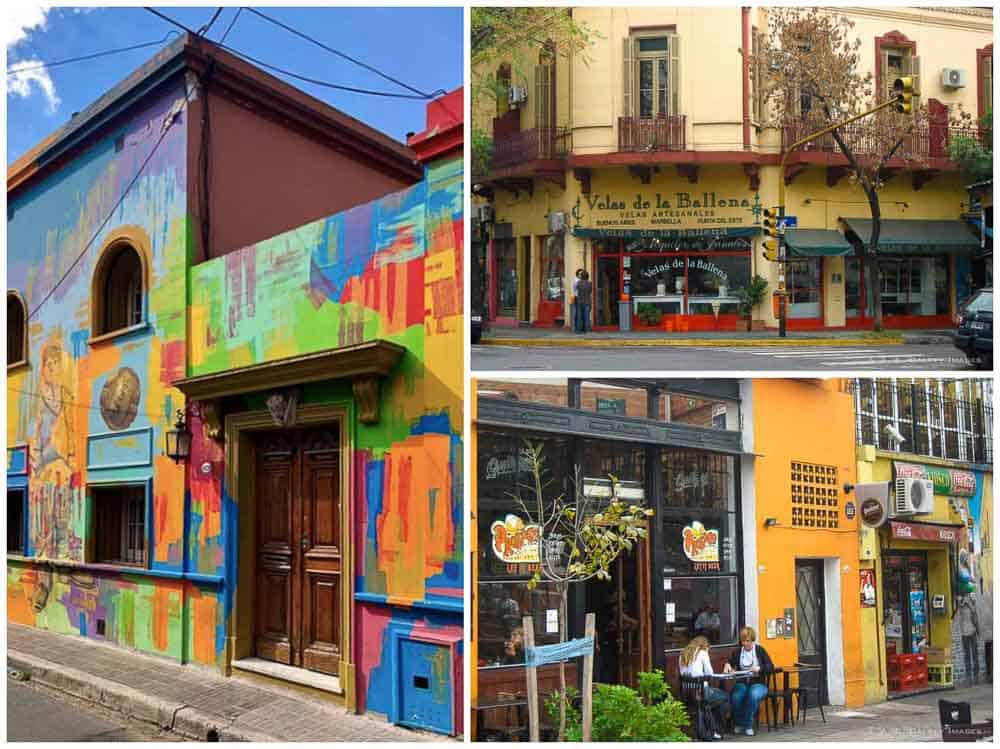 Although not my favorite barrio in Buenos Aires, Palermo Soho is a nice, bohemian neighborhood with lots of nice restaurants, bars, shops and small boutique hotels. Many tourists like to stay here because of the free-spirited atmosphere and ease to move around.
5. San Telmo
San Telmo is the oldest neighborhood in Buenos Aires, dating back to the 17th century when it was home to dockworkers and brick-makers. In the 19th century, after running water, sewers and lighting have been introduced, San Telmo began to attract the more affluent population. That's when all the beautiful mansions and imposing homes have been built.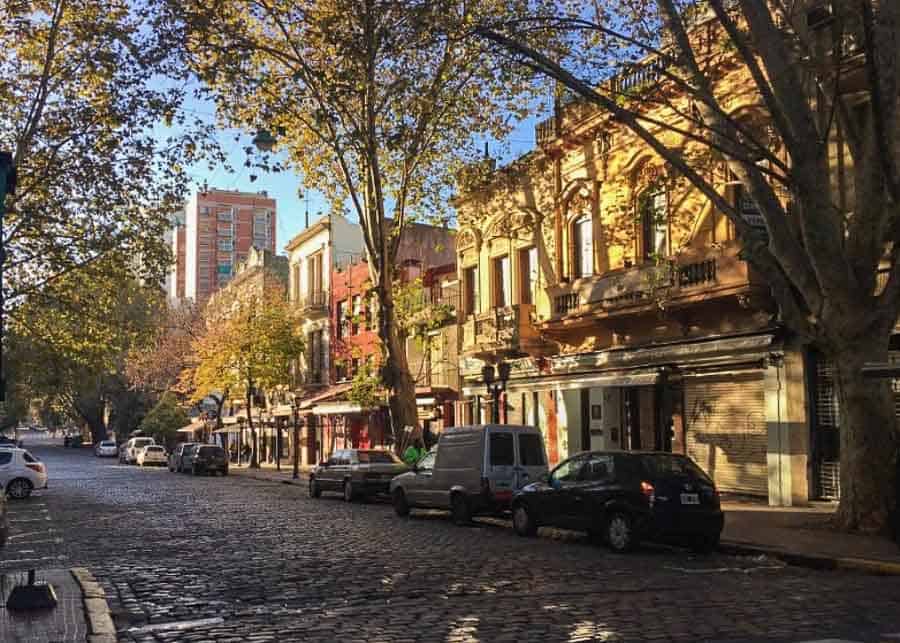 Today San Telmo is an eclectic neighborhood, part tourist trap, part Bohemian enclave, part tango center, all of which makes it a pretty interesting place to visit. I really liked this barrio with cobbled streets and faded grandeur, reminiscent of a bygone era.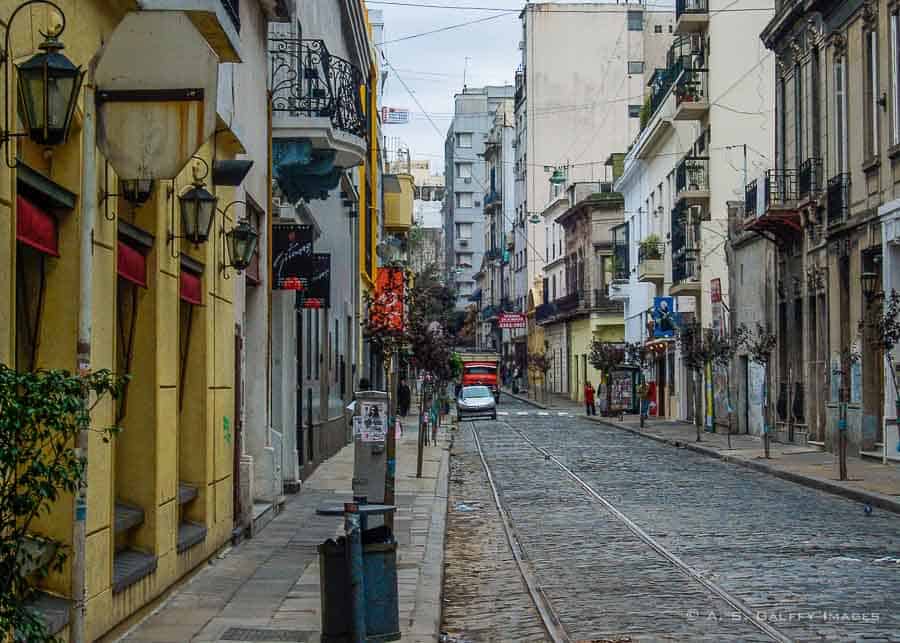 There are many good places to eat and drink in San Telmo, which is why the area is very popular with tourists. Also, there is an amazing market here in San Telmo that sells just about everything, from fresh produce and cooked food to antiques, dolls and hand made jewelry.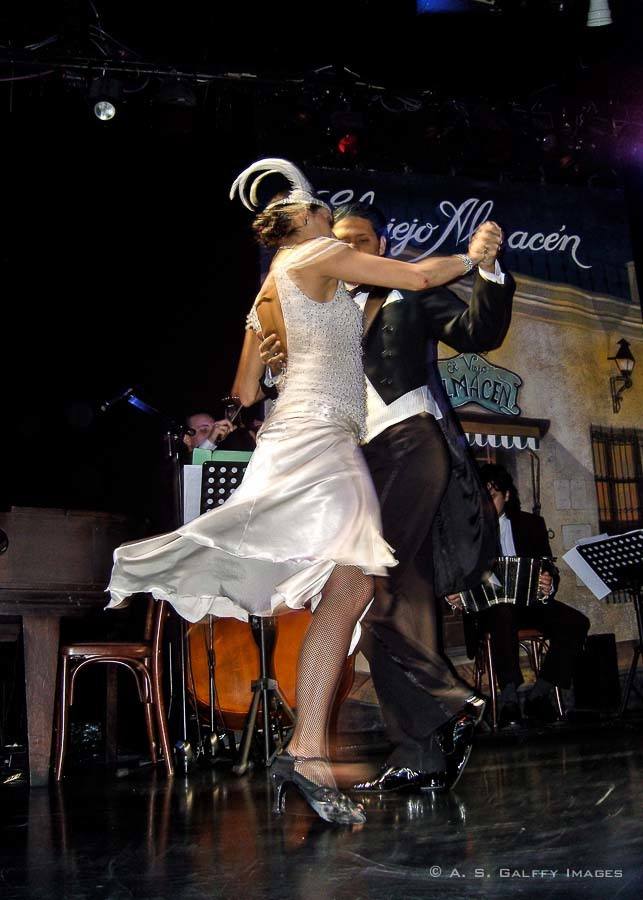 San Telmo is home to some of the best tango venues in Buenos Aires, like El Viejo Almacén, on the corner of Calles Independencia and Balcarce. You can also watch street tango in Plaza Dorrego, where professional tango dancers flaunting their skill for tips almost every day.
6. Puerto Madero
Puerto Madero is Buenos Aires' most modern neighborhood. Once a dilapidated port, this area is now filled with an array of fancy restaurants in renovated warehouses. Across the river is Puerto Madero's residential area, full of modern high-rise apartment buildings.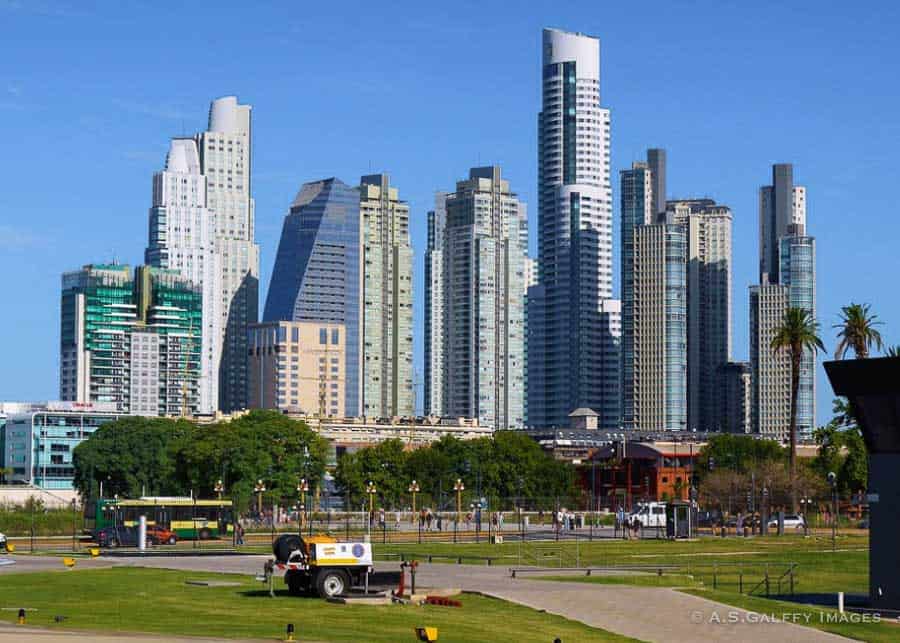 I wasn't particularly impressed by this neighborhood, which seems rather cold with all these vast expanses of new construction. However, that's not to say that Puerto Madero doesn't have its own charm.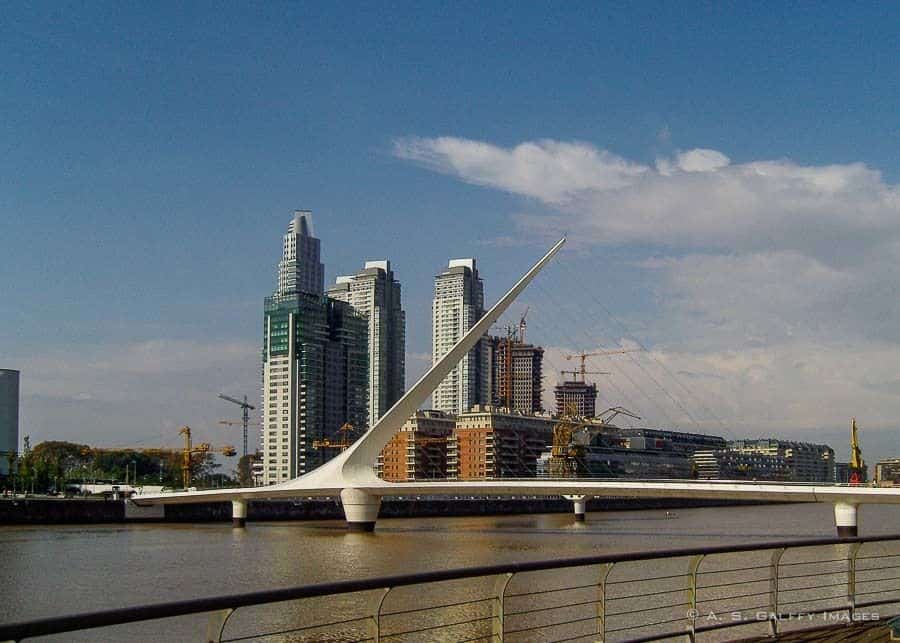 The most impressive landmark in Puerto Madero is the Puente de la Mujer, a rotating footbridge that spans the water in the Dock 3 area. The bridge is really impressive, representing a couple dancing tango. The white mast symbolizes the man and the curve of the bridge, the woman.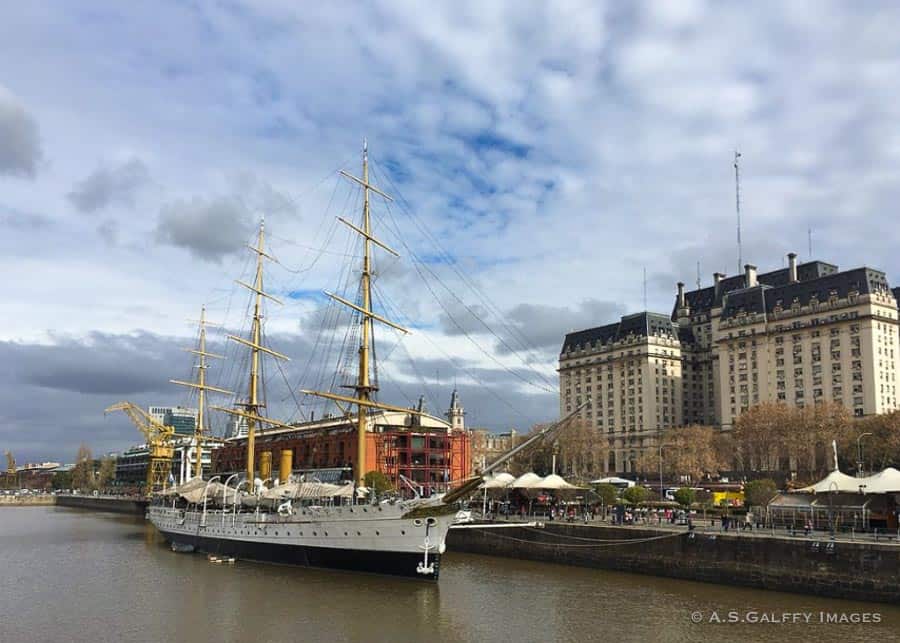 Also in the dock area and two ships-museums – Sarmiento and Uruguay –each worth a visit if you have the time.
7. La Boca
The neighborhood of La Boca is perhaps the most colorful and picturesque of the 48 barrios of Buenos Aires. Situated at the mouth of the Riachuelo River, La Boca was the main point of entry for the Italians who immigrated to Argentina at the end of the 19th century.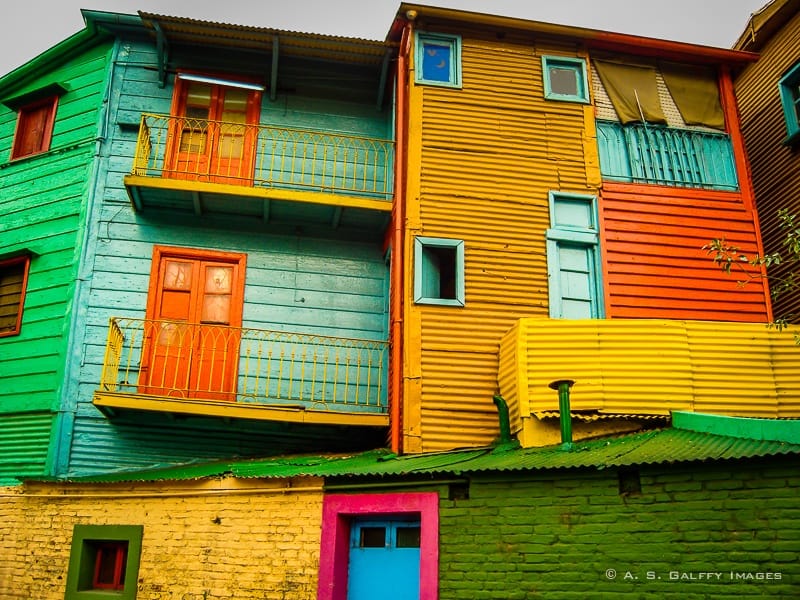 As nearly all of La Boca's population was poor, the houses were built almost entirely from materials found in the shipyard, like scrap metal and wood from the old ships. In order to make them more appealing, the residents painted the façades in bright colors, with the leftover paint from the port.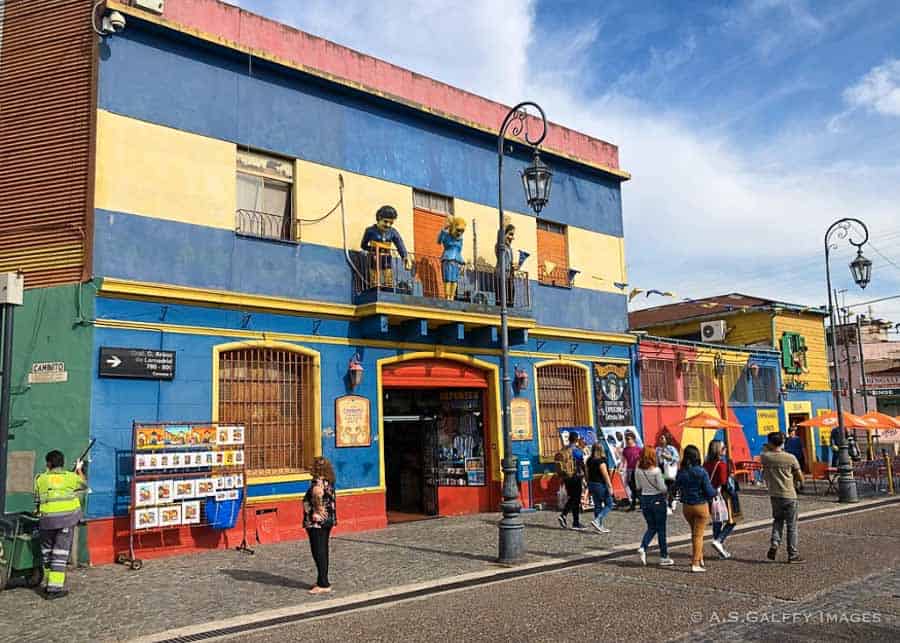 In time the colorful houses in the barrio deteriorated and have been replaced by dull apartment buildings. But in 1960, Benito Quinquela Martin, a local artist, decided to recreate a small community of houses around the street of Caminito in the way old La Boca used to look.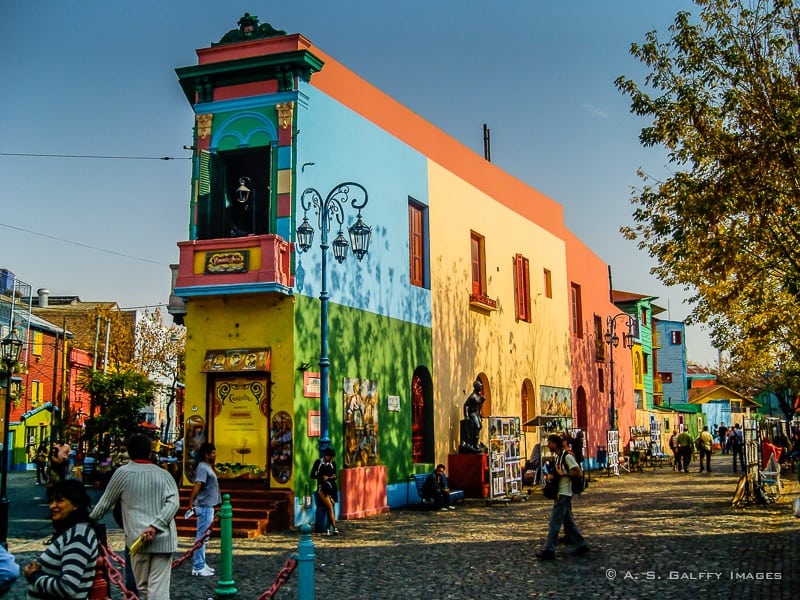 Although Caminito is not an authentic street, it is nevertheless a great representation of the way the immigrants lived in La Boca. Caminito is a haven for artists, tango dancers and street vendors.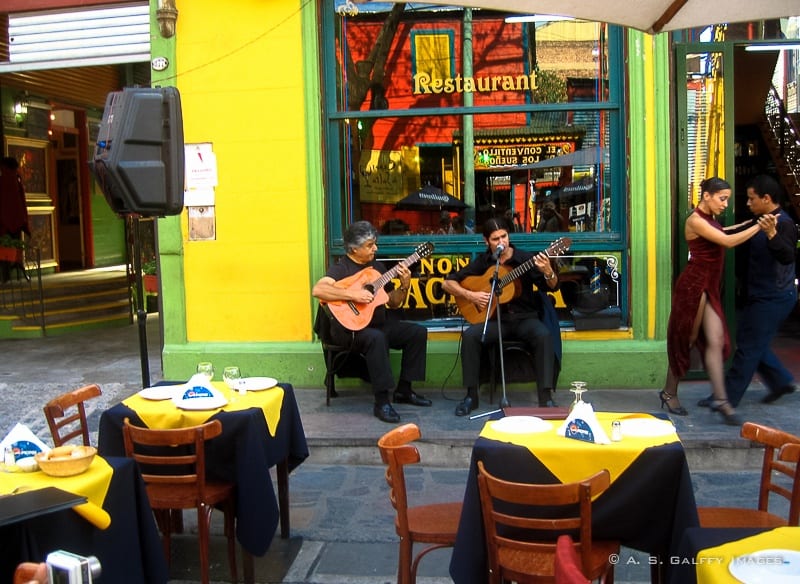 This is a great place to take beautiful photos and spend a couple of hours. On this cobblestone street you have the best chance to view live street tango, or even learn how to dance.
8. Recoleta
Situated directly northeast of the City Center, Recoleta is Buenos Aires' classiest and most affluent neighborhood. With its lavish homes and posh hotels, Recoleta is considered a hip enclave for the buttoned-up and well-to do in Buenos Aires.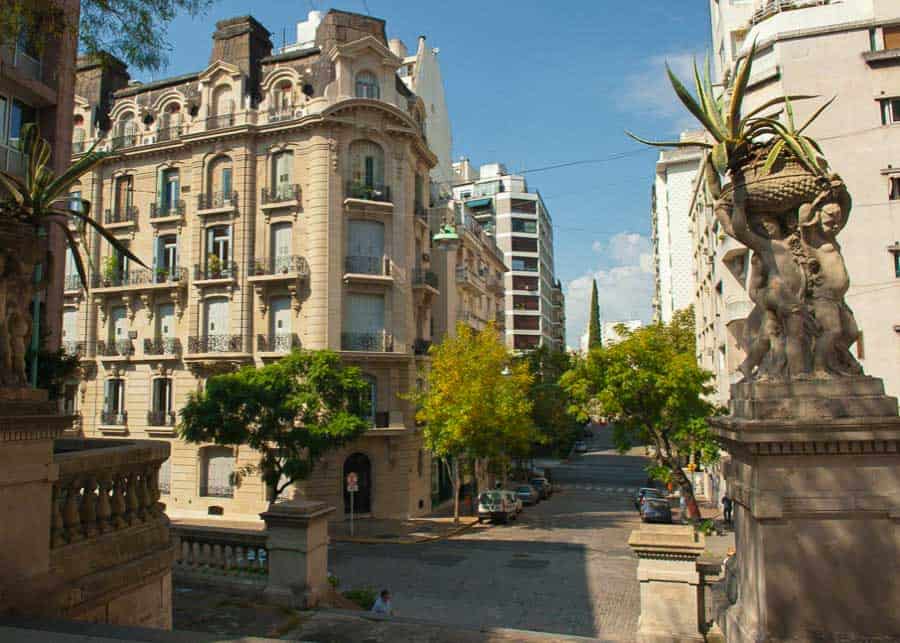 The name Recoleta name originated from a Franciscan Order that established itself in this neighborhood in the 18th century. Besides being a very fancy neighborhood, Recoleta is an area of immense historical interest, namely the impressive Recoleta Cemetery.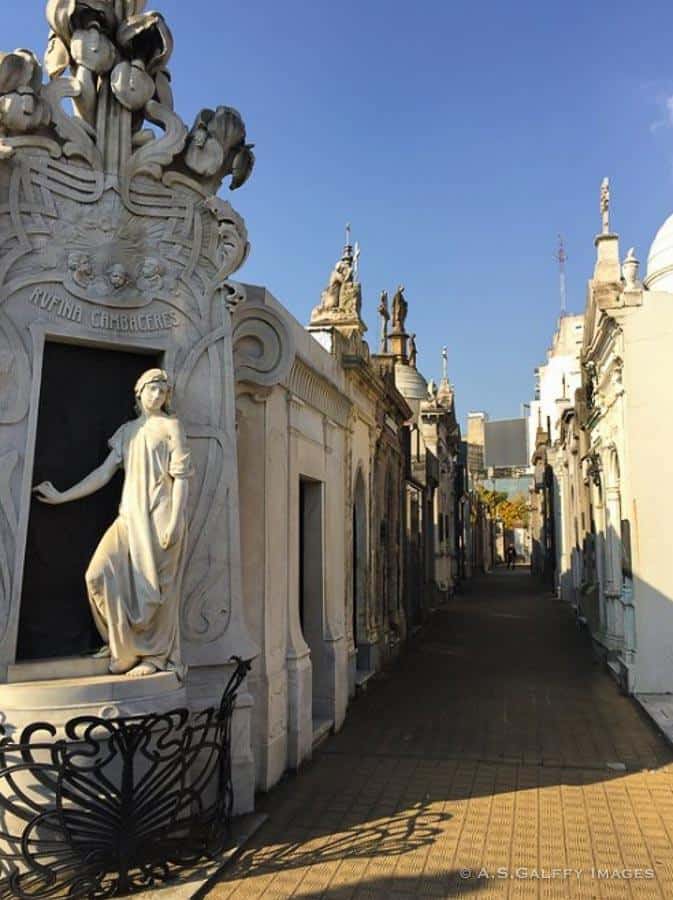 La Recoleta Cemetery is a captivating place! A labyrinth of towering marble mausoleums, built in many architectural styles. There are over 6,400 statues, sarcophagi, coffins and crypts in the city of the dead. And 90 of them are national historical monuments.
Some of Argentina's most notable historic and political figures have their final resting place here. The most celebrated figure of the Recoleta Cemetery is without a doubt Eva Peron, the First Lady of Argentina from 1946 until her death in 1952.
9. Villa Crespo
Located on the south-west of Palermo, Villa Crespo is a less known district which is slowly becoming the trendiest neighborhood in Buenos Aires. The area is filled with trendy shops, especially leather stores. If you're looking for bargains on famous local and international brands, this is the place to go shopping.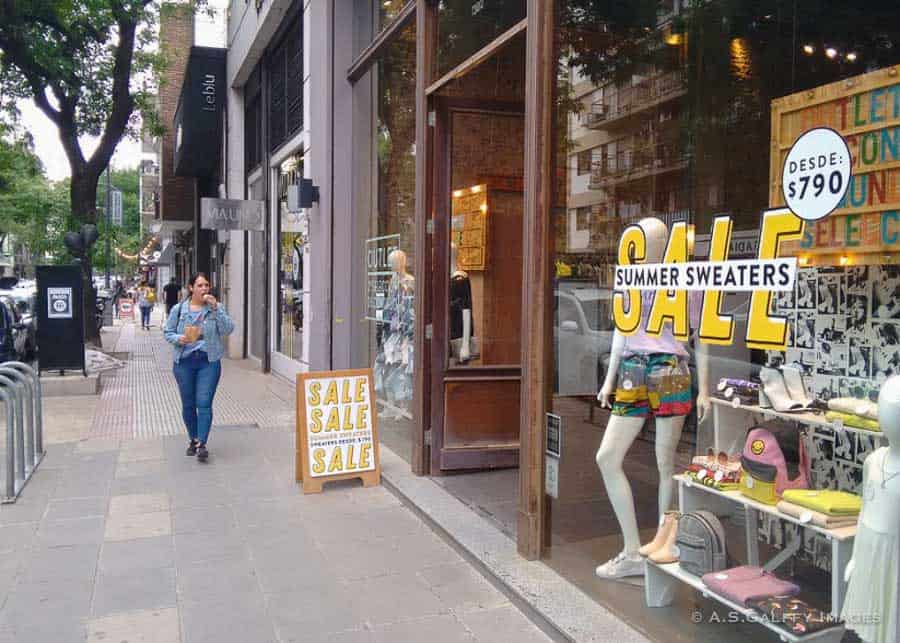 Villa Crespo is also the core of the Jewish community in Buenos Aires and as such it's a great spot to find kosher food.
There are lots of hip bars and nice restaurants that have no signs outside; instead addresses are passed via word of mouth. Discovering them feels like stepping into a local secret.
How Safe Are the Buenos Aires Neighborhoods?
Safety in big cities is always a difficult topic and Buenos Aires is no exception. I said it and will say it again: there is no safe place anywhere in the world if you don't use common sense. Look around you, know what you are doing, and don't expose yourself unnecessarily.
Generally speaking, Buenos Aires is a pretty safe city. We walked in many neighborhoods, on narrow streets and wide boulevards, in trams and metro stations, but never felt in danger in Buenos Aires.
I think the biggest issue for the tourists in Buenos Aires is the petty crime: theft and local scams. We had our share of it. In countries where the poverty level is high this is always a problem.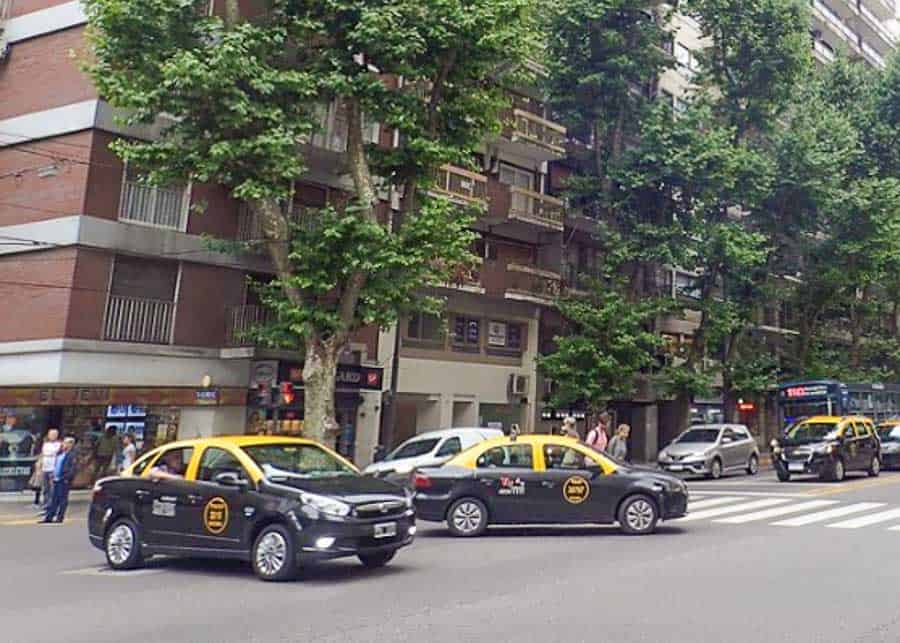 The bank note switching is the scam you are most likely to encounter in Buenos Aires. The way it works is this: you hand your cab driver a big peso note (100 pesos or even a 50 for a shorter journey), he takes it, flicks it between his fingers, then gives it back to you saying that he doesn't have change for such a large note.
Later when you try to use that note to pay for something else, they tell you it's a fake. This is not likely to happen in an established store, but rather if you buy something on the side of the road or in taxis.
Did you find this information useful? Please pin it for later: