Thinking about spending 3 days in Florence? Great choice! I think that's the perfect amount of time to spend in this great European city. Florence is an amazing destination with beautiful architecture, historical buildings and great monuments sprinkled all around, so all you need is a good itinerary.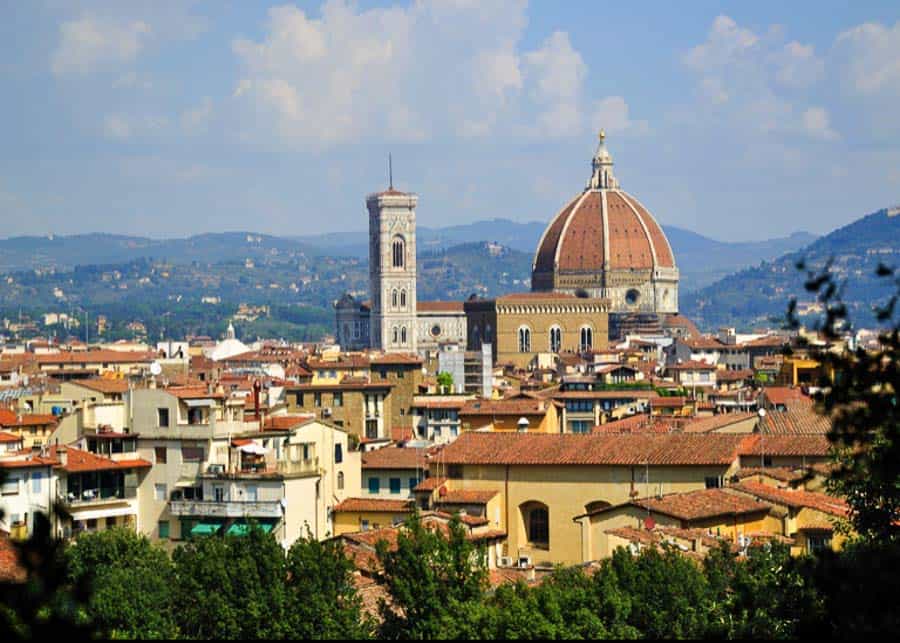 Even though you won't be able to visit all of Florence in three days, you'll have enough time to see its most important treasures. You'll also be able to try some of the local dishes and get a feel for the local atmosphere.
Obviously, the more time you have the better, but it's possible to see Florence even in two days. Planning is key when the time is short. Therefore I've put together an optimized 3-day itinerary which will help you see the best of Florence in three days.
About This Itinerary
This itinerary works well for a long weekend in Florence. It is also perfect if you plan to include Florence in a bigger European itinerary.
I added to the list the most important sites in Florence, as well as some of my own favorites. I also included information on places to stay and how to get around Florence in these three days.
This is a pretty busy itinerary, so in order to accomplish it you'll have to do a lot of walking. However, if you follow this step by step guide, you'll be able to see the city's classic sites in a manner that will save you time.
3 Day Florence Itinerary

Day 1 Itinerary
Benvenuti a Firenze! Today you get to visit some of Florence's most iconic sites. Get ready to take lots of photos and make some wonderful memories.
How to Use This Map: Clicking the icons on the map will give you more information about each point of interest.
1. Stroll Through Piazza della Signoria
Start your 1st day in Florence in Piazza della Signoria. This is the city's most famous spot, home to Loggia Dei Lanzi, Pallazo Vecchio, and the famous Uffizi Gallery.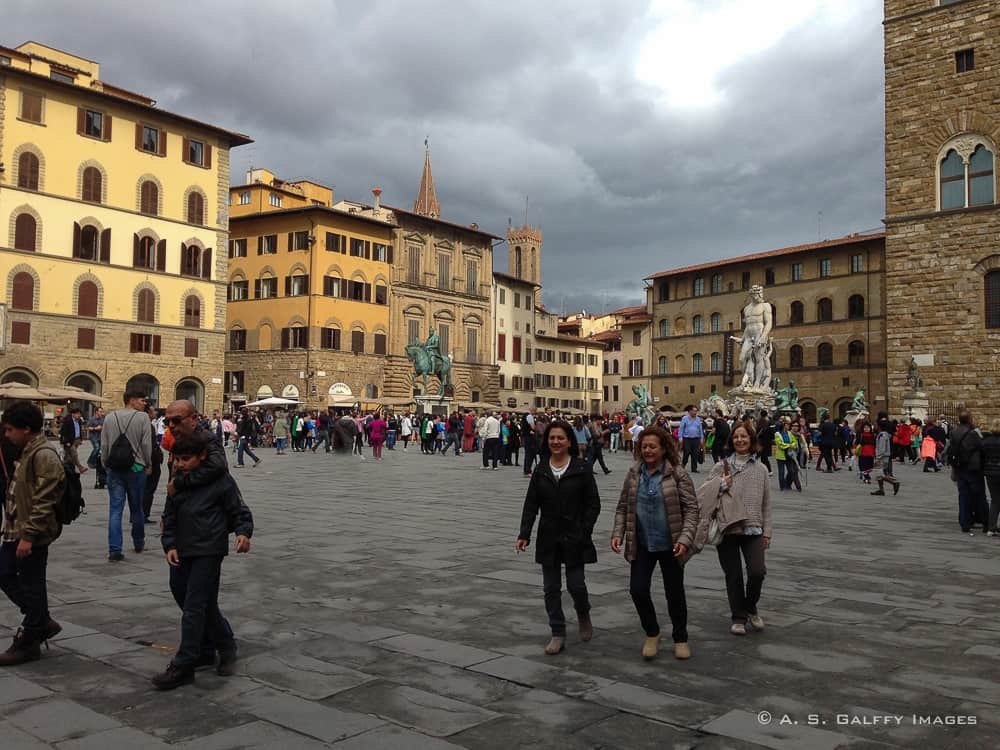 The Piazza also hosts a series of sculptures, including a towering life-size replica of Michaelangelo's David. Many people think the statue is the real deal, but David's real home is in Galleria dell'Accademia.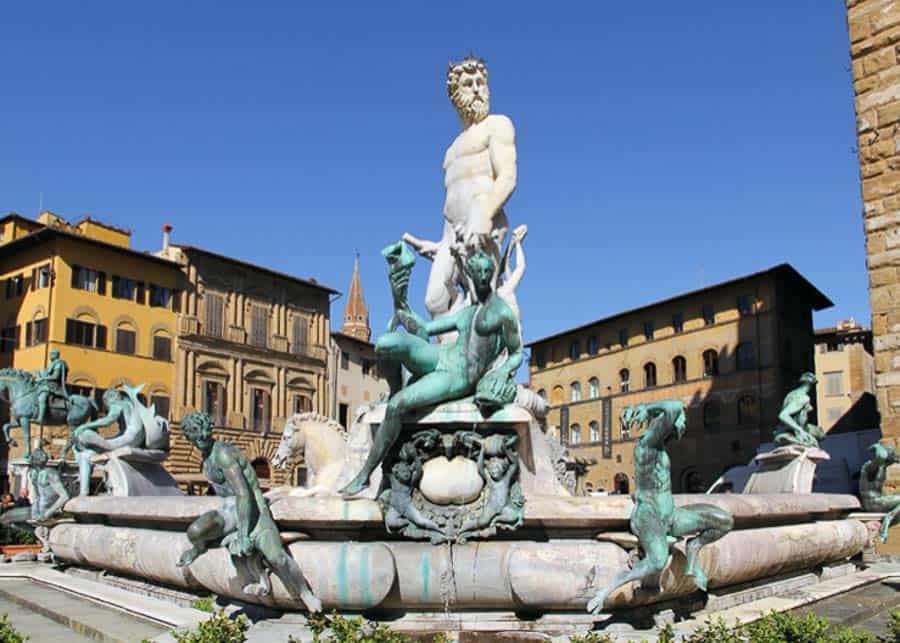 Also in Piazza della Signoria you'll find Neptune's Fountain, towered by an incredibly imposing statue. This is a great spot for taking pictures. To the left of the fountain is the equestrian statue of Cosimo I, erected in 1594.
2. Admire the Sculptures at Loggia dei Lanzi, Palazzo Vecchio
Overlooking the Piazza della Signoria is Loggia Dei Lanzi. This open-air museum was designed in the 14th century by the famous artist and architect, Orcagna.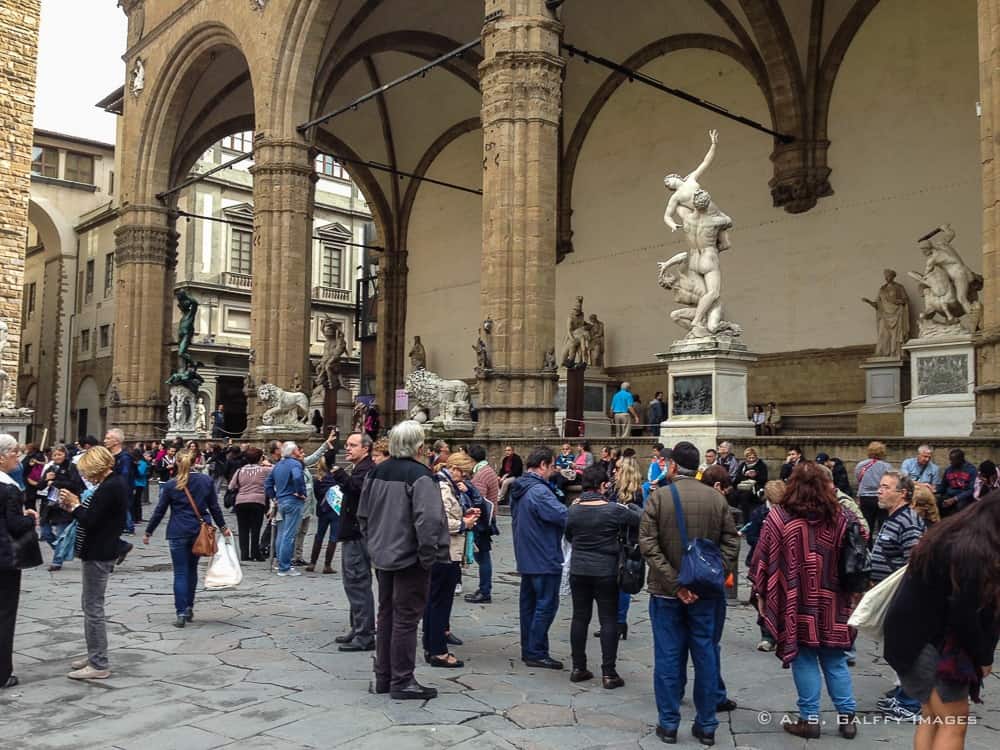 The loggia sits to the right of Palazzo Vecchio and displays a series of sculptures which are free to see. Among them are the famous Giambologna's Rape of the Sabine and Cellini's Perseus.
Take time to walk around and look at each sculpture. Each piece has its own story and meaning, making this a must-see place.
3. Visit Palazzo Vecchio
After you finish visiting all the free treasures around Piazza della Signoria, head towards Palazzo Vecchio. The entrance is to the left of the square.
Palazzo Vecchio was erected in 1299 and served as a governmental building. The palace was also the residence of the Grand Duke Cosimo I de'Medici until he married Eleonora di Toledo, a Spanish princess. But the Duke's new wife didn't like Palazzo Vecchio, so the family moved to Palazzo Pitti.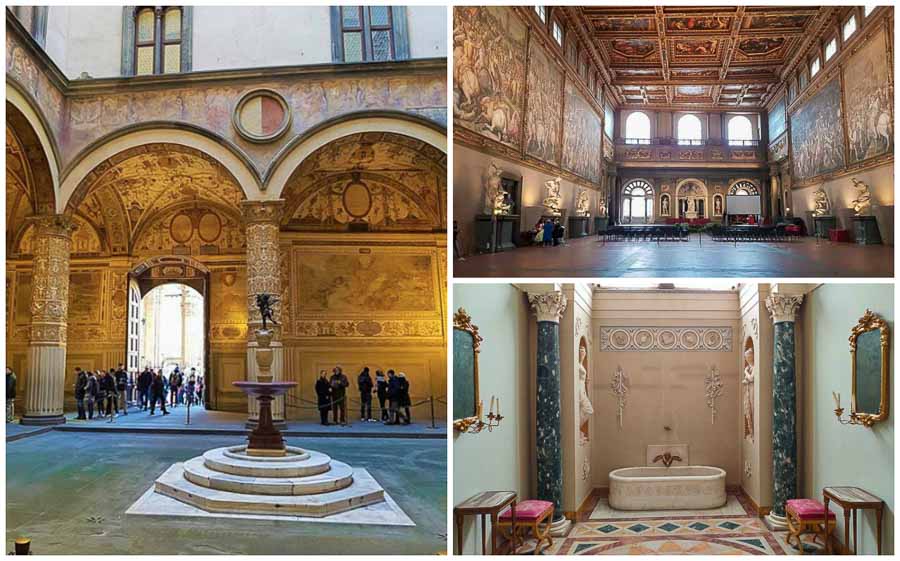 This may lead you to believe that Palazzo Vecchio may not be worth visiting. However, after seeing the stunning design and beautiful furnishings you'll probably start questioning the Spanish princess' taste!
4. Delight in Art at the Uffizi Gallery
Another important landmark in Florence is the Uffizi Gallery, right next to Palazzo Vecchio. This is one of Italy's most impressive art museums and one of the two major museums that should be on your Florence itinerary.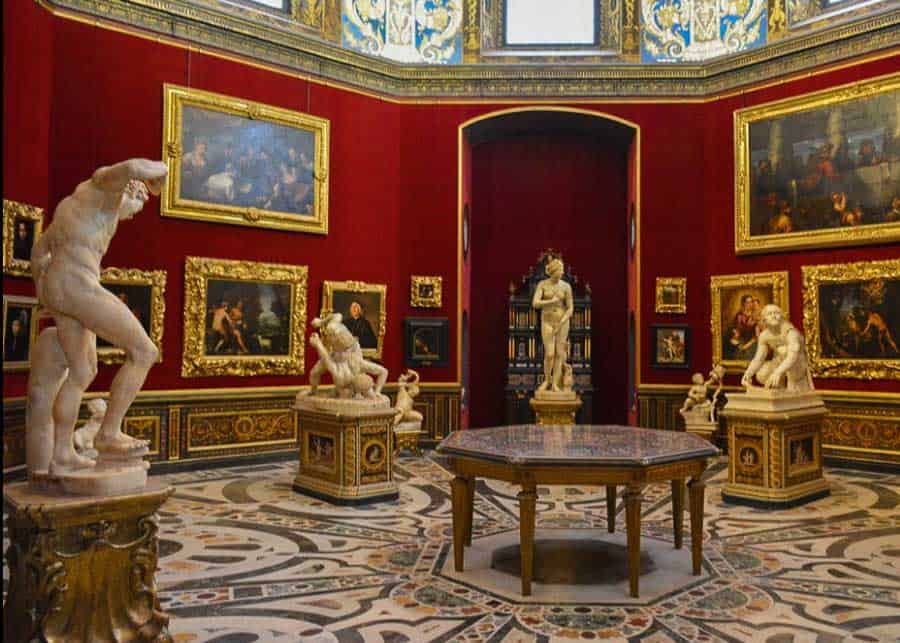 Uffizi is home to some of the most famous masterpieces from the Italian Renaissance, among which Botticelli's iconic Birth of Venus painting. Because it's so popular, you can expect endless lines for visiting the museum. My advice is to book your tickets in advance.
Worried about the Ufizzi lines? Reserve your Timed Entrance Ticket to Ufizzi Gallery
If you don't like the idea of 'timed entrance' and would like more flexibility, be prepared to get up early and be in line at least 30 minutes before the museum opens (at 8:15 am). Even so, you are taking the risk of not getting a ticket. Especially if you visit Florence during the high season.
Tip: the Uffizi Gallery is closed on Mondays, so if one of your 3 days in Florence is a Monday, you may need to adjust your itinerary accordingly.
5. Stop for a Bite at Mercato Centrale
After seeing so much art and architecture, you must be really hungry! It's time to take a break and grab a bite. And what better place to fill up your tummy than Mercato Centrale?
Located in the colorful neighborhood of San Lorenzo, Mercato Centrale is Florence's most popular food market. Even since it was built in 1874, this two story building was the place where the Florentines bought their food.
But Mercato Centrale is not only famous for its fresh produce and meats. Its popularity began to grow after April 2014, when the upper floor underwent a major renovation, becoming an unmissable food destination.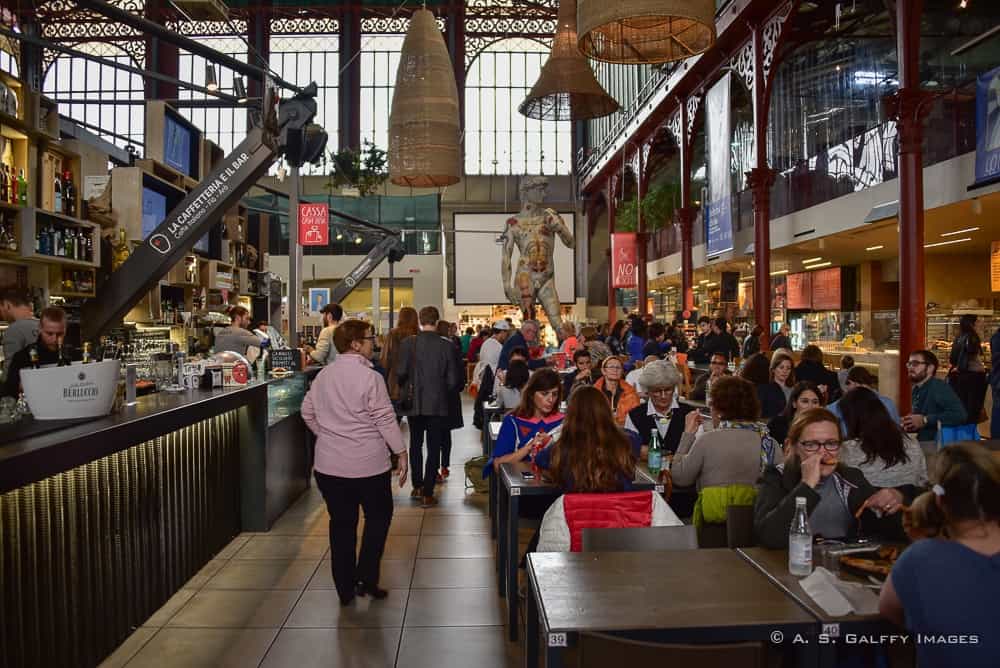 The restaurants at Mercato Centrale are the ideal stop for big families, where everyone will find something they like. It's also a great place to enjoy some local dishes in a casual atmosphere and at very reasonable prices.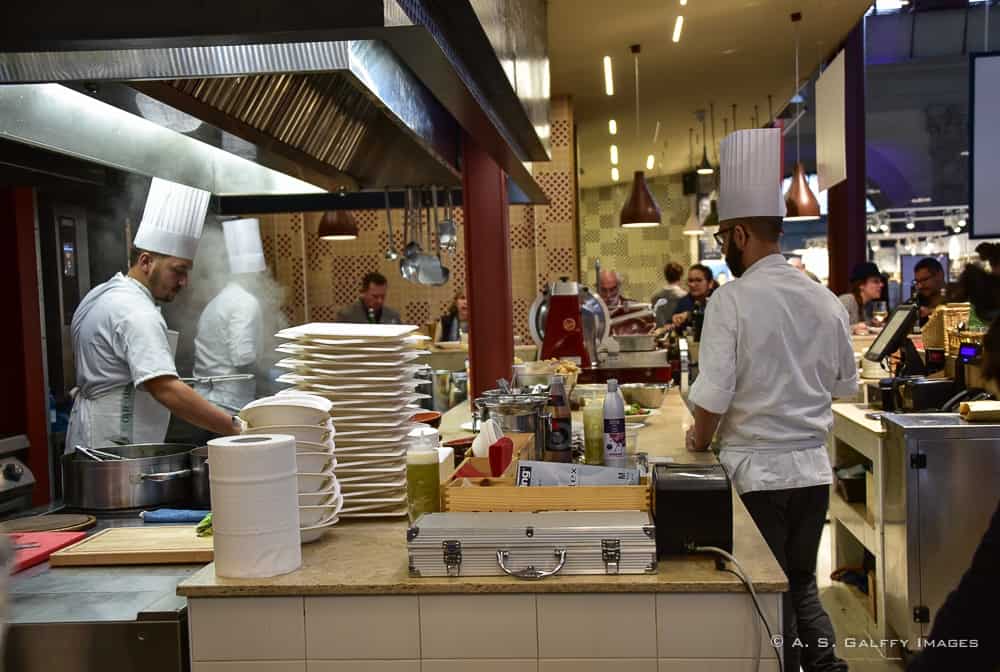 One other attraction at Mercato Centrale is the Cucina Lorenzo de' Medici cooking school. If you want to learn how to cook like an Italian, you may want to include this into your Florence itinerary. What better place to get some first hand experience in preparing homemade pasta and sauces?
6. Make a Wish at Fontana del Porcellino
Close your first day in Florence at Fontana del Porcellino (fountain of the piglet), one of Florence's most beloved spots. This is where visitors to Florence come to make a wish. The fountain sits in the loggia that covers Mercato Nuovo, in the historic center of Florence.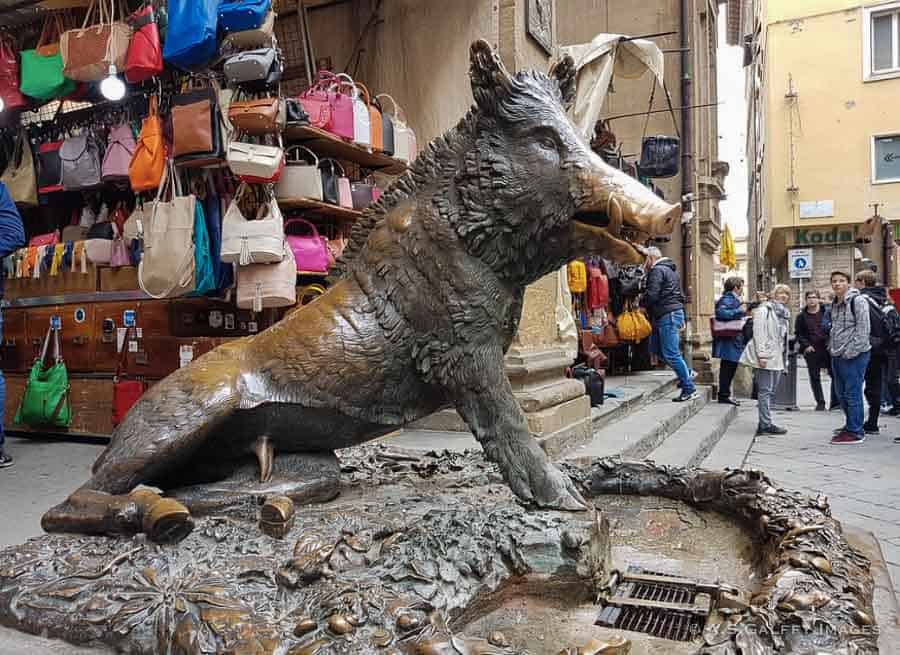 People put a coin into the boar's gaping jaws in the hope to be returning to Florence one day. But the wish will only come true if the coin gets in the water drain below.
Day 2 Florence Itinerary
Today is another busy day. After grabbing a cappuccino and a pastry, head to the Piazza del Duomo where you'll spend a good part of the morning.

1. Tour the Duomo of Florence
Start with a tour of the Duomo di Santa Maria del Fiore, the city's most recognizable landmark. This is is an unmissable sight during your 3 days in Florence and an excellent place to kick off your second day. The Duomo should be on every Florence itinerary, even if you only have one day in Florence!
The Cathedral of Florence has a very interesting story. The construction lasted for over a hundred years because at the time nobody had any idea how to build a dome for an octagonal floor plan.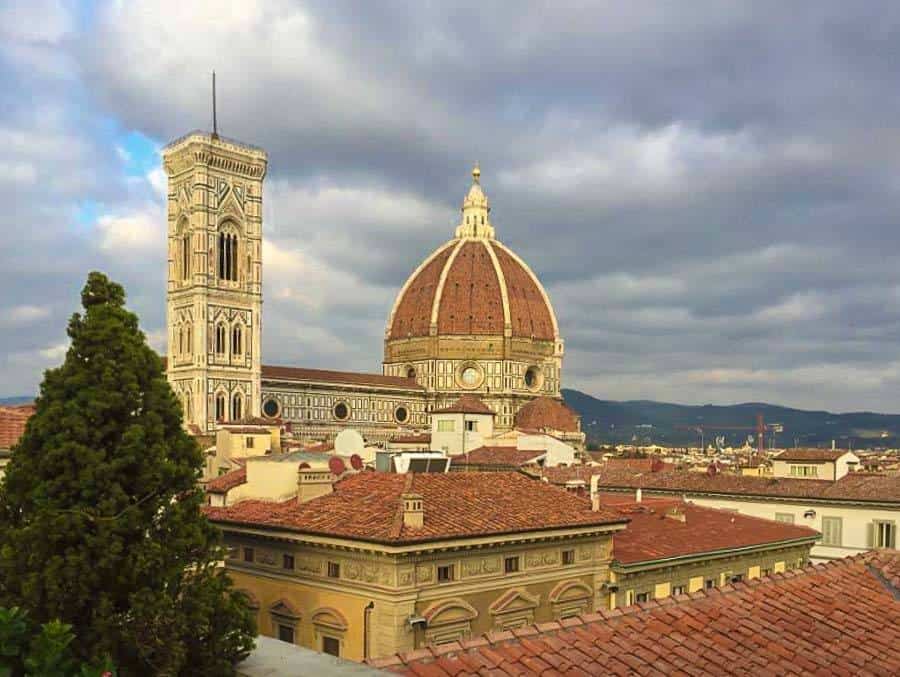 Finally, in 1418, a contest for the ideal dome design was announced and won by Filippo Brunelleschi, a goldsmith with no architectural training or experience.
Brunelleschi managed to build the Cathedral's Duomo which is still standing today. A miracle? Surely not, but the Duomo of Florence remains an architectural mystery for those who look at it today. There are still many unanswered questions that surround the construction.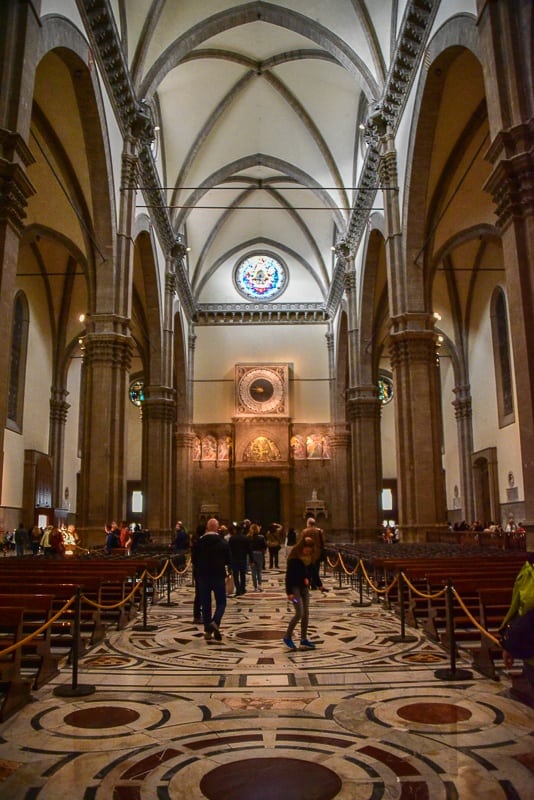 Tip: visiting the Florence Cathedral is free of charge, but if you want to climb the dome and the bell tower, you'll have to pay. You can buy a single "Grande Museo del Duomo" pass that includes the Baptistery, the museum and climbing up the dome and the bell tower.
2. Visit the Baptistery of San Giovanni
Right next to the Duomo is the oldest religious site in Florence: the Baptistery. Its origins are unknown, but it is believed the Baptistery was erected over the ruins of a Roman temple dedicated to Mars, dating back to the 4th Century A.D.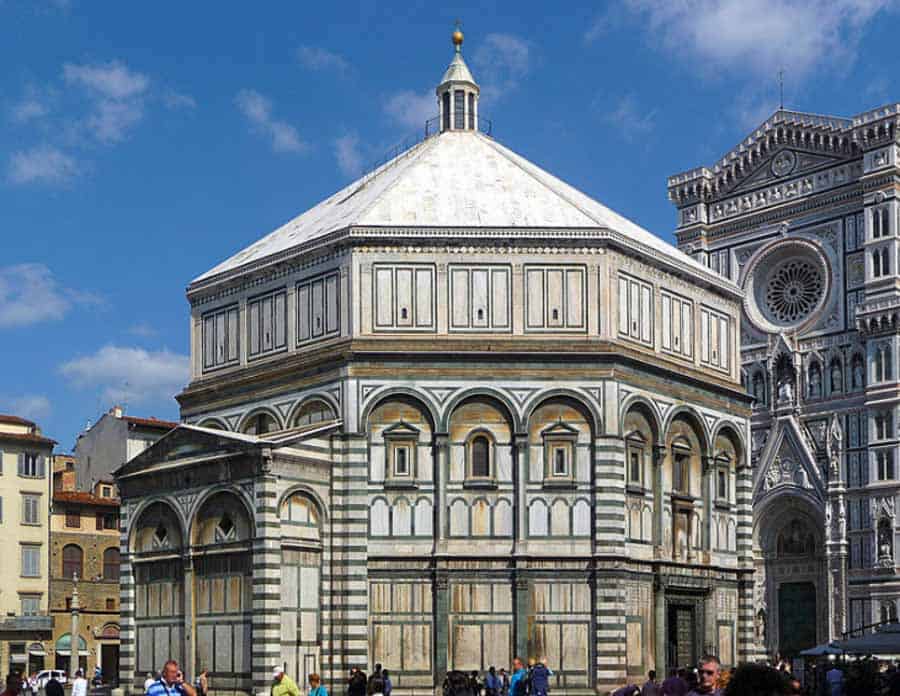 The Baptistery has an octagonal plan with an octagonal cupola. The façade is decorated with white Carrara marble and green Prato marble, typical of Florentine Romanesque architecture.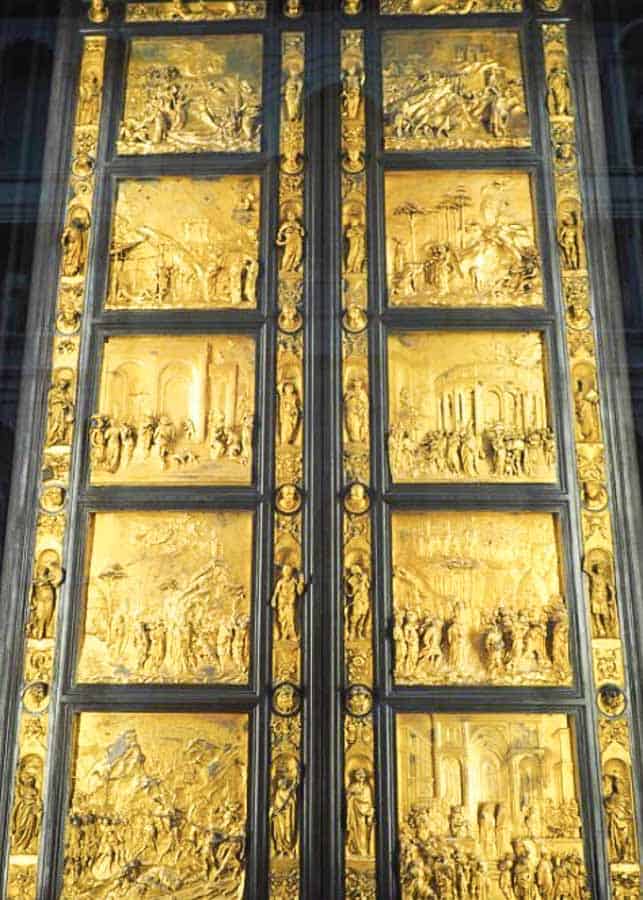 One of the most stunning part of the Baptistery are its bronze doors with relief sculptures done by Andrea Pisano and Lorenzo Ghiberti. The Gates of Paradise received their name by Michelangelo who considered them to be "perfect for the gates of paradise".
3. Climb up Giotto's Bell Tower
After the Duomo, the Campanile is perhaps the most recognizable building in Florence. The 278 feet high tower offers the best views of the Duomo and Florence.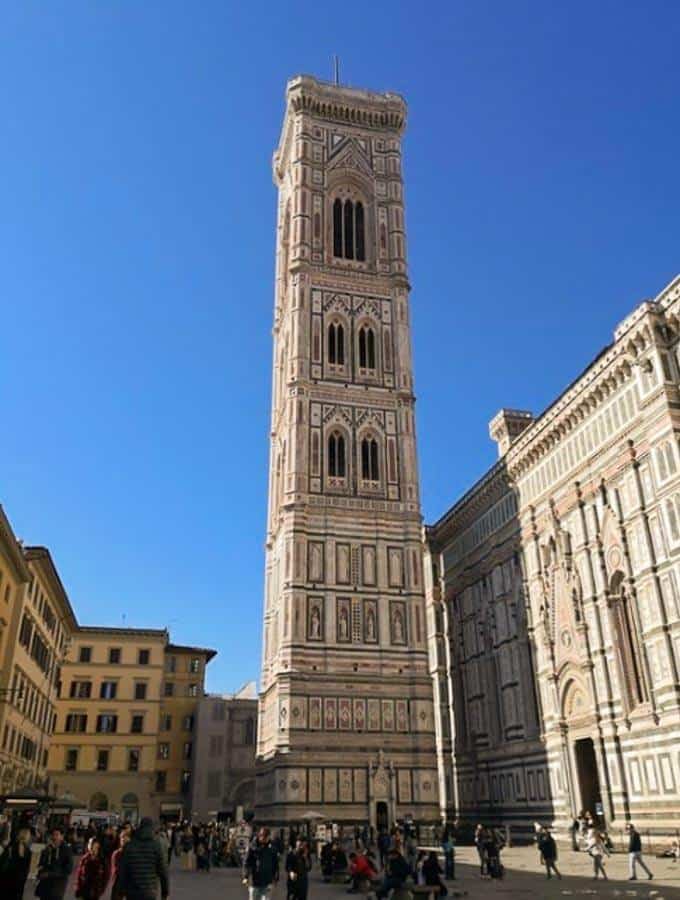 Construction of the Campanile is attributed to Giotto di Bondone, therefore it's often called Giotto's Bell Tower. Unfortunately, Giotto didn't live to see the tower finished.
4. Visit the Basilica di Santa Croce
One great place to admire Florence's amazing art is at the Basilica di Santa Croce. The church, which belonged to the the Franciscan order since 1294, is the burial place for many great people of Florence.
The cathedral contains some famous burial sites: Michelangelo's tomb, Rossini's, Machiavelli's, as well as Galileo Galilei's tomb. Galilei's body was interred here only 95 years after his death. At the time of his death, the Inquisition did not allow him to have a Christian burial.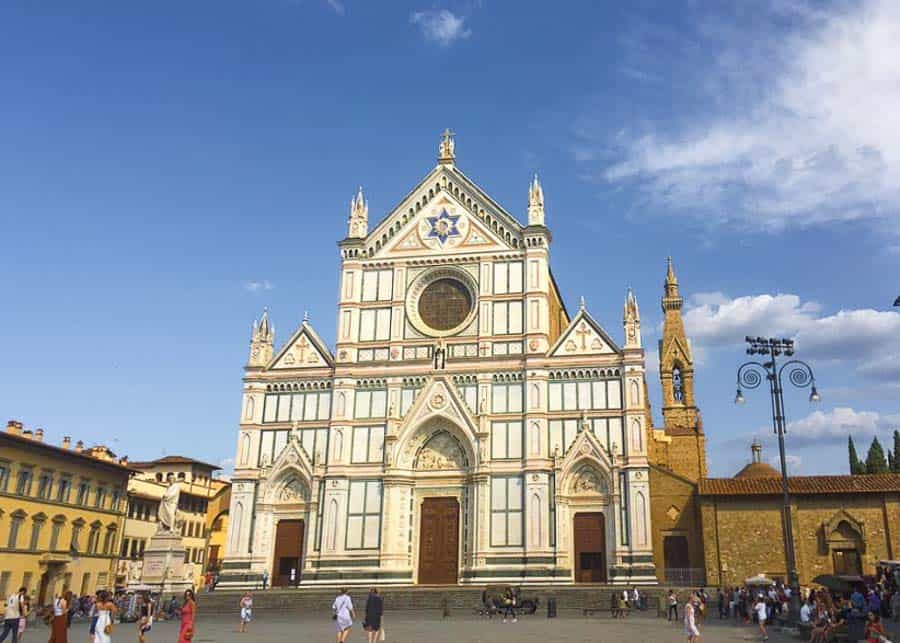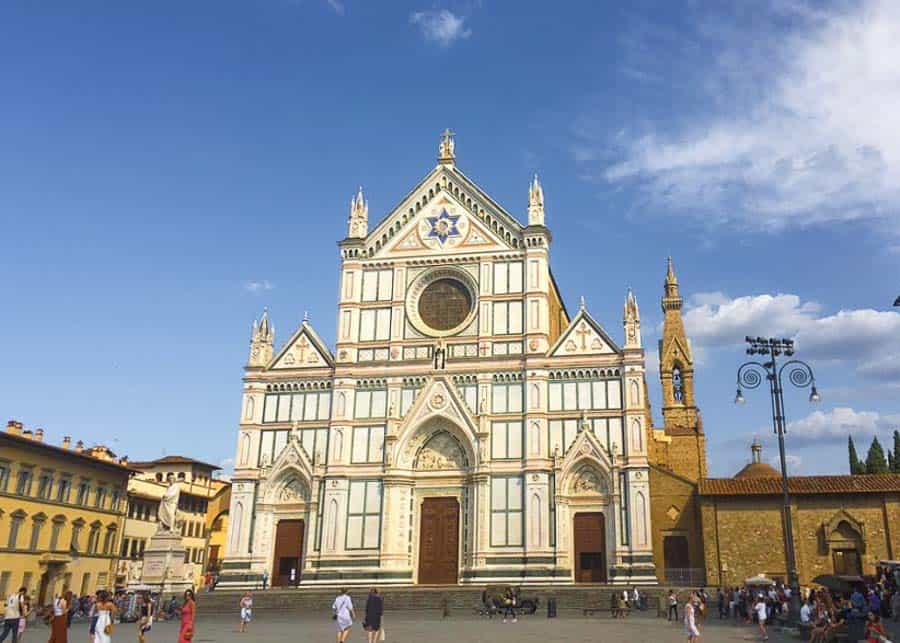 There is also a memorial to Dante at Santa Croce, but his sarcophagus is empty as his tomb is actually in Ravenna.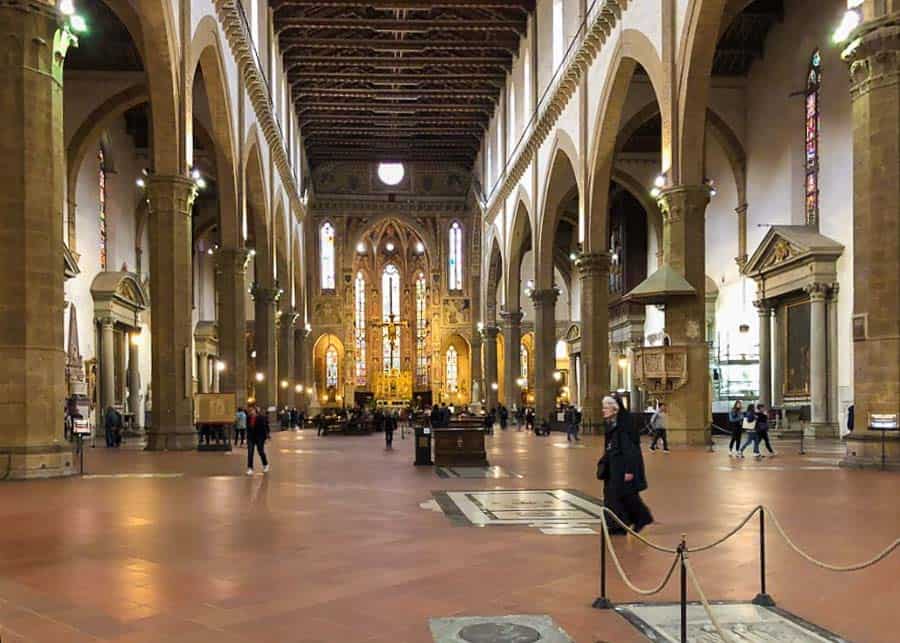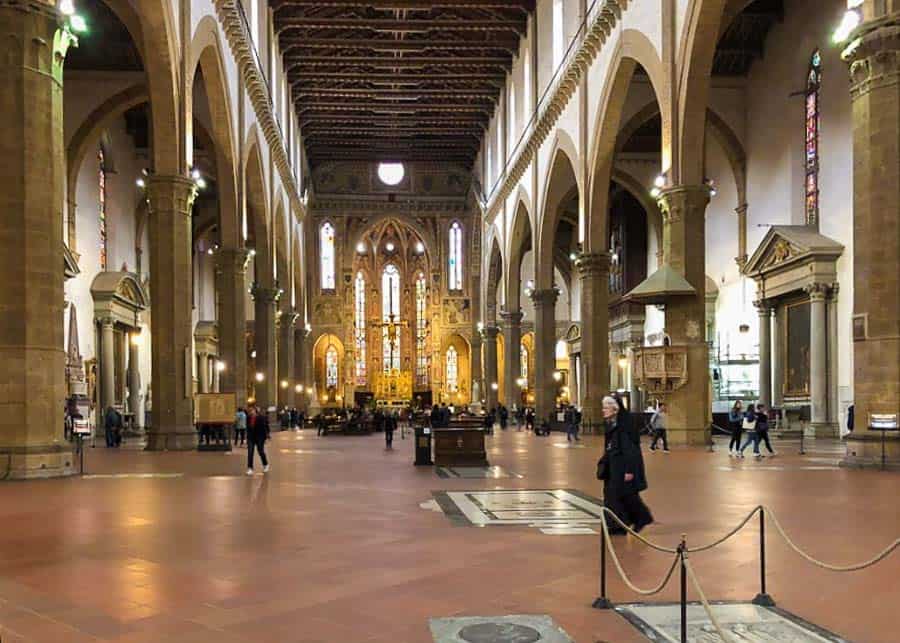 The beautiful Cathedral of Santa Croce had its fair share of misfortune over the course of history. The cathedral suffered tremendous damage in the flood of 1966 and then, in 2017, some loose masonry fell and killed a Spanish tourist. This tragic incident led to some serious investigations, but in the spring of 2019 the cathedral reopened its doors.
5. Stroll across Ponte Vecchio
Head now towards Ponte Vecchio (the Old Bridge), one of Florence's oldest bridges. Ponte Vecchio certainly withstood the test of time. The bridge that you see today dates back to 1343, when it was rebuilt after a big flood.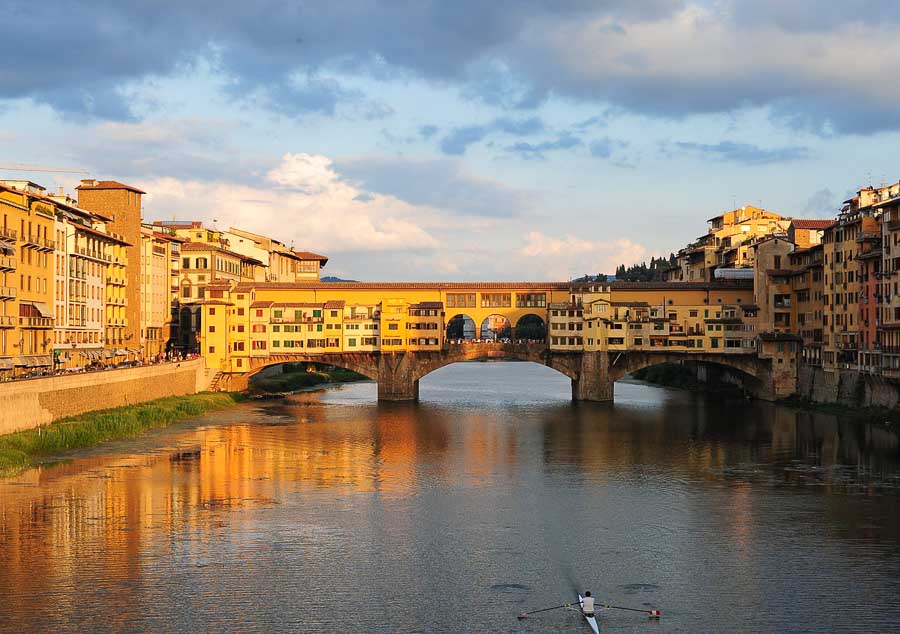 I absolutely loved visiting the Ponte Vecchio! It was the highlight of our 3 days in Florence. It's a bridge like no other I've seen. Ponte Vecchio has an almost-golden glow, which it owes to the yellow stone from which it's built.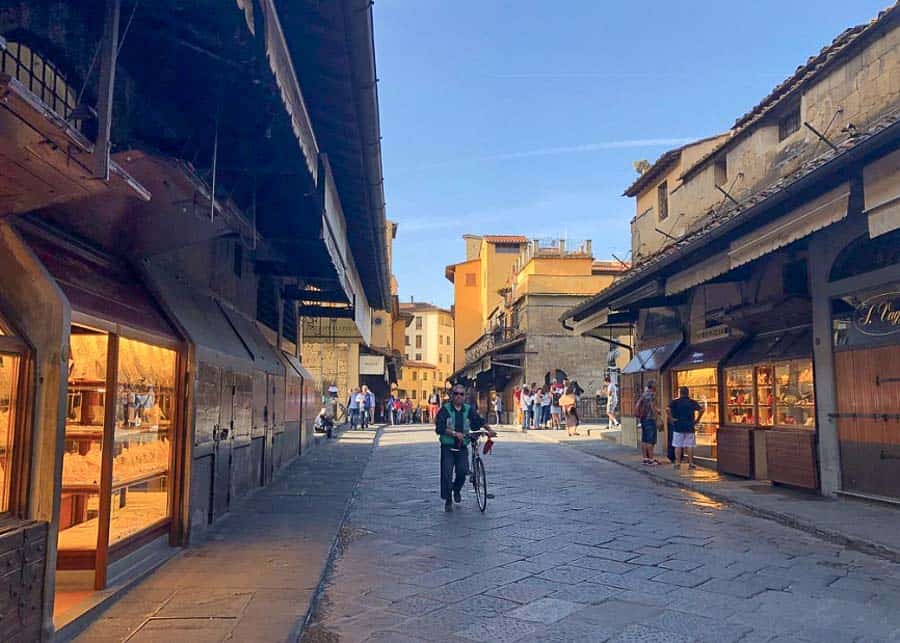 The bridge is filled with jewelry stores, closely snuggled into each other. If you didn't know it's a bridge, you would probably think Ponte Vecchio is a street, that's how densely the shops are packed on its both sides!
6. Cross the Vasari Corridor
One place not to miss in Florence is the Vasari Corridor, which runs along the top of Ponte Vecchio. This one kilometer long passageway that connects Palazzo Vecchio with Palazzo Pitti was the idea of the grand duke Cosimo de' Medici.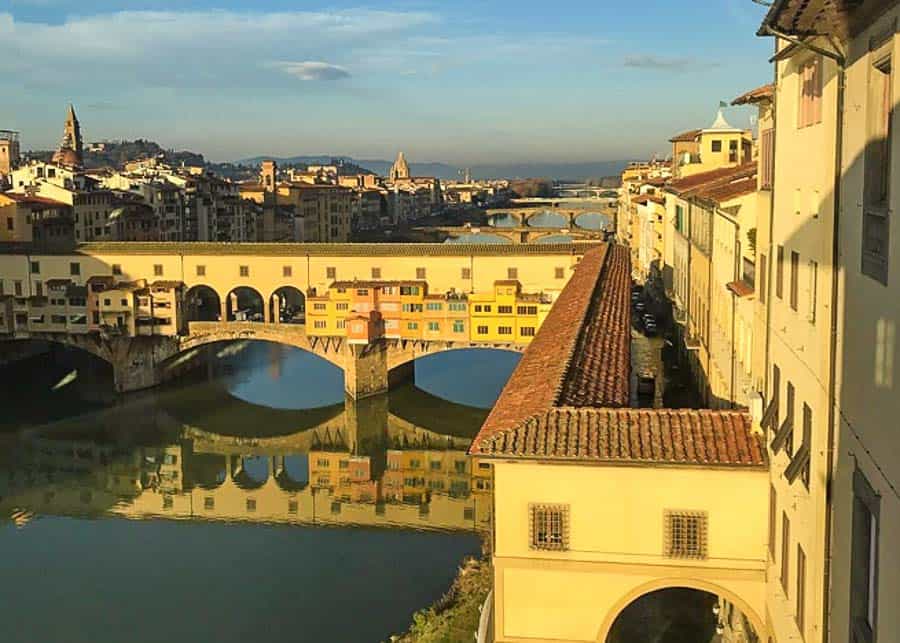 Thanks to this elevated passageway the Medici family could move freely and safely between their residence in Palazzo Pitti and Palazzo Vecchio, the government's headquarters.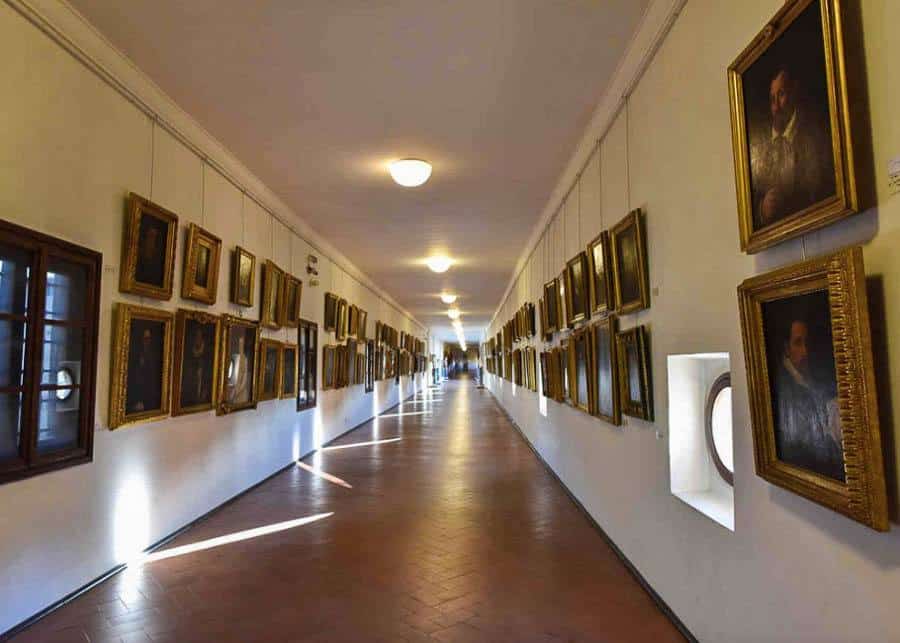 Today, the corridor still connects the two buildings and functions as a small museum, separate from the famous Uffizi Gallery.
Day 3 Florence Itinerary
Today you'll finish visiting Florence's main attractions. It's going to be a busy schedule because you only have 3 days in Florence, so put on some comfortable shoes and let's get going!
1. Visit Galleria dell'Accademia
Start your day at Galleria dell'Academia, one of the city's two great art museums. Since you only have 3 days in Florence, I recommend reserving your timed entrance ticket to Galleria dell'Accademia in advance to avoid the long lines.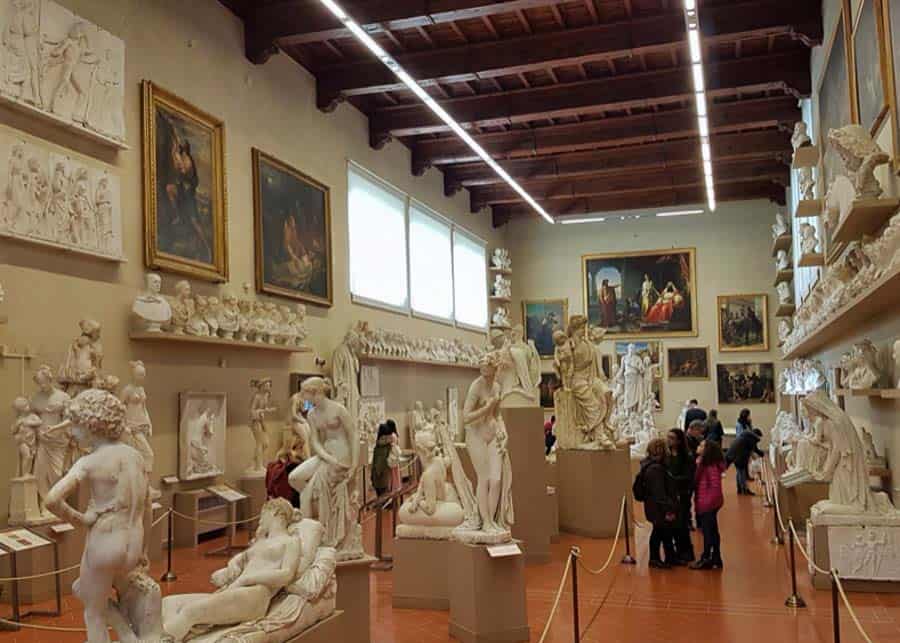 Galleria dell' Accademia is home to works of art from different famous Italian artists, among which Michelangelo' David, Giambologna's The Rape of the Sabines. This is fairly small museum, so you won't be spending more than a couple of hours here.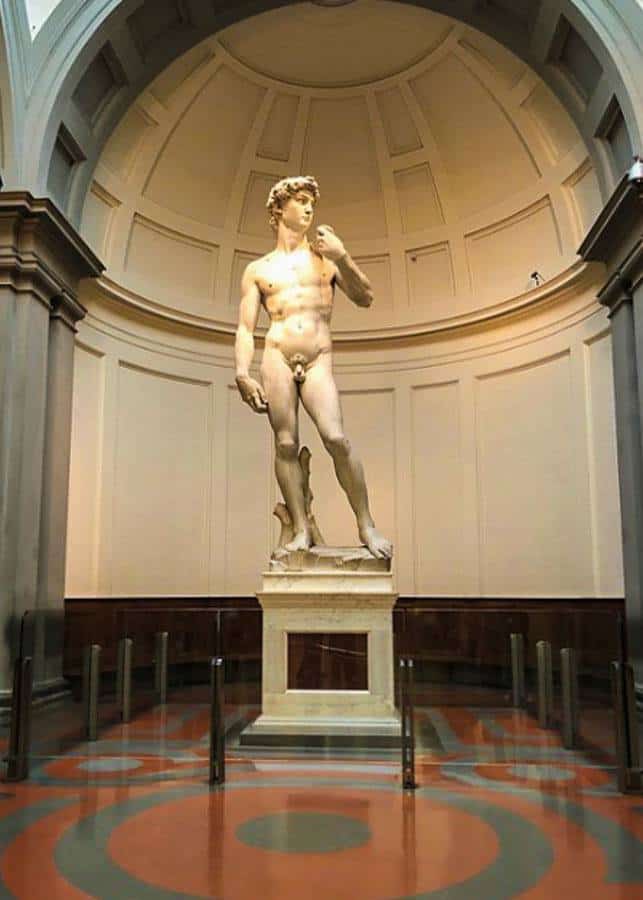 The museum displays not only paintings or sculptures, but also a great collection of musical instruments, so it's truly worth visiting.
2. Pause for a Moment at Basilica of Santa Maria Novella
About 800 meters from Galleria dell'Academia, just across from the main railroad station in the historic center of Florence, you'll find Basilica of Santa Maria Novella. Don't miss this beautiful church, a fine example of Gothic architecture.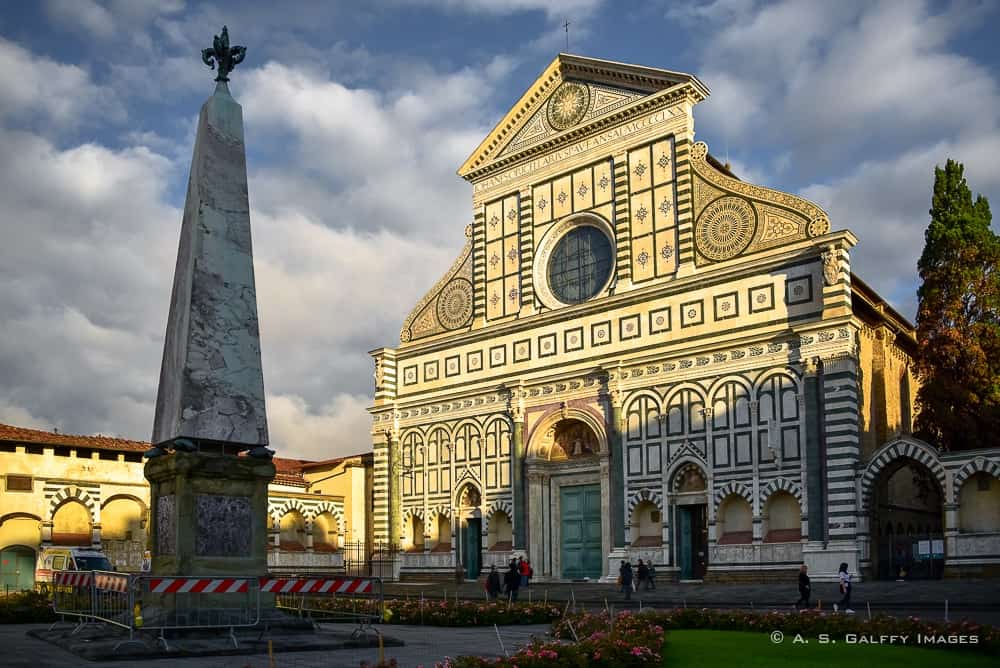 Although it doesn't enjoy the fame of other churches in Florence, Santa Maria Novella is well worth a visit. The interior of the church is vast and seems longer than it really is because of the clever coloring of the central arches. The layout is the work of Brunelleschi, the same architect that designed the Duomo's cupola.
3. Walk Through Piazza della Repubblica
Head now to the Piazza della Repubblica, the social and commercial center of Florence since Roman times. In the middle of the square stands the Colonna della Dovizia, also known as the Column of Abundance. The column marks the point where the Roman forum once stood.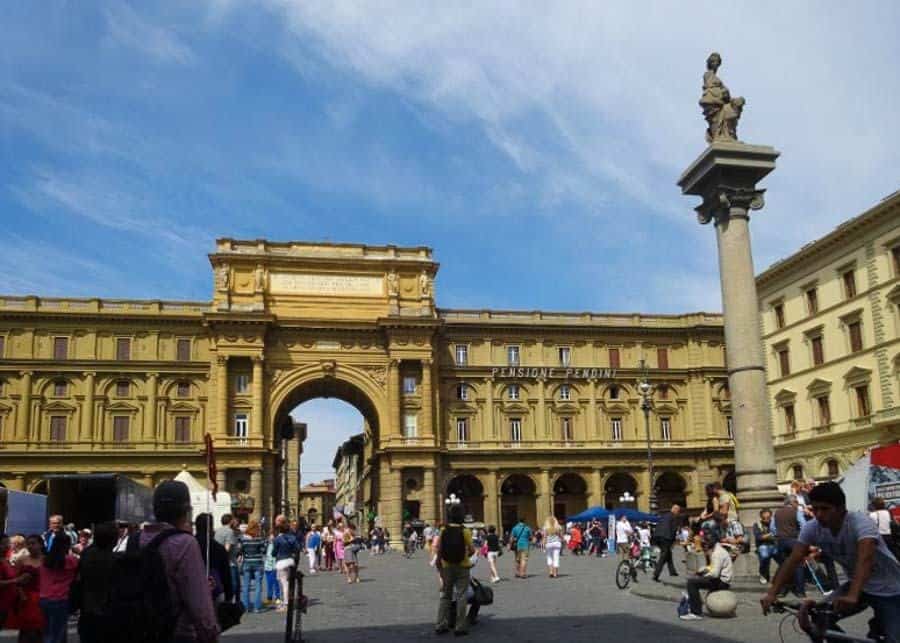 During medieval times the area around the column was populated with markets, tabernacles and churches. This was also the location of the Jewish Ghetto, who were obligated to live here by Cosimo I.
Today Piazza della Repubblica is an impromptu stage to street artists and shows, particularly after sunset. The piazza is bordered by several popular cafés. One of these, the Giubbe Rosse, is known to have been the meeting point for many famous artists and writers at the turn of the twentieth century.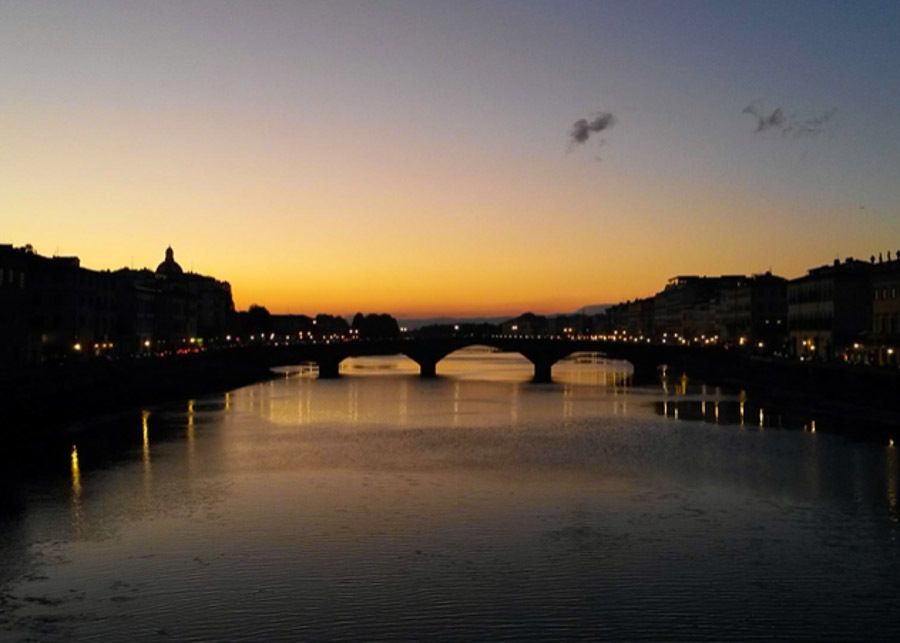 After leaving Piazza della Repubblica head towards Ponte Santa Trinita to cross the Arno River. Your next objectives asddsfre all on the other side of the river.
4. Visit Palazzo Pitti
Remember how Duke Cosimo de Medici had to move his residence to Palazzo Pitti because his wife didn't like Palazzo Vecchio? Well, if you liked the beautiful Palazzo Vecchio, imagine how much more beautiful Palazzo Pitti must be! After all, Cosimo had to make his wife happy offering her something even better.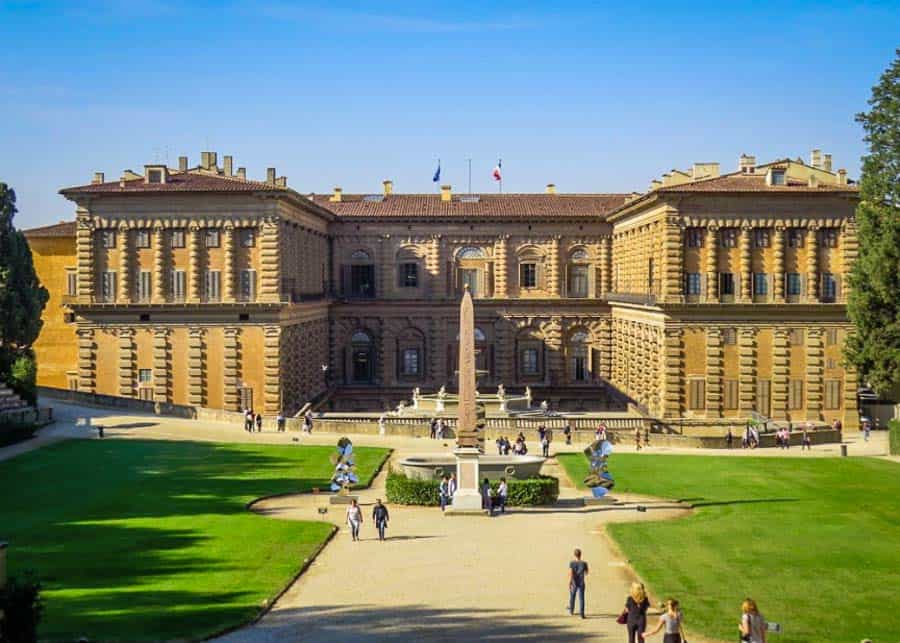 The palace became a great treasure house as later generations accumulated huge collections of silver, porcelain, paintings, and other luxurious possessions.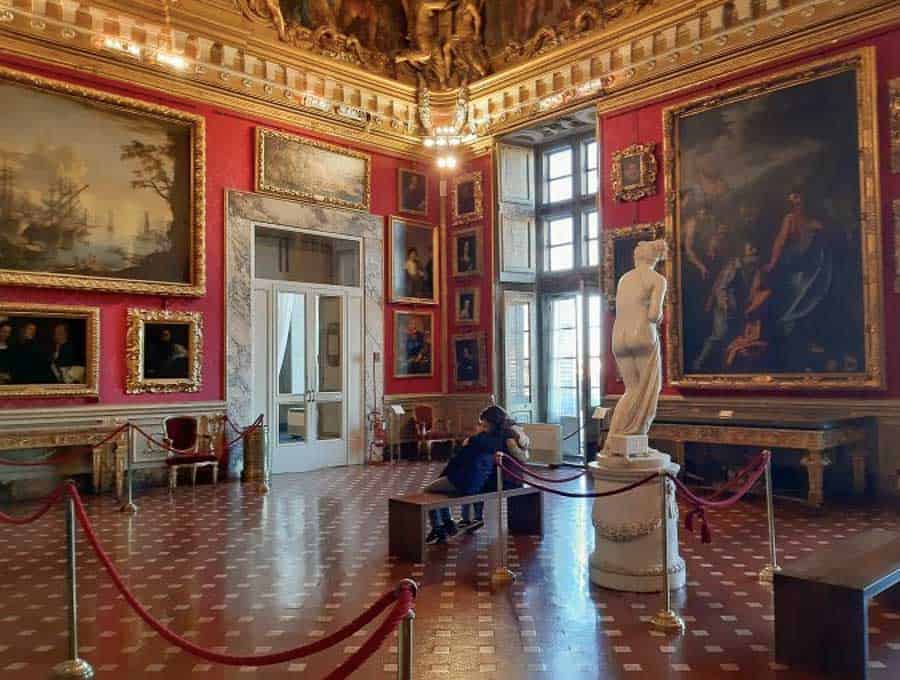 Today Pallazo Pitti is the largest museum complex in Florence where you can admire works by Raphael, Titian and Caravaggio as well as the huge collections gathered by its previous owners. The museums are totally worth visiting.
Tip: Palazzo Pitti is closed on Mondays, so if one of your 3 days in Florence falls on a Monday, you may need adjust your itinerary accordingly.
5. Relax at Boboli Gardens
Directly behind Pitti Palace are the marvelous Boboli Gardens, created by the Medici family. The vast gardens abound with flowers and vegetation and are also adorned with grottos, statues and fountains. If you in Florence during the summer months, you'll find the gardens a peaceful shelter from the heat of the city.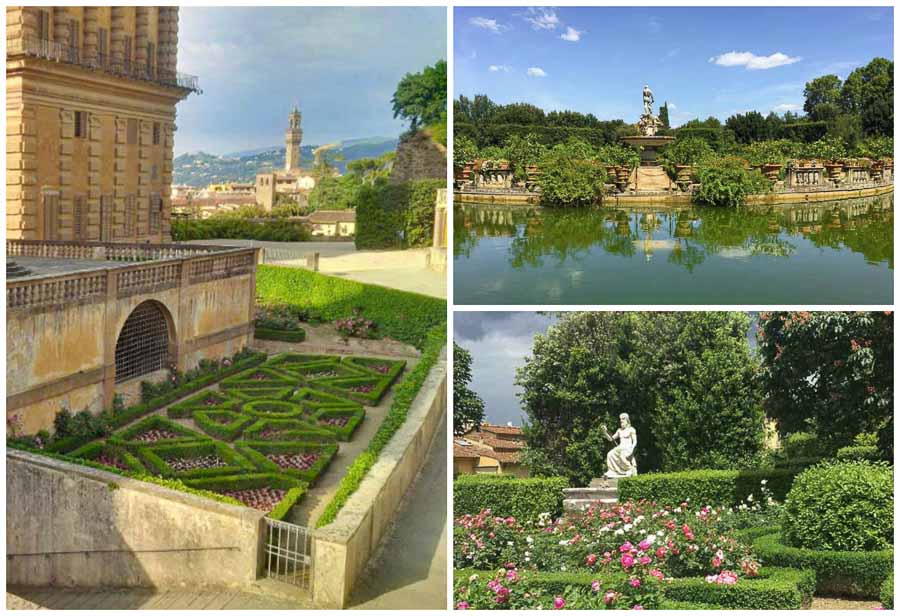 The gardens are quite large, extending from the hill behind the Pitti Palace as far as Porta Romana.
6. Enjoy the city view from Piazzale Michelangelo
If you want to make your 3 days in Florence memorable, walk up to Piazzale Michelangelo for sunset. Perched up on a promontory, this square offers one of the most popular viewpoints in Florence.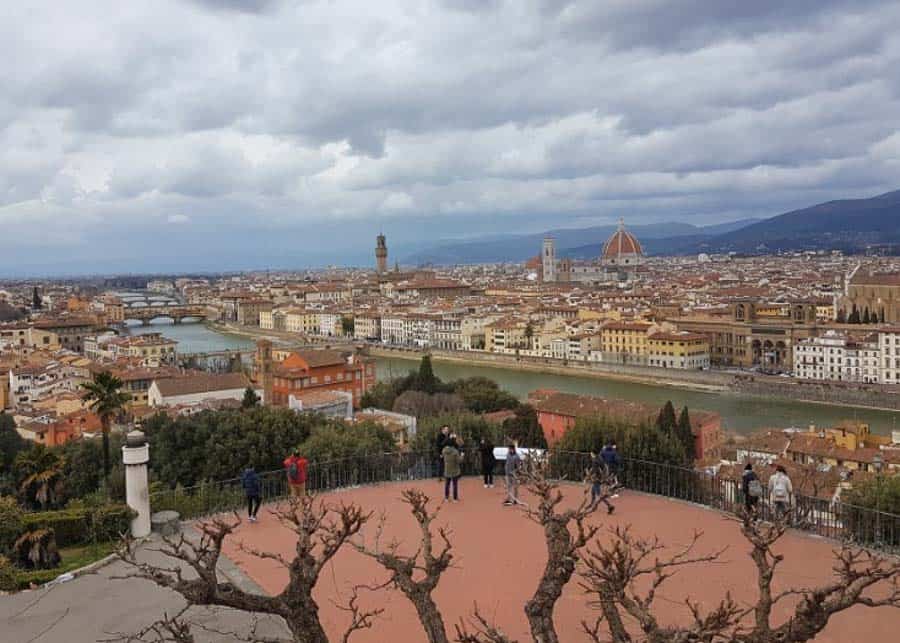 You can reach Piazzale Michelangelo on foot, but you'll have to be prepared to climb up a long stairway (164 steps) leading to the top of the Piazza. We chose to take a cab up here and then walked down to the city center.
Visiting it is definitely well worth the effort and a nice farewell to your short trip to Florence. Besides the amazing city views, you can also admire a replica of Michelangelo's David up here.
How to Get Around Florence in 3 Days
Florence is not a big city and most its attractions are concentrated in a relatively small area. The best way to get around Florence is on foot. In fact, you can walk from one end of the city to the other in about 30 minutes, passing many recognizable sites along the way.
If you get tired from walking, you can hop aboard one of the city's efficient ATAF buses. Just remember to validate your ticket once you get on. One-way tickets cost about 1.50 euros ($1.70) and are available at local convenience stores.
Taxis are expensive in Florence, so I wouldn't recommend using them. Especially if you are on a budget. Most travelers use taxis only for transportation to and from the airport or the train station.
Another option for getting around in Florence is to buy a ticket for the the hop-on-hop-off bus, for 1, 2 or 3 days.
Where to stay in Florence
Since you only have 3 days in Florence, you don't want to be wasting your time traveling to and from your hotel. It's best if you stay the historical center which is so small that you can walk practically everywhere.
We found an excellent apartment on VRBO, just 3 minutes walk from Piazza della Repubblica, but we were traveling with some other family members. If you don't want to rent an entire apartment, Florence offers all kinds of accommodations, from hostels to high end boutique hotels and more. We recommend using Booking.com or TripAdvisor, to find a suitable room for your needs.
Please pin this for later: