Explore Florence in one day? No way, right? Well, yes and no! Florence is one of the most fantastic cities in Europe, filled with iconic landmarks and historic monuments, the cradle of the Renaissance. Thinking that you can exhaust a city like that in just 24 hours, would be unrealistic, but with this itinerary you'll see many of the highlights that make Florence so famous.
Ideally, you should have at least 3 days in Florence in order to explore the city properly. However, with a well planned itinerary you can see many of Florence's attractions in just two days, or even in a short 24 hour stay.
About This One Day Florence Itinerary
If you want to visit Florence in a day, there are several landmarks that you just can't miss! You probably already know which ones you absolutely want to see. If you properly organize your time, you will be able to see all of them as well as many others!
I added to the list some of my favorite places to visit in Florence. But if this seems like a very busy itinerary, remember that you don't need to see everything that's on my list. These are my suggestions, but you can tailor your day according to your interests, budget, and travel style.
To visit Florence in a day requires a lot of walking, but it's definitely worth it! This step by step guide will will take you to Florence's classic sites in a manner intended to save you time. You'll also be able to try some traditional Italian food along the way.
How to Use This Map: Clicking the icons on the map will give you more information about each point of interest.
One Day in Florence: Morning Itinerary
READ NEXT: How to Spend 10 Days in Italy – 4 Suggested Itineraries
Since you'll have a full day of exploring, I think it's important to start on one side of Florence and work your towards the other side of town.
This morning you'll be visiting Piazza della Signoria, Loggia Dei Lanzi, Pallazo Vecchio, Ponte Vecchio and the Florence's most famous market, Mercato Centrale.
1. Wander Through Piazza della Signoria
I suggest you start your day in Piazza della Signoria, Florence's most famous spot. The piazza is home to three of the city's most famous landmarks: Loggia Dei Lanzi, Pallazo Vecchio, and the Uffizi Gallery, Italy's most impressive art museum.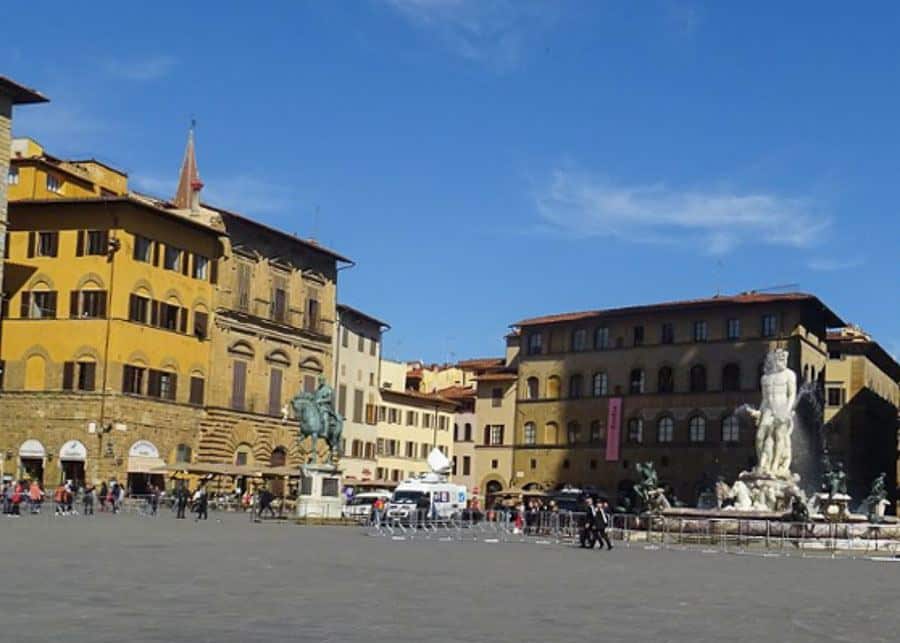 This oddly shaped square is a gold mine of things to see on your day in Florence. At the centre of the piazza you'll find the Fountain of Neptune and Cosimo I de' Medici's equestrian statue. Also in Piazza della Signoria you'll find a replica of Michelangelo's David.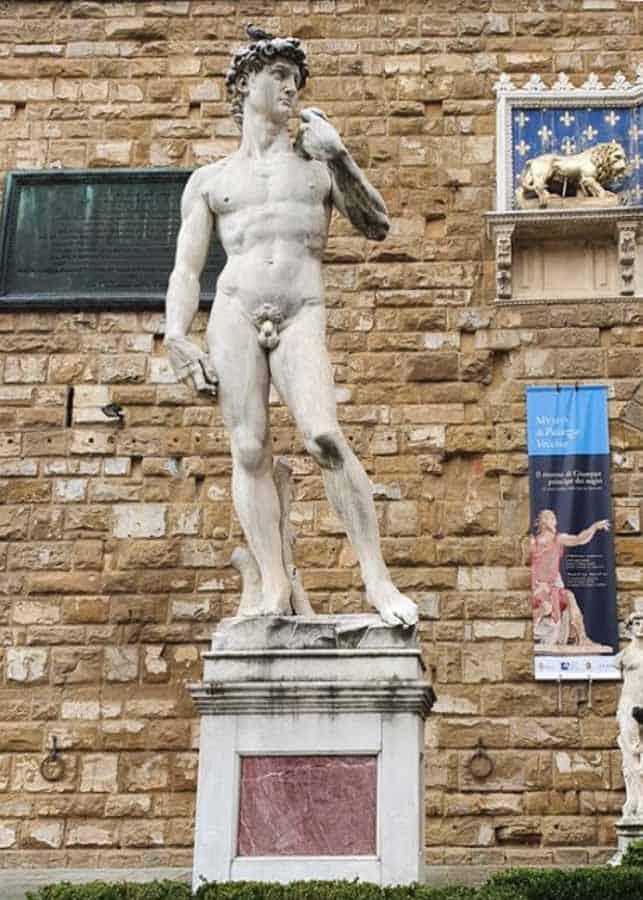 2. Admire the Sculptures at Loggia dei Lanzi
One other landmark not to miss you'll on your day in Florence is the Loggia dei Lanzi. Overlooking the Piazza della Signoria, this free open-air museum was designed in the 14th century by the famous artist and architect, Orcagna. Below the curved arches of the Loggia are a series of famous sculptures, among which Giambologna's Rape of the Sabines and Cellini's Perseus.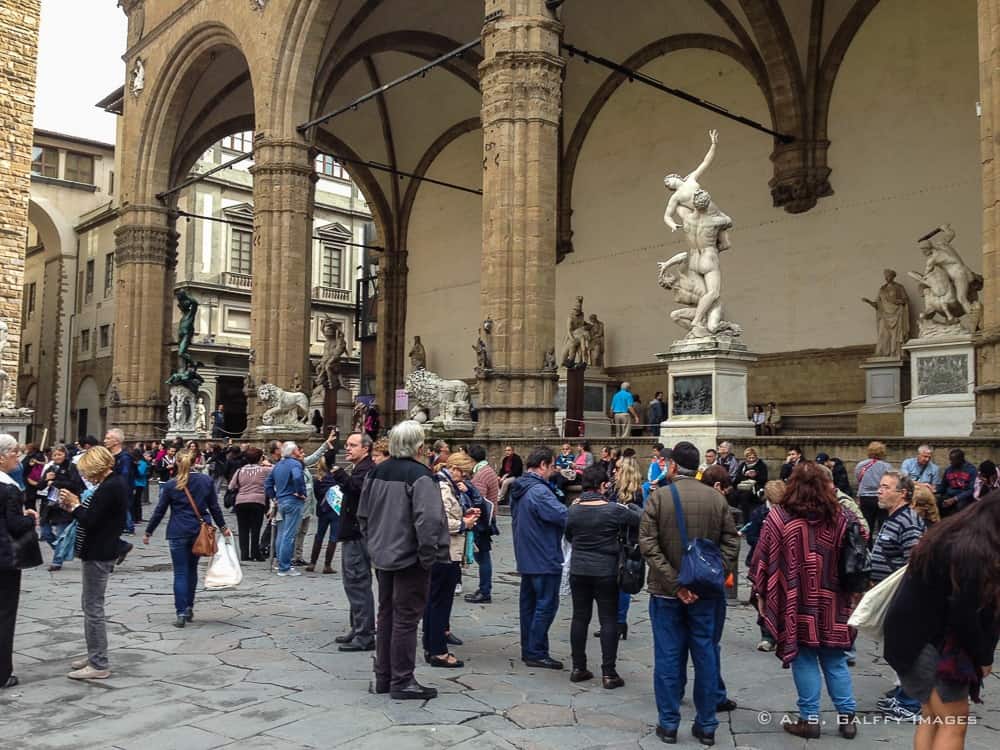 3. Visit Palazzo Vecchio
Next you'll visit the Palzzo Vecchio, one of the must-see attractions in Florence. One interesting thing to notice is that the massive building of the palazzo has no other enhancements except a simple tower with a clock.
Palazzo Vecchio dates back to 1299. Its initial name was Palazzo della Signoria. The palace served as a governmental building and the residence of the Grand Duke of Tuscany, Cosimo I de'Medici.
Cosimo I did extensive renovations to the palace when he married his wife, Eleonora of Toledo. Nonetheless, the Spanish princess didn't like Palazzo Vecchio, so the family ended up moving to Palazzo Pitti.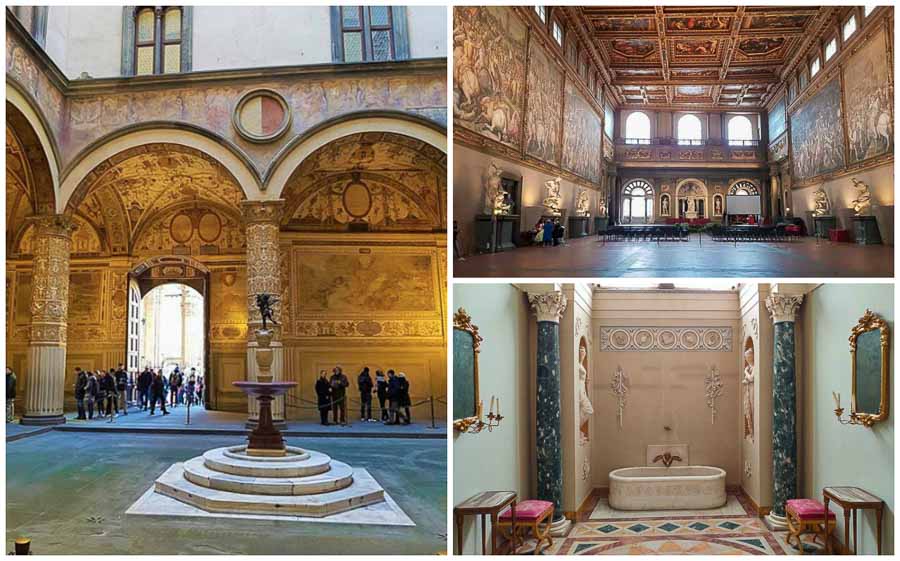 But once you see the Palzzo Vecchio you'll start questioning the princess's taste. Palazzo Vecchio is absolutely worth visiting and its decor is of great quality and good taste.
If you had more available, I would definitely recommend visiting the Uffizi Gallery. However, since your time in Florence is very limited, adding the Uffizi to your one day itinerary would be a real stretch. This is a huge art collection that requires a minimum of 4-5 hours and you don't have that amount of time.
4. Go Across Ponte Vecchio
One of the must-see things on your day in Florence is the famous Ponte Vecchio (the Old Bridge). This medieval bridge certainly stood the test of time.
The bridge survived the big flood of 1343 and even the bombings of the Second World War, when all the other bridges in town were destroyed.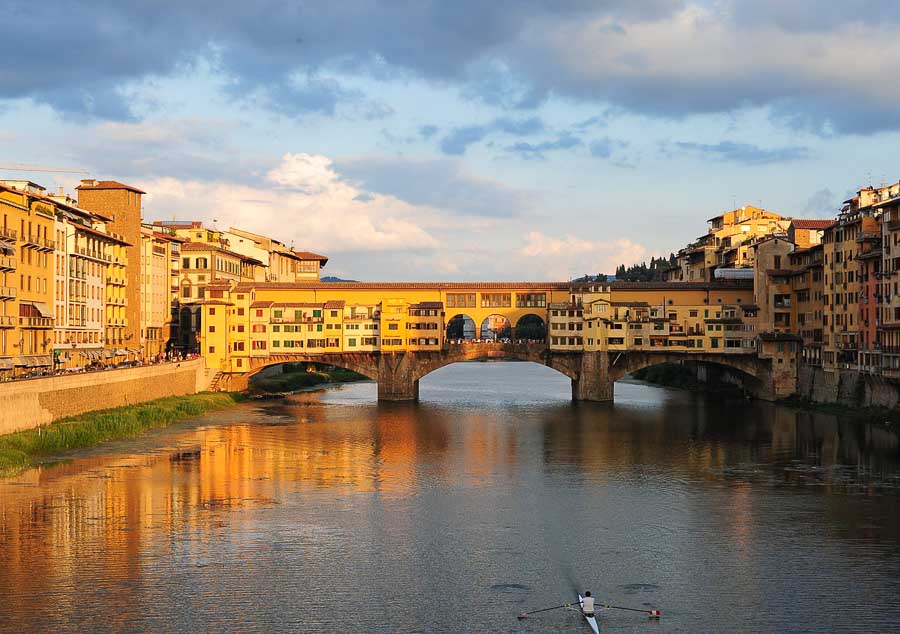 Ponte Vecchio is filled with jewelry stores, closely snuggled into each other. If you didn't know it's a bridge, you would probably think Ponte Vecchio is a street, that's how densely the shops are packed on its both sides!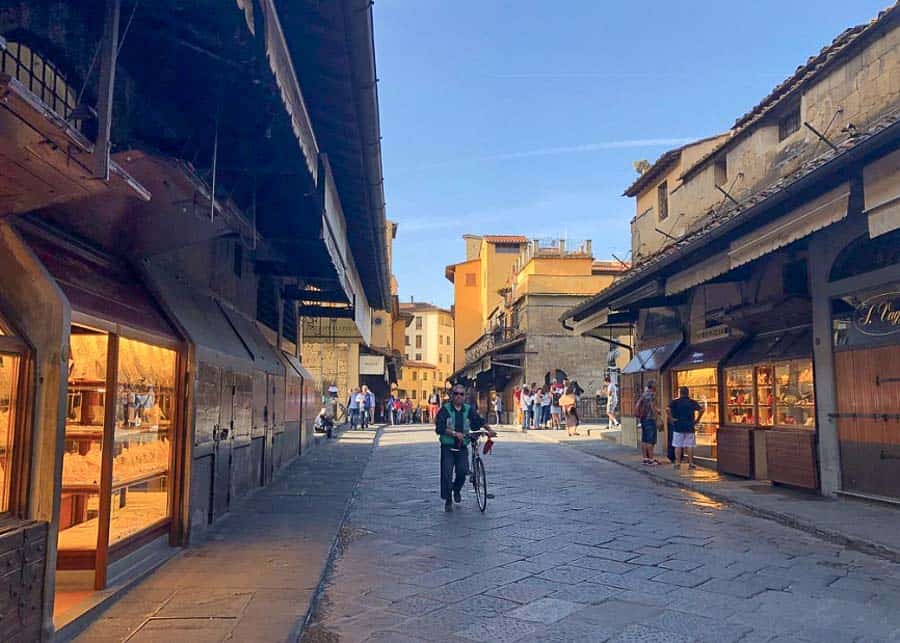 But the jewelry stores were not always crowding Ponte Vecchio. The bridge was first populated with butcher shops and tanneries which were producing a lot of garbage and foul smells. As a result, in 1593 duke Ferdinand I decided to allow only goldsmiths and jewelers to hold shops on Ponte Vecchio.
5. Enjoy Lunch at Mercato Centrale
Your first part of the day was pretty busy, so it's time to stop for lunch, and what better place than Florence's most popular market: Mercato Centrale.
Even since its construction in 1874, the two story building of Mercato Centrale was the place where the Florentines bought their food. But the market is not only famous for its fresh produce and meats.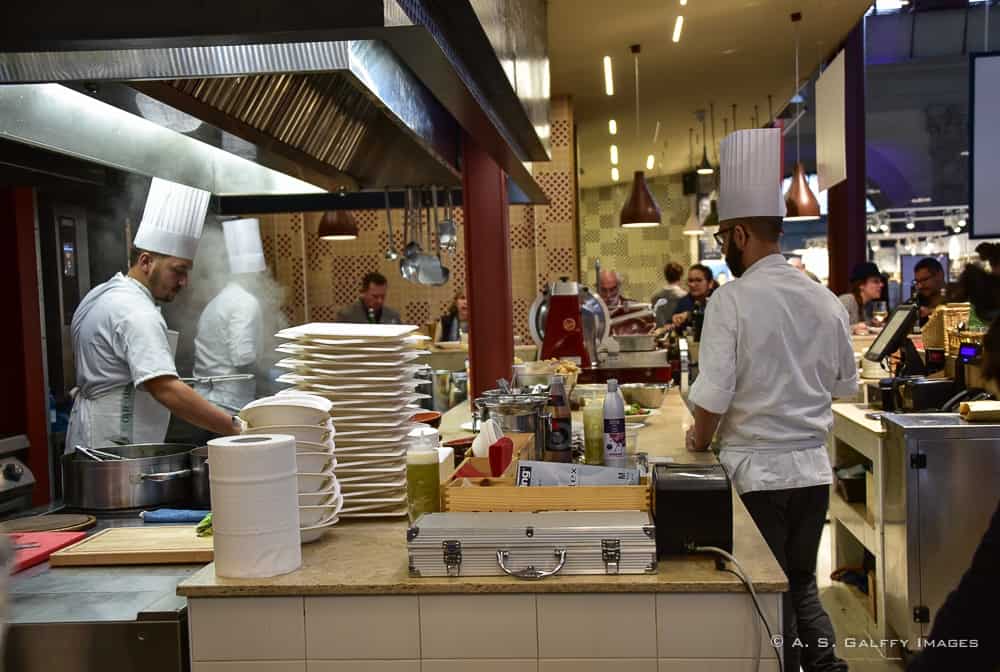 The upper floor of the building which laid abandoned for over 10 years, went through a major renovation 2014 and became one of Florence's major food destinations.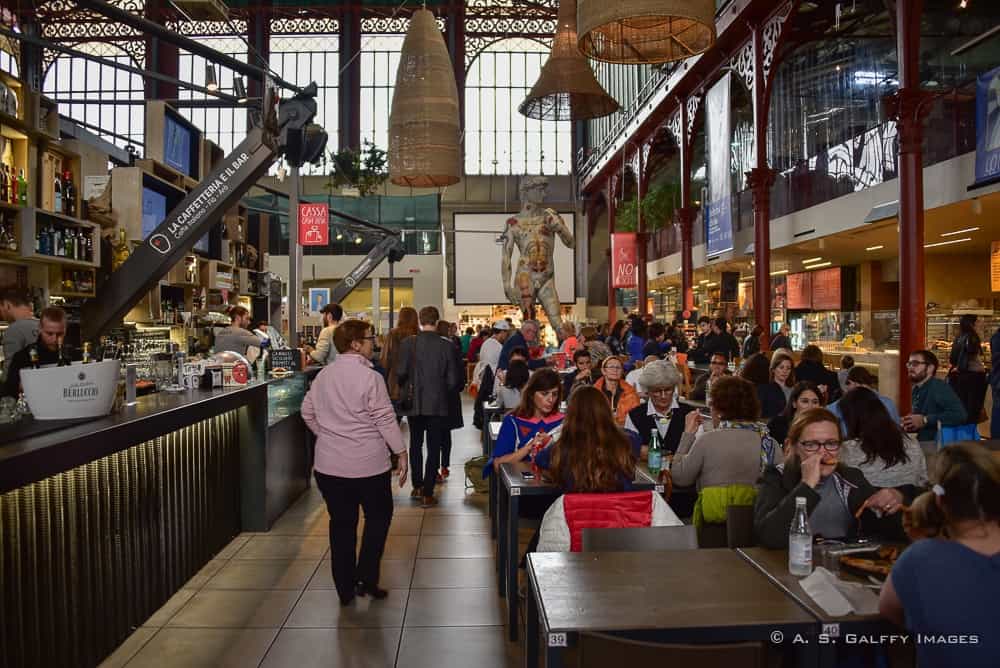 This is a great place to stop for lunch and enjoy the local Italian cuisine in a very casual atmosphere.
One Day in Florence: Afternoon Itinerary
This afternoon you'll be visiting the rest of Florence's must-see attractions: the Duomo, Giotto's Tower (Campanile), the Baptistery, Basilica di Santa Croce, Piazzale Michelangelo, and Fontana del Porcellino.
1. Climb to the Top of Duomo of Florence
After lunch at Mercato Centrale, head towards Piazza del Duomo. Here you'll see Florence's most recognizable landmark: The Duomo of Santa Maria del Fiore. The Duomo, which is also known as the Cathedral of Florence, is a must on your one day itinerary, so don't miss it!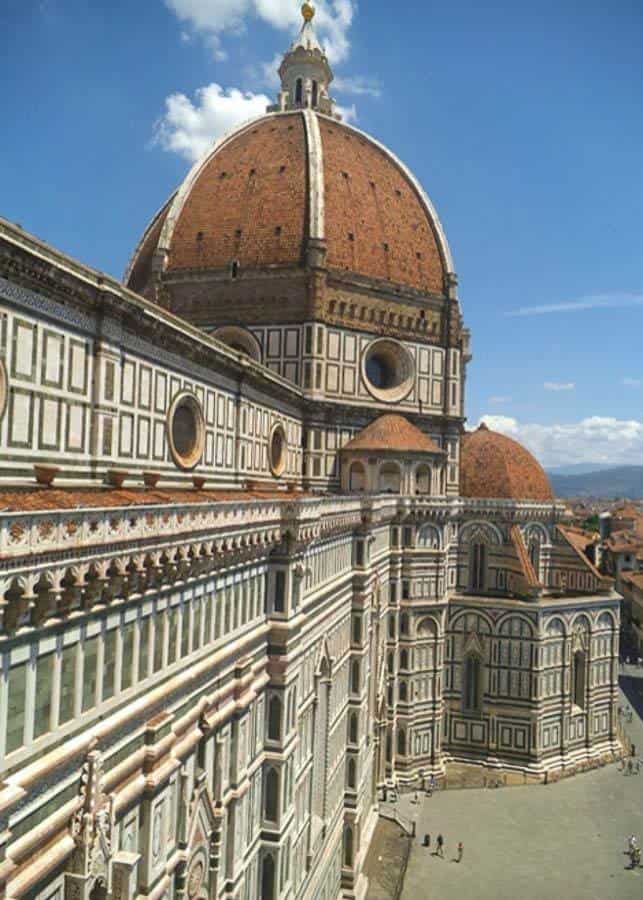 The Duomo of Florence has a very interesting history. The construction of the cathedral had begun back in 1296. But a hundred years later it was still not ready. Why? Because at the time nobody knew how to build a dome for an octagonal floor plan nearly 150 feet wide.
Finally, in 1418, the municipality announced a contest for the ideal dome design. The winner was Filippo Brunelleschi, a goldsmith with no architectural training or experience.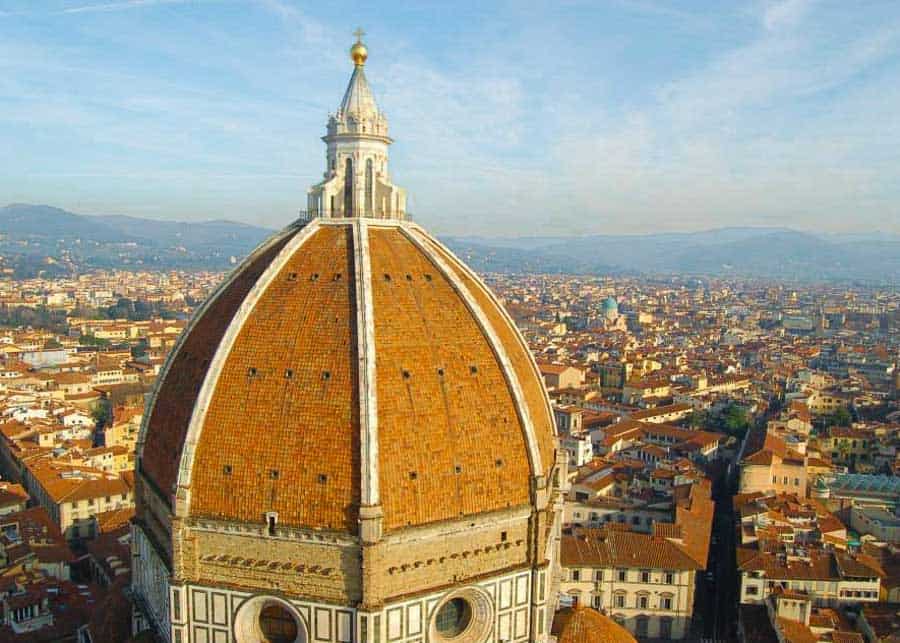 But despite his lack of training, Brunelleschi managed to build a perfect dome which is still standing today. A miracle? Surely not, but the Duomo of Florence remains an architectural mystery for the architects today.
2. Visit the Baptistery
Right next to the Duomo is the oldest religious site in Florence: the Baptistery. This is one site that you shouldn't miss in Florence. Up until the end of the 19th century all catholics in Florence have been baptized in this building.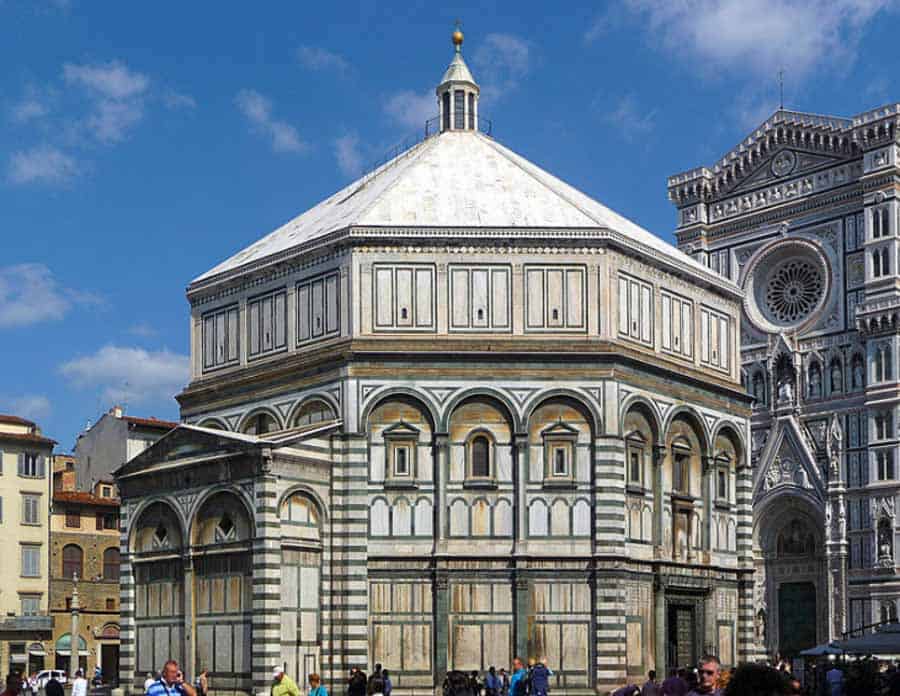 On three of the four sides of the Baptistery there are three large doors famous for their decorations. The Florence Baptistery is part of the Duomo complex, which includes the Cathedral of Santa Maria del Fiore and the Campanile (the bell tower).
3. Climb up the Campanile (Giotto's Bell Tower)
After the Duomo, the Campanile is perhaps the most recognizable building in Florence. The 278 feet high tower offers the best views of the Duomo and Florence.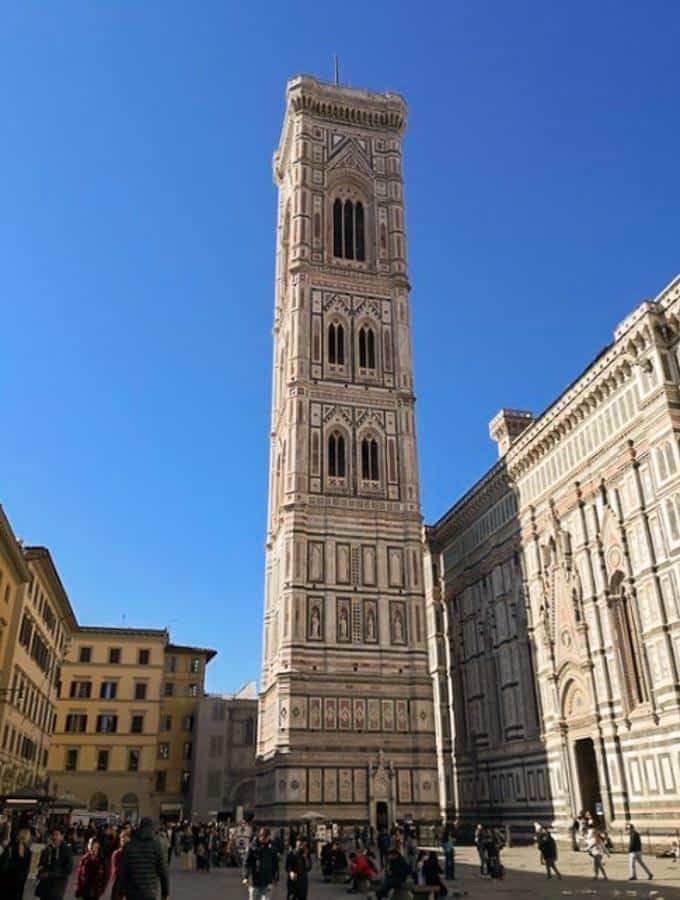 Construction of the Campanile is attributed to Giotto di Bondone, therefore it's often called Giotto's Bell Tower. Unfortunately, Giotto didn't live to see the tower finished.
Tip: Visiting the Florence Cathedral is free of charge, but if you want to climb up to the Duomo and the Campanile, you'll have to pay. You can buy a single "Grande Museo del Duomo" pass which includes the Baptistery, the Duomo and the bell tower.
4. Visit the Basilica di Santa Croce
One great place to admire Florence's amazing art is at the Basilica di Santa Croce. The church, which belonged to the the Franciscan order since 1294, is the burial place for many great people of Florence.
The cathedral contains some famous burial sites: Michelangelo's tomb, Rossini's, Machiavelli's, as well as Galileo Galilei's tomb. Galilei's body was interred here only 95 years after his death. At the time of his death, the Inquisition did not allow him to have a Christian burial.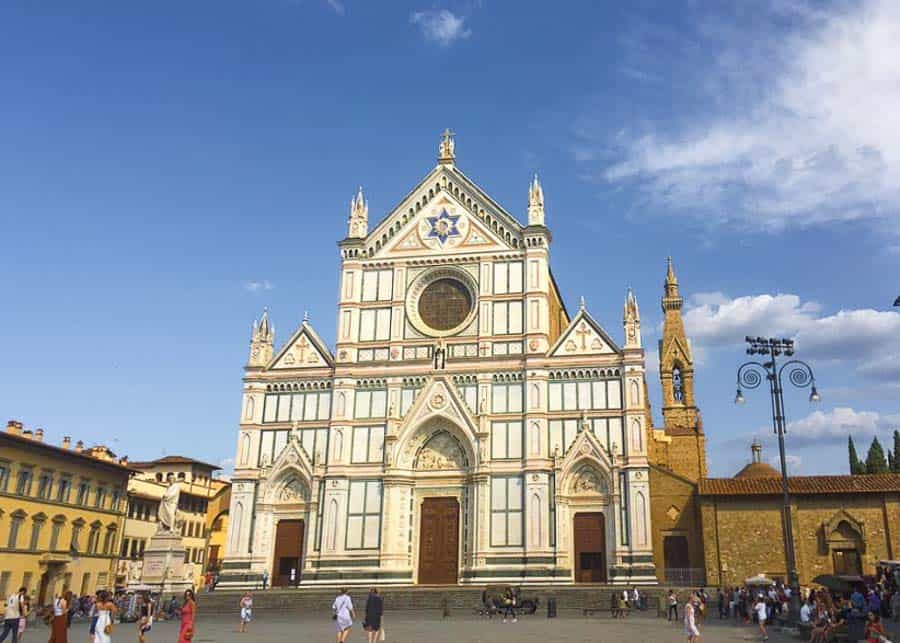 There is also a memorial to Dante at Santa Croce, but his sarcophagus is empty as his tomb is actually in Ravenna.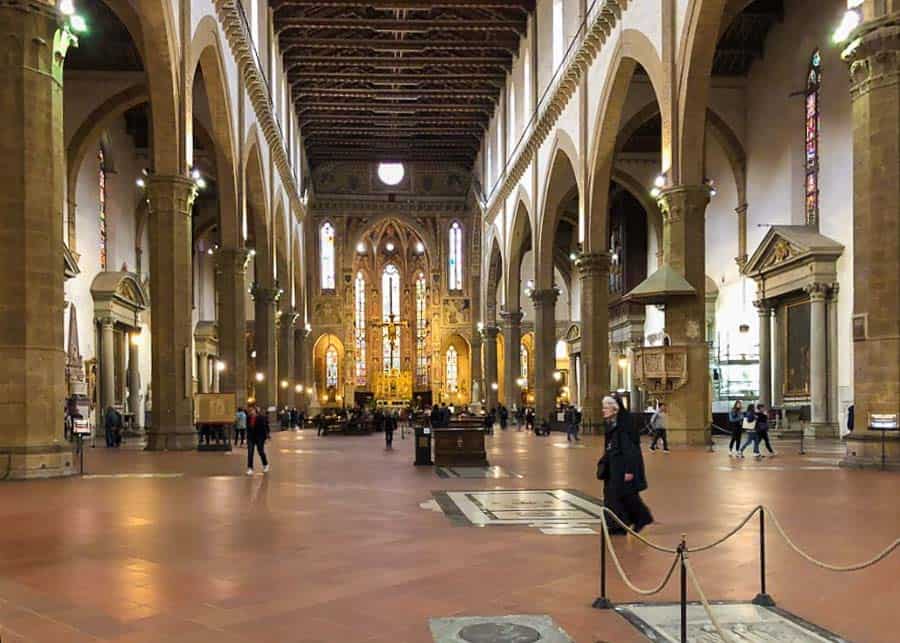 The beautiful Cathedral of Santa Croce had its fair share of misfortune over the course of history. The cathedral suffered tremendous damage in the flood of 1966 and then, in 2017, some loose masonry fell and killed a Spanish tourist. This tragic incident led to some serious investigations, but in the spring of 2019 the cathedral reopened its doors.
5. Make a Wish at Fontana del Porcellino
Fontana del Porcellino (fountain of the piglet) is one of Florence's most beloved spots. It's the place where every visitor to Florence comes to make a wish. The fountain sits in the loggia that covers Mercato Nuovo, in the historic center of Florence.
The market itself is not particularly interesting, but rather touristy, selling all kinds of leather stuff, silk products and souvenirs. But the market's biggest attraction is Fontana del Porcellino.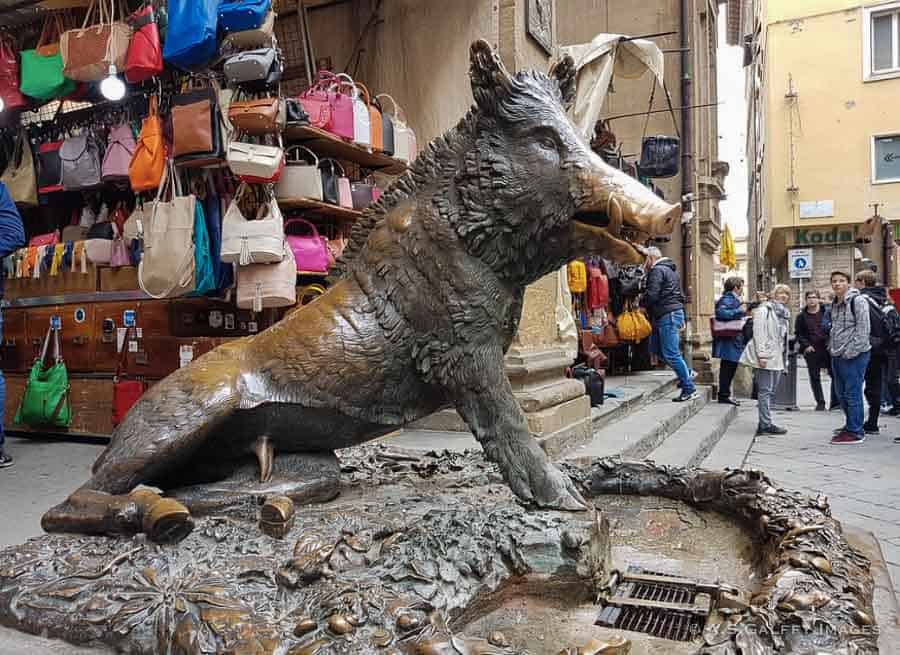 The bronze statue of a wild boar has been sitting here since 1634. Tourists put coins into the boar's gaping jaws in the hope to be returning to Florence one day. But the wish will only come true if the coin gets in the water drain below.
More Than One Day in Florence?
If you have more time in Florence I would definitely recommend the two great art museums: Galleria dell' Academia and the Uffizi Gallery. Florence is the most cultural city in the world, the cradle of the Renaissance, where masters like Michelangelo, Botticelli and Donatello created masterpieces that prevail to this day.
How to Get Around Florence in One Day
Most of the attractions in Florence are contracted within the historic center. That's a rather small area, so for the most part you'll be spending your day in Florence walking. In fact, you can walk from one end of the city to the other in about 30 minutes.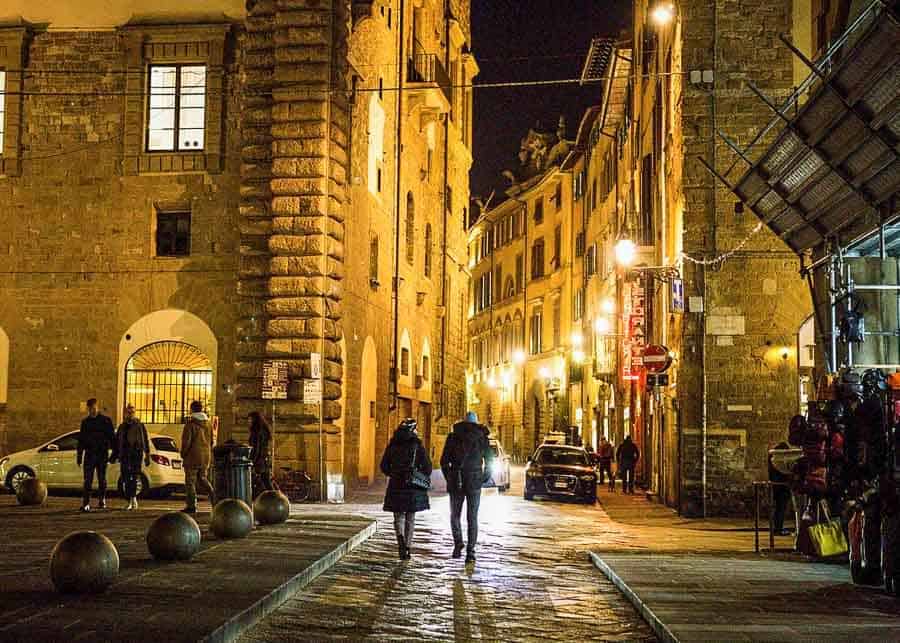 However, if you want to get outside of the historic center, you'll have to use public transportation. Hopping aboard an ATAF bus is the best way to get around Florence.
Tickets can be bought at tobacconists and newsstands and the cost is €1.20 for a single trip, or you €4.70 for a package of 4. You can also buy your ticket on the bus, but for a higher price (€2.50).
Taxis are expensive in Florence: the meter starts at about 3 euros ($3.40). You may easily pay €10 – €12 for a trip, which is kind of high if you're on a budget. Most travelers use cabs only for transportation to and from the airport or the train station.
Recommendation: One convenient way to get around Florence is to buy a one day ticket for the hop-on hop-off bus tour and stop at the different attractions.
Where to stay in Florence
If you decide to extend your day in Florence and sleep there overnight, I suggest you rent a room right in the heart of the historic city, from where you can walk practically everywhere.
We found an excellent apartment on VRBO, just 3 minutes walk from Piazza della Signoria, but we were traveling with some other family members. But if you don't want to rent an entire apartment, Florence offers all kinds of accommodations, from hostels to high end boutique hotels and more. We recommend using Booking.com or TripAdvisor, to find a suitable room for your needs.