There may be many wonderful places to see in the world, but for me the ultimate travel destination is Europe. But no matter how often I go, my Europe bucket list is getting longer instead of getting shorter. Truth is that there's enough on the old continent to keep you exploring for a lifetime.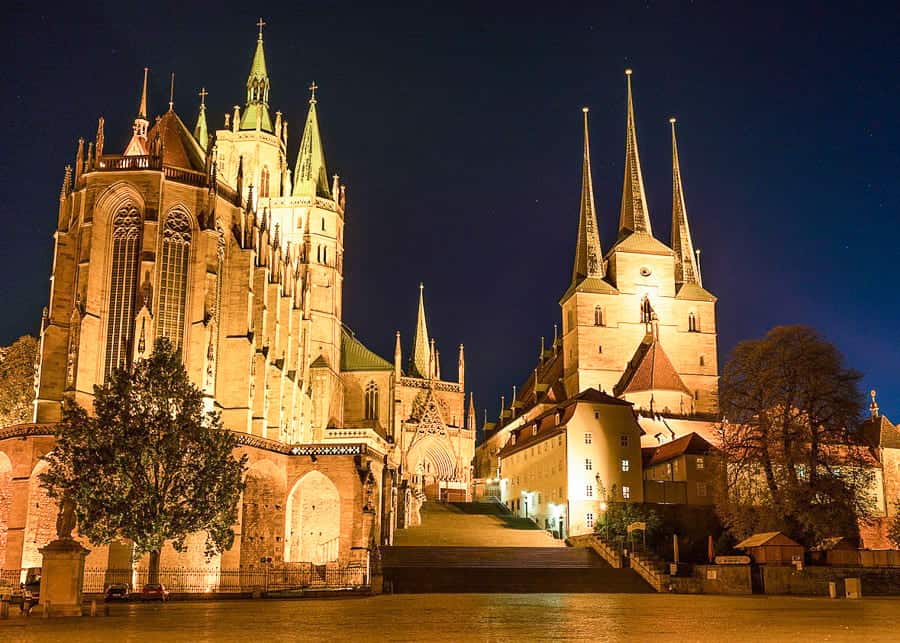 THE ULTIMATE EUROPE BUCKET LIST
Europe holds the promise of the Old World charm, iconic cultural sites, historic landmarks and thriving culinary scenes. Whether you are planning a two-week trip to Europe or just a few short days, here are the top 20 amazing bucket list destinations to experience in Europe.
1. Make a Wish at Fontana di Trevi in Rome, Italy
No trip to Rome is complete without a visit to the Trevi Fountain (Fontana di Trevi). Besides being one of the most stunning fountains in the world, Fontana di Trevi is famous for being the place where wishes really do come true! Just toss a coin over your left shoulder standing with your back to the fountain and make a wish. Is that simple! ?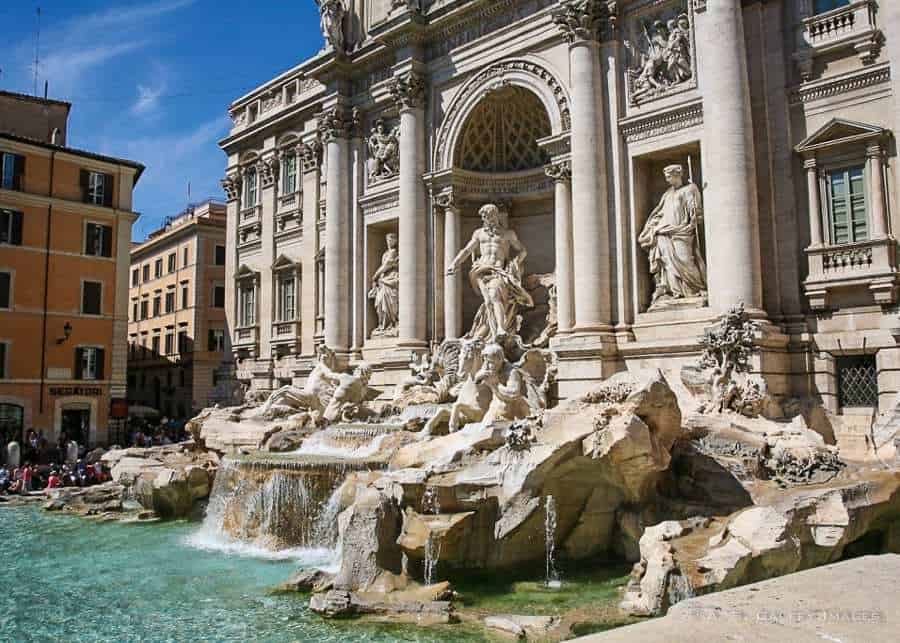 READ NEXT: How to Spend 10 Days in Italy – 4 Suggested Itineraries
2. Check the Time at the Astronomical Clock in Prague, Czech Republic
Located in Prague's Old Town, the Astronomical Clock is a technical miracle that definitely should be on your Europe bucket list. The clock strikes every hour, on the hour, and the bells ring while in the upper two windows appear the figures of the Apostles, Death, Avarice and Vanity.
The Astronomical Clock was crafted by a professor of mathematics in 1410 and has been working perfectly ever since. Every year hundreds of thousands of tourists from all over the world gather around this complicated oroloj, waiting for the hour to strike.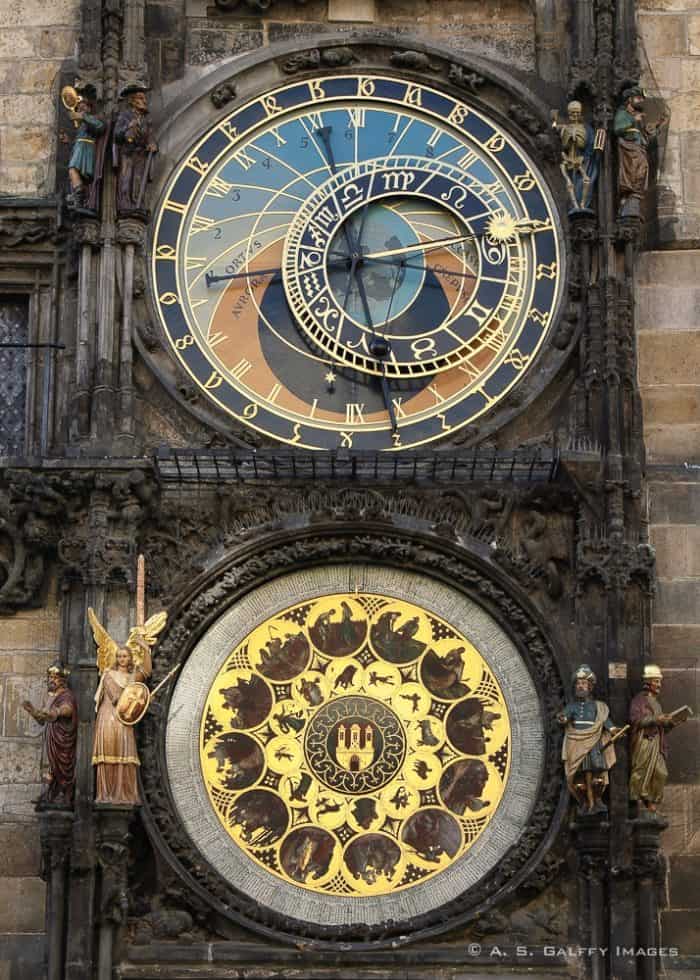 3. Stay in a Medieval Fortress in Jaen, Spain
Did you ever dream of staying in a castle? It's quite possible to do that in Spain. Back in 1928 King Alfonso XIII of Spain founded the Paradores, a profitable state-run enterprise created to promote tourism.
The Paradores are luxury hotels located in historic buildings such as fortresses, monasteries, or castles. Since then, Spain has turned many of its historic buildings into government owned Paradores. Because of the nature of these hotels, the styles are very unique and change from city to city.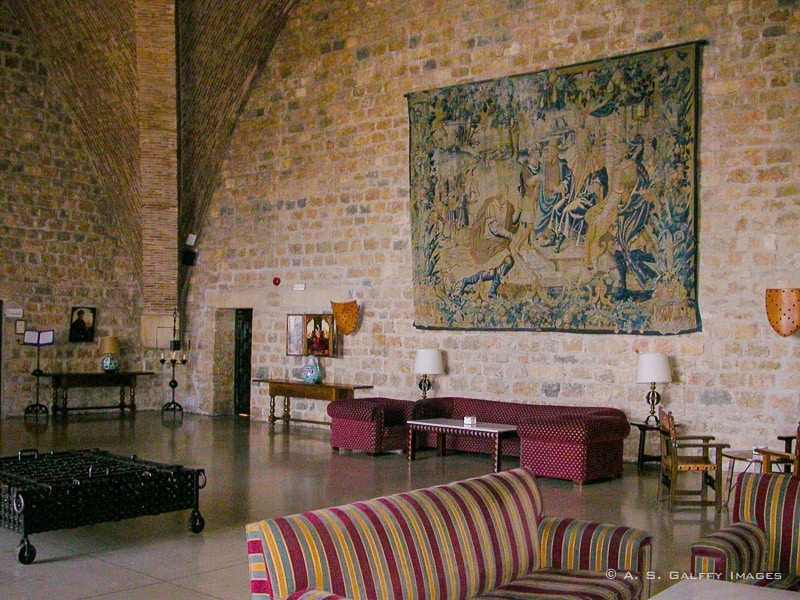 4. Climb Atop the Eiffel Tower in Paris, France
Paris is undoubtedly one of the most amazing destinations in the world. Who doesn't dream of a bird-eye view of Paris from the to of the Eiffel Tower? Even if you only have two or three days in Paris, you can still add this experience to your Europe checklist.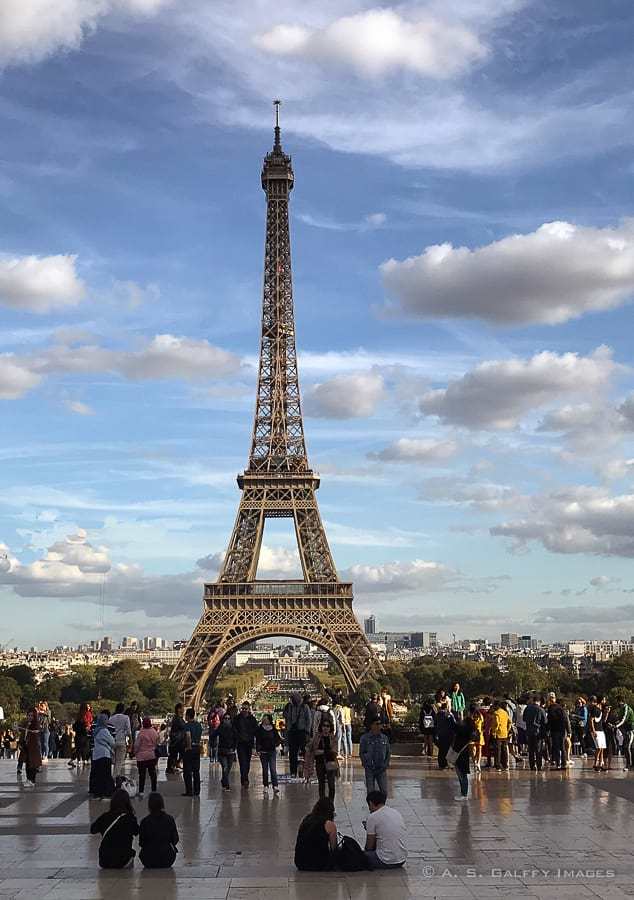 If this is not your first time in the City of Lights and you have already been at the top, you can skip the long lines and just take in the view of of the Eiffel Tower from Trocadero. It doesn't get much better than this!
5. Ride Europe's Highest Altitude Railway to Jungfraujoch, Switzerland
If you are an adventure lover, going up to Jungfraujoch should definitely be on your Europe bucket list! To reach the 3,466 meters peak in the Bernese Alps of Switzerland you will need to ride the Jungfraubahn.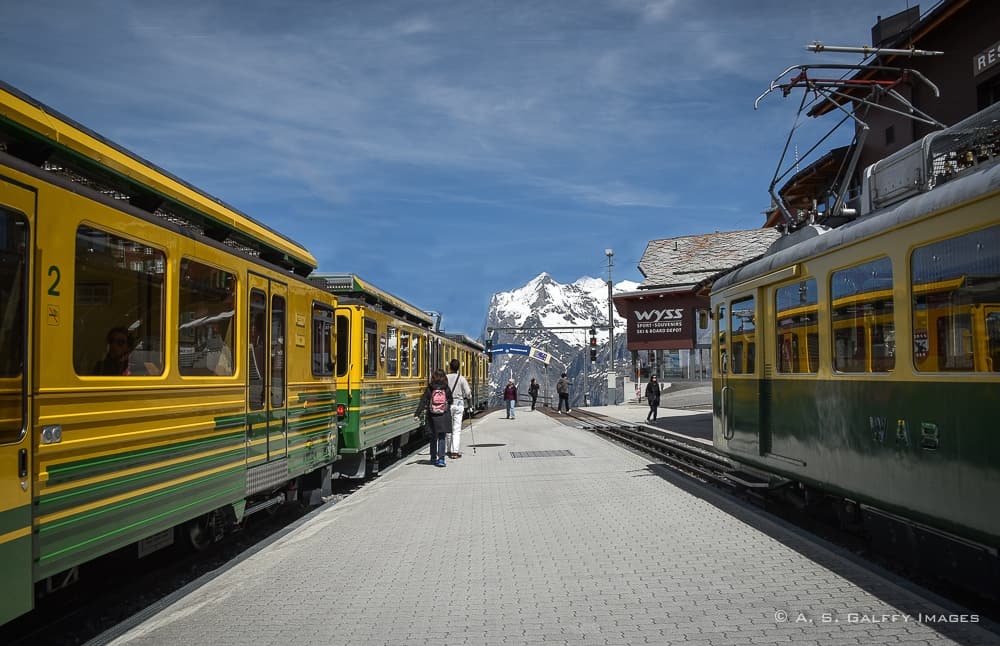 The cogwheel train to Jungfraujoch climbs up the mountain at this amazing elevation on a slope that sometimes reaches 25 degrees! This is Europe's highest-altitude railway and thus one of the most popular train journeys in the world.
6. Marvel at Gaudí's Architecture in Barcelona, Spain
Antoni Gaudí is the most famous architect of the Catalan Modernism movement whose works have an easily recognizable one-of-a-kind style. Barcelona is home to most of Gaudí's architectural works, including his still-incomplete masterpiece, Sagrada Familia.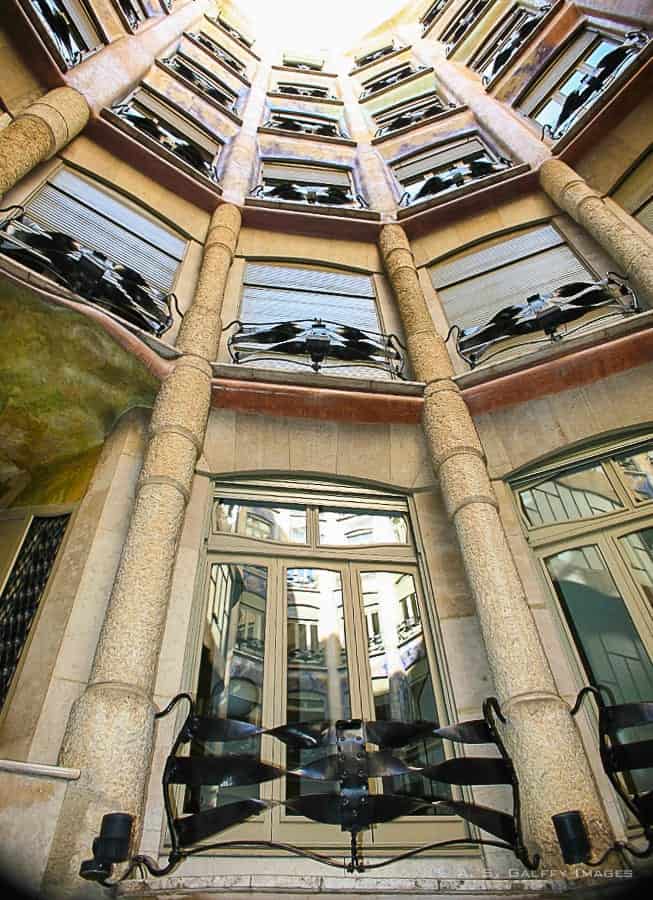 7. Visit the Castles of the Loire Valley, France
A visit to the Loire Valley castles should be one every Europe bucket list. You don't have to be a Europhile to fall in love with the fairy-tale chateaux. With their turrets, gables, and elaborated chimneys, these vestiges of a bygone era will capture your imagination right away.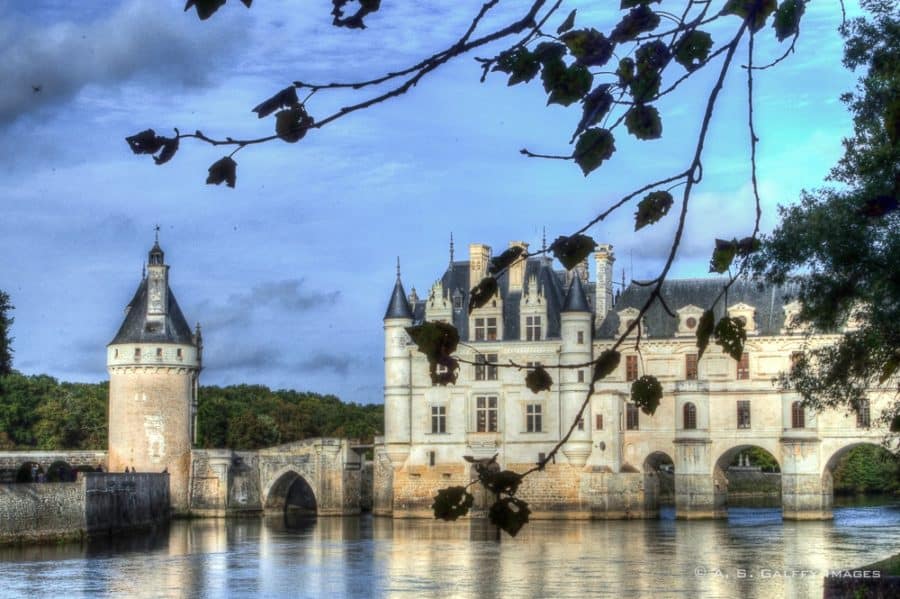 Their history is strange and fascinating sometimes. Full of political intrigue, great love, jealousy and revenge. But what would a castle be without all that?
8. Listen to the Singing Drain Pipes of Kunsthofpassage in Dresden, Germany
Kunsthofpassage is undoubtedly Dresden's best kept secret. The passage is actually a series of five small courtyards that became an art experiment, called the Ginkgo project.
A group of artists took a bunch of old buildings and redesigned their façades, giving each building and courtyard specific motif and a theme of its own.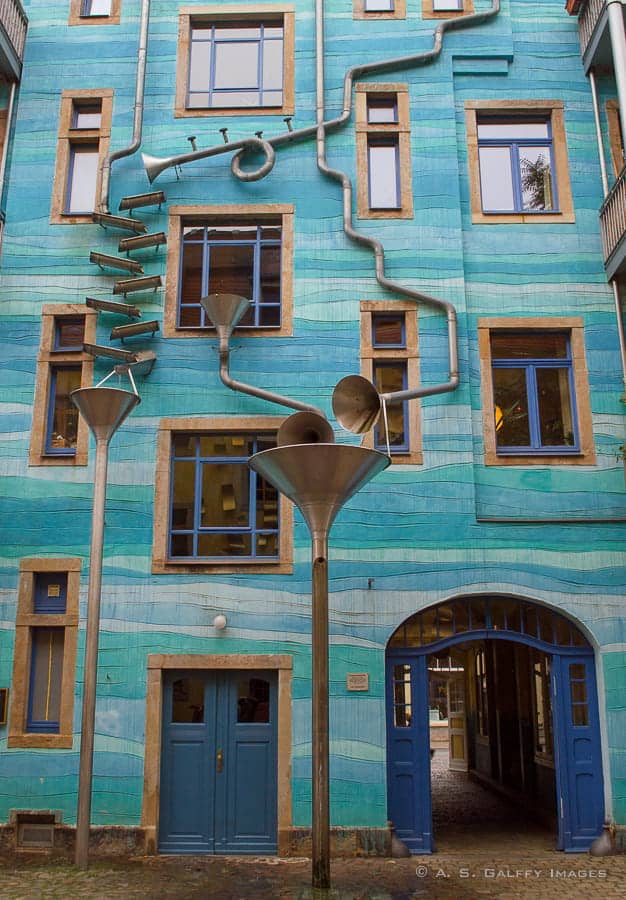 The most bizarre of them is The Courtyard of the Elements – a series of funnels and gutters that cover the entire façade of a building, zigzagging around the windows and balconies. When it raines, this colorful drain and gutter system turns into a charming musical instrument.
For more information about traveling in Germany, you should check out this Germany travel blog.
9. Eat Authentic Hungarian Food at Gundel, in Budapest, Hungary
Gundel is Budapest's most famous restaurant. It is also one of the oldest ones. The restaurant has been standing proud at its current location for over 150 years. Gundel has an old culinary tradition and is a must-try if you visit Budapest. The restaurant serves some of the most delicious Hungarian dishes that you can ever taste.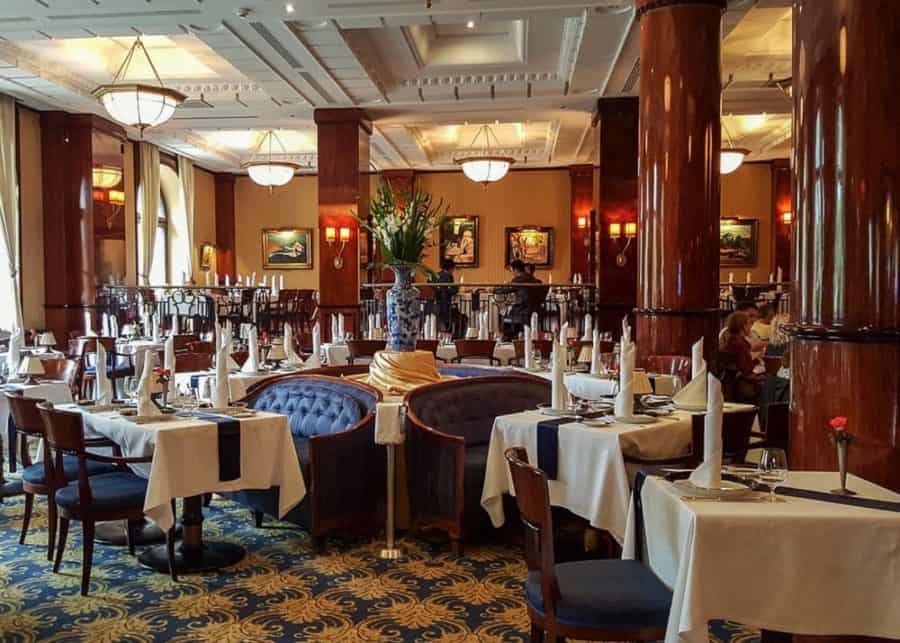 You can order à la carte, or a prix fixe menu (with up to eight courses). Each corse is paired up with the wine that best compliments the food. The restaurant also has a gypsy band that plays a wide variety of music, from old Hungarian folk songs, to waltzes and modern hits.
10. Hear the Toll of the Big Ben in London, England
Big Ben is the nickname of the Great Bell of the clock at the north end of the Palace of Westminster in London. The name Big Ben usually refers to both the clock and the 96 m high clock tower.
The tower, which was founded in 1859, is one of the most prominent symbols of the United Kingdom and a British cultural icon. At close proximity the sound of Big Ben measures 118 decibels, which is loud enough to cause physical pain.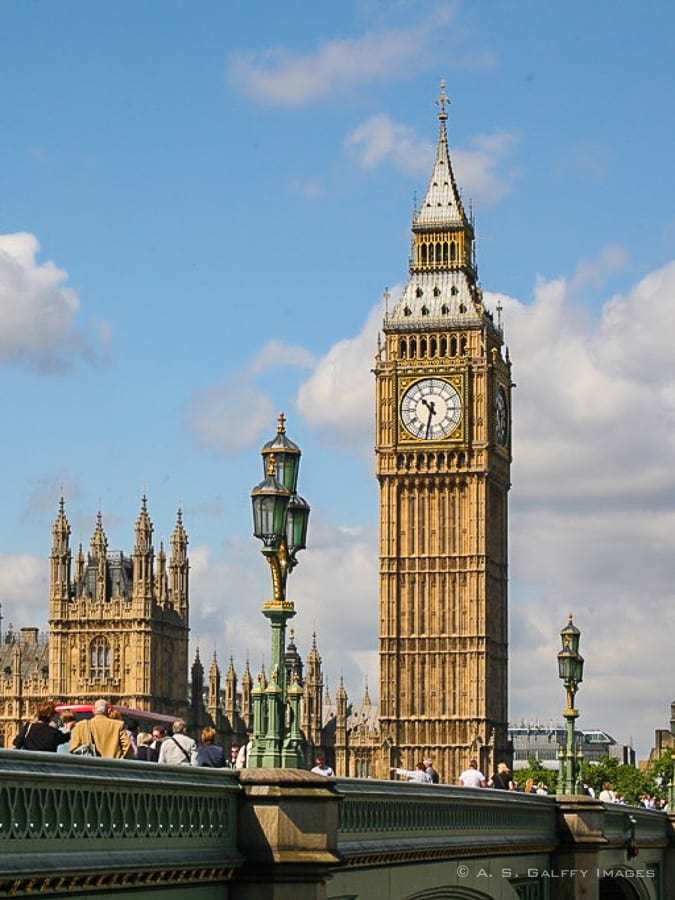 11. Stroll the Lungomare Promenade in Opatija, Croatia
Opatija is one of the must-see cities in Europe. The town had a great reputation even before before becoming a fashionable resort. Opatija's most popular attraction is Lungomare, a 12-kilometer long promenade that curves along the coastline.
Dotted with belle-epoque villas and grand spa hotels, the seafront path ends in Volosko, one of the most picturesque villages on the Dalmatian Coast.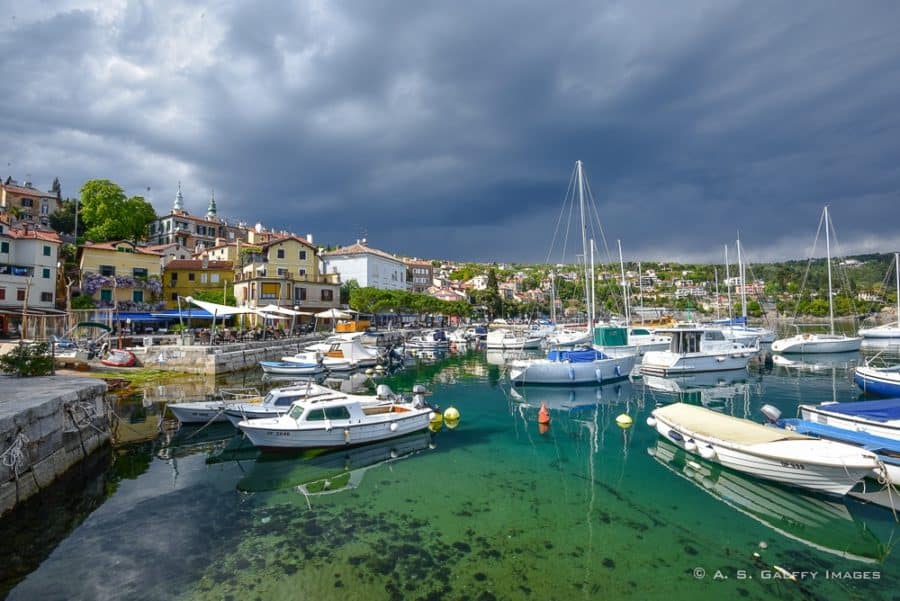 12. Mingle With the "Nobelity" at Stockholm's City Hall, Sweden
Stockholm's City Hall is arguably the city's most impressive landmark. Although a relatively new building (1908-1909), Stadshuset (as it is known in Swedish) became famous for being the venue of the Nobel Prize banquet.
The dinner banquet is held each year in the Blue Hall on December 10, the anniversary of Alfred Nobel's death. Dinner is followed by dancing that takes place in the Golden Hall.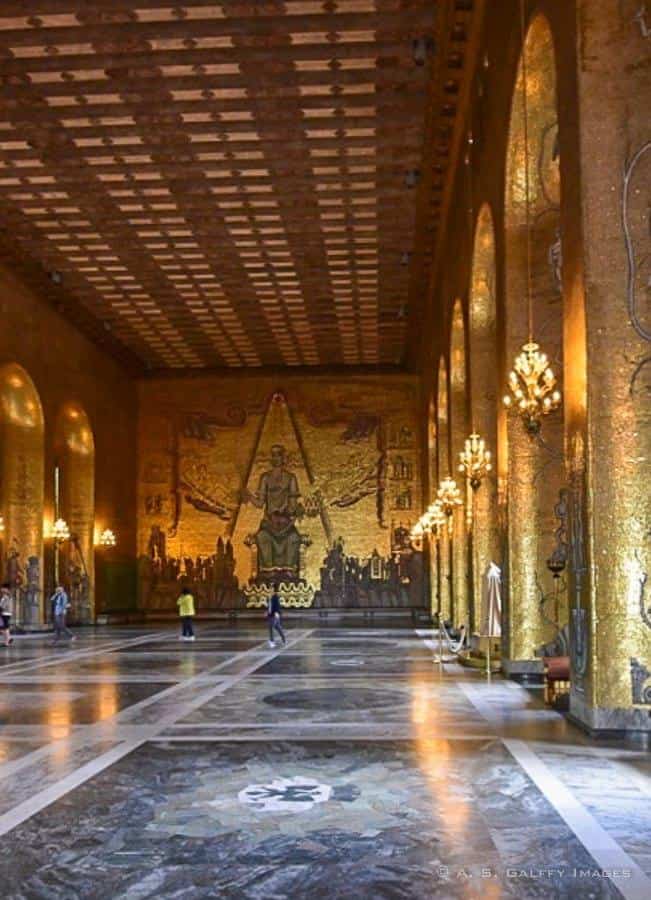 13. Send Greetings to the Sun in Zadar, Croatia
Greeting to the Sun is a solar powered work of art that explodes with an array of bright colored lights at night. The lights come from 300 multi-layered glass plates in the shape of a circle that is 22 meters in diameter.
This circle of glass stores the energy created by the sun rays during the day and emits it after dark as a beautiful light show. But watching the sun set from the glass platform is equally magical.
14. Visit One (or More) of the Castles in Romania
Romania is home to many beautiful medieval castles and fortresses. Some of them are famous throughout Europe. Others are less known, but equally impressive. The oldest and most grandiose fortresses are in the north-western part of the country, in Transylvania. But there are a few close to Bucharest as well.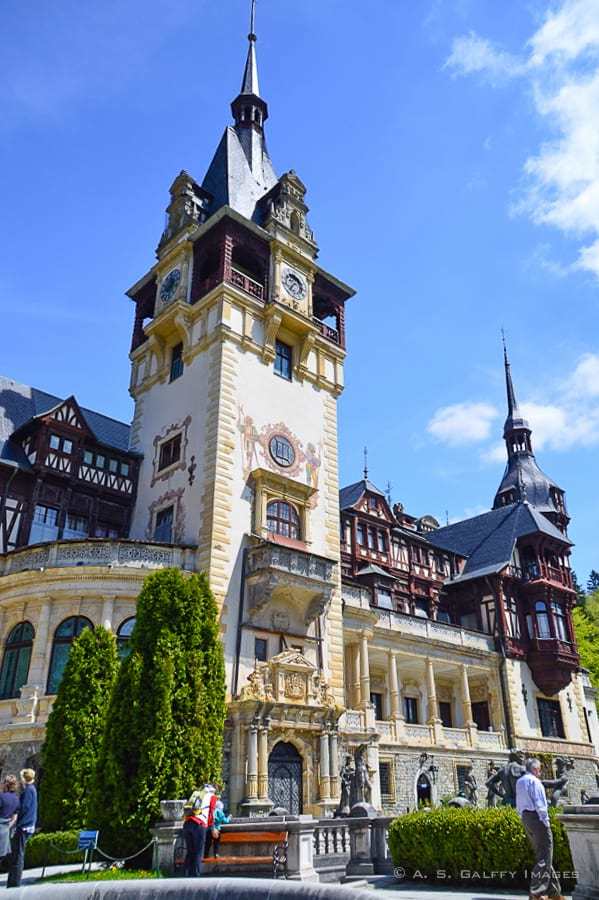 One of the most visited castles in Romania is the Peleș Castle in Sinaia, which was the hunting retreat of Carol I of Hohenzollern, King of Romania. The construction lasted for over 40 years (1873-1941) but the result was magnificent. Totally worth adding to your Europe bucket list.
15. Hike to the Fortress of St. John in Kotor, Montenegro
This fabulous place has been on my Europe checklist for a long time and I finally managed to cross it off last year. Also known as the Castle of San Giovanni, the fortress sits about 250 meters above the sea level. To get up there you have to climb 1355 steps, which is very strenuous.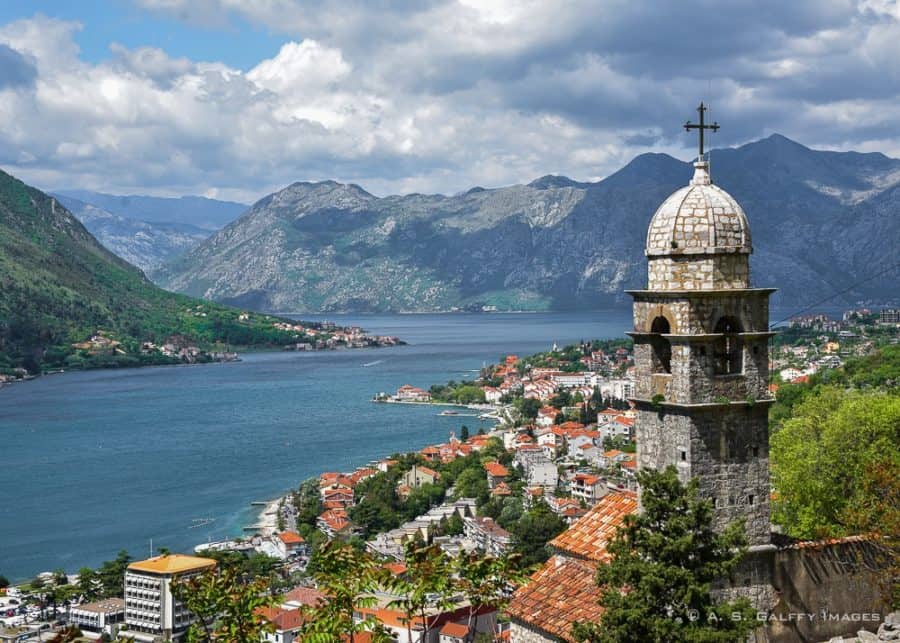 The remains of the fortress itself aren't really much to see. However, the view of the entire bay of Kotor from up there is worth every drop of sweat! A must-see for every photographer!
16. Visit Lake Bled, Slovenia's Most Popular Resort
Lake Bled is every bit as beautiful and romantic in real life as it is in pictures. A great place to decompress and enjoy sheer beauty. Whether you take a stroll along the shore, ride a boat to the island, or simply sit and admire the landscape, you will find the experience calming and rewarding.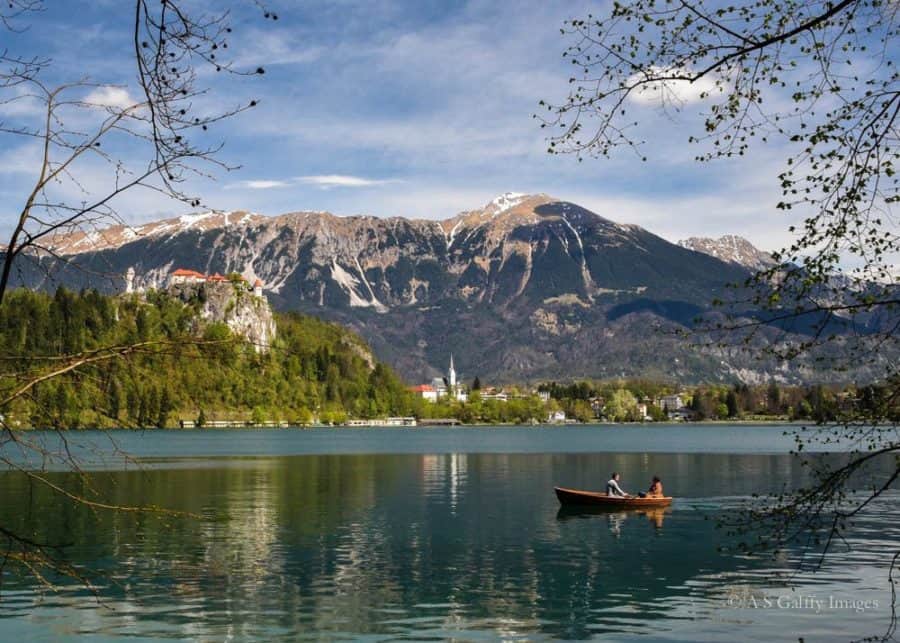 17. Warm Up With Mulled Wine at Striezelmarkt, Germany's Oldest Christmas Market
Traveling to Europe in winter may not be on everyone's bucket list, but those who choose to spend the Holidays there are never disappointed. December is especially beautiful in Europe, when cities dress up with fairy lights, candy canes, and lovely Christmas trees.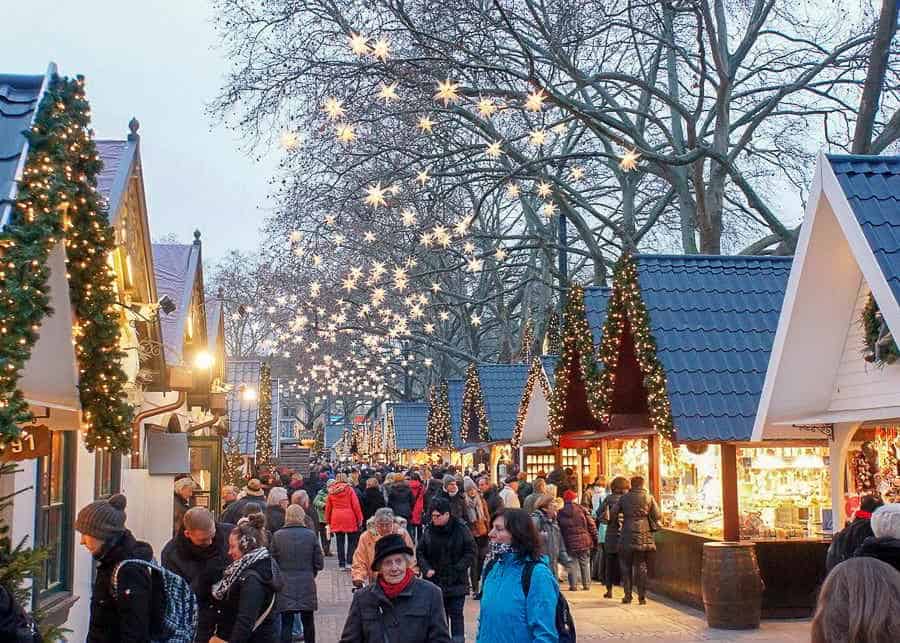 A big attraction are also the Christmas markets and one of the oldest ones is in Dresden, Germany. Since it first opened in 1434, Striezelmarkt has preserved its atmospheric character.
The word Striezelmarkt comes from Strüzel, which was the name of a type of cake sold at the market, now known as Stollen or Christstollen. There's plenty to see and enjoy at the Dresden Striezelmarkt besides the famous cake, so don't leave without trying a cup of mulled wine.
18. Bargain at the Grand Bazaar in Istanbul, Turkey
If there is one thing that best reflects the spirit of Istanbul that is the Grand Bazaar, one of the world's liveliest markets. You can loose yourself for hours in this maze of stores, booths, workshops, and storehouses, along with cafés, restaurants and exchange offices. There is even a mosque and a police station in Istanbul's Grand Bazaar, which stretches over an area of 61 streets.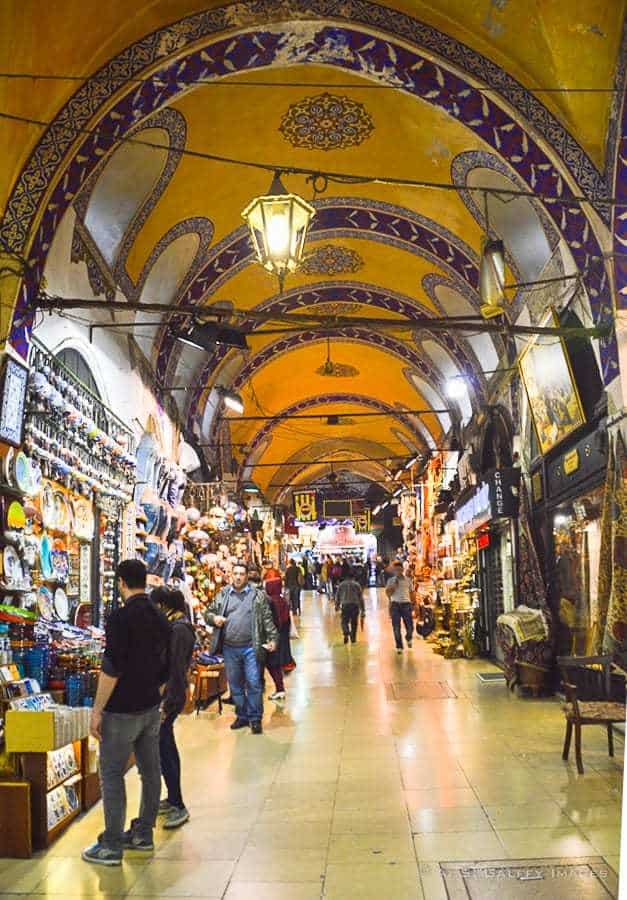 19. Hop Aboard the Beer Bike in Riga, Latvia
Beer biking is quite popular in Europe these days, but it may not be for everyone. The Beer Bike is powered by people peddling and it has a barrel filled with beer. So you basically ride a bike, drink beer, have fun.
Beer biking is especially entertaining if you are in a big group of friends, or with your family. Rather than having a beer in a café or a restaurant, you can drink, drive and admire Riga's architectural beauty all at the same time. So if you are a beer drinker, you should definitely add this to your Europe bucket list.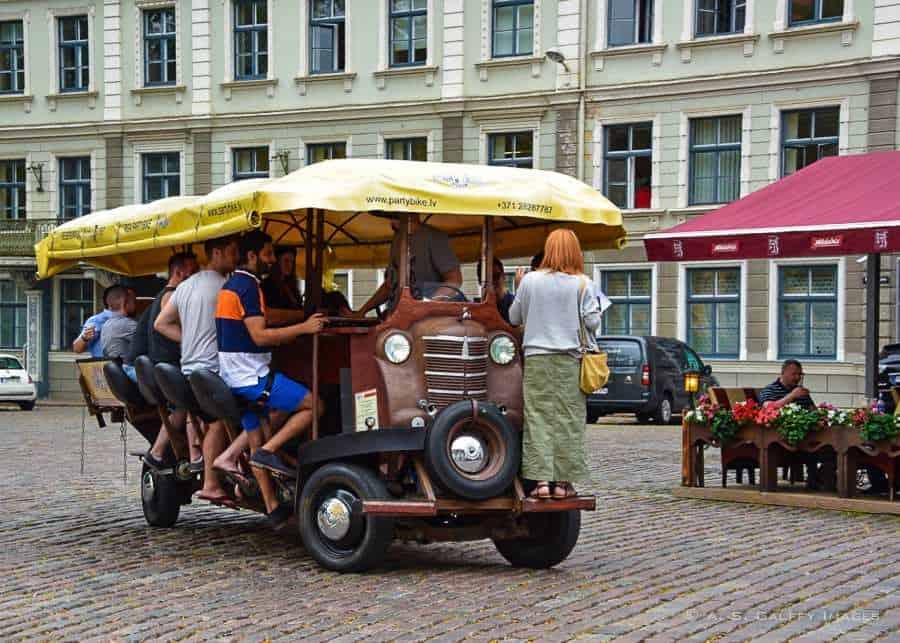 20. Walk Through History at the Valley of the Temples in Sicily, Italy
No Europe bucket list would be complete without a visit to Sicily. There are few places in the world as diverse and rich in history as Sicily. You may have seen ancient ruins before, but Sicily's Valley of the Temples will simply astound you.
This incredibly well preserved series of temples and relics is one of Italy's most impressive archaeological sites. It is also the finest example of Greek Doric temples found anywhere in the world, outside of Greece itself.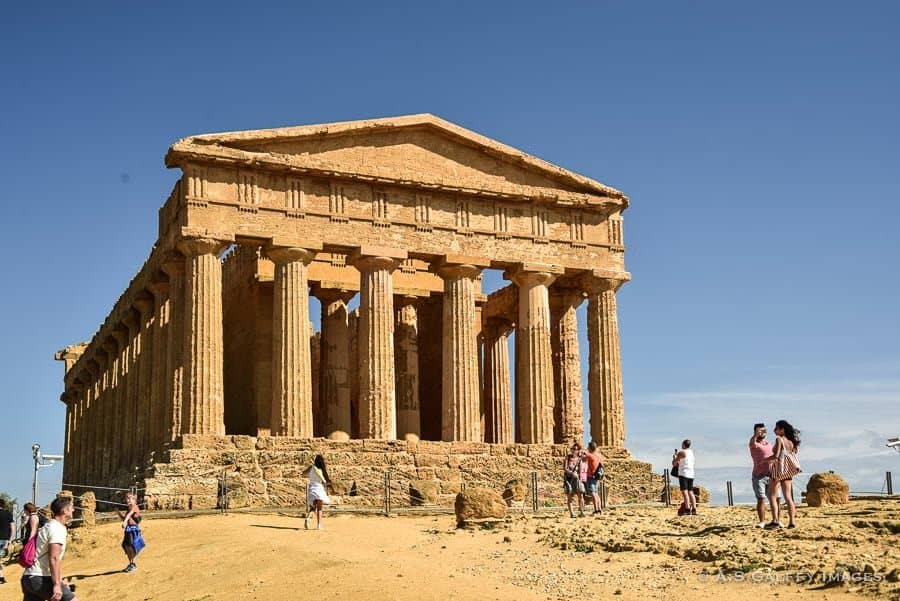 There are way many more sites worth visiting in Europe. In this list I have only compiled some of the ones that I consider the best bucket list must-dos. These are experiences I tried and tested myself and which left me with a memorable impression.
However, when you travel to Europe many of your most memorable experiences won't be the ones you had on your bucket list. Sometimes the best things will take you by surprise.
21. Visit the Painted Monasteries of Bucovina, Romania
The Painted Churches are the biggest attraction in Bucovina and for sure one of the reasons many people visit Romania. What makes these monasteries so famous are the colorful exterior frescos depicting various religious scenes.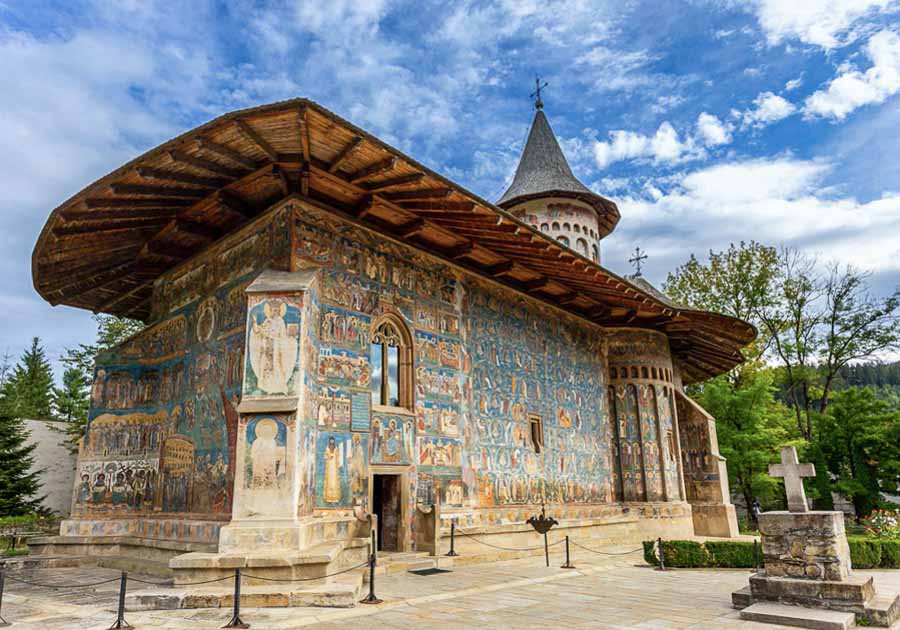 If you have time, I would suggest taking a dedicated tour of all the painted churches in Bucovina. They are among the best places to visit in Romania! But at the minimum, you should visit the monasteries of Voronet, Moldovita and Sucevita, which are undoubtedly the most beautiful ones.
Not sure how to dress in Europe? Read next: Guide for Packing for Europe – How to dress like a GEuropean.
Pin this for later: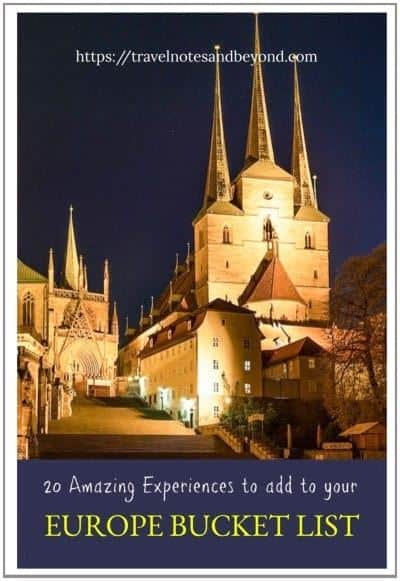 YOU MAY ALSO LIKE THESE: