The Czech Republic's capital has always been considered one of the most beautiful cities in the world, so it comes to no surprise that millions of visitors flock to Prague every year. What makes this city very unique is its old age. Yes, Prague was give the chance to grow old, unlike the vast majority of Eastern European cities that didn't survive the bombing of World War II. With its soaring gothic towers and domed cathedrals, Prague has been nicknamed the"city of a thousand spires" and once you see its skyline you'll understand way.
Best Things to Do in Prague
The list of things to do in Prague is long. So long, in fact, that it would take weeks, or maybe months to see them all. No wonder most tourists in Prague are in fact returning visitors. You can never get bored sightseeing Prague, no matter how often you visit the city. And of course, the longer you stay in town, the more time you'll have to wander around and discover new things. But whether you have 5 days, 4 days or only 3 days in Prague, here are some attractions that you shouldn't miss:
[1] Charles Bridge
If there is one landmark in Prague that all visitors will remember is most likely Charles Bridge. The iconic bridge is a very popular attraction and one of the free things to do in Prague and also one of the most photographed sites in the city. But Charles Bridge is not the only landmark that will make your camera click. Prague is a photographer's dream and if you don't believe me, you should check out these stunning views of Prague.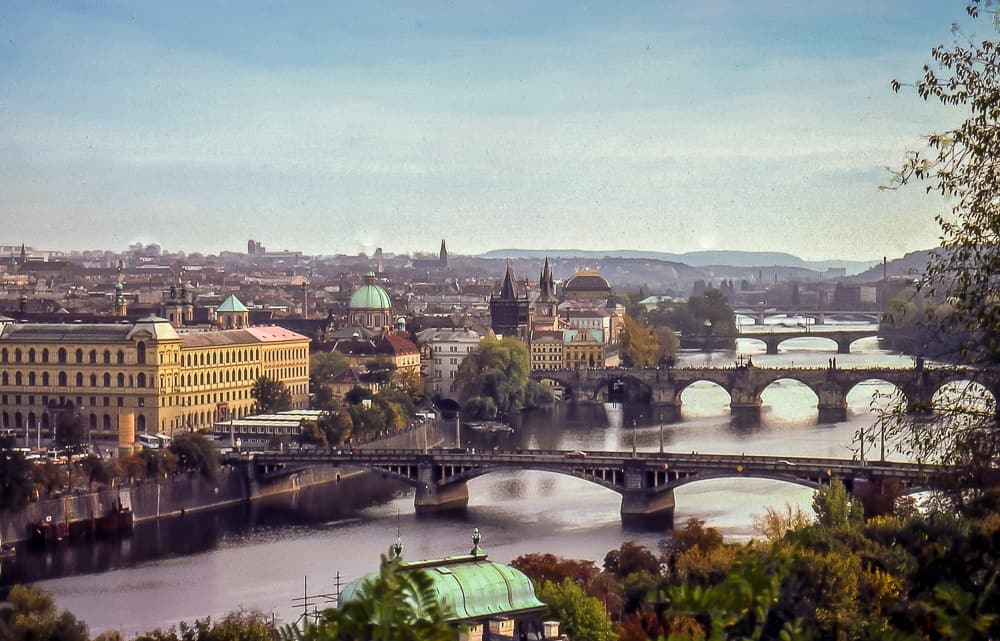 The 600 year-old bridge over the River Vltava was commissioned by King Charles IV in 1357, replacing the Judith Bridge which was destroyed by a flood in 1342. The pedestrian bridge is connecting Old Town and Lesser Town, but that's not the only reason people flock on it day and night. Thirty Baroque statues line the sides of Charles Bridge along with a multitude of vendors, musicians, street artists and beggars. On each end of the bridge there is a tower that can be climbed for some great view of the area around.
The bridge is almost never empty. If you want to take a good shot of the bridge without the crowds, you should try to come at dawn, or or late at night. Or you should try to visit Prague in winter, when cold weather keeps the crowds away.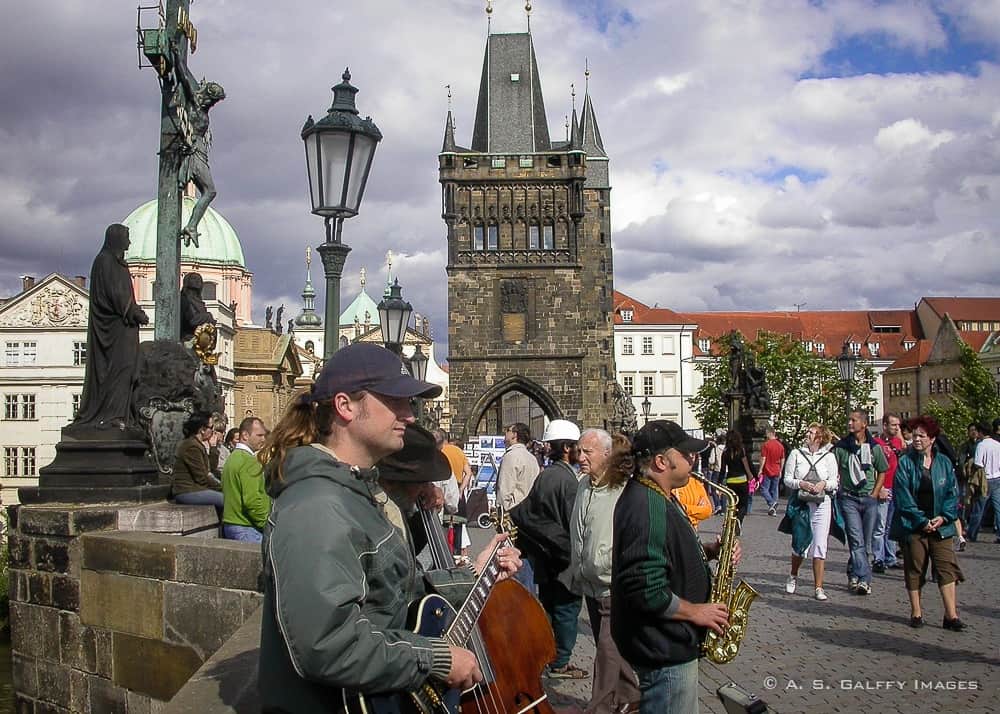 Visiting Charles Bridge is free and is one of the best things to do in Prague with kids.
[2] Malá Strana
On the other end of Charles Bridge from Old Town Square lies the Malá Strana or Lesser Town district. The area is home to many old churches, palaces and beautiful gardens, as well as international embassies located in elegant Baroque buildings. Also in this area are some of some of the best hostels in Prague. Surrounding the Lesser Town Square are pubs, shops, and restaurants with lots of character.
[ngg_images source="galleries" container_ids="293″ display_type="photocrati-nextgen_pro_mosaic" row_height="180″ margins="5″ last_row="justify" lazy_load_enable="1″ lazy_load_initial="35″ lazy_load_batch="15″ display_type_view="default" ngg_proofing_display="0″ captions_enabled="0″ captions_display_sharing="1″ captions_display_title="1″ captions_display_description="1″ captions_animation="slideup" order_by="sortorder" order_direction="ASC" returns="included" maximum_entity_count="500″]As you stroll through this historic part of the town, you'll notice many beautifully decorated building façades, particularly on Nerudova Street up which you can walk to reach the castle district and the Church of St. Nicholas. [ngg_images source="galleries" container_ids="294″ display_type="photocrati-nextgen_pro_blog_gallery" override_image_settings="0″ image_quality="100″ image_crop="0″ image_watermark="0″ image_display_size="800″ image_max_height="0″ spacing="5″ border_size="0″ border_color="#FFFFFF" display_captions="0″ caption_location="below" display_type_view="default" ngg_triggers_display="always" ngg_proofing_display="0″ captions_enabled="0″ captions_display_sharing="1″ captions_display_title="1″ captions_display_description="1″ captions_animation="slideup" order_by="sortorder" order_direction="ASC" returns="included" maximum_entity_count="500″]
[3] The Golden Lane
Golden Lane (Zlatá ulička) is an ancient street within the Prague Castle complex. This picturesque street is named for the goldsmiths who lived here during the 17th century. The street is lined with colorful, tiny houses that look like out of a fairy tale. These houses were occupied until the Second World War. Franz Kafka lived and worked in house number 22 from 1916 to 1917.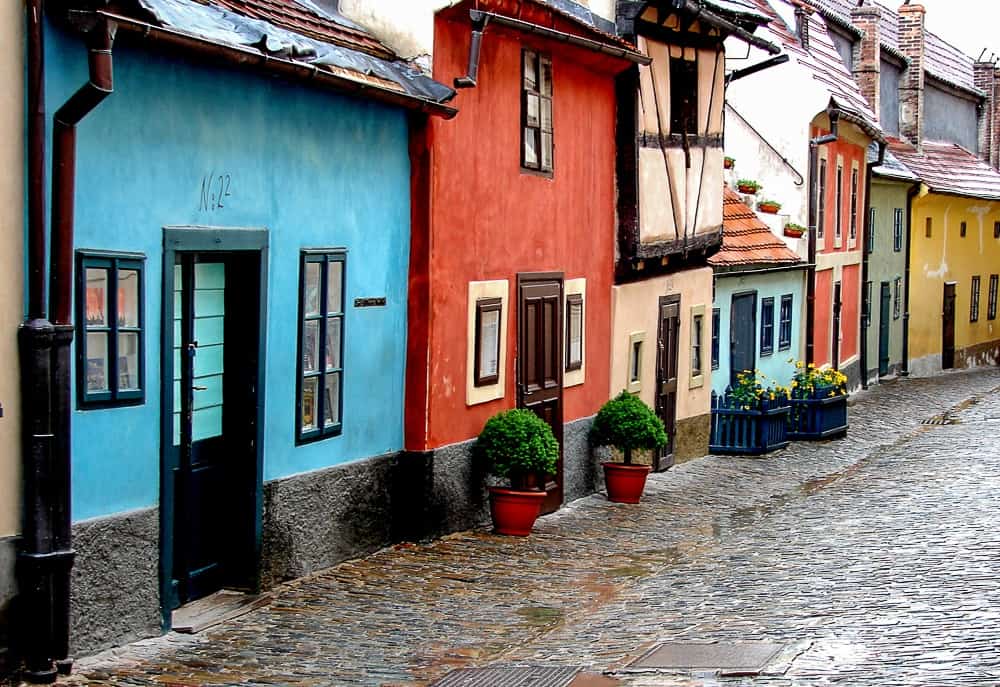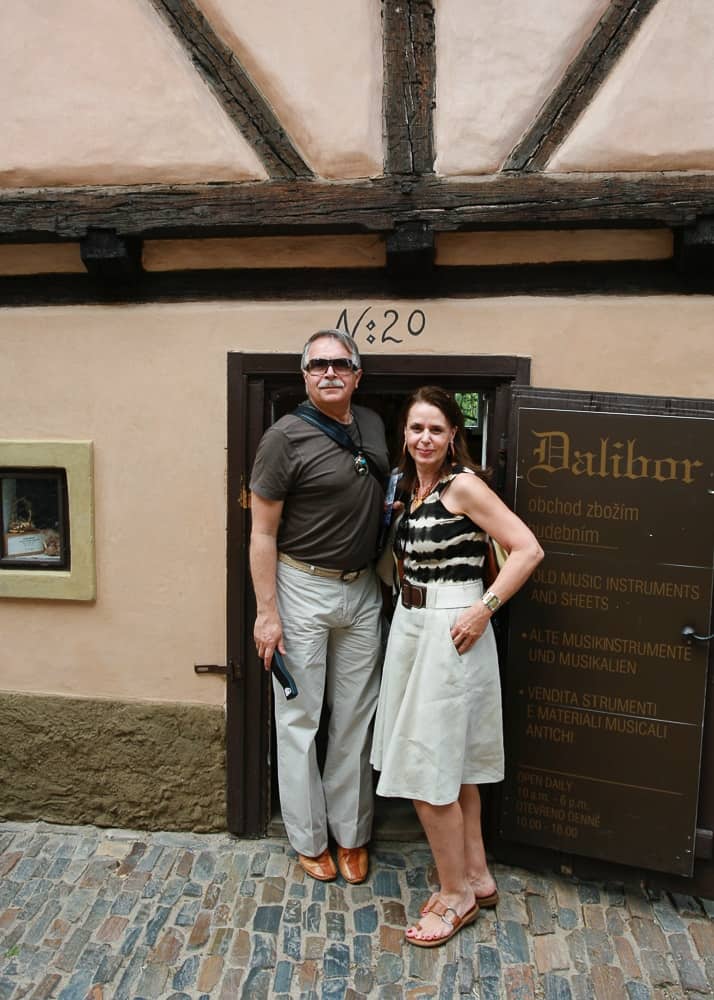 [4] Tyn Church
The emblematic structure of Tyn Church (also known as Our Lady before Tyn) dominates one side of the Old Town Square. Its elegant towers soaring 80 meters into the sky and can be seen from all parts of the city. The present Gothic building was founded in 1385 as the main Old Town church. Tyn Church holds many works of art in Gothic, Baroque and Renaissance styles.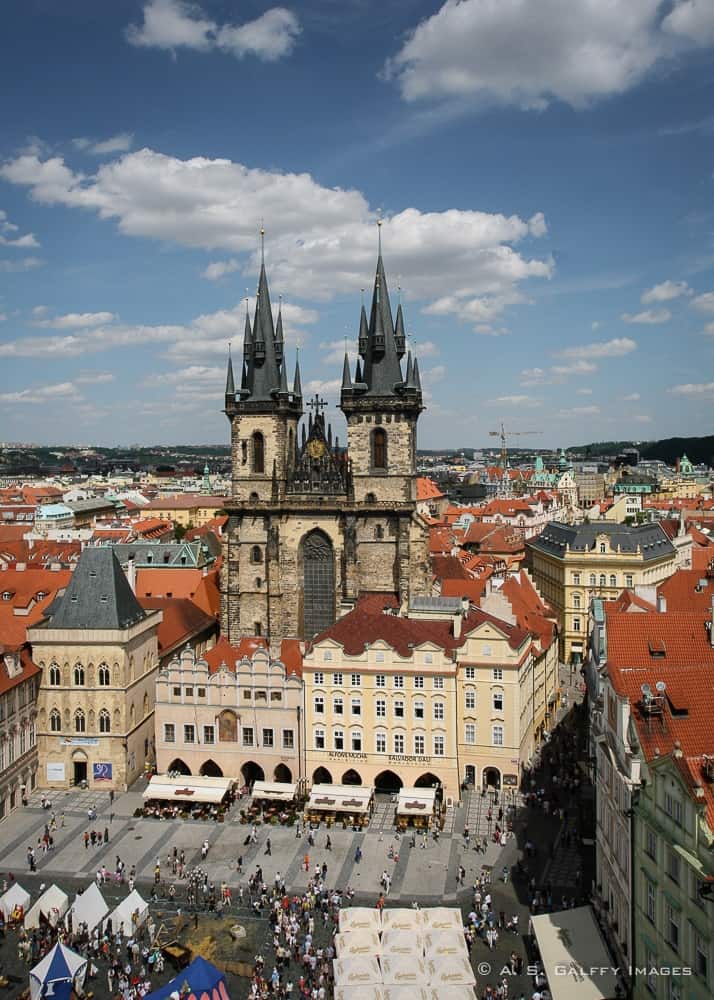 [5] Astronomical Clock
The highlight of the Old Town Square is the Astronomical Clock, a complicated oroloj that attracts huge crowds every time it strikes. The clock strikes every hour, on the hour, and the bells ring while in the upper two windows appear the figures of the Apostles, Death Avarice and Vanity. The clock was crafted in 1410 by a professor of mathematics and has been working perfectly for the past 600 years. The Astronomical Clock displays time in different variations (Babylonian time, German time and Old Bohemian time). as well as phases of the moon and the sun's position in the zodiac.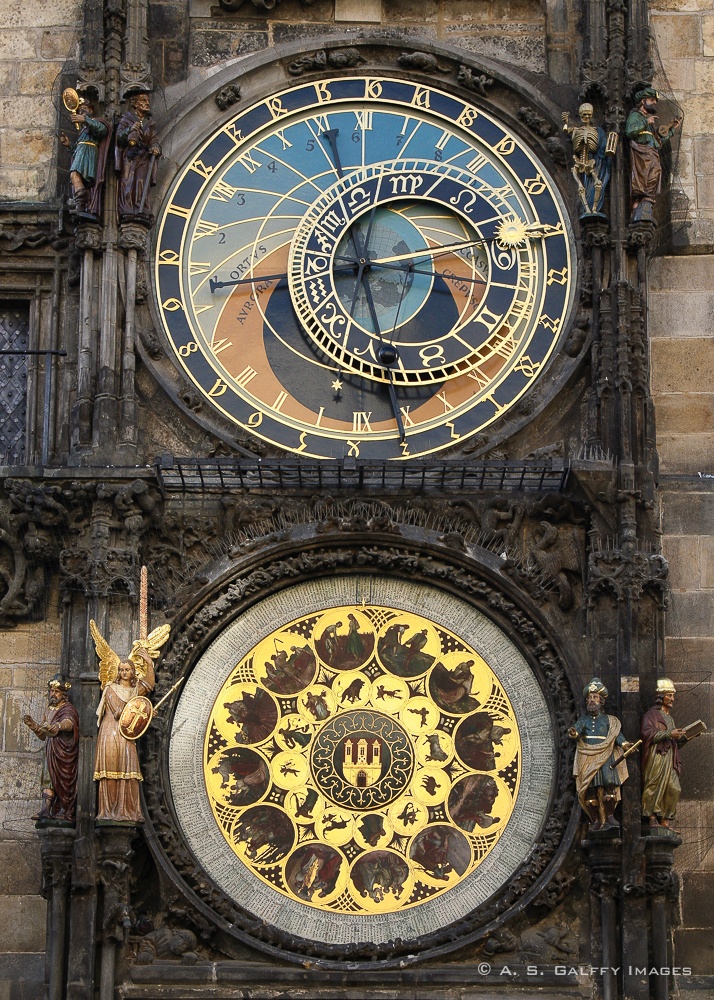 [6] Prague Castle
Prague Castle is more like a complex than a single building. The castle buildings consist of a royal palace, a cathedral and three churches, a basilica, a monastery, the royal stables and the defensive towers. Initially, in the 9th century, Prague Castle was just a wooden fortress, but by the 11th century it already included a royal palace. The complex is a beautiful example of Gothic architecture. Many kings and emperors are buried here.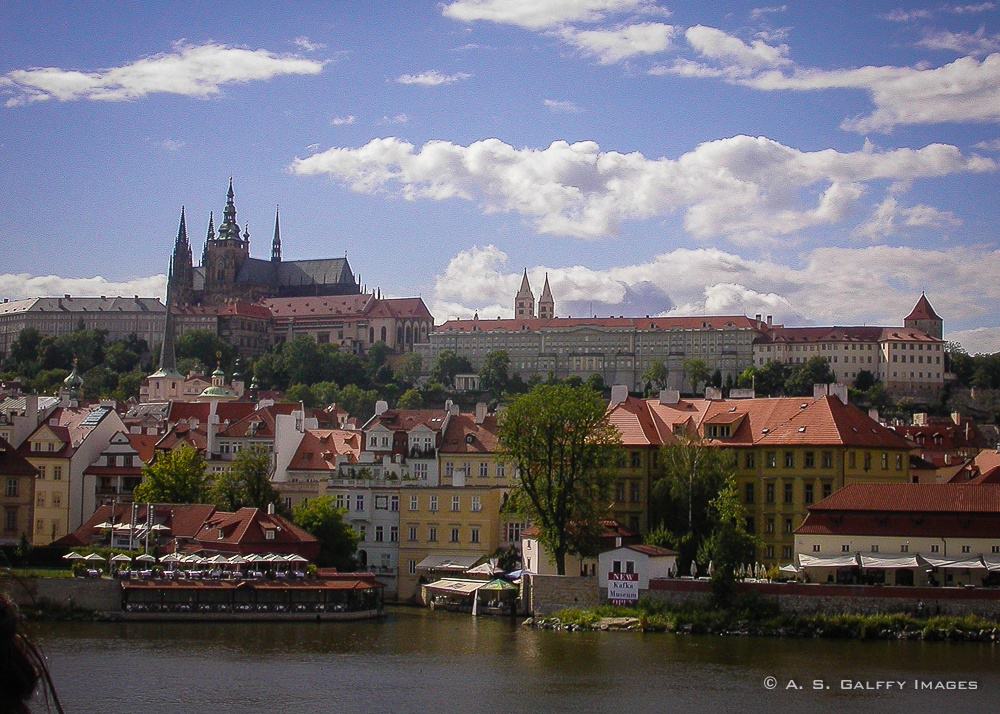 Within the castle walls are a number of Prague's most popular attractions, including St. Vitus Cathedral, the Powder Tower, the Old Royal Palace, and the Golden Lane.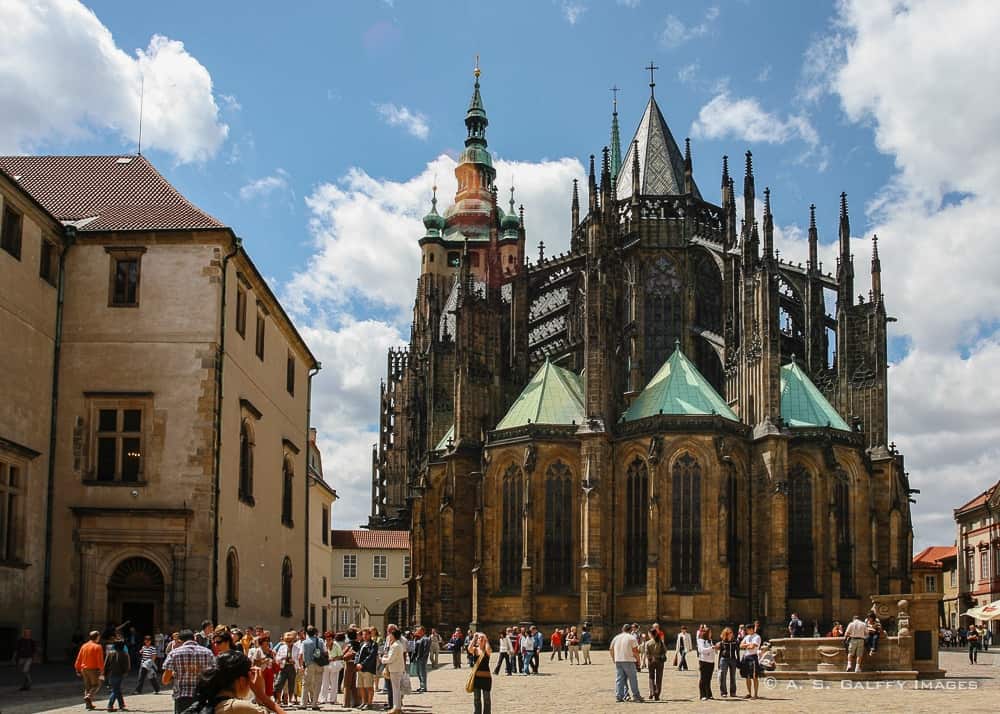 [7] Wenceslas Square
Wenceslas Square is more like a boulevard than a traditional square, but because it's flanked by buildings on three sides it gives the impression of a square. It is one of the two main squares in Prague and it's located in New Town. The square is home to many bars, clubs, restaurants, hotels and shops, making it the city's entertainment and commercial district. At the top of the square is the National Museum of Prague and the statue of St. Wenceslas. Wenceslas Square is close to most of Prague's attractions, such as Old Town Square and Charles Bridge.
Wenceslas Square is a shopper's paradise. Set off as Prague's horse market by Charles IV in 1348, Located in New Town, the square is home to bars, clubs, restaurants, hotels, shops and banks, making it the city's entertainment, nightlife and commercial district. Much of Czech's 20th century history happened in Wenceslas Square as political movements and gatherings met at the statue of St. Wenceslas to parade down the square. Wenceslas Square is central to most of Prague, as Old Town Square and Charles Bridge are but a five-minute walk away, and all three metro lines meet in the square. Wenceslas Square is home to the grand National Museum and the Prague State Opera.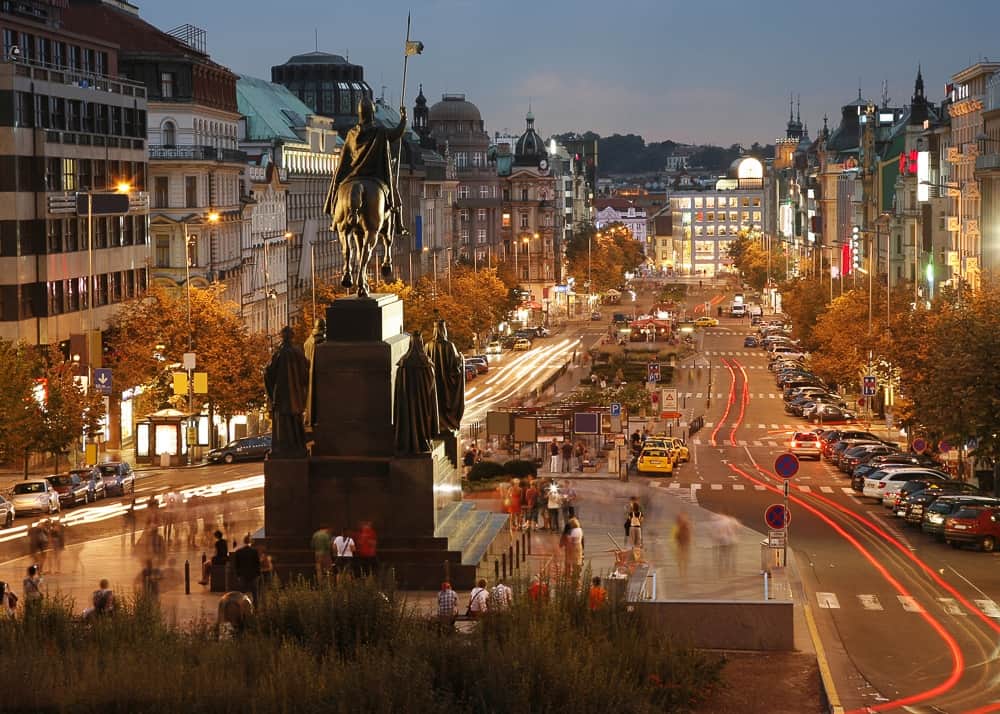 Prague is such an exquisite city with so many unique attractions. But the Czech Republic capital is not the only place in this country that will enchant you. There are several beautiful towns around that are easy to rich from Prague, like Česky Krumlov. If you have the time, my advice would be to put on your walking shoes and explore them. You'll be surprised to what a beautiful architecture and rich history this town has. Most of the travelers visit Český Krumlov as a day trip from Prague and also go on a day trip to Lipno, another cute town with stunning nature.