Prague and Budapest are two of Central Europe's most beautiful cities. They are also very comparable, which makes choosing one vs the other really difficult. Both capitals are equally popular. They are both famous for their beautiful bridges, historic centers, medieval castles, and culinary delights. But if you had to decide between Prague and Budapest, which one would you choose and why?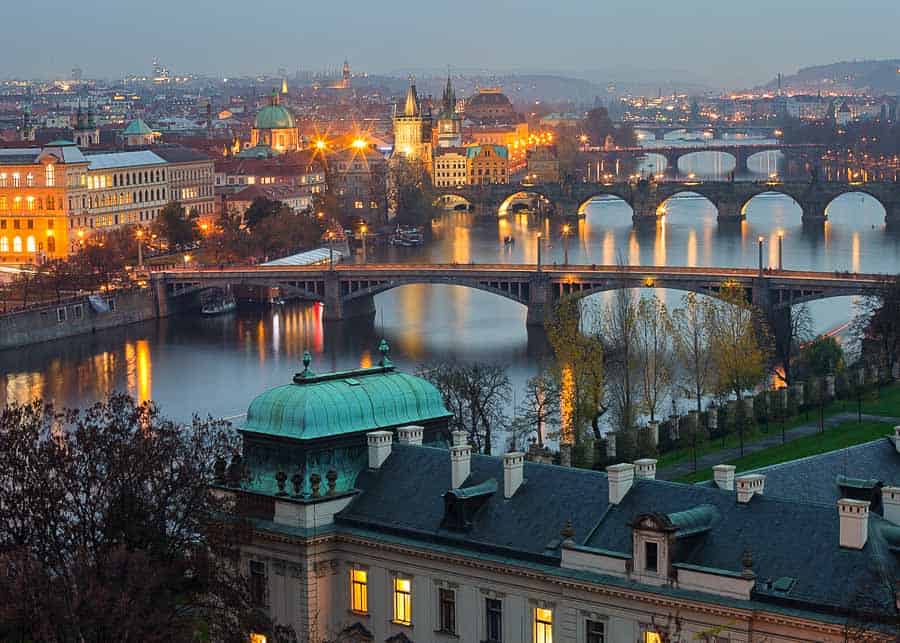 Which capital is more accessible? Is one city more fun to explore than the other? Which one has a cooler vibe? These are all good questions to ask if you have to decide whether to include Prague vs Budapest into your European itinerary.
Prague vs Budapest – Which City to Visit?
We visited Prague and Budapest quite a few times and we already made up our mind about which one we like better. However, our tastes and preferences may be different from yours. Therefore I'll try to break down what's special about each city.
I'll also tell you what are the similarities and differences between them. Hopefully, by the time you finish reading this, you'll be able to decide whether to choose Budapest or Prague for your next city break.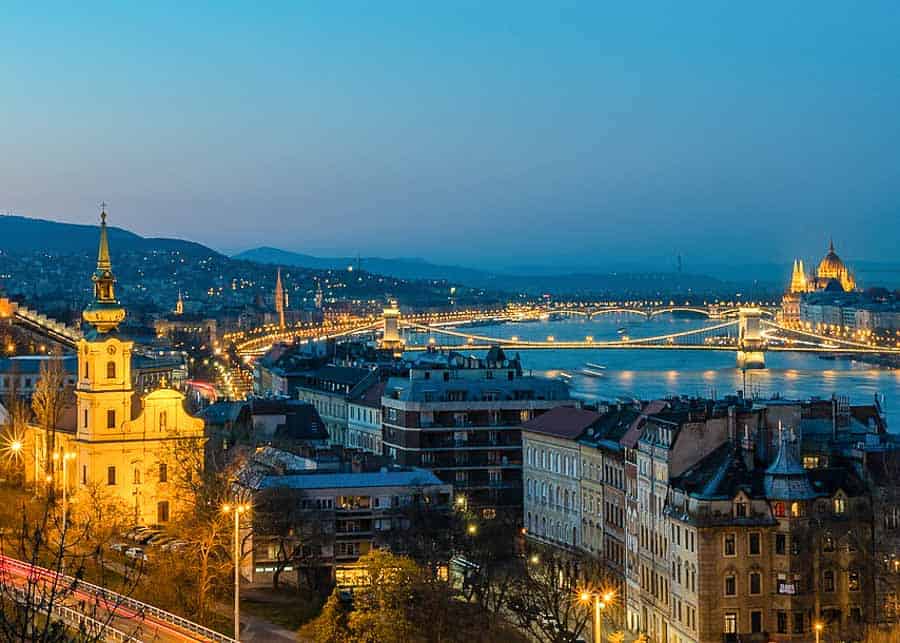 Prague vs Budapest – Similarities and Differences
Prague and Budapest are both marvelous cities in their own way. They each have character and charm galore.
In terms of similarities, both cities have rivers running through them, castle districts, Jewish Quarters, famous bridges, and beautiful squares. But that's about where the similarities end. Although comparable, Prague and Budapest are actually more different than they are alike, which is why liking one vs the other is only a matter of taste. Visiting the two capitals is also a completely different experience.
Prague – the capital of the Czech Republic – is like a museum. Everything is neat and in its place. The city retained a much more medieval feel and look than Budapest, with more Baroque style buildings.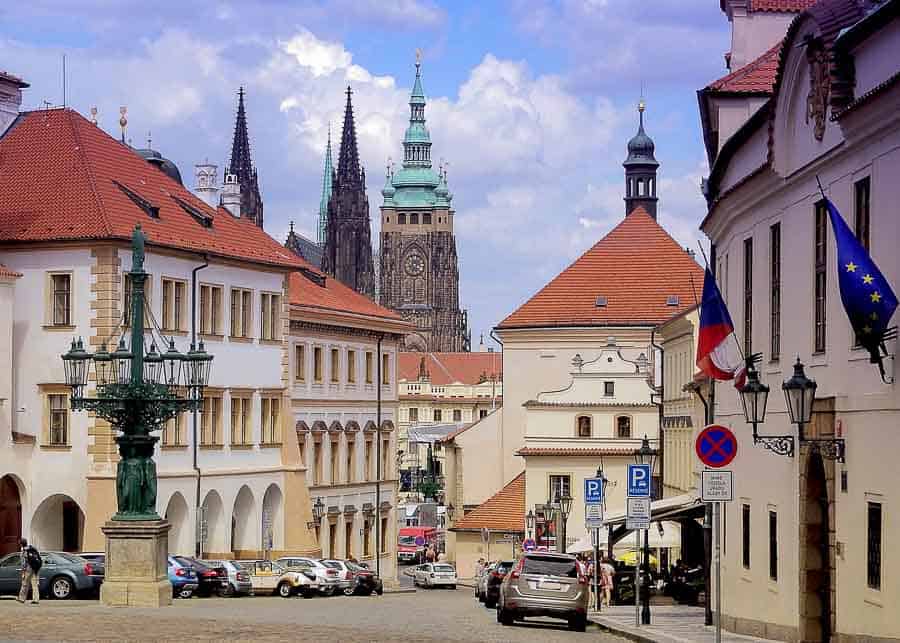 Prague is generally considered more picturesque than Budapest, thanks to the many medieval buildings that are still standing today. Particularly around the historic city center surrounding the Old Town Square. Prague is smaller and has an intimate charm that Budapest doesn't have.
Budapest – Hungary's capital on the other hand – looks more like a real city. It feels more authentic in a way that Prague does not. The city has a wealth of beautiful architecture, although a little rough in a few places that hadn't fully recovered from the Communist occupation.
Budapest is truly remarkable for the homogeneity and harmony of its urban design. The result is a city built in a grand imperial style – street after street of Renaissance-style buildings, with a mixture of fanciful Art Nouveau and Art Deco architecture.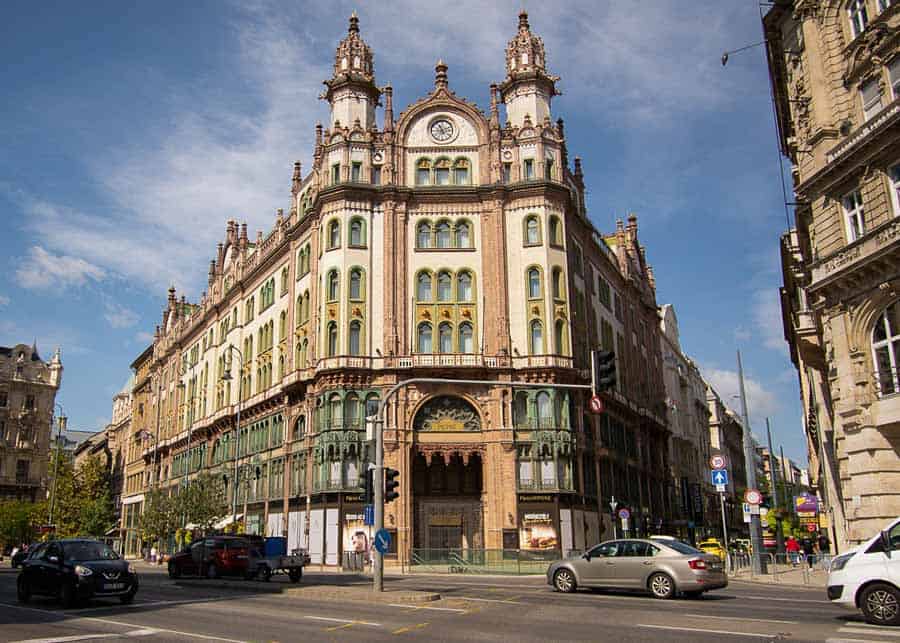 In terms of atmosphere, Budapest is at its best during summer and over the Holidays. Prague, on the other hand, seems as beautiful in good weather as it does when it's rainy or overcast. I feel that darkness and fog add a bit of mystery to the medieval character of the city.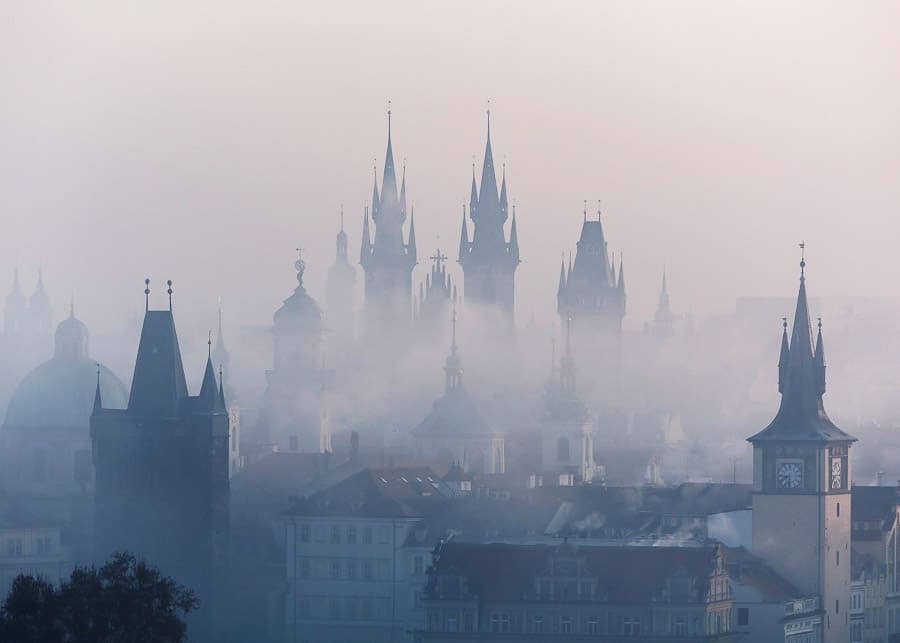 What's Unique About Prague
Prague is a historic, byzantine city founded in the Middle Ages. A maze of cobbled streets lined with Romanesque chapels and cellars, Gothic cathedrals, Baroque palaces and gardens. But the city also boasts sophisticated Art Nouveau buildings and unique Cubist architecture.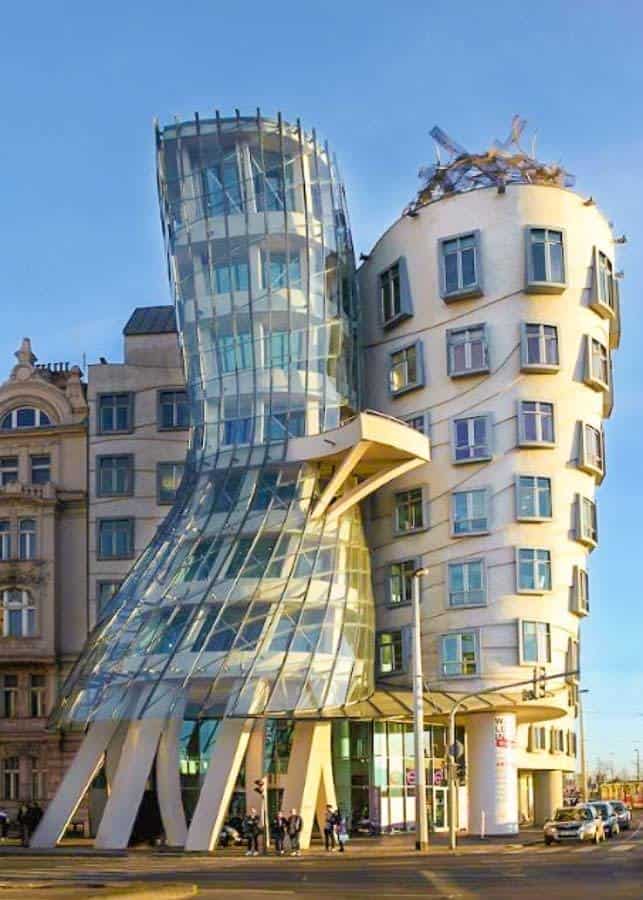 Unlike the vast majority of European cities that didn't survive the bombing of World War II, Prague was given the chance to grow old. And unlike Dresden, whose main landmarks have been completely rebuilt after the war, Prague still has the original churches and monuments dating back centuries ago.
Landmarks That Make Prague Famous
There is no lack of culturally significant sites and attractions in Prague. Like Malá Strana (Lesser Town district) which is home to many old churches, palaces and beautiful gardens.
The Old Jewish Cemetery, one of the world's oldest Jewish burial grounds, whose crumbling headstones clustered together are quite a site!
Charles Bridge, a medieval stone arch bridge fortified with towers at each end.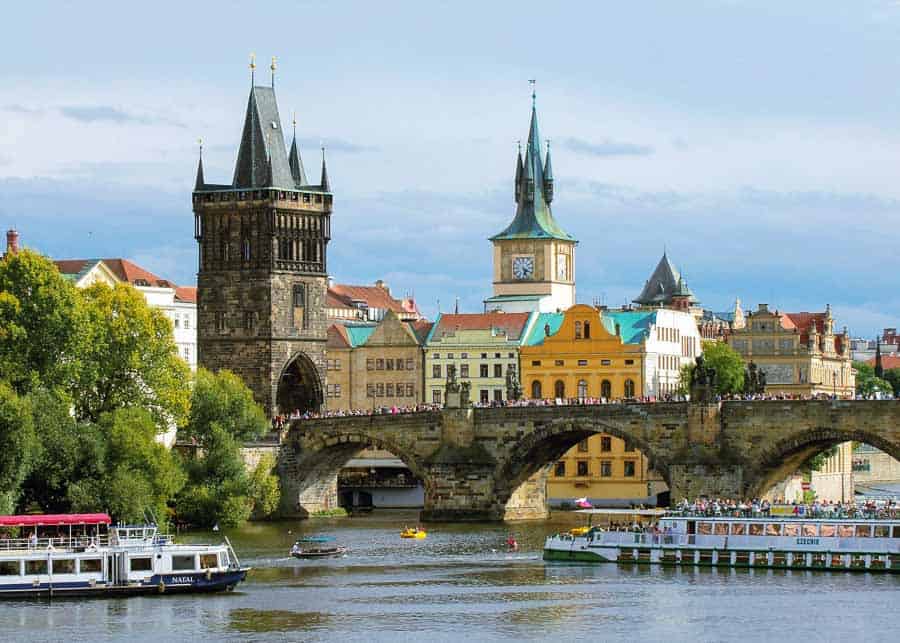 Or Prague Castle, which is the largest palace in the world. The Castle dates back to the ninth century and spans an impressive 18 acres.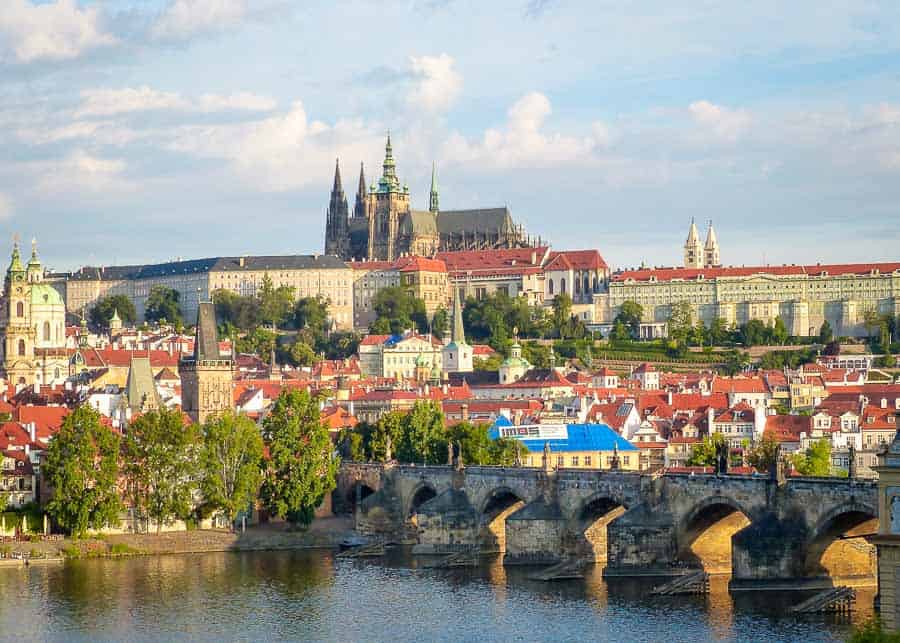 The city is also home to the narrowest street in Europe – Vinarna Certovka – which is only 50 cm (20 inches) wide. Because it's so tiny, the street has traffic lights at both ends in order to help prevent people from getting stuck in the middle and not being able to pass each other.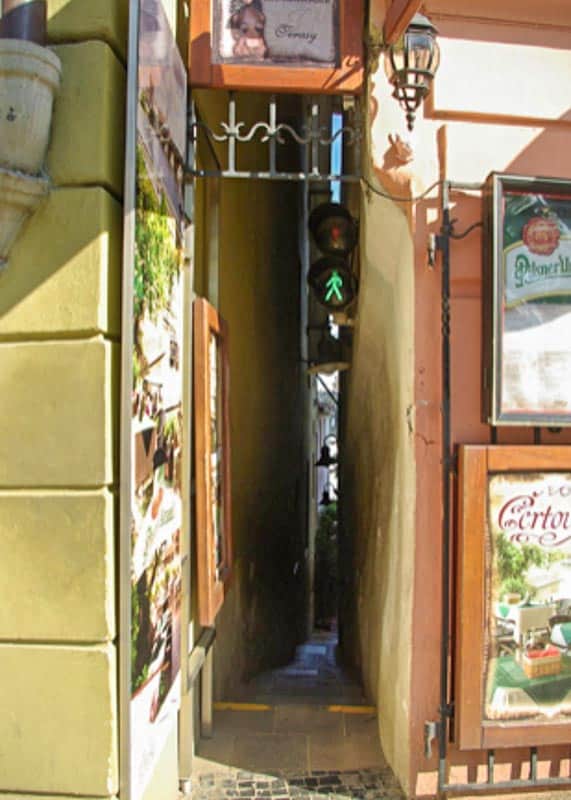 Another unique attraction in Prague is the Golden Lane (Zlatá ulička), a picturesque street named for the goldsmiths who lived here during the 17th century. The street is lined with colorful, tiny houses that look like out of a fairy tale.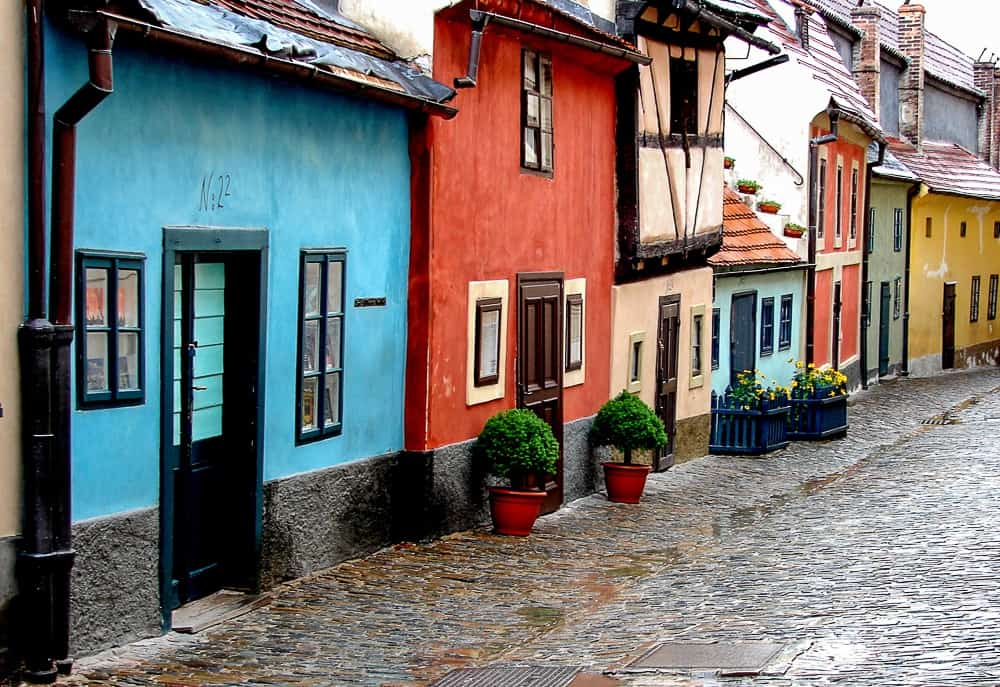 But perhaps the city's most famous landmark is the Astronomical Clock, a complicated oroloj that attracts huge crowds every time it strikes.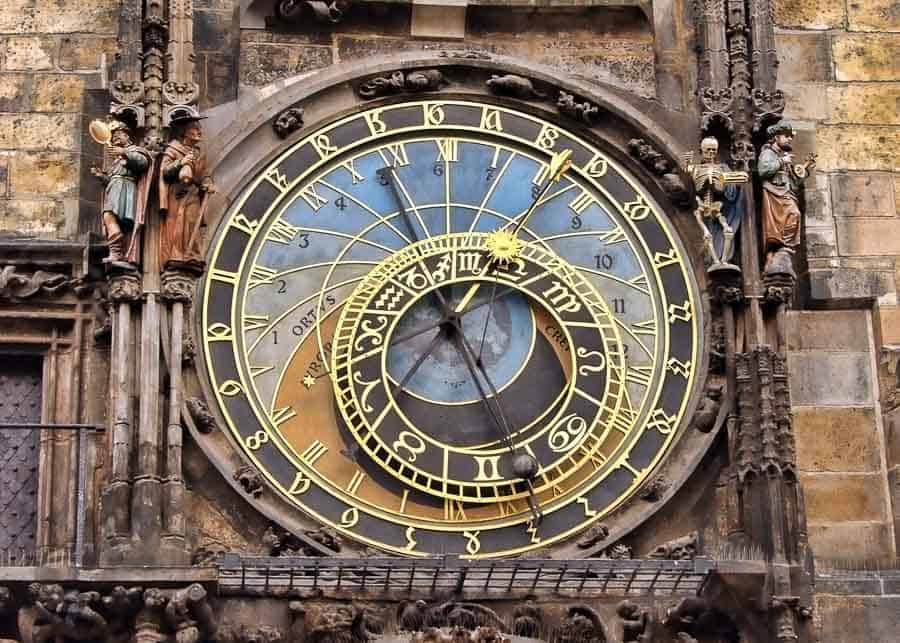 What's Unique About Budapest
Budapest is one of the most photogenic cities in Europe, boasting a dramatic skylines and heart-stopping river panoramas.
The city is famous for its first-class cultural venues, amazing Hungarian cuisine, underground caves, and for being the Spa Capital of the World. Budapest is also known for its quirky Ruin Pubs and the many food and wine festivals that gather crowds from all over the world.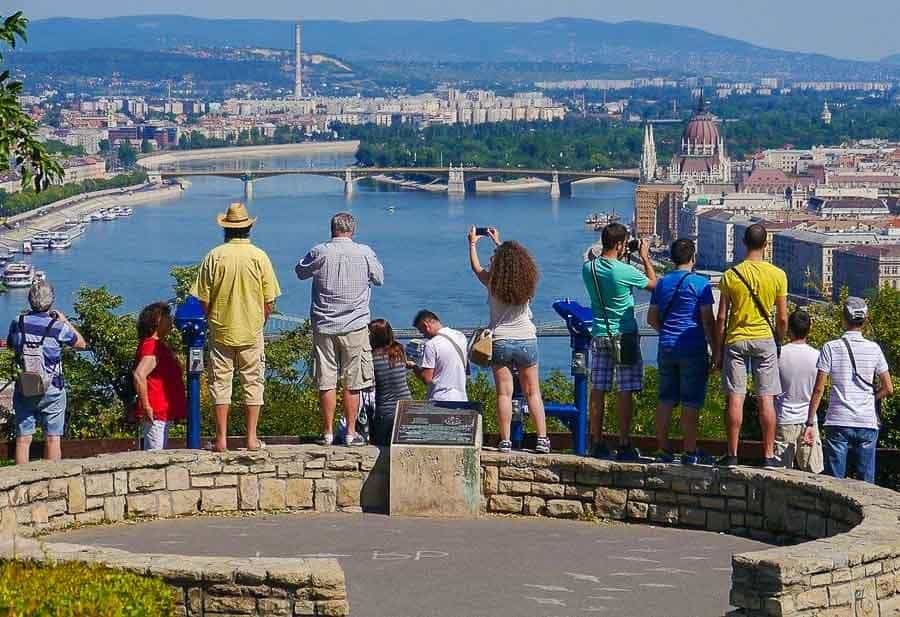 Landmarks That Make Budapest Famous
Budapest landmarks are spread around the two parts of the city – Buda and Pest. In Buda, the historic part of the city, you will find the Old Town attractions: Buda Castle, Matthias Church, and the Fishermen's Bastion, with its enchanting terraces.
Also in the Castle District is the Budavári Labyrinth – a complex of caves and cellars that were created a long time ago as an effect of the hot water springs.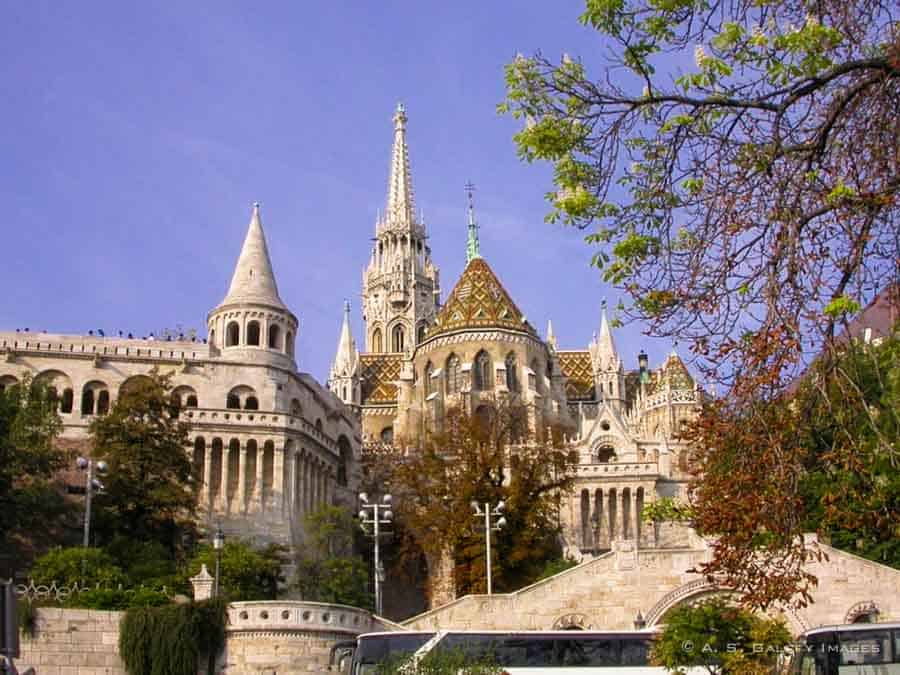 One of the most popular attractions on this side of Budapest are the Gellert Baths, a favorite for locals and visitors alike.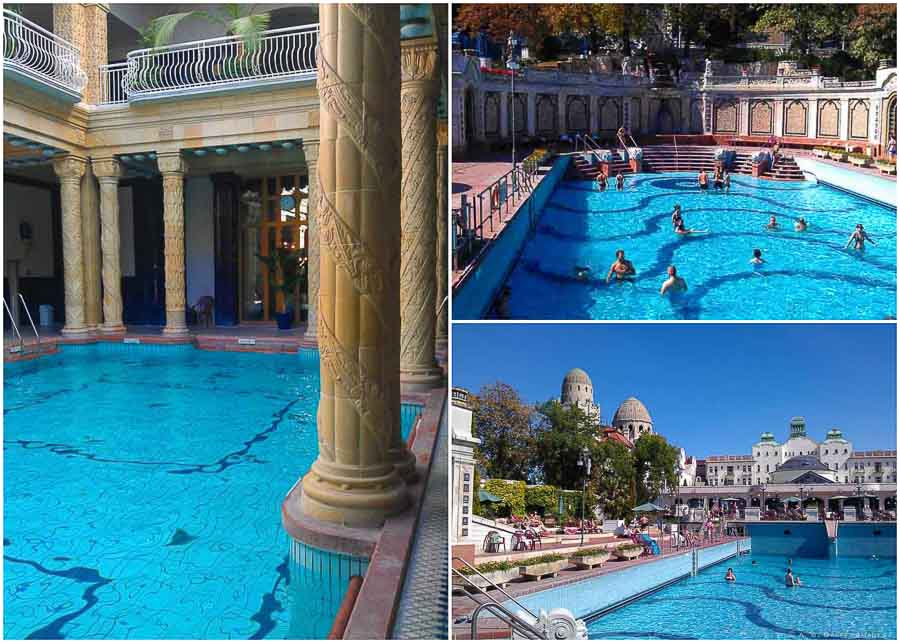 On the other side of the Danube (in Pest) you can see the famous building of the Hungarian Parliament, the city's most beloved landmark. The Neo-Gothic style building was completed in 1902 and it is currently the largest and tallest building in Budapest.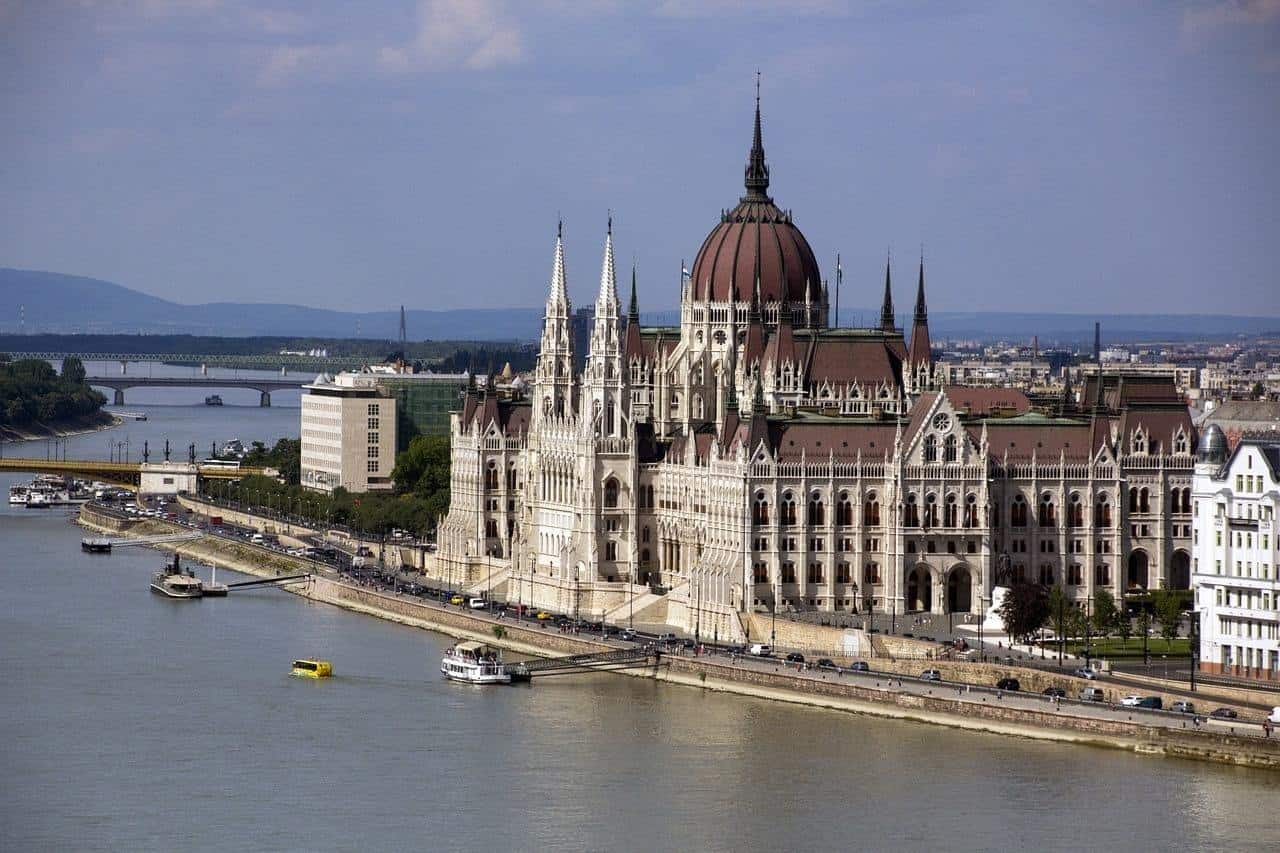 Another famous attraction on this side of the city is the Chain Bridge, Hungary's first permanent bridge across the Danube.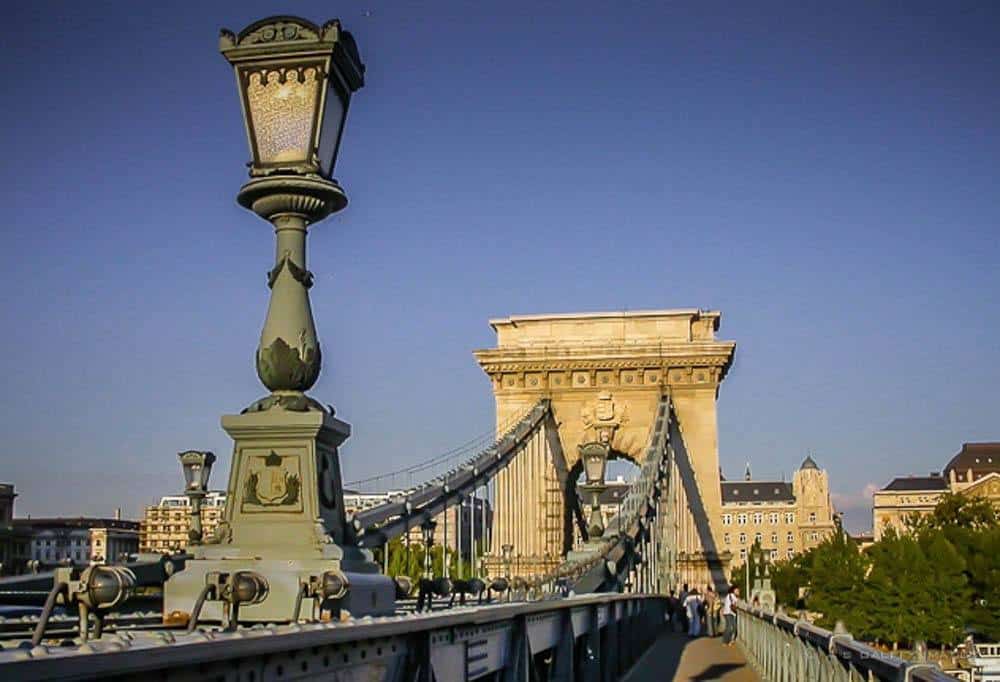 Other landmarks in Downtown Budapest include St. Stephen Cathedral, the Great Jewish Synagogue, the Great Market Hall, Széchenyi Baths, and Vajdahunyad Castle, which is a replica of the Vajdahunyad Castle in Romania.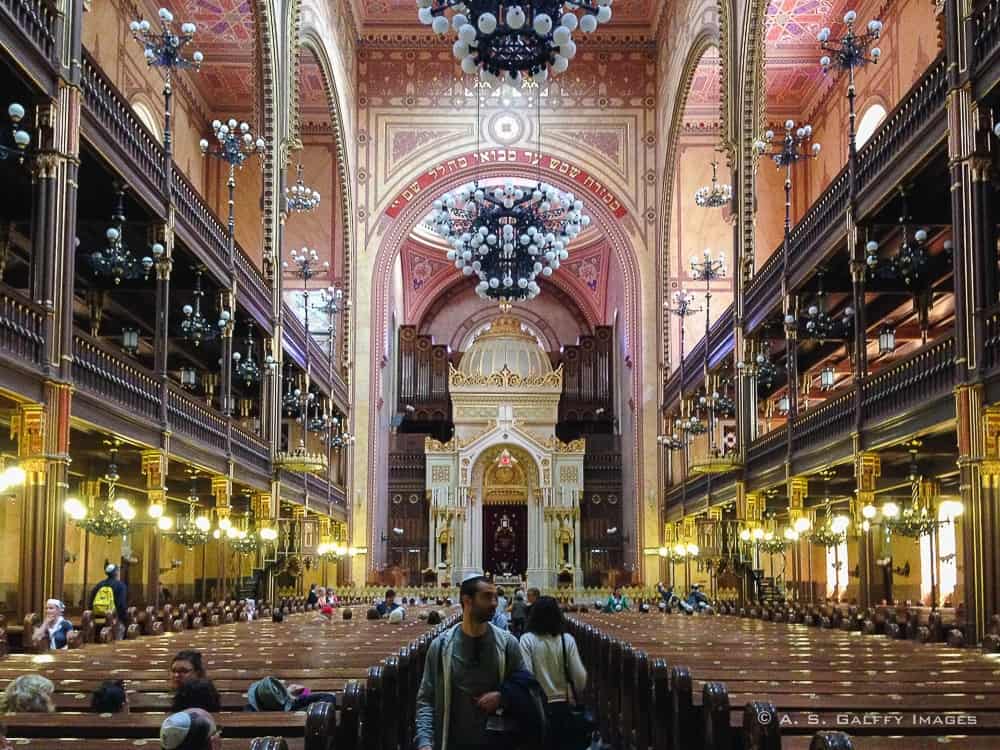 READ NEXT: Best Hungarian Souvenirs to Buy from Budapest
Getting Around in Prague vs Budapest
Budapest is more spread out, so it may take more time to do it justice. It's a big city with many different faces, neighborhoods, and places that will surprise you. But because is more spread out, Budapest seems less crowded than Prague, even during the peak season.
Both the Old Town area and the Downtown can be explored on foot. But moving between the two sides of Budapest – Buda and Pest – may require the use public transportation. But that shouldn't be a concern, as Budapest has one of Europe's most efficient public transportation systems.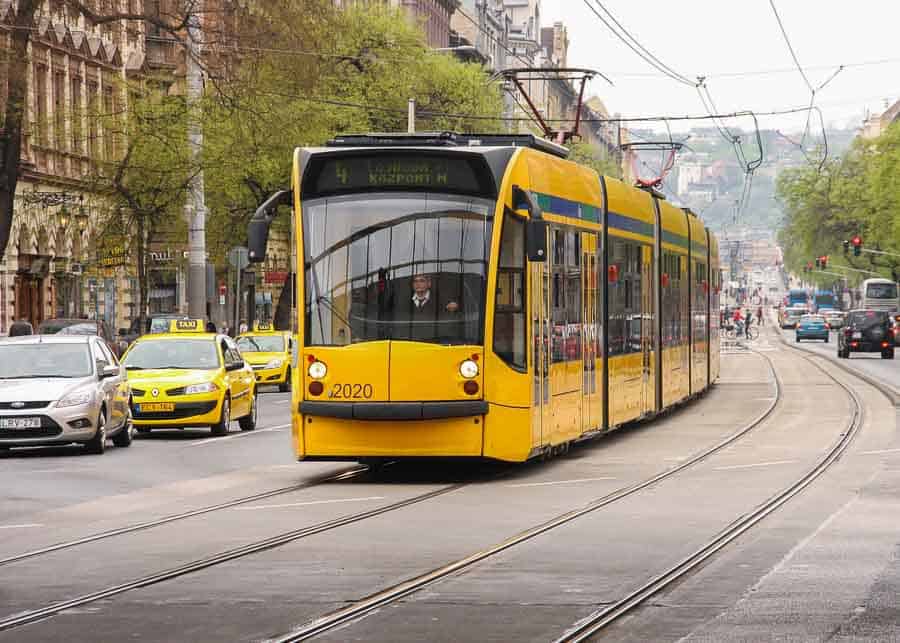 As opposed to Budapest, Prague is smaller and more compact. The city's landmarks and places of interest are concentrated in a small area, so you can easily walk between them. But because it's smaller, Prague seems always crowded. There are always swarms of tourists around, so much so that it's sometimes difficult to take a picture. Especially around the main attractions, like the Old Town Square and Charles Bridge.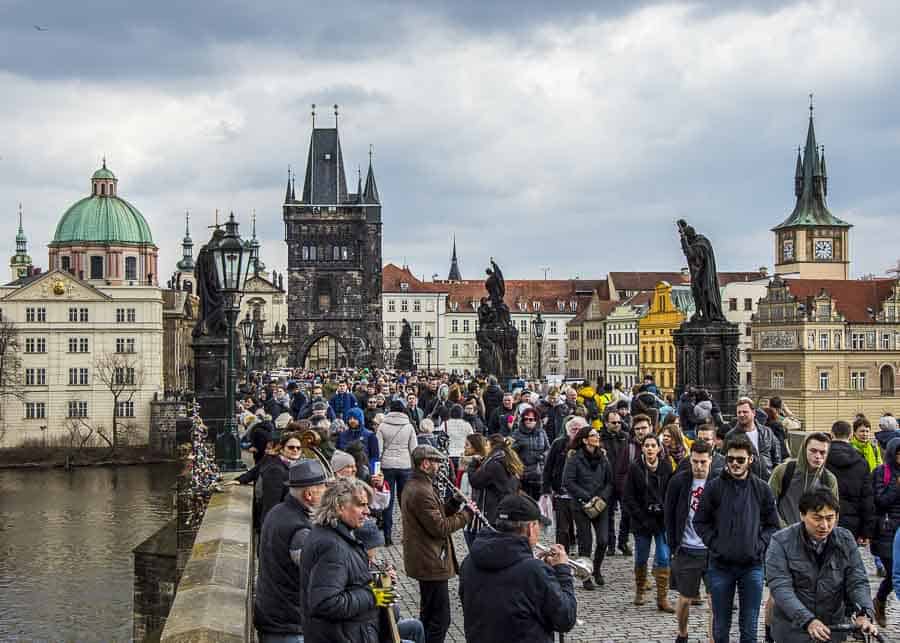 Hungarian Cuisine vs Czech Cuisine
When comparing food in Budapest vs Prague, Budapest wins. Finding good food in Budapest it's not a problem. There are countless cafés, bistros and restaurants in Budapest serving both international and Hungarian cuisine.
Food in Budapest
Hungarian food may seem heavy, but it's rich in flavor and aroma and it's very tasty. Hungarians use a lot of sour cream, lard, fried garlic and onion when preparing their food. Hungary's signature dish is goulash – a stew, made with beef, potatoes, tomatoes, onion and paprika.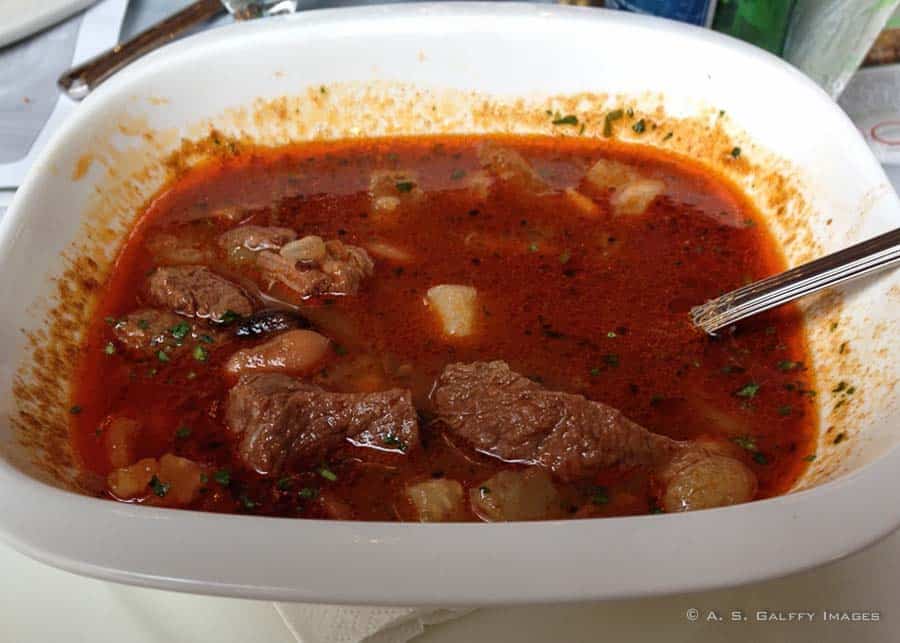 Other authentic Hungarian dishes include chicken/veal paprikash, meat pancakes, and Lecsó – a thick vegetable stew made with peppers, tomato, onion, garlic and paprika.
Hungarian cuisine is also famous for the delicious deserts, like the tasty Dobos cake, or the sour cherry strudel.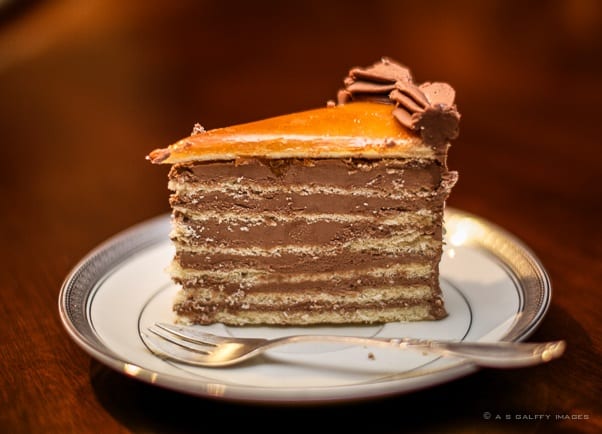 The most popular street food is the langos – a deep fried dough topped with sour cream and cheese. The best place to sample some of these traditional dishes is the Great Market Hall.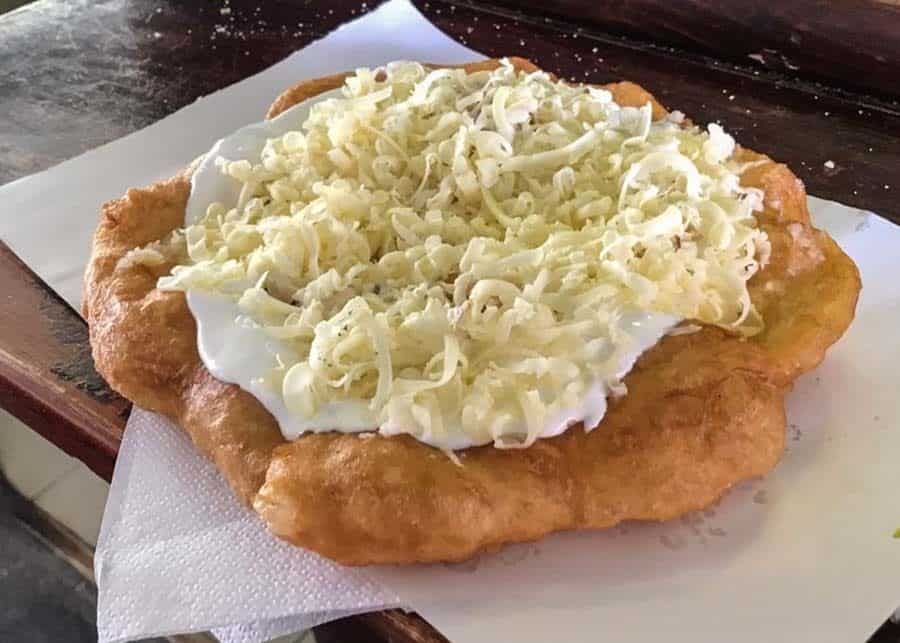 Food in Prague
As opposed to Budapest, food in Prague is not outstanding. But if you're looking for good comfort food, you've come to the right place. We visited the city several times over the years, but eating out was always a hit-and-miss affair. You could get cheap pork and dumplings in small pubs. Or expensive pork and dumplings in fancy restaurants, and that was about it.
In the last decade however, Prague's food scene has changed for the better. They now have many innovative restaurants, ranging from the local chain of Czech pubs to the Michelin-starred restaurants. Some of Prague's specialties include the steak tartare and the traditional Czech sausages with bramboraky (potato pancakes.)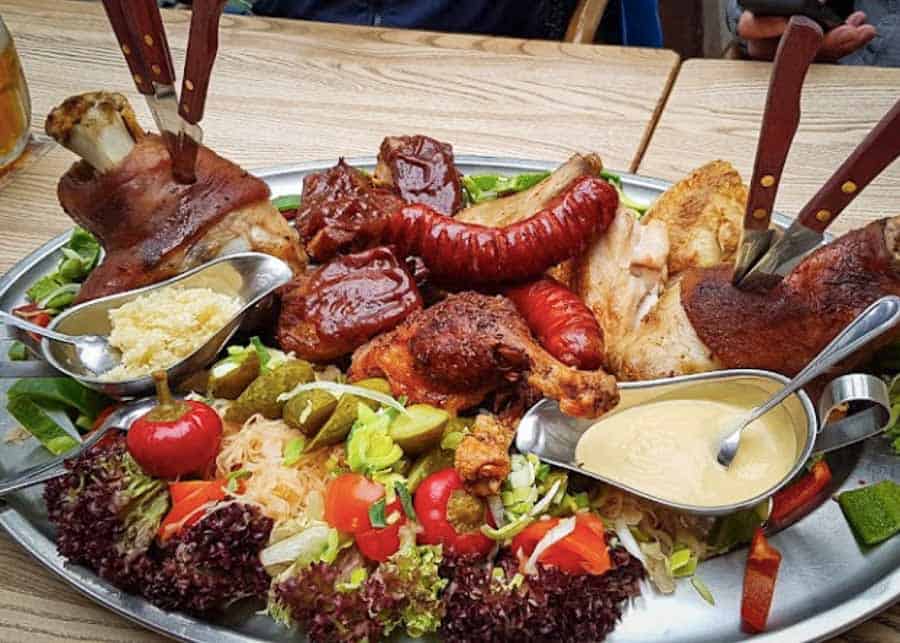 What makes Prague stand out is the beer, which is cheaper and better than just about anywhere else on earth! Particularly the Pilsner-style beer. Maybe that's because Pilsner was born there. Or because the country's brewing history can be traced back to the 6th century.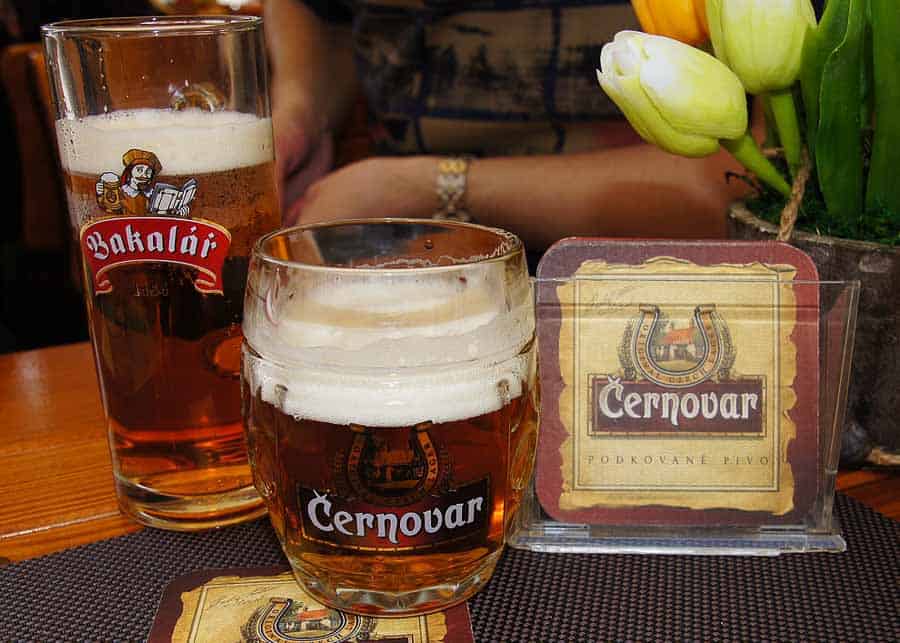 In the Czech Republic beer is literally cheaper than bottled water.

Nightlife and Entertainment
Like most European capitals, Prague has a vibrant nightlife scene. There are countless bars, lounges, and dance clubs for partying hard, if that's what you are looking for. You'll also find plenty of live music spots, particularly in the Old Town area. In addition to those, there's also a wide range of old style Czech pubs where you can have a traditional meal and some amazing beer.
The city has more than 75 museums museums, along with numerous theaters, galleries, cinemas, and other entertainment options. Some of Prague's most bizarre museums include the Gallery of Steel, the tactile Museum of the Senses, and the infamous Sex Toys Museum, which is accessible only to people over 18.
Budapest on the other hand, is more of a party city than Prague, with a complex and eccentric nightlife. From rooftop bars and decadent spa parties to jam-packed discos, Budapest has an abundance of places where you can slam a drink or shake your booty. The city's unique feature are the Ruin Pubs, a chain of funky bars that have been forged in the shells of some old, derelict apartment buildings.
There are also many cultural venues in Budapest, from museums, and galleries, to theaters and concert halls. A quick count shows that Budapest has over 56 museums. The most unique ones are the magical House of Houdini, the interactive Metal Art Gallery, the House of Terror, and the Chocolate Museum.
.
My Personal Opinion
I've had a long love affair with Budapest which started about 18 years ago, when I visited the city for the first time. After my second visit, I fell even more in love with Budapest, so I convinced my husband that we should buy an apartment there.
While the city is not a perfect, the fact that my husband is Hungarian and we have a place that is our own, makes me feel very at home in Budapest. Interestingly enough, although I don't speak the language, I feel more at home in Budapest than I feel in Bucharest, where I was born.
Overall, my personal opinion is that Budapest is a nicer city than Prague and the cost of living is slightly lower. So if I had to choose between Prague vs Budapest, I would go with Hungary's capital without a doubt. But my opinion is based on the things that I have mentioned above.