For most people, a tropical beach is a powdery white stretch of sand with turquoise water and a bunch of palm trees added for good measure. But black sand beaches can be equally magnificent, so if you want to see some beautiful ones there are few better places in the world than the islands of Maui or the Big Island of Hawai. The island is home to some of the most beautiful black sand beaches in the world.
But before I tell you where to find them, let me give you a little insight into how they were formed.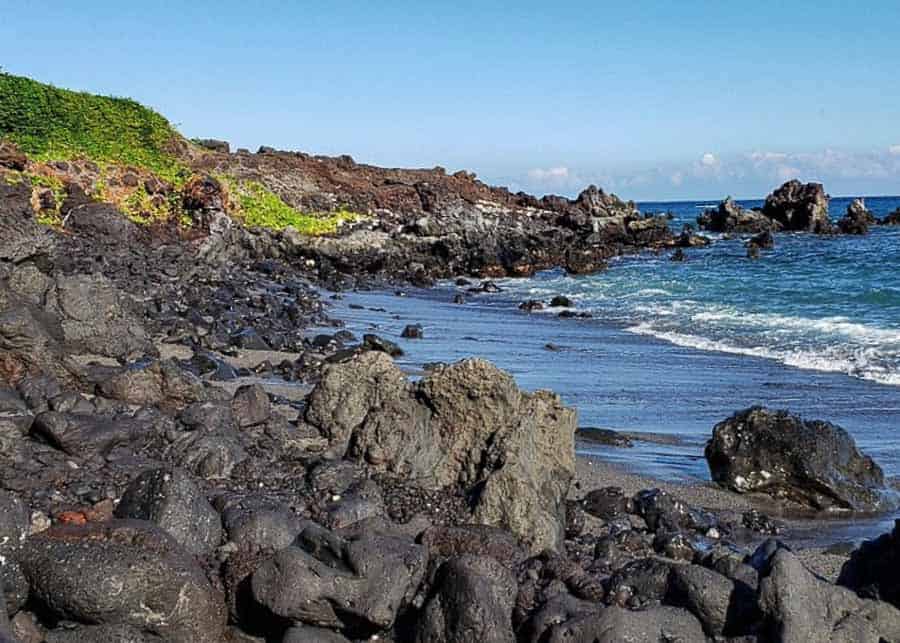 The Origins of the Black Sand Beaches in Maui
The first time you see a true black sand beach is mesmerizing and even a bit strange. It somehow doesn't seem right. The water looks dark grey instead of blue, which is less inviting than those beautiful blue lagoons we grew so accustomed to see in Maui.
But why do some beaches have black sand? One way black sand beaches are formed is through the erosion of volcanic rocks by rivers, which then carry the grains of black sand down to the ocean. But that's not how the black sand beaches in Maui were created.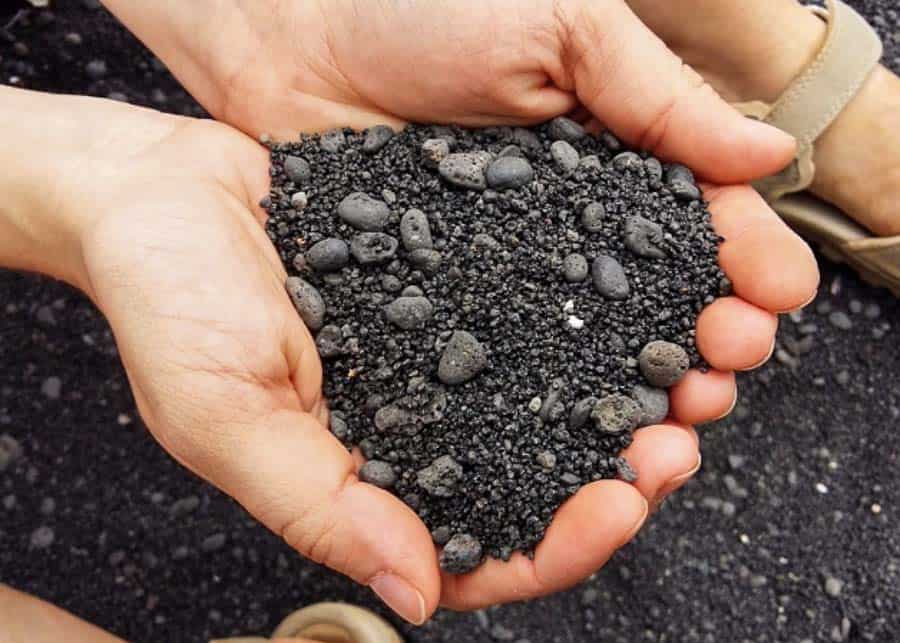 The other way is through the erosion of the lava flow that gets into the ocean. This process can still be seen today on the Big Island of Hawaii. Maui's last volcanic eruption took place in the 1790s. This left a path of rough lava rocks that you can see today in the bay of La Perouse. And this is how all Maui's black sand beaches came into existence.

Most Popular Black Sand Beaches in Maui
If you are heading to Maui and want to see some black sand beaches, here are the ones that we consider the most beautiful:
Honokalani (aka Pa'iloa) Black Sand Beach
Located in the Waianapanapa State Park, on the Road to Hana, Honokalani is Maui's most famous black sand beach. Although very popular, this black sand beach is rarely crowded. Most visitors stop here just to snap a quick photo before continuing their road trip to Hana.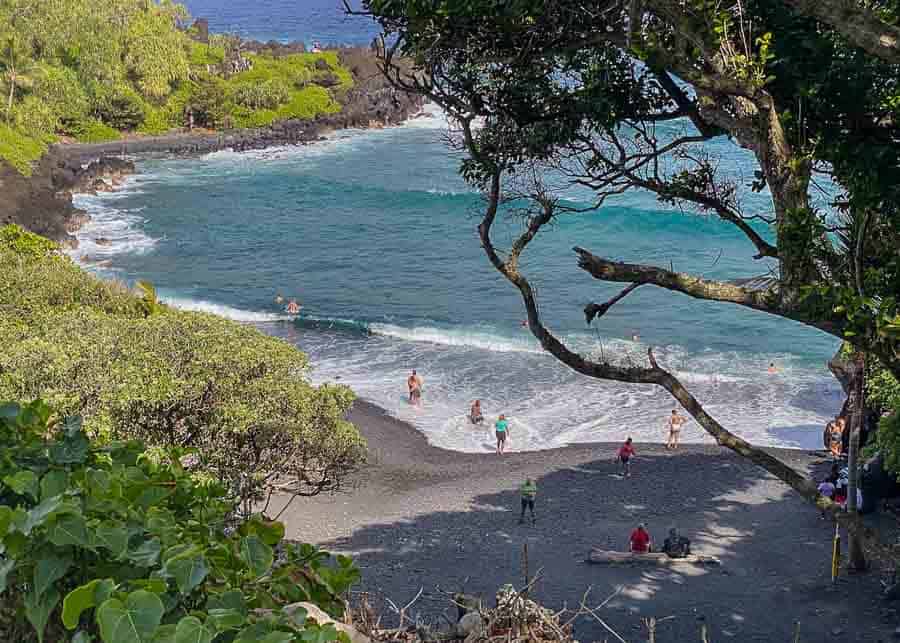 While swimming at this beach is allowed, it's generally not recommended because currents can be very strong. Unless you are a strong and experienced swimmer, you can be easily swept away.
NOTE: Reservations are now required for the Black Sand Beach, therefore all visitors must present voucher in order to enter the Waiʻānapana State Park. For reservations go to https://www.gowaianapanapa.com/
There are a couple of attractions next to Honokalani Black Sand Beach. To the right of the beach there is a Sea Cave made of black volcanic rock that you can explore.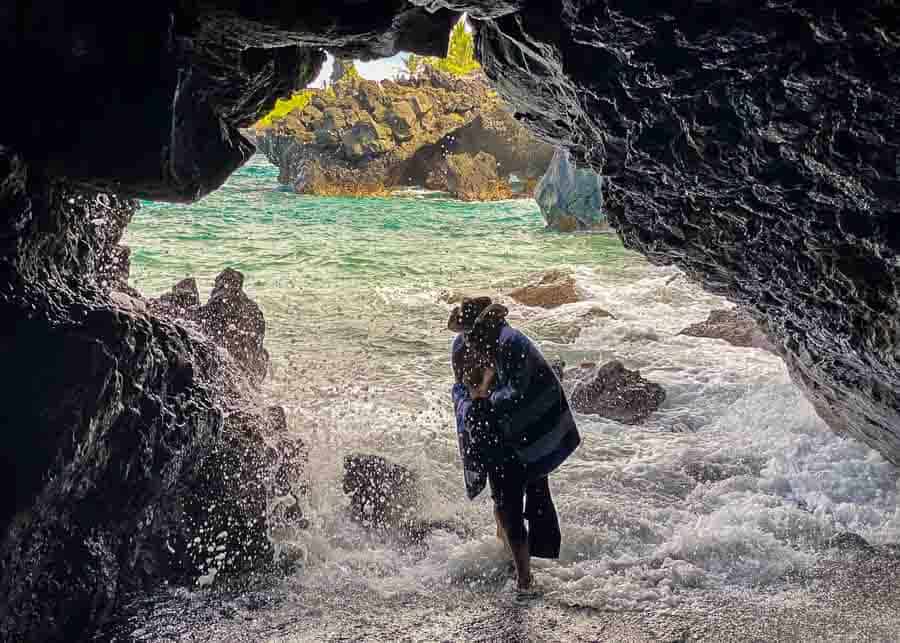 Also, to the left of the beach as you're facing the ocean, you have the beautiful Waianapa'napa coastal trail. This is one of the best hikes in Maui, so it's worth taking at least a few steps on it.
One'uli Black Sand Beach
Part of Makena State Park, One'uli is a wonderful black sand beach on the south shore of Maui. The beach is appropriately named oneuli, which means "dark sands" in Hawaiian.
This is a very scenic spot with lava cliffs to the south and a Haleakala backdrop. The beach is covered with a thick blanket of black sand, but at the water's edge the sand suddenly becomes hard lava rock, which is why the beach is great for snorkeling and diving, but not so good for bathing.
You can also see many Green Sea Turtles in this area. Another neat point is that there is a very small cinder cone at the end of the beach.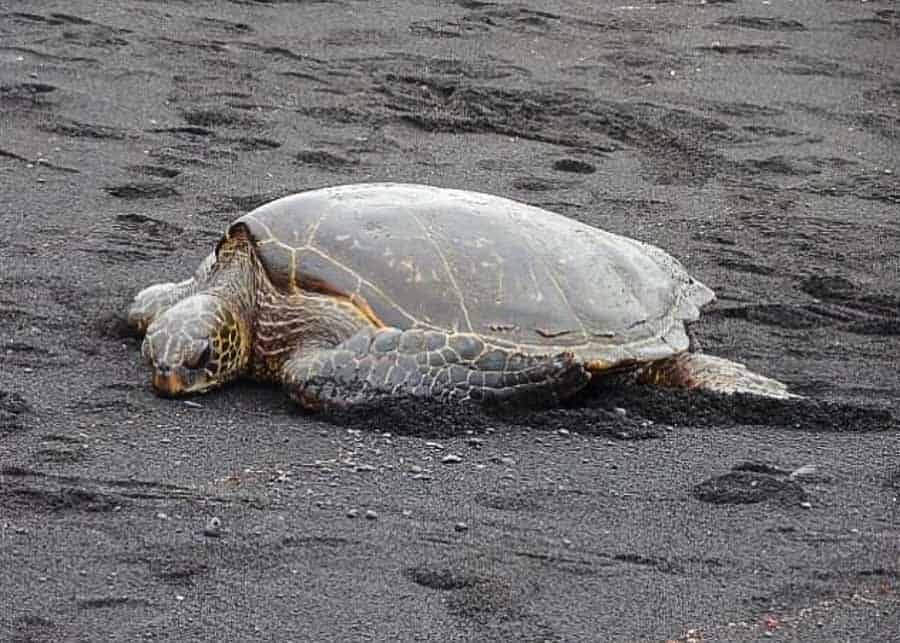 We first came here 5 years ago and were excited to come back. To this day, I still think Oneuli is the best shore access snorkeling I have had in Maui. It is a very private beach and you will have most of the salt-and- pepper sand to yourself.
Access to the beach is rather difficult as it's at the end of a short dirt road. However, we were able to pull up a two-wheel drive car there, so don't be scared away. There is a small parking that can accommodate 5 or 6 cars.
Waikoa (aka Venus) Pond
Waikoa Pond is a spectacular pond and black sand beach on the East side of Maui, but I have to start by saying that it's not easy to access. While the pond, beach and stream are on State land, the access trail is on private land belonging to Hana Ranch. Navigating the slippery cliffs is also quite challenging.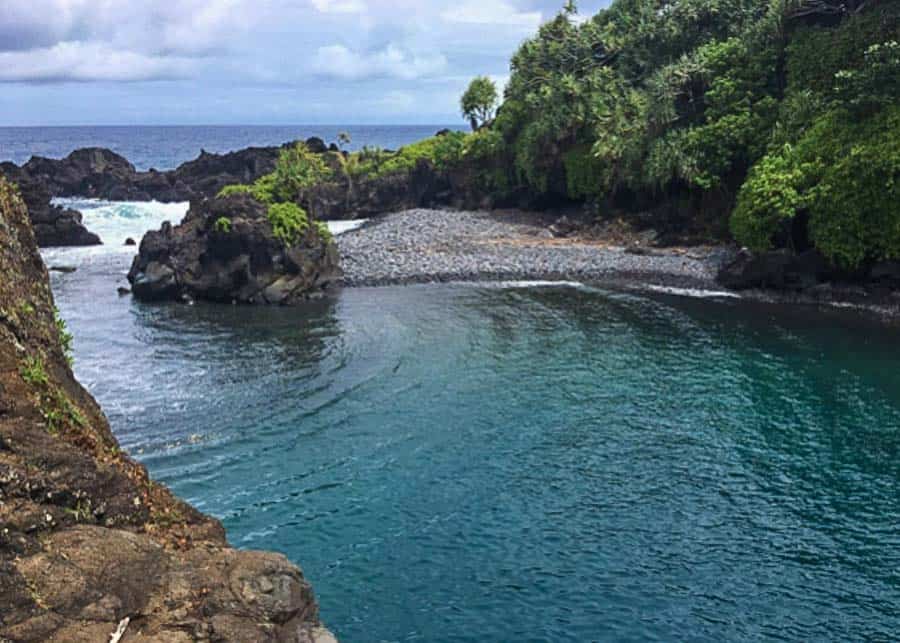 This place is totally off the grid and can be tricky to find. Without an audio guide or a local telling you about it, you would easily drive by without stopping.
If you want to visit Waikoa Pond you have to pull onto the side of the road (mile marker 48), park near the fruit stand and go over a brick ledge. Then walk through a field on a path that leads all the way to this place.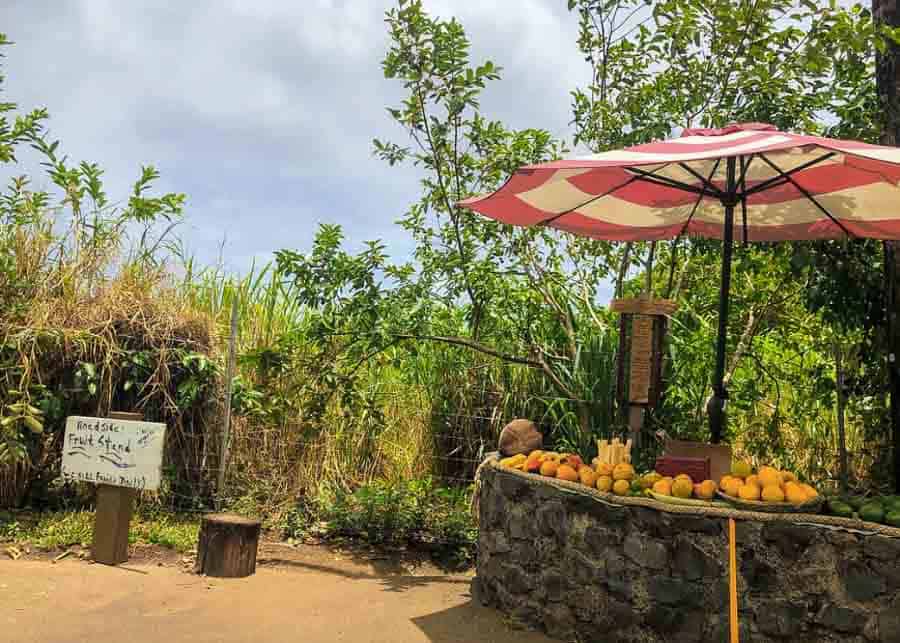 Land owners allow it, as long as you leave no trash behind. There is a sign that they won't assume any liability in case you get injured, which is fair enough.
There is cliff jumping for those that like adventure. We had been looking forward to get in the water, but the jump seemed rather scary, so we didn't do it. We loved the pond and the view nonetheless and found this place totally worth seeing.
Waikoa pond is an incredibly serene place and visiting is is one of the most romantic things to do in Maui as a couple.
Honomanu Black Sand Beach
Honomanu black beach is located along the famous Hana Highway (Road to Hana) on Maui's north shore, between mile markers 13 and 14.
The beautiful coastal view of the beach surrounded by lush vegetation with a mountain backdrop, make drivers slow down here to admire the scenery. Unfortunately, there are only a few small pullouts from where the bay can best be seen.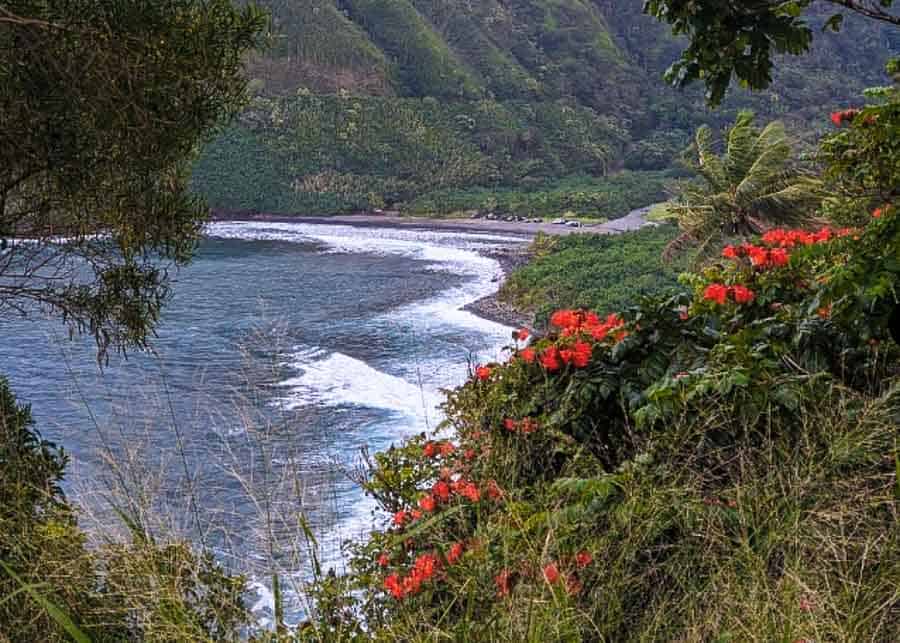 If you want to visit the beach, don't make the mistake of parking near the main road and walk down, like most people do. There is a small dirt road that will take you almost all the way down to the beach. You can make it down safely even with a two-wheel drive, unless it's very muddy.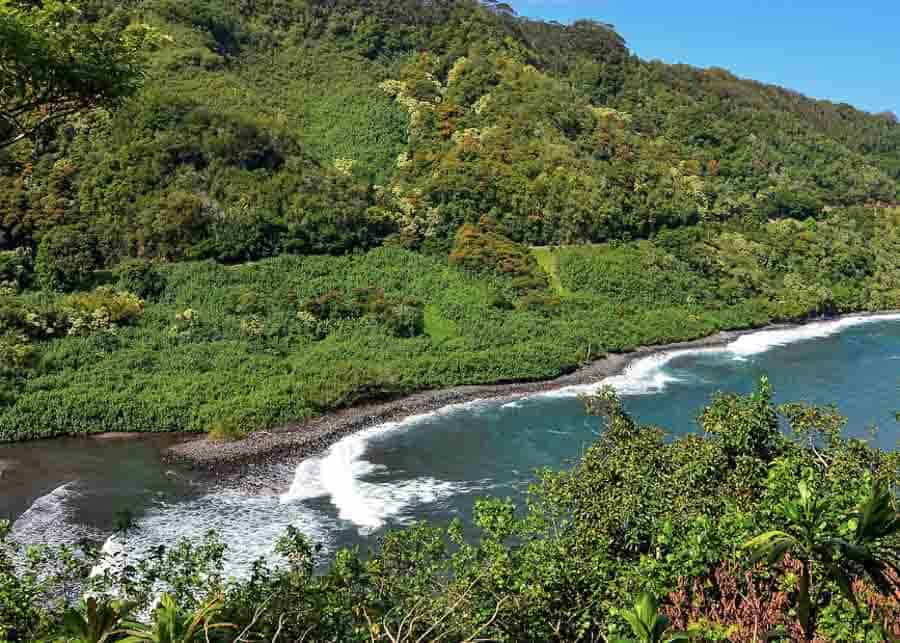 The beach itself is rocky and not as beautiful as other Maui black beaches. Also, there is an offshore surf that makes it dangerous for swimming, but if you are after quiet and privacy then you may like it here.
La Perouse Black Sand Beach in South Maui
Unlike other black sand beaches in Maui, La Perouse isn't a sandy beach to spread out and lounge. Instead, what the area lacks in beach quality it makes up for with impressive views of the Haleakala and inspiring contrasts of color: turquoise water, charcoal-colored lava rock dotted with white coral washed on the shore.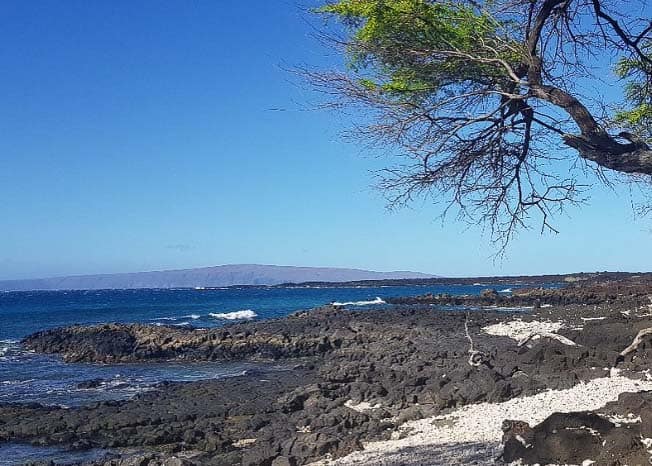 To get to La Pérouse Bay, drive south to the end of Makena Alanui Road. When the road narrows you'll come across a bumpy path that goes through massive lava fields. This is where lava flowed during Maui's last volcanic eruption around 1790s.
At the end of this road there is paid parking lot where you can leave your car. La Pérouse Bay, was named after French explorer Jean-Francios de Galaup, count of La Pérouse, who surveyed and mapped this area in 1786.
Swimming is not good here, but snorkeling is one of the best on the island. There are several small coves that lie between rocky points. These are often covered with tidal pools.
Tips for Visiting the Black Sand Beaches in Maui
Black sand beaches are beautiful sights to see, but they may be dangerous destinations if you don't know what to expect.
One thing to keep in mind is that most black sand beaches in Maui are located in very remote areas, with no lifeguards on duty. You should exercise caution when entering the water as heavy breaking waves can trigger a sudden rip current. But rip currents are hazardous even around low tide, when water is already pulling away.
Another thing to consider are the sharp, volcanic rocks hiding below the surface of the water. Always look around before venturing out for a swim.
The black beaches are predominantly made of sand formed by volcanic materials and lava fragments. But besides sand, you can also find basalt rocks, andesite, and volcanic glass, which may be rough on the feet. Also, black sand tends to be hotter as it absorbs the heat, so the solution is to wear some sort of footwear on these beaches.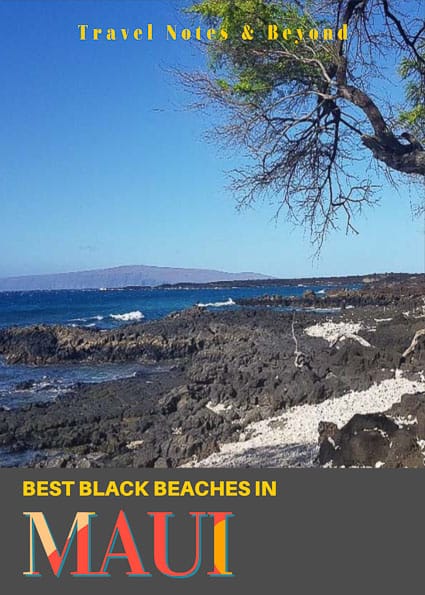 YOU MAY ALSO LIKE THESE: