Hiking is one of my favorite things to do in Maui. Whether it's a winding path through an enchanting bamboo forest, an easy coastal stroll along a lava road, or a more demanding hike at the summit of Haleakala volcano, Maui has a wide variety of hiking trails for outdoor lovers.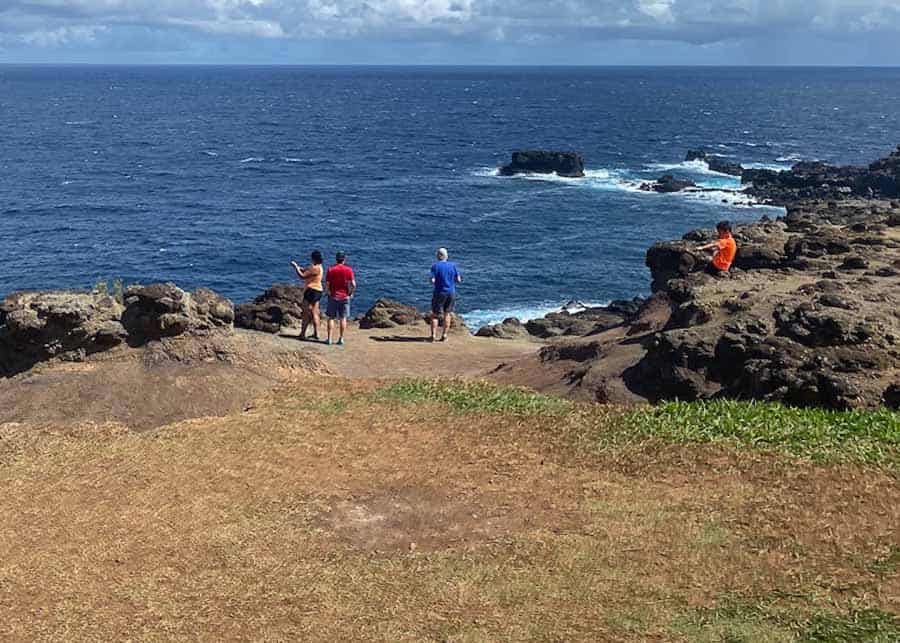 There are so many trekking opportunities on this Hawaiian island that you could spend years trying to discover all the routs and trails around.
The 10 Best Hikes in Maui
There are over a hundred hiking trails in Maui that spread all around the island. You can choose to do short day hikes, or longer treks that will allow you to camp in some of the most beautiful places on this island.
As opposed to the hikes in Kauai, where reaching a beautiful waterfall may take a lot of effort, Maui offers many short and easy waterfall hikes. So here are some of my favorite trails on this island:
Best Hiking Trails on East Maui

Pipiwai Trail
Pipiwai Trail is located above the Oheo Gulch (Seven Sacred Pools), near mile marker 42 on the Hana Highway, in the northeastern part of the island.
Of all the hiking trails in Maui, this four-mile (round trip) path is our #1 favorite. The trail takes you through some incredible sights, passing by small waterfalls, mysterious bamboo forests, and ends at a jaw-dropping valley where you'll see the 400 feet Waimoiku Falls cascading down before you.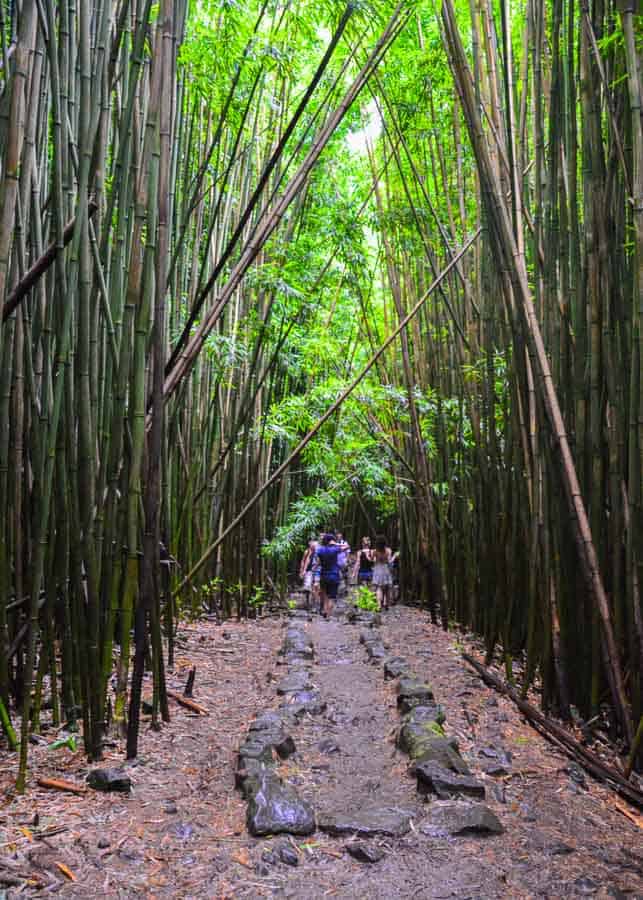 About half way along the road you'll pass by the 185-foot Makahiku Falls which is also very beautiful. But the majestic Waimoku Falls at the end of the hike is far more impressive. The powerful waterfall flows from 400 feet up, spraying a cool mist all around it.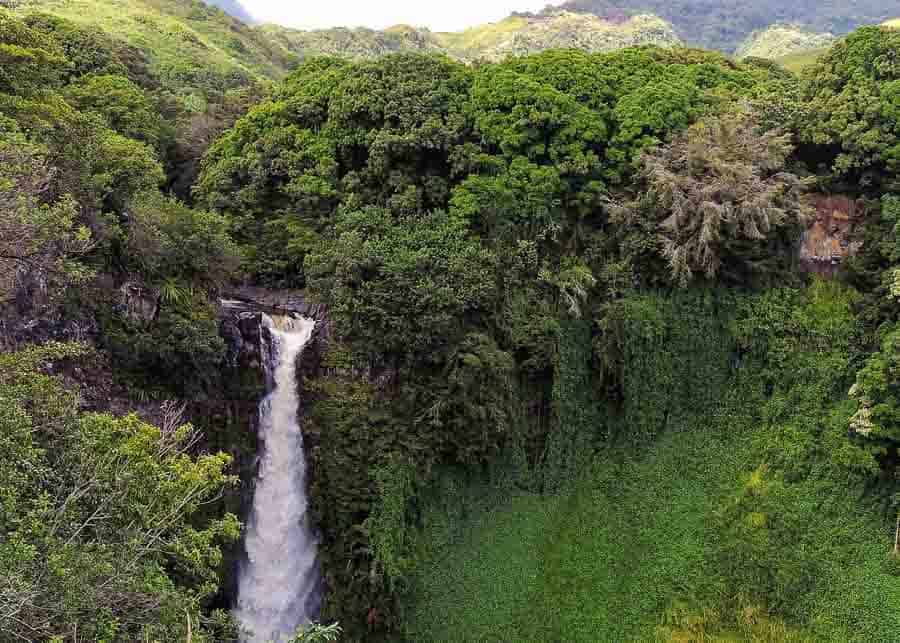 Pipiwai Trail is easy to access and it's exceptionally well-maintained, so anybody can do it. The most difficult part of the hike is within the first half mile, where you'll encounter some steep areas. But once you pass this slope, the trail becomes smoother.
Depending on your fitness level and how often you stop, the hike can take anywhere from two to five hours to complete.
Trailhead: Kipahulu Visitor Center near mile marker 42
Distance: 4 miles (round trip)
Difficulty: Moderate
Elevation Gain: 650 feet
Twin Falls Hike
Twin Falls are the first of the many waterfalls along the Road to Hana, so almost everybody stops here. These picturesque waterfalls form a large pool where you can swim. The falls are just beyond Mile Marker #2 on the Hana Highway, right after the bridge that crosses the Ho'olawa Nui stream.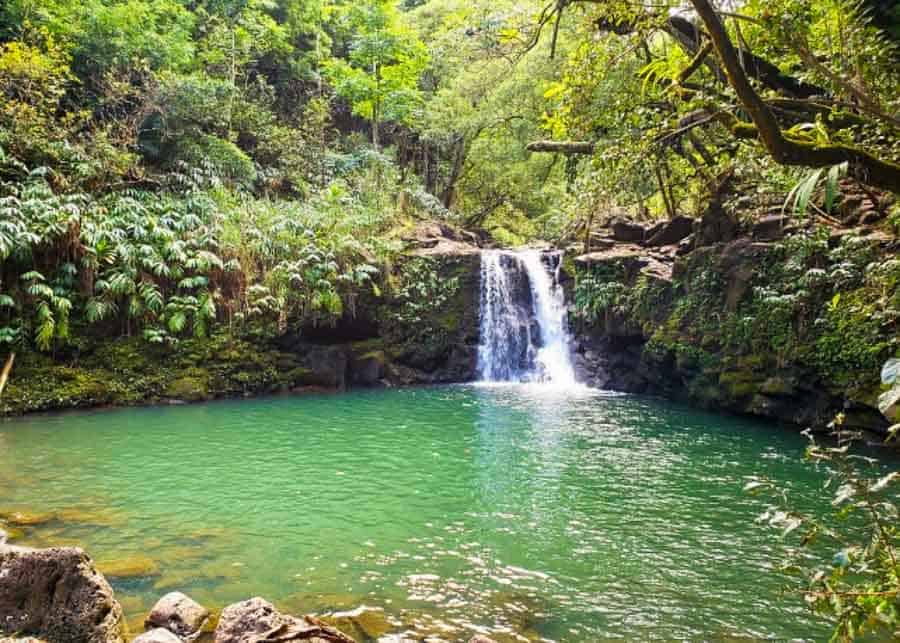 The access is really easy, through a grassy area located on Wailele Farm. This is a family owned and operated farm that provides free access to the falls and also conducts tours.
As far as a hike is concerned, there isn't much to it. However, the trail passes through some beautiful scenery at the end of which a beautiful waterfall await you. There are actually three different waterfalls to see on this hike. When we were there, there was not enough water to create the twin falls, but the next cascading fall was was the better one to see.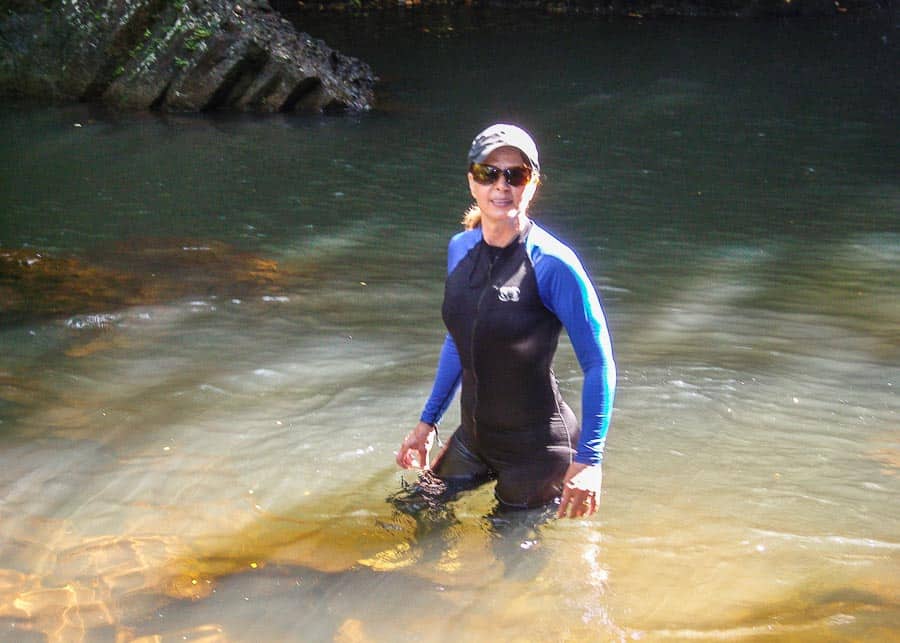 Parking fee is $10, but the parking lot is relatively small and almost always full. Therefore, if you want to have a chance to do this short hike, start your drive early, especially if you come from the west side of Maui. The round trip takes about an hour.
Trailhead: Mile Marker #2 on the Hana Highway
Distance: 1.8 miles (round trip)
Difficulty: Easy
Elevation gain: 115 feet

Wai'anapanapa Coastal Trail
Waianapanapa State Park is one of the most popular places to stops on the Road to Hana. Although most people stop here because of the Honokalani beach, which is one of Maui's most famous black sand beaches, there is also a beautiful coastal hiking trail in this park.
The hiking trail is known as the the Waianapanapa Coastal Trail and it extends in both directions from the black sand beach. This is a great hike across Maui lava fields where you'll see a number a interesting rock formations and incredibly beautiful views of the ocean.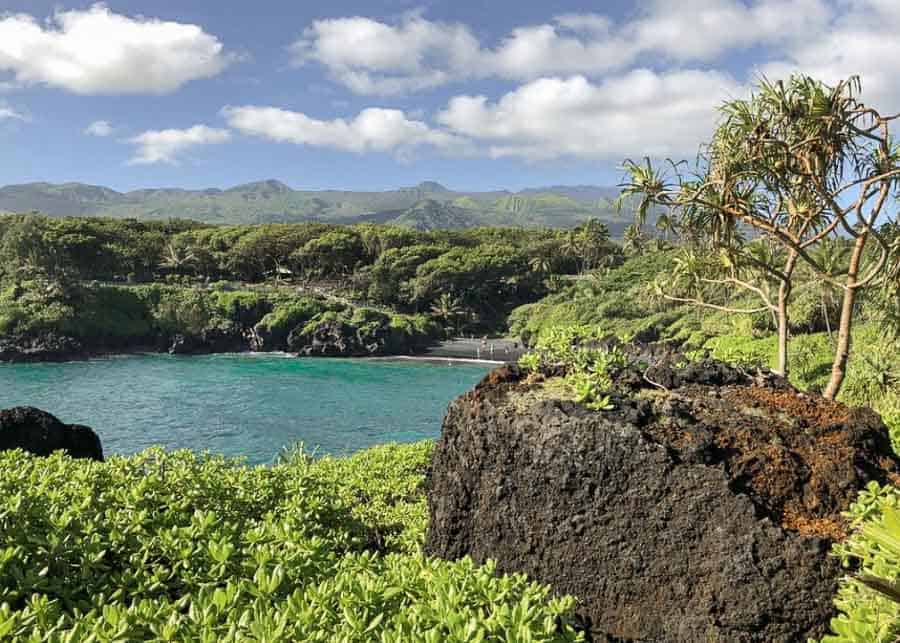 While you are still in this area, don't miss the fresh water cave located within Wai'anapanapa State Park. You won't see this place included in many itineraries mostly because not many tourists driving the Hana Road know about it. To reach the cave, you'll have to go on a loop trail that passes through a grove.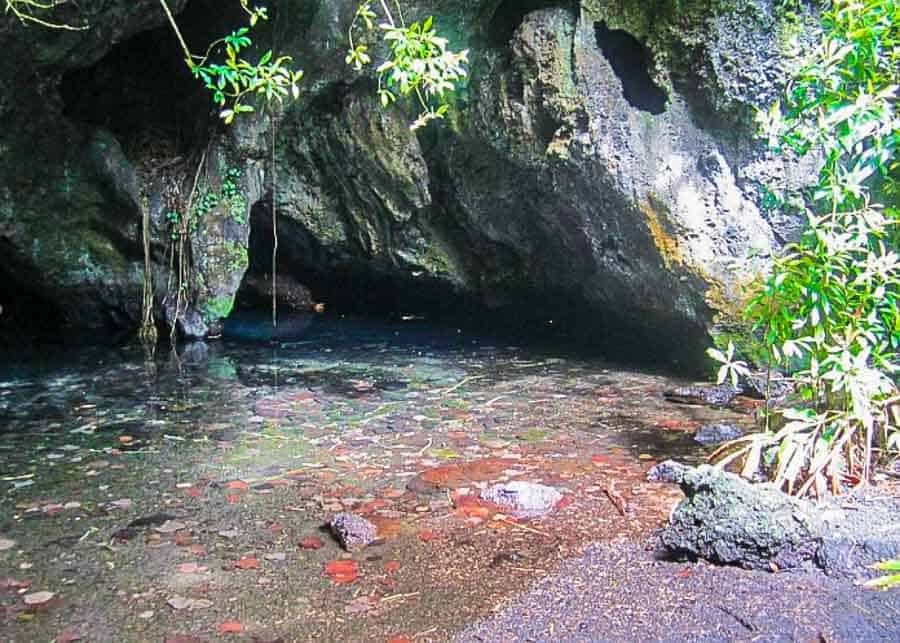 According to an old Hawaiian legend, a beautiful princess was killed here by her jealous husband. Therefore, every spring tiny red shrimp appear in the pool turning the water red – a symbol of the slain princess' blood.
Trailhead: Mile Marker #32 on the Hana Highway
Distance: 2 miles (round trip)
Difficulty: Easy
Elevation gain: 147 feet

Waihee Ridge Trail
Waihee Ridge trail is one of the most difficult, yet most beautiful hikes in Maui. It reminds me a lot about the Kalalau Trail, one of the most beautiful hikes in Kauai.
Located in northern Maui, Waihee Ridge Trail takes you along the ridge of the Waihee Valley, through an unbelievably beautiful scenery. If it's a clear day the views are surreal! Even if it's cloudy, it's still beautiful. A really mystic experience!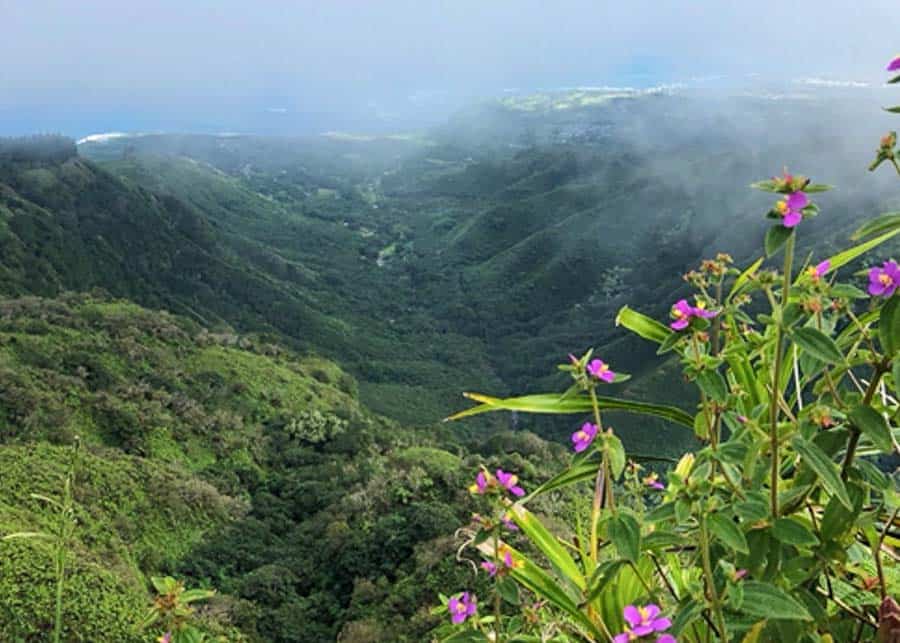 Once you begin hiking into the rain forest, you'll enter thru a gate, and find the trailhead. The first part of the trail is a steep uphill climb on concrete, which really gets your heart 'warmed up.' Since the trail is at the edge of the rainforest, it may rain very frequently, so expect find mud on along the way. At least when we went it was pretty muddy.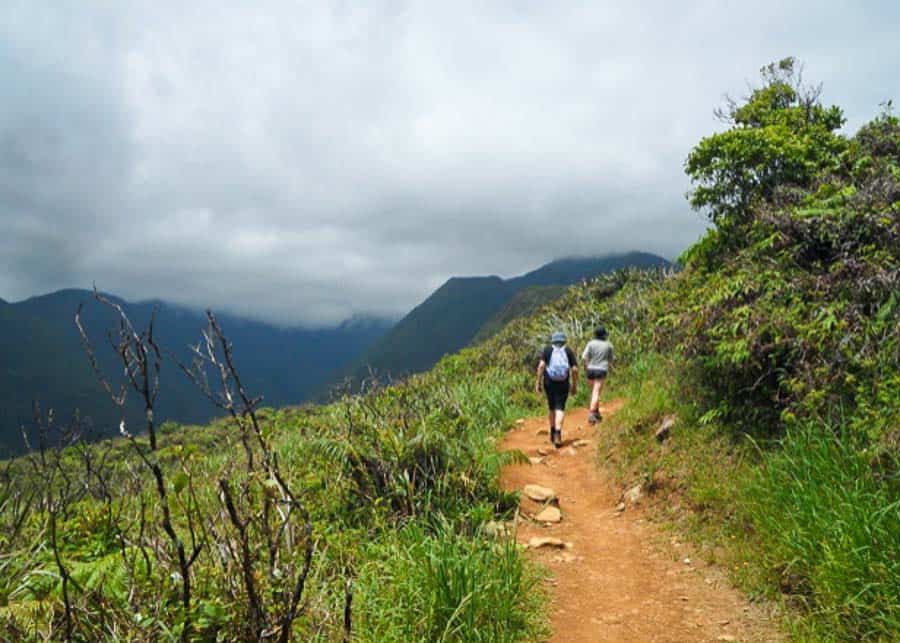 The views are quite impressive even from the start and become more appealing the further you trek. You will traverse some pleasant wooded areas then a narrow spine with sharp drop-offs before the final push through scrub to the summit. There is quite a bit of climbing, many stairs, and a fairly steep descent.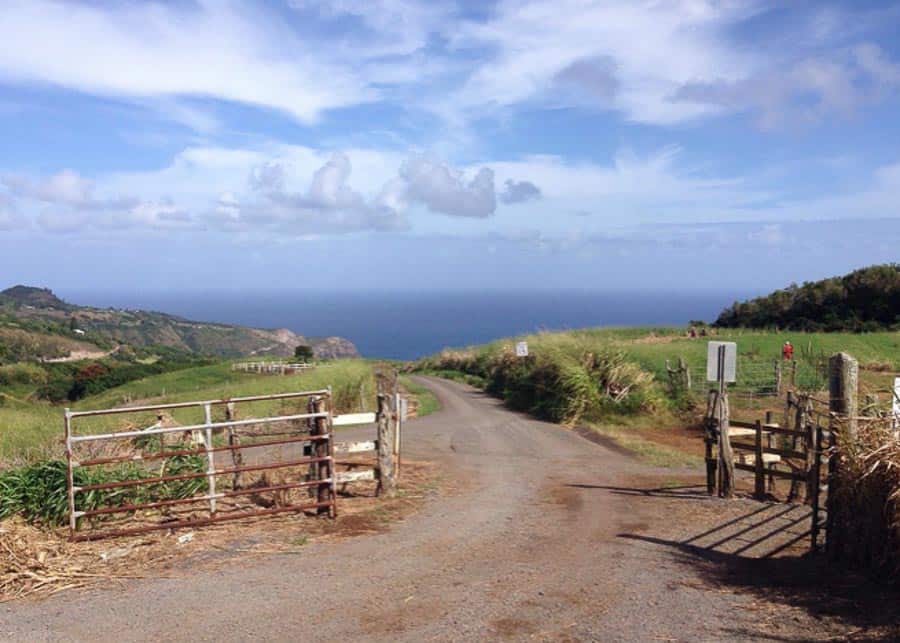 We did not quite make it to the top because my knee gave me a lot of hassle on those steep slopes. I think we had about 800 more yards or so to the top, but hikers coming down told us it was quite muddy, so we decided to turn back. The views were already spectacular where we were, so no regrets.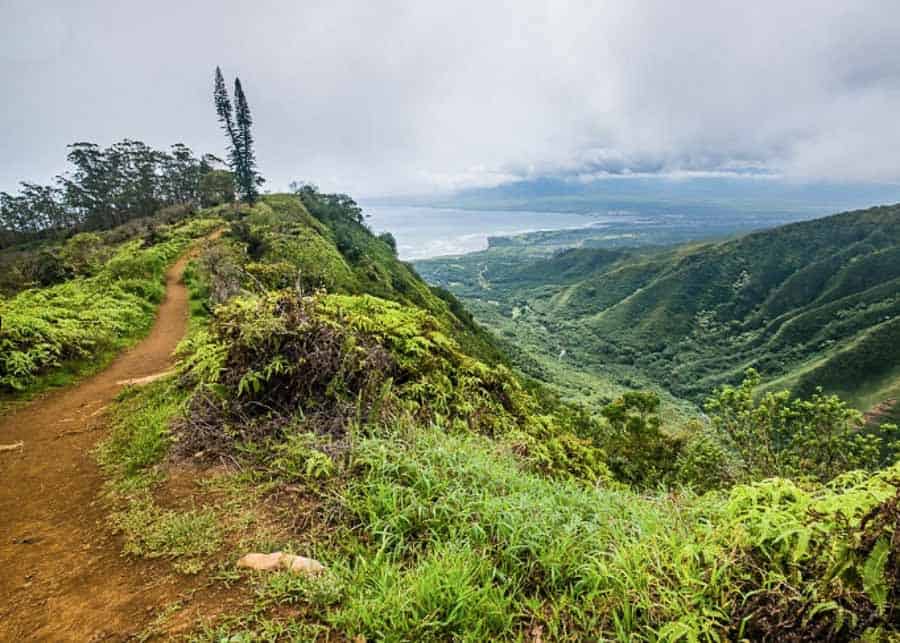 But for the steep incline at the beginning, Waihee Ridge trail would be my favorite hike in Maui. This is a fabulously beautiful piece of paradise!
Trailhead: Mile Marker #6.9 on Kahekili Highway
Distance: 2.5miles (one way)
Difficulty: Difficult
Elevation gain: 1,700 feet

Best Hiking Trails on the West Side

Nakalele Blowhole Trail & the "Acid War Zone"
If you're looking to spend a little time away from the crowded beaches of Maui and want to try a more unusual hiking trail, head north on Highway 30 to the Nakalele Blowhole. After as you pass Napili Bay, look for the parking at mile marker #38 and the trailhead to the Nakalele Blowhole.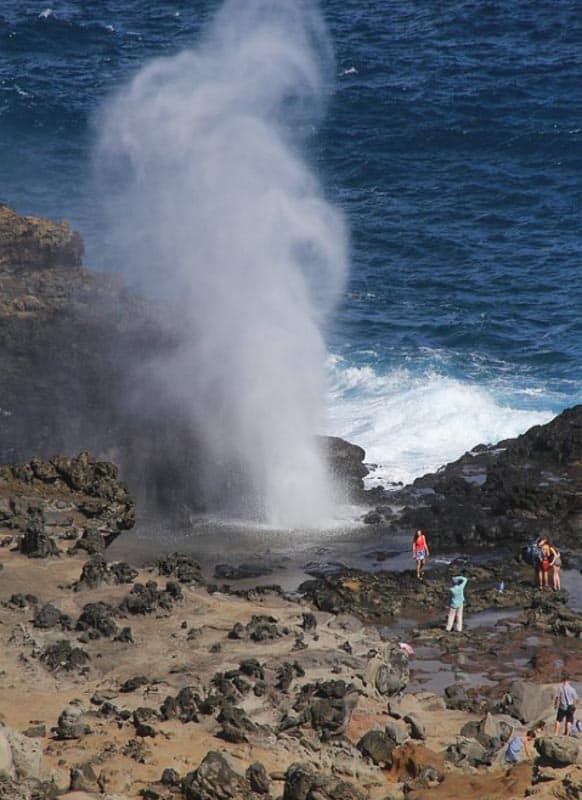 There are actually two trailheads leading to the blowhole. One that starts at mile marker #38 passing through a very barren landscape with severely eroded boulders that resemble a war zone (hence the name Acid War Zone).
If you feel more adventurous, start here. This is a 1.25 mile hike (round trip) that follows the coastline for a while then, after reaching the light beacon, continues through the Acid War Zone all the way to the Nakalele Blowhole.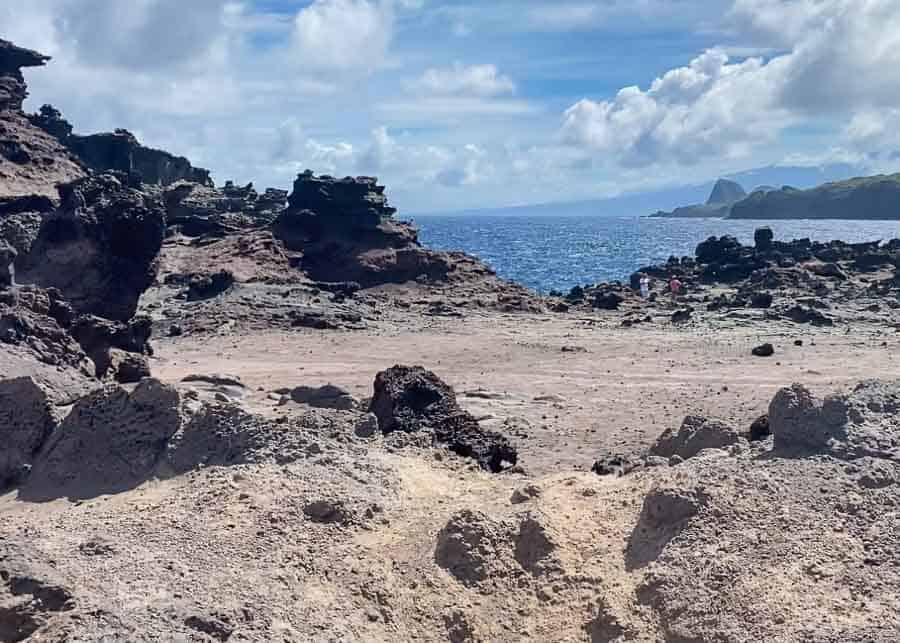 The other trailhead starts at mile marker #38.5 and goes directly down to the Blowhole. This is a better choice if you want to do a shorter hike or are less mobile. The trail is steeper than the other one, but it's shorter. It also overlooks the blowhole, so you can look at it it from the distance if you don't want to hike all the way down.
We hiked down the trail at mile marker #38, passed through the Acid War Zone towards the blowhole, and returned on the shorter trail. From the top of the trailhead, we walked back to the car on Highway 30.
Trailhead: mile marker 38 on Highway 30
Distance: 1.25 miles (round trip)
Difficulty: Easy
Elevation gain: 308 feet

Kapalua Coastal Trail
The Kapalua Coastal Trail is an easy 2.5 mile hike along the west coast of Maui. One of my most favorite Hawaiian walks. It's got a bit of everything: sandy beaches, beautiful bay views, boardwalk, lava fields, stairs, plenty of greenery and a walk through landscaped resort grounds.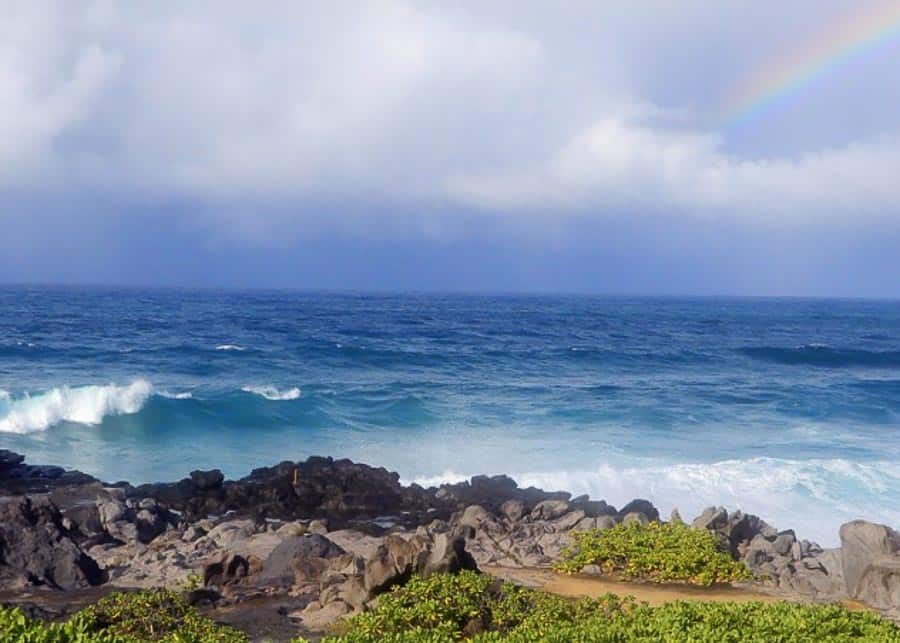 This is a very pleasant hike that offers great photo opportunities. Along the way you'll see dramatic coastlines, stacks of sharp lava rocks, small sand dunes anchored by fields of green Naupaka flowers, and three crescent beaches.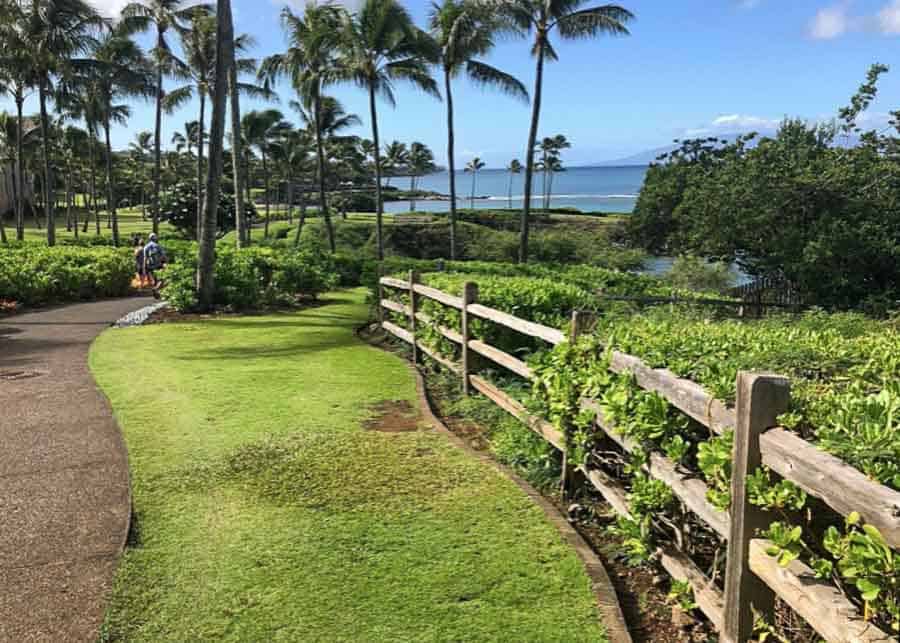 We started out from Kapalua Bay and strolled along the water's edge all the way to D.T. Fleming Beach. This trail is best taken in the morning or very late afternoon, when the sun is not so strong.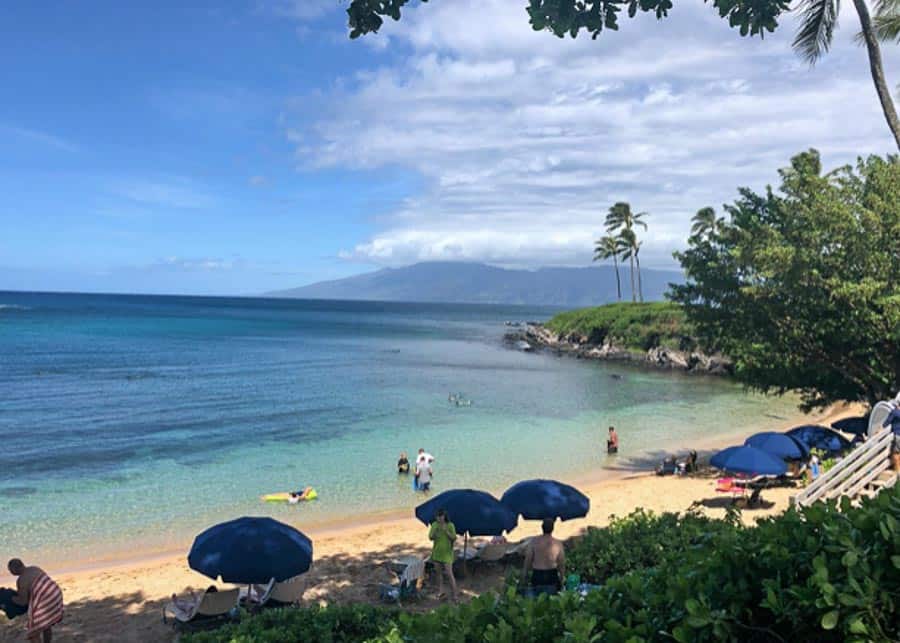 Trailhead: Fleming Beach or Kapalua Bay
Distance: 3.5 miles (round trip)
Difficulty: Easy
Elevation Gain: 200 feet

Olowalu Petroglyphs
The 0.4 mile trail to the Olowalu Petroglyphs is not much of a hike, but it's worth taking if you want to see some ancient rock carvings. Located in West Maui, just a short drive from Lahaina, Olowalu is one of the easily accessible petroglyph sites on Maui.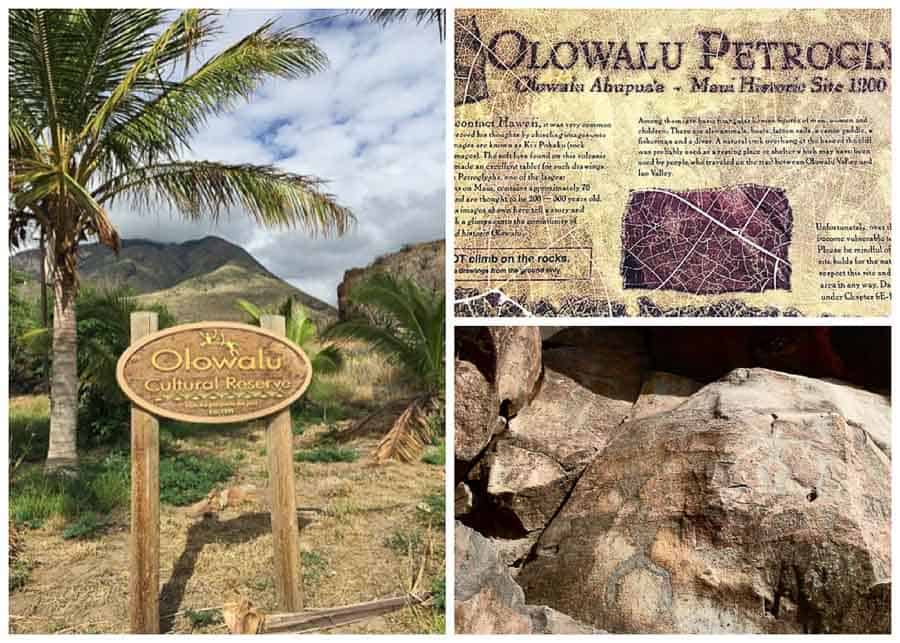 About 100 ancient images have been chiseled into the rock here by ancient Hawaiians. You'll be able to see human and animal figures, as well as sailing boats. You can see the petroglyphs along a tall basalt cliff. Some are high, some are low, and some are fake, vandal carvings.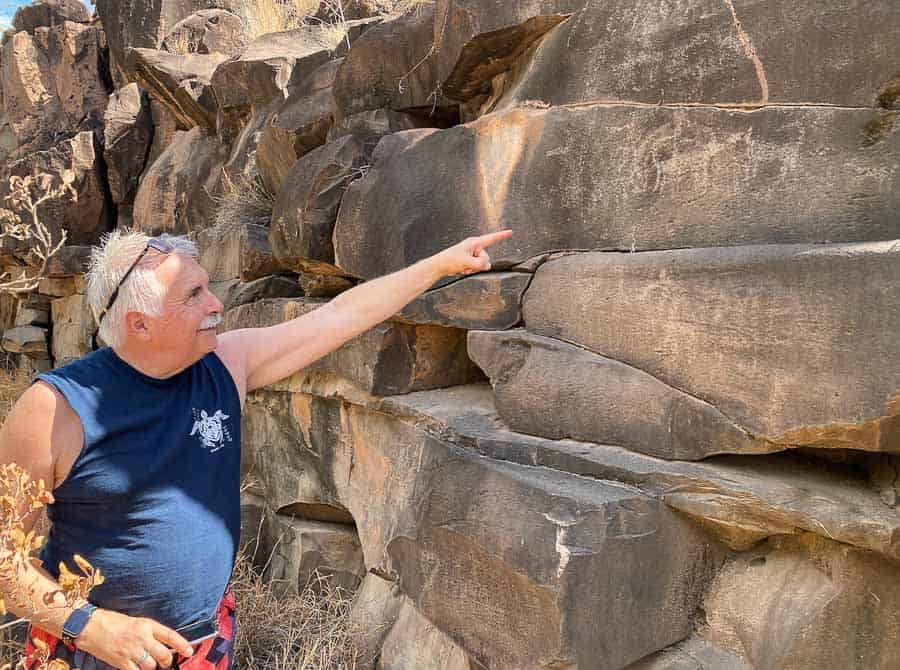 The stone carvings are right over the large sign that describes them. The carvings are small. It takes a few minutes to distinguish them on the rock, but once you do you should be able to see the rest of them easily. Fun treasure hunt!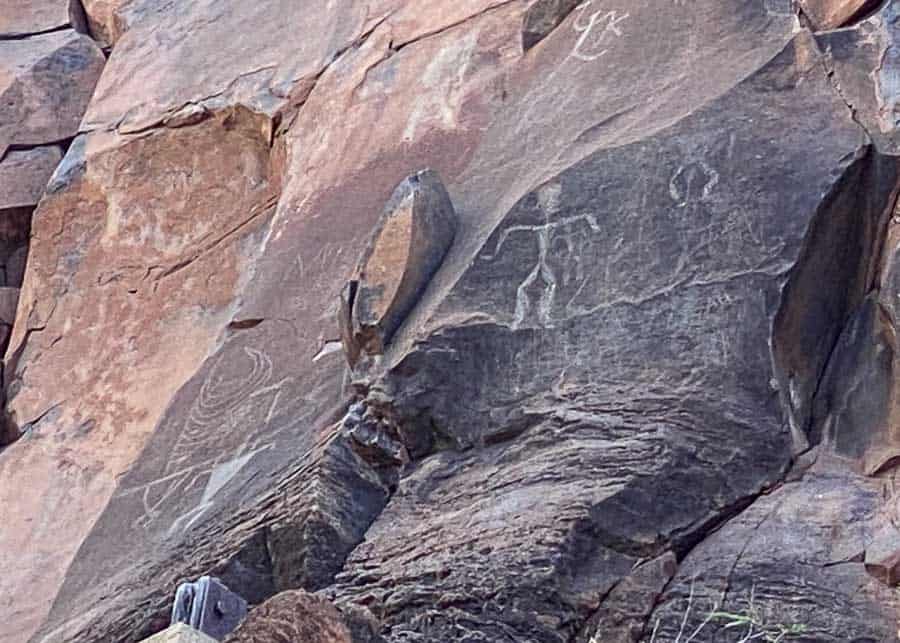 How to reach the Petroglyphs: The place is a little tricky to find. The address is 820 Olowalu Village Rd, in Lahaina, but access to the site is via a quarter mile (400 m) long dirt trail. There is a General Store there and behind it is a road that takes you right to the stones. Go until you to see a water tower. That's where you'll see the trail that you need to follow.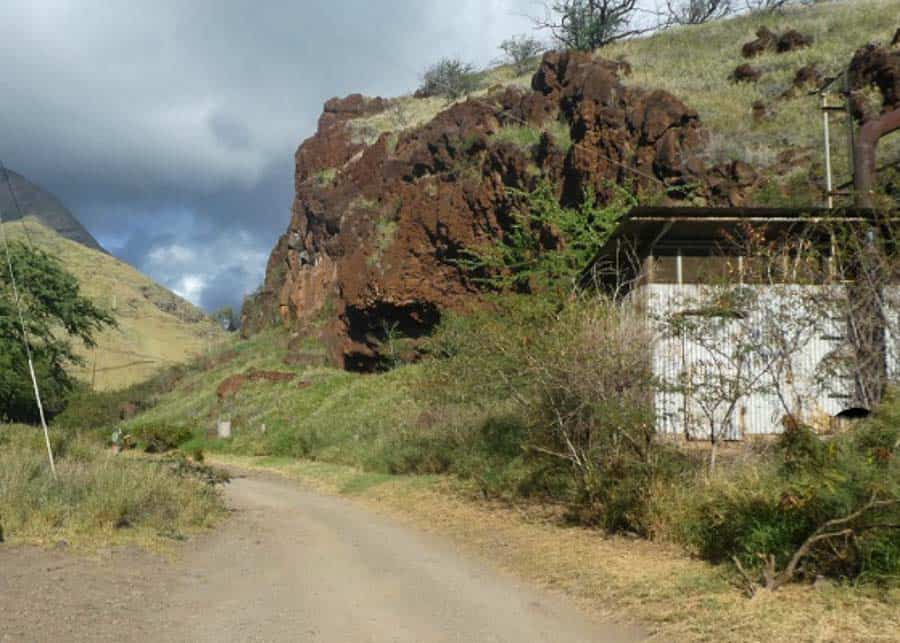 Best Hikes at the Haleakala Summit
Most visitors drive up to the Haleakala Crater to watch the sunrise leaving shortly after, but I encourage you to stay and hike one of the many fantastic trails at the summit. Two of our favorites are the Sliding Sands and Halemau'u Trail.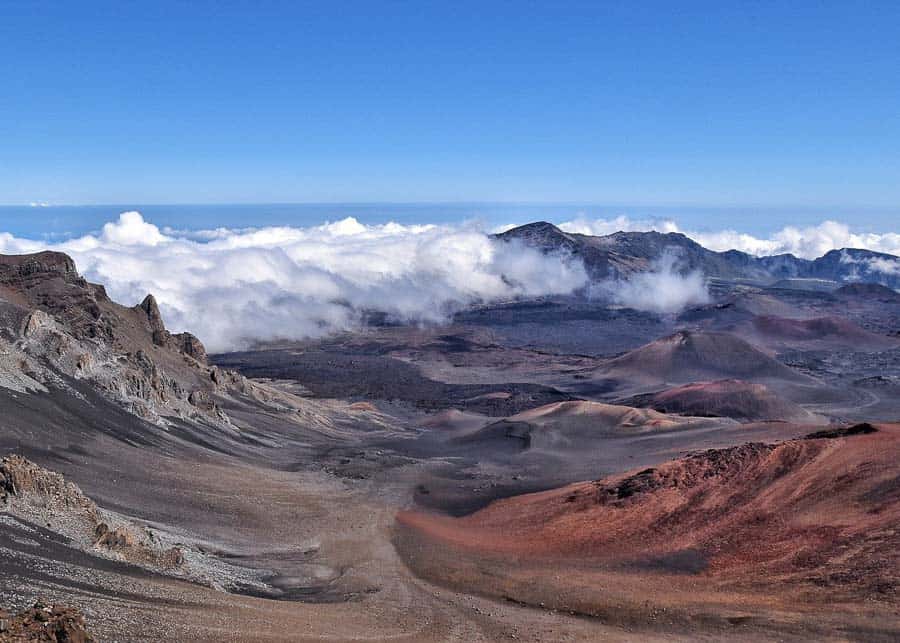 Sliding Sands Hike
Located atop Haleakala Volcano, Sliding Sands (or Keoneheehee Trail) is one of the best hikes in Maui, offering amazing views of the volcano. While you can admire the colorful cinder cones in the crater from several viewpoints, nothing compares to actually hiking down into the crater and walking among those volcanic hills.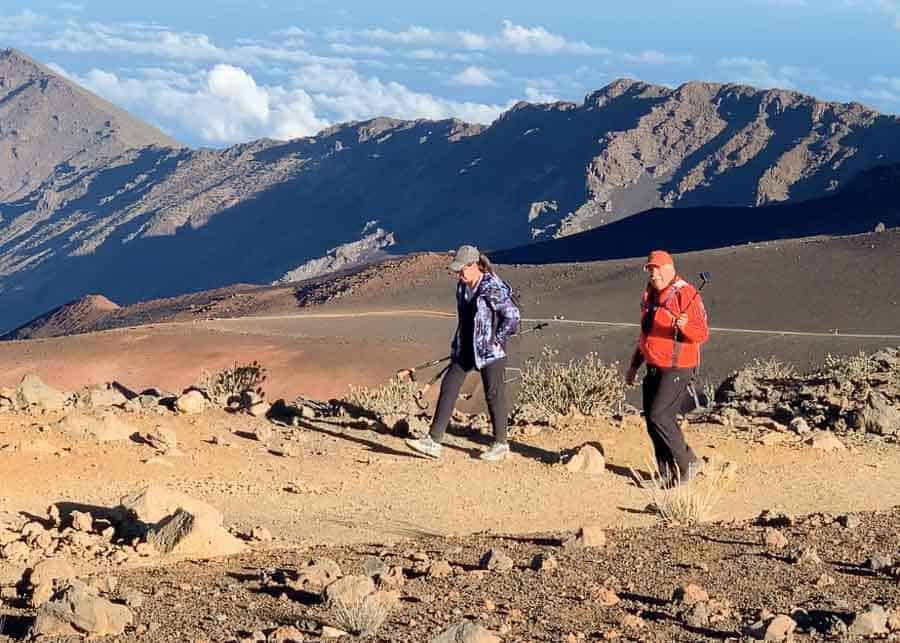 The trail starts at Haleakala Visitor Center parking lot and switches back down into the Haleakala crater. Some brave souls choose to hike all the way down, to Pele's Paint Pot, in the very heart of the Haleakala Crater. That's roughly 5.7 miles from the trailhead (11 miles round trip) and requires camping there overnight.
The good news is that you don't need to hike all the way down to enjoy this magnificent trail. Go as far as you feel comfortable because going back to the summit requires some work. Keep in mind that the elevation loss/gain is pretty consistent and hiking at this altitude is difficult. Some people may get altitude sickness.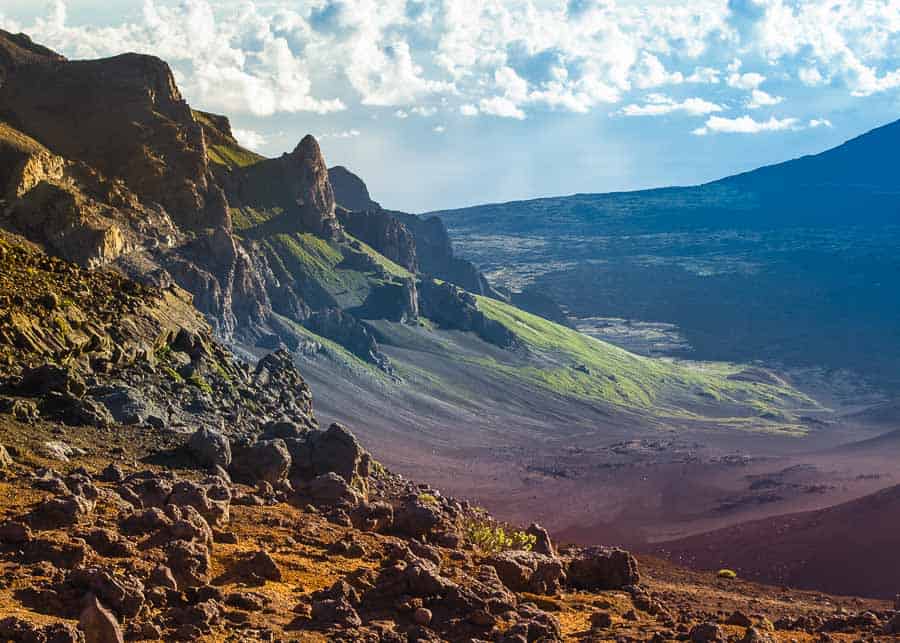 The volcano may look big from the summit lookout, but you don't really get to appreciate just how BIG it is until you hike down into it. Along the way you see a Moon-like, barren landscape which changes colors as you go along.
As far as plants, nothing grows up here except for the rare and native Silverswords.
You'll want to dress warmly for this hike, as it can get quite chilly. Also use sunscreen and carry plenty of water with you, because you'll need it.
Trailhead: Haleakala Visitor Center parking lot
Distance: 11.5 miles (round trip)
Difficulty: Strenuous
Elevation change: 2,800 feet

Halemau'u Trail
The Halemau'u Trailhead is an easy hiking trail that lies about halfway between Hosmer Grove and the Haleakala Summit. Thanks to its rich vegetation and gorgeous views, this is one of the most popular hikes in the park.
The trail runs across a remarkable natural land bridge known as the "Rainbow Bridge," then continues to an amazing panoramic viewpoint, which is about 1.1 miles from the trailhead. Here you'll get gorgeous, clear views into the crater and the Ko'olau gap – a large valley over two thousand feet tip that extends to the east of Haleakala.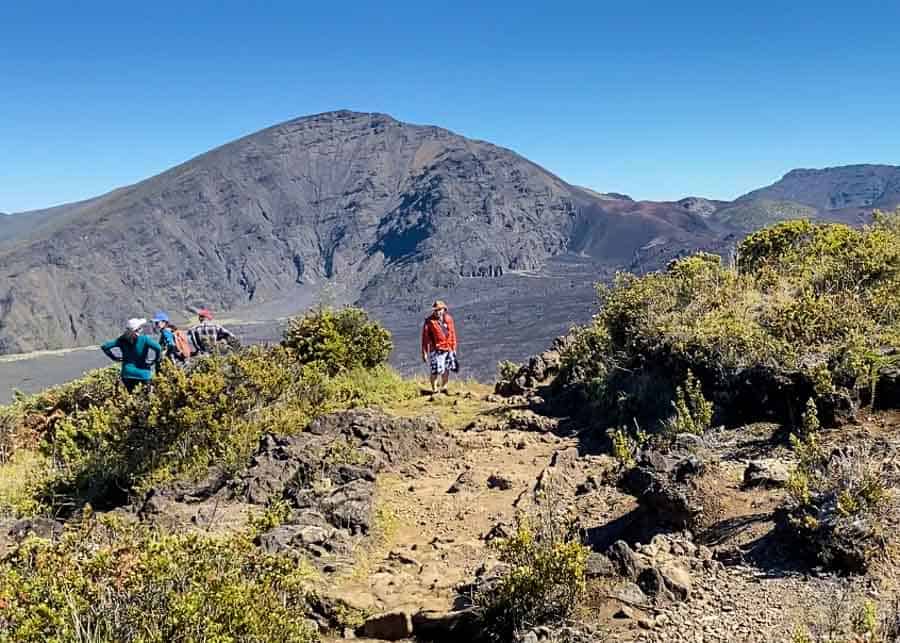 Up to this point the hike is easy, but from here it gets more technical on the switchbacks down into the crater. The trail continues down for another 2 miles and eventually links up with the Sliding Sands Trail, deep into the heart of the crater. However, most people only do the Halemau'u hike up to the first lookout point, making this a 2.2-mile roundtrip.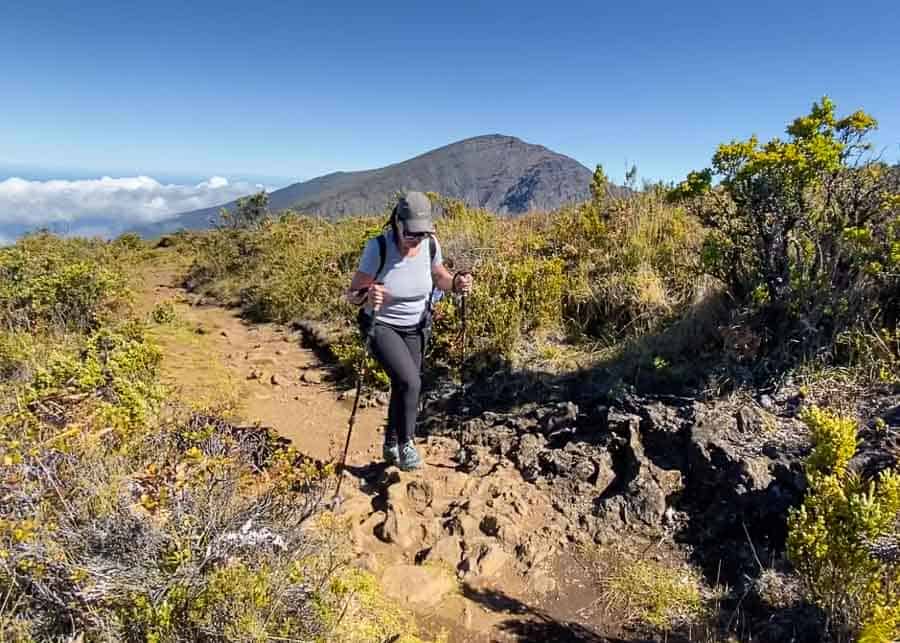 We absolutely loved this trail with gorgeous views, beautiful vegetation throughout, and nene sightings. The slope down is gradual, but is stair-stepped with rocks and boulders as "steps." Each step you take must be watched or you'll end up losing your balance.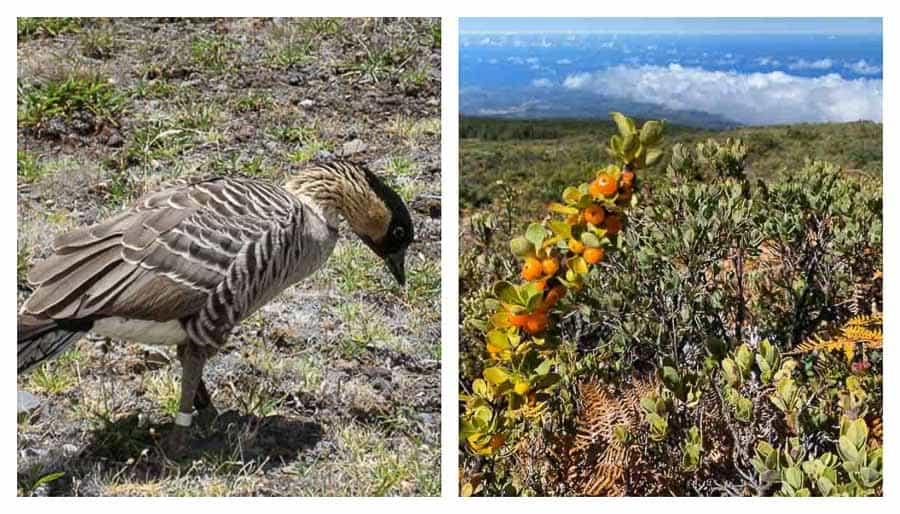 We made it as far as the lookout before turning around. The lookout into the crater was quiet and jaw-dropping gorgeous!
Trailhead: Halemau'u Trailhead, off Haleakala Highway
Distance: 2.2 miles (round trip)
Difficulty: Easy/Moderate
Elevation change: 400 feet
Best Hiking Trails in Central Maui
Iao Needle Lookout Trail
Iao Valley State Park is one of the most spectacular places in Maui. But aside from its natural beauty, Iao Valley is considered a sacred place of great historical importance. It is believed that the remains of the highest Hawaiian chiefs were buried in secret hiding places in this valley.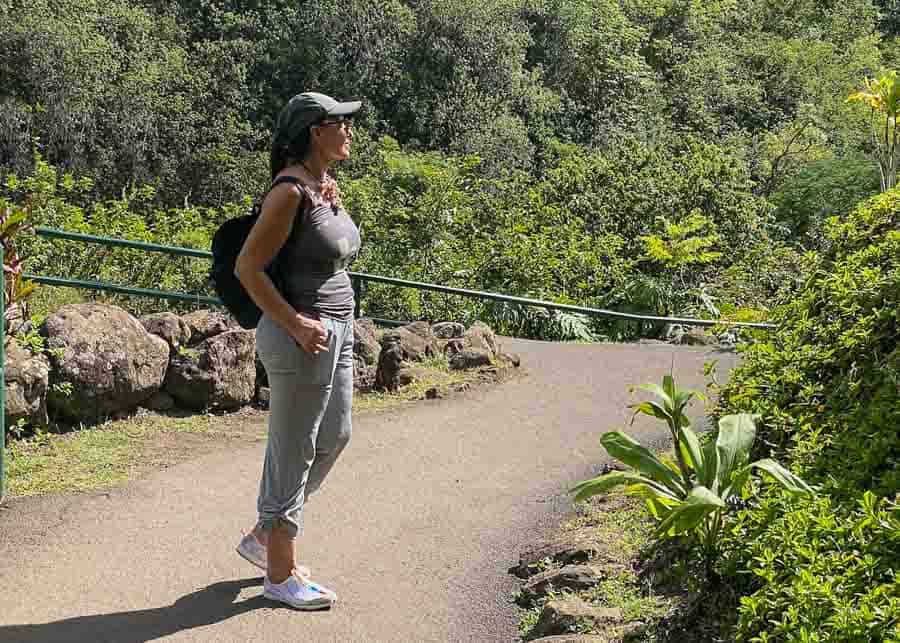 The 4,000-acre Iao Valley State Park is home to one of Maui's most recognizable landmarks, the 1,200-foot Iao Needle. The Iao Needle is a lava-rock formation that towers over the valley at 1,200 feet, overlooking the Iao Stream. This iconic rock covered in lush, green vegetation is the ideal place for easy hiking and sightseeing.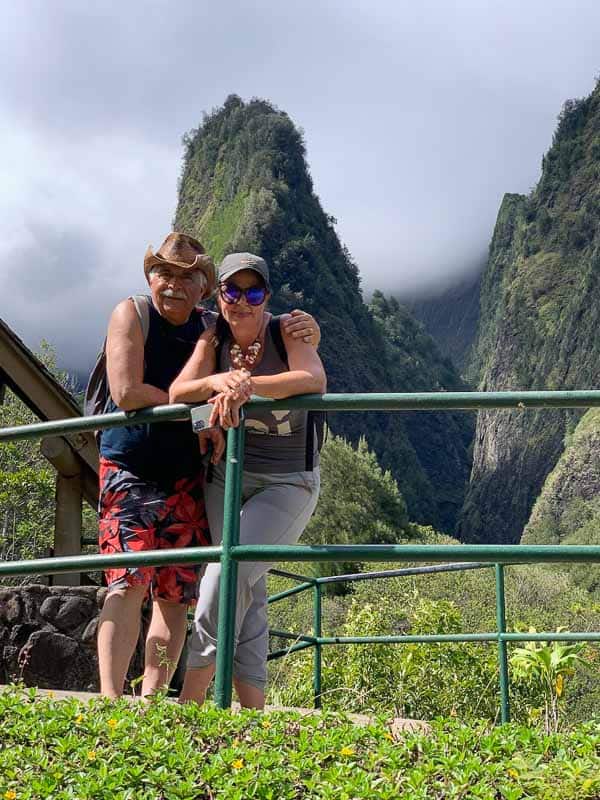 While this is not a traditional 'hike,' the 0.6 miles paved trail to the Lookout Point offers a great opportunity to walk around and explore the incredible scenery of this valley.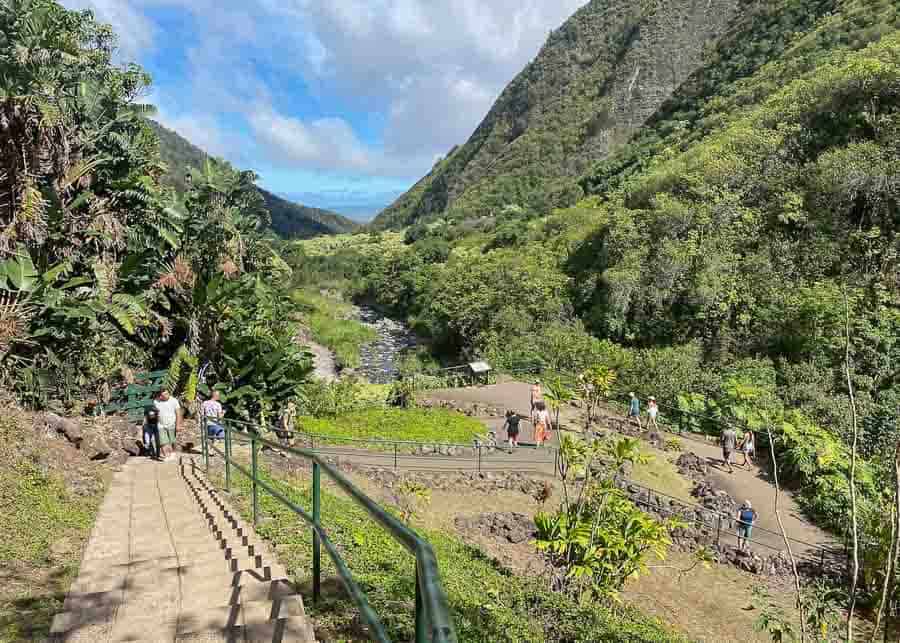 Along the way you'll wander past a pretty stream as well as lush tropical scenery and gardens. You'll also see a number of signs telling the tale of the Iao Valley's rich history. The 'Iao Needle is surrounded on all sides by the Pu'u Kukui Crater, which was the site of one of the most famous battles in Hawaiian history.
The top of the Iao Needle is often hidden behind clouds, so the best time to see it is early in the morning, when it's less likely to have it obscured by clouds.
Quick Tips for Hiking in Maui
Maui is a hiker's paradise, but as beautiful and enticing as these trails may look, they can also be dangerous if you don't know what to expect. Here are a number of tips that will make your hike safer and more enjoyable:
• Always check the weather before going on a hike. One of the most common risks you may encounter in Maui are the flash floods. Water levels can rise quickly and a situation can become disastrous in a few seconds. Especially when you hike around waterfalls.
• Don't hike alone. It is easy to make a wrong turn or become injured on a hike and when you are by yourself it's more difficult to get help.
• Return by nightfall. It gets dark very quickly in Hawaii once the sun sets. Having to find your way back on an unfamiliar trail in the dark is no fun. Besides, many of these parking lots where you leave your car have gates that close at sunset.
• Watch for rock falling. Rockfalls are most likely to happen during or after heavy rain, but can occur during other times as well. Watch out if you're hiking near or under steep rock faces.
• Avoid dehydration. Hiking can be strenuous and the sun can be hot in Hawaii. To avoid overheating and dehydration it's recommended to start your hike early in the morning and drink plenty of water.
• Never drink from a stream unless the water has been boiled or chemically treated. It may be tempting to quench your thirst by sipping some water from one of the many streams and waterfalls in Maui. But this water may contain a bacteria (Leptospirosis) that causes flu-like symptoms about 2 to 14 days after infection.
• Pack a first aid kit. Make sure you add a first aid kit to your Hawaii packing list. It will come in handy if you get small cuts not only when you are hiking, but also when you are at the beach.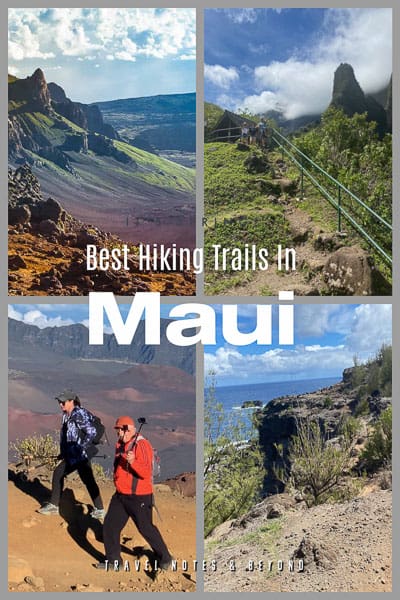 Planning to visit Maui? You may also like:
Best Places to Eat on Maui
How to Plan a Romantic Getaway in Maui
Kauai vs. Maui – Which Island Should You Choose?
Maui vs the Big Island – an Unbiased Comparison