Maui is a tropical paradise that stands out as unique, even when compared to the other Hawaiian islands. One of the most fun things to do in Maui is drive the legendary Road to Hana and stop along the way at the many scenic points of interest. So if you are planning a road trip to Hana and need a good itinerary, here is all you need to know.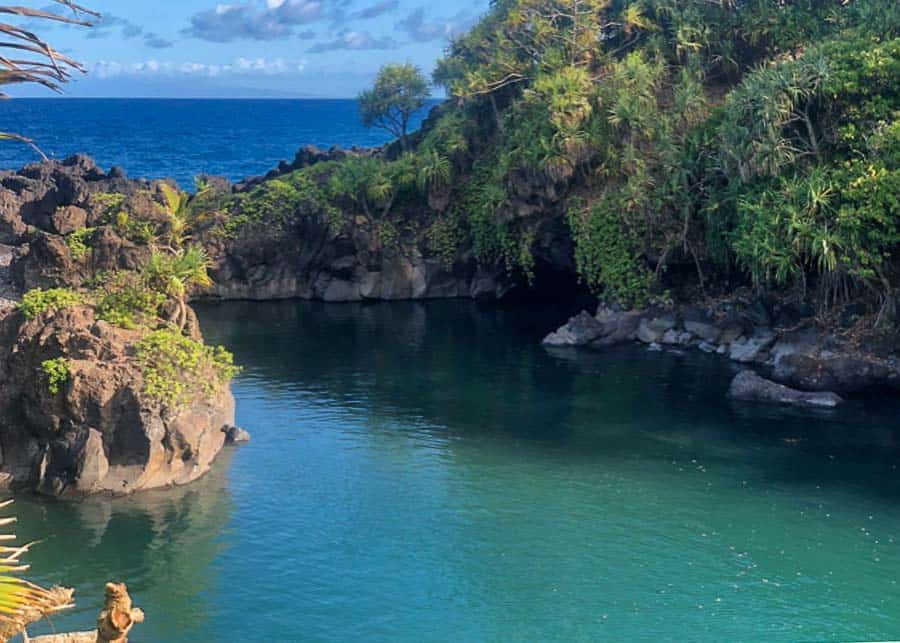 The Road to Hana is one of the most scenic drives in the world, winding deep into the tropical jungle past roaring waterfalls, botanical gardens, quaint beaches, and spectacular scenery. The 52 mile road passes through a very rustic and rugged part of the island, navigating around 617 scary curves, 56 one-lane bridges and steep cliff drops.
This is an exhausting drive that may be intimidating for some people. But whether you do this drive yourself or book a guided tour, make sure you don't miss the many attractive stops that make the road to Hana so famous.
Tips for Driving the Road to Hana
We drove the road to Hana many times over the years, but before I tell you which are the best places to stop, let me share a few tips with you.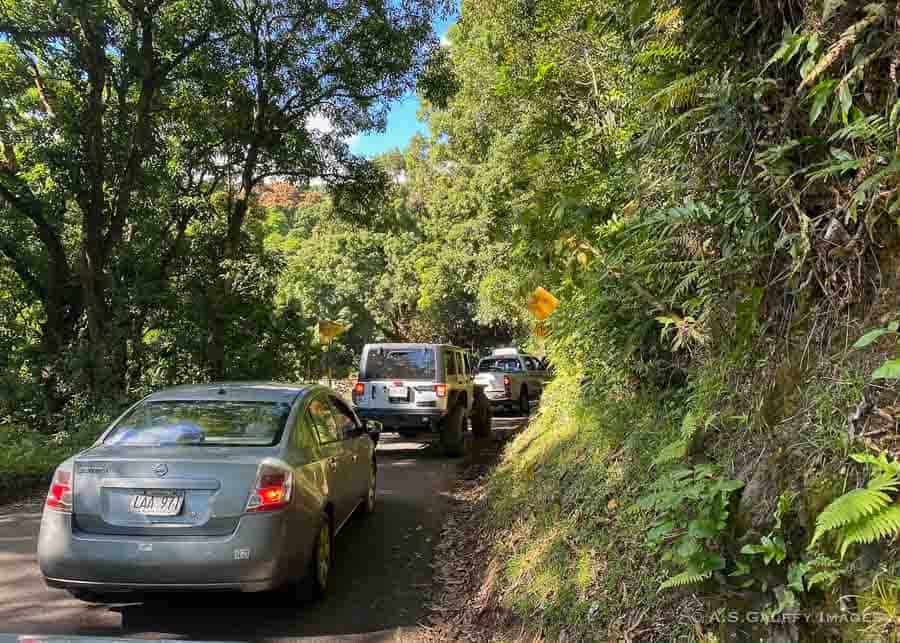 Take it slow and enjoy the ride. The Road to Hana is all about the journey and the many gorgeous places you'll encounter along the way. Consequently, you should plan to spend an entire day driving this loop. This road trip usually takes anywhere between 10 to 12 hours, depending on the number of stops.

Go clockwise from Paia, which is where Hana Highway begins. Going in this direction is better for several reasons. One is that the sun will not be in your eyes. Also, the passenger side will be on the mountainside, which is safer. And another reason is that on the return trip the last part of the road will be straighter, allowing you to drive faster.

Download the Road to Hana Maui Gypsy Guide which tells you where to stop and where the best views are. But the best thing about this app is that it works even if you don't have service. Above all, remember there is no internet/Wi-Fi/cell phone service on Hana Road. So make sure you download it while you are still in your hotel room.

Leave as early as you can, or plan to spend one night in Hana. This drive is not exactly a piece of cake. You'll encounter steep curves, falling rocks, and even some confusing mile markers that reset. Also, for the best experience, try timing your trip for weekdays.

Eat breakfast before you leave, especially if you have the tendency of getting car sick. Contrary to popular belief, having some food in your stomach will actually keep you from getting car sickness. Just but be careful not to eat too much.

Wear comfortable clothes and good walking shoes. Sandals or flip-flops are not ideal for this kind of trails which are most of the time muddy and slippery. Bring swimsuits, towels, sunscreen, hats and sunglasses.

Take plenty of water (much more than you think you may need!) and some food. Many of the food stands on the Road to Hana close early or run out of food around 2:30 p.m.

Take enough cash with you as the small business on this side of the island don't accept credit or debit cards.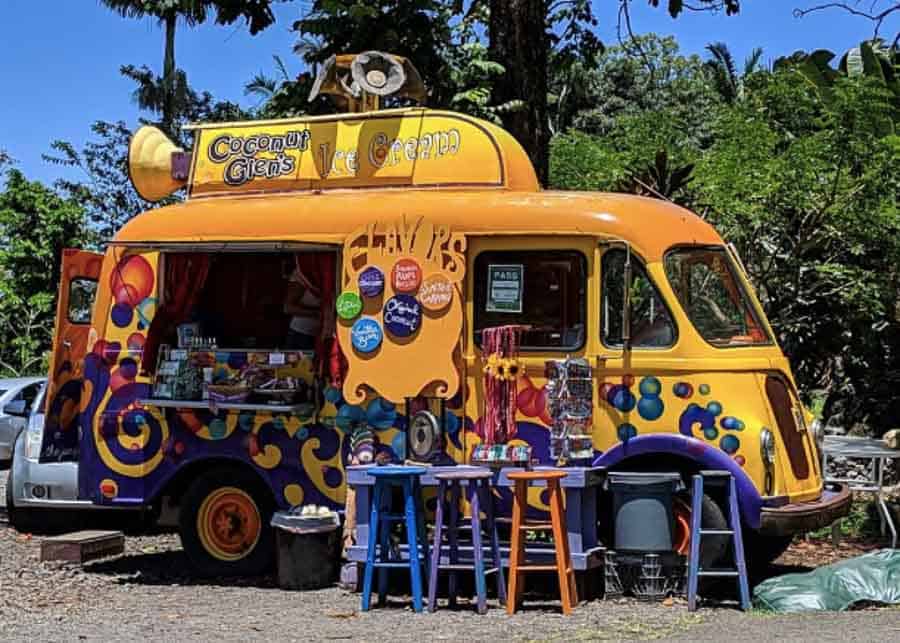 THE BEST ROAD TO HANA STOPS – THE ULTIMATE ITINERARY
There are so many beautiful places to stop along the Road to Hana, that you don't know what to choose first. We rove this road so many times over the years, and still discover something new every time we return. The scenery is varied and out-of-the-world beautiful!
So here are my top picks in the order in which you'll reach them on the road.
1. Paia Town (Mile Marker #1)
Your Road to Hana itinerary begins in Paia, but before you start your drive, make sure you fill up your gas tank! While gas in Paia is expensive, this is your last chance to buy gas until you get to Hana. You can also have breakfast in Paia, or pick up some snacks for the road.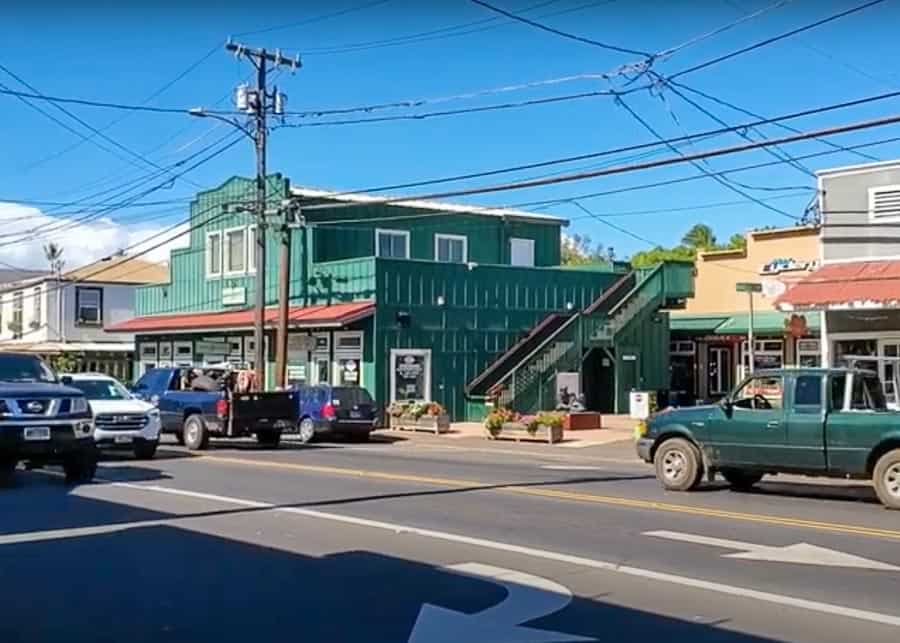 The former plantation village of Paia was once a thriving sugar-mill town. Today, chic eateries and trendy shops line the town's main street. If you have time to stop, you'll find many shopping opportunities here: swimwear boutiques, jewelry stores, restaurants and cafés.
2. Twin Falls (Mile Marker #2)
Twin Falls are the first of the many waterfalls along the Road to Hana, so almost everybody stops here. These picturesque waterfalls form a large pool where you can swim.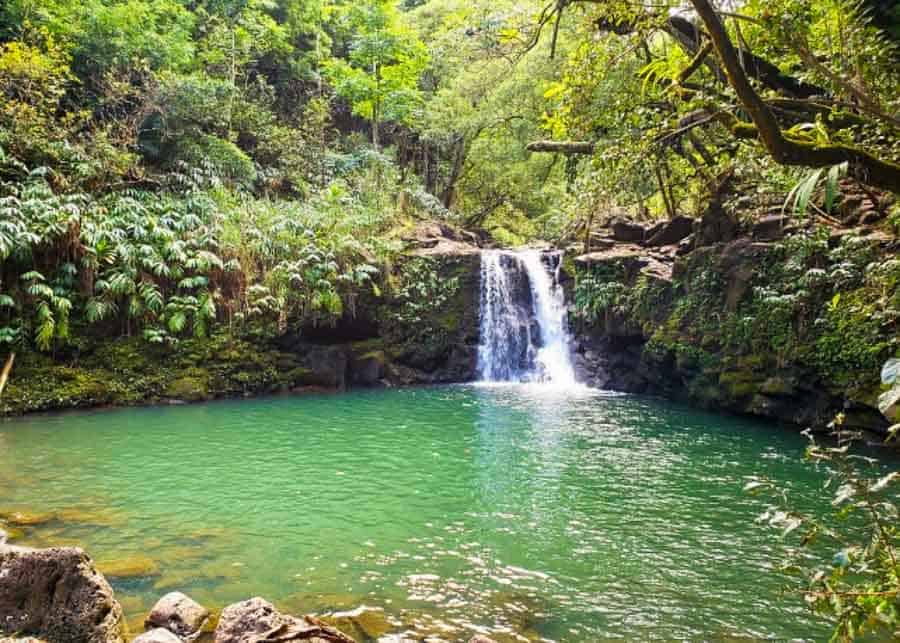 Twin Falls are located on Wailele Farm, a family owned and operated farm that provides free access to the falls and also conducts tours. Access to the falls is really easy.
3. Hookipa Beach (Mile Marker #9)
Just a little farther down Hana Highway you'll come across the breath-taking white sand beach of Ho'okipa. This is Maui's most popular surfing beach, boasting some of the best waves on the entire coastline.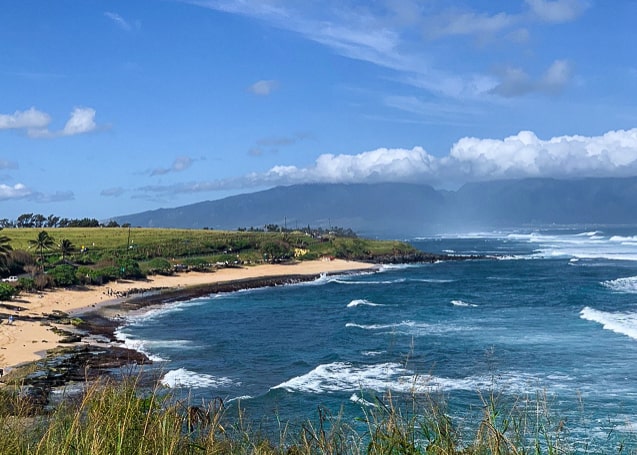 The beach is also famous for turtle watching. Every day in the afternoon, the Hawaiian Green Sea Turtles (Honu) start coming up to shore to rest and enjoy the sunset.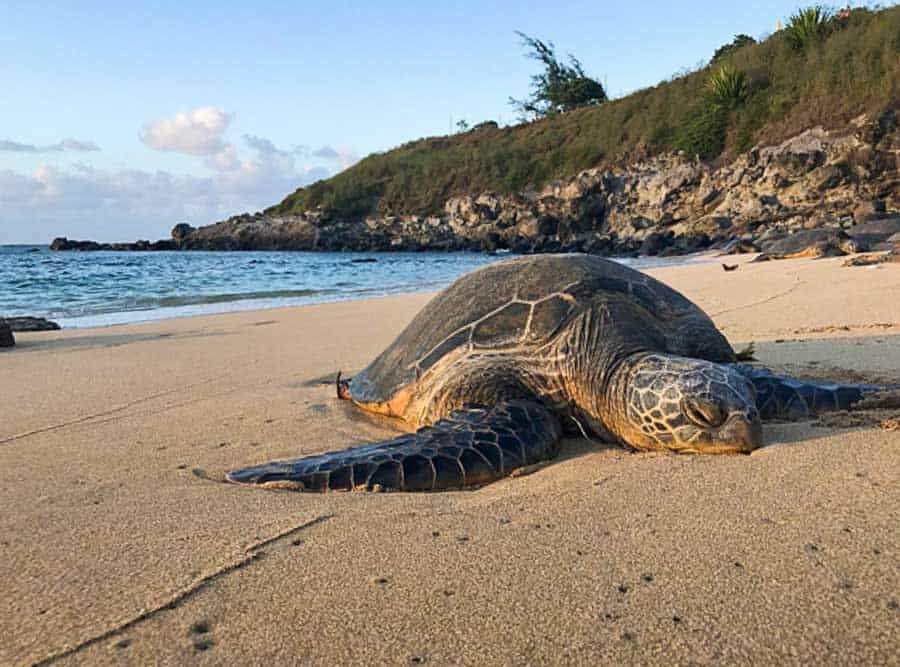 4. Waikamoi Ridge Trail (Mile Marker #9.5)
Just past mile marker #9 is Waikamoi Ridge Trail, an often unnoticed attraction on the Hana Road. This is a beautiful hike with 2 loops. One takes about 10 minutes and the other takes about half an hour. The trail can be muddy, but it's a really pretty hike through the trees.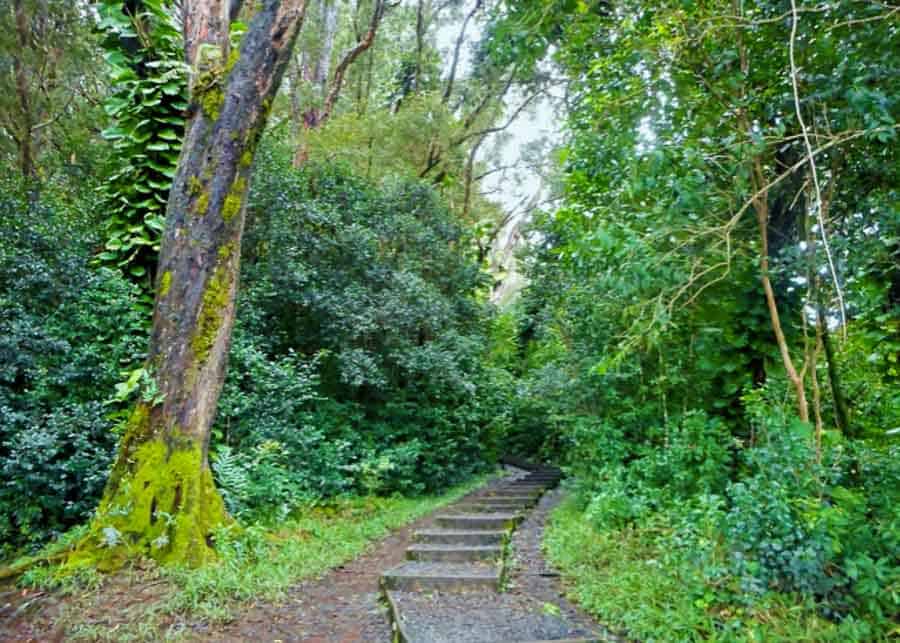 5. Garden of Eden Arboretum (Mile Marker #10)
This botanical garden should be included in any itinerary, as it's one of the most rewarding stops along the Hana Road. It's worth paying the $15/person fee that allows you access to this beautiful paradise.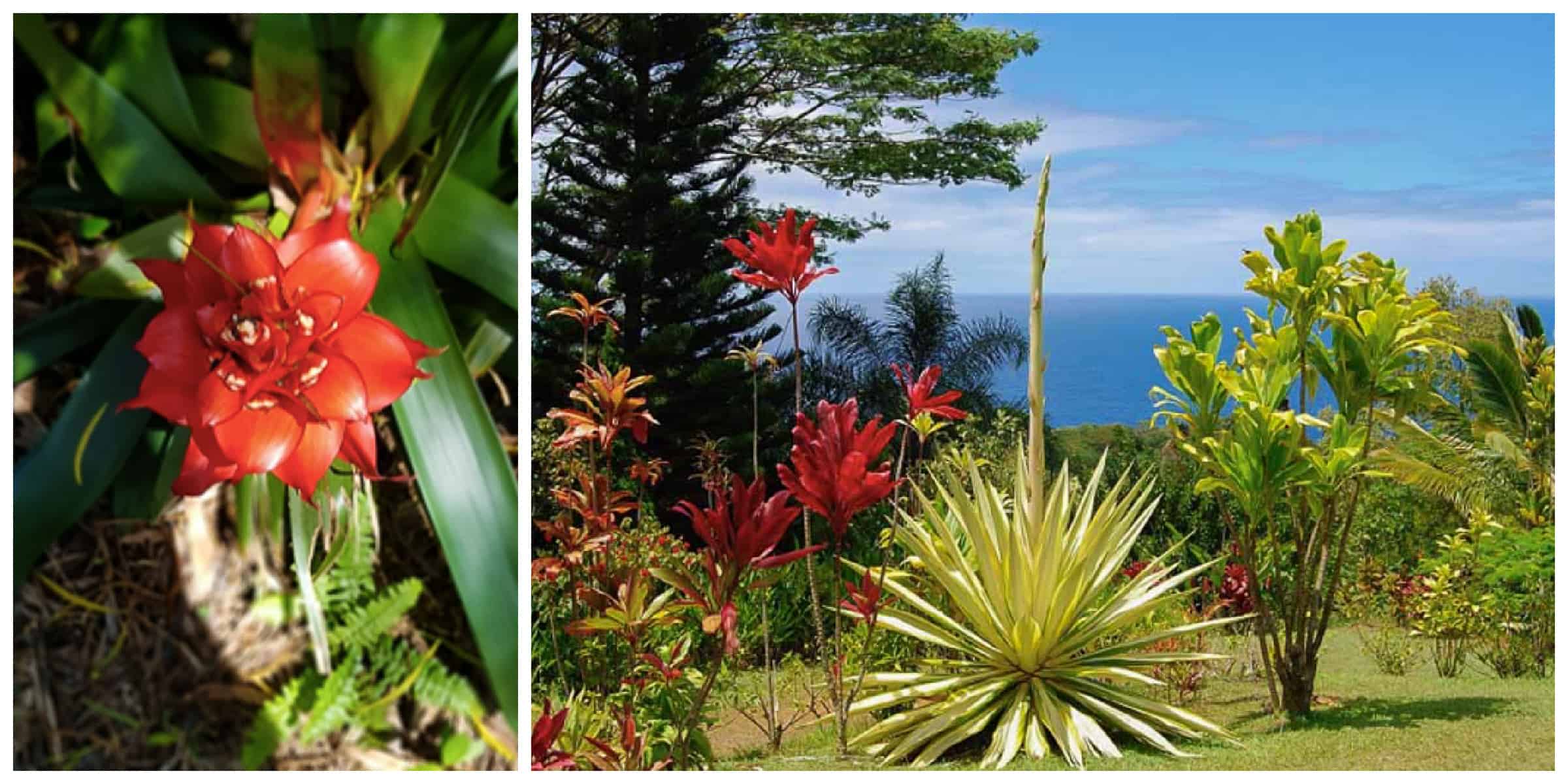 Plan to spend at least 45 minutes walking around the immaculate grounds. There are fantastic views of the Pacific, secret coves, waterfalls and even an 100 year-old mango tree.
6. Rainbow Eucalyptus Grove (Mile Marker #16)
This gorgeous grove is actually half-mile beyond mile marker 16 on Hana Highway. Keep an eye on the mountain side of the road and you'll see a sign marking the entrance to Ke'anae Arboretum.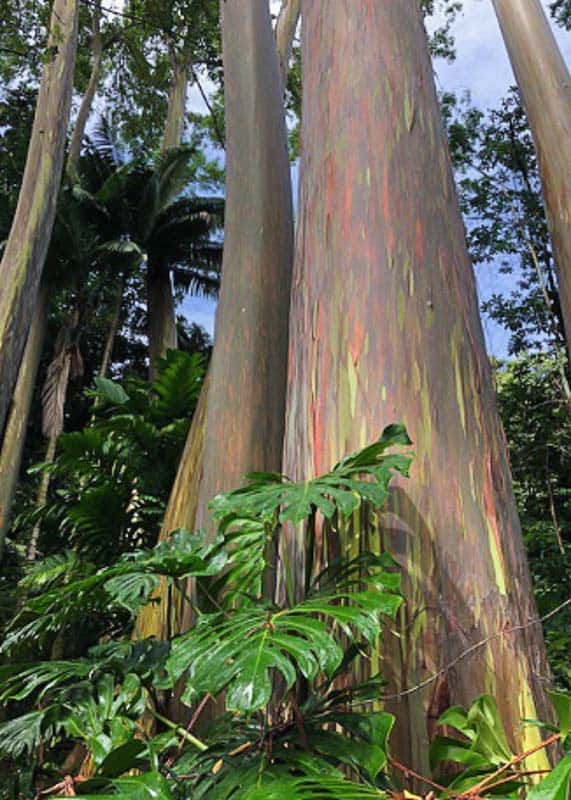 This is a great place to see not only the rainbow eucalyptus trees, which are fantastic, but also a wide variety of other interesting trees. And the best part about this arboretum is that it's free!
7. Aunty Sandy's Banana Bread (mile marker #16)
Also in Ke'anae you'll find the best place to buy banana bread on the entire island. After visiting the Eucalyptus Grove, make sure you stop at Aunty Sandy's Bakery which is off the Hana Highway, on Ke'anae Road.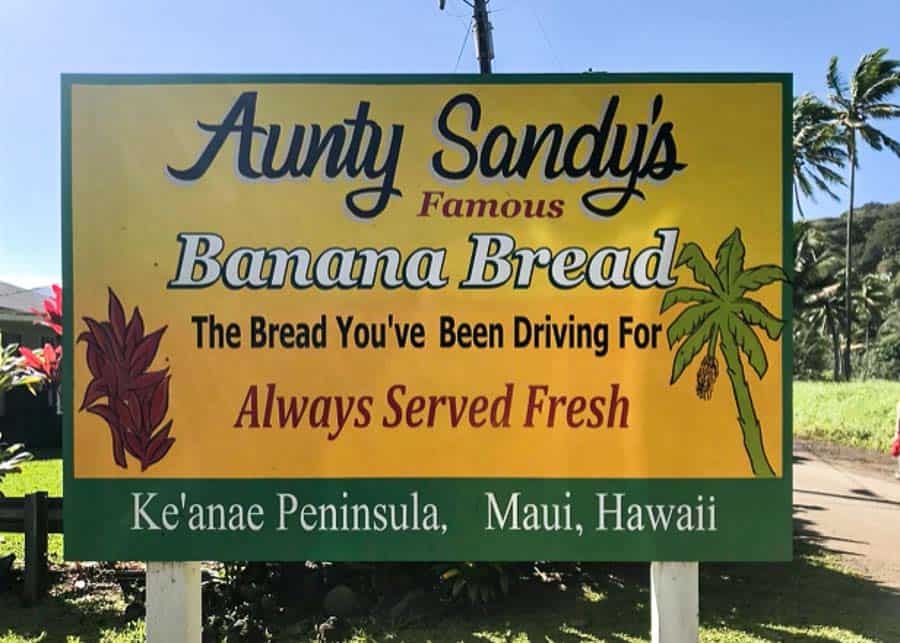 8. Wailua Overlook (Mile Marker #18)
This is a great place to stop and take in the views of both Wailua Valley and the Ko'olau Gap in the mountains. Most visitors breeze right by it and never even realize it's there.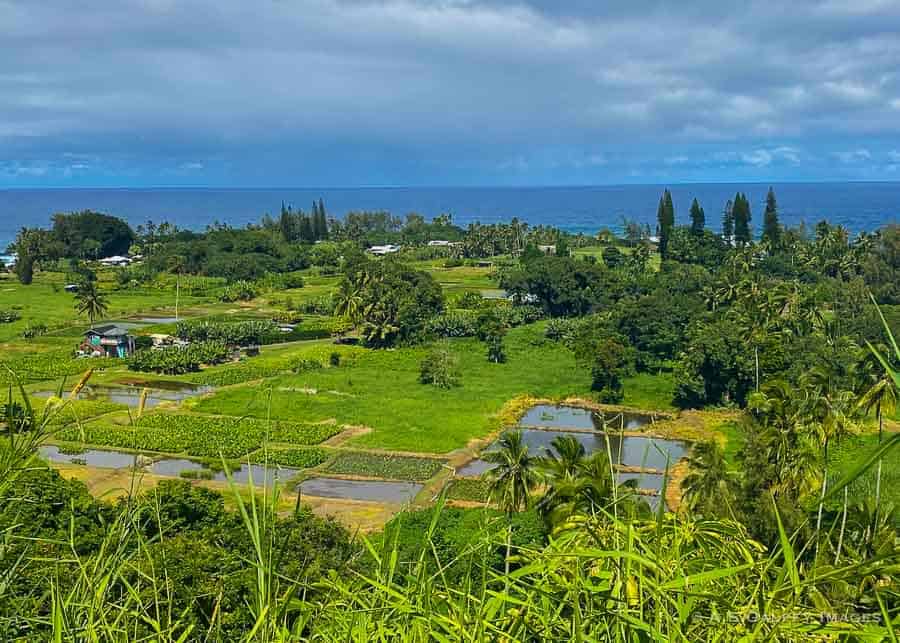 The area holds many ancient taro patches, a plant deeply embedded in the Hawaiian legends. The folk tales say that taro is the older brother of all Hawaiians.
9. Pua'a Kaa Water Falls (Mile Marker #22.5)
On the Hana Road there are waterfalls around every corner. Some are more impressive than others and some are better photo ops than others.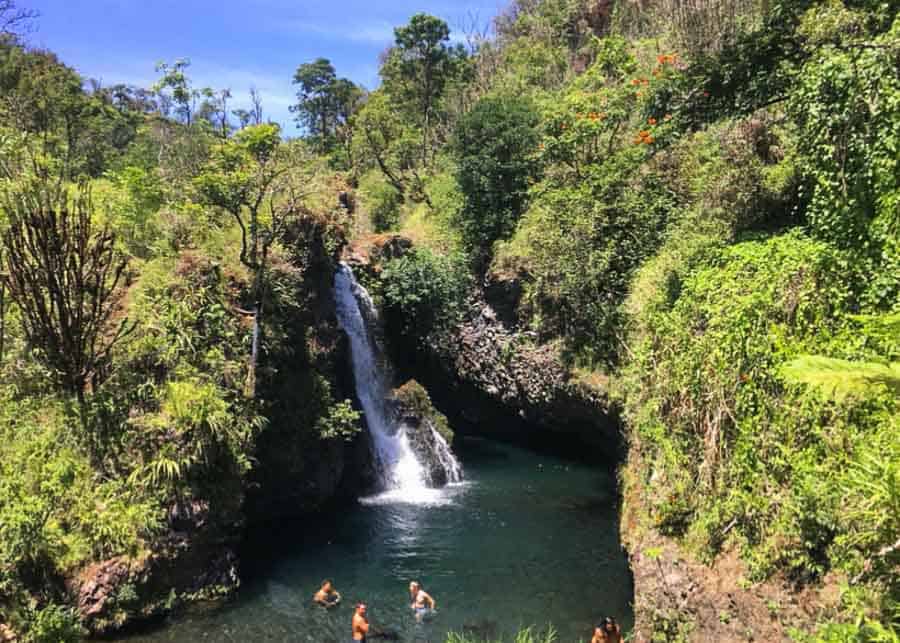 This particular waterfall located in the Pua'a Kaa State Park is very pretty. You can swim in the big pool that forms at its base, if you choose to. The park has bathrooms as well and a picnic area. A great place to stop to stretch your legs and use the restrooms (which are not very many on the Road to Hana!)
10. Hana Lava Tube (Mile Marker #31)
This is a fun adventure that you shouldn't miss on the Road to Hana. Hana Lava Tube is the largest lava cavern formed on the Hawaiian Islands. It's even bigger and more impressive than the one we've seen on the Kilawea Iki Trail, on the Big Island.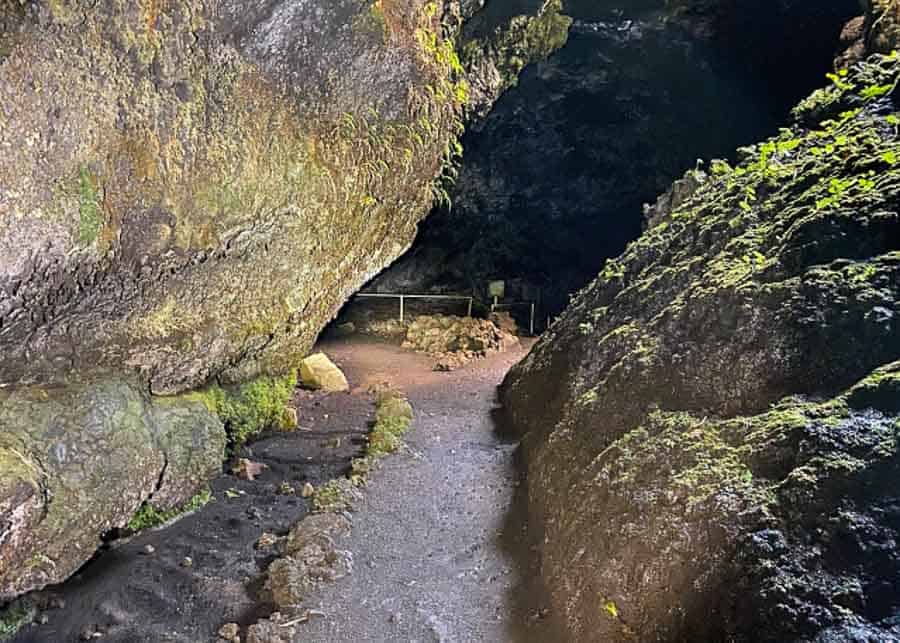 To reach the Lava Tube, turn left on 'Ula'ino Road and drive for about 1/2 a mile. This is a self-guided tour that takes approximately 40 minutes. You'll need good grip shoes and a flashlight. The cost is $11.95 per person, but it's worth every penny. I strongly recommend stopping here on the Road to Hana.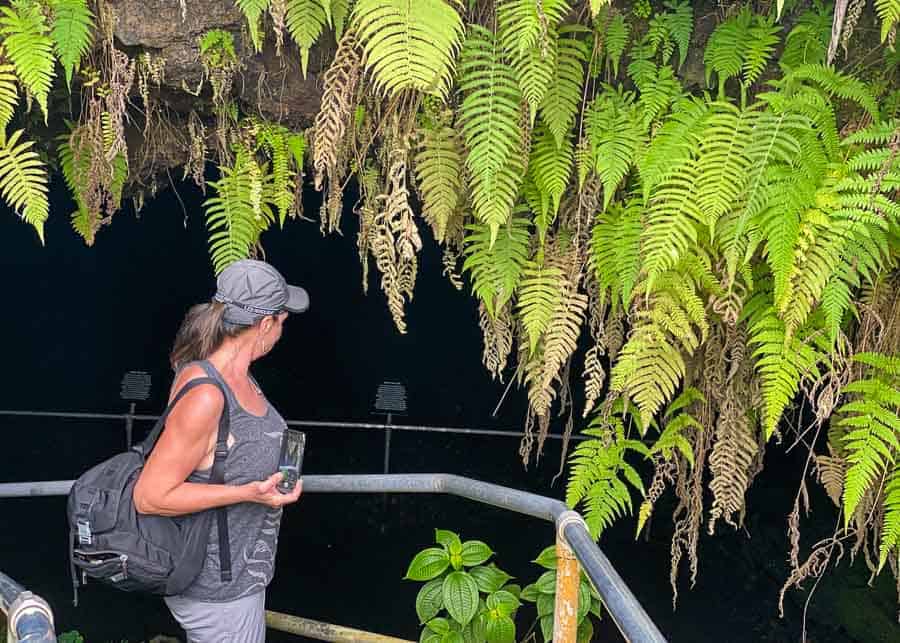 11. Pa'iloa Beach Black Sand Beach (Mile Marker #32)
Located in the Wai'anapanapa State Park, Papilla is one of Maui's most famous black sand beaches and therefore a very popular attraction on the Road to Hana. I am not particularly fond of black sand beaches, but this one is truly picturesque. Just bring good shoes because the black pebbles are really tough on the feet.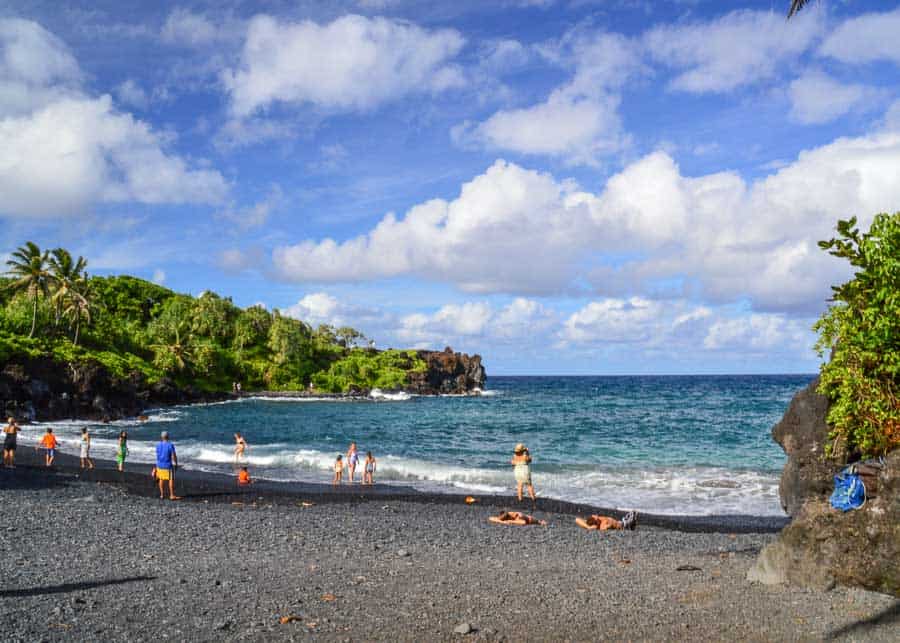 NOTE: The Park requires advanced reservations for park and entrance. The attendants are strict about seeing your QR code, so please go to https://www.gowaianapanapa.com/ to reserve your spot.
12. Wai`anapanapa Caves Loop (Mile Marker #33)
While you are still in this area, don't miss the fresh water cave located within Wai'anapanapa State Park. You won't see this place included in many itineraries mostly because not many tourists driving the Hana Road know about it. To reach the cave, you'll have to go on a loop trail that passes through a grove.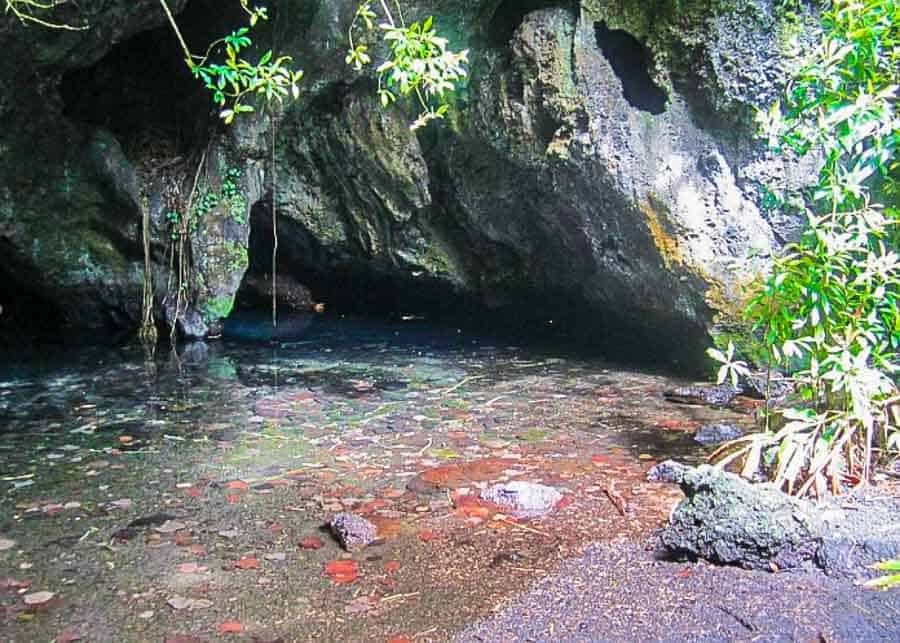 According to an old Hawaiian legend, a beautiful princess was killed here by her jealous husband. Therefore, every spring tiny red shrimp appear in the pool turning the water red – a symbol of the slain princess' blood.
13. Hana Town (Mile Marker #34)
The small, sleepy town of Hana is often overlooked by those who travel the famous road bearing its name, which is truly unfair. Hana is deeply rooted in the Hawaiian culture and history – a place that remained almost unchanged, when compared to the rapid development of the rest of Hawaii.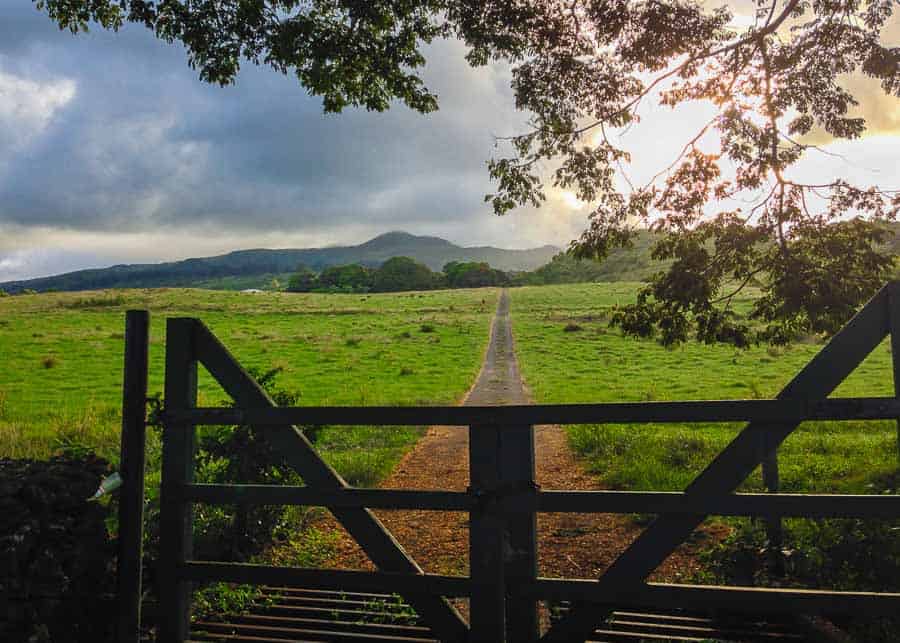 So don't just drive through it without stopping. Ideally, you should spend the night here and do the rest of the trip next day. You'll find beautiful churches, art galleries and the quaint Hana Bay.
14. Kaihalulu Red Sand Beach (Mile Marker #35)
The Red Sand Beach at Kaihalulu is a dramatic and beautiful hidden cove unlike any other, which is also known as the "Secret Beach." What's actually a "secret" is the tricky access to the beach, which is why many people leave it out of their Hana Road itinerary.
To get to the beach you'll have to make a left on Hauoli Road from the Hana Highway, then walk across the Hana Community Center. There is a 10 minute walk to the cove, on a very slippery path on which many people get injured.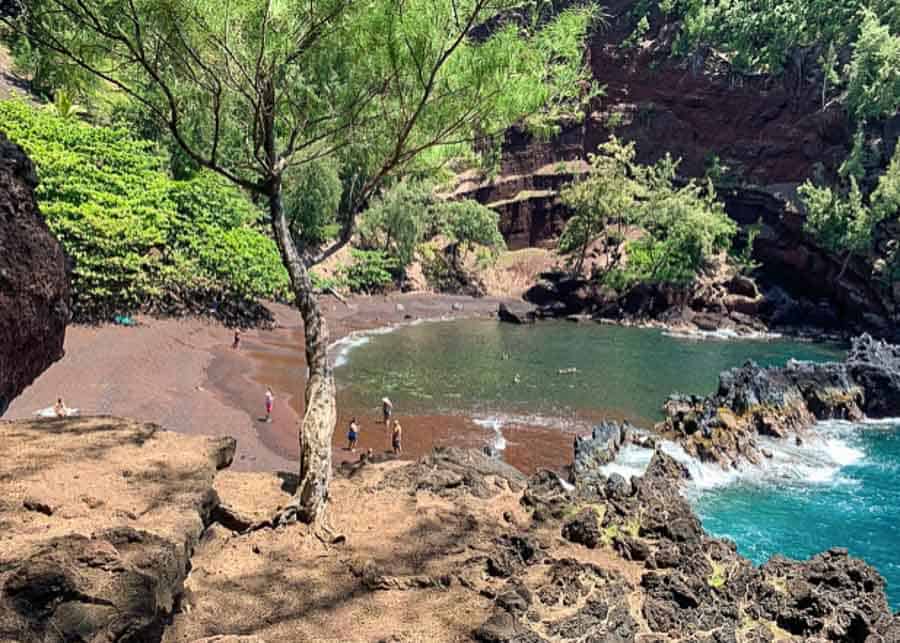 Kaihalulu Beach is quite beautiful and truly deserves a stop on your road trip to Hana. The red rock around the beach is somewhat reminiscent of the red landscape of Sedona, Arizona.
The cove is protected by a wall of lava rock which breaks the big waves before they reach the sand. For this reason, the beach is good for swimming and snorkeling.
Note: The Mile Markers on the Road to Hana go up to 35 after which they jump to 51 and then go down the rest of the road.
15. Koki and Hamoa Beaches (Mile Marker #50)
Just It's hard to miss the stunning, crescent-shaped Hamoa Beach. As you drive the Hana Highway, you'll surely catch a glimpse of it from the car.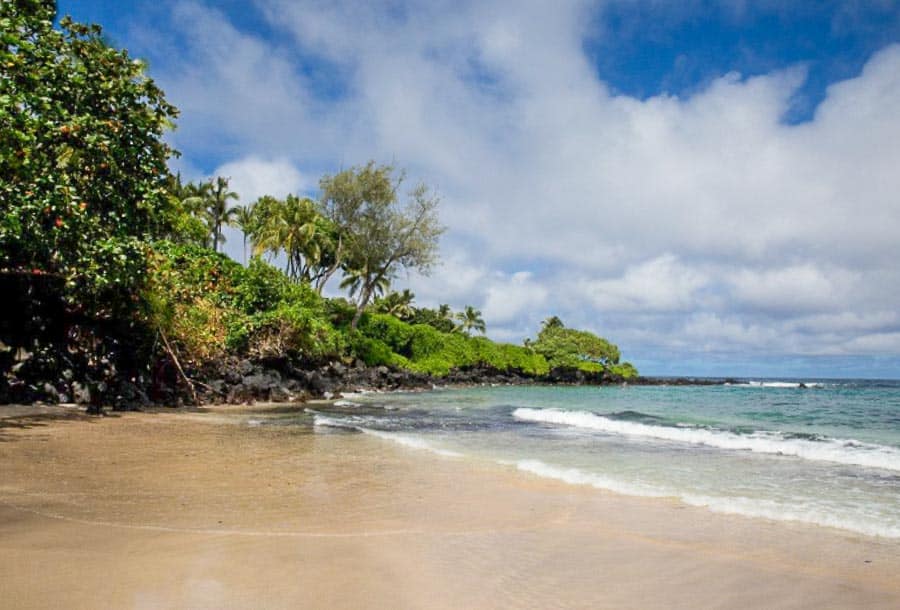 Koki and Hamoa are two more beaches on the Hana Road that are worth a quick stop. Neither were busy when we were there. You can drive a loop along the coast to them both then reconnect to the main road.
16. Wailua Falls (Mile Marker #45)
This giant waterfall (85 foot tall) is right next to the road, so you can't miss it. As a result, you don't even need to get out of your car to see it! But if you want to stop and take a quick swim in the beautiful pool underneath the falls, there are places to park right after the bridge.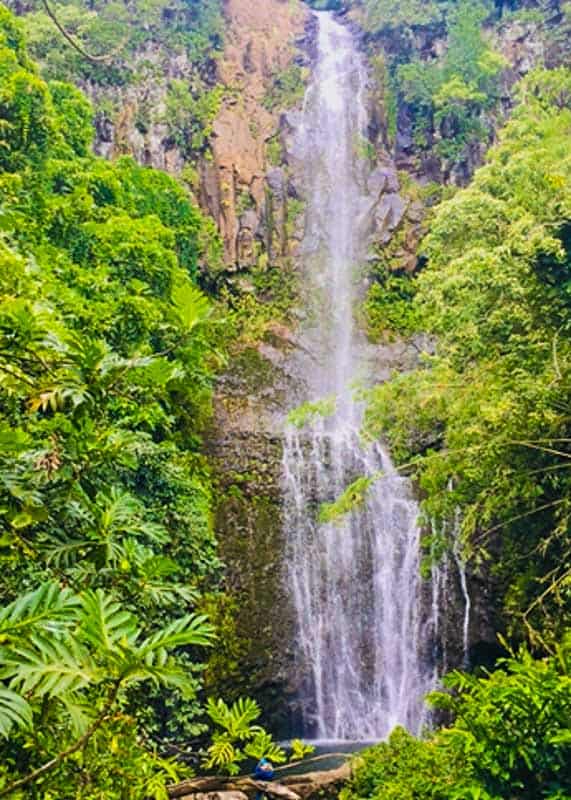 You don't need more than 30 minutes here. However, since this will be towards the end of your day, you might choose to stop just for a quick photo.
17. The Seven Sacred Pools (Mile Marker #42)
This is perhaps the most popular place to stop on the Road to Hana, which you should definitely include in your itinerary. The Seven Sacred Pools are a chain of waterfalls that cascade from one to the other, surrounded by lush vegetation. The falls go far beyond what the eye can see, forming large pools of water.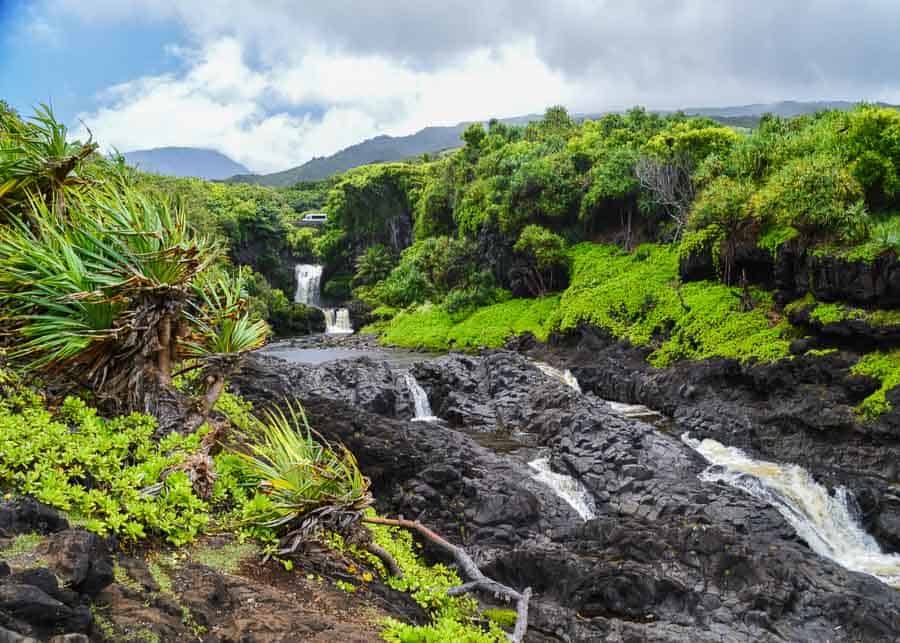 Access to the pools is really easy, through a 0.6 mile loop trail. As a result, there is always heavy traffic on this trail, which also often closes in wet weather.
The falls are part of the Haleakala National Park, which charges $30/vehicle since January, 2020. However, the ticket is valid for 3 days. So, if you plan to watch the sunrise at Haleakala Crater, you can go up with the same ticket.
18. Pipiwai Trail
Just above the Seven Sacred Pools you find one of the most beautiful hiking trails in Maui: the Pipiwai Trail. The path passes through very diverse scenery and culminates at the base of the spectacular Makahiku waterfall.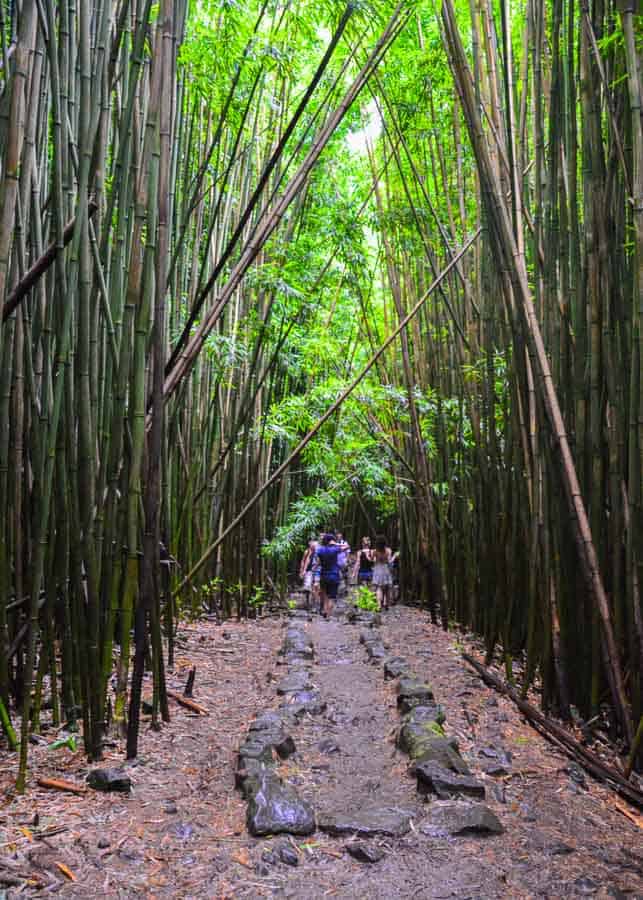 The 2-mile long trail is safe and well maintained. However, the first half mile or so is quite steep and may be slippery when wet.
The Back Road to Hana
From the moment you venture on the Road to Hana you realize this is not an easy drive. But beyond the Seven Sacred Pools the road becomes even narrower and more terrifying than in the northern part. Consequently, many visitors turn around at Oheo Gulch and head back to their hotels the same way they came.
Truth is that the back side of the Hana Road is really crazy. Even the rental car companies will tell you that if you drive here and get in trouble, you'll be on your own. However, if you are a good driver (and like challenges), you'll manage all right. There are short portions of the road that are unpaved and can be really bumpy, but they are perfectly navigable for any type of vehicle.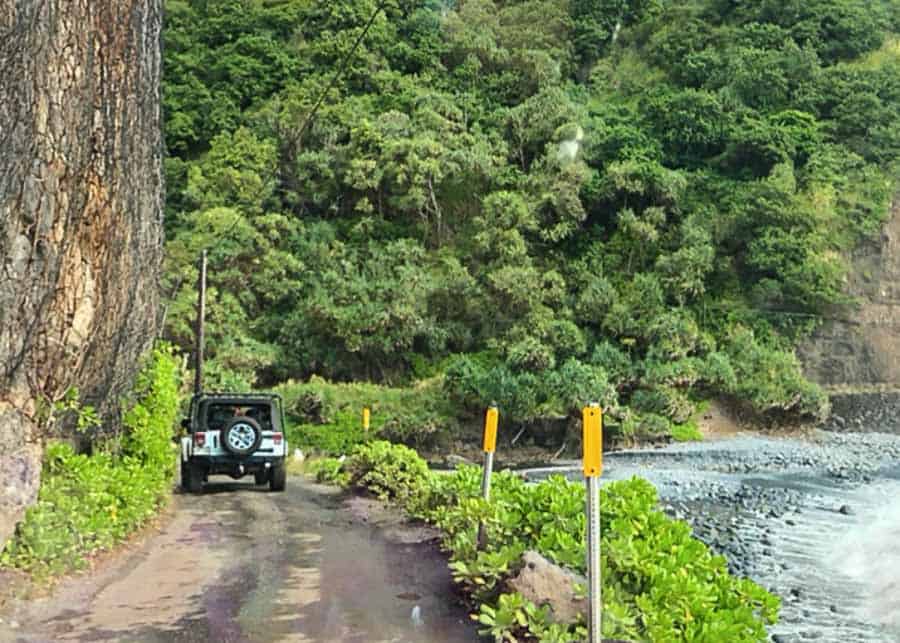 The back side of the Road to Hana is straighter and offers less opportunities to stop, but some people prefer to do this itinerary in reverse. The road circles tight around the mountain, revealing a very different side of this tropical paradise. Leaving behind the abundant green vegetation, you move to a more barren landscape with dry grasslands, exposed rock and wide views of the Pacific Ocean.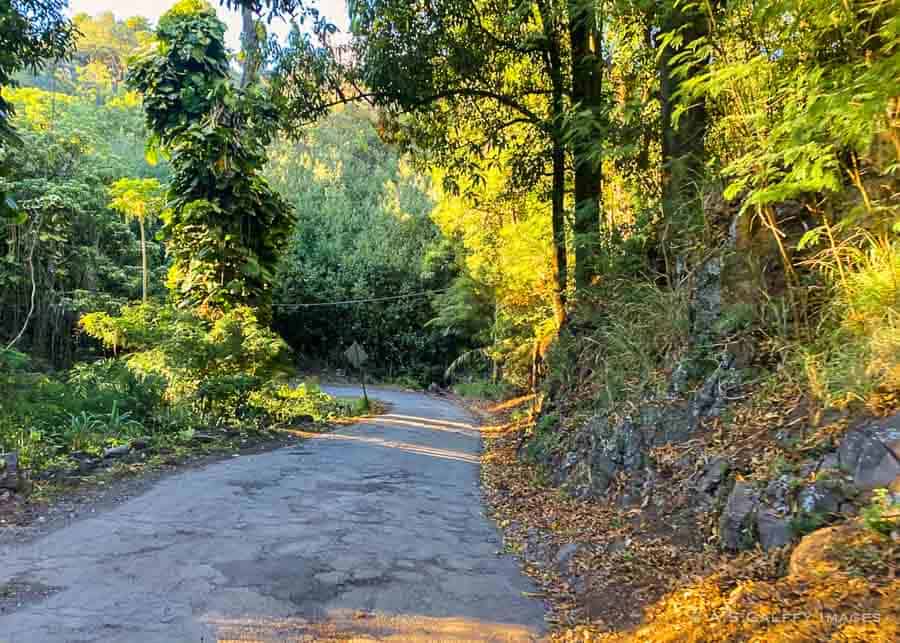 There are some nice places to stop here, but nothing as dramatic as on the first part of the road to Hana. One year we did the loop in reverse and we stopped to visit Charles Lindbergh's grave (around Mile Marker #41) and some beautiful black sand beaches.
A Final Word
So what's the best way to tackle the Road to Hana for a perfect itinerary? Obviously the one that makes you feel in control. My husband is an adventure-seeker and an experienced driver, therefore we always do the full 'loop.' However, be advised that venturing back side of the road to Hana requires good driving skills and nerves of steel. Much like driving in Sicily!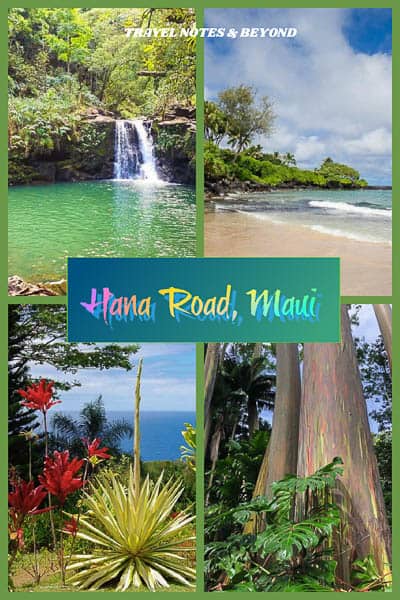 YOU MAY ALSO LIKE: