There are so many reasons to fall in love with Maui and the abundance of delicious restaurants is one of them. When you plan your dream vacation in Maui you are probably more concerned with where to stay and where to go than where to eat. Nonetheless, knowing beforehand what are the best places to eat on Maui will come in very handy when you are the island.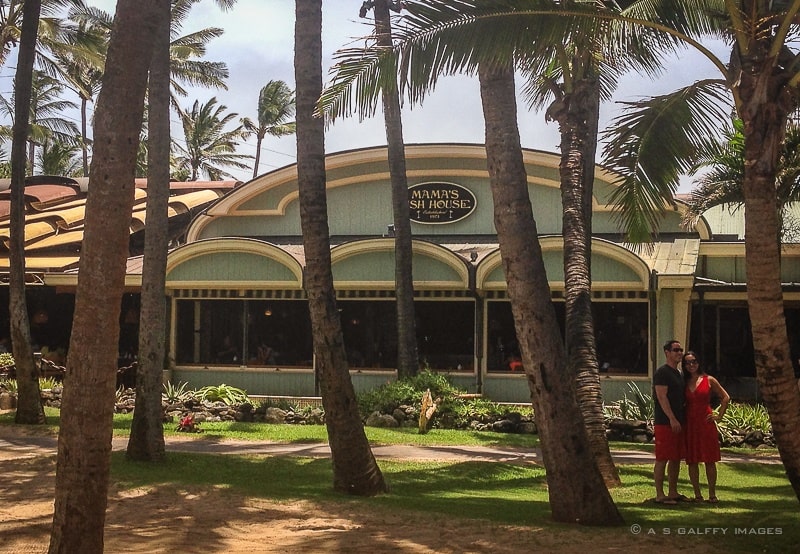 Best Fine-Dining Restaurants on Maui
There are so many mouth-watering eateries and fancy restaurants on Maui, depending on your budget, taste and travel style. We visited the island time and again in the past 30 years and tried quite a few of them. So in this post I'll give you an overview of the best places to eat on Maui. These are places that we tried ourselves and loved their food!
Mama's Fish House
Maui is the last place you'd expect to find a world class restaurant, yet Mama's Fish House meets all the criteria of fine dining. The restaurants sits on a pristine sand beach with coconut trees and awe-inspiring views, on the North Shore Maui.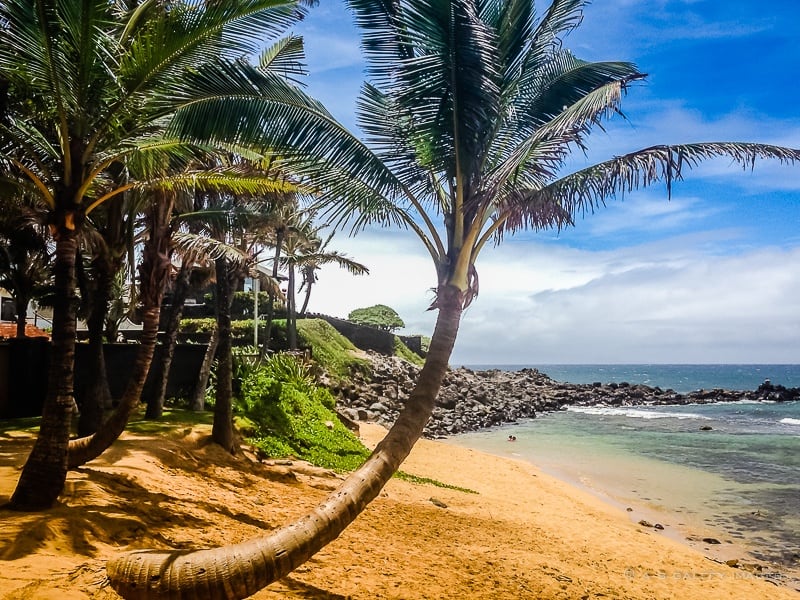 The location is quite far outside the tourist areas on Maui, but once you arrive you realize this restaurant it's not just another dining place.
The restaurant was established in 1963 by a couple from San Diego who settled on Maui after a long sailing voyage through South Pacific. What started as a small family eatery turned into the best seafood restaurant in Maui.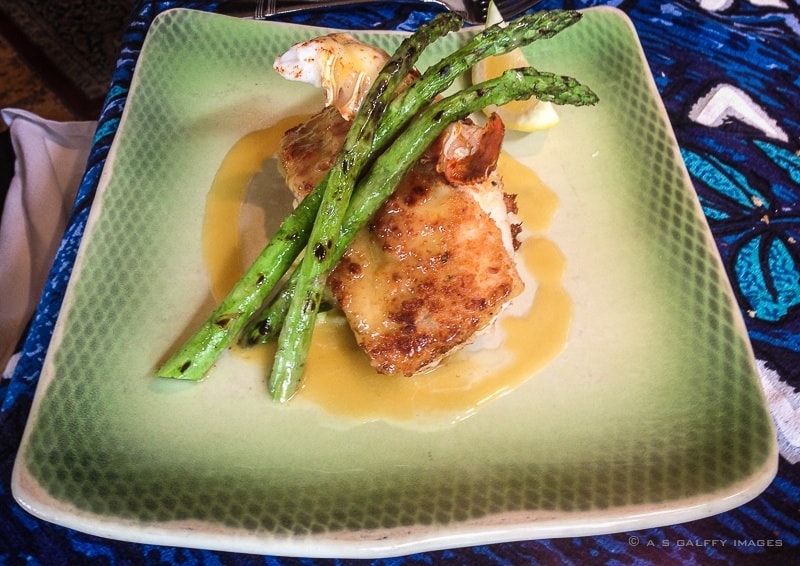 The decor is island-themed and very casual, but beautifully designed and exquisitely decorated. The service is great, very accommodating and personalized. Every item on the menu is cooked to perfection and prepared with only fresh and fine ingredients.. All seafood is caught by local fishermen on a daily basis. Besides a wide variety of seafood dishes, they also serve deliciously prepared lamb and beef.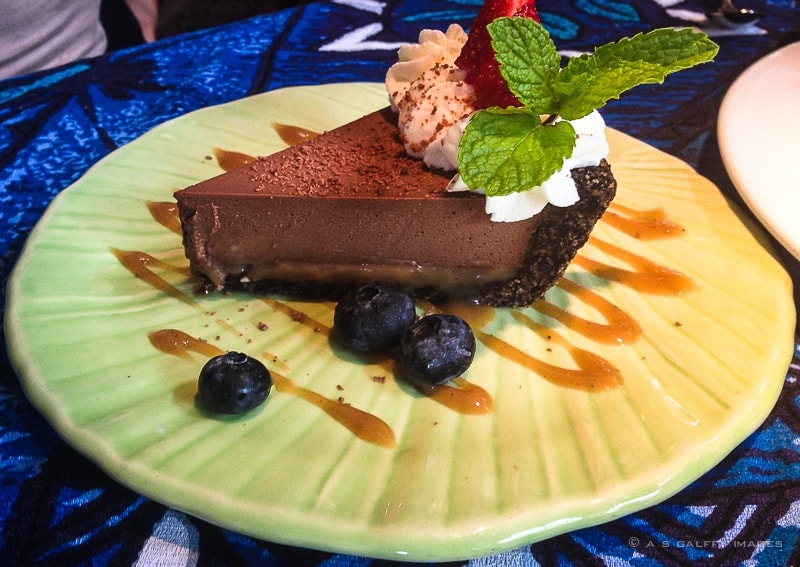 The desserts are absolutely divine, with choices that range from home-made ice-cream and Passionfruit Creme Brûlée, to the famous Polynesian Black Pearl (chocolate mousse in a pastry shell).
The prices are quite high, but if you are looking for a fancy place to spend and evening (and if you have the means!), Mama's Fish Restaurant will not disappoint. Despite the high prices, the place is almost always sold out, so you'll need to make reservations.
Mama's Fish House is definitely one of the finest restaurants on Maui Island that will leave a long-lasting impression on your palate.
Address: 799 Poho Place, Paia, HI 96779
Spago
Spago Maui is one of Chef Wolfgang Puck's five Spago restaurants. The other sister restaurants are in Beverly Hills, Las Vegas, Istanbul, and Singapore. Perched inside one of the most amazing resorts in Maui l – the Four Seasons in Wailea – Spago is probably your best option for fine-dining with ocean views.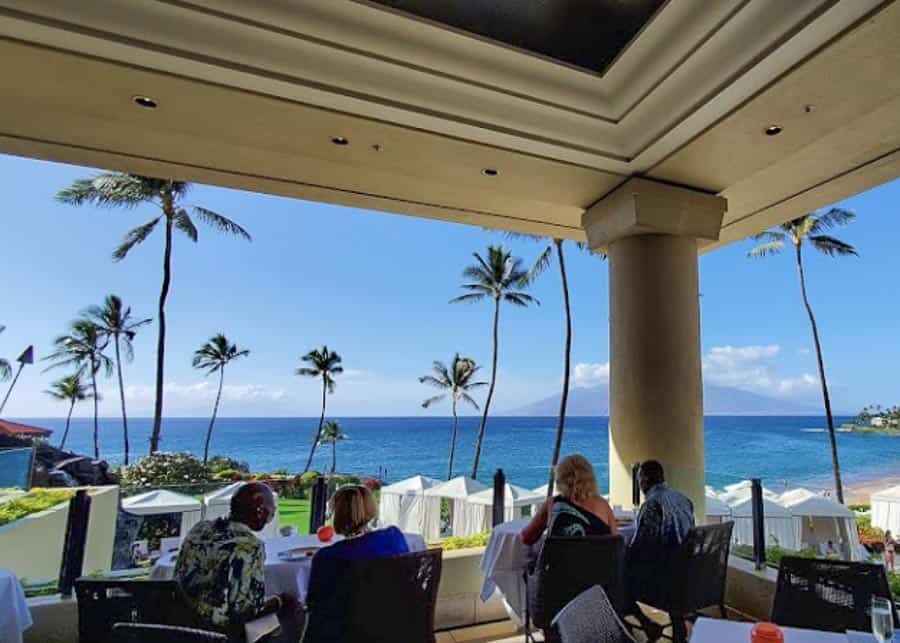 When you see it from outside you may not be very impressed. But when you sit down on the terrace you'll discover the restaurant's truly breathtaking location. The view you see while eating is incredible! The restaurant serves breakfast, lunch and dinner, but the best time of the day to enjoy the view is at sunset.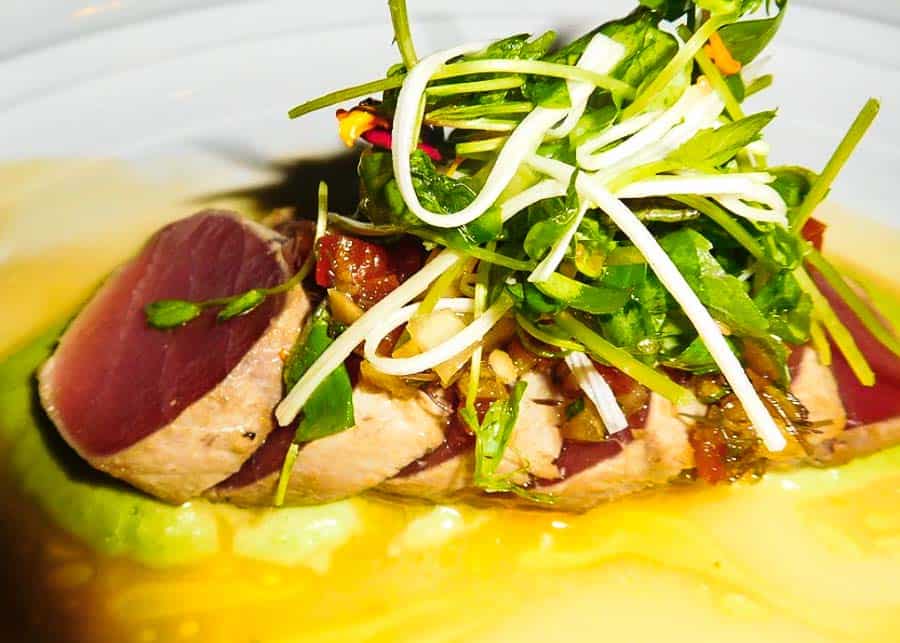 The restaurant serves a fusion of Hawaiian and California cuisine that includes some of Wolfgang Puck's classics as well as many locally inspired dishes. The menu is very creative, using Hawaii's premier produce, fish and meats. If you like great tasting and unique food, this is the place for you.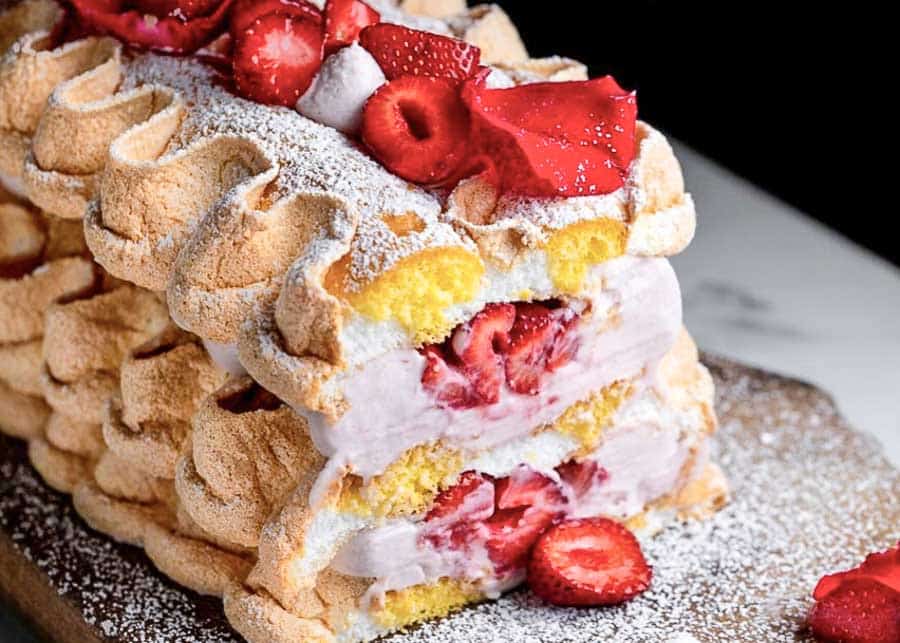 Address: 3900 Wailea Alanui Dr, Kihei, HI 96753 (inside the Four Seasons Resort at Wailea).
READ NEXT: What to Wear in Hawaii: the Ultimate Packing List
Roy's at Ka'anapali
Location, location, location! This upscale spot for Hawaiian fusion cuisine sits right on the golf course of Marriott's Maui Ocean Club at Ka'anapali. Roy's Restaurants are famous all around the Hawaiian Islands. Chef Roy Yamaguchi opened his first signature restaurant in Honolulu (Oahu), then his second location was the one in Kaanapali.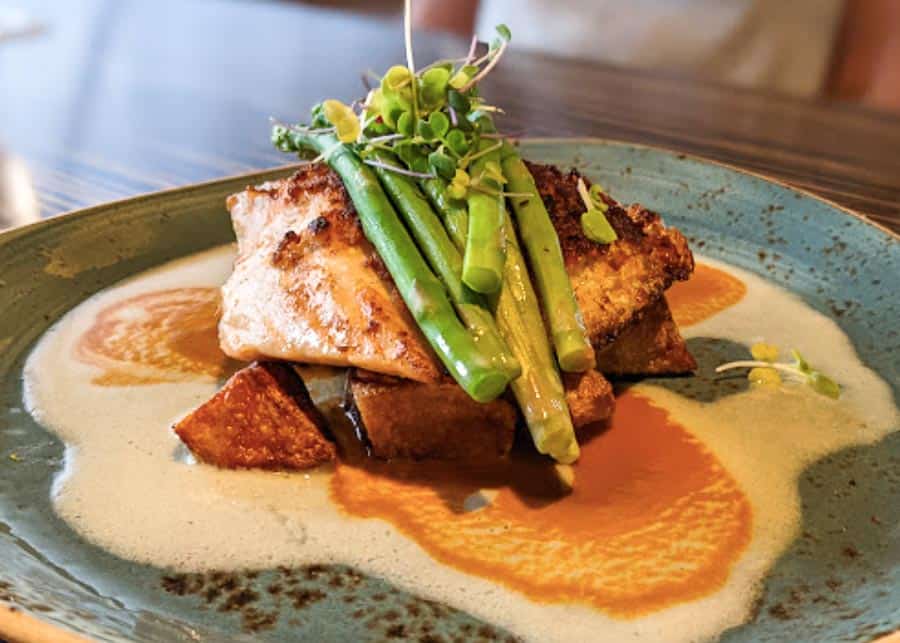 This restaurant is consistently the best on Maui! Roy Yamaguchi has been doing Asian fusion food since before it was trendy and we have been enjoying his restaurant even at other locations for over 24 years! It is pricey, but the tastiest and freshest food on the island.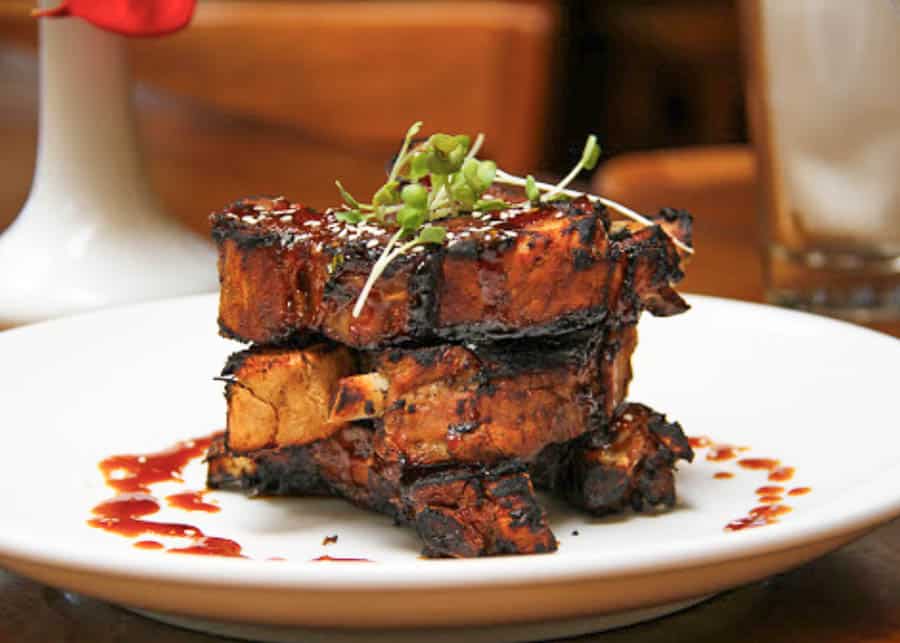 Address: 2290 Kaanapali Pkwy Suite A, Lahaina, HI 96761
Best Moderately Priced Restaurants on Maui Island
Food may be expensive in Maui, but you don't have to burn a hole in your pocket to have a good meal on this island. There are quite a few good places to eat on Maui (where even the locals eat), which will satisfy both your taste buds and your lust for luxury.
Sea House Restaurant
This restaurant at the Napili Kai Beach Resort sits on a bluff overlooking the crescent-shaped Napili Bay. The Sea House features Pacific Rim cuisine accompanied by spectacular sunsets at very reasonable prices.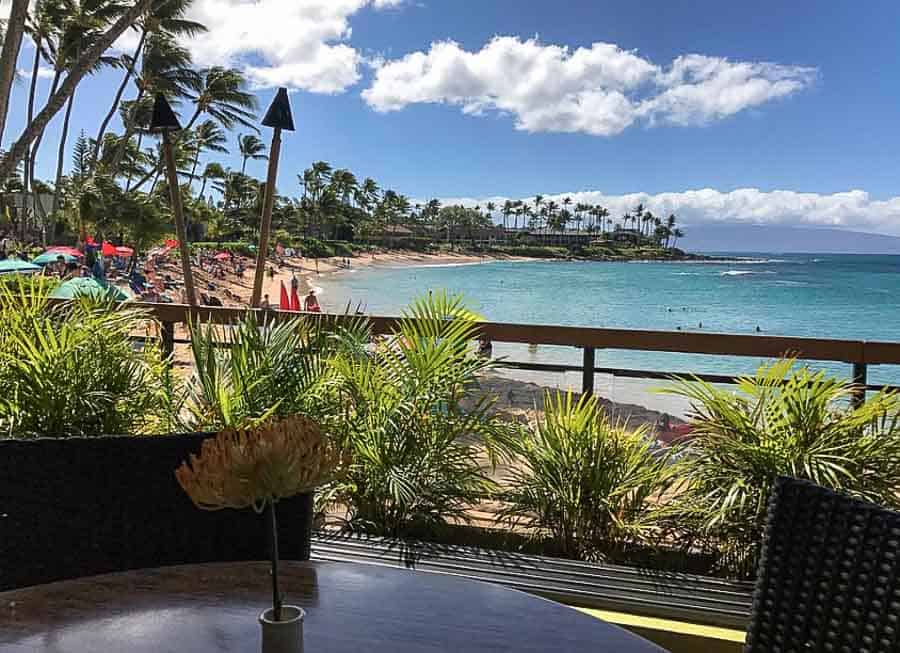 We had lunch here a few times, under the swaying palm trees, just steps away from the aquamarine waters of the Pacific. Sandwiches and salads are in the $12-$14 range. I loved the chicken papaya salad with goat cheese, avocado and macadamia nuts and my husband loved the lobster.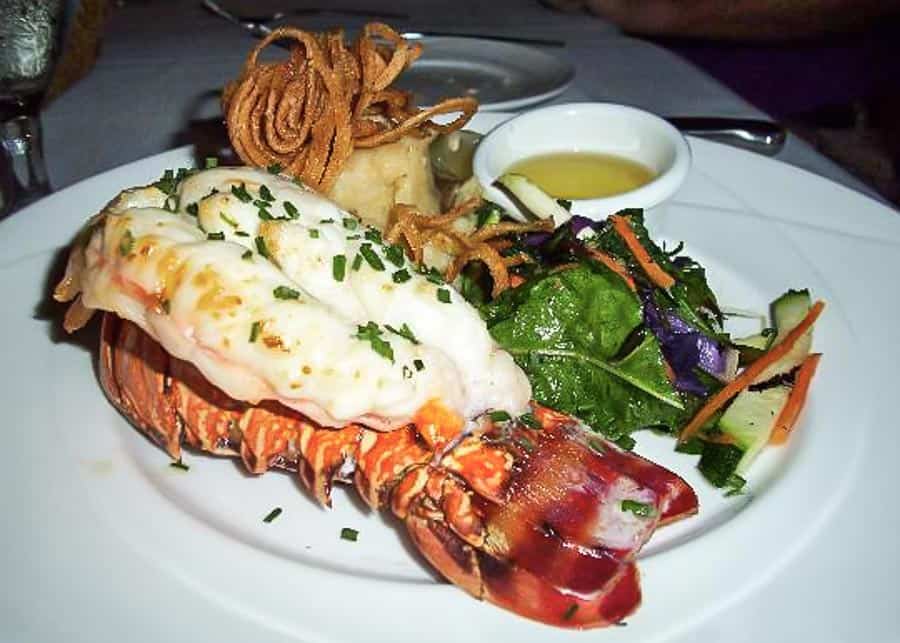 Address: 5900 Lower Honoapiilani Rd, Lahaina, HI 96761 (in the Napili Kai Beach Resort)
Hula Grill
Location, location, location! Hula Grill is one of my favorite places to eat on Maui. The restaurant has an atmosphere that is hard to match and a gorgeous location, right on the water's edge at Kaanapali Beach. It features two patios, both offering stunning views of the Pacific and the islands of Molokai and Lanai.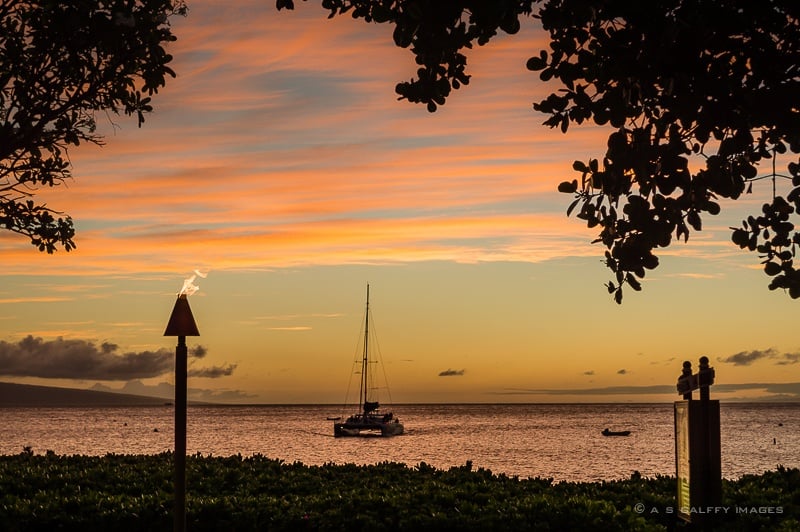 One is on the sand, covered with authentic straw roof umbrellas, so even on a hot day it is nice to sit out here and eat. This is an excellent place for lunch. The other one is more formal, completely covered so even if it rains you can still enjoy your dinner outside.
The food is consistently good, featuring the Hawaiian cuisine, with excellent fresh fish, lamb, good soups and salads all prepared with fresh, locally grown produce.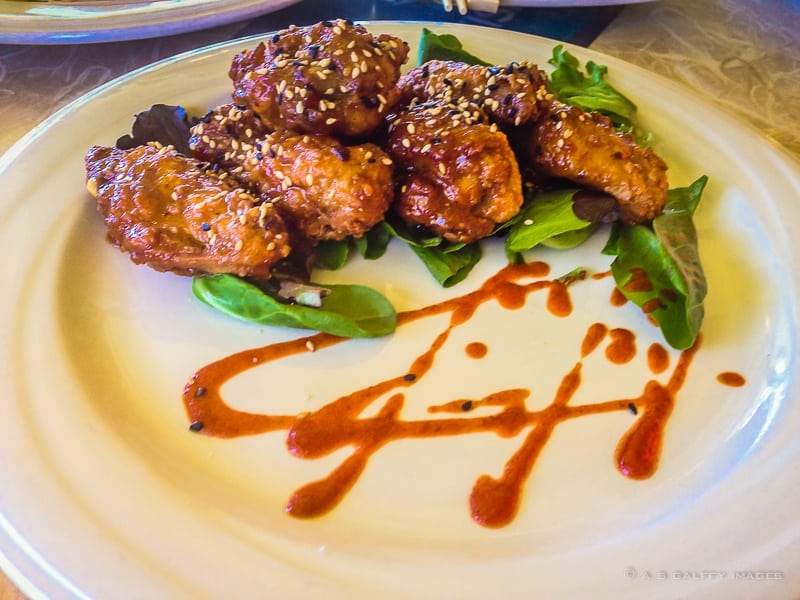 Their wine list is very decent and personal wines are welcome too for a $20 corkage fee. They make excellent cocktails.
The deserts are good, but nothing outstanding. Service is very friendly and accommodating. We came a couple of times without reservations and we still have been seated out on the patio with no fuss.
Prices are very reasonable, ranging between $18 – $48 for an entrée. So if you want a dining experience that will leave your palate happy and not empty your pockets, give them a try. Hula Grill is a good value restaurant, that will not disappoint you.
Address: 2435 Kaanapali Pkwy, Lahaina, HI 96761
Kimo's
Kimo's Restaurant has been a staple in Lahaina since 1977. The restaurant is one of the best places to eat if you like Hawaiian food and Maui's famous Hula Pie (macadamia nut ice cream stacked high on a scrumptious chocolate cookie crust).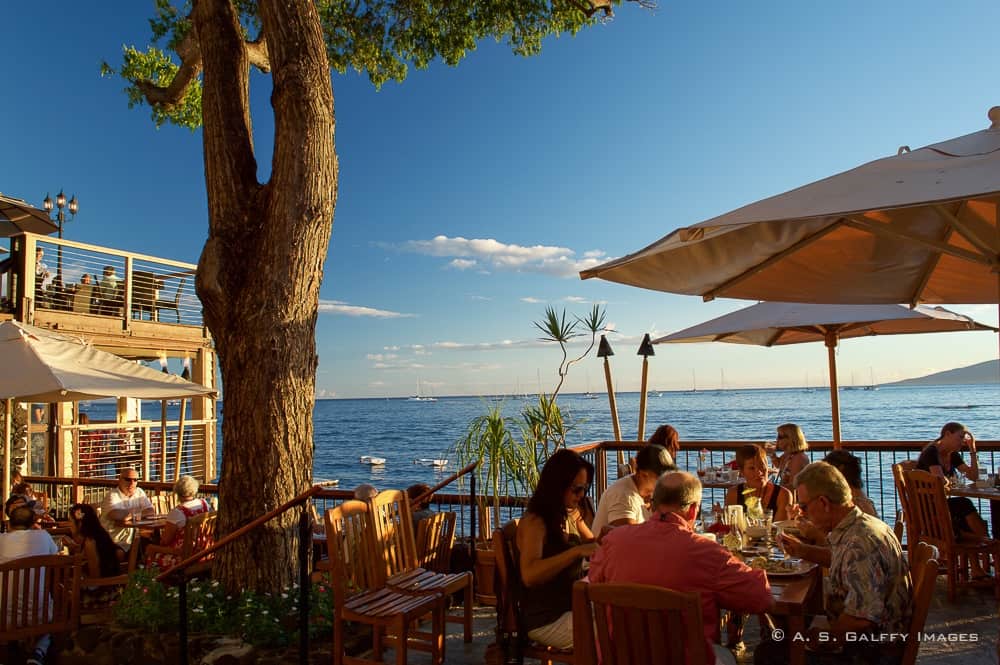 Due to its great popularity and convenient location – right in the heart of Lahaina town – reservations for their beautiful patio are only on a first-come-first-served basis.
Dinner prices range between $31-$58/person.
Address: 845 Front St a, Lahaina, HI 96761
Café O'Lei
If you can skip the ocean views and just want a good, hearty meal Café O'Lei in Kihei is a great choice. The 262-seat dining room, in the Rainbow Mall by the beach, serves Pacific Rim cuisine.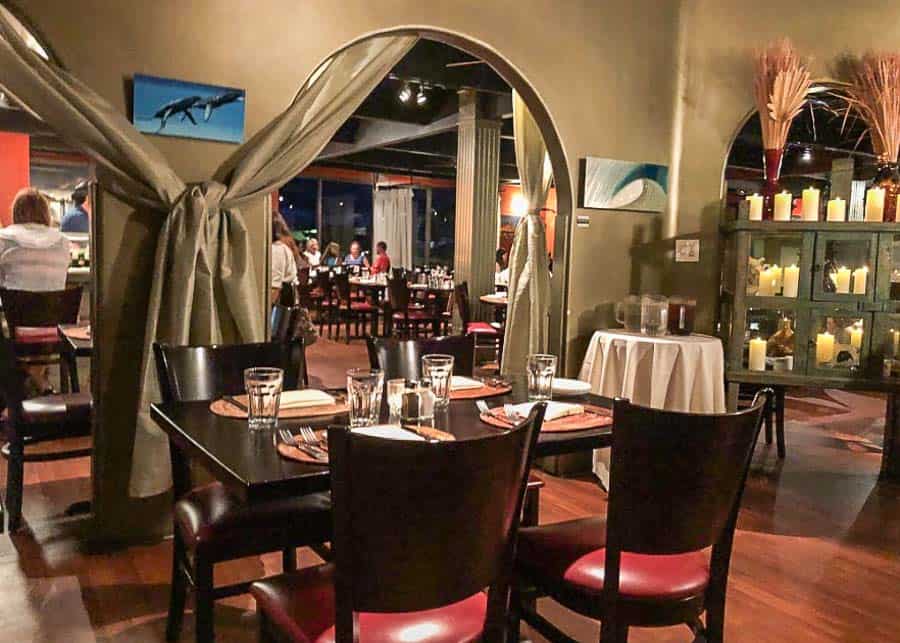 There are lots of wonderful dishes to choose from, all under $20. Try the outstanding pork shank with creamy potatoes and broccoli and chicken breast with capers. They also serve a delicious thin crust pizza! And if you can make it to dessert, they have a few good choices for those with a sweet tooth.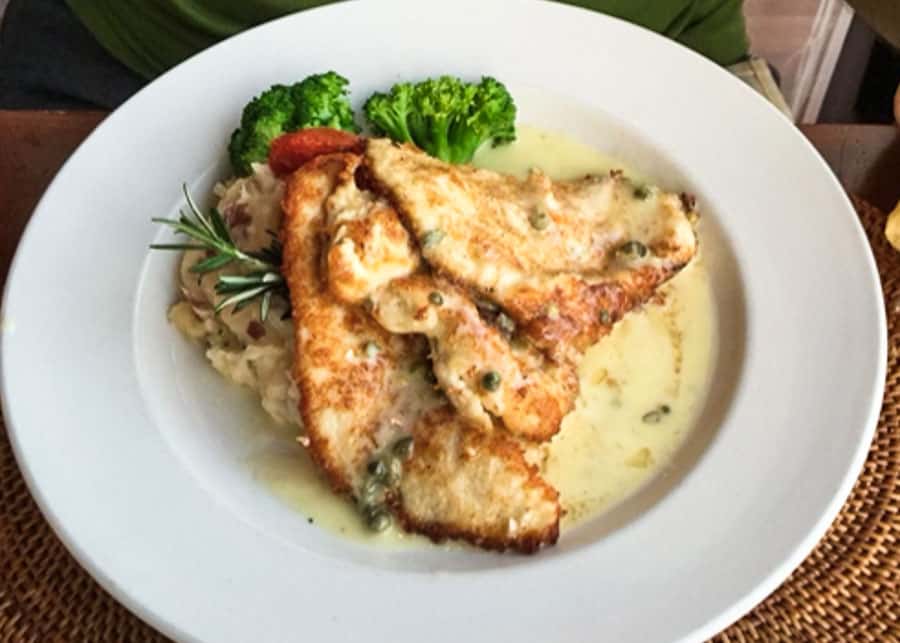 Café O'Lei is a great place to eat if you are on the south shore of Maui. They have excellent food, great service and amazing cocktails!
READ NEXT: Maui vs the Big Island: an Unbiased Comparison
Best Places to Eat in Maui on a Budget
While it's so easy to overspend on fancy restaurants, it's a little harder to find cheap places to eat on Maui that are also a good value. But with all that fresh seafood in Maui, you don't have to compromise on your dining experience. So let me give you a few suggestions for good and inexpensive places to eat on Maui.
Geste Shrimp Truck
If you are a seafood lover, Geste Shrimp Truck is an absolute must-try for you! This place was voted the best food truck on the island for two years in a row. So if you are looking for a cheap (and good!) place to eat on Maui, go to Geste.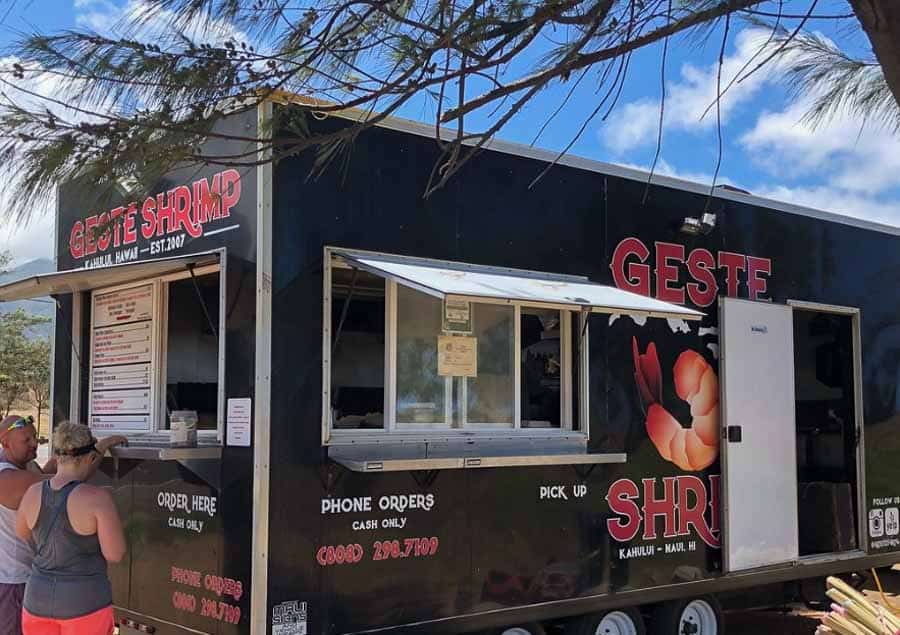 Taste their Hawaiian Scampi Plate, comprised of 12 garlic shrimp, crab mac salad, and a scoop of rice. You can even add some spicy pineapple sauce or lemon pepper seasoning!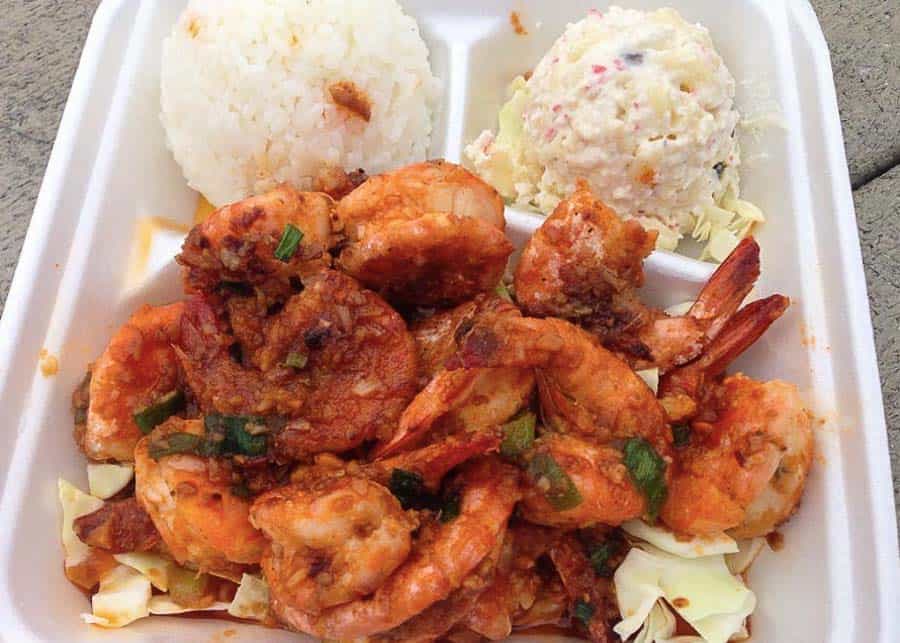 The truck is open on Tuesday through Saturday.
Address: 591 Haleakala Hwy, Kahului, HI 96732
Grandma's Coffee House
Located high on the slopes of Haleakala, Grandma's Coffee House is one of the oldest restaurants in Maui, dating back to 1918. If you need a break from the beach, head over to Grandma's Coffee House for a good lunch. We eat here only once, on our way back from the Haleakala after watching the famous Haleakala sunrise.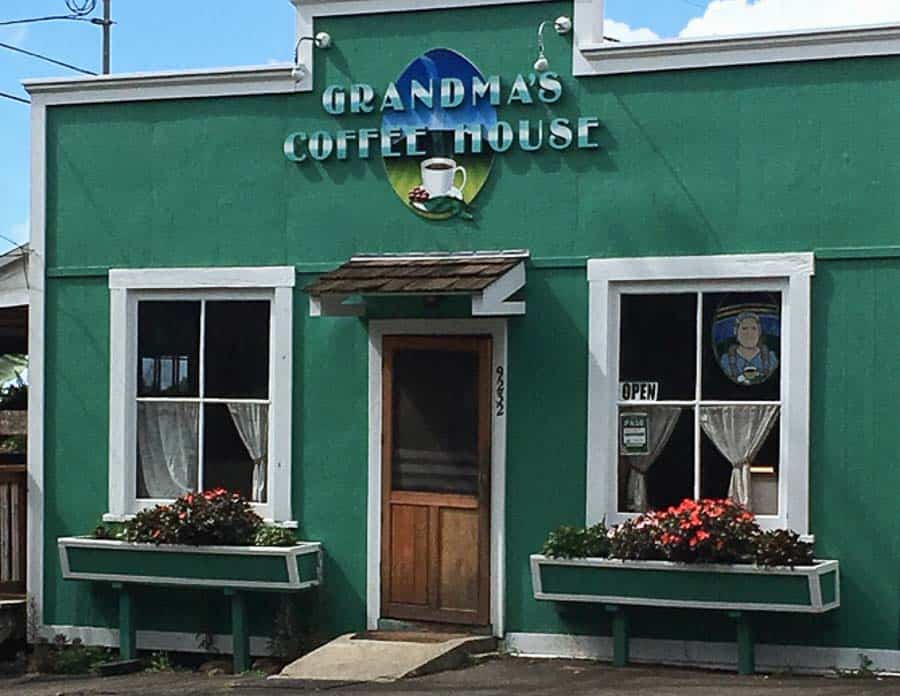 The restaurant serves breakfast which consists of espresso coffee, ham and eggs and homemade waffles. The lunch menu looked good as well: spinach lasagna, paniolo pork chops and lobster. You can eat inside or out, on a small terrace that has some stunning views of the Upcountry.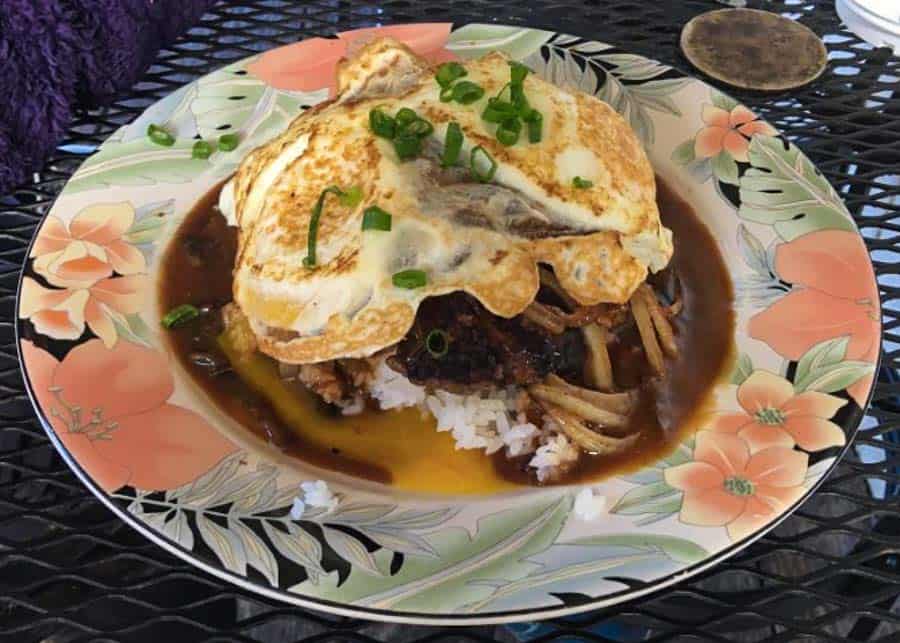 Grandma's Coffee House gets a good local vibe plus some great grinds and delicious coffee!
Address: 9232 Kula Hwy, Kula, HI 96790
Sam Sato's Noodles
We found out about this place from a local. The eatery is a bit hard to find. We drove by it twice because from the street it doesn't look like a restaurant. The food was amazing! We got the dry noodles and Saimen, both were very good!
The prices are very inexpensive and service was very good. They also some have good pastries, if you care for dessert. If you are on a budget and want some good food, I totally recommend this place. It's modest, but it serves tasty food and they will treat you like family. The real Aloha spirit!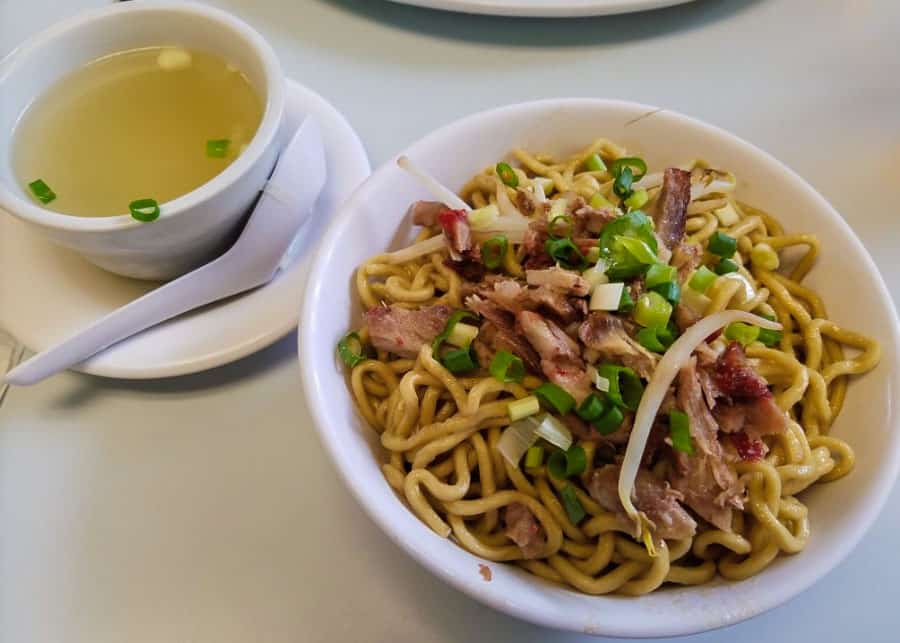 They stop serving at 2:00 pm, so make sure you get there early enough to place your order.
Address: 1750 Wili Pa Loop, Wailuku, HI 96793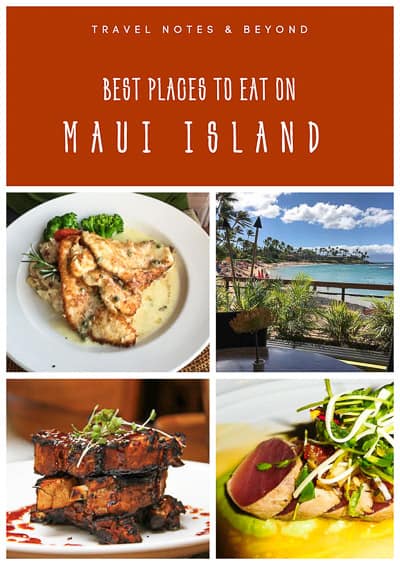 Planning a trip to Maui? You may also like these: