I love Budapest in winter! Especially during the holiday season when tinsel garlands, Christmas wreaths, and sparkly ornaments turn the city into a winter wonderland. Stores dress up with lights to create a magical experience for shoppers, hotels welcome their guests with eye-popping Christmas trees, and food kiosks lure you in with the smell of hot apple strudel and chestnuts. Everywhere you turn it's a holiday feeling!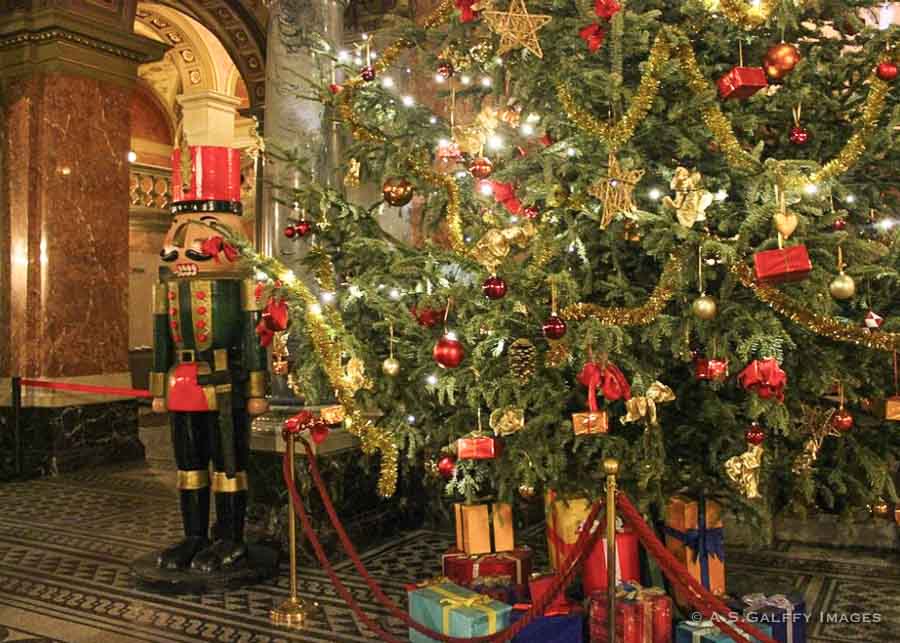 Many people fear that winter may not be the best time to travel to Europe, but let me tell you: Budapest is one of the best European cities to visit in December! The best place to go if you want to feel the holiday spirit!
BUDAPEST WINTER WEATHER
Winter in Budapest is generally considered from December to February, with shoulder months in November and March. The average temperature in December is between 1ºC and 4ºC (33º to 40ºF), but it gets colder in January.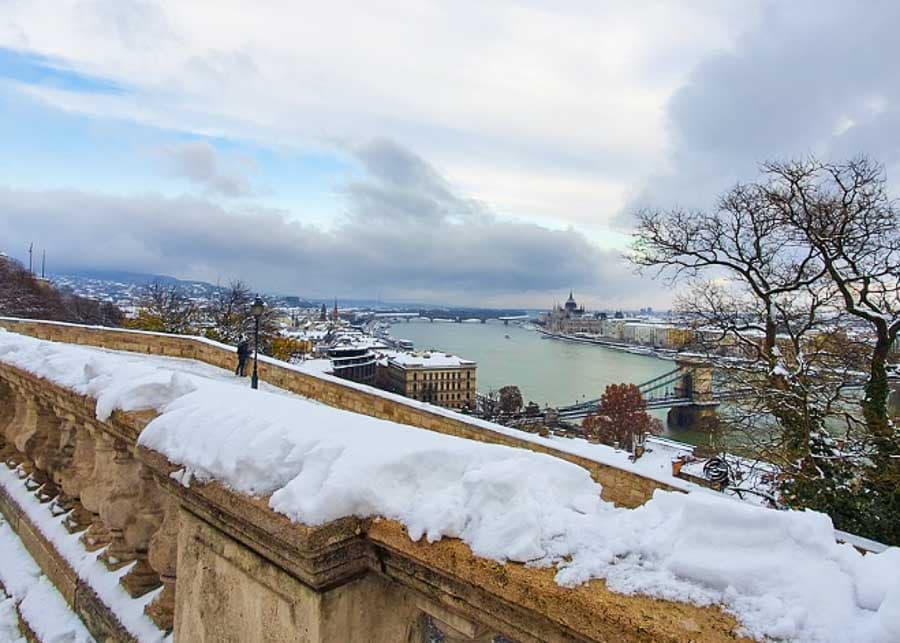 Like most places in Europe that experience a winter season, Budapest tends to be chilly and gray in winter, with only occasional sunny days.
December and January are usually dry months in Budapest, with very little snow. But that shouldn't put you off. Even if snow doesn't cover the ground there is still a festive atmosphere in town.
15 THINGS TO DO IN BUDAPEST DURING THE WINTER
Winters may be cold in Budapest, but the city's busy life doesn't come to a halt. There's plenty to see and do in Budapest at this time of year. And since there are fewer tourists, this is a great time to visit the Hungarian capital.
1. Go Ice skating at the outdoor rink in the City Park
There are many places where you can have fun in Budapest in winter, but if you want to stay active head to the popular Outdoor Ice Rink in the City Park. The huge open-air rink counts itself among the top 10 best places in to go ice skating in Europe.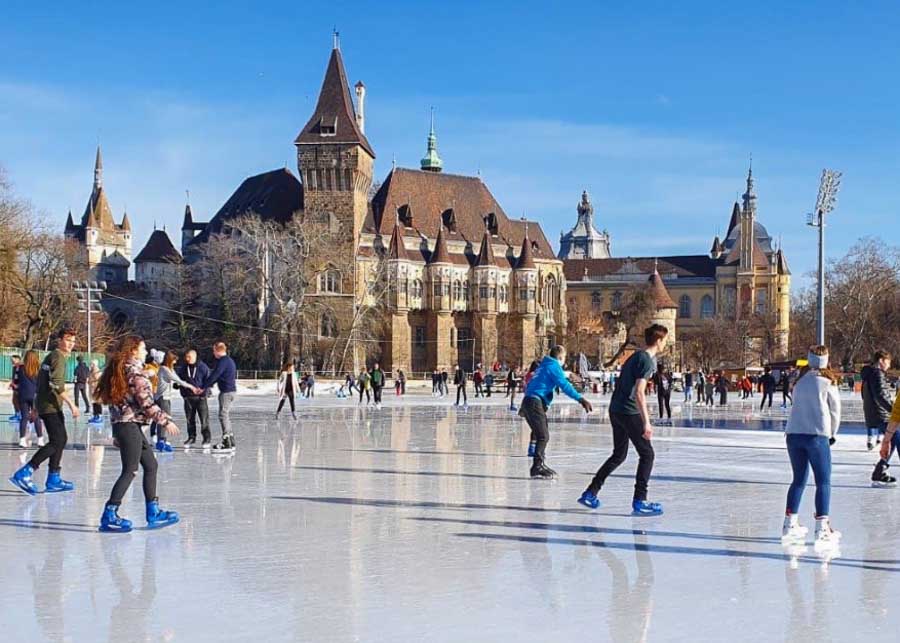 You don't know how to skate? No worries, you can learn here and it's never too late to start.
Admission prices are: 1,000 HUF ($3.50) for children and 1,500 HUF ($5.25) for adults. The Ice Rink is open between 9 a.m. to 1 p.m. and 5 p.m. to 9 p.m., from November till mid February.
2. Soak in one of the thermal baths in Budapest
One of my favorite things to do in Budapest in winter is soak in a thermal bath. Because they are fed by natural springs rich in calcium, magnesium, and fluoride, Budapest baths have great healing and cleansing properties.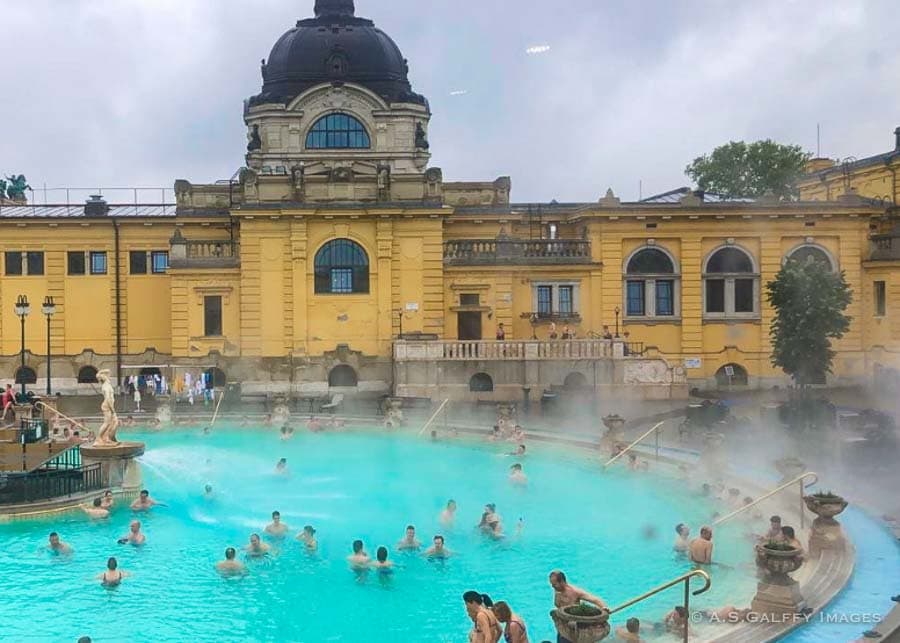 My winter favorite is the Szechenyi Baths which feature 3 outdoor heated pools. It may be freezing outside and snow may be falling, but the steaming, thermal water invites you to try the experience. It's a simultaneous sensation of hot and cold that leaves you with a healthy feeling afterwards. Something you'll definitely have to try.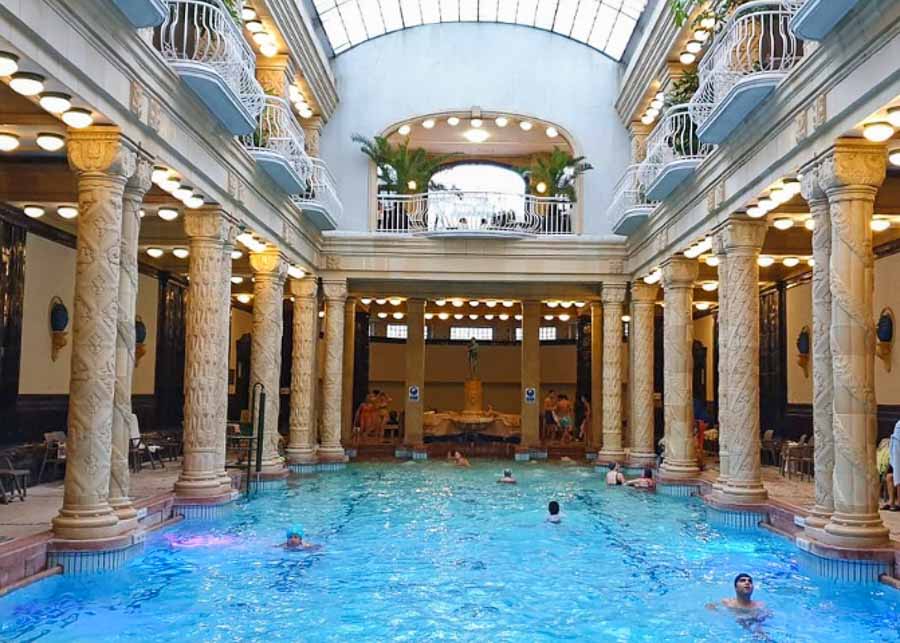 Other popular thermal baths to visit in Budapest are the Gellert, near Castle Hill, Kiraly, or Lukacs Baths. They each have very different characters and some feature pools with various water temperatures, saunas, massage and spa treatments.
Admission prices vary between 12 Euros to 22 Euros (16-28 USD), depending on the baths and the package. The baths are open from 9am to 7pm every week day. Szechenyi Baths has extended hours on Saturdays and Sundays during the summer.
3. Warm up with some mulled wine at the Budapest Christmas Markets
Budapest is home to some of the best Christmas markets in Europe, so there is no better place to enjoy the holiday spirit than the lively fairs around the city. And if you want to beat the cold winter weather, grab bag of roasted chestnuts and a cup of mulled wine. This will give you plenty of energy to stroll through the countless stalls filled with gifts, local crafts, and confectionaries.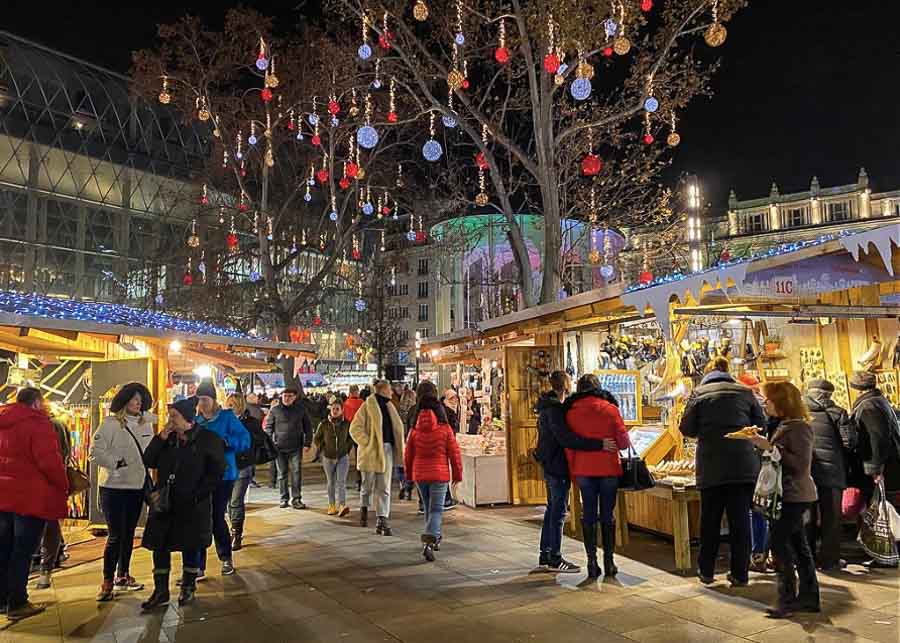 The biggest Christmas Market in Budapest takes place on Vörösmarty square, right at the end of the pedestrian Váci Utca. But there are also others worth visiting, like the cozy one in front of St. Stephen Basilica, or the one in Óbuda, where the locals go. This is a great place to buy some Budapest souvenirs to take home with you.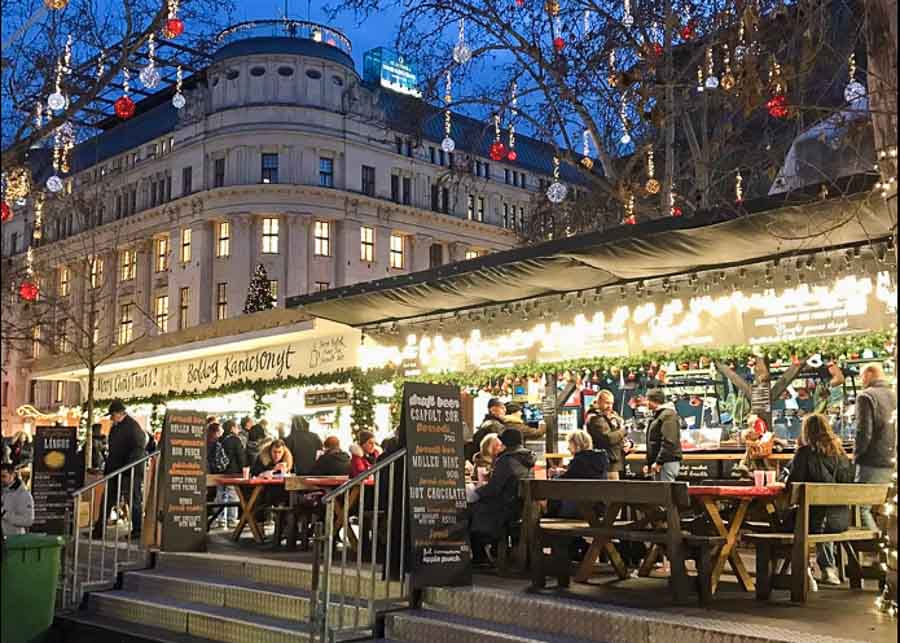 Opening hours: Christmas Markets in Budapest are open between 10 am – 8pm on weekdays, and from 10 am – 10 pm on weekends.
4. Try some traditional Hungarian food at the Grand Central Market
Nagy Vásárcsarnok (the Great Market Hall) is a must if you are in Budapest. The market is famous for its great variety of local foods and fresh produce. From fish, fresh meat, smoked sausages, cold cuts and baked goods, you can find everything your heart desires here!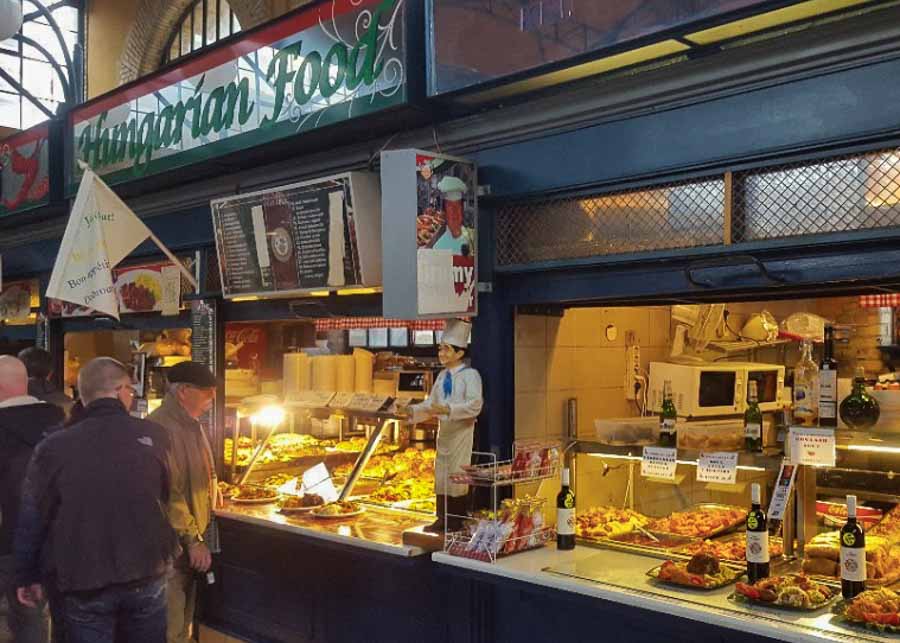 On the second floor of the market are some stand-up counters serving traditional Hungarian dishes and wines. It's hard to resist the smell of the home-made food and freshly baked strudels that tickle your nose!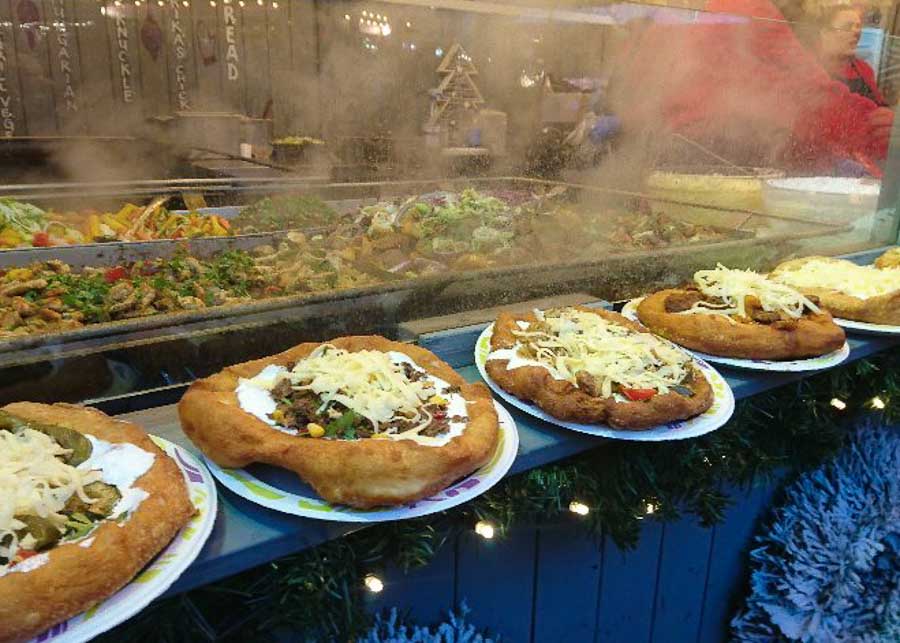 Great Central Market is the best place to stop and warm up from inside out. Not hungry? Believe me, just the sight of all the goodies in the stalls will make your stomach growl! And don't miss the famous lángos, which they fry right before your eyes.
Opening hours: the market is open from 6 am – 6 pm on weekdays, and from 6 am – 3 pm on Saturday. Sunday the market is closed.
5. Watch The Nutcracker ballet at the Budapest Opera House
Watching The Nutcracker ballet at Christmas time is actually an American Christmas tradition, but it's also popular in Europe. Christmas is just not Christmas without it, so if you are visiting Budapest in December, don't miss watching a performance at the Hungarian Opera House.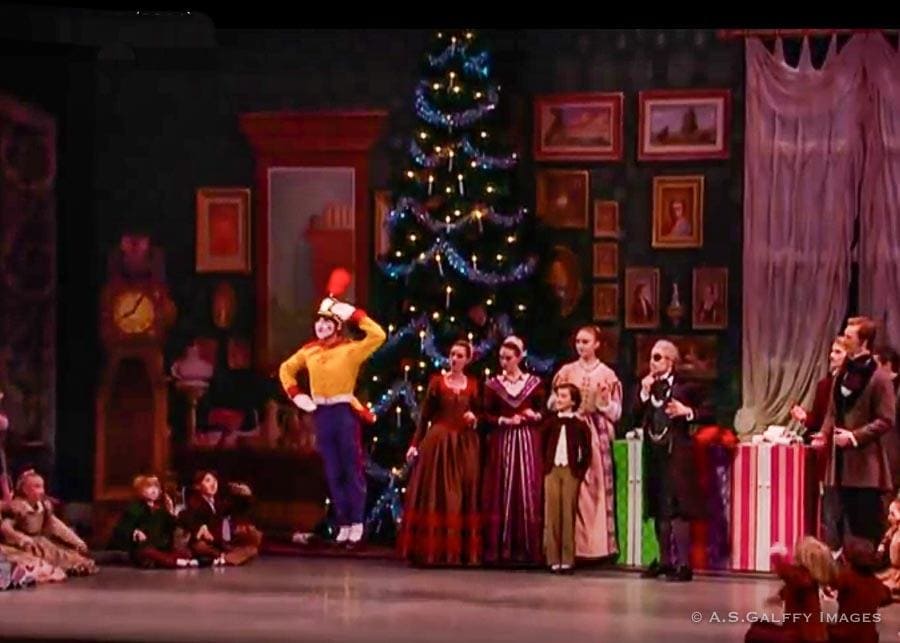 The Opera House is one of the most impressive cultural venues in Budapest. The famous building exceeds in my opinion the beauty of the opera in Vienna, after which it was modeled.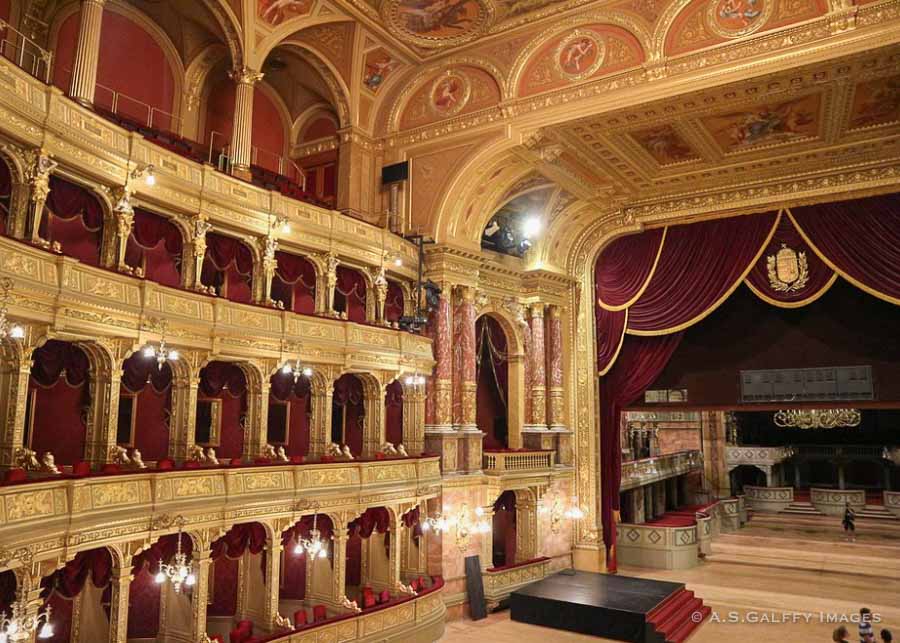 Admission prices are between: 2,990 HUF – 18,000 HUF ($10 – $62) per person. Admission is free for children under the age of 6.
6. Treat yourself to a Kürtőskalács (chimney cake)
Kurtoskalács (or 'chimney cake') is a must-have, whether you visit Budapest in summer or in winter. This Hungarian sweet treat is sold at many stalls throughout the city. You'll also find it at any of the Christmas Markets in town.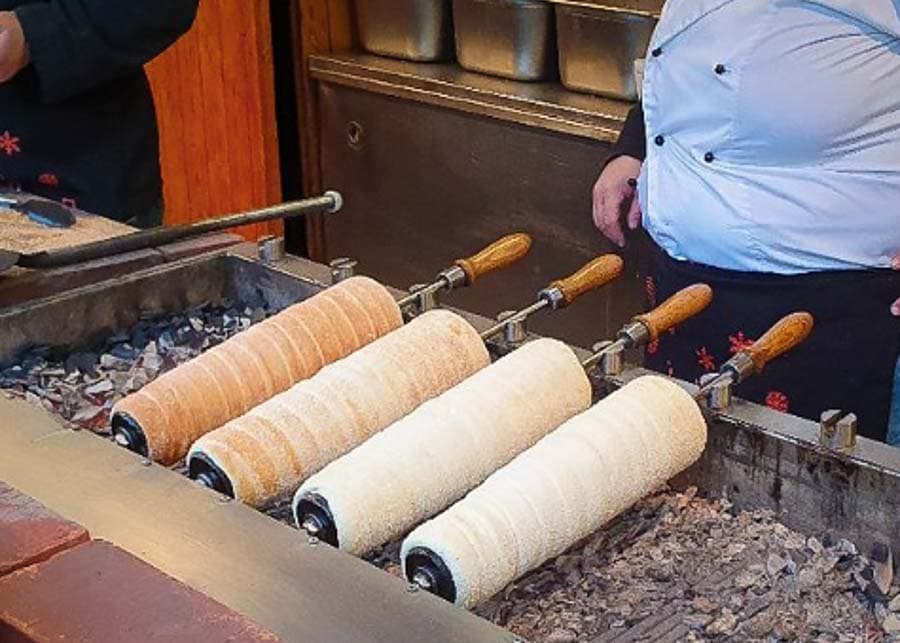 It's hard to resist the temptation of the sugary aroma that scents the air around the cake kiosks! Most of the time you'll find a queue for the chimney cake, but don't give up. It's worth trying it.
7. Enjoy a winter wonderland at the City Park
If you are lucky to get fresh snow in Budapest, there is no better place to enjoy a true winter wonderland than the City Park.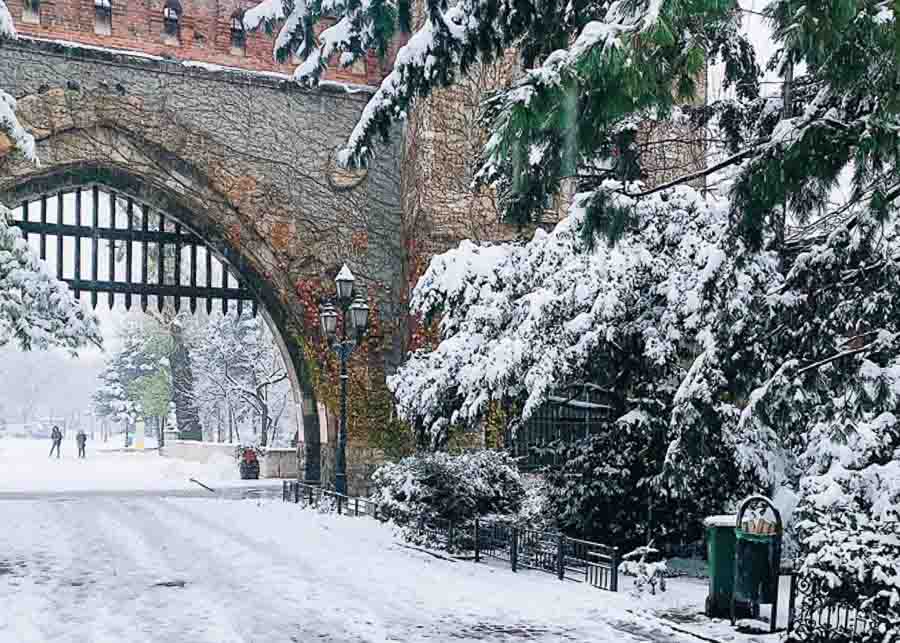 The park – which lies just a few steps from the Heroes' Square – is home to a collection of replicas of famous medieval structures from Hungary and the region of Transylvania, in Romania. The most beautiful one is the replica of the Vajdahunyad Castle in Romania.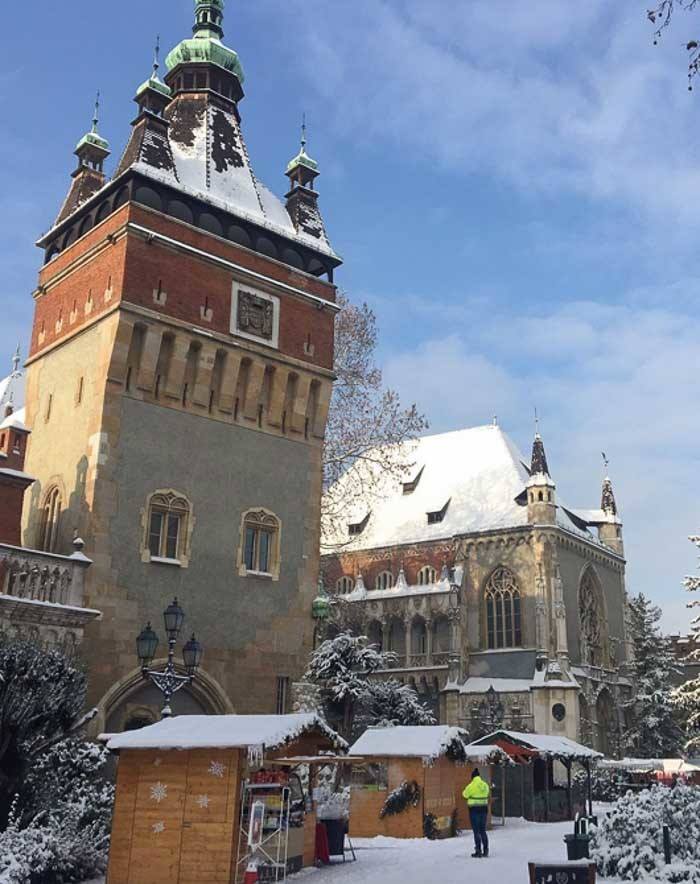 Admission to the City Park is free, except for the time when the park hosts Budapest festivals.
8. Walk along the terrace of the Fisherman's Bastion
The Fisherman's Bastion (Halaszbastya, in Hungarian) – is arguably the most popular attraction in the Old Town Budapest. The stronghold derived its name from the guild of fishermen who were responsible for defending this area in the Middle Ages.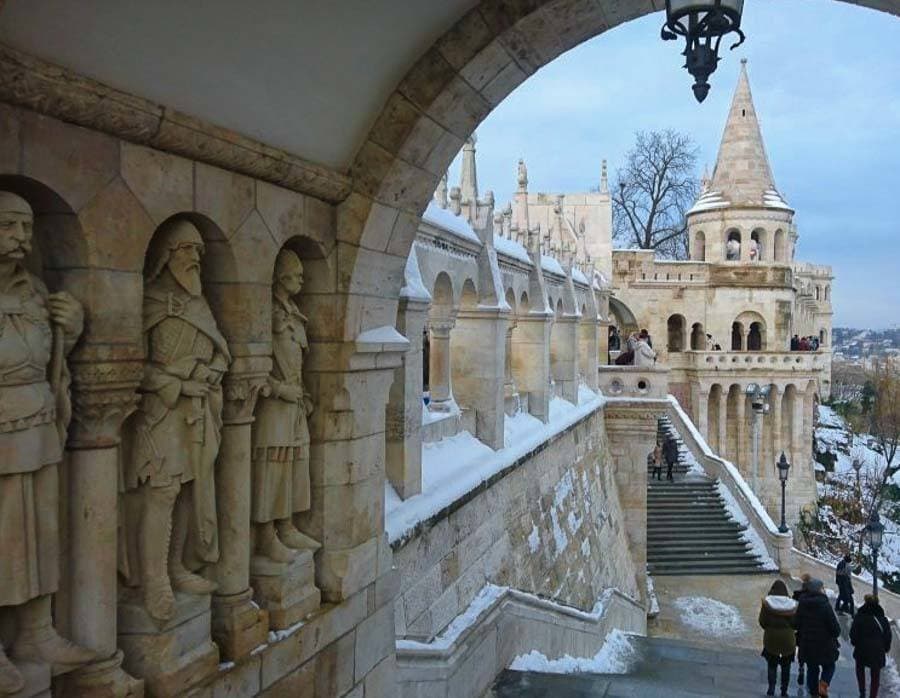 The Fishermen's Bastion terrace was built as a viewing platform after the Siege of Budapest, when Buda Castle lost its military importance. Walking around the platform is beautiful even in winter, as from up here you get the most fantastic view of Budapest.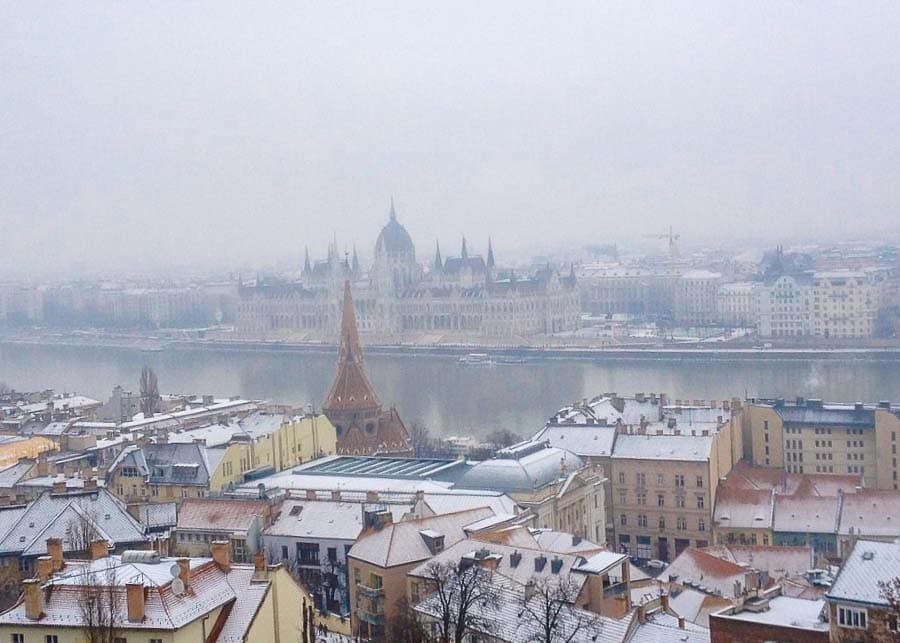 READ NEXT: What You Should Know About Hungarians Before You Travel to Hungary
9. Warm up with some pálinka at Budapest's Ruin Pubs
One of the most bizarre (yet fun) places to visit in Budapest are the Ruin Bars. This chain of quirky pubs and nightclubs opened in 2004 in some abandoned and dilapidated buildings in Budapest's District VII.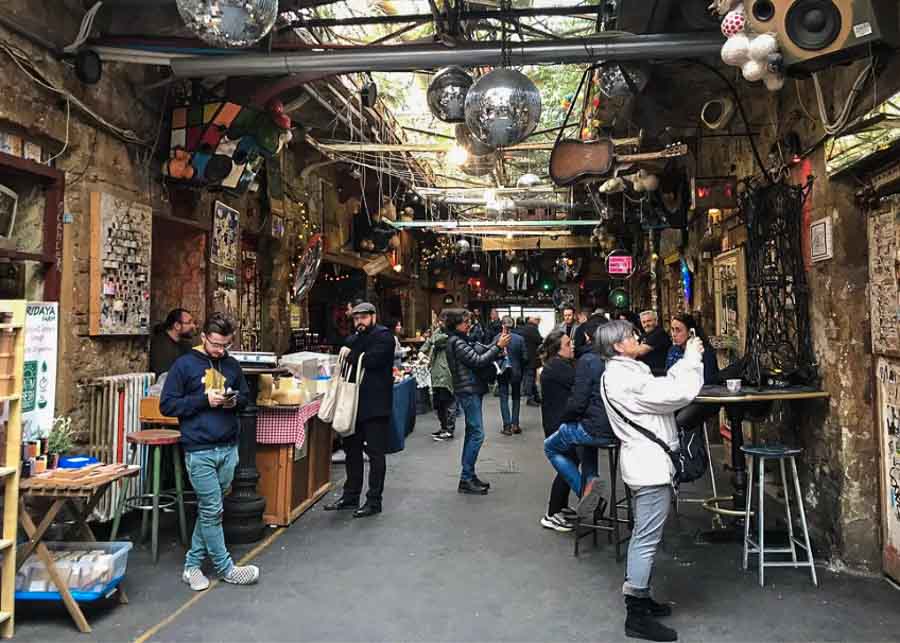 Once the site of the Jewish ghetto, this area of Budapest became derelict in the decades following World War II, after the deportation of the Jews. The only structure that survived decay in the ghetto was the Jewish Synagogue.
The bohemian, crumbling taverns are a place to warm up with a traditional pálinka or some mulled wine.
Opening hours are 12 pm – 4 a.m. Monday through Friday and 9:00 a.m. to 4 a.m. Saturday & Sunday.
10. Attend a Christmas Concert at St. Matthias Church
One of the most enchanting things to do in Budapest in December is enjoy a Christmas Concert in one of the many churches in town. For a more grandiose experience you can attend a concert in the St. Istvan Basilica, on the Pest side of Budapest.
But if you want a more intimate experience, I recommend the beautiful Neo-Gothic Matthias Church in the Buda Castle District.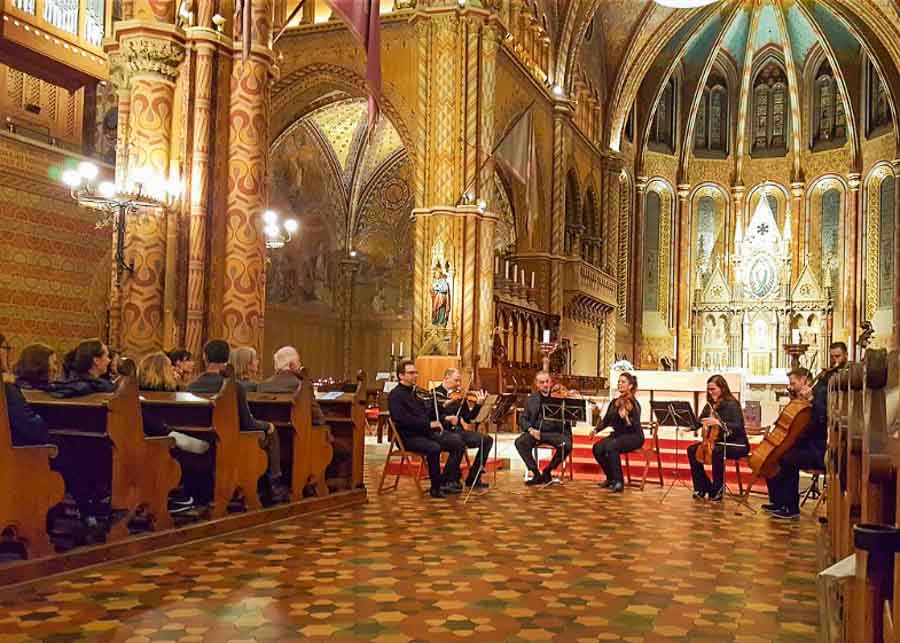 Matthias Church is one of Budapest's oldest and most beloved churches and an attraction in itself. The church served as the coronation place for all the Hungarian kings.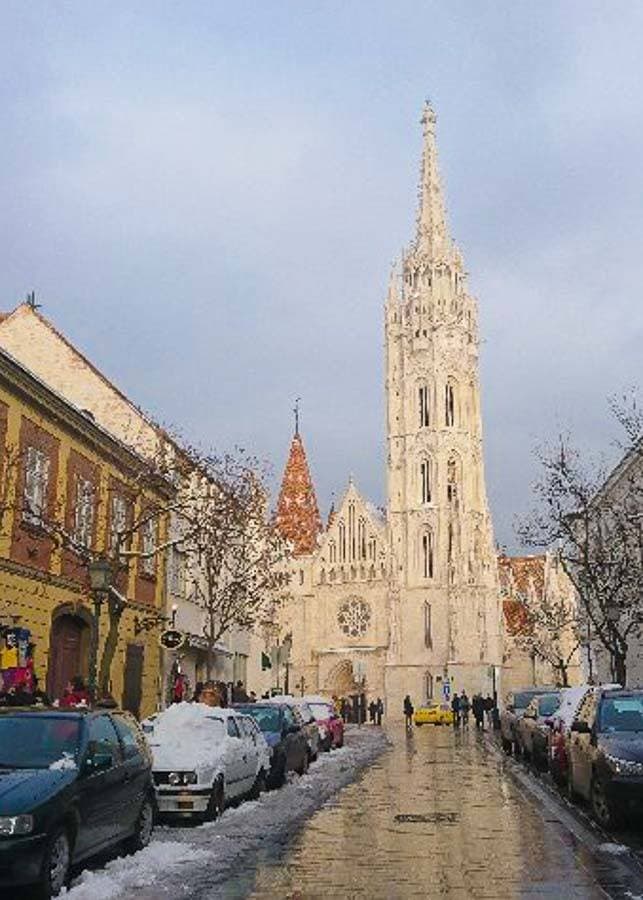 On the upper level of the church there is a small museum really worth visiting.
11. Sip a cup of Sisi cave at Café Gerbeaud
Located in Vörösmarty Square, Café Gerbeaud is one of Budapest's most famous coffee houses and the only place where you can taste the famous Sisi cave (Sisi coffee).
This opulent café was the meeting place for Budapest elite of the 19th century, including Sissy, the Queen of Hungary and wife of Emperor Franz Joseph. Hence the name of the famous coffee which was the Queen's favorite.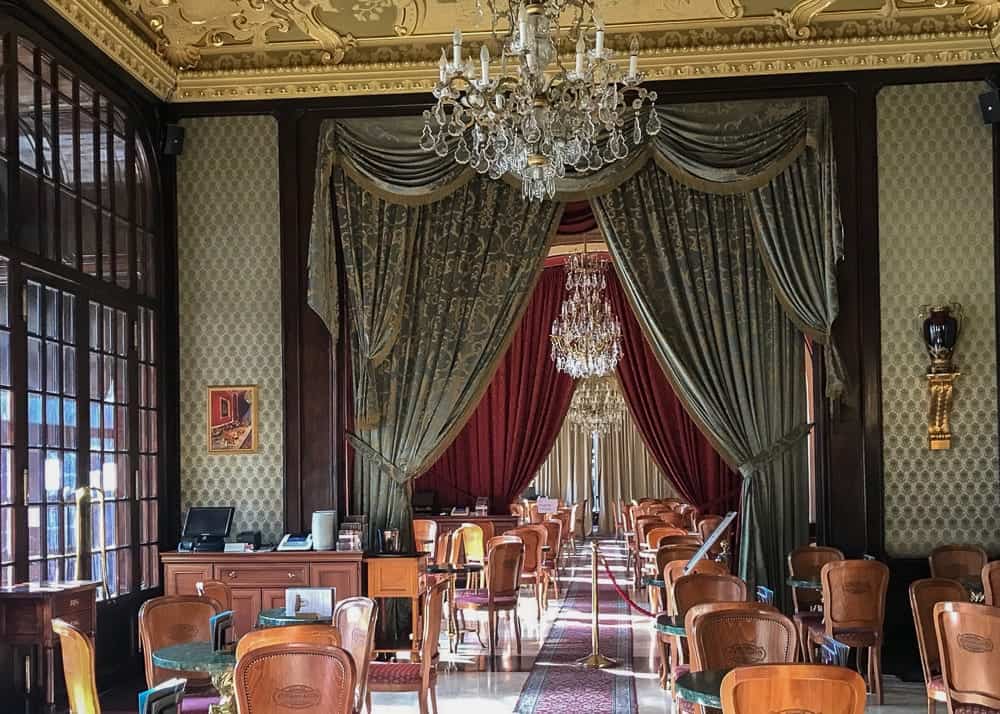 Today the legendary Gerbeaud became a little touristy. However, if you want to see one of the most traditional coffee houses in Europe, you should stop for a visit. The grandeur of Gerbeaud's chandelier-lit rooms covered with green and red velvet is reminiscent of its old glory.
12. Go Christmas shopping on Váci Utca
Budapest's most famous pedestrian street – Váci Utca – lights up in winter like no other. The beautifully decorated stores and building façades make Váci Utca a great place to walk.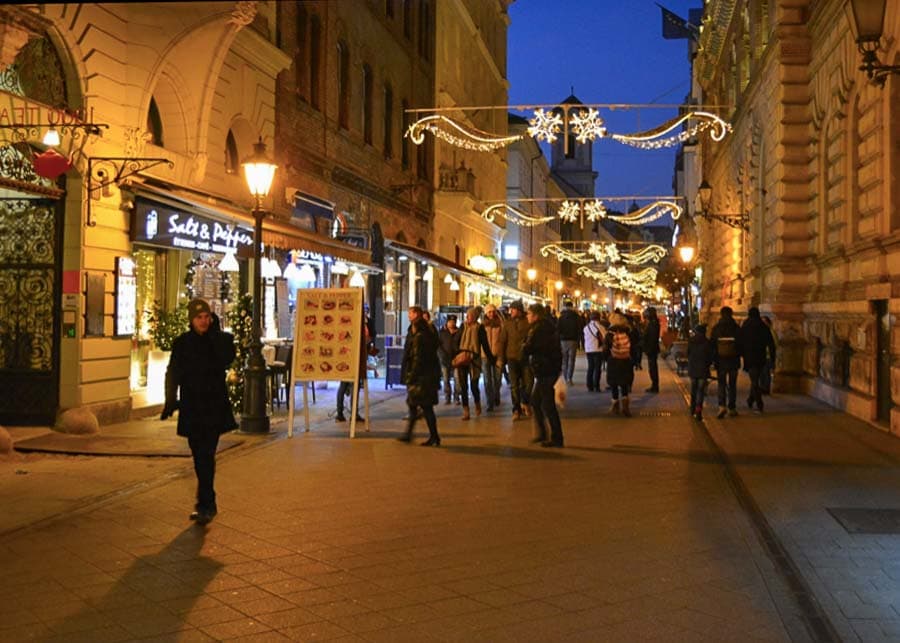 Wile I wouldn't recommend any of the restaurants in this area, you'll find some nice stores stores on this street.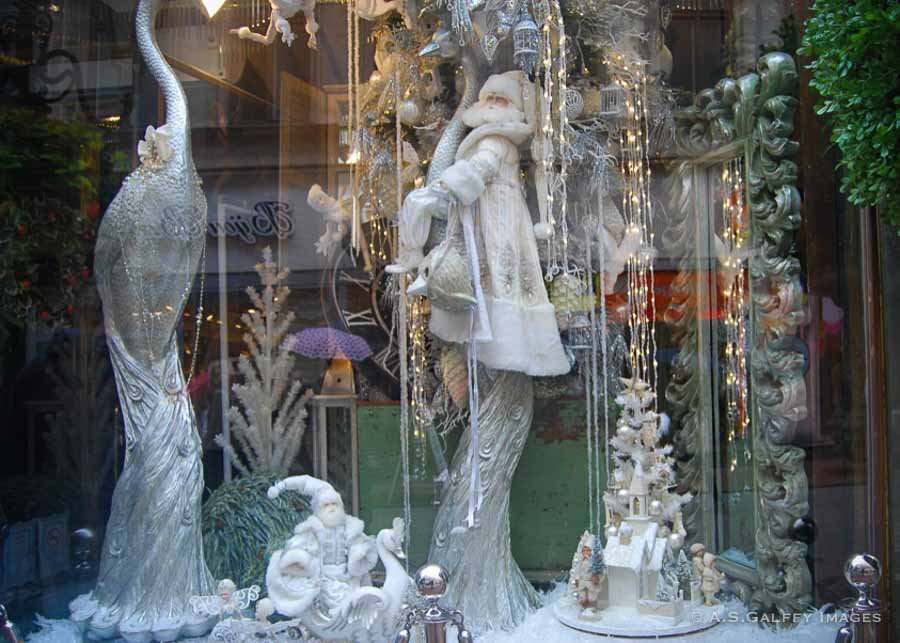 13. Ride the Christmas trams
Some of the streetcars in Budapest turn very festive in December. The trams are covered with thousands of thousands of LED lights, making traveling merry in Budapest.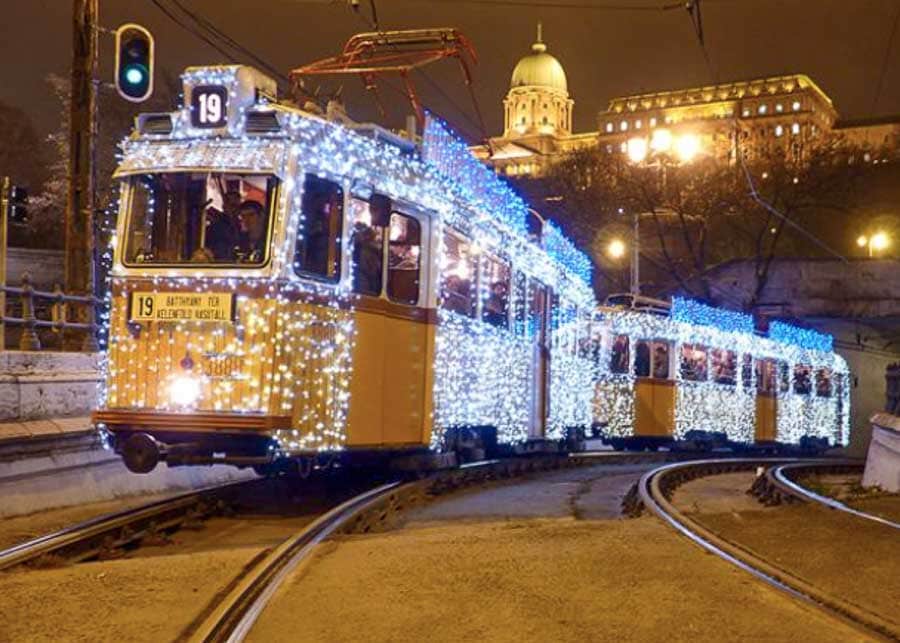 Tram #2 enjoys the most panoramic route, running along the River Danube. Besides tram line 2, similarly glittering streetcars will show up along other lines in Budapest, including trams 19, 41, and 69.
To travel on the Budapest Christmas Streetcar you can use your Budapest Card or public transport travel pass. For more information on running times and schedule check out this website.
14. Watch the fireworks on New Year's Eve
While there are no "official" New Year's Eve fireworks in Budapest, many suburban municipalities and local residents shoot off their own celebrations. The best place to see fireworks is up on Gellert Hill, on the Buda side of Budapest.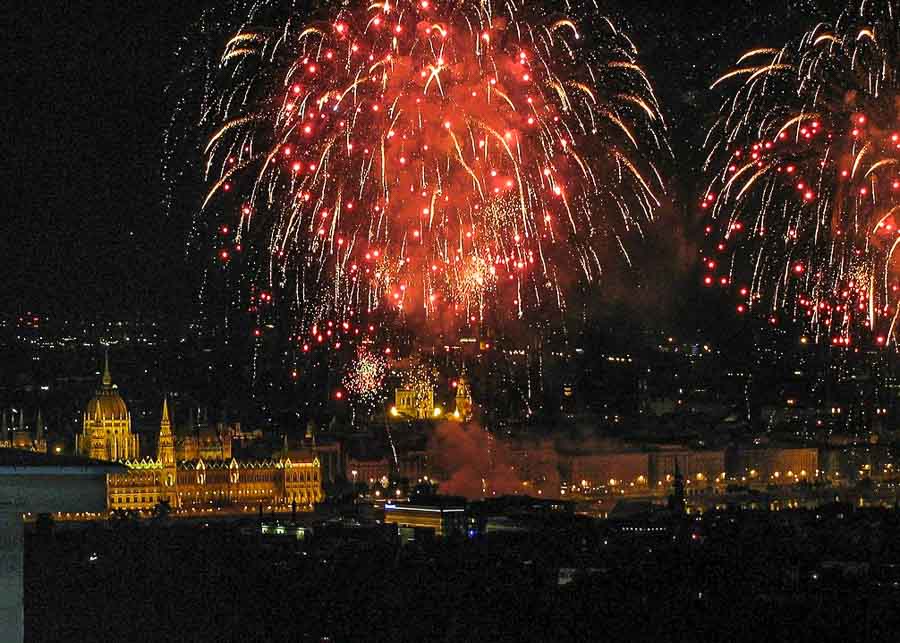 As for New Year's Eve street celebrations, the area of Váci utca, Erszebet ter, and the Jewish Quarters will be full of people who celebrate far into the morning hours.
15. Take a dinner cruise on the Danube
If you want to make your holiday special, I can't think of a better thing than a dinner cruise on the Danube. It's a beautiful way to see the city at night. We usually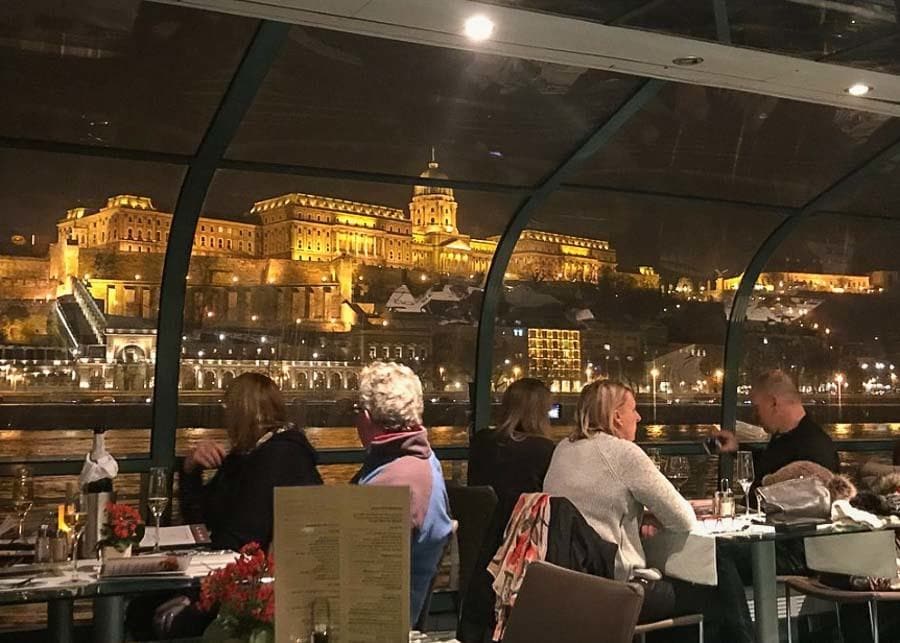 My husband and I took one for Christmas Ever one year and absolutely loved it. They had a really nice live band and greeted us with sparkling wine as soon as we arrived on board. Dinner was buffet style, but food was good.
The cruise takes about 3 hours and prices are from €65 per person.
READ NEXT: 10 Family Christmas Traditions That Make the Holiday Special
WHAT TO PACK FOR YOUR WINTER TRIP TO BUDAPEST
If you are headed to Budapest in winter, you'll have to consider packing warm clothes that are also fashionable. People dress nicely in Europe, so style matters.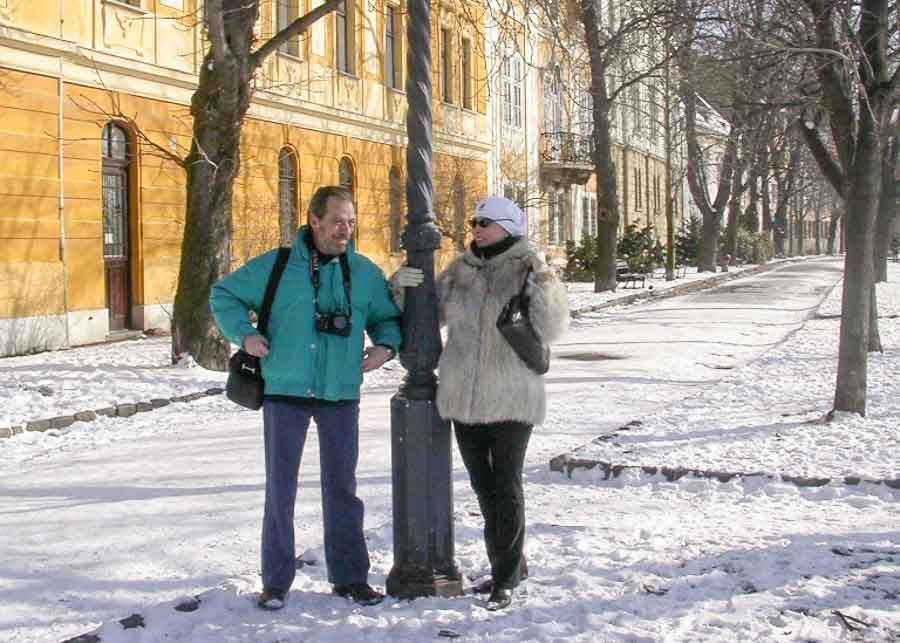 First of all consider a heavy hooded coat, or a packable down jacket for women, or a parka for men. You'll also need wool sweaters, long sleeve shirts or turtlenecks, a good pair of gloves and a warm knit or fur hat. Outside temperatures may vary between +2º to -7ºC, sometimes even colder, so you'll need to dress warmly.
Footwear is also very important. Consider a solid pair of waterproof boots that will keep your warm and dry, even if snows.
DID YOU FIND THIS INFORMATION USEFUL? PLEASE PIN IT FOR LATER: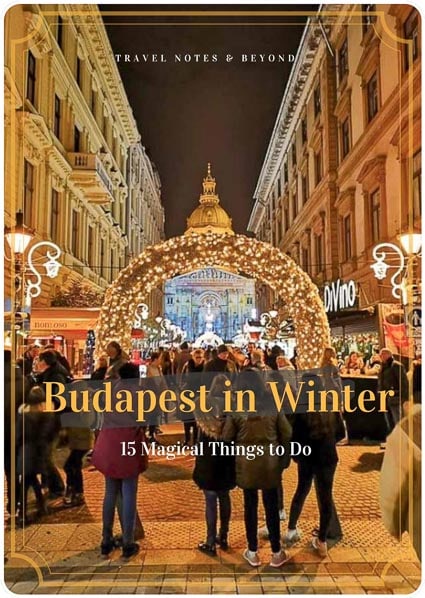 YOU MAY ALSO LIKE THESE: