Of all the road trips we took across California, driving along the Pacific Coast from L.A. to San Francisco has been my all time favorite. This famous stretch of coast is considered one of the most amazing destinations in the world, and for a good reason.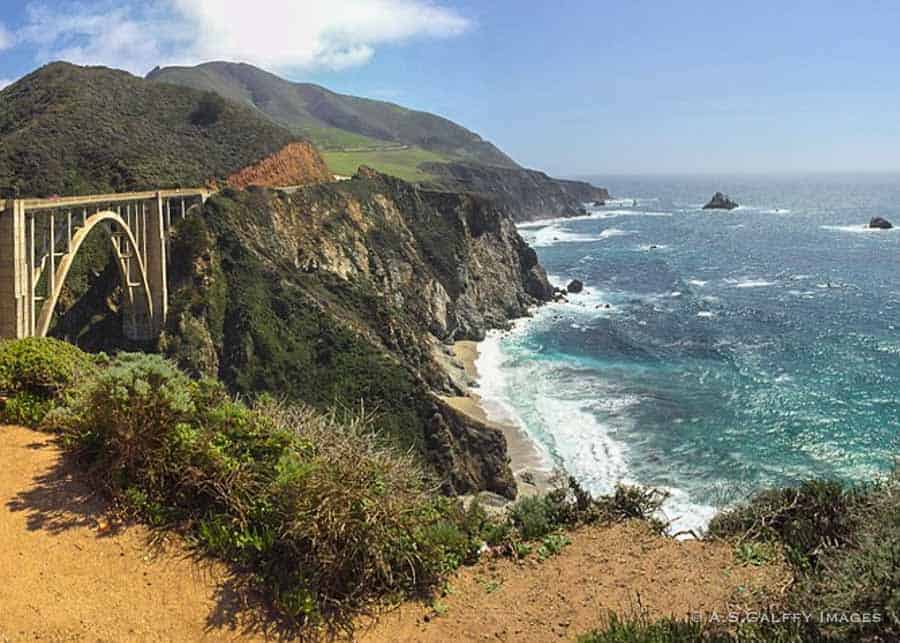 Along the road you'll drive by tiny coastal towns, redwood forests, state parks, famous wine regions, marine wildlife, and amazing scenery. Not to mention the many photo and outdoor adventure opportunities!

How to Drive from L.A. to San Francisco
There are several routes you can take when driving between these two destinations, depending on how much time you have and what you plan to accomplish on your trip.
If you just want get straight from Los Angeles to San Francisco, the quickest way is via Interstate 5 Freeway. The distance is 383 miles and the drive takes about 5.5 to 6 hours, depending on the traffic. This route is however quite boring, except for a few scenic views around Pyramid Lake.
However, if you want a more memorable west coast road trip, you should drive the legendary Pacific Coast from L.A. to San Francisco. Although longer (442 miles) and more difficult, this route is one of the most scenic drives in the world that should be on any USA bucket list.
If you take this route you should't rush. It's worth stretching your trip over 2 or 3 days. here are many places to stop along the way where you can stop to eat and drink, or for an overnight stay. Or, if your budget allows it, you could rent a motorhome and stop wherever you like.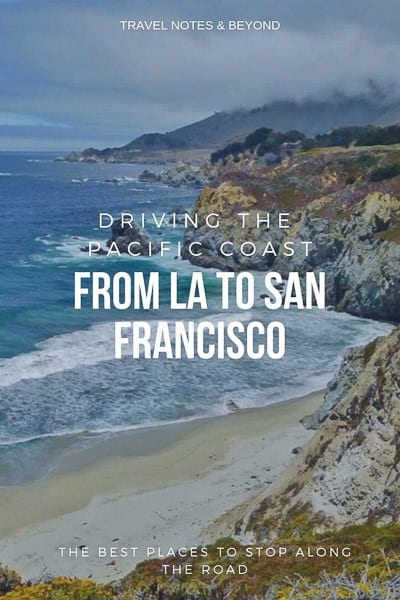 12 Best Places to Stop on a Road Trip from L.A. to San Francisco
California Coast is famous for its magnificent scenery, wine tasting, art festivals and year-round outdoor activities. Nearly all those taking a road trip through California include the L.A. to San Francisco drive in their itinerary. And nearly all of them face the same dilemma: how to fit everything into one trip?
There is so much to see and always so little time! In this post I'll share with you my favorite places to stop along the Pacific Coast Highway between Los Angeles and San Francisco. I will also give you some tips for what to do and see in these places.
#1. Santa Monica
Santa Monica is the closest place on Highway 1 (PCH) from Downtown Los Angeles. This beautiful beach town makes the list of every Los Angeles itinerary, so you should stop here at least for a short visit.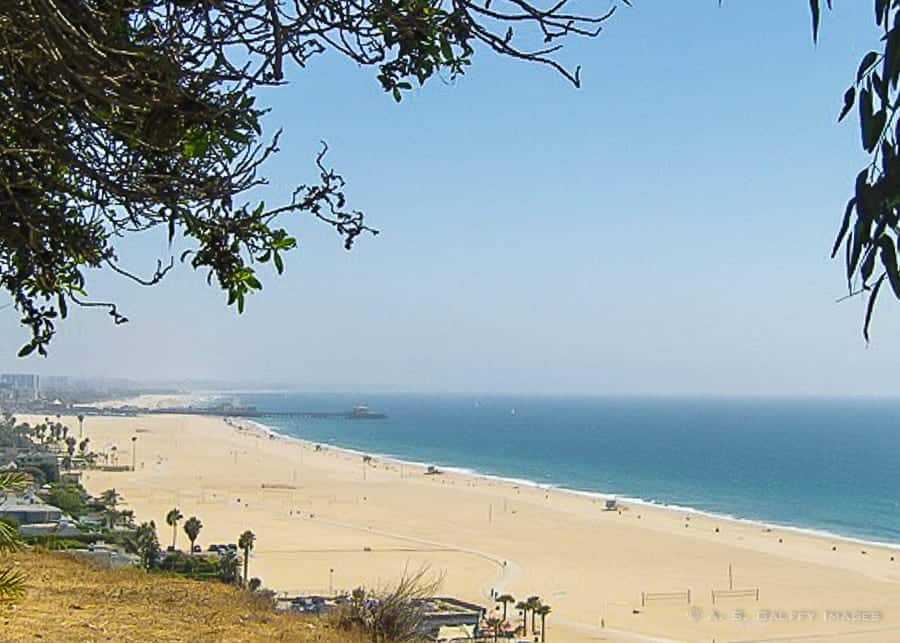 The famous beach stretches along either side of the historic Santa Monica Pier. If you want to walk on the beach or visit the Pier, there is plenty of parking around. The paved path that follows the shoreline is a paradise for rollerblading, biking, or walking, but you probably won't have time for that.
The most popular spot in Santa Monica is the Pier at the foot of Colorado Avenue. This bustling wooden wharf is where the action is: souvenir shops, small restaurants, roller coaster, and a giant Ferris wheel. For this reason, you'll always find people here, rain or shine. The historic Santa Monica Pier is a great place to stop for a bite.
#2. Malibu Coast
Just 18 miles further up the coast from Santa Monica, your drive from LA to San Francisco will continue through Malibu town. Malibu is famous for the large number of Hollywood celebrities who live in this area, but also for its picturesque beaches.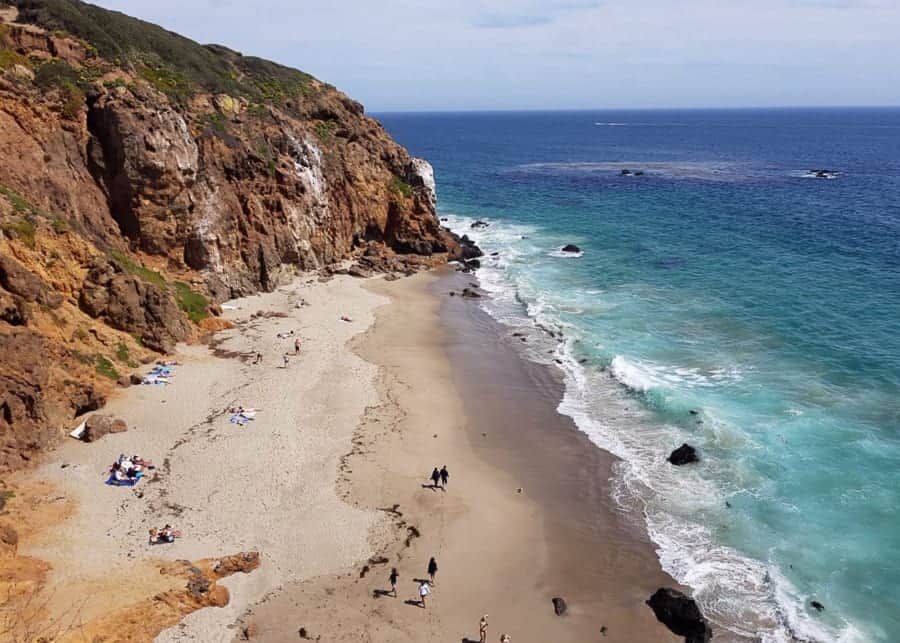 Some of Southern California's most pristine beaches are in Malibu. Long stretches of shore with tide pools, caves and strange rock formations.
Here are some popular activities you can do in Malibu:
#3. Santa Barbara
Beaches, wine, red tile roofs and beautiful gardens are just some of the things that made Santa Barbara famous. There are quite a few attractions in Santa Barbara to justify and overnight stay. However, most people prefer to visit Santa Barbara as day trip from Los Angeles.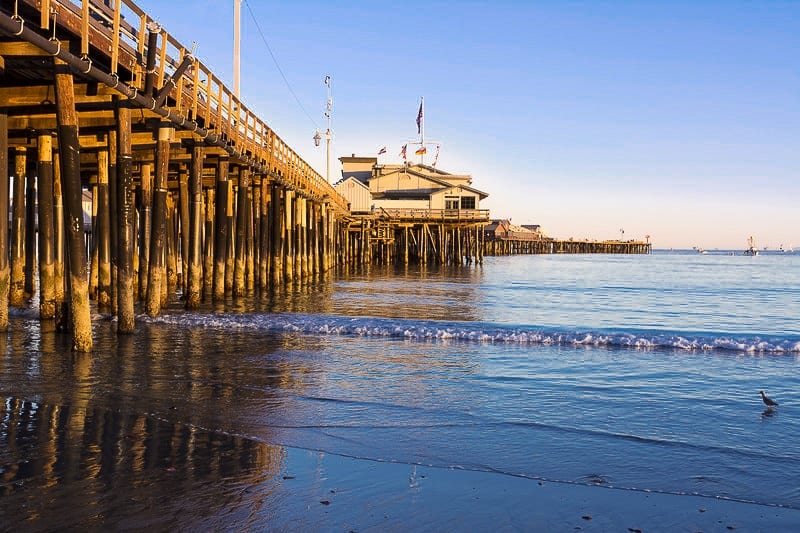 One of the best things to do in town is visit the Courthouse and its clock tower. You can also stroll along the Wtearns Wharf – the longest deep-water pier between Los Angeles and San Francisco, or visit the Old Santa Barbara Mission. One of my favorite things to do is going on this walking tour with wine and chocolate tasting. Yummy!
#4. Solvang
Just 11 miles off Highway 1, you can take a little detour to visit the Danish village of Solvang. With its European-style windmills, flower-lined streets and half timbered buildings, Solvang will surely steal your heart.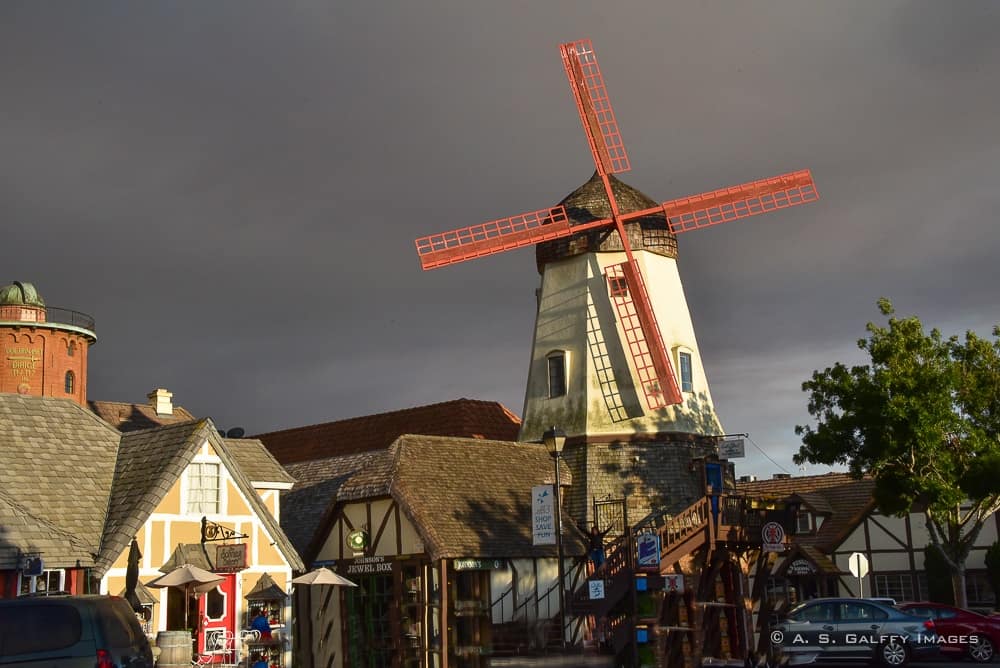 The first time I visited the village I thought I was walking in one of Hans Christian Andersen's stories, with horse-drawn wagons and rooftop stork nests. These small details are reminiscent of the Danish countryside atmosphere.
#5. Morro Bay
The next place worth stopping on your drive from LA to San Francisco is Morro Bay. This tiny fishing village is home to a beautiful state park and several bird and wildlife estuaries, so don't miss it.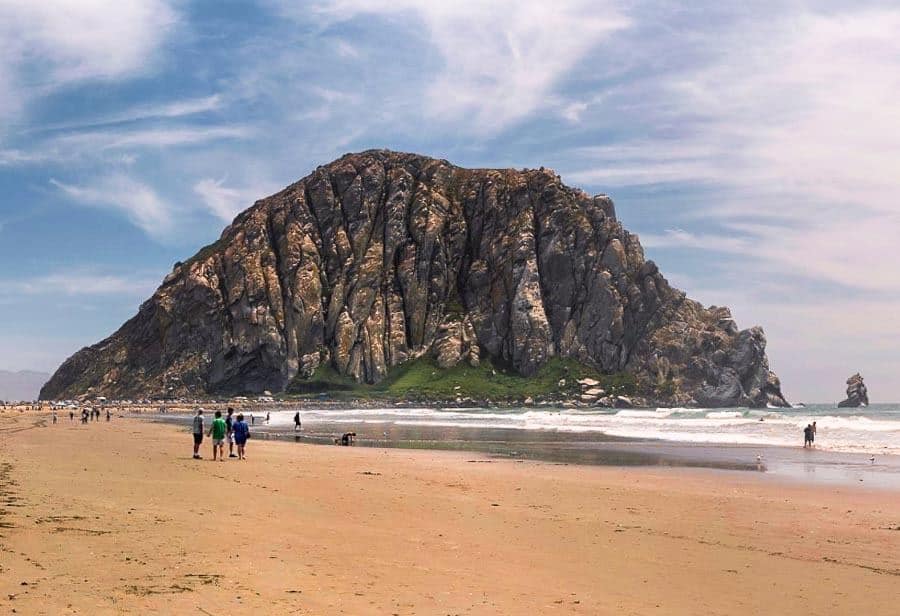 In Morro Bay you'll also see the renowned Morro Rock, an ancient volcanic knoll at the end of Morro Beach where a big colony of birds resides.
The 576 feet high rock is surrounded by a beautiful lagoon where sea-otters and seals play all the day long. The beach is just the perfect place for a picnic, or for swimming. You can also rent a kayak and go around Morro Rock.
#6 Hearst Castle
Coastal California has always been a place of big affluence and monster mansions. But nothing comes close to Hearst Castle, the glamorous and San Simeon estate of newspaper magnate William Randolph Hearst.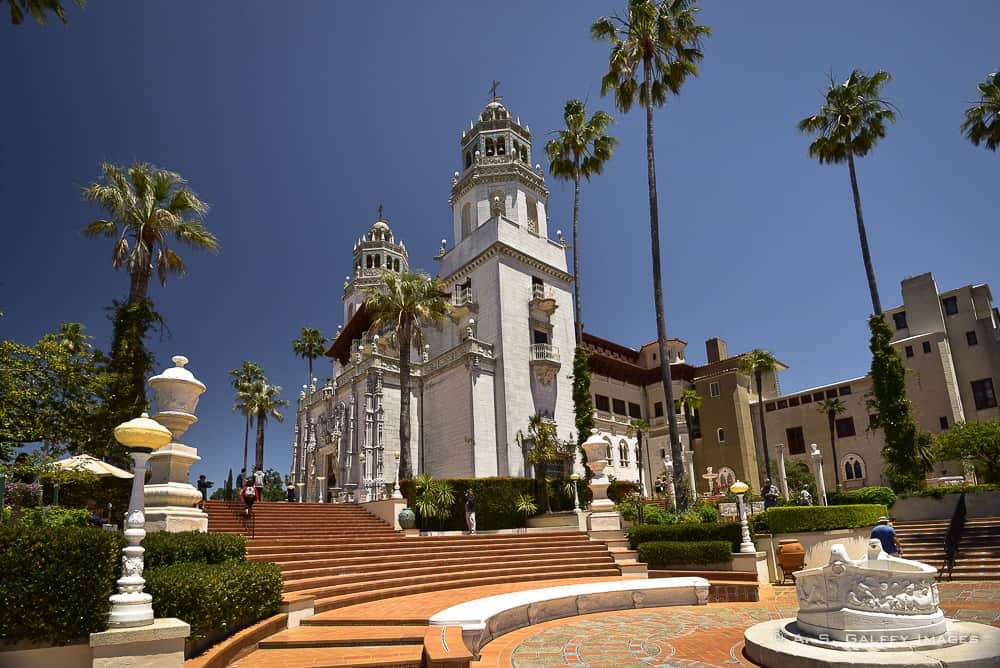 No road trip from Los Angeles to San Francisco would be complete without a stop to the flamboyant castle. There are several tours you can take at Hearst Castle, but the main building (Casa Grande) is probably of the most interest. Its 115 rooms, 56 bedrooms, 61 bathrooms and 19 sitting rooms filled with priceless art and artifacts will leave you in awe!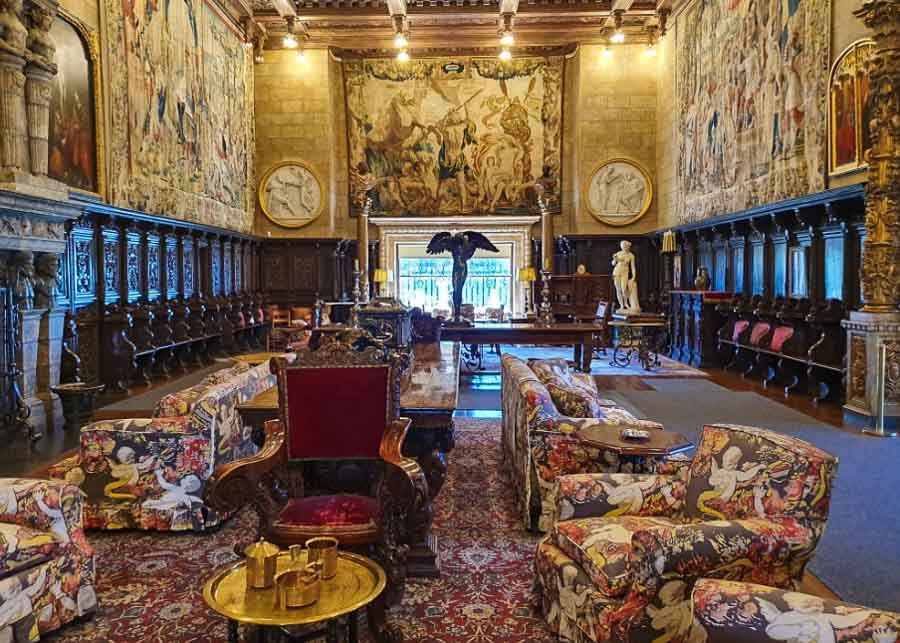 Marble statues, tapestries and oil paintings, Tiffany lamps, exotic rugs and all the things that William Hurst collected during his extravagant life are now displayed here like in a museum.
#7. Piedras Blancas Elephant Seals Colony
Not many people know about that the beach in San Simeon is home to a big elephant seal colony.
Until 1990, only under two dozen elephant seals could be seen here, but then something very strange happened. The next spring, over 400 seals showed up on the beach just south of the Piedras Blancas lighthouse. Why did that happen? Nobody knows, but after that the population continued to grow every year.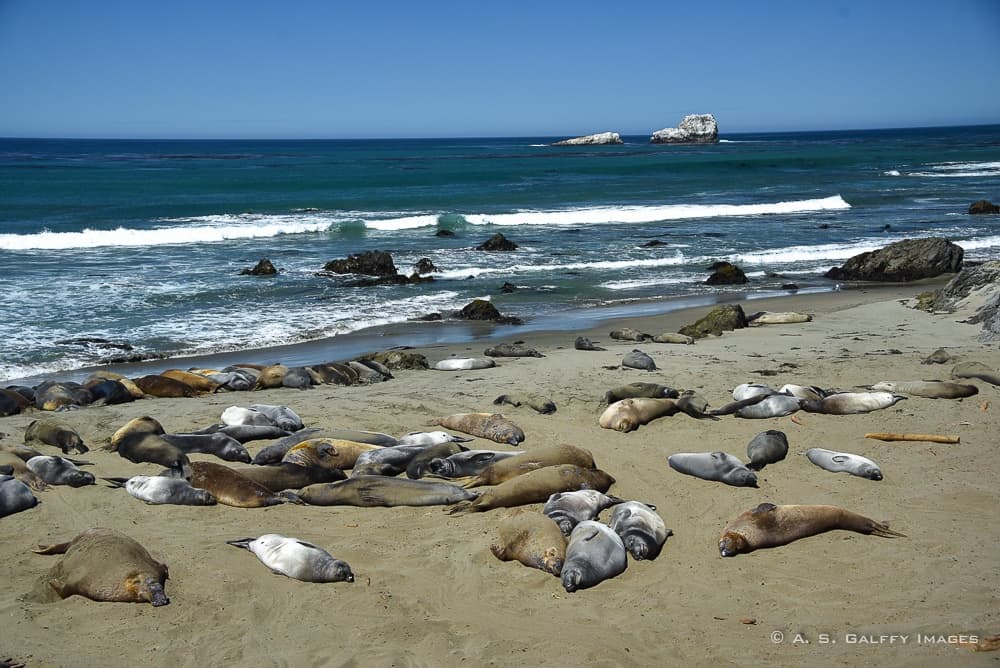 Today, the rookery at Piedras Blancas has more than 17,000 elephant seals. You can visit the rookery any time of year. There are volunteer guides all around to answer your questions, so don't hesitate to ask if you want to find out more details about these gorgeous creatures.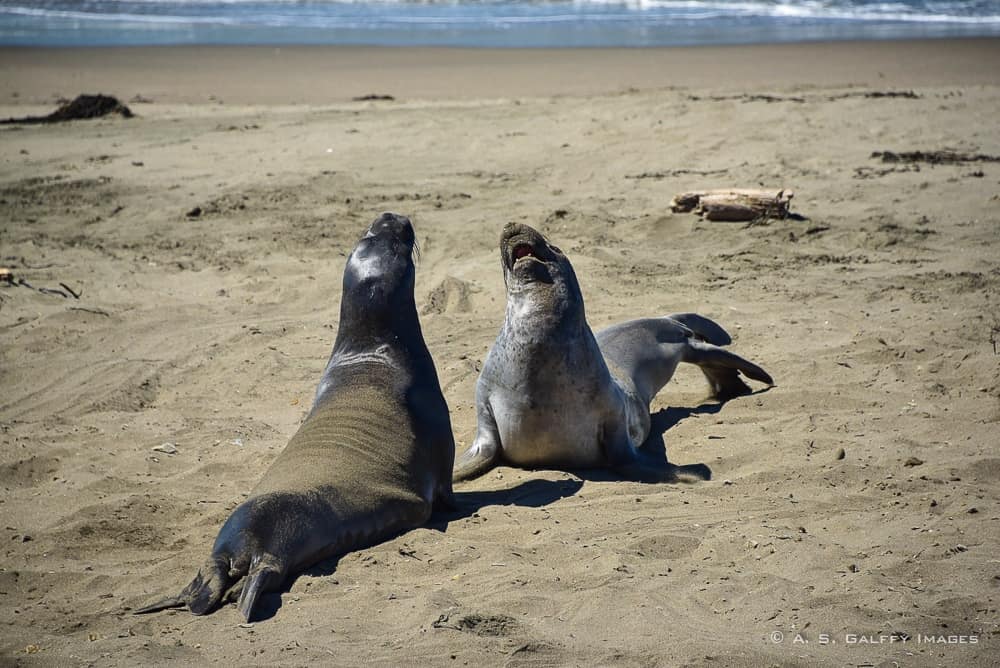 The Piedras Blancas rookery is just adjacent to Highway 1 and is very easy to access. One plus is that visiting the colony is free. The second is that it only takes about 20-30 minutes to visit it, so you'll have more time for the next point of interest on the Pacific Coast.
#8. Big Sur
About 12 miles south of Big Sur you'll come across the famous Julia Pfeiffer State Park. This is a place not to be missed when driving from L.A. to San Francisco. Although more difficult to drive, this stretch of the PCH is absolutely spectacular! The road winds around high cliffs with sheer drops that are both exhilarating and terrifying.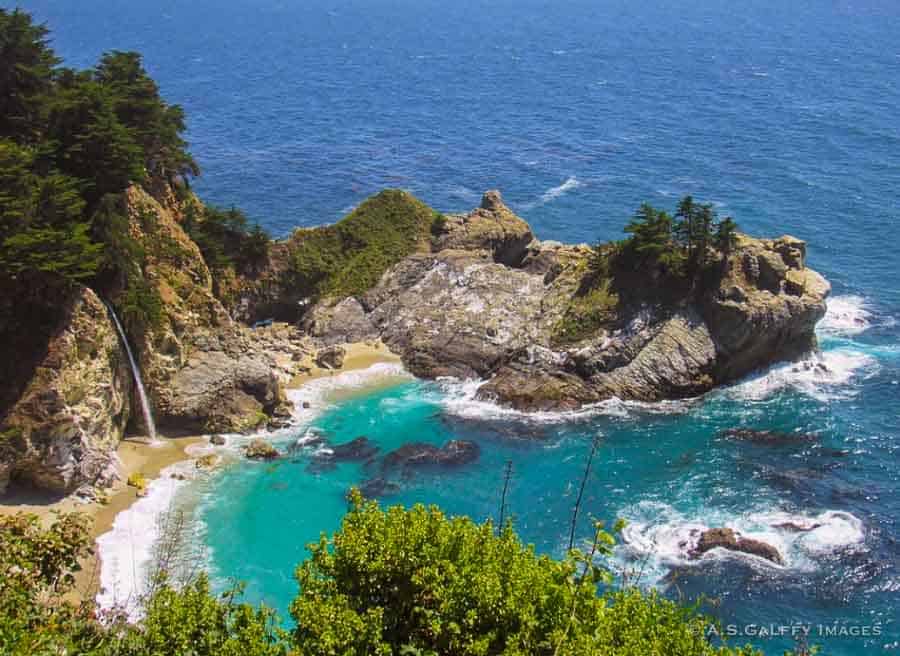 The main feature of the park is McWay Falls, which drops from a high cliff into the Pacific Ocean. This place is totally worth a stop! Where else can you see a waterfall feeding into the ocean? This is the only place I've ever seen one.
There is an access trail to the falls from the park, but you'll have to pay the $10 entrance fee. If you have time, stop to visit the park which is home to redwoods that are over 2,500 years old. The falls can also be viewed from the road, but parking your car on the highway is dangerous.
#9. Point Lobos Natural Reserve
Point Lobos Natural Reserve is the crown jewel of the state parks in California. It's nature at its best, therefore it's always bustling with people. The reserve's fascinating wildlife and breathtaking beauty has made it a mecca for nature lovers and visitors from all around the world.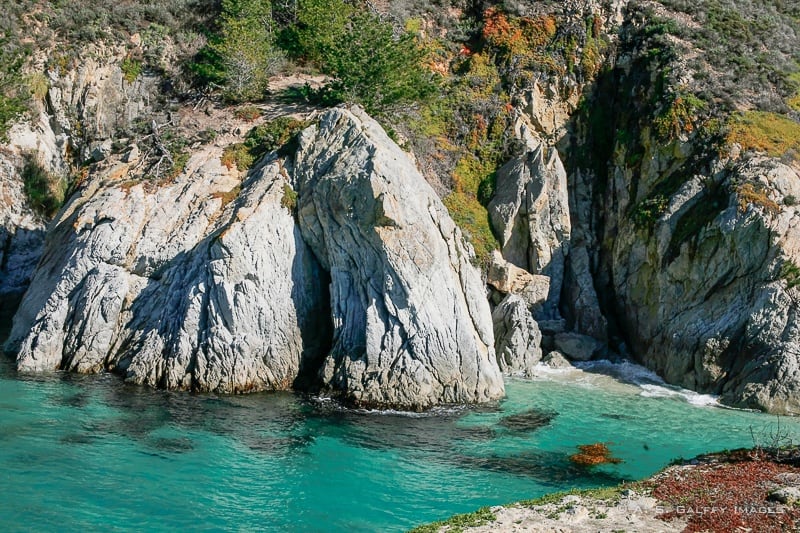 Driving from Los Angeles, Point Lobos will be on your left side, just before you reach Carmel. The entrance to the park is not visible from the road, so look for signs.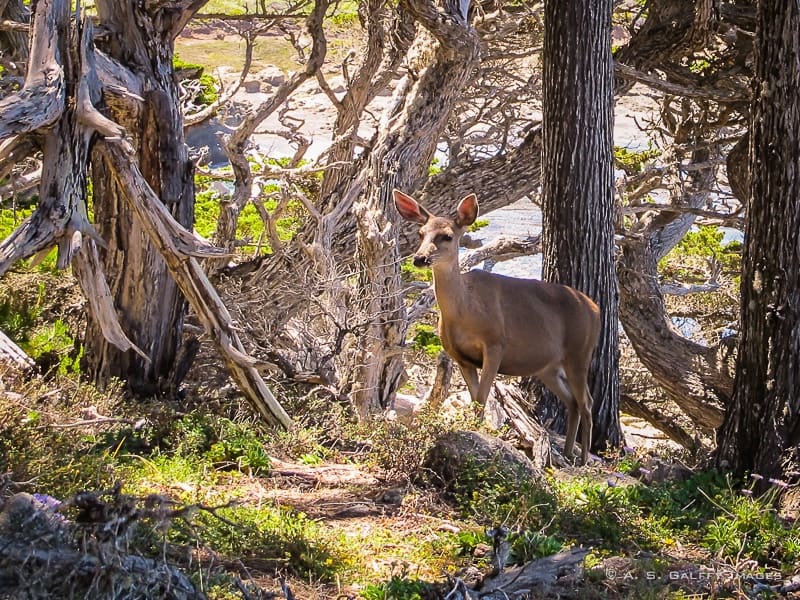 You can easily spend a day at Point Lobos, wandering through the coves, watching the wildlife and hiking the beautiful trails. Another big plus of the park is that you can see harbor seals, sea lions, sea otters and orcas. So, when you wander through the woods, keep your eyes open for gray foxes, raccoons, opossums, deer, rabbits, bobcats and coyotes.
#10. Carmel-by-the-Sea
Carmel-by-the-Sea is one of the most romantic getaways in California and the perfect place to stop for a day or two when you drive from LA to San Francisco. This tiny European-style village sitting above a picture-perfect sand beach is one of the top-10 destination in the U.S.. It's somewhat similar to Colonia del Sacramento, in Uruguay.
For many years Carmel has been the gathering place for many musicians, writers and painters. One of Carmel's mayors was none other than the famous Hollywood actor Clint Eastwood.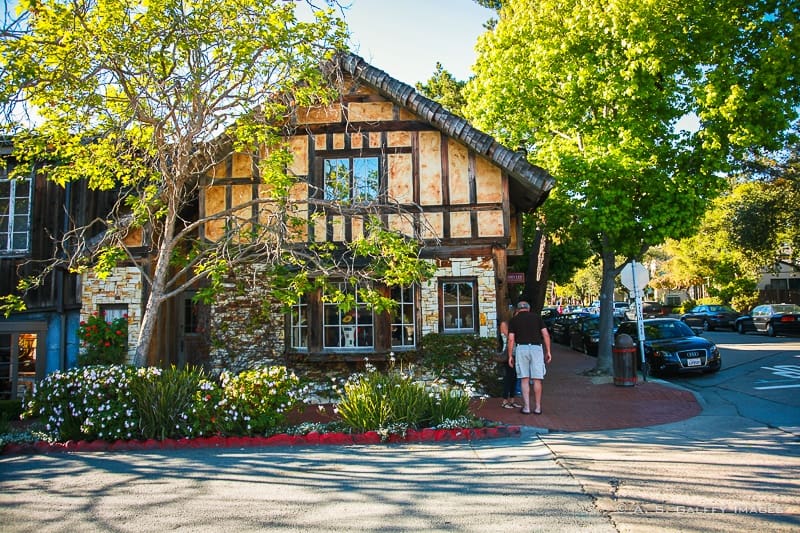 One nice place to visit in Carmel is the area around the Main Street, which is a mixture of art galleries, boutiques, shops and fine restaurants. As a result, you'll see people wandering up and down this street at any time of day, staring at the window-shops, buying souvenirs, or heading to one of the restaurants. You can also take a guided walk and explore the historical side of this area (click here for more information).
The town's architecture is a blend of charming small beach houses, rustic cottages, log cabins and breathtaking modern see-through glass homes, with a very high real estate value. But don't be fooled by the humble aspect of some of these houses. The cheapest cottage in Carmel costs close to 1 million dollars.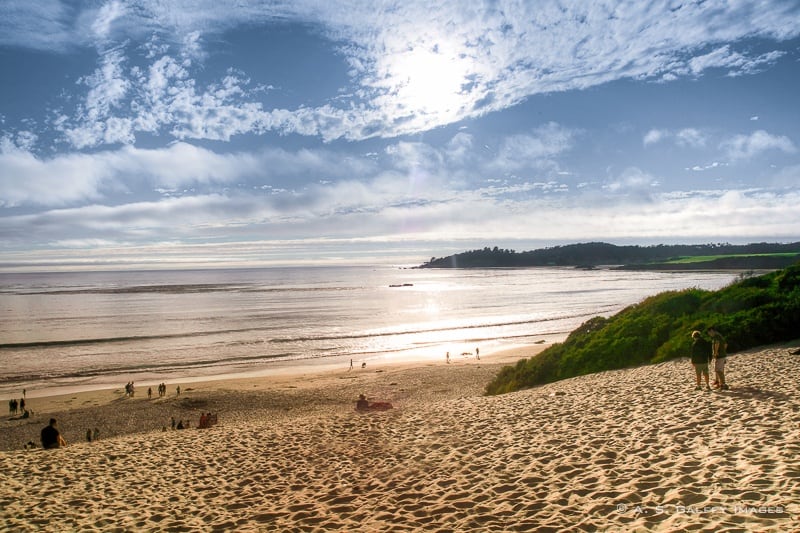 You could easily spend two-three days in this lovely beach town, but if you don't have much time you should stop for at least an afternoon in Carmel-by-sea. The beaches in Carmel are stunning, although not as welcoming as the beaches in Orange County, where the water is warmer.
#11. Carmel Mission
Next to the town of Carmel is the beautiful San Carlos Borromeo de Carmelo Mission, also known as Carmel Mission. The mission was founded in 1770 by Father Junipero Serra, a Spanish Franciscan friar who founded nine other missions in California. Carmel was his favorite mission and he used it as his headquarters until his death in 1784.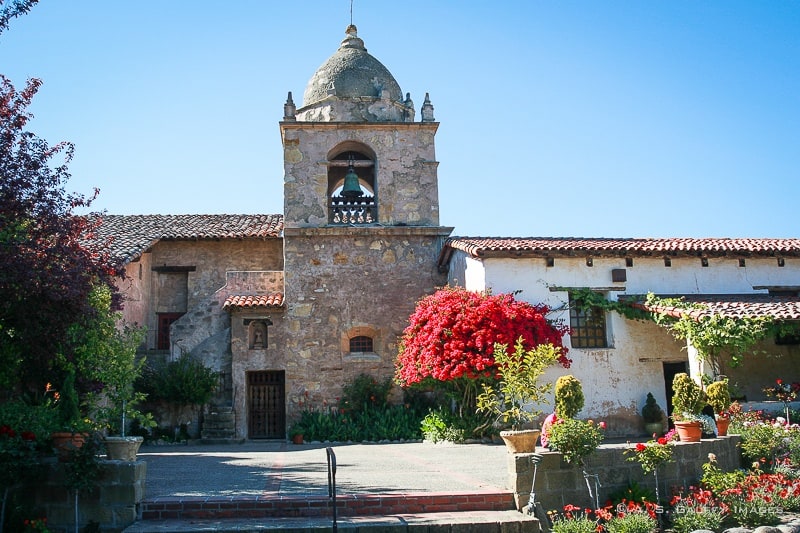 The Mission's courtyard and gardens are peaceful places to meditate or rest. There are also four museum galleries that give insight into the history of both the Monterey Peninsula and all of the California Missions. There is a small admission fee to access the mission and the grounds.
#12. The 17-Mile Drive
My favorite place to stop when we drive from L.A. to San Francisco is the 17-Mile Drive. This is one of the most scenic drives in the world and definitely the most beautiful stretch of coast of the Monterey Peninsula. The road runs through Pacific Grove to Pebble Beach, from the dramatic Pacific coastline to the majestic Del Monte Forest.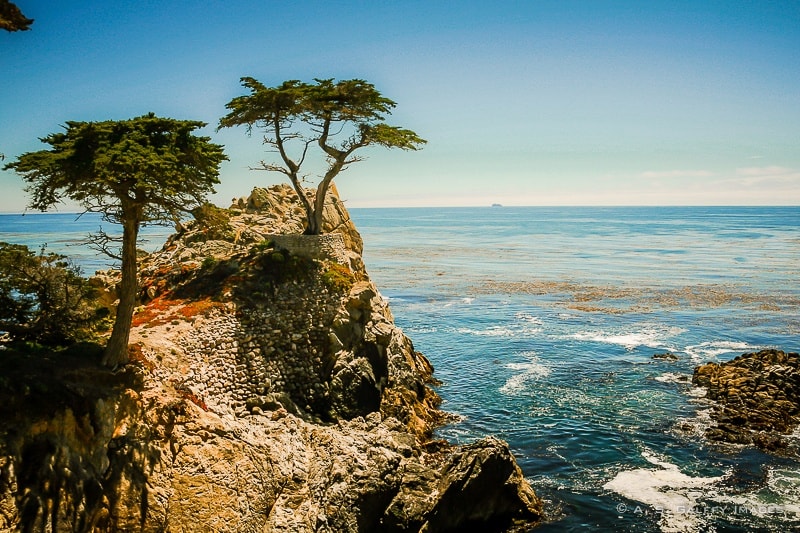 Each year millions of tourists pay a fee to travel this private road and catch a glimpse of the beautiful Lone Cypress, one of California's best-known landmarks, Bird Rock, Spanish Bay and other points of interest located here.
This shoreline is heavily populated with California Sea Lions. For miles and miles, you can see the baby seals and their mothers laying down on the sandy beaches.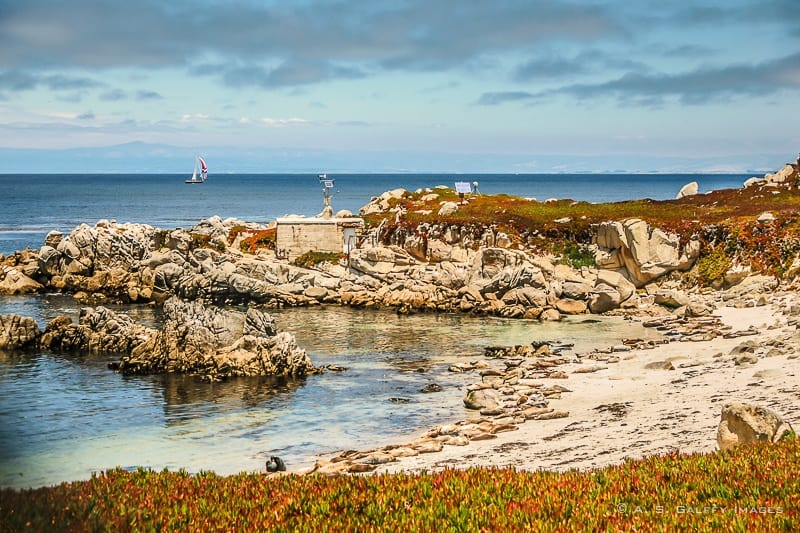 #13. Monterey
At the end of the rugged 17-mile Drive you'll come across the town of Monterey. Its famous Cannery Row was once the center of the sardine-packing industry.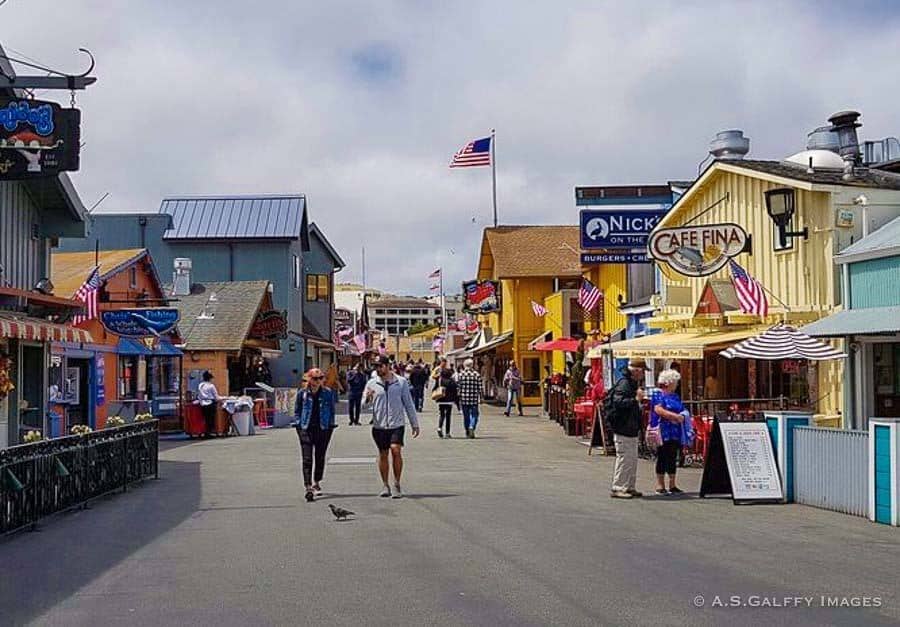 Today, the former factories have been converted into gift shops, seafood restaurants and bars. Monterey will be your last stop on the LA to San Francisco drive, so take a last look at the California rugged coast. From Monterey the road continues inland towards San Francisco, leaving the ocean to the left.
One of the big attractions in Monterey is the Bay Aquarium. This is the 6th largest aquarium in the world, with thousands of marine animals and plants on display.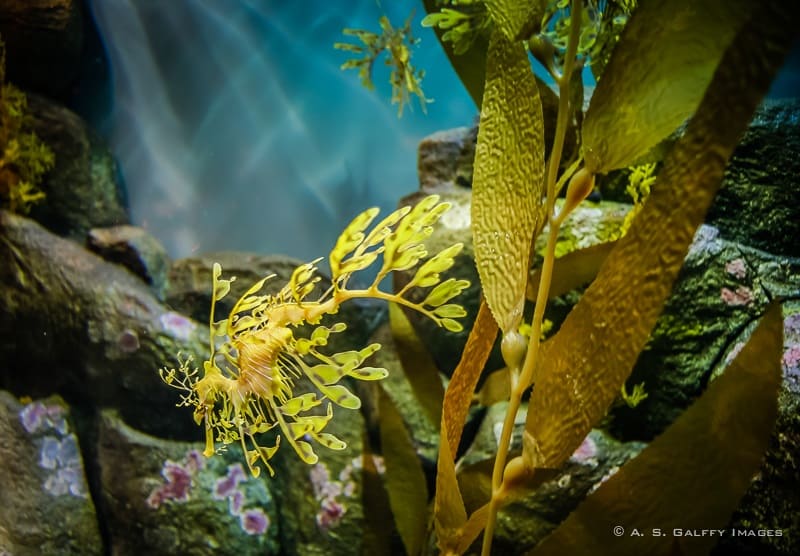 The aquarium is home to sea otters, penguins, sharks, stingrays, jellyfish and numerous other native marine species. The aquarium has tanks which can be viewed both above and below the waterline.
The centerpiece of the aquarium displays a 28-foot-high tank for viewing California coastal marine life and a Kelp Forest exhibit –the first exhibit in the world to include a living kelp forest.
Here are some more popular activities in Monterey:
#14. Marin Headlands
One of the most spectacular places to stop when driving from L.A. to San Francisco is the Marin Headlands, a hilly peninsula located just across the Golden Gate Bridge. It's hard to believe such a vast, beautiful, and diverse wilderness is so close to a major metropolitan area.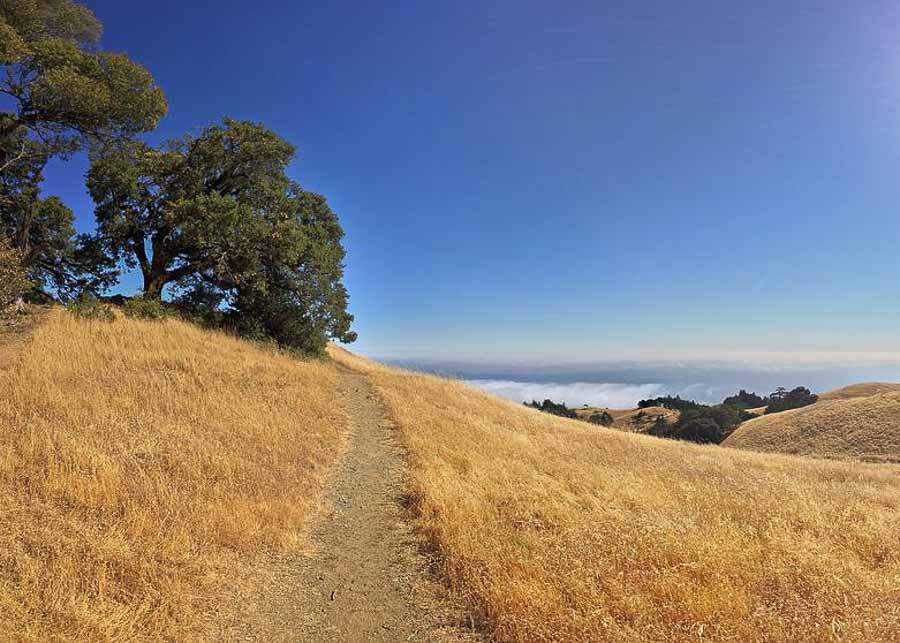 There are parking lots on both sides of the bridge. Just park your car and walk to the overlook to take photos of the bridge. If you have more time to explore the Marin Headlands, you'll be surprised to discover a vast area of beaches, meadows, and endless trails for hiking and biking.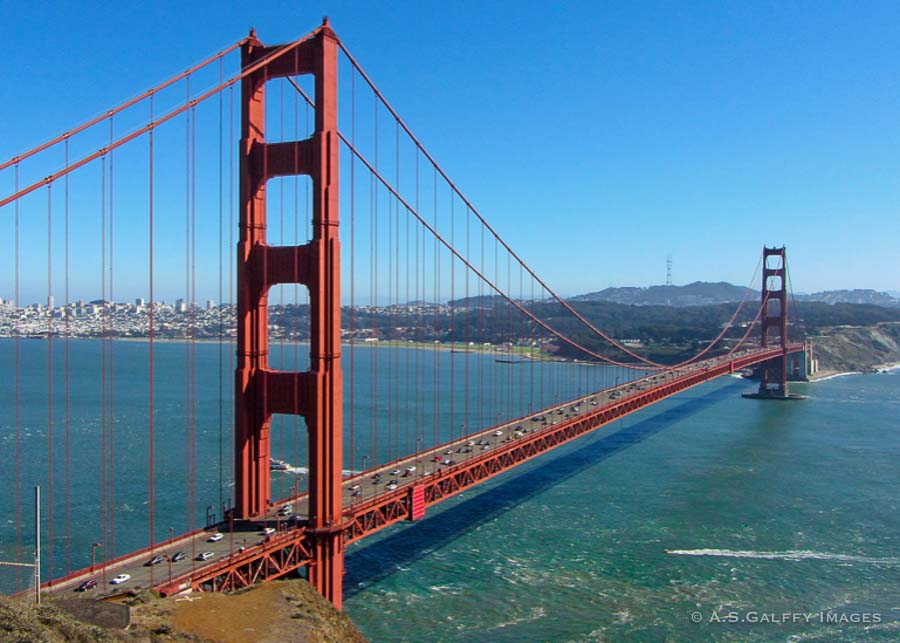 READ NEXT: One Day in L.A. – How to See the Best of Los Angeles in a Day
Tips for Driving the PCH from L.A. to San Francisco
Before you get started on your road trip, here are some helpful tips to consider:
If you are interested in renting a car for your road trip you can check Road Genius, a comparison website that has very competitive prices. They work with major brands and have no booking fees.
Without stopping, it takes approximately 8.5-9 hours to drive from LA to San Francisco on Highway 1. Keep in mind that this is NOT a 55 MPH highway. Your average speed will be around 35 MPH for about 95 miles (between San Simeon and Monterey.)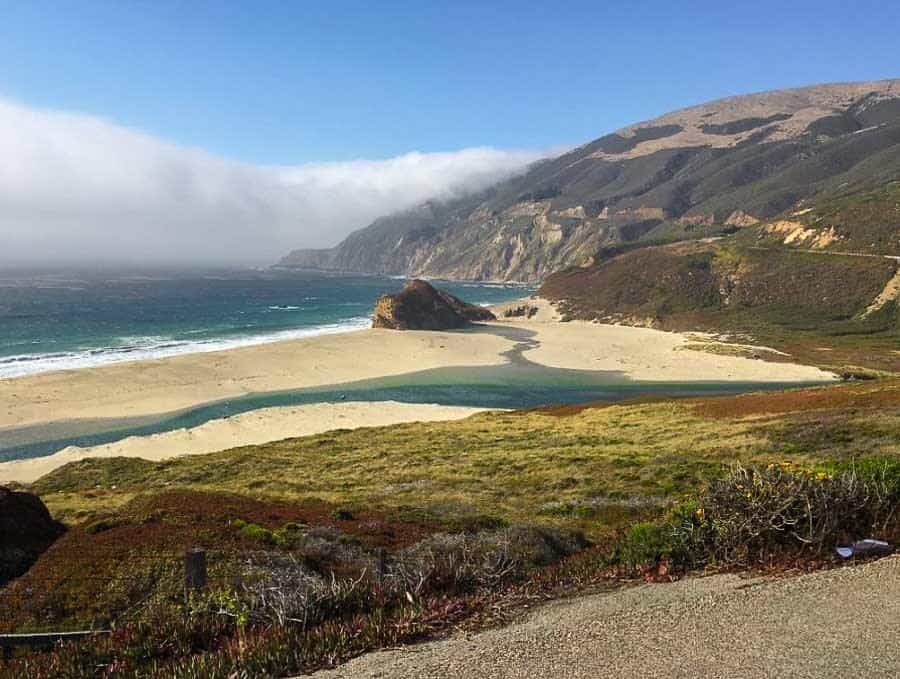 For the most part, the drive is not particularly difficult. Hundreds of thousands of visitors drive this road every year with no major incidents. However, some parts of the PCH are a little nerve-wracking and require more attention. There are several hairpin turns on the coast after you pass Gorda. All of them however are indicated, telling you how fast to go (20 MPH).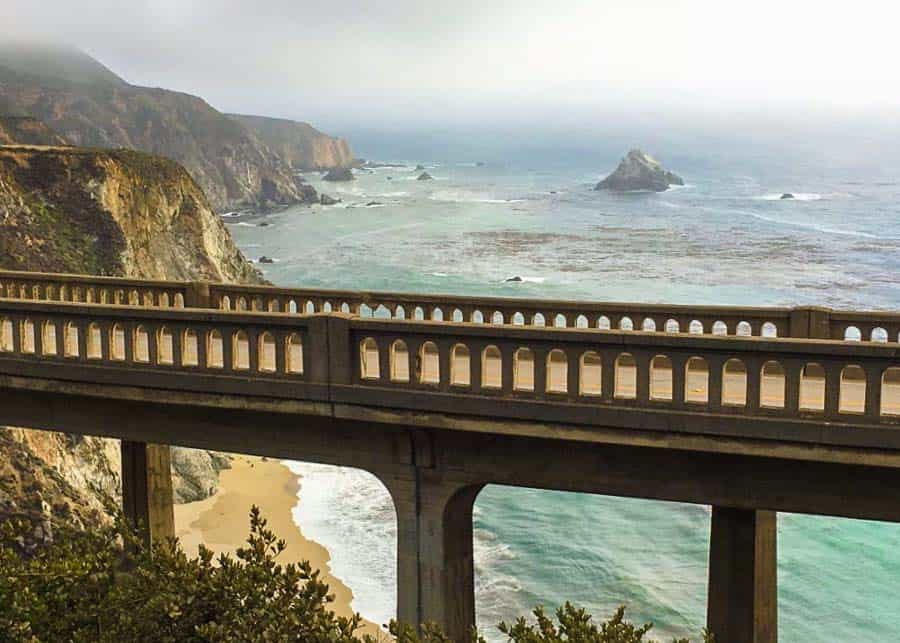 If you become overwhelmed, there are turn-outs where you can pull off to relax. You should use those opportunities to exit your vehicle and stretch your legs, while taking in the views.
Around Big Sur the road starts winding around high cliffs that drop almost vertically into the ocean. This is the scariest part of the road for me. There are however no places without guardrails or high berms. Therefore it's impossible to go over the cliffs, unless you're just not paying attention to the road.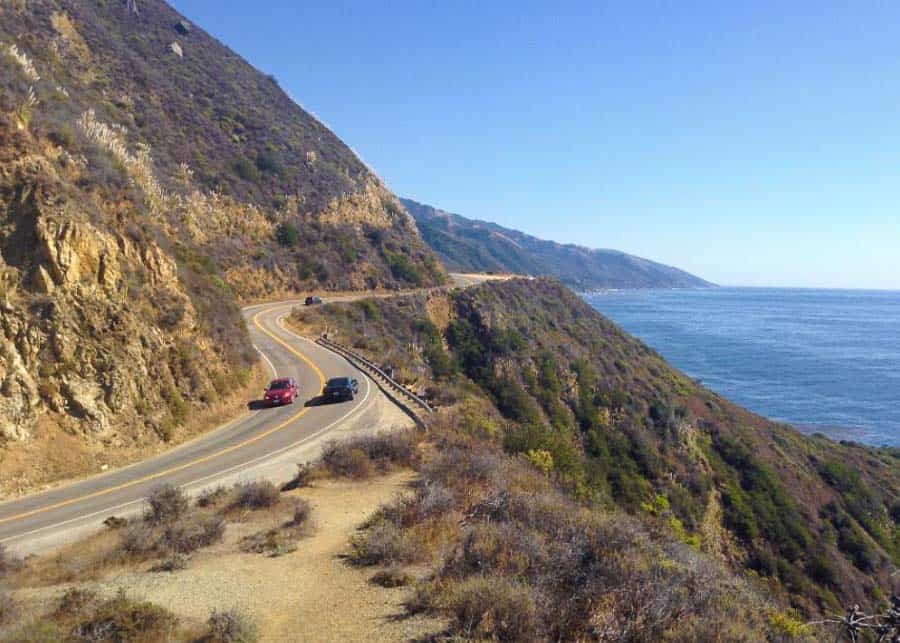 Thanks to California's mild weather, you can drive the Pacific Coast Highway between Los Angeles and San Francisco at any time of year. However, in winter you may encounter fog or rain along the coast, so the best weather is expected from late spring through fall.
YOU MAY ALSO LIKE:
If you enjoyed reading this post, pin it for later