It's hard to match the variety of scenery and landscape that you can find in and around greater Los Angeles. The city's proximity to the ocean, desert and tall mountains, make Los Angeles a great base for weekend getaways. Therefore, if you have more than just 3 days in Los Angeles, you should visit some of these beautiful places around the city.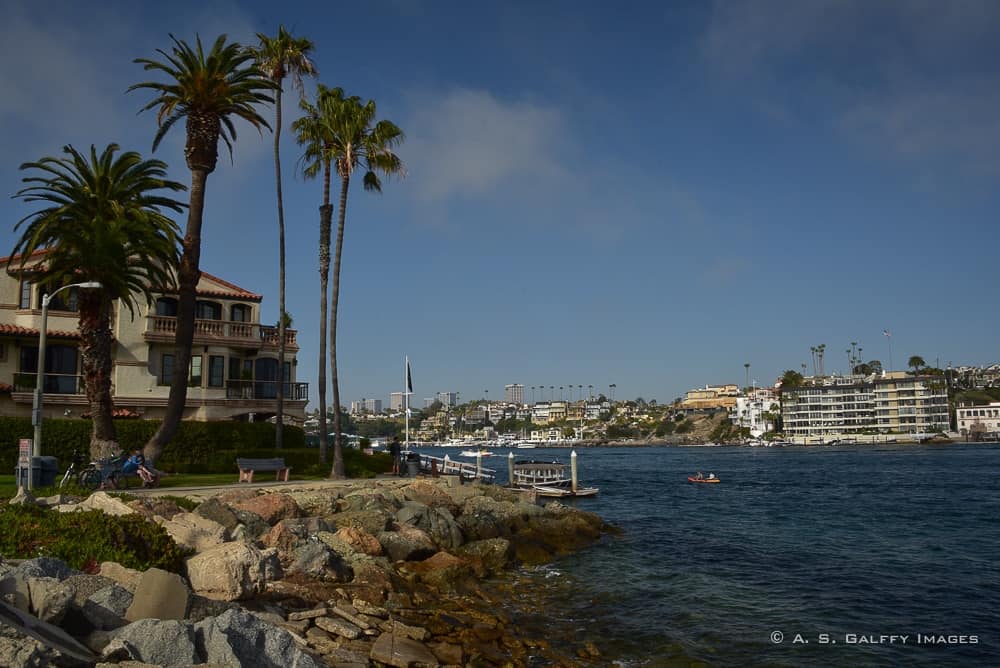 READ NEXT: How to Spend an Incredible Day in L.A.
Coastal Weekend Getaways from Los Angeles
It's no secret that the California Coast is absolutely stunning. From San Diego to San Francisco and even further north, there are hundreds of charming little towns. So here are the ones that can be explored on a weekend trip from Los Angeles.
Santa Barbara
Santa Barbara is one of the most beautiful beach towns in California, famous for its beaches, wine, red tile roofs and gardens. Most visitors coming to Santa Barbara spend their time near the beach, or around the fancy boutiques and restaurants along State Street. But there is a lot more to do in Santa Barbara than that.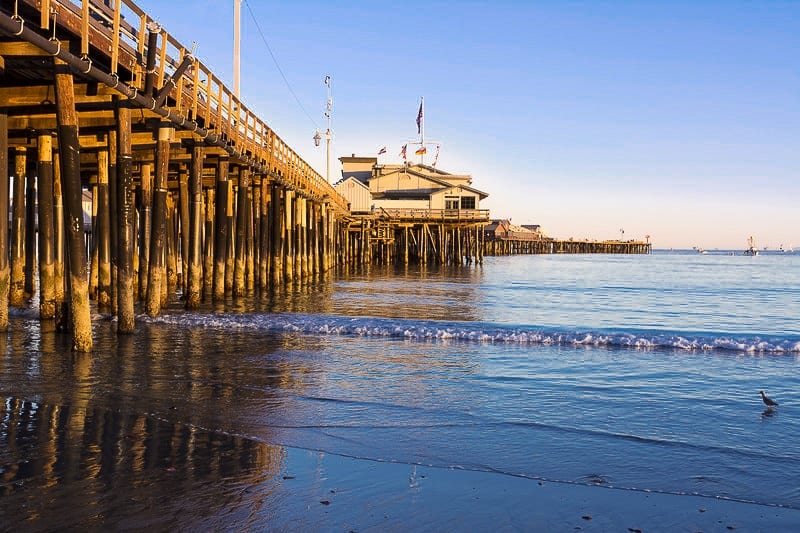 Things to do in Santa Barbara: visit the Courthouse with its beautiful clock tower; visit the Funk Zone district located next to the Santa Barbara train station; stroll on the Stearns Wharf – the longest deep-water pier between Los Angeles and San Francisco; visit the Old Santa Barbara Mission.
Distance from L.A.: Santa Barbara is 95 miles away from Los Angeles (1h 30 min via US-101 N)
Solvang
This small Danish town is one of California's most romantic getaways. With its European-style windmills, flower-lined streets and Danish architecture, Solvang is nothing short of charming.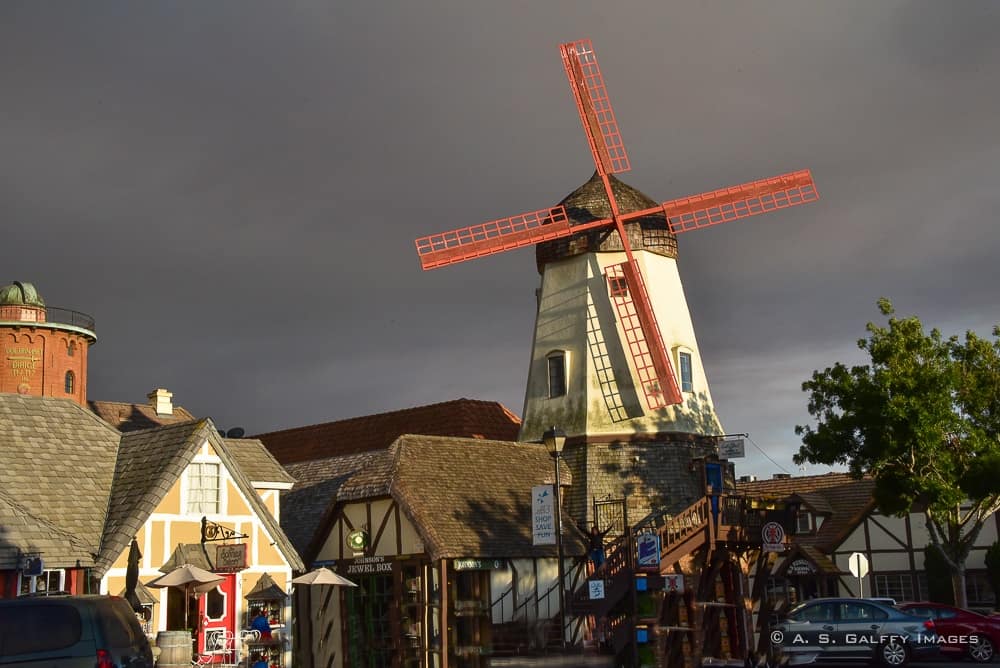 The first time I visited the village I thought I was walking in one of Hans Christian Andersen's stories! Half timbered buildings, horse-drawn wagons, storks on the rooftops, everything here is reminiscent of the old Danish countryside.
Solvang was the dream of three Danish immigrants who planned to established here a Danish community. In 1911 they bought 10,000 acres of land next to the beautiful Santa Inés Mission in Santa Barbara County, California. They named the new settlement 'Solvang,' which in Danish means sunny field.
Things to Do in Solvang
This is an attractive destination for food a wine lovers. From rustic Italian cuisine, to American and Danish foods, there are plenty of temptations for your taste buds in Solvang. There are also many shops with cute European souvenirs. And while in Solvang, you may want to check out the cute neighboring town of Los Alamos, just 25 minutes away.
Distance from L.A.: Solvang is 141.1 miles from Los Angeles (2 h 15 min via US-101 N)
READ NEXT: Best Places to Stay in Los Angeles as a Tourist
Long Beach
If you are a beach aficionado, Long Beach will make a great weekend getaway for you. The city has one of the longest beaches in the world, and more music and festivals than any other place in Southern California.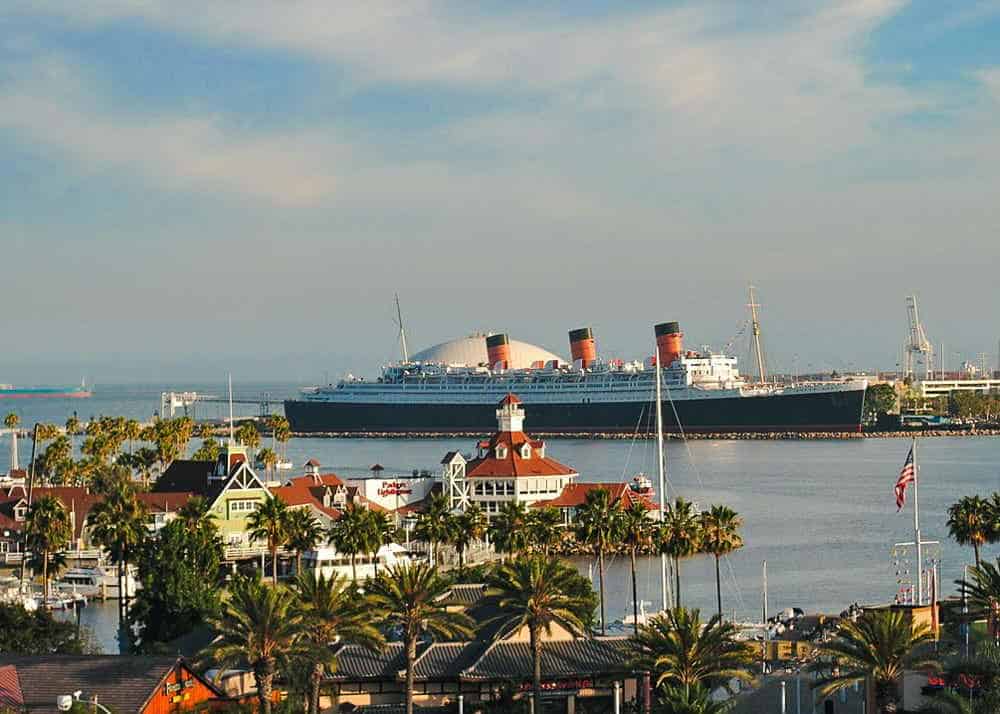 Long Beach is also famous for its great dining and entertainment scene, including famous bars and live music venues.
One of the most famous annual events in the city is the Toyota Grand Prix of Long Beach, which takes place every April. The downtown streets turn into a race course watched by thousands of people.
Things to do in Long Beach
There are many exciting things to do in Long Beach, besides beach going. You can rollerblade, bike, dine in style, or simply browse the quirky boutiques in the Shoreline Village.
One of the most unusual things to do in town is visiting the Queen Mary, the retired British ocean liner that is now permanently docked in Long Beach. The ship functions as a hotel and can also be visited. Queen Mary is rumored to be haunted, so those who aren't afraid of ghosts can take a nighttime ghost tour. This is one of the best attractions in Los Angeles area, so don't miss it.
Another great attraction in Long Beach is the Aquarium of the Pacific. The Aquarium is home to over 12,000 pacific coast creatures, among which sea otters, sea lions, seals and penguins.
Distance from L.A.: Long Beach is 24 miles away from downtown Los Angeles (about 55 min drive via I-710 S)
Laguna Beach
Laguna Beach is one of the best beaches in Orange County and an easy weekend trip from Los Angeles. The small coastal town of Laguna Beach is known for its many art galleries, coves and gorgeous beaches.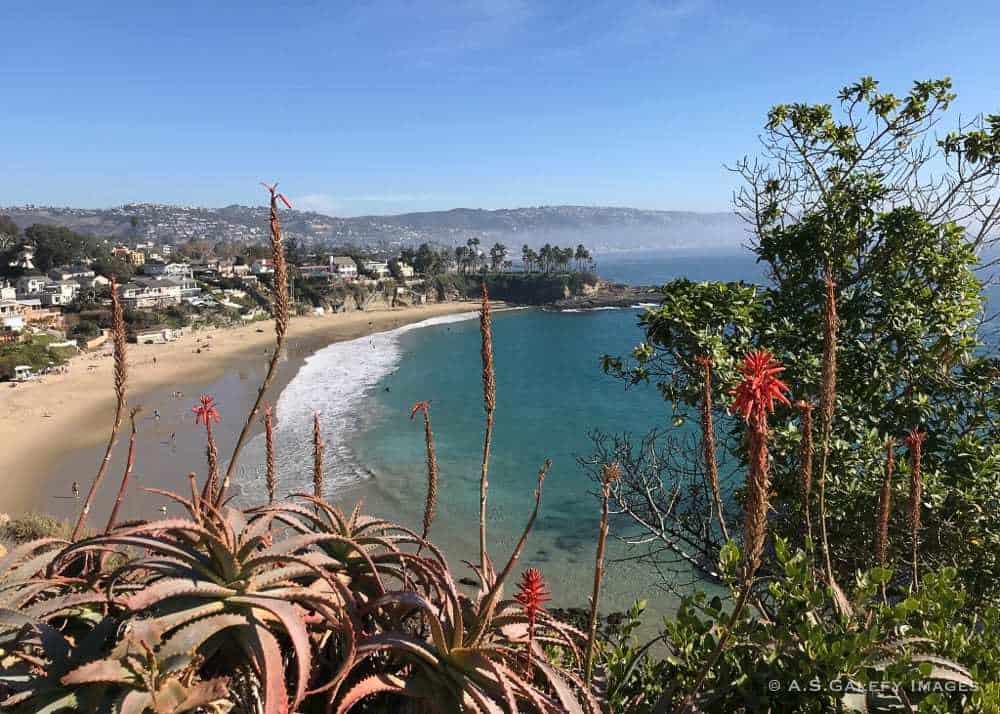 But although most visitors to Laguna Beach come here for the beautiful beaches, very few ever heard of the living pictures at Laguna. Known as The Pageant of the Masters, this is one of the most amazing and unique art display that you will ever see.
This summer-long festival is held for eight weeks beginning July. The Pageant consists of 90 minutes of "living pictures" narrated by a professional narrator, with great period music performed by professional vocalists and orchestra.
Things to do in Laguna Beach: if you come in summer, you should definitely check out the beaches and the Pageant of the Masters Festival. The shops, art galleries and restaurants are great at any time of the year, even in winter.
Distance from L.A.: Laguna Beach is about 50 miles away from Los Angeles (1 hr via I-5 S).
Island Weekend Getaways from Los Angeles
If you want to get away from the hustle and bustle of big cities and don't mind spending a little time on the water, there are a couple of island trips you could take.
Catalina Island
Catalina Island makes one of the most exciting weekend getaways from Los Angeles. It's a world apart from the frenzy of the mainland. Visitors come to Catalina to enjoy not only the beautiful beach, but also the varied flora and fauna of this island. The underwater world is especially beautiful at Catalina.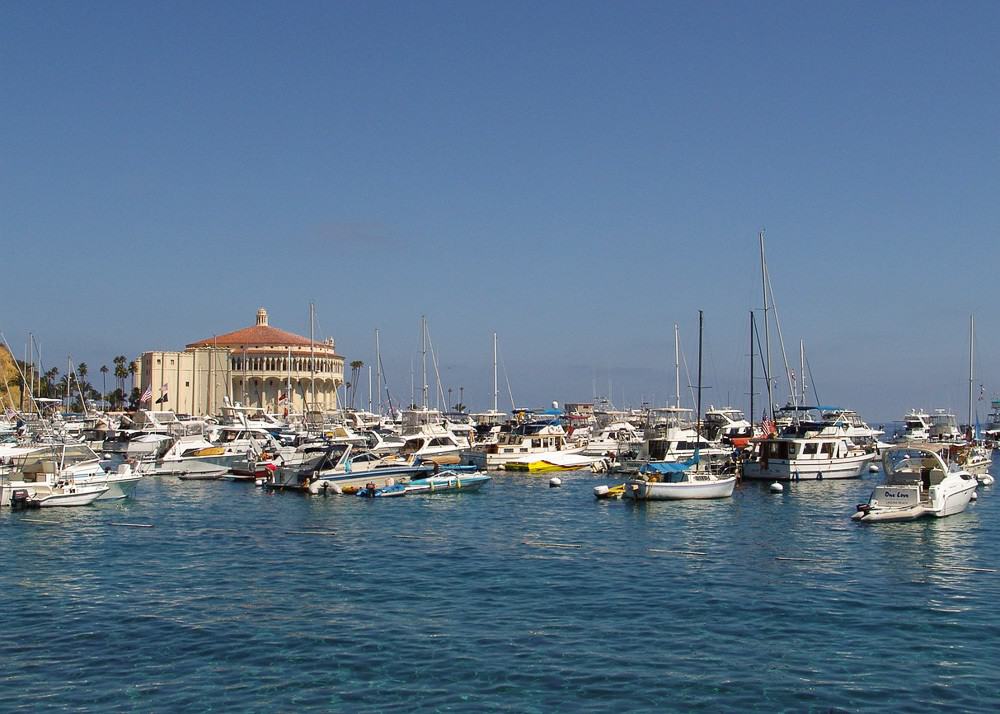 Avalon is the gateway to the beautiful interior of Catalina Island and the most visited destination on the island. All boats from the mainland stop here. The boat trip is a big attraction in itself, taking you through the blue waters of the Pacific richly populated with dolphins, sea otters and seals.
Things to do on Catalina Island: from diving and snorkeling, to sun bathing, boating and hiking, there is a great array of outdoor activities and things to do on Catalina Island. If you want to see the interior of the island, the local tour companies organize many guided tours and expeditions. You can find out about the history of Catalina and see the undeveloped outback of the island.
Distance from L.A.: Santa Catalina Island is 47 miles away from Los Angeles. The boat for Catalina departs from Long Beach Harbor and takes about an hour to cross the channel. You can also take a combination of shared shuttled and ferry that will transport you from downtown Los Angeles to Catalina Island and back.
Balboa Island
This small artificial island in the middle of Newport Harbor is connected to the mainland by a short two-lane bridge. You can also reach Balboa Island by ferryboats. The island is surrounded by water canals that harbor private docks with expensive yachts and motor boats. Chic little cottages line up the shore, making the island appear glamorous and exquisite.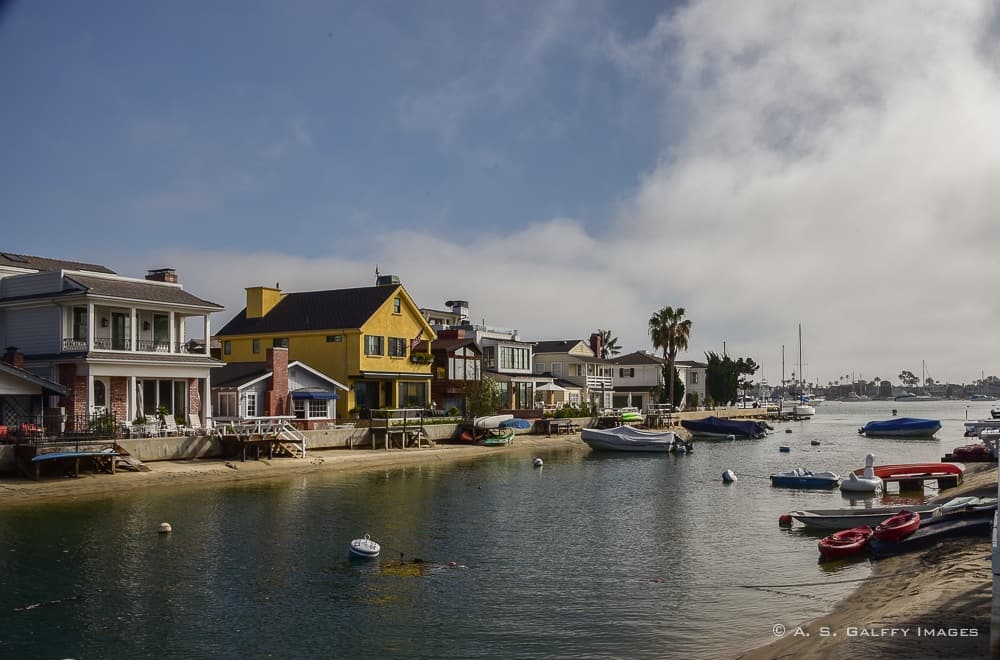 What to do on Balboa Island: shop at the chic village boutiques; have lunch or dinner at the nice restaurants on the Main Street; say 'hello' to the friendly locals relaxing on their porches; watch kids scooter and young people jog on the boardwalk that wraps around the island. Walking the entire island will amount to about 2.5 miles and it's a pleasant way to spend the day.
Distance from L.A.: Balboa Island is 45 miles away from Los Angeles (47 min drive via I-405 S)
Desert Weekend Getaways from Los Angeles
Many people think the North American Desert region is this arid land where nothing grows. But in reality this desert hides a lot of nice surprises. It can be stunningly beautiful, quite green and really enjoyable. You just have to choose the right place and the right time to visit.
There several beautiful weekend getaways from Los Angeles that you can take if you want to see the desert.
Vasquez Rocks Natural Area Park
Just 45 miles north of Los Angeles, in the Sierra Pelona Mountains, lies one of California's most iconic Natural Parks: the Vasquez Rocks. The Park is famous for its breathtaking rock formations that rise from the ground at very strange angles.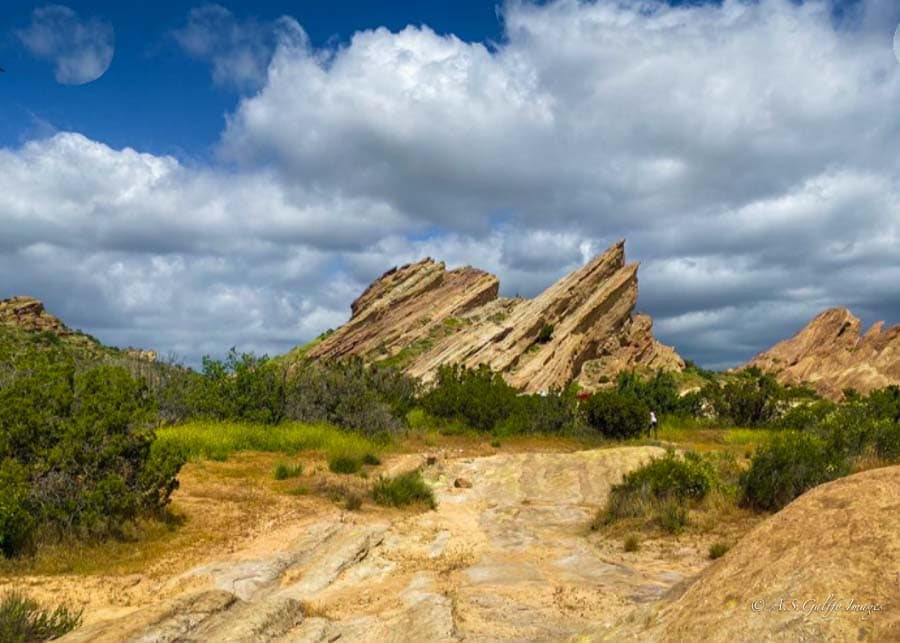 The park has a very interesting geological history, so you should get acquainted with it if you plan to visit. There are numerous trails to walk and interesting rock formations to climb on. Most of the people visit it just for the day, but you'll have plenty to do in the area to justify a weekend getaway from Los Angeles.
Distance from L.A.: Vasquez Rocks are about 45 miles away. It takes less than an hour to get to the Vasquez Rocks from Los Angeles, driving north on the Fwy 5 and east on Highway 14.
Joshua Tree National Park
Joshua Tree is one of the closest national parks to Los Angeles, sitting just 131 miles away from Downtown L.A.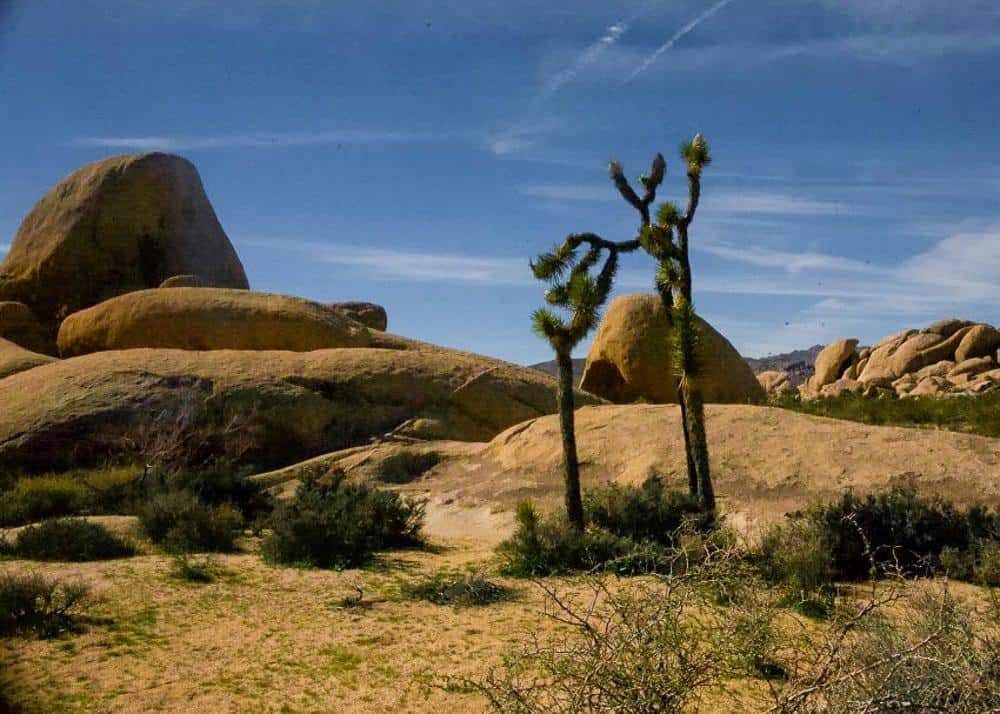 A big part of the desert's beauty is its harshness and Joshua Tree National Park is proof for that. The Park is an oasis in the center of the desert.
There is beauty in the silence and solitude of these rugged rock formations, the cholla cactus and colorful light of morning. You can't appreciate the uniqueness of the desert until you spend a night here, in one of the Joshua Tree cabins!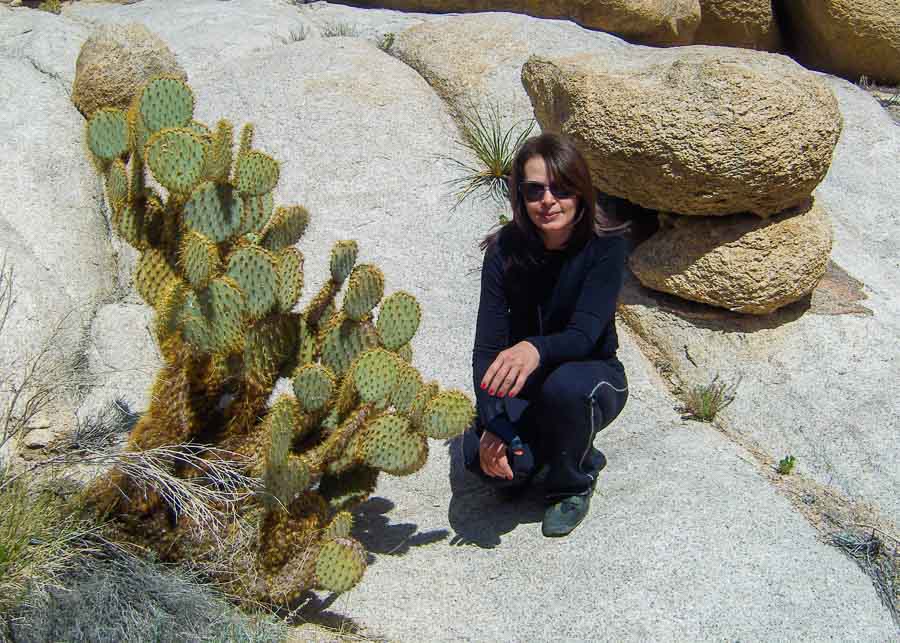 The west entrance to Joshua Tree National Park, located just off of Highway 62, is the most popular gateway to the park. This part of the park is populated with 20-foot tall Joshua trees, massive boulders and enough photo opportunities to fill an entire day.
From October to April, the park becomes the playground of rock climbers from around the world, who flock to Joshua Tree to climb its unique boulders.
There are a lot of things to do in Joshua Tree Park: if you visit the park during the spring you can admire the blossoming vibrant wild flowers. Hiking and rock climbing the most common activities in the park.
Distance from L.A.: Joshua Tree National Park is 132 miles away from Los Angeles (2 h 12 min via I-10 E).
Palm Springs
If you're looking for a desert getaway with endless sunshine, mid-century modern architecture and plenty of things to do, Palm Springs is your destination. Palm Springs is arguably the most famous desert retreat in Southern California, with fabulous resorts and first class restaurants. Despite being located in the middle of the desert, Palm Springs is a year-round tourist destination.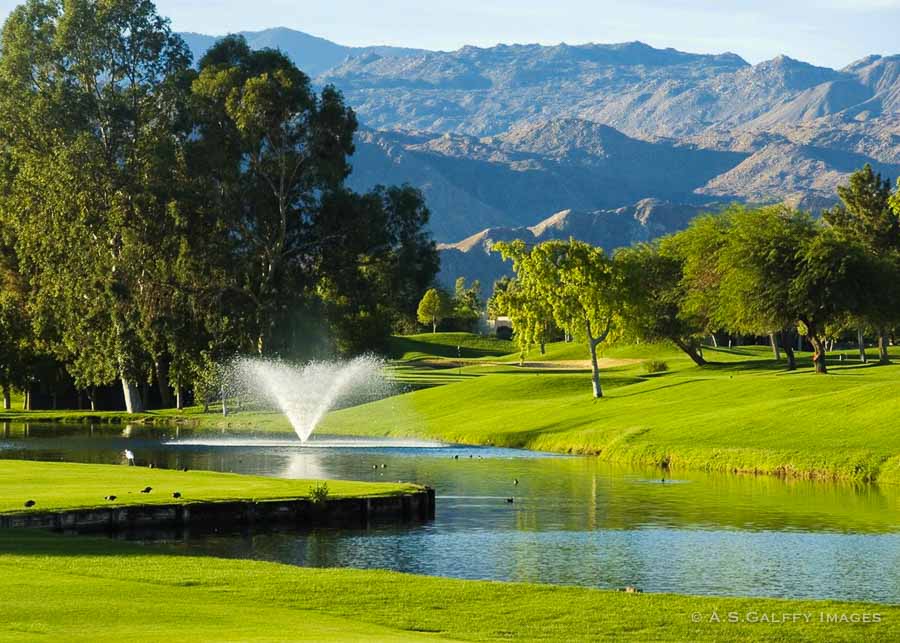 The city became a fashionable resort in the 1900s, when tourists arrived here with conditions that required dry heat. Today Palm Springs an outdoor playground for wealthy retirees and a celebrity hangout.
Things to do in Palm Springs: from biking, golf, hiking, horseback riding, swimming, dining and shopping you can do just about anything in Palm Springs.
Some of the attractions include the Palm Springs Art Museum, an Aerial Tramway trip to the top of San Jacinto Mountains, and visit to the Living Desert Zoo and Gardens. You can also hike the next-door Tahquitz Canyon.
Distance from L.A.: Palm Springs is about 108 miles east of Los Angeles (1 h 43 min via I-10 E).
Anza Borego Desert State Park
If you happen to visit Los Angeles in spring, you should attempt to take a trip to the Anza Borego Desert State Park. This area may not be very friendly in the intense heat of summer, but in spring Anza Borego looks more like a garden than a desert.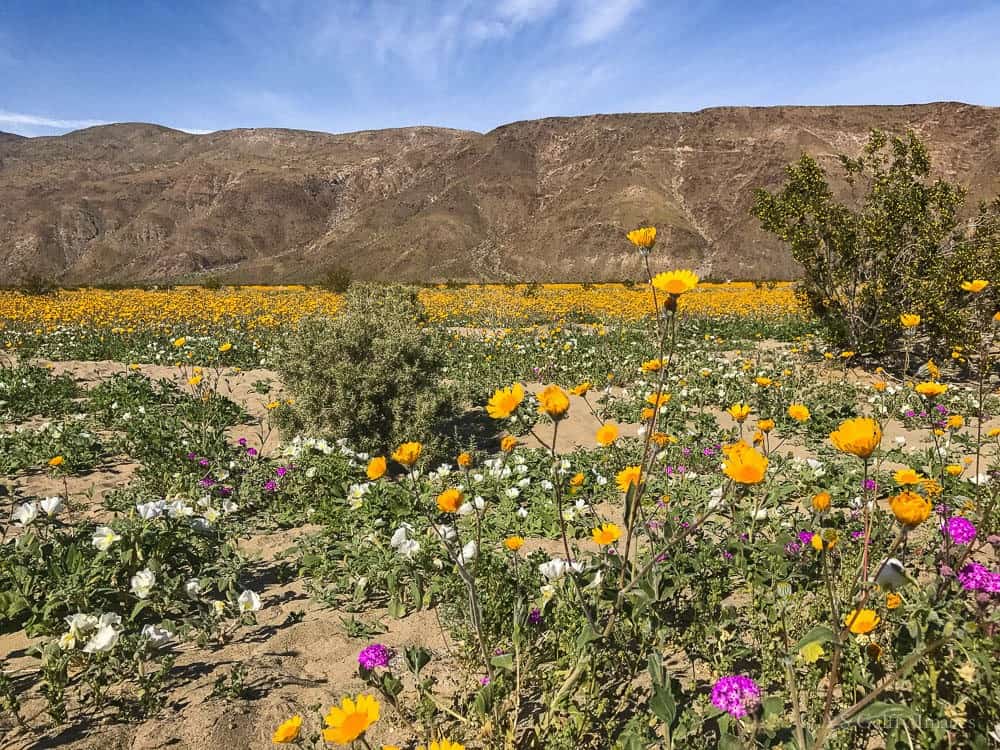 The desert is in bloom every spring, from February through March or April. However, seeing a super bloom is rare. It only occurs if we had a rainy winter, which unfortunately doesn't happen every year in Southern California. Visitors from as far as Europe, Africa and Asia are coming to Anza Borego to see the desert in bloom.
Things to do in Anza Borego Desert State Park: hike the Palm Canyon Trail (trailhead is not far from the visitors' center), watch the wildlife, take pictures.
Distance from L.A.: Anza Borego State Park is 155 miles from Los Angeles (2 h 40 min via CA-79 S).
Mountain Getaways from Los Angeles
Not many visitors to Los Angeles know that less than a couple of hours away from the busy downtown area you can find yourself in a wild and remote world, that has its own microclimate.
Temperatures in the San Bernardino mountains are sometimes 20-25ºF cooler than the ones down in the Valley. In winter, these mountain communities get lots of snow. It's not unusual to go skiing in Big Bear in the morning and surfing in the afternoon in Santa Monica.
Lake Arrowhead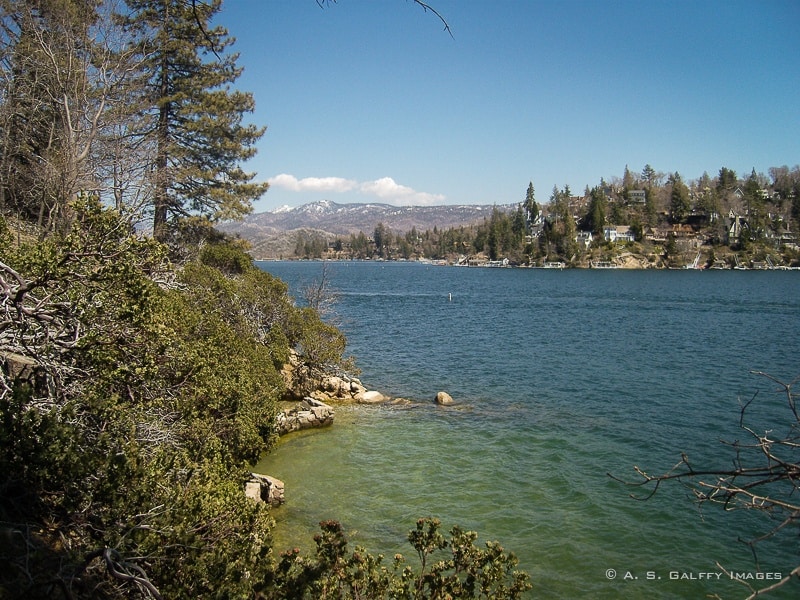 You've probably heard about Big Bear Lake in the San Bernardino National Forest, but few people know about its next-door neighbor – Lake Arrowhead – a smaller and more sophisticated mountain resort. This stunningly beautiful reservoir lake may be small, but it's actually much more beautiful and quite peaceful.
Things to do in Lake Arrowhead: Lake Arrowhead is a countless resource of recreational activities. From hiking, horseback riding, bicycling, to swimming, water skiing and lake tours and fishing you can do just about anything. For those who come here off season, there are many options for great dining and shopping.
Distance from L.A.: Lake Arrowhead is 80 miles away from Los Angeles (1 h 30 min via CA-210)
You may also like these:
Fun Facts About Los Angeles
How to Plan a Romantic Maui Getaway for Your Anniversary