There are so many reasons to fall in love with Interlaken: gorgeous scenery, perfect climate, lots of things to see and do. This bustling Victorian town at the foot of the Swiss Alps is Switzerland's most popular resort and for a good reason.
Best Things to Do in Interlaken for Couples
With its perfect infrastructure, Interlaken makes the best home base for travelers who plan to visit this awe-inspiring region, and it's a must on any Switzerland itinerary. Many people debate whether they should choose Lucerne or Interlaken as a home base. While they are both perfect destinations, I prefer Interlaken because of the many thing you can do in and around it. So let's explore some of them!
1. Ride the Funicular to the Top of Harder Kulm Peak
If Interlaken is considered a little piece of paradise, Harder Kulm Peak is part of the reason. Located at 1322 meters above the sea level, this mountain gives you the most glorious view of the entire Jungfrau region.
You can access the peak either on foot (about 2.5 hours hike), or by the Harderbahn – a modern funicular that operates from the town center.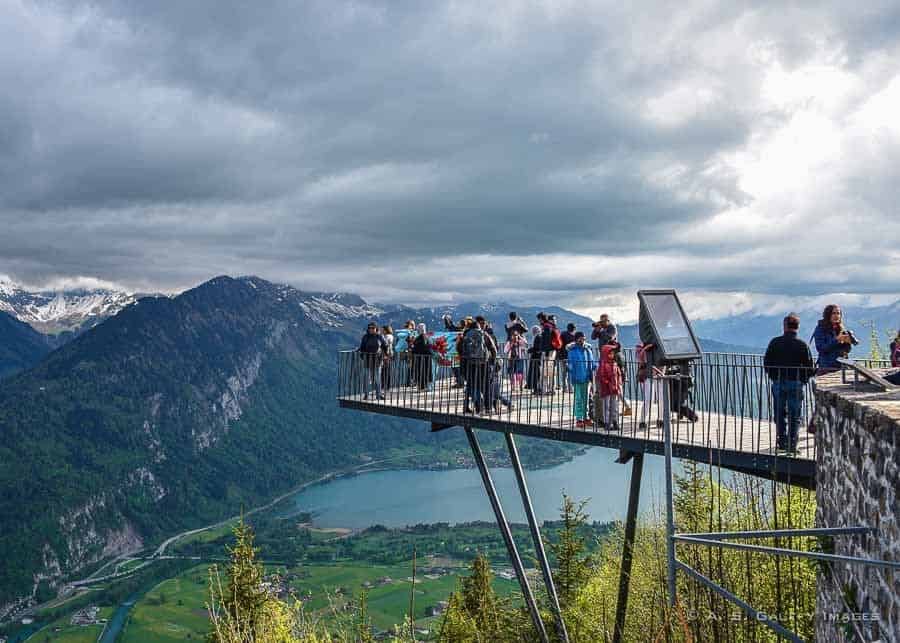 The best time of the day to come to Harder Kulm is around sunset, when the sunlight shines at a lower angle, reflecting shades of pink onto the white snowy peaks. As a result, the three mountain peaks –Eiger, Mönch and Jungfrau– look mesmerizing!
2. Book a Breakfast Cruise on Lake Brienz
Interlaken is geographically situated between two crystal clear lakes: Thun and Brienz. Both lakes offer a regular boat service, but my personal preference is lake Brienz (Brienzersee).
One of the best things to do in Interlaken in spring or summer is a breakfast cruise on Lake Brienz. It makes for the perfect romantic date.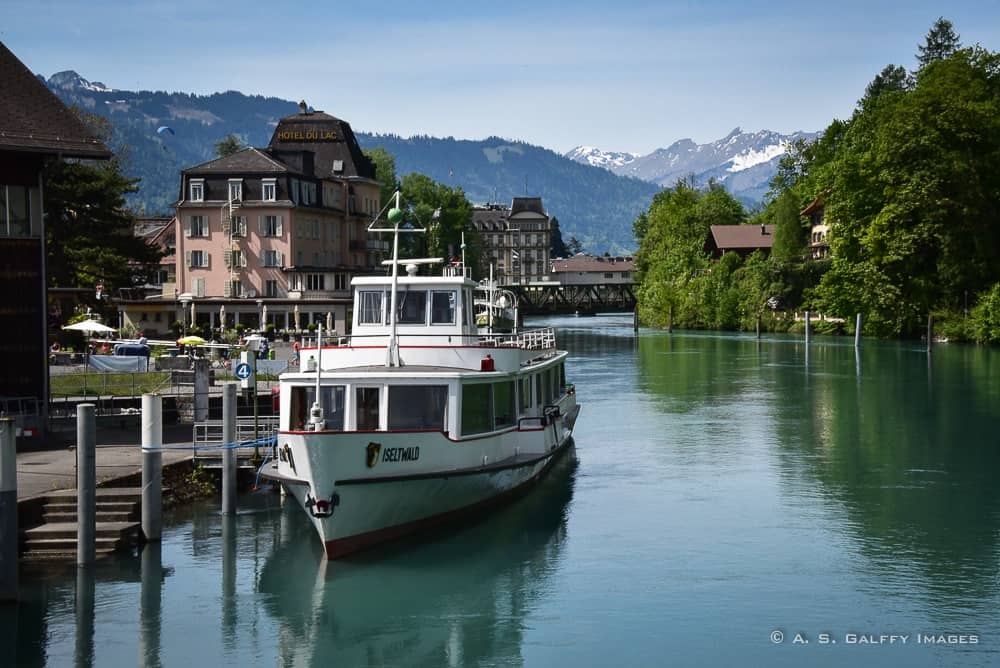 Lake Brienz is a bit smaller than Lake Thun. The boat trip on Lake Brienz takes about 1 hour 20 minutes, whereas the one to Lake Thun is at least two hours each way.
The boat leaves from Interlaken, right behind the Ost train station, but there are other towns along the way where you can board as well. There is a 1st and a 2nd class section. First class is located on the upper deck, where there is also a small restaurant or a bistro.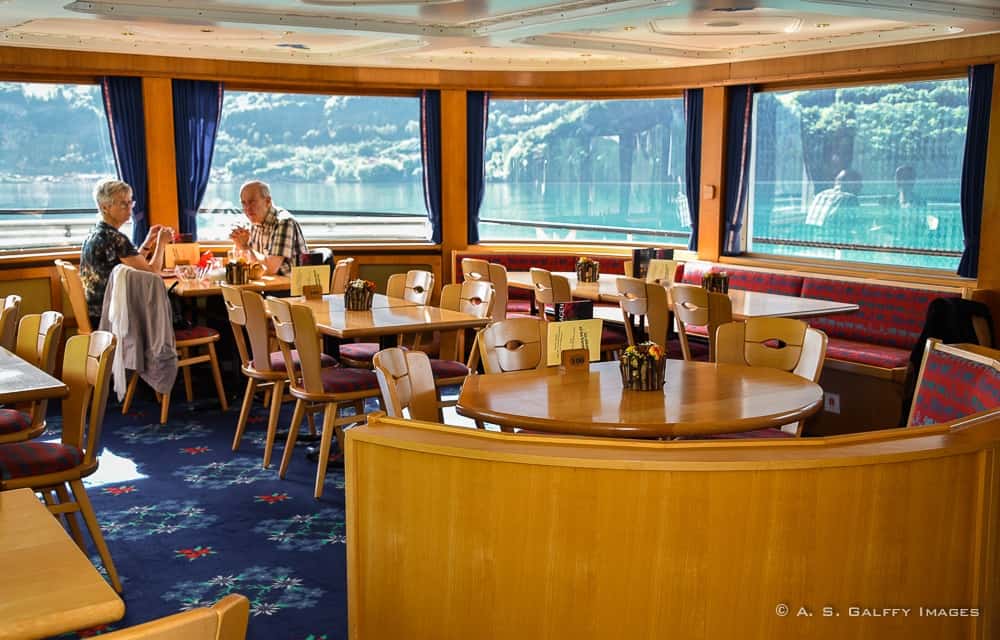 Before turning back, the boat stops for about 30 minutes at the idyllic town of Brienz. This allows you enough time to visit the port area or walk on the promenade.
If you have time, stop in Brienz for a longer visit. The town is famous for its wood carvings and its traditional Swiss chalets. There is also a Wood Carving Museum displaying a large collection of new and antique wood-carvings, sculptures and musical boxes.
3. Take the Cogwheel Train for an Epic Ride to Jungfraujoch
An excursion to the magnificent Jungfraujoch –the 3,466 meters tall peak in the Bernese Alps of Switzerland– is the most adventurous thing to do in Interlaken.
To reach the peak you not only get to enjoy the magnificent scenery of this region, but also experience the Jungfraubahn, Europe's highest-altitude railway.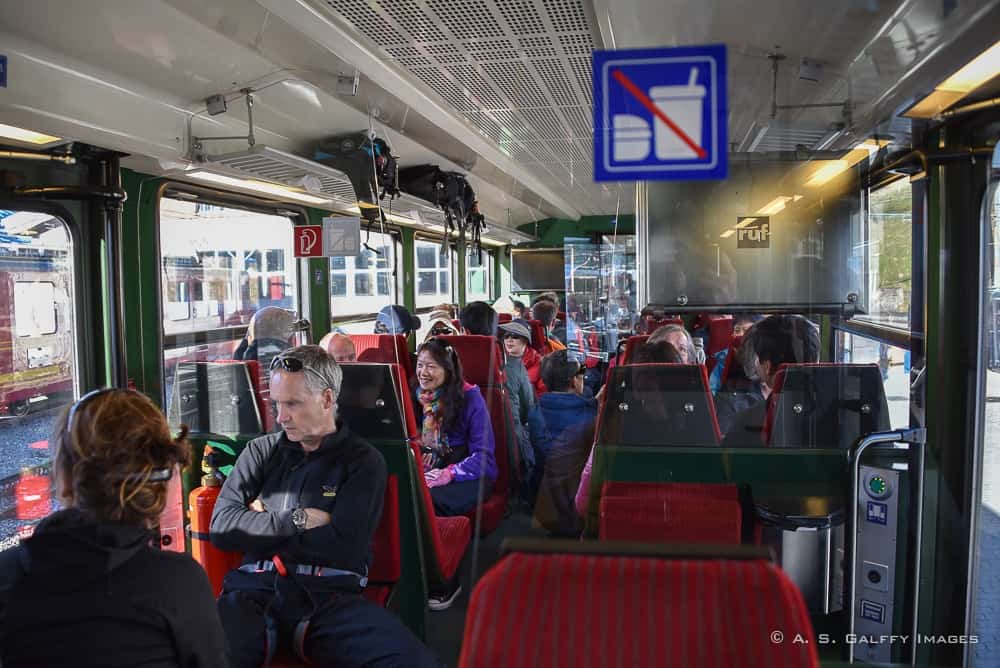 Riding the cogwheel train to the top of the Jungfraujoch is in itself is a great experience. The cogwheel train to Jungfraujoch climbs up the mountain on a slope that sometimes reaches 25 degrees.
Once the train reaches the top you will find yourself in a totally different world. No matter how impressive Jungfraujoch looks from afar, it doesn't compare to what you see from the viewing platform at 3,500 meters altitude. Standing amidst this world of glaciers and everlasting snow makes your heart skip a beat.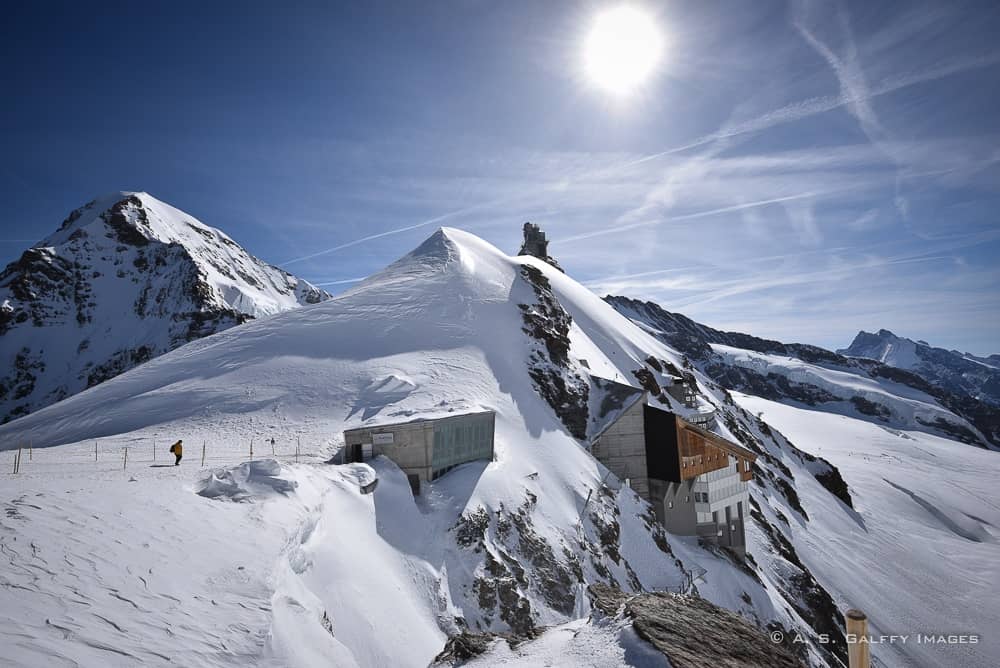 4. Go Paragliding
Interlaken offers many opportunities for those who want their blood pumping and seek a little adventure. From ice climbing, night sledding and skiing in winter, to mountain climbing and paragliding, you can try it all. So if you want a rush of adrenaline, one of the most adventurous things to do in Interlaken is paragliding.
You don't need any special skills for this. Just bring your courage, some comfortable clothes and your camera and you are ready to go.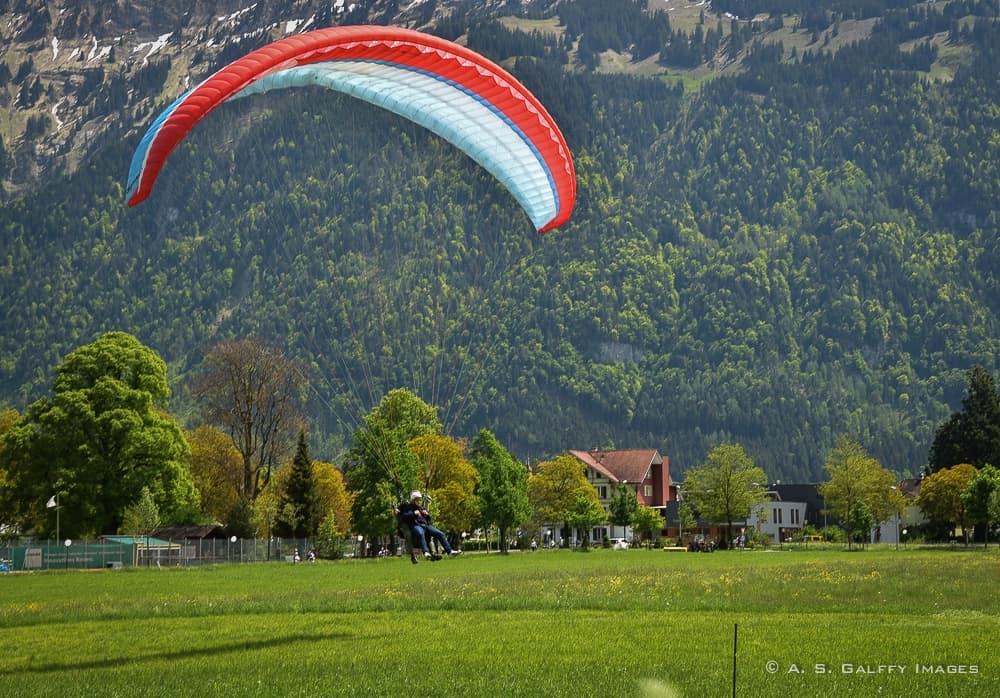 There are a few companies that offer tandem paragliding in Interlaken. They provide transportation to Beatenberg (a point about 800 meters above Interlaken, mountain shoes and the flight equipment. The trip duration is about 2 hours and the cost is around $175.
5. Stroll Through Höhematte Park
Right in the heart of Interlaken, at the foot of the magnificent Jungfrau, there is a huge green area known as Höhematte Park. The land was once belonged the Augustinian Canons, built here around 1133.
In the late 1800s a group of hotels acquired the land from the monastery and decided to preserve it as a park. As a result, Höhematte Park became Interlaken's most popular green open space.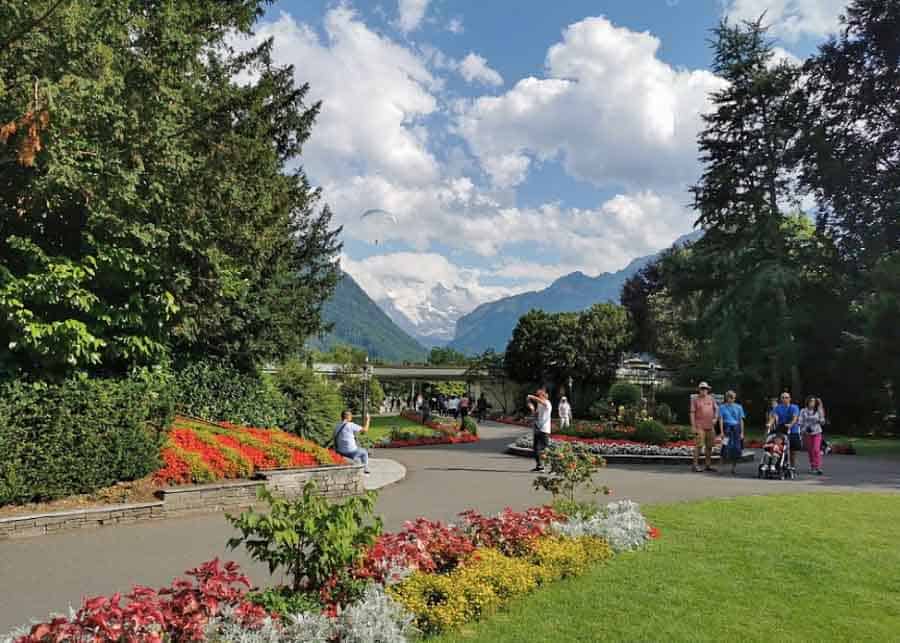 Apart from offering views of snowcapped mountains, the park has shaded walkways with benches, colorful flowerbeds, and beautiful fountains.
In the winter, there is an ice skating rink in the middle of the park. In summer, the park is the preferred landing spot for paraglider, one of the most popular attractions in Interlaken.
Where to Stay in Interlaken
I have to say right from the start that hotels in Switzerland are quite expensive and Interlaken is no exception. However, the charming Interlaken makes an excellent base to explore the area around.
There are quite a few options to choose from in Interlaken, depending on your budget. The town is very safe, so no matter where you are staying you will be O.K.
$$$ Victoria Jungfrau is Interlaken's most luxurious hotel. I haven't stayed there, but the opulence and elegance of the lobby attests to the rooms' elegance.
$$ We have been guests of the Lindner Grand Beau Rivage Hotel, which is equally elegant and luxurious but much less expensive. The hotel is located in the heart of Interlaken, just minutes from the Interlaken Ost train station, right on the banks of the Aare River.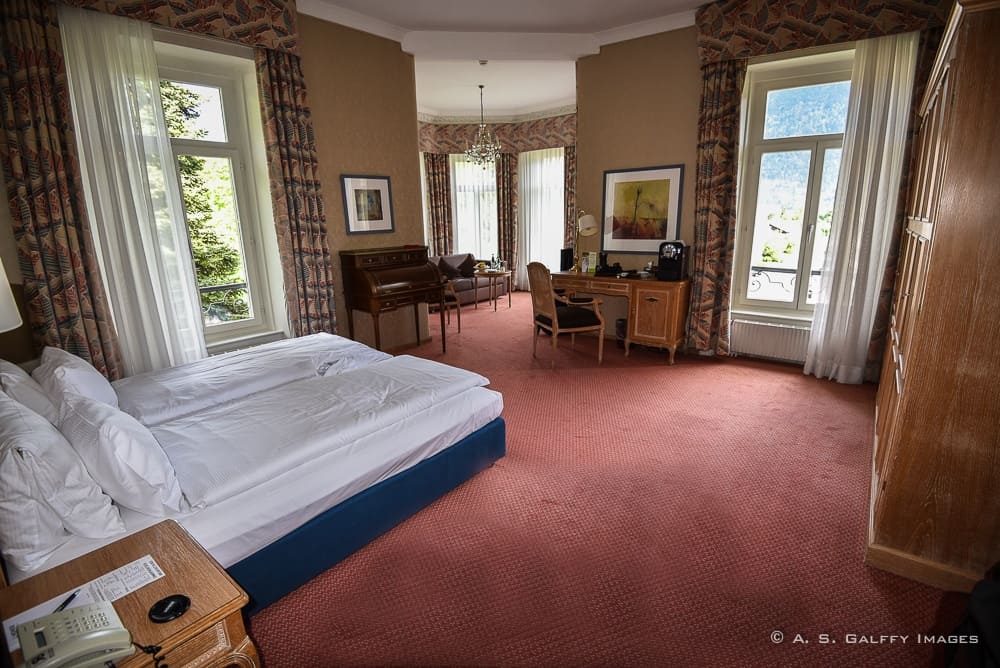 $ Hotel Interlaken is also a good and affordable choice for Interlaken. The hotel is close to Ost Train Station and is actually one of the oldest hotels in Interlaken.
If you are looking for budget accommodations, I would suggest staying in Grindelwald or Wengen, two beautiful towns close to Interlaken.
Getting Around in Interlaken
Driving in Interlaken is very safe and easy, but for the most part you'll probably be walking. The streets are well paved, and lined up with boutiques, restaurants and souvenir shops. Like anywhere in Switzerland, public transportation in Interlaken is convenient and very reliable.
There are buses and trains that depart very often and travel in all directions, so you will have no problem getting around. Even if you came to Interlaken by car, I recommend getting around by public transportation to visit the area.
Pin this for later: