It's easy to plan a fabulous itinerary in a country like Switzerland where jaw-dropping scenery surprises you on every corner. Snow capped mountains, azure lakes, quaint villages, and vibrant cities make this country perfect for any European journey. However, deciding whether to spend 10 days or more in Switzerland may be a little tricky if you want to build a more varied itinerary.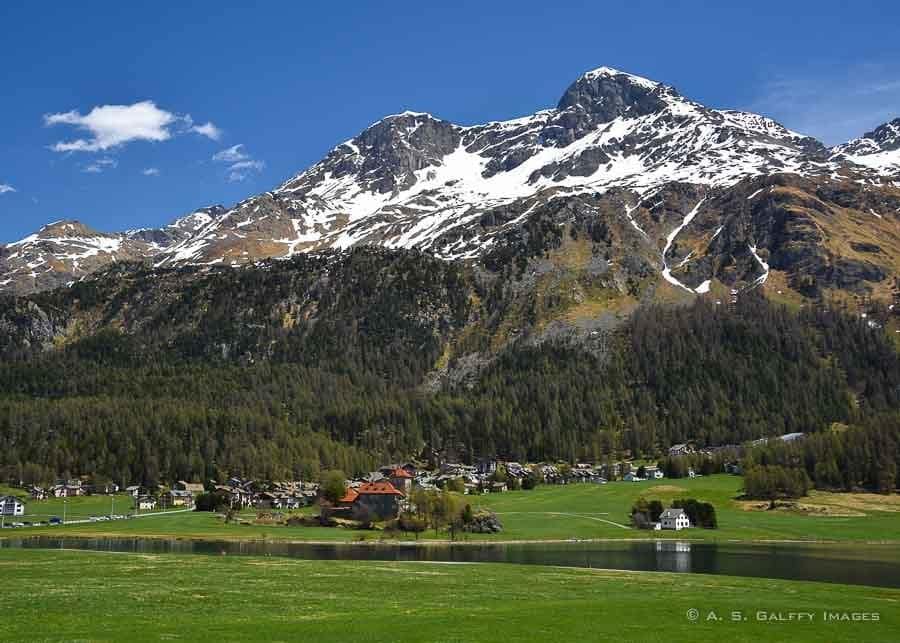 Why Should You Visit Switzerland by Train?
Visiting Switzerland by train is an experience in itself. We opted to use the Swiss trains because they are clean, safe and efficient. Their timetable is planned to the second. They jokingly say in Switzerland trains don't run by the clock. Instead, the clocks are set by the arrival and departures of the trains!
Our itinerary included three scenic trains (Golden Pass Panoramic Express, Glacier Express and Bernina Express) as well as regular trains.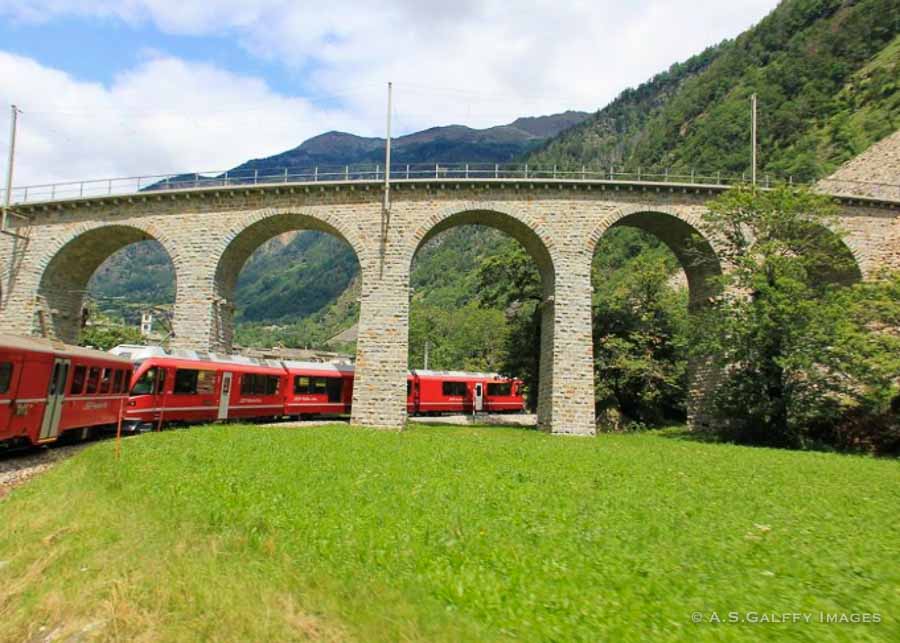 So what's the difference between a regular train and a scenic train?
A regular train is meant to take you from point A to point B. You may see some scenic views on the way, but the main purpose of these trains is transportation, not sightseeing.
The scenic trains on the other hand, will also take you from point A to point B, but they pass through the most picturesque landscapes you could ever imagine. On the scenic trains the journey is as rewarding as the destination.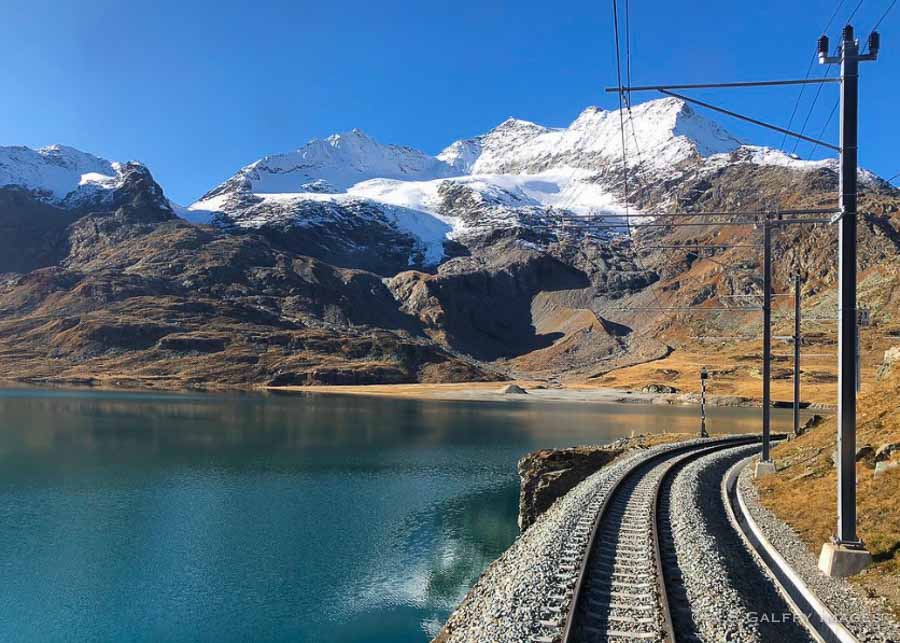 Swiss Travel Pass Information
Rail passes are almost always a smart choice in Switzerland, as pay-as-you-go tickets are quite expensive. The Switzerland-only Swiss Travel Pass is a particularly good deal. The pass covers nearly all transport in Switzerland, including buses, boats, and many high-mountain lifts.
The Swiss Pass is valid on all trains, including those designated as 'scenic'. However the pass does not over the cost of seat reservation which is required on panoramic trains, like Glacier Express, or Bernina Express.
Normal trains (which do not require a reservation) also run on all of these 'scenic' routes, but they don't have panoramic cars.
Many high-mountain routes, however (such as the train to Jungfraujoch, or to Gornergrat) are only partially covered.
Advantages of the Swiss Travel Pass
Unlimited traveling throughout the country. No tickets required for trains, buses and boats; just board and enjoy the ride;
Discounts on trips to mountain tops;
Free museums entrance;
Children travel along for free;
No tickets are required for the scenic trains, like the Glacier Express, Bernina Express, etc. However, for the scenic trains seat reservations are required.
Swiss Travel Pass Options
Option 1: Swiss Travel Pass is sold for 3, 4, 8 and 15 consecutive days and allows unlimited travel on the network of Swiss Travel System. The pass also grants free entrance to over 480 museums and exhibitions.
Option 2: Swiss Travel Pass Flex gives you access on the Swiss Travel System network for 3, 4, 8 or 15 non-consecutive days within a month. This pass allows you to choose your travel days.
Option 3: Swiss Half Fare Card which entitles you to purchase tickets for train, bus, boat, and a few mountain railways at 50% off the price.
The kind of Swiss Pass you'll buy depends on your itinerary and how much you are planning to use the public transportation system in Switzerland.
From time to time, there are promotional offers, so I advise you to check the Swiss Travel Pass official site for more up-to-date prices.
About This 10 Day Switzerland Itinerary
Our 10 day itinerary focuses on the German and Italian parts of Switzerland. We started our trip in Zürich and continued onward to Lucerne, Interlaken, Zermatt, and St. Moritz. From St. Moritz we crossed the border into Italy and flew back home out of Milan.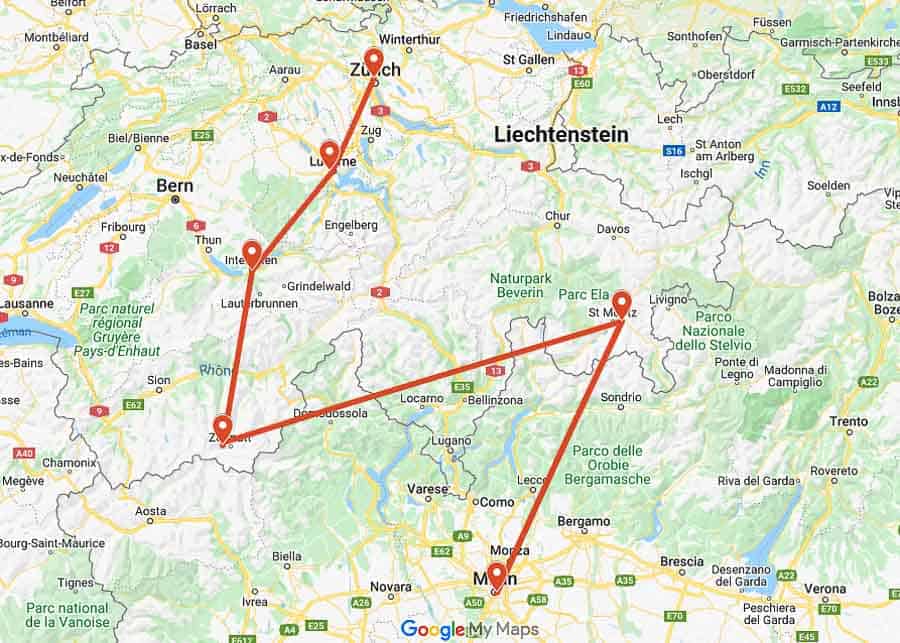 We've spent 2-3 nights at each of these destinations, which allowed us to include a few day trips in our itinerary. We included in our itinerary famous cities, small towns, as well as some of the most scenic regions in Switzerland, like the Bernese Oberland, the canton of Valais, and Engadin.
It took us 10 days to visit all these places at a relaxed pace, but if you have less time in Switzerland, you can adapt this itinerary to 6, 7, or 8 days as well.
The Ultimate 10 Day Switzerland Itinerary by Scenic Trains
Below is an overview of what I consider to be the best itinerary for spending 10 days in Switzerland.
Day 1: Arrive in Zürich and Travel to Lucerne
The place where you start your trip may vary, but if you are traveling to Switzerland from overseas you'll most likely choose Zurich Airport as your landing point.
Zürich is the ideal starting point for your 10-day Switzerland itinerary. If you've never seen the city before, I strongly recommend spending a little time visiting it.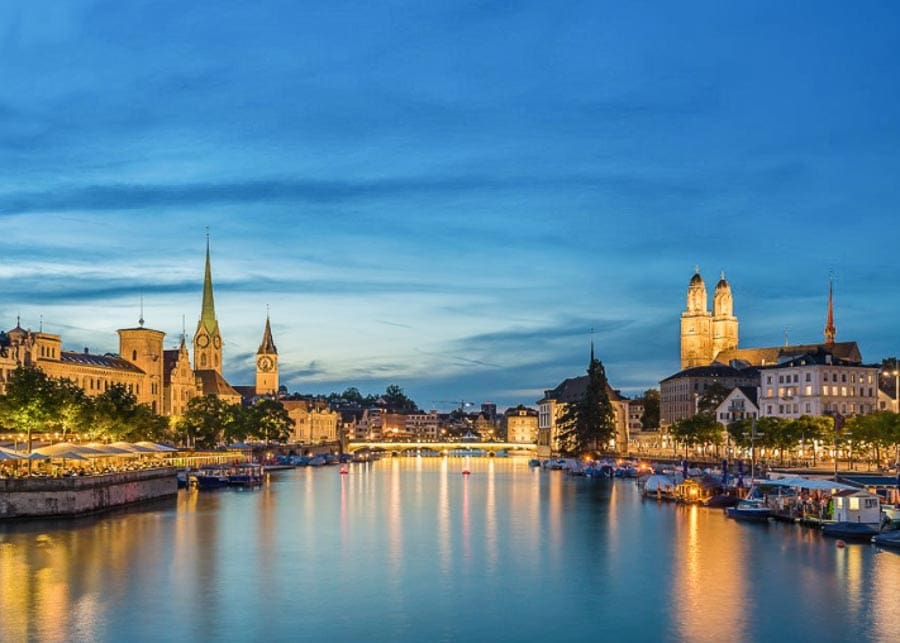 We visited Zürich some years before, on a long layover, so we chose to skip it this time. Therefore we went directly to the Zürich railway station, located underneath the main passenger terminal of the airport.
Trains from Zürich to Lucerne depart every 30 minutes and the travel time is about 45 minutes. You can easily arrive in Lucerne on the same day you land in Zürich.
Tickets for all public transport services (including trains) can be purchased at SBB ticket machines in Arrival areas 1 and 2. You don't need to worry about buying tickets for Lucerne ahead of time.
Day 2: Lucerne
We arrived in Lucerne in the evening and checked into a hotel right in the center of the city, within walking distance from the train station.
Located in the German-speaking part of Switzerland, Lucerne enjoys a fabulous setting: on the banks of the lake that bears the same name, with a backdrop of the Swiss Alps. Once you see it, you'll understand why Lucerne is considered one of the most beautiful cities in Europe.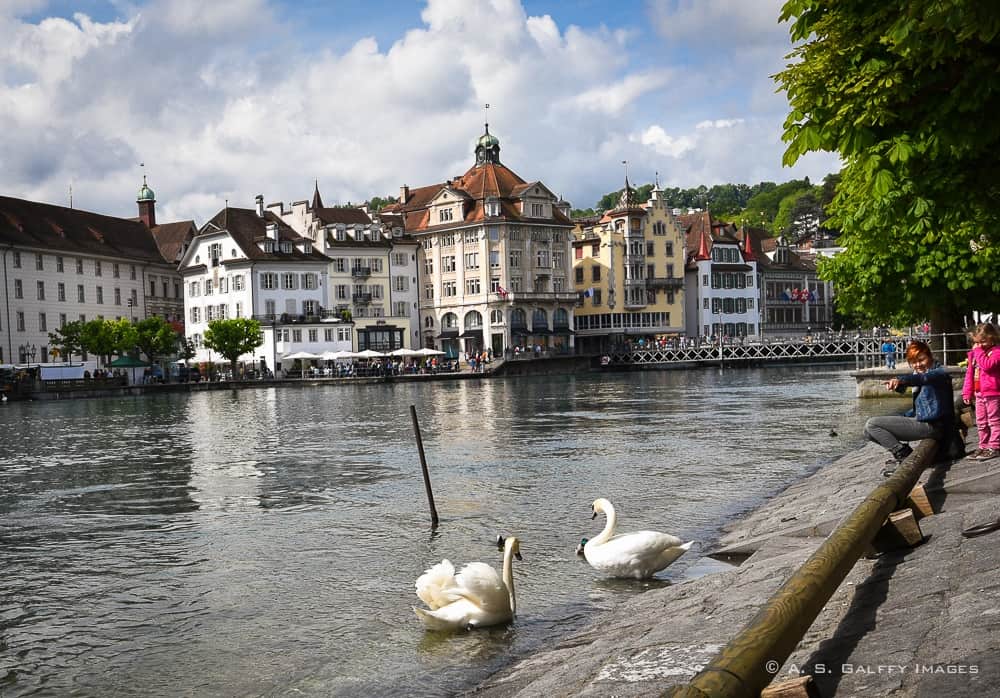 We've only had one day in Lucerne, which was enough to discover the city's most important attractions. However, if you can stay longer there are many wonderful day trips that you can take in this area.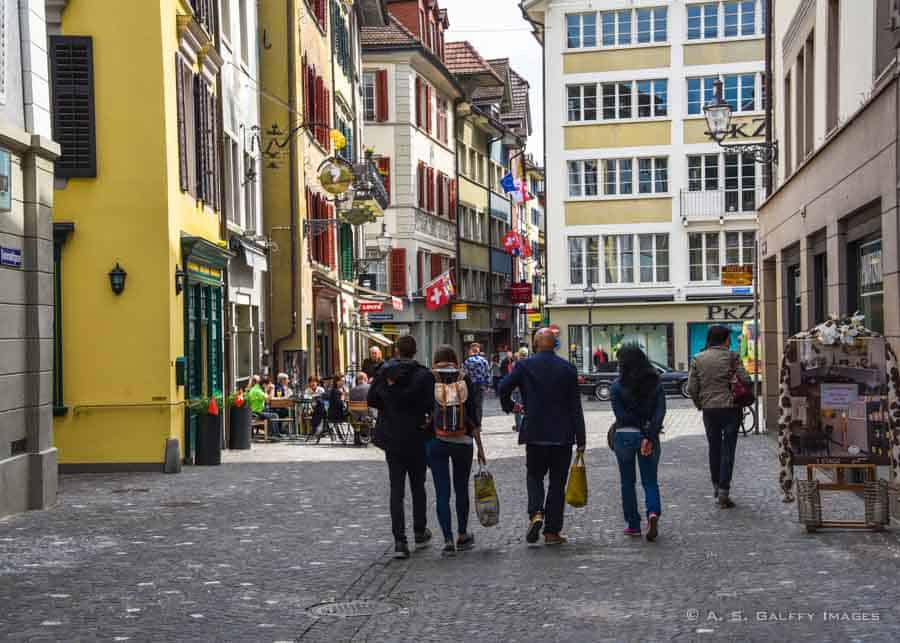 Where to Stay in Lucerne
Although Lucerne is pretty small and easy to visit, my advice is to stay in the city center. Accommodations in this area are less expensive than in the Old Town.
We stayed into Cascada Boutique Hotel which was within walking distance from the train station and also very close to the Chapel Bridge. There are however numerous other properties to choose from, depending on your budget.
Lucerne to Interlaken via the Golden Pass Panoramic Express Line
From Lucerne we traveled to Interlaken via the Golden Pass Panoramic Express. The line stretches from Lucerne to Lake Geneva, but we stopped in Interlaken.
When I made the reservations, I was hoping to get aboard the luxurious Classic Belle-Epoque train. Unfortunately, the classic cars run only between Montreux and Zweisimmen.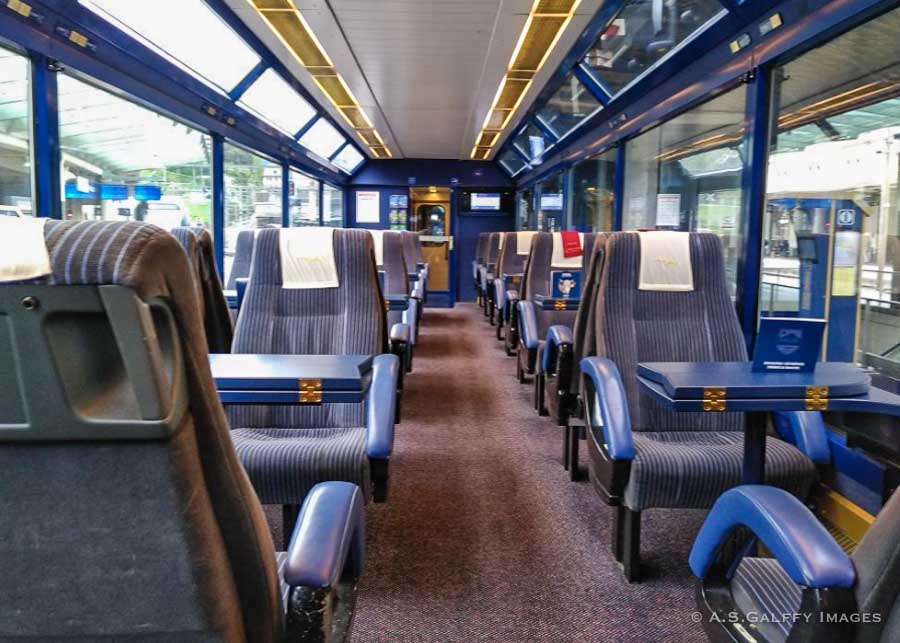 Nonetheless, the Golden Pass Panoramic Express is really beautiful. The cars feature huge windows that stretch up to the ceiling. Seats are also very comfortable, both in first and second class.
The 2-hour ride from Lucerne to Interlaken is so enthralling that you would wonder if you are not in heaven.
Day 3: Interlaken
Interlaken is is Switzerland's most popular resort and for a good reason. First of all, it's absolutely gorgeous: perfect scenery and a wonderland climate. Secondly, there are lots of fun things to see and do in Interlaken, like exploring the Harder Kulm Peak, or taking a boat trip on Lake Brienz.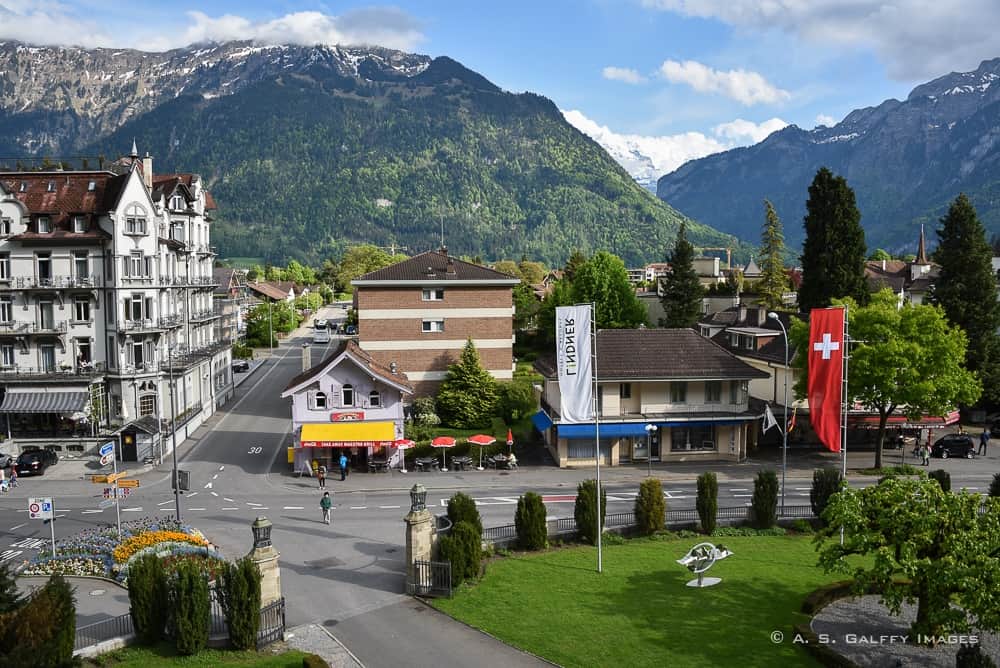 With its perfect infrastructure, Interlaken makes a perfect home base for exploring the awe-inspiring Bernese Oberland.
Where to Stay in Interlaken
There are quite a few lodging options in Interlaken, depending on your budget. The town is very safe, so no matter where you are staying you will be O.K.
$$$ Victoria Jungfrau is Interlaken's most luxurious hotel. I haven't stayed there, but the opulence and elegance of the lobby attests to the rooms' elegance.
$$ We have been guests of the Lindner Grand Beau Rivage Hotel, which is equally elegant and luxurious but much less expensive. The hotel is located in the heart of Interlaken, just minutes from the Interlaken Ost train station, right on the banks of the Aare River.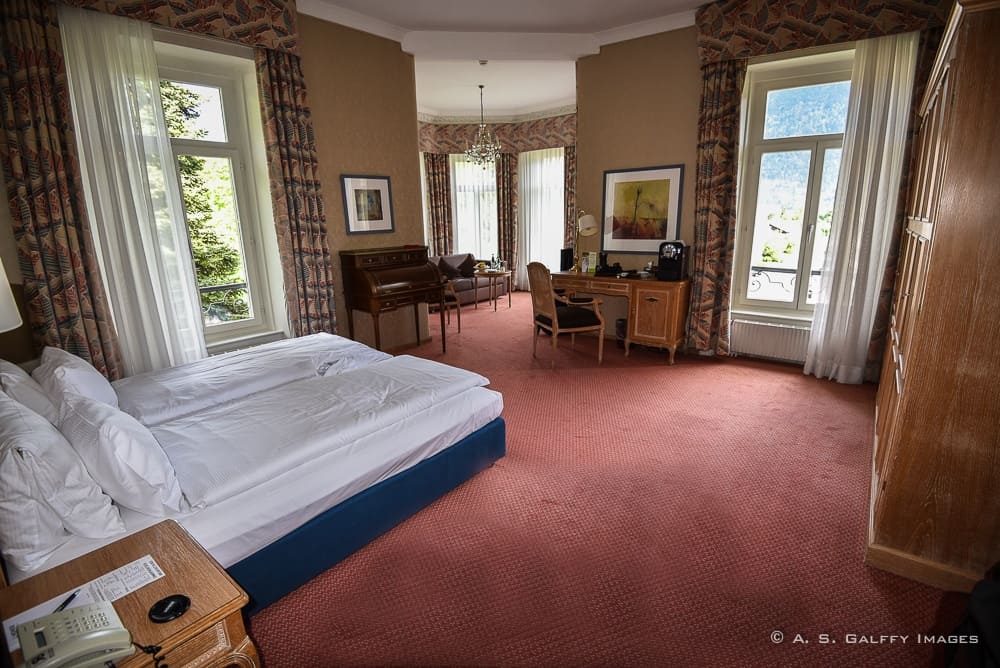 $ Hotel Interlaken is also a good and affordable choice for Interlaken. The hotel is close to Ost Train Station and is actually one of the oldest hotels in Interlaken.
If you are looking for budget accommodations, I would suggest staying in Grindelwald or Wengen, two beautiful towns very close to Interlaken.
Day 4: Day Trip to Jungfraujoch
On the 4th day of our itinerary we took a day trip to Jungfraujoch, the 3,466 meters peak in the Bernese Alps of Switzerland. To reach the peak you need to ride the Jungfraubahn, Europe's highest-altitude railway.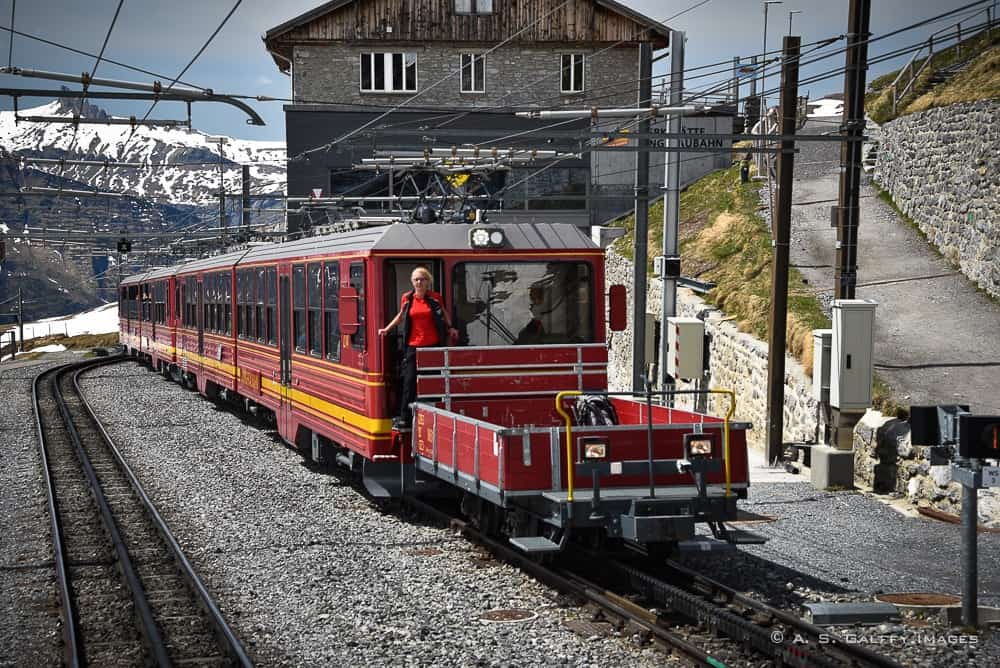 Jungfraujoch can be reached via two routs. Either by taking the train to Wengen, or to Grindewald. Both routes are about the same distance, so you can start on one and return on the other. This segment of the trip takes about 20 minutes.
From Grindewald or Lauterbrunnen (via Wengen) you need to change to a cog train heading towards Kleine Scheidegg (about 45 minutes). From Kleine Scheidegg you change trains again to get to the Jungfraujoch – Top of Europe station.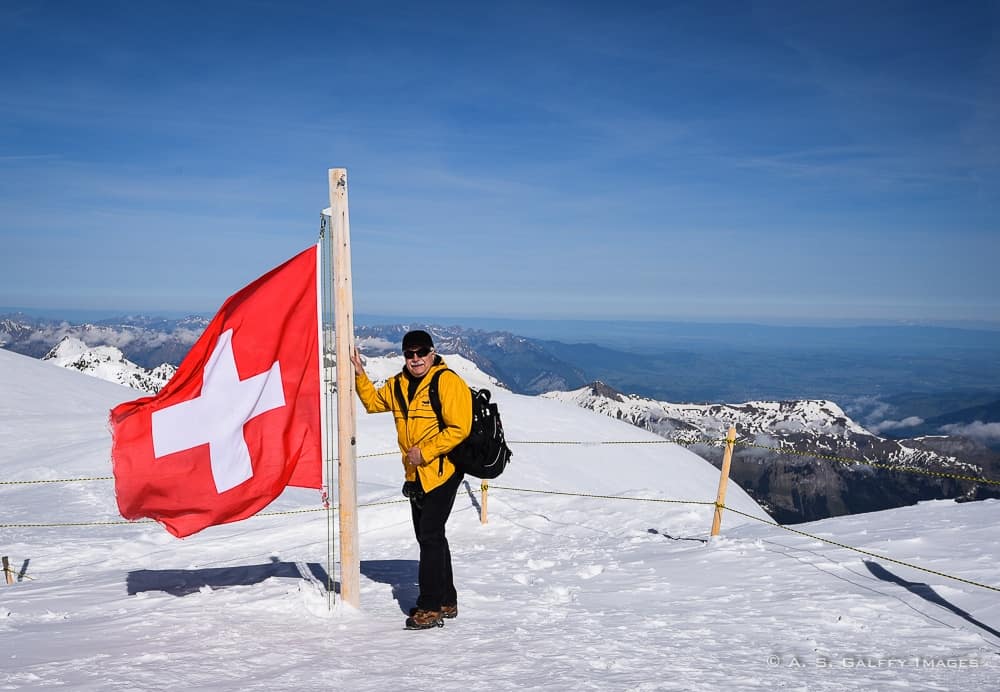 Jungfraujoch will take your breath away! It's really at the Top of Europe, as they say. I can't imagine being any higher that this and still be on the Earth! There are quite a few fun things to do up there, so you'll be spending an entire day on this trip.
Day 5: Day Trip to Lake Brienz
Interlaken is geographically situated between two crystal clear lakes: Thun and Brienz. Both lakes offer a regular boat service, but my personal preference is Lake Brienz (Brienzersee), which is a little smaller.
We took a boat ride on Lake Brienz and visited the small town of Brienz. The boat leaves from Interlaken, right behind the Ost train station, and passes by many beautiful towns along the way.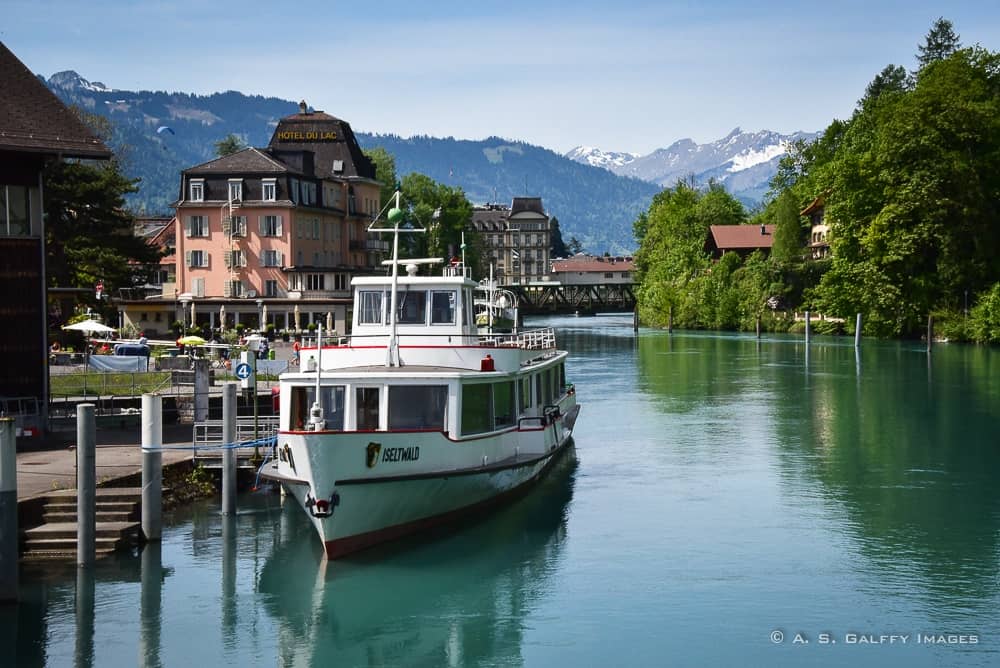 Before turning back, the boat stops for about 30 minutes at the idyllic town of Brienz. This allows you enough time to visit the port area or walk on the promenade. However, you may decide to stay longer in Brienz and return to Interlaken with a later boat.
The town is famous for its wood carvings and its traditional Swiss chalets. There is also a Wood Carving Museum displaying a large collection of new and antique wood-carvings, sculptures and musical boxes.
Traveling from Interlaken Ost to Zermatt by Regular Train
From Interlaken we took a regular train to Zermatt, boarding in Interlaken Ost early morning. The journey takes an average of 2h 30m, over a distance of around 47 miles (75 km). Even though this is not a scenic train the route is extremely beautiful, passing by lakes, alpine meadows and the breathtaking Matter Valley.
There are normally 23 trains per day traveling from Interlaken Ost to Zermatt and tickets start from $35.00/person when you book in advance. They are usually more expensive when purchased on the same day.
Day 6: Zermatt
Zermatt, the tiny little village at the foot of the Matterhorn, doesn't need an introduction. There are not many ski resorts in the world that enjoy its reputation. But although skiing is the number one attraction in Zermatt, there are so many other things to do here.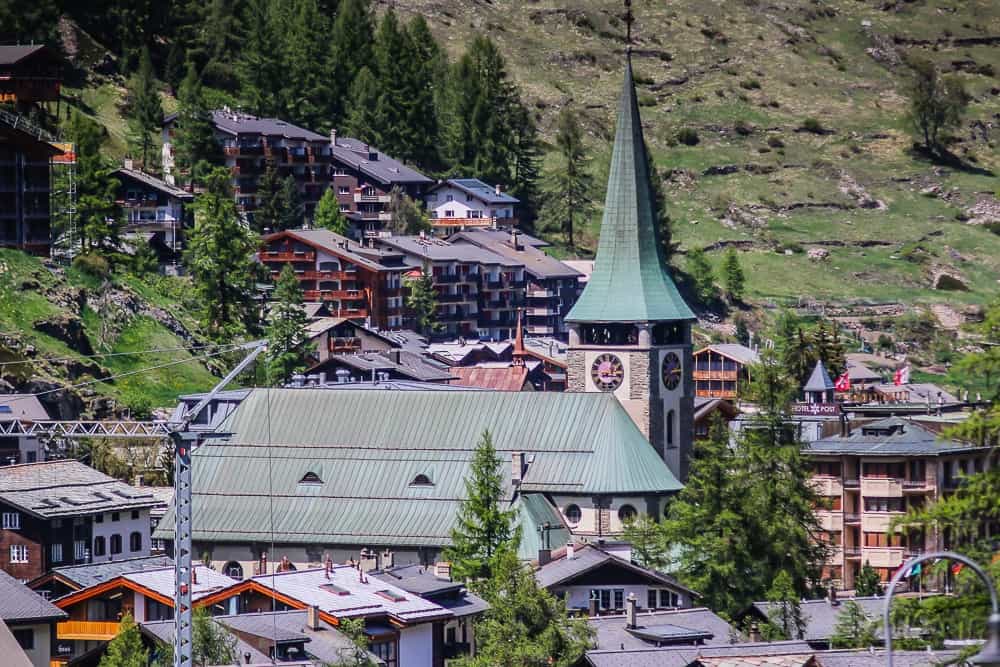 The village is relatively small (with only 5 or 6 streets) so you can walk almost anywhere. The gorgeous mountains, crystal clear lakes and accessible trails make Zermatt an outdoor lovers' paradise.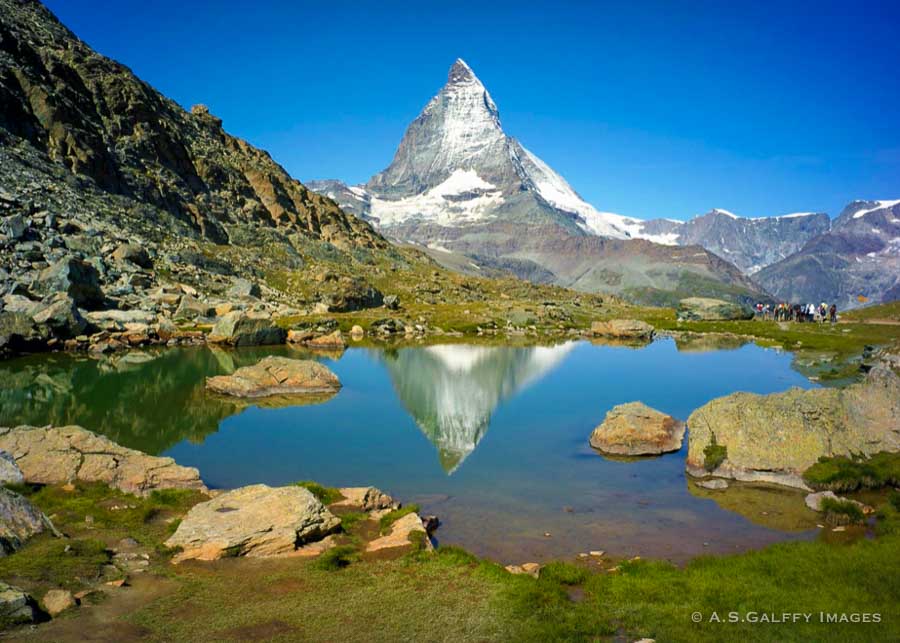 Where to Stay in Zermatt
Zermatt is considered a very expensive destination. It's difficult to find any lodging below $200/night, even if you go off season.
More than half of Zermatt's hotels are clustered around the main street, Bahnhofstrasse, that extends south from the train station for about half a mile. There is also another batch of hotels beyond the river and the some others in the outskirts of the town.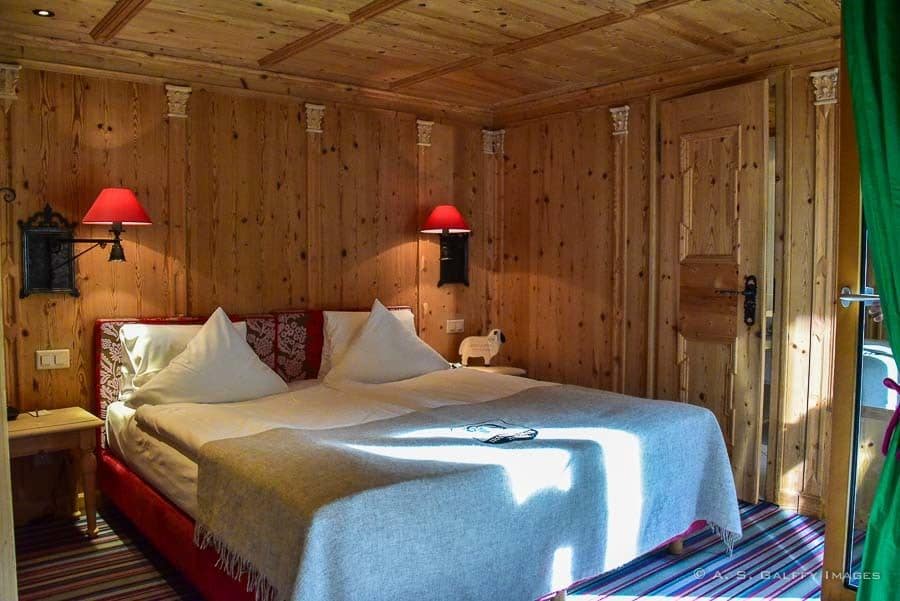 Most of Zermatt's hotels are family-run and are particularly clean and well appointed. You must be very unlucky to hit one of the less agreeable accommodations. We have been guests of the Romantik Hotel Julen, one of the old, traditional hotels in Zermatt
Day 7: Day Trip to Gornergrat
The highlight of our visit to Zermatt was a train trip up to the top of the Gornergrat, a rocky ridge that sits at an altitude of 3,089 m in the Pennine Alps, Switzerland.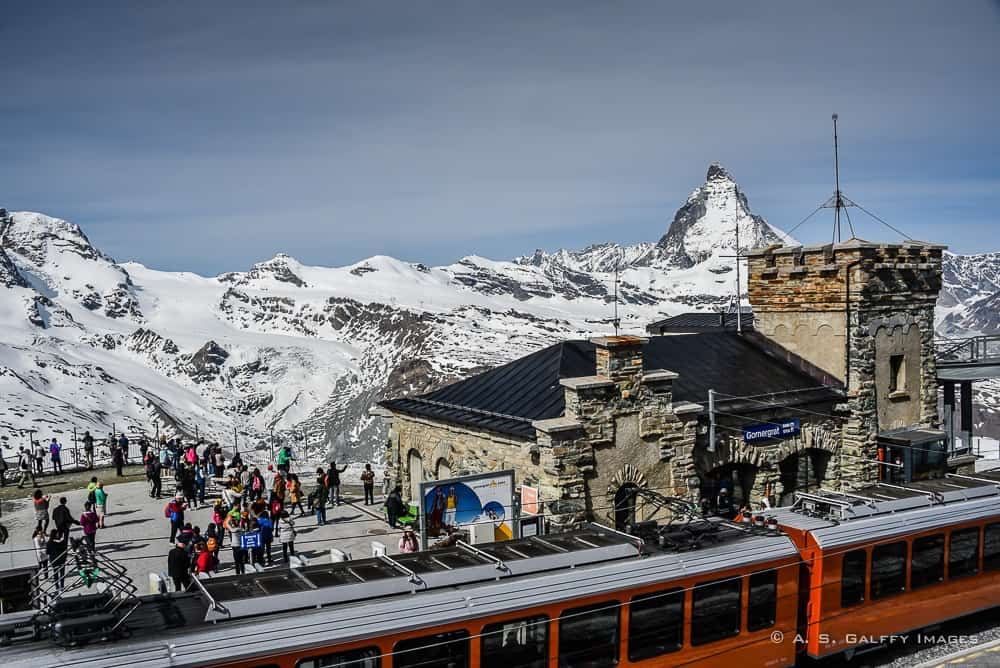 The cogwheel train ride from Zermatt to the viewing platform on the Gornergrat is an experience in itself. The train leaves from a yellow building (station) just across the main train station in Zermatt.
The ride takes a little over half an hour, but it's really beautiful. Once the train arrives at its final destination atop the Gornergrat, you can walk up the short, snowy path that leads first to a little chapel, then to the hotel/restaurant and the observatory whose domes are visible for miles.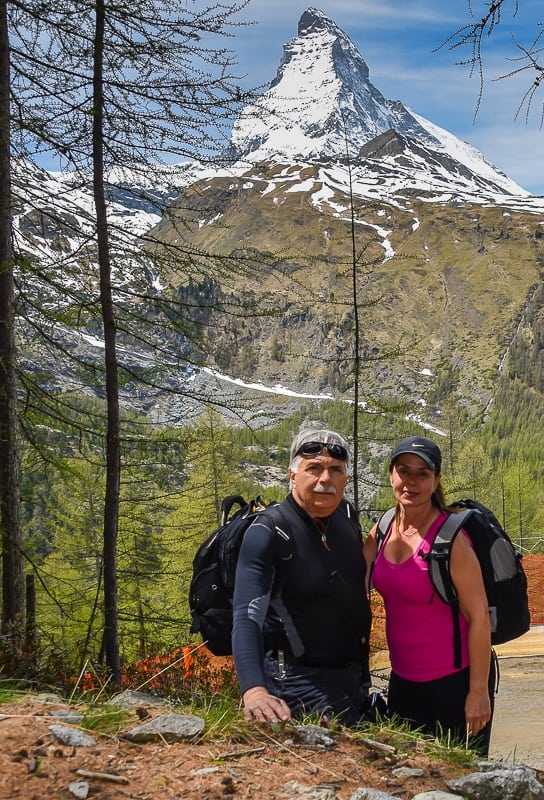 After admiring the stunning panoramic views from the top of the Gornergrat, you can then take the train back to Zermatt, or you may choose to come down on foot.
Traveling from Zermatt to St. Moritz via the Panoramic Glacier Express
We've spent the most part of the 8th day of our Switzerland itinerary aboard the panoramic Glacier Express, riding from Zermatt to St. Moritz. The Glacier Express is considered Switzerland's most beautiful train ride and for a good reason.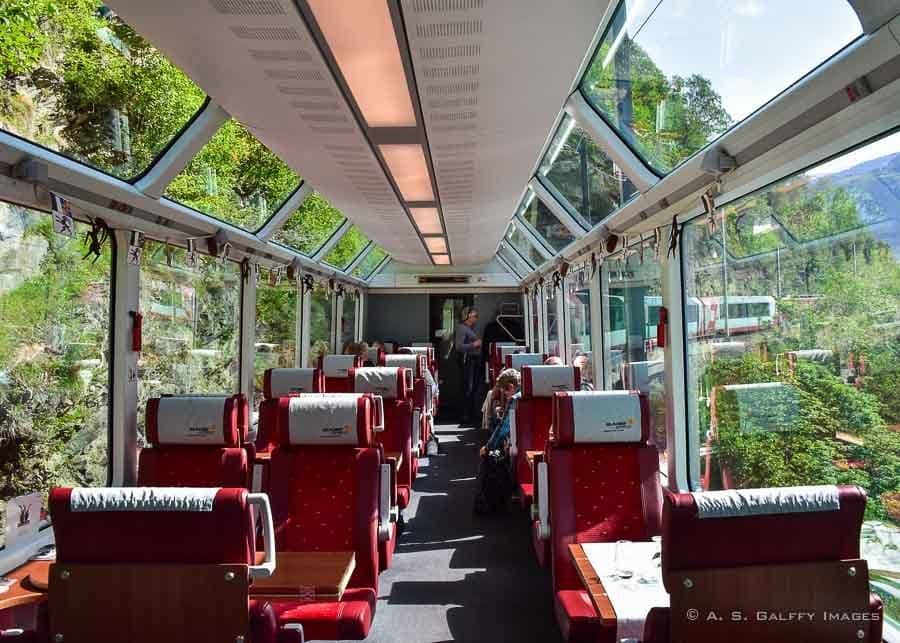 During the course of its 8-hour journey, the narrow-gauge train goes across three high-mountain passes, passing through 91 tunnels and over 291 bridges.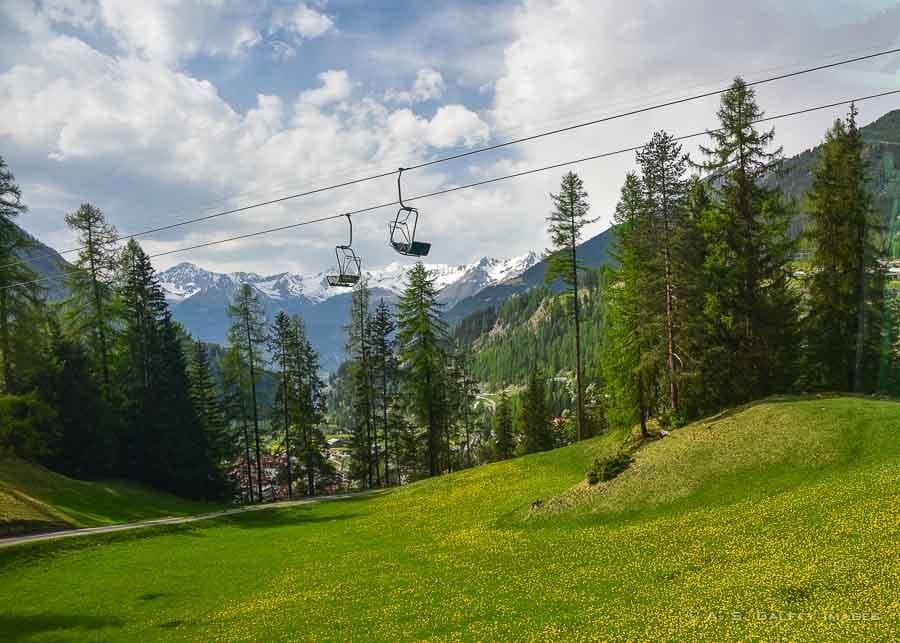 The scenery is out-of-this world beautiful! We kept our noses pressed against the window for the entire duration of the trip.
Day 8: St. Moritz
We arrived in St. Moritz late afternoon. After checking into our hotel, we took a walk through town, glancing at the art galleries, glamorous old hotels, and glittery boutiques.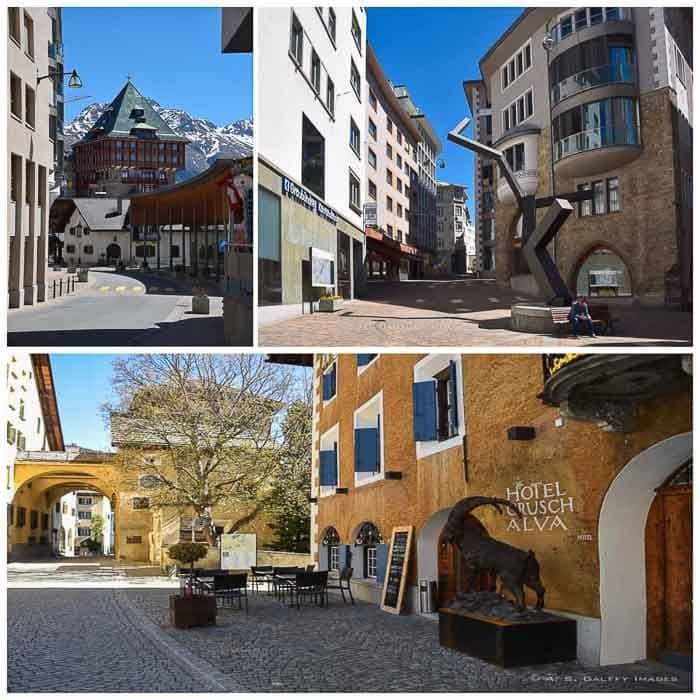 The mountain town has only a handful of streets, spreading along the western banks of St. Moritz Lake. Although it's a very picturesque town, you don't need much time to explore it.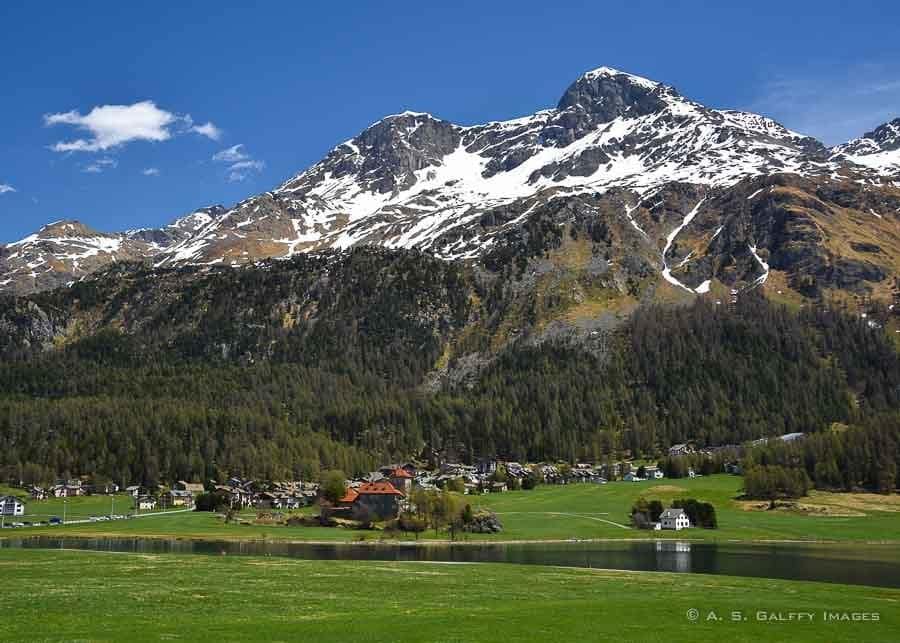 The area around St. Moritz is also strikingly beautiful. If you have time, I recommend walking around the lake and admiring the bucolic landscape.
Where to Stay in St. Moritz
St Moritz is one of the most stylish, most exciting ski resorts in Switzerland. Therefore luxury accommodations are in abundance. However, finding reasonably priced hotels or Bed-and-Breakfasts are difficult to find.
$$$ If you are looking for luxury hotels, Kempinski Grand Hotel, Giardino Mountain, or Badrutt's Palace Hotel will fit the bill.
$$ More reasonably priced hotels are Petit Steffani, Hotel Pitz, or Hotel Arte, or Hotel Casa Franco.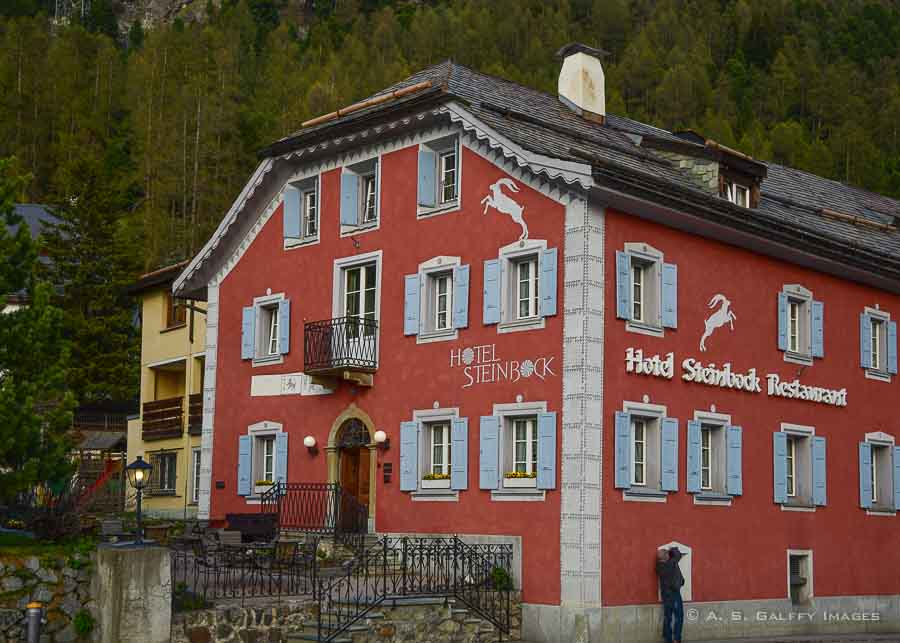 We were guests of Hotel Steinbock, which a little outside St. Moritz, in Pontresina. The hotel was extremely clean and well appointed, and in a beautiful location.
Day 9: Day Trip to Diavolezza
Just 15 minutes away from St. Moritz, in the area of Pontresina, lies one of the most spectacular mountain peaks in Switzerland: the Diavolezza, the mountain of eternal ice.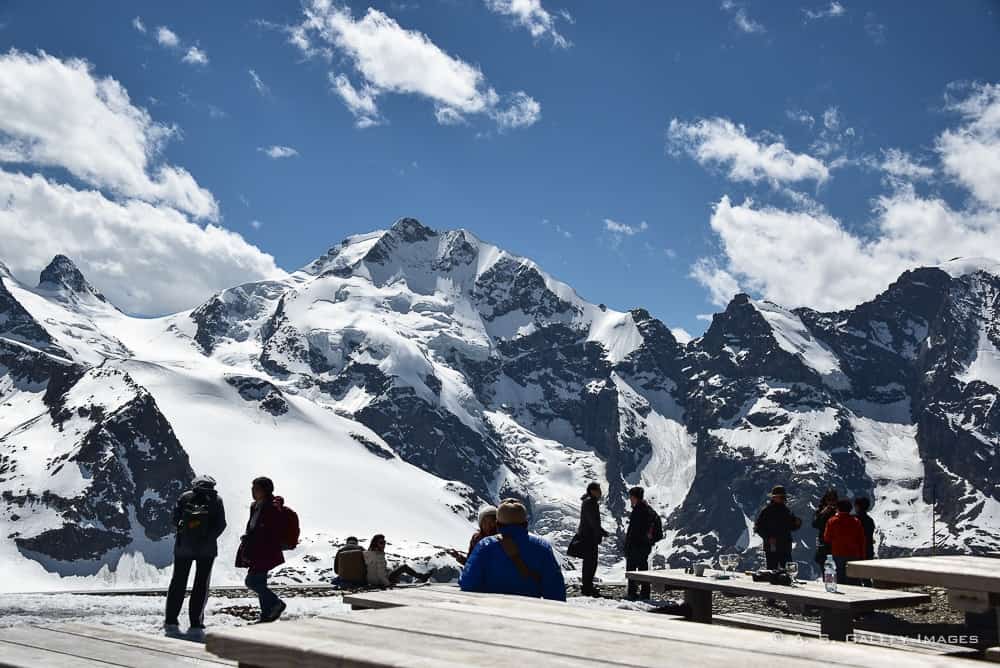 To get here, you can either take a cab or the bus. The cab dropped us right at the bottom of the mountain, from where we embarked on a 7- minute tramway ride to the summit.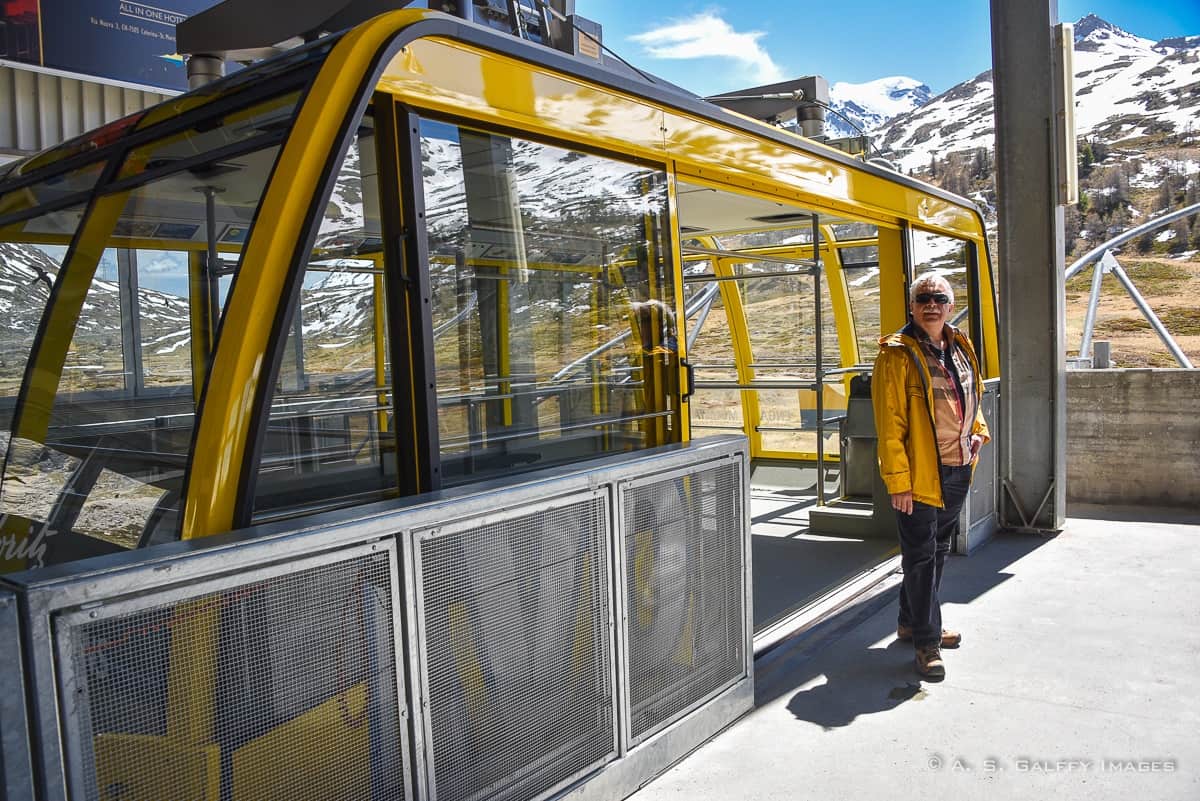 Once you reach the summit you find yourself amidst the Bernina Mountain Range with its giant peaks. Not surprisingly, there are glaciers all around you, on all sides of the mountain. They say there are five billion tons of ice in this area, covering a distance of 12 kilometers. Impressive!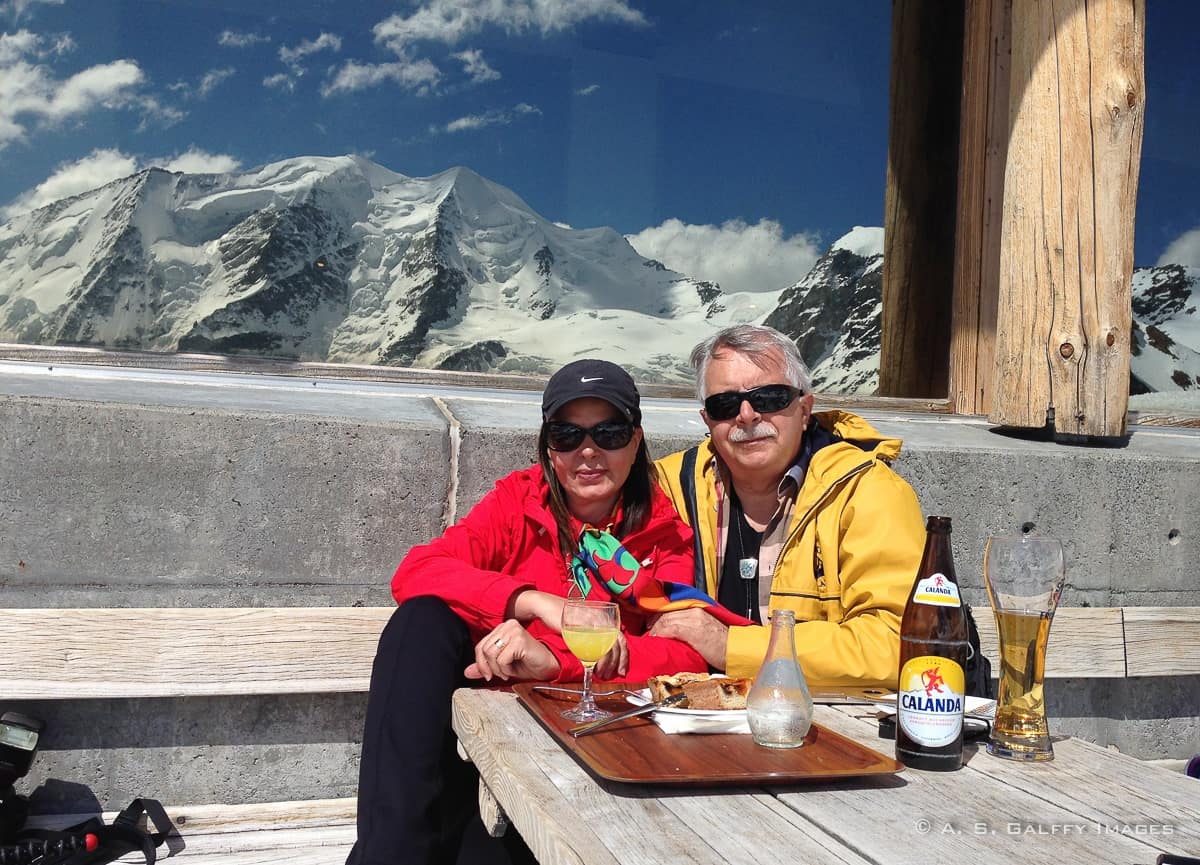 We visited Diavolezza in May, when the weather was pretty warm and sunny. However, there was a lot of fresh snow at the top and people were still skiing.
Day 10: Traveling from St. Moritz to Milan via Bernina Express
We've spent our 10th day in Switzerland traveling between St. Moritz and Milan, via the Bernina Express railway. The Bernina Express is the highest altitude rail in Europe.
The iconic red carriages of the Bernina Express serve the narrow-gauge rail route between St. Moritz and Tirano. The train climbs slowly from St. Moritz towards the Bernina Pass, passing by incredible alpine landscapes that you can enjoy through the panoramic windows.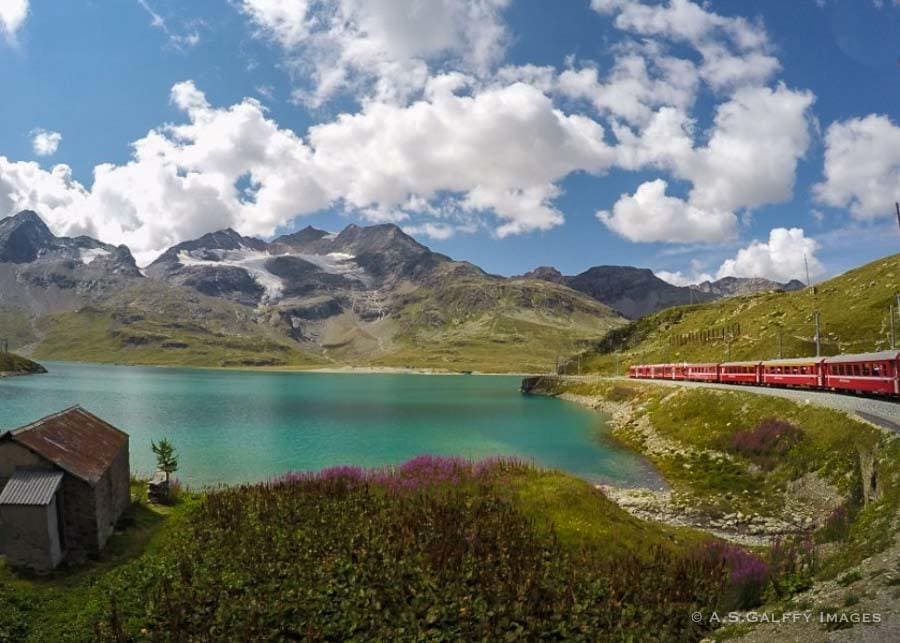 The BEX runs from St. Moritz to Tirano twice a day. The morning train leaves around 9:15 am and gets you to Tirano for an easy connection to Milan. When you arrive in Tirano at the Swiss station, just walk across the station square to the Italian station. It's only two minutes away.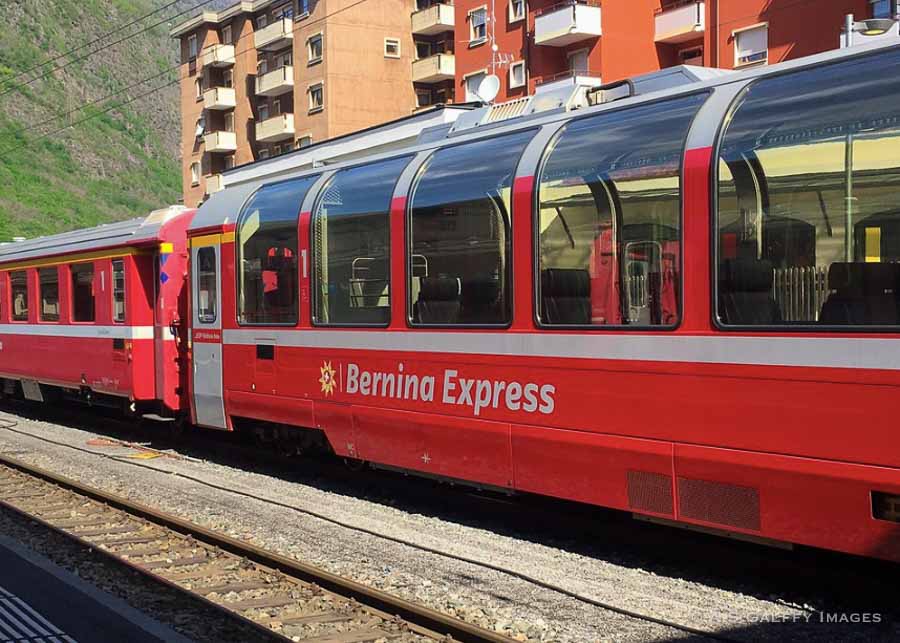 If you want to have lunch there before boarding the train for Milan, there are a few restaurants around the square where you can stop. We ate at one called Posteria Del Rosso and liked it. Good food and service. There is also a gelateria across the street.
This sums up our 10 day Switzerland itinerary that started in Zurich and ended in St. Moritz. You can alter this itinerary by shortening or extending it, according to the number of days you can spend in Switzerland. I hope I was able to provide you with enough useful information to help you build your own route.