Welcome to Lucerne, the first stop of our 10 day Switzerland itinerary. You can call it 'Luzern' if you are a Germanophile. Or you can call it 'Lucerne' if you are a Francophile. But no matter what you call it, this idyllic Swiss city will take you by surprise: it's calm, clean and civilized. Lucerne is also easy to explore, which was great since we only had one day there.
First Impressions
Lucerne is one of the oldest cities in Switzerland and is located in the German-speaking part of the country. The city has a unique and idilic setting: on the bank of Lake Lucerne with a backdrop of the Swiss Alps.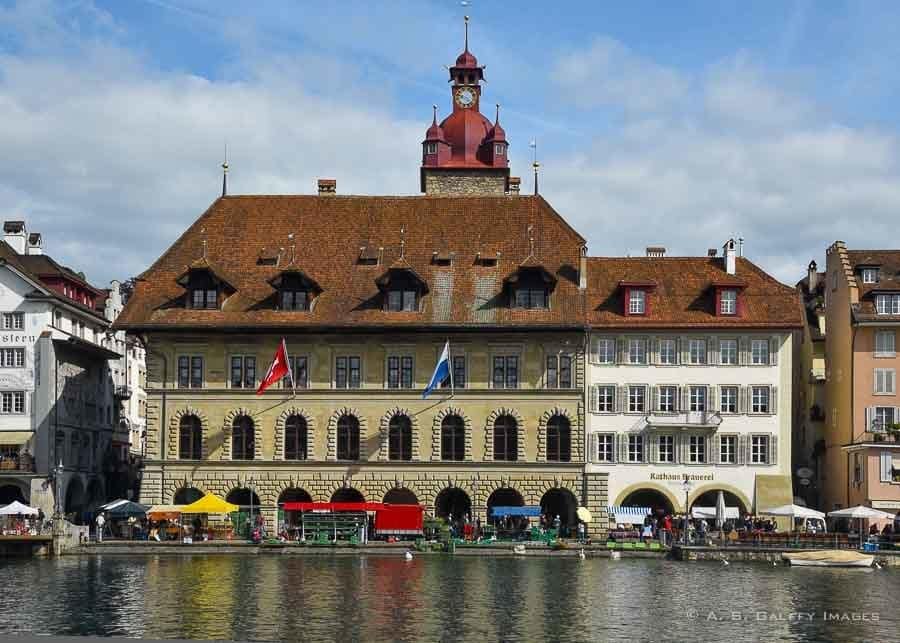 Lucerne is considered one of the most beautiful cities in Europe and for a good reason. Everything is so colorful and picturesque, almost too perfect to be true! When I first saw it I was filled we regret that we only booked a day in Lucerne, but luckily we were able to see quite a lot during this short time.
10 Best Things to Do in Lucerne in One Day
Ok, Lucerne is an amazing city, but is it possible to visit it in just one day? Absolutely! Just follow this one day itinerary and find out how to discover Lucerne's most important attractions.
• Walk Along the River Bank
One of the first things people do when they arrive in Lucerne is walk along the banks of the Reuss River. This is the most scenic part of town, where you take lots of pictures of the colorful buildings that line the shores and feed the swans.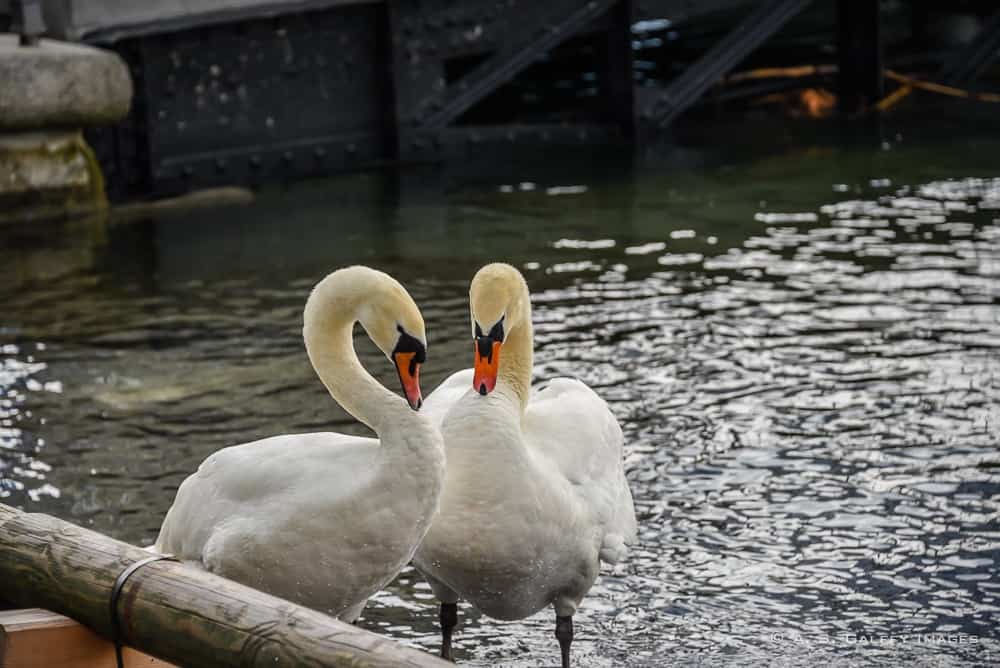 There are swans everywhere in Lucerne, but especially around the lake and the river. These are giant swans, unlike any other I've seen so far. The swans are constantly fed by the visitors and locals, so when they see you approaching the water, they quickly swim to the shore expecting to be fed.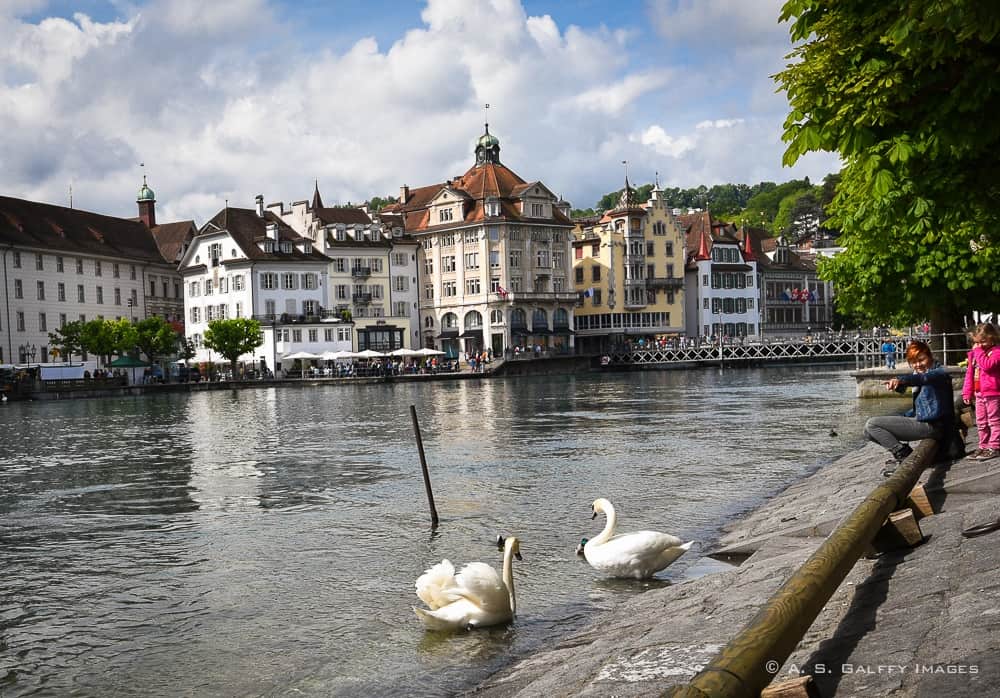 • Cross the Chapel Bridge (Kapellbrücke)
The Chapel Bridge links the Lucerne Theatre on the south bank of the River Reuss with St. Peter's Chapel on Rathausquai, passing the Water Tower on the way.
The 669 feet long wood-covered structure which dates back to the 12th century, is Lucerne's most famous bridge and the oldest of its kind in Europe.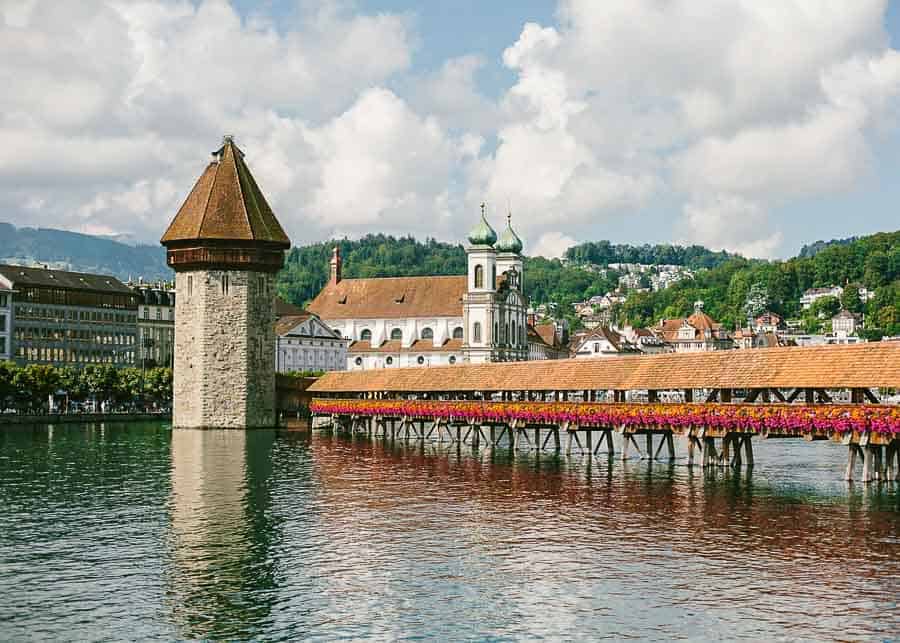 Just as significant as the bridge itself is the fascinating cycle of paintings which adorn it, adding to its character.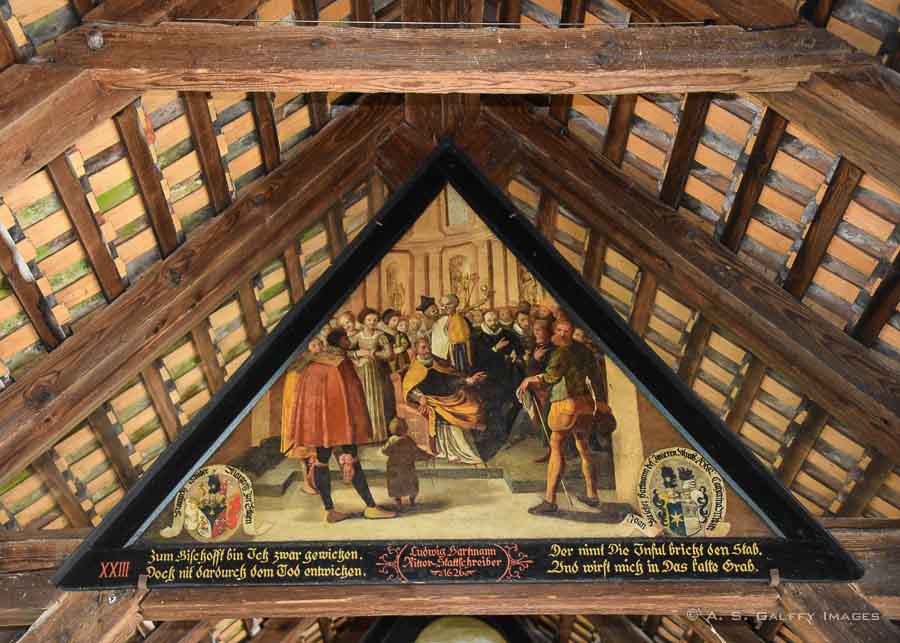 • Explore the the Old Town Area and the City Walls
Lucerne's medieval old town is a charming and romantic place. It looks like it was taken right out of a movie scene: with picturesque squares, water fountains, covered bridges, and old buildings with colorful façades.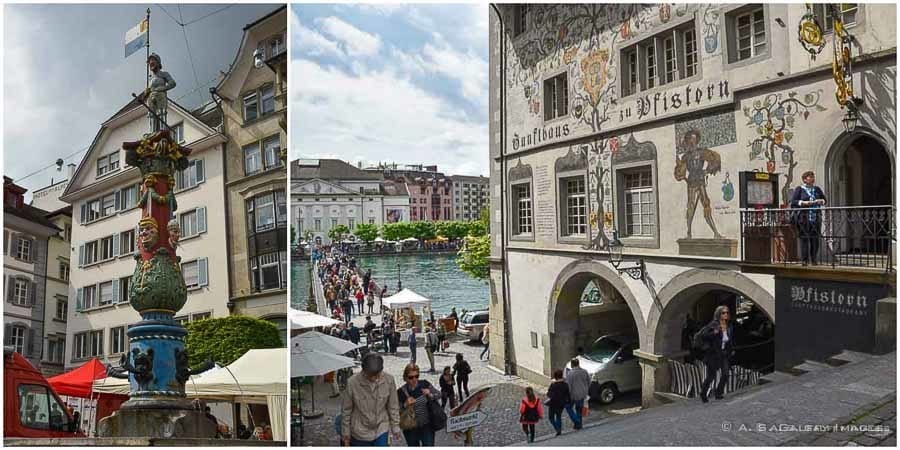 You just can't get bored strolling through the narrow, cobblestone streets lined with antique stores, art galleries and small restaurants.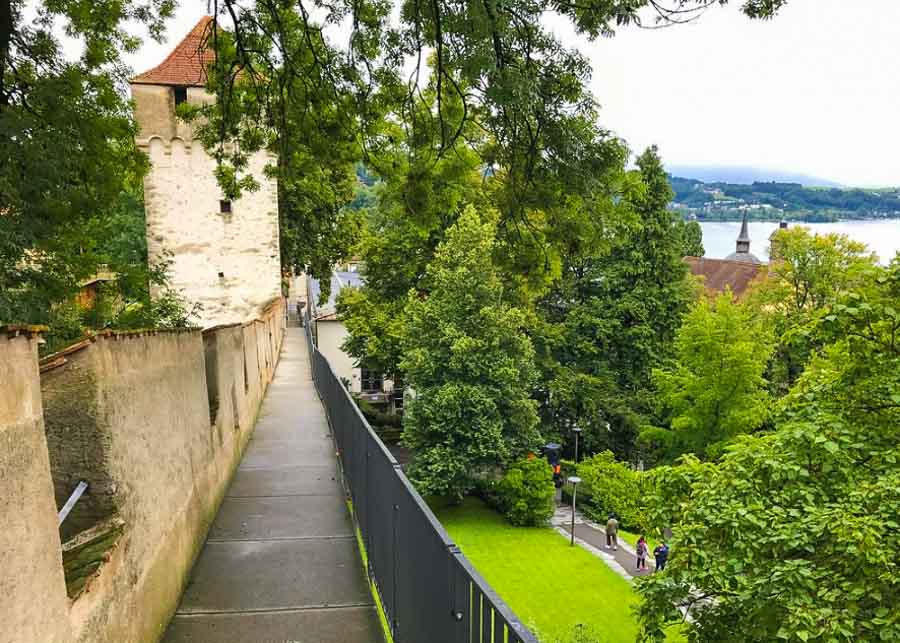 The Old Town is also very close to the medieval city walls and towers, so don't miss them. You can actually walk the walls in between the towers. A climb to the top of any of the towers gives you a wonderful view of the city of Lucerne. Don't miss the clock tower especially!
• Visit the Farmers' Market on the Reuss River Bank
On Tuesdays and Saturday mornings there is a farmers' market along the Reuss river bank. There is nothing like strolling through a Swedish farmers' market on a sunny day! The opulence of produce and delicacies displayed there is amazing.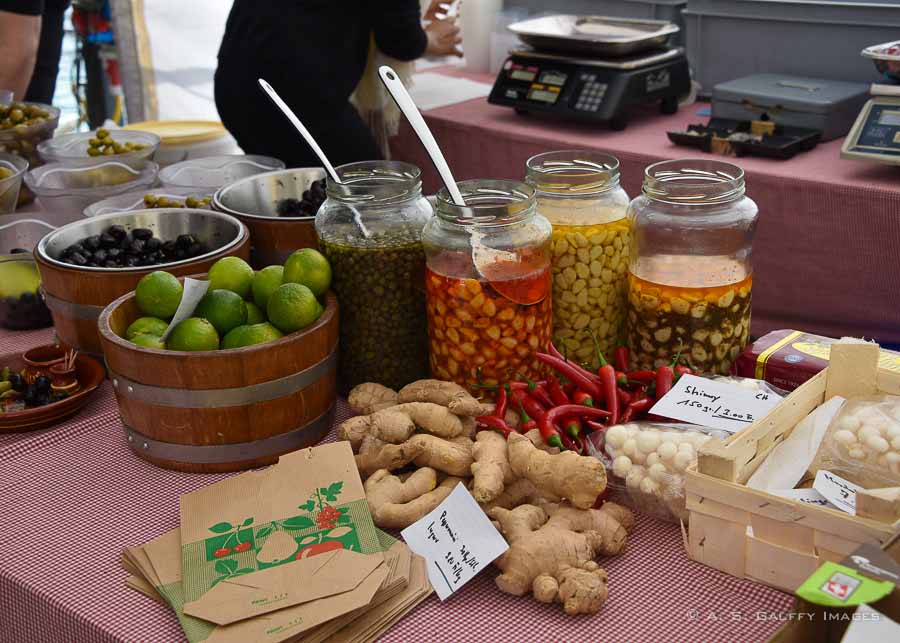 From homemade Swiss cheeses, fresh meets, sausages, wines, fresh vegetables, fruits, homemade-sweets, flowers they had almost everything you can imagine.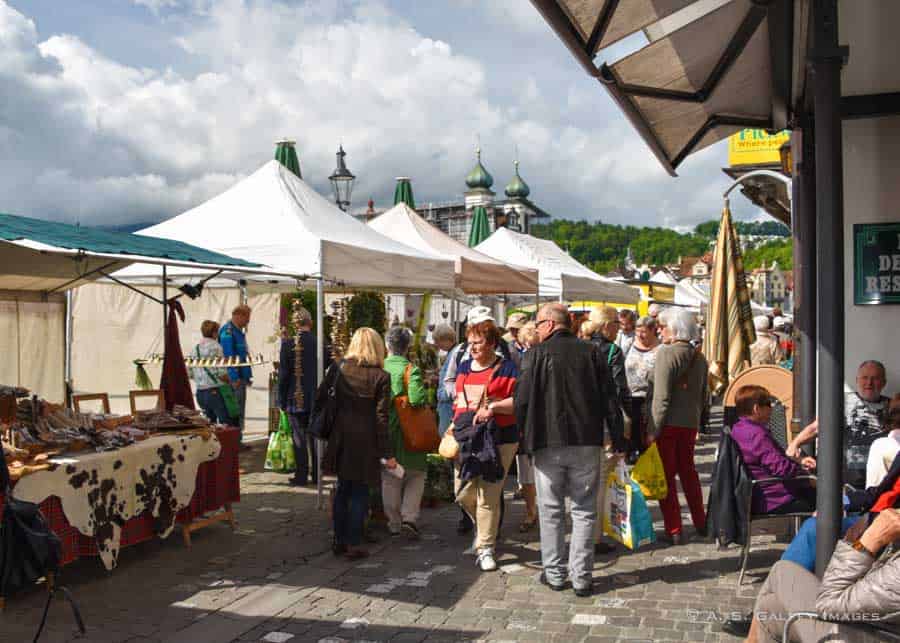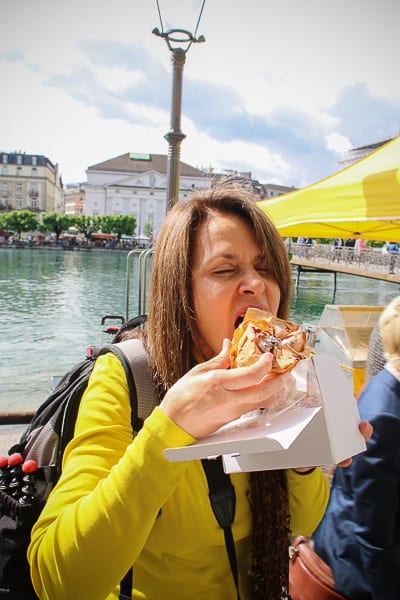 The smell of freshly baked goods, flowers and herbs was filling the air. It's a pure delight to taste some of these goodies, even though they are unbelievable pricey! We I paid about $9 (8 CHF) for a piece of homemade pie!
To my surprise, I saw merchants from many other European countries coming to sell their produce here. There were Italians selling pasta, French selling baby potatoes, Germans selling their famous sausages.
• Visit the Lion of Lucerne Monument
There are many things to do in Lucerne in one day, but if I were to recommend only one it would be visiting the Lion of Lucerne Monument. It is the one attraction most likely to capture your heart.
Set in a park near the city center, this 20-ft lion sculpture carved in a cliff is a monument dedicated to the Swiss mercenary soldiers who died during the French Revolution.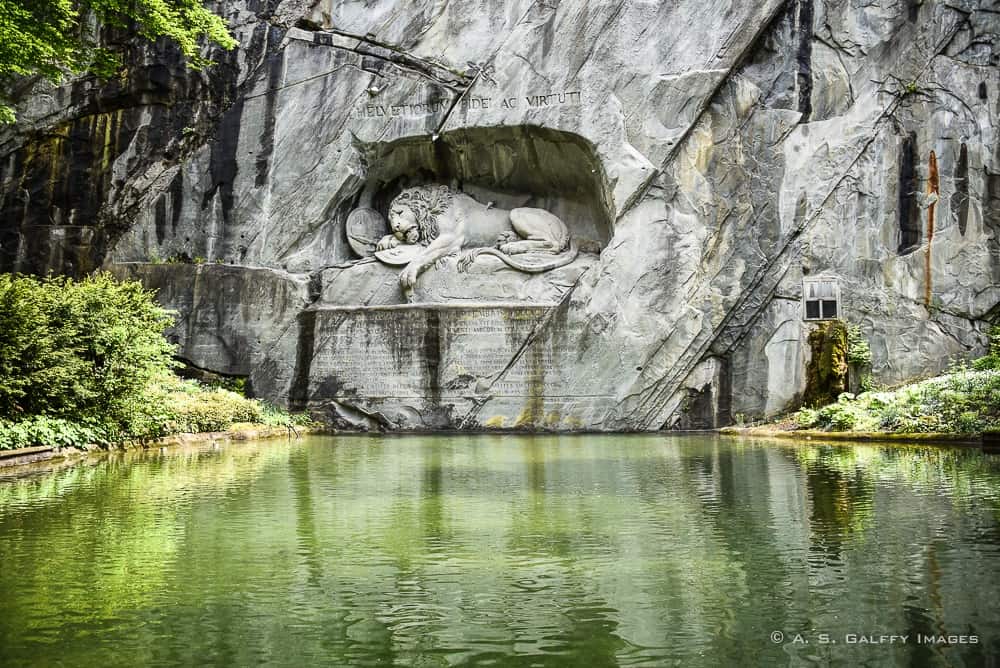 The dying lion is portrayed pierced by a spear. His head is bowed and his paw is covering a shield bearing the fleur-de-lis (the symbol of the French monarchy); beside him there is another shield bearing the coat of arms of Switzerland.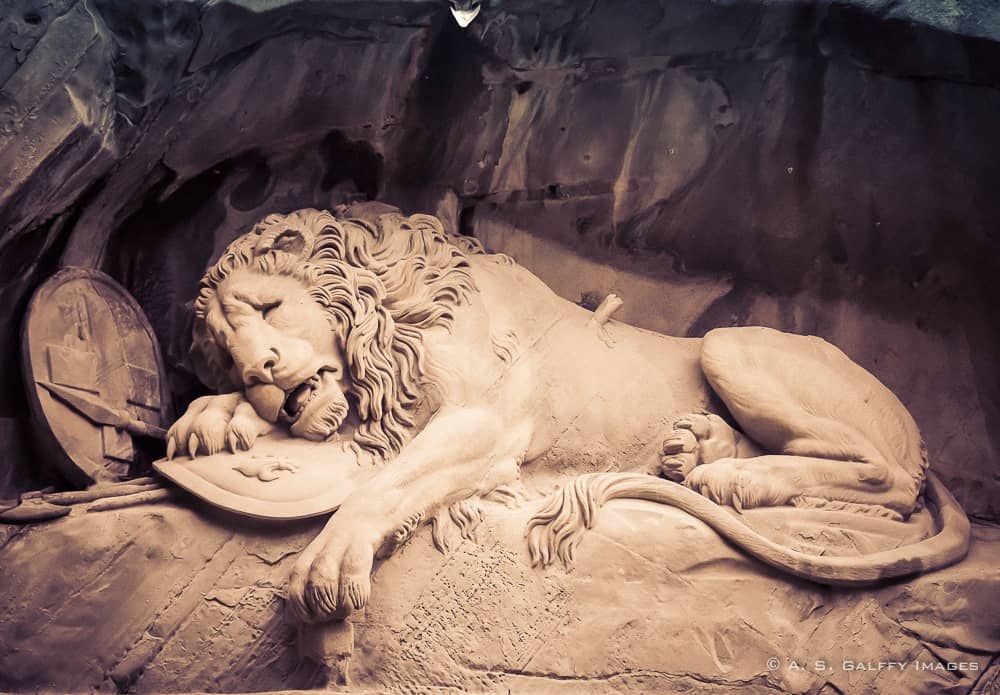 There is so much sadness in the lion's expression that it makes your heart break. It's rare that I get this feeling in front of a sculpture! The monument is sheltered from the hustle and bustle of the street by a green alcove of tall trees. The vertical rock where the sculpture lies has a pond at the base and is surrounded green grass.
• Go Shopping in the Old Town
When you think of Switzerland, you will invariably think of watches, army knives, and of course, chocolates. We couldn't leave Lucerne without buying all these. But there is so much more to buy in this beautiful town than just watches and chocolate. If you want to buy some authentic souvenirs from Switzerland, Lucerne Old Town is the best place to go.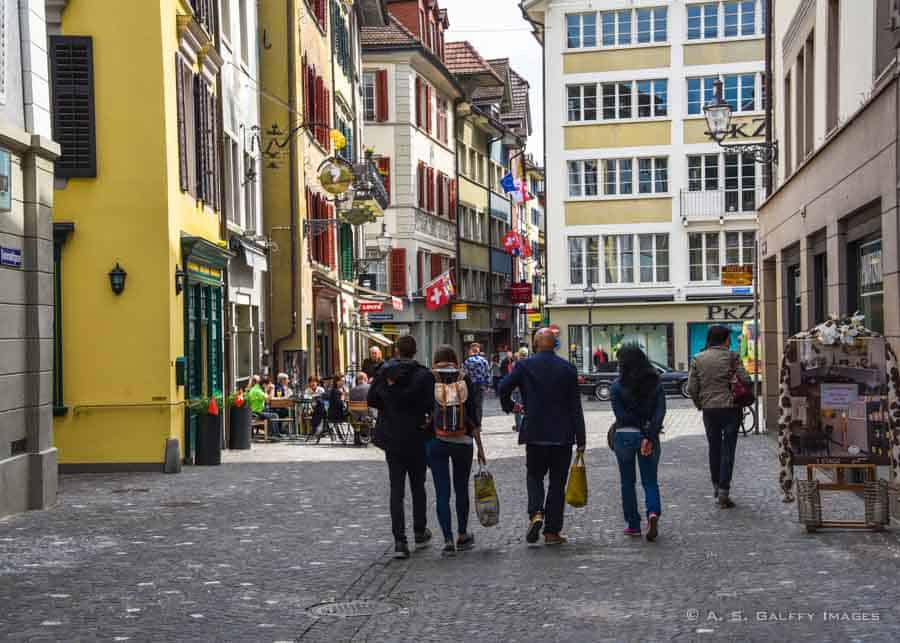 The Old Town area is full of souvenir shops and other stores, but if you have time to venture beyond this tourist area, you can find some really nice things to by.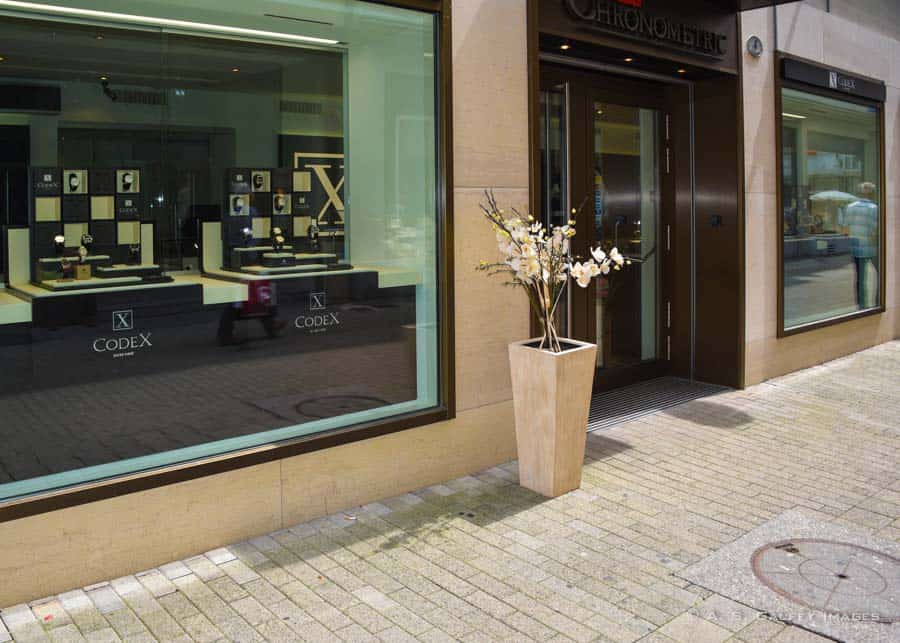 Even if you only have a day in Lucerne, I would still advice you to go shopping for some souvenirs. There is a wide variety of stores that I did not find in any of the other small towns we visited later on this trip. I wish we had more time for shopping in Lucerne.
• Take a Boat Trip on Lake Lucerne
If the weather is beautiful, don't miss taking a boat trip on Lake Lucerne on one of the paddle steamers. You'll be fascinated by the scenery, the and the historical places dotted along the shoreline.
Your Swiss Pass is valid on the entire lake for all regularly scheduled cruises. Or you can just walk up to the ticket counter and buy a single ticket (First Class: CHF 57.50; Second Class: CHF 38.50).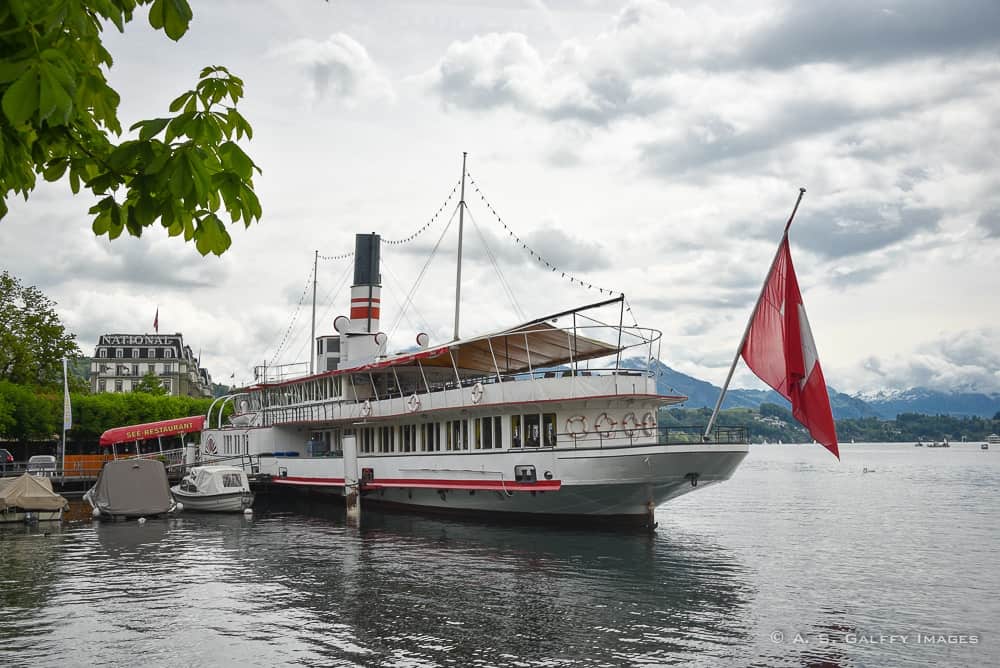 • Ride the Gondola Up to Mount Pilatus
The most popular attraction in Lucerne is a gondola ride up to Mount Pilatus. Visiting Lucerne's landmark mountain is worth if you only have one day in the city.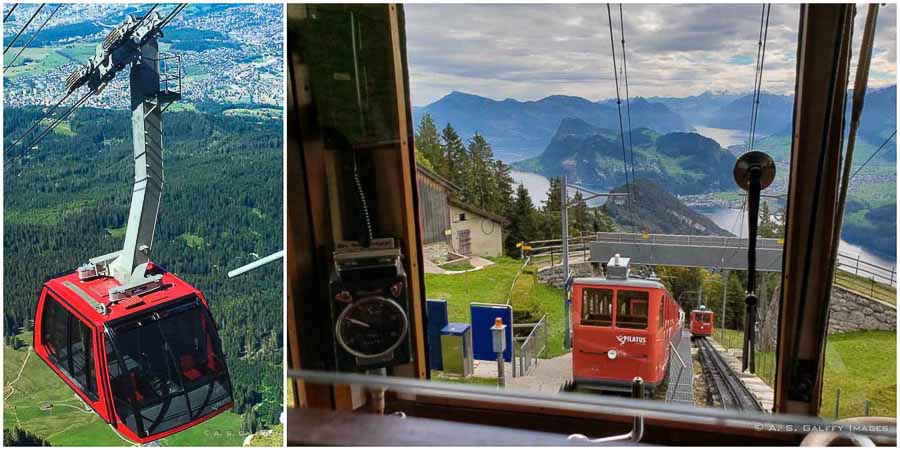 The gondola ride that takes about 30 minutes will take you over a pre-Alpine landscape to reach Fräkmüntegg. From there, you'll transfer to the aerial cableway known as the 'Dragon Ride.' After another 5 minutes you'll arrive at 7,000 feet above sea level. The panoramic views over the lake and Alps from up here are absolutely stunning!
• Try Some Authentic Fondue
One of the best things to do in Lucerne is eat some of Fondue, a Swiss melted cheese dish served in a pot over a spirit lamp and eaten by dipping bread into it.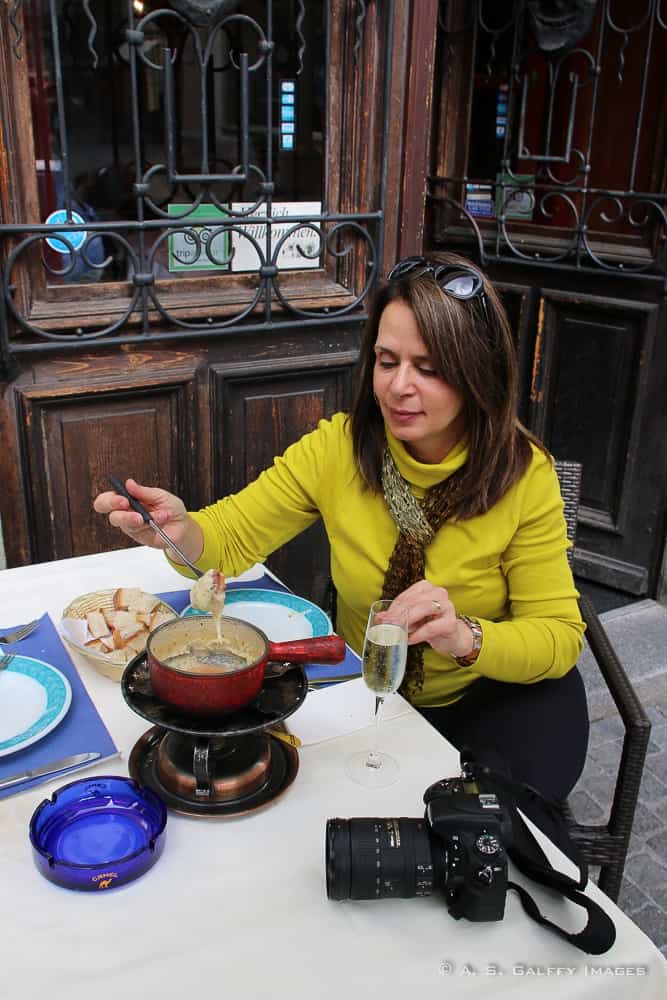 If you are a cheese lover, Lucerne is your place. The fondue I tried here was without question the best I've ever had anywhere else.
• Look for a Local Event in Town
It was the 700th anniversary of the Firefighters' Brigade in Lucerne when we arrived. The brigade had some spectacular rescue and firefighting demonstrations prepared to keep the young and old entertained.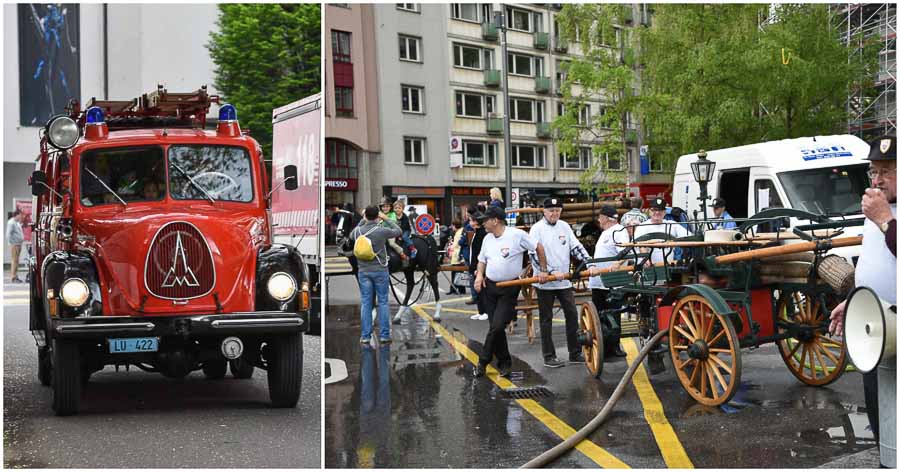 There were fire trucks everywhere in town, from old-fashioned pulled by horses ones to very modern ones. Kids and adults were equally having fun.
Best Time to Visit Lucerne
Lucerne is pretty much a year round destination, so deciding when to visit depends a lot on your interests. Winters are cold, but also a paradise for those interested in winter sports.
Summer brings more stable weather, longer days and sunny skies, so you can spend a lot of time outside. As a result, Switzerland sees a lot of tourists at this time of year, which also drives up hotel prices.
We visited Lucerne in May, witch is actually the shoulder season in Europe. The weather was perfectly sunny, not only in Lucerne but also in Interlaken, and even in Zermatt. However, that was simply lucky because usually in spring and fall Switzerland gets a lot of rainfall.
Where to Stay in Lucerne
Lucerne is compact and easy to navigate city. Everything is within walking distance, which is ideal for visitors. However, if you only have one day in Lucerne, my advice is to stay in the city center. The area is extremely clean, like everywhere else in Switzerland. Accommodations in this area are less expensive than in the Old Town.
We arrived in Lucern by train from Zurich and descended right in the middle of the city center. Coming out of the train station, we emerged right away onto the main street, just a couple of streets away from the waterfront.
We stayed into Cascada Boutique Hotel which was within walking distance from the train station and also very close to the Chapel Bridge. There are however numerous other properties to choose from, depending on your budget.
Pin this for later: