Zermatt, the tiny little village at the foot of the Matterhorn, doesn't need an introduction. There are not many ski resorts in the world that enjoy its reputation. And yet, the town doesn't owe his fame entirely to skiing, as there are so many other things to do in Zermatt besides that.
As the train was rushing towards Zermatt passing through the beautiful Matter Valley, my mind was swirling with anticipation. I had been fantasizing about this charming village ever since we had began our train travel in Switzerland. I couldn't wait to see if my high expectations of Zermatt were justified.
Getting Around in Zermatt
Zermatt is a car-free village, which is not very unusual in Europe. Private cars can only drive as far as Täsch. The last 7 km you can only travel by train or by taxi.
If you never experienced a car-free town, Zermatt could be a bit of a surprise. All vehicles in town are electric and almost completely silent. For me this was a bit scary because I could never hear them coming. Cars always snuck up on me! So beware, visitors! Taxi drivers in Zermatt assume that pedestrians have eyes in the backs of their heads.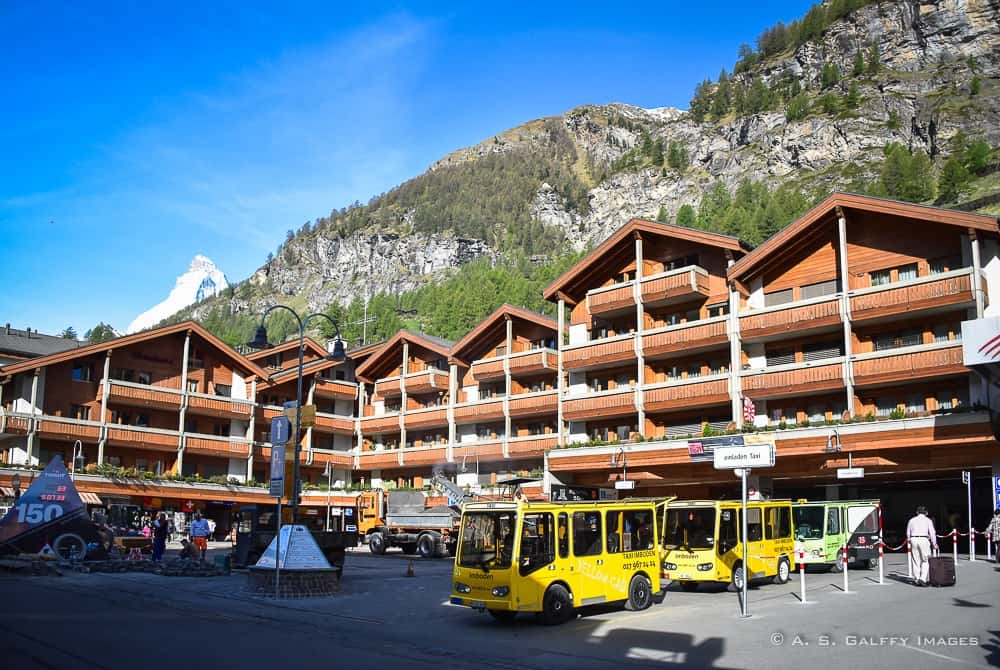 The village is relatively small, with only 5 or 6 streets, so you can walk almost anywhere. As you exit from the train platform area, there are electric cabs waiting in front of the station. However, many hotels have porters who will meet you at the station with a small electric car and will take you to the hotel.
Things to Do in Zermatt
•

Hiking, cycling or mountain biking
Zermatt is an outdoor lover's paradise! Not surprisingly, skiing is the number one attraction in Zermatt. Especially since you can ski here almost year-round. But in addition to skiing, Zermatt is also great for hiking, cycling, and mountain biking. Gorgeous mountains, crystal clear lakes (with the Matterhorn reflected in three of them), and views that can't be beaten!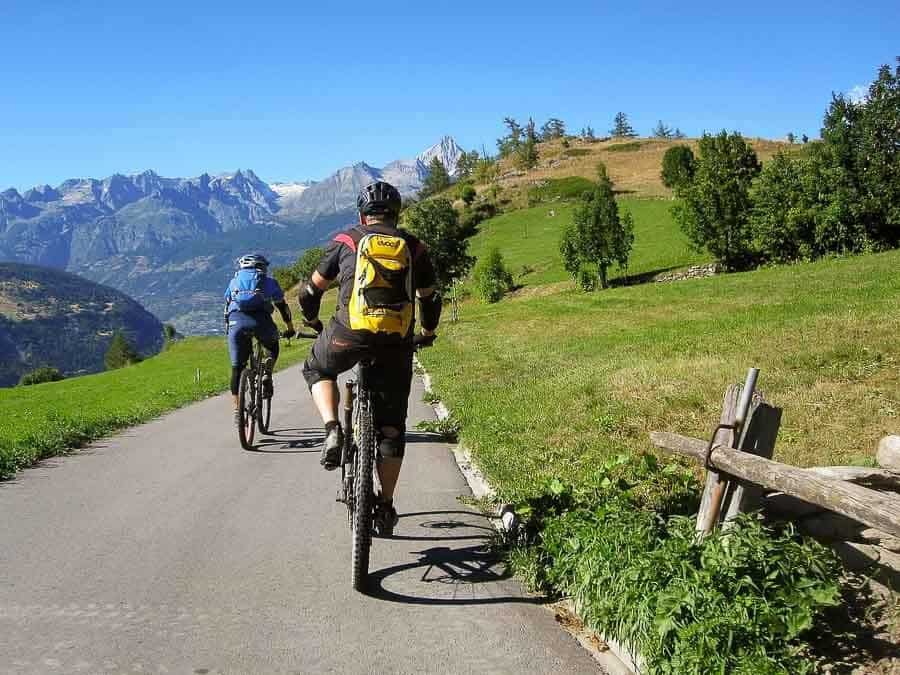 There are hundreds of trails and biking routes to choose from. And if you want to mountain bike, bikes may be carried on most of the ski lifts that are open in the summer.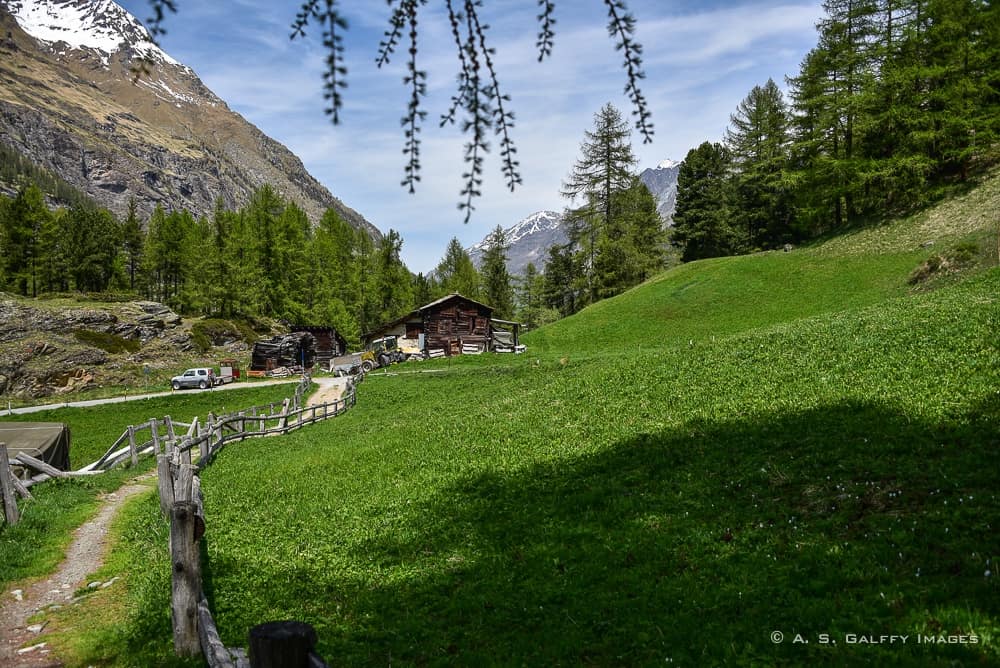 • Take a Trip Up to the Gornergrat
One of the most exciting things to do in Zermatt is taking a train trip up to the Gornergrat. Sitting at an altitude of 3,089 m, the Gornergrat is a rocky ridge of the Pennine Alps overlooking the Gorner Glacier, just south of Zermatt.
From the sunny viewing platform of the Gornergrat you can enjoy one of the best panoramas in the Swiss Alps. And what's great is that this platform is accessible year-round. To get there you have to take the Gornergrat Bahn, Europe's highest open-air cog railway that has been running since 1898.
The trip is an experience in itself. Every second of the 33 minutes ride is an unforgettable pleasure, with dazzling views of 29 mountain peaks, from the Matterhorn to the Monte Rosa.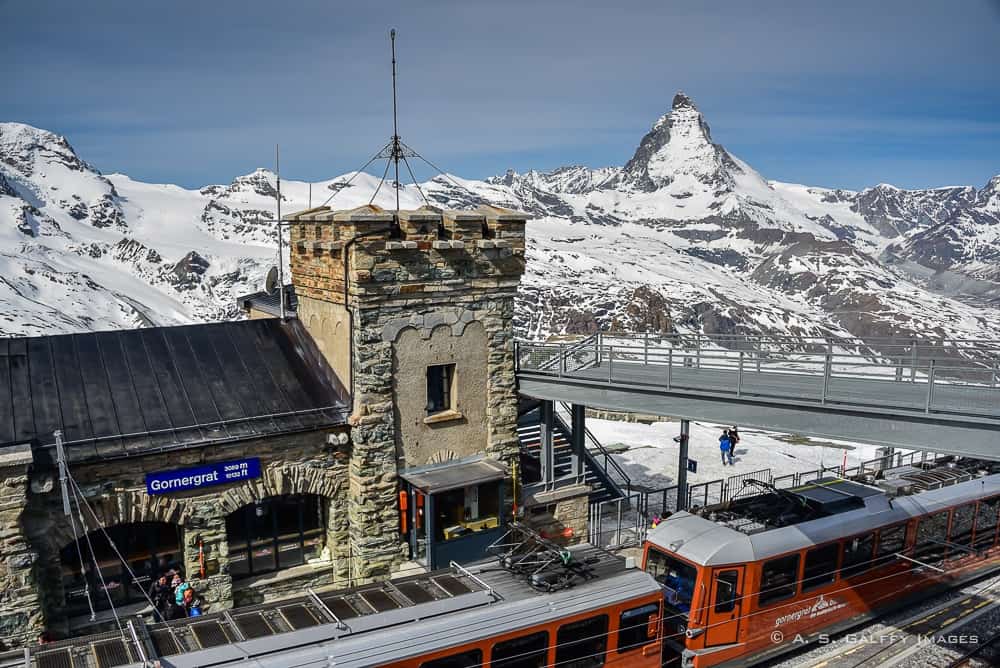 • Visit St. Mauritius Church
The story of St. Mauritius church is rather awkward. The church that you see today actually replaced an old church dating back to 1587. Initially the people of Zermatt did not want a new church at all, but eventually the community voted for an ambitious new project.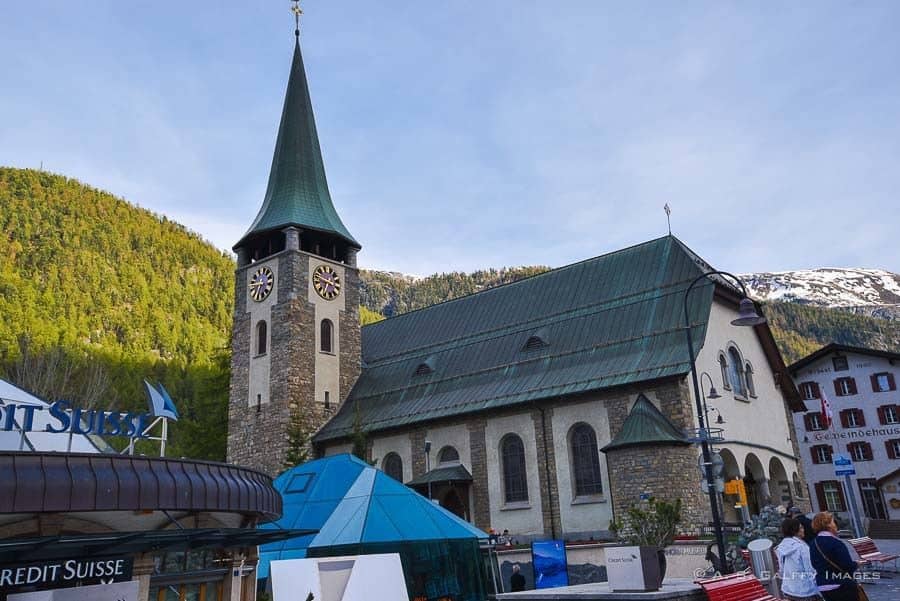 When World War I started, the construction stalled and it wasn't until 1932 that it was finally completed. Over the years, the church went through many repairs and transformations, so the mural paintings and the ceiling are more modern. Because if its good acoustics, St. Mauritius is a regular venue for the classical concerts of the annual Zermatt Festival which takes place each September.
• Visit the Mountaineers' Cemetery
After seeing the dreadful Matterhorn, most visitors of Zermatt feel compelled to visit the Mountaineers' Cemetery, a sad reminder of the many lives lost in the mountains around Zermatt. The only exception is the grave of Peter and Peter Taugwalder (father and son), that commemorates the two climbers from the first ascent of the Matterhorn, who actually died of natural causes.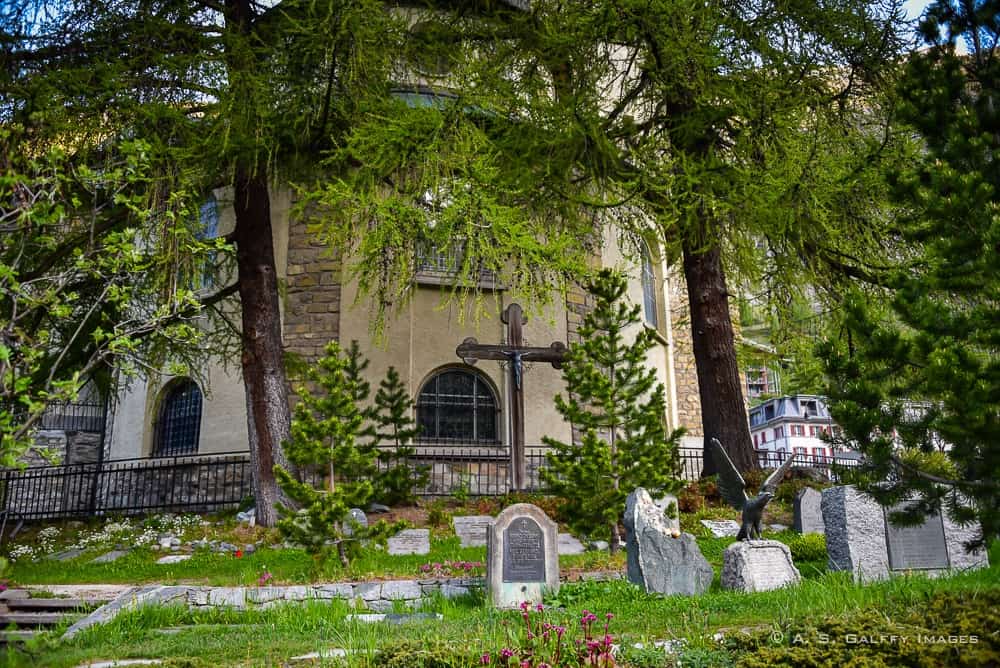 Located in the yard of St. Mauritius Church, the cemetery is comprised of 50 graves dating from the 19th century and early-20th century. Some of the tombstones reveal the causes of accidents (an avalanche, a rockfall). Most of these deaths occurred on the way down the mountain.
It's surprising to see graves of men and women from all over the world, not only Switzerland. One of the headstones is that of a 17-year old American from New York who died in 1975 on the Breithorn. His epitaph reads: "I chose to climb." The stone is adorned by his red ice axe along with the US flag.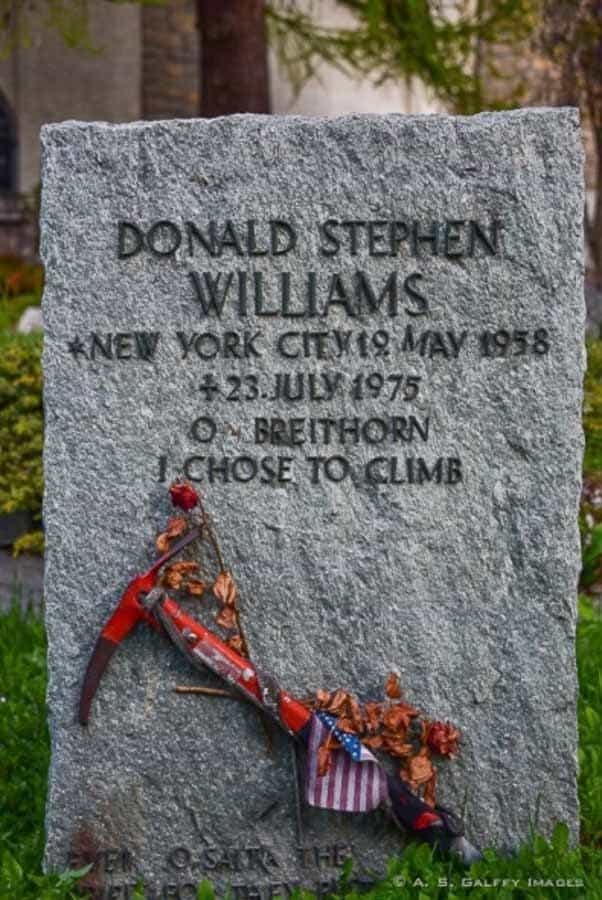 Visiting the cemetery is a sad a humbling experience that may help you understand Zermatt a little better.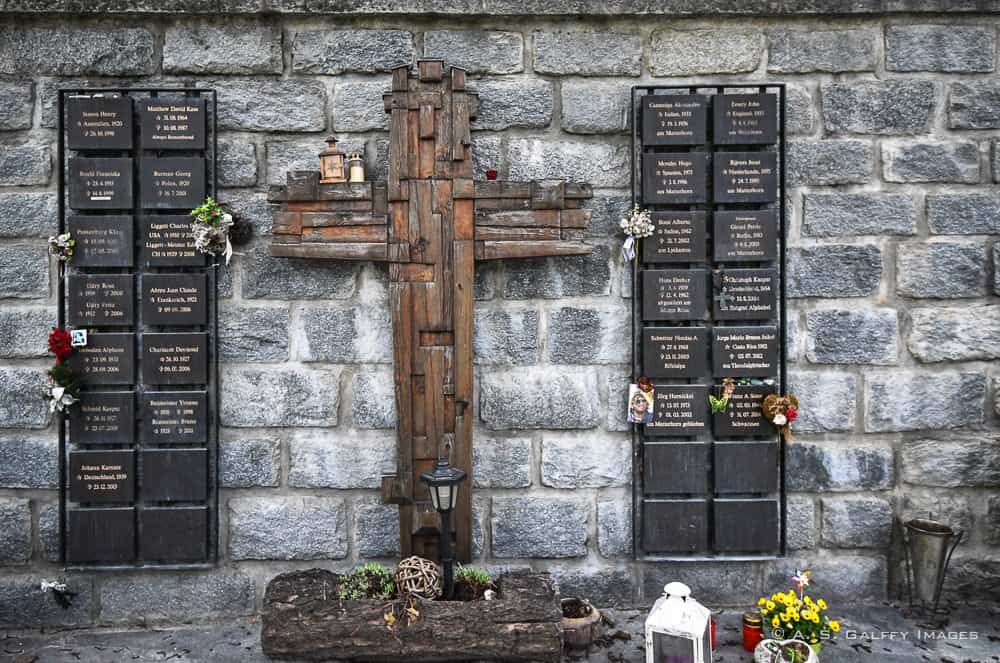 Across the street from the Mountaineers' Cemetery, in the locals' cemetery, there is another memorial dedicated to the accident victims in recent years.
• Shop on Bahnhofstrasse
Shopping may not be on your list of things to do in Zermatt, but the abundance of appealing stores on Bahnhofstrasse will take you by storm. This place is a world-class shopping temptation pretty hard to resist! From watches and fine jewelry, fancy clothing and sports equipment, to chocolate, cheese and souvenir shops, you will find almost anything.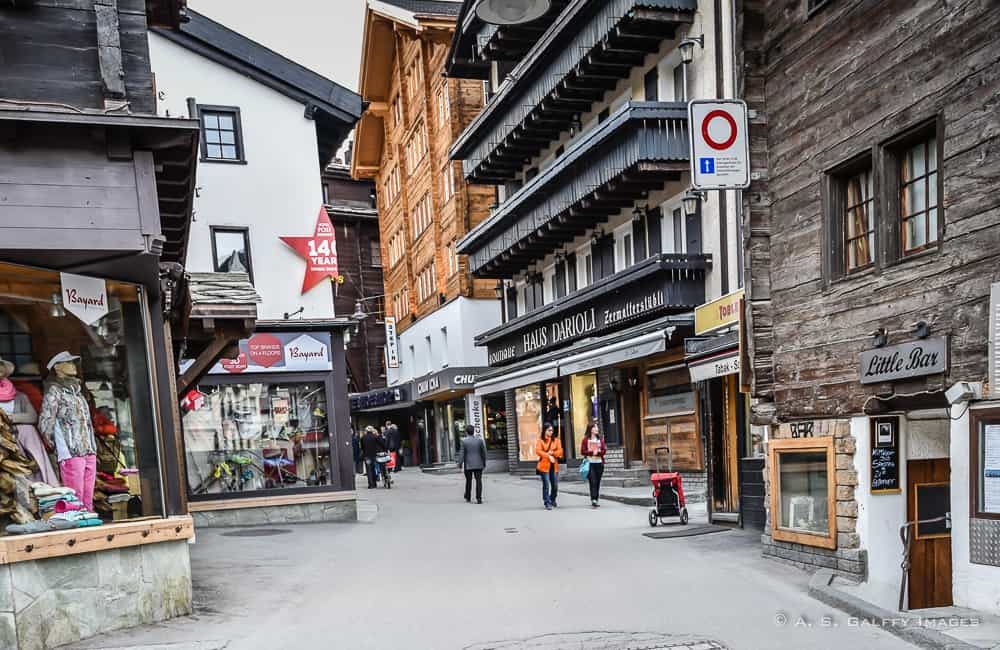 The sports jacket I bought in Zermatt, still turns heads today wherever I go. The quality of Swiss merchandise is very obvious in almost everything they sell.
READ NEXT: 10 Days in Switzerland – The Perfect Scenic Train Itinerary
Where to Eat in Zermatt
There are over 100 restaurants to choose from in Zermatt. And that is in addition to the mountain restaurants, the bars and the nightclubs! They serve a wide range of food, from traditional Swiss, to Chinese, Japanese, and Thai.
Most of the restaurants in Zermatt are located on the main street. Also, almost every hotel has a restaurant that is open to the public, and some of them are exceptionally good!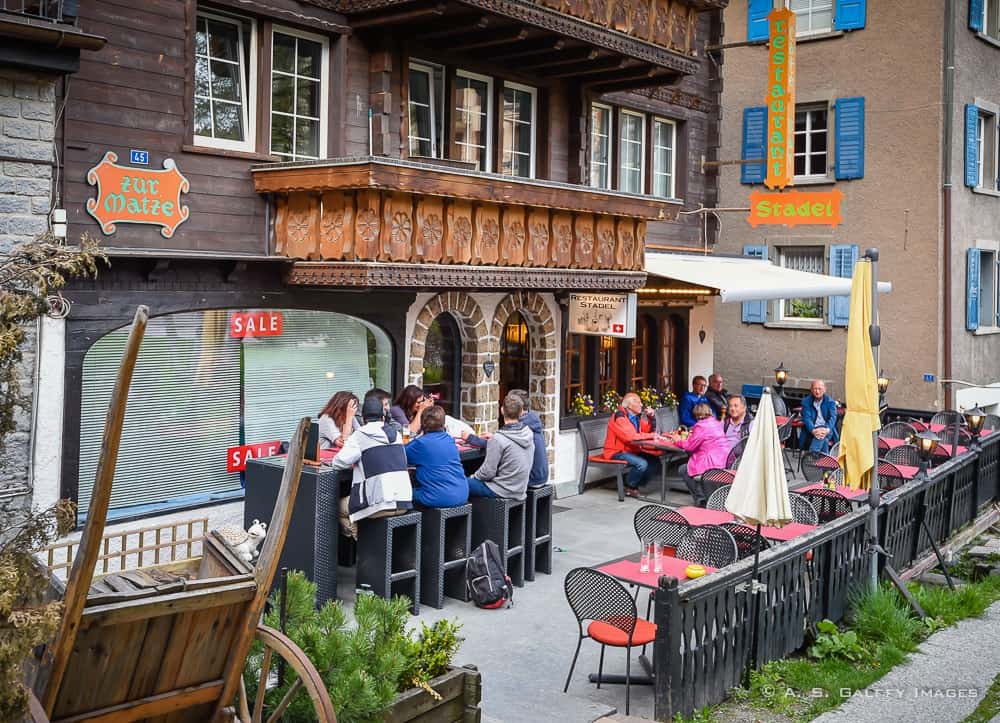 We checked out some of them, but we were after those serving traditional Swiss specialties. Of of these, there are two that stood out. One of them is Ross-Stall Restaurant, which serves great Swiss food.
This restaurant will always remain stuck in my mind for its unique patio décor and a mouth-watering delicacies that I haven't tried anywhere else in Switzerland. They have an amazing raclette and a mouth watering lamb loin, ternder and perfectly cooked in butter. But don't try that if you care for your waistline!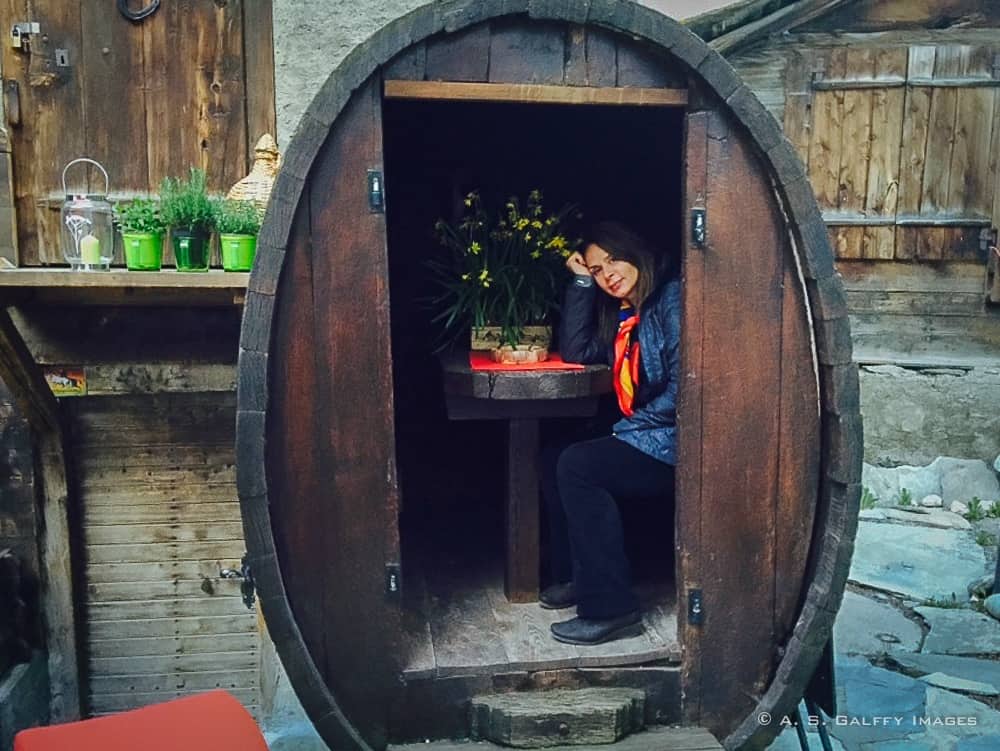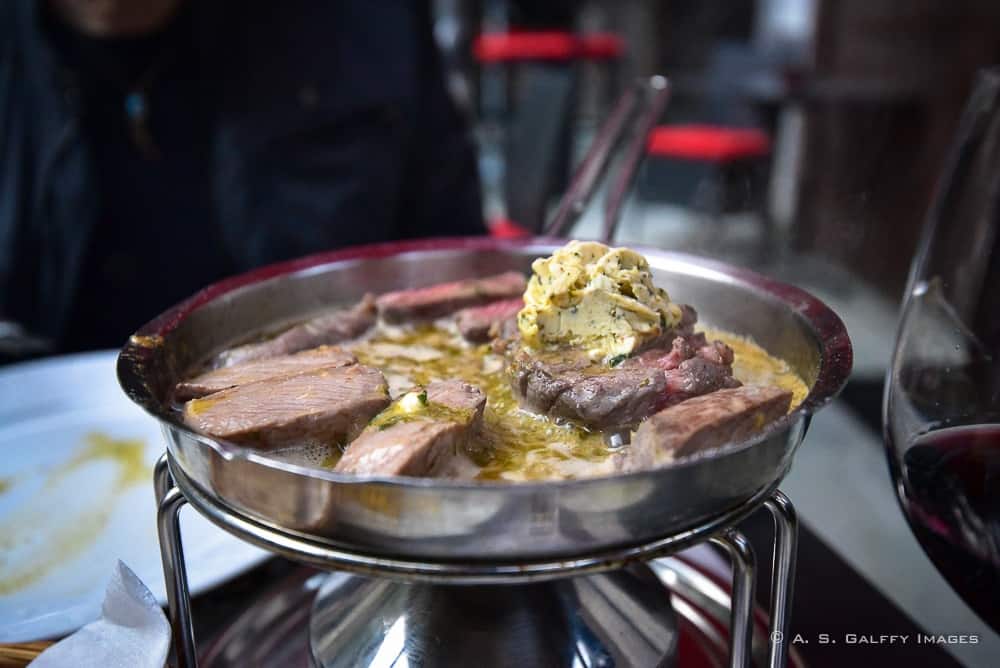 The other one, the tiny and wonderful Schaeferstube Restaurant located downstairs inside Hotel Julen, where we have been invited by Amadé Perrig, the former president of Zermatt Tourist Board. We were enchanted by the dishes we tried, mostly Swiss-style, with venison and lamb featured prominently. The lamb comes from the adjacent ranch, where the owner raises the lambs.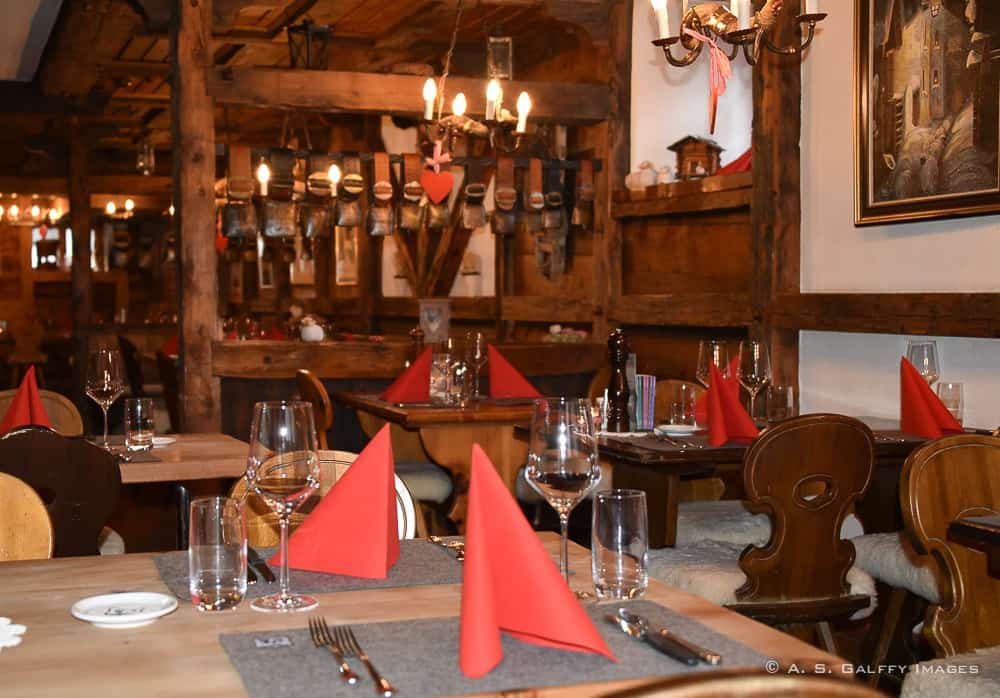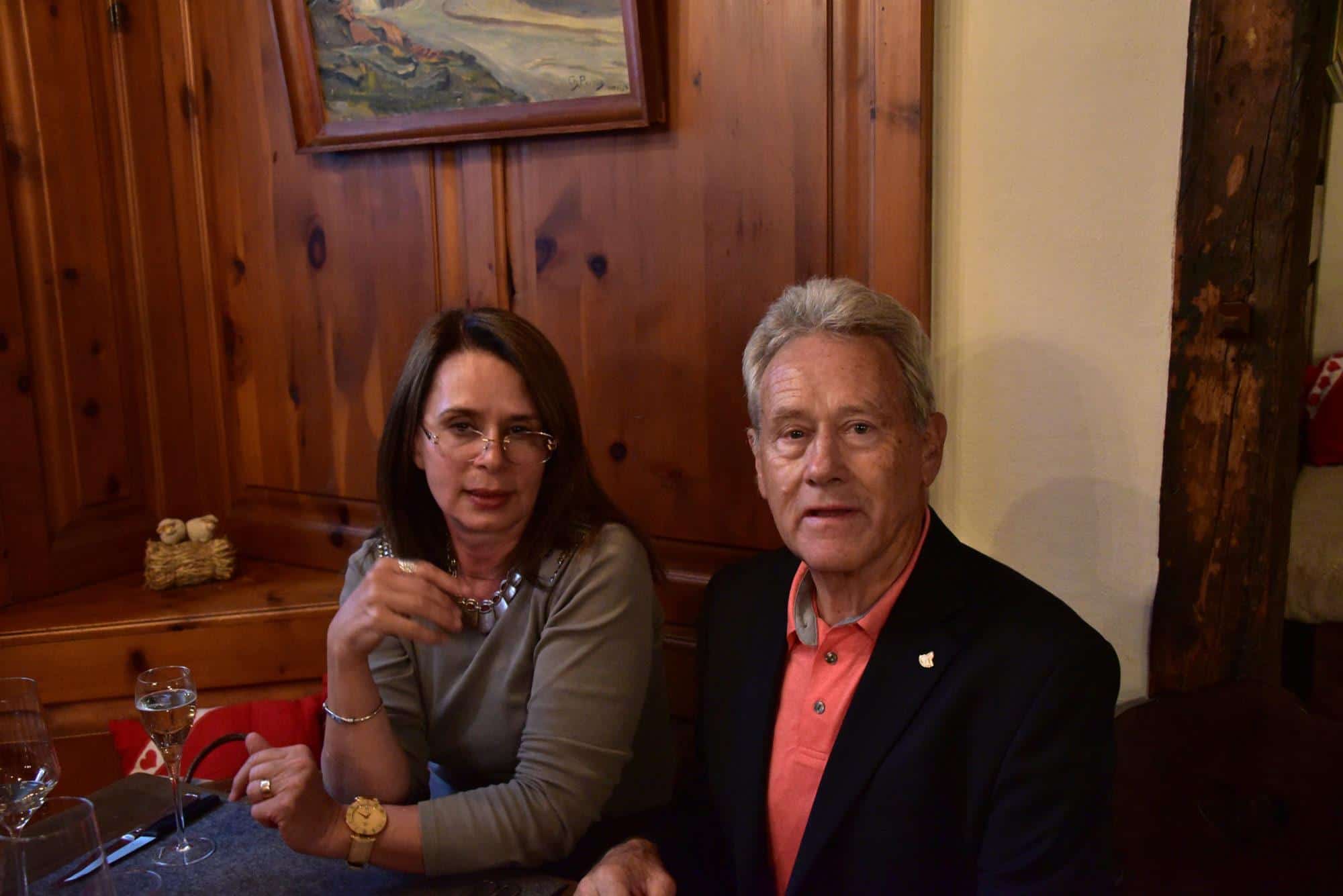 What Not to Miss in Zermatt
The canton of Valais is home to two very unique breeds of domestic animals that I haven't seen anywhere else. One is the Blackneck goat and the other is Blacknose sheep. So if you are ever in Zermatt, try to look for these cute and unusual breeds on the hills around town.
The Valais Blackneck goats (also called glacier goats) have a very distinctive coloring: black from the nose to behind the shoulder and white from there to the tail.
Because they don't produce much milk, back in the 60s the breeders stopped breeding them so they were almost extinct. But today, due to their growing popularity among the visitors of the area, these goats are once again produced in Switzerland.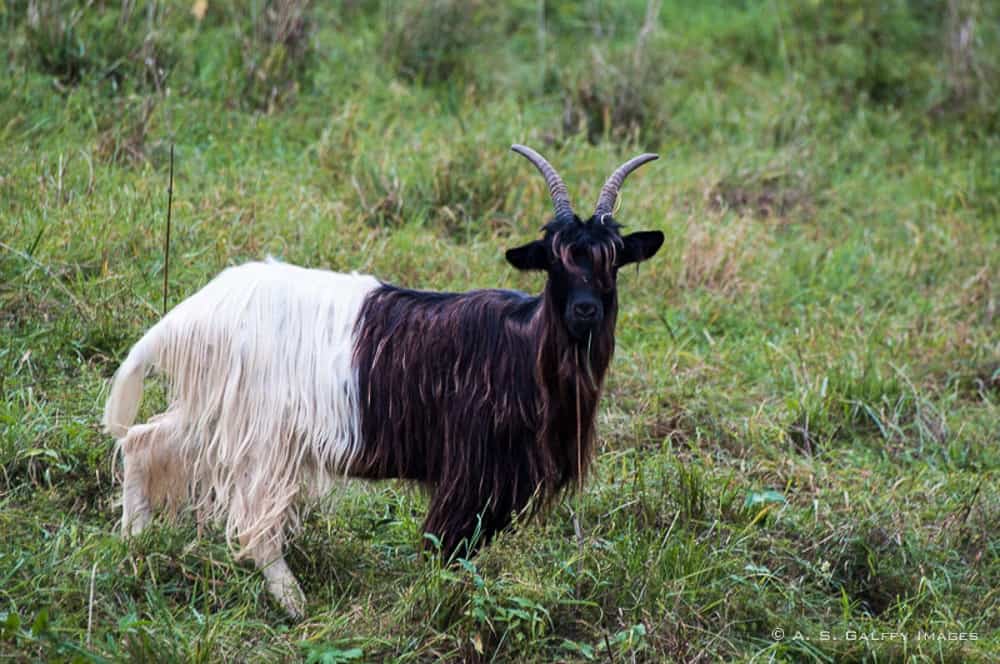 The Valais Blacknose sheep are raised for meat and wool. Their characteristic are the black patches on their nose, eyes, ears, knees, hocks and feet. They have a very light, wooly coat that makes them look extremely cute and are good at grazing on steep, rocky slopes.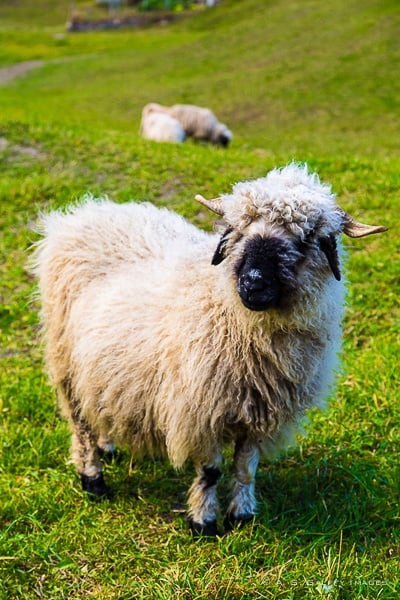 Where to Stay in Zermatt
Zermatt is considered a very expensive destination. It's probably not more expensive than other places in Switzerland, or other fancy ski resorts around the world. Hotel rooms cost anywhere from $300 to a staggering $2100 per night at five star properties in high season. It's difficult to find any lodging below $200/night, even if you go off season.
More than half of Zermatt's hotels are clustered around the main street, Bahnhofstrasse, that extends south from the train station for about half a mile. There is also another batch of hotels beyond the river and the some others in the outskirts of the town.
Most of Zermatt's hotels are family-run and are particularly clean and well appointed. You must be very unlucky to hit one of the less agreeable accommodations.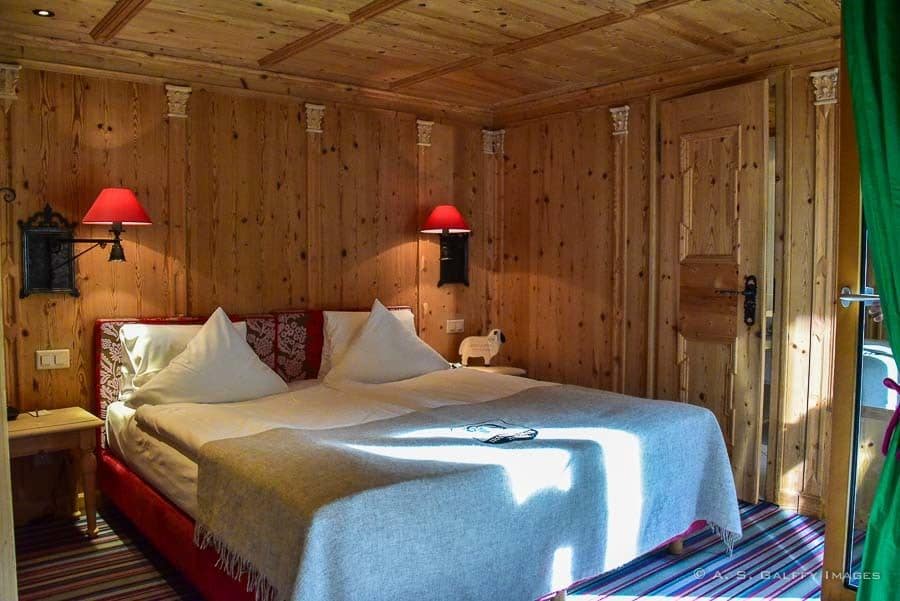 We have been the guests of Romantik Hotel Julen, one of the old, traditional hotels in Zermatt located across the river just off the main street. The hotel has great ambiance, with authentic Swiss furniture and two superb restaurants. Our room had a beautiful balcony with view of the Matterhorn, which was a big plus.
If you are looking for more popular places to visit in Switzerland, read this post about how to spend one day in Zurich.
Pin it for later: