Stockholm is a great escape for the urban traveler. By virtue of its location on the shores of Lake Mälaren, Stockholm is considered one of the most beautiful European capitals. If you plan to visit it in the future, here are some things to know before you visit Stockholm.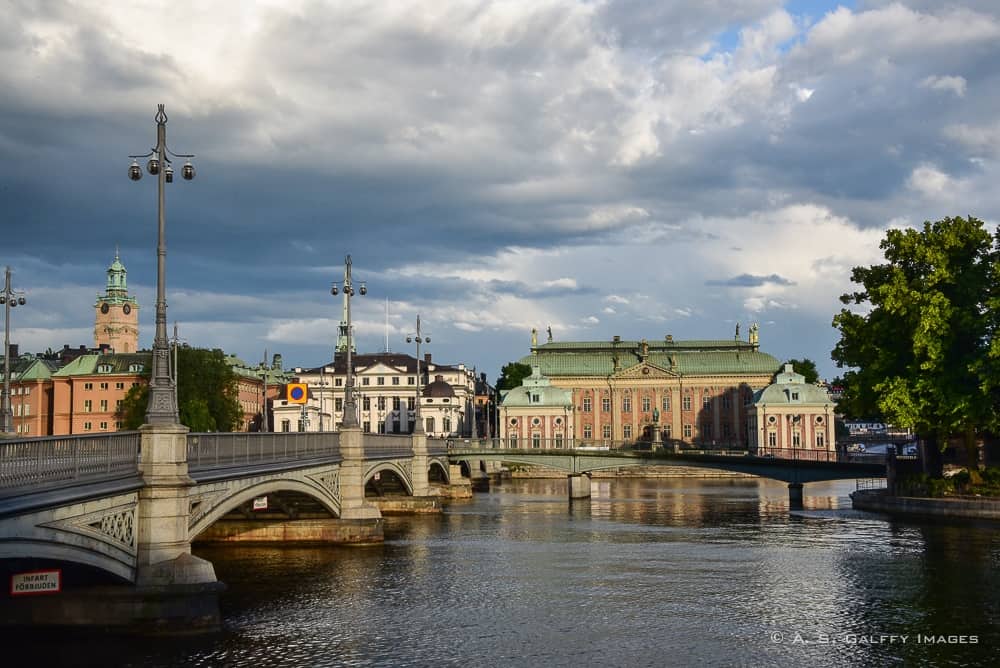 What to expect when you visit Stockholm
Stockholm First Impressions
Stockholm is beautiful, clean, and easy to explore. It's stylish and sophisticated with impressive buildings, grand boulevards, charming alleyways and relaxing green spaces. Spread across a whole chain of islands, the Swedish capital is virtually located on the water. So no matter where you go, you will enjoy great water views and cross a lot of bridges.
Architecturally wise, Stockholm is a mixture of traditional Neoclassic and modern architecture that seems to blend seamlessly in most parts of the city.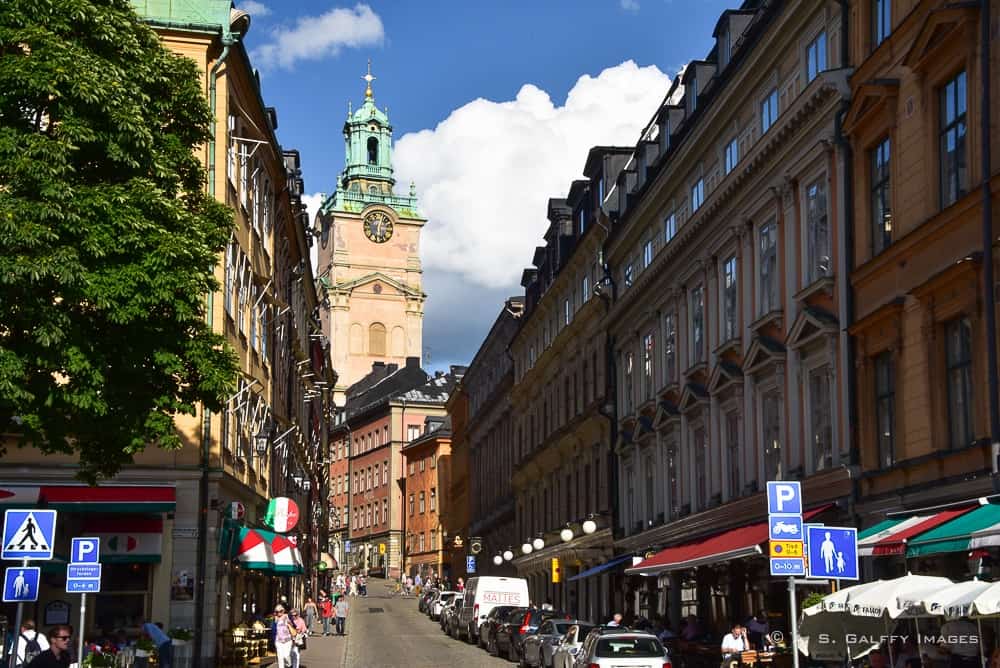 Stockholm is an unusual city. Despite being spread across 14 islands, Stockholm seems pretty well-connected and easy to explore. Due to the 57 bridges that connect the islands you don't feel that Stockholm is in fact an archipelago.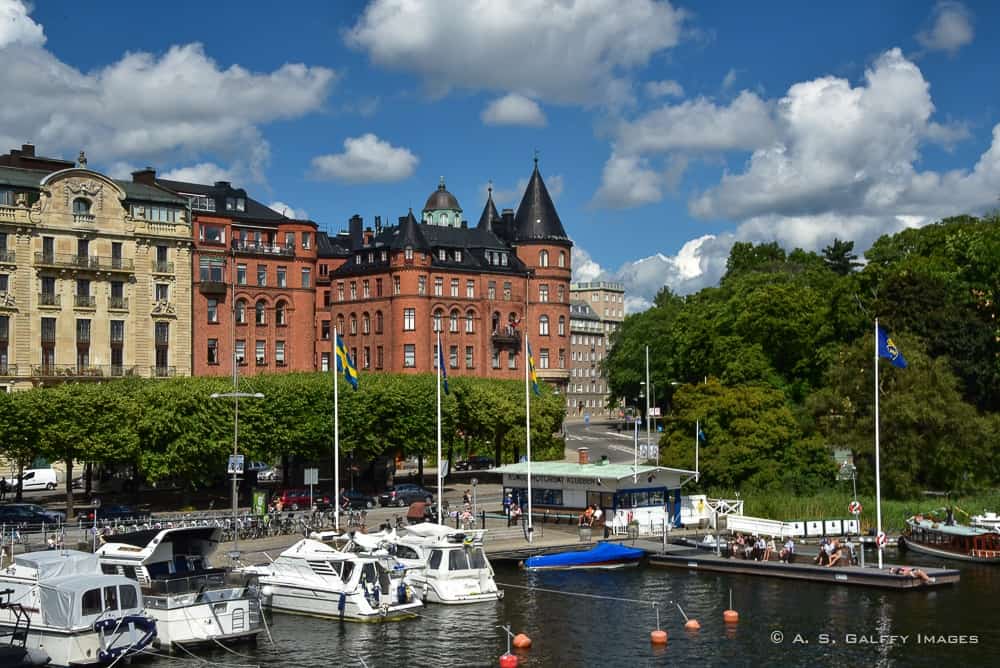 Stockholm Card – Getting Around in Stockholm
Stockholm is incredibly clean and well organized. You can roam the area at will by bus, subway, ferry, or train. Transportation however is not cheap, so your best bet is the Stockholm Card that gives you free access almost everywhere in the county and entrances to most museums.
The best way to get to the city center from the Arlanda International Airport is the Arlanda Express. The speed train that travels at a speed of 200 km/hour is clean, carpeted and has comfortable seats and roomy luggage areas. The trip takes merely 20 minutes to the Central Station. Armanda Express has big sales quite often. It's good to check the prices before you go and reserve the tickets on the Internet.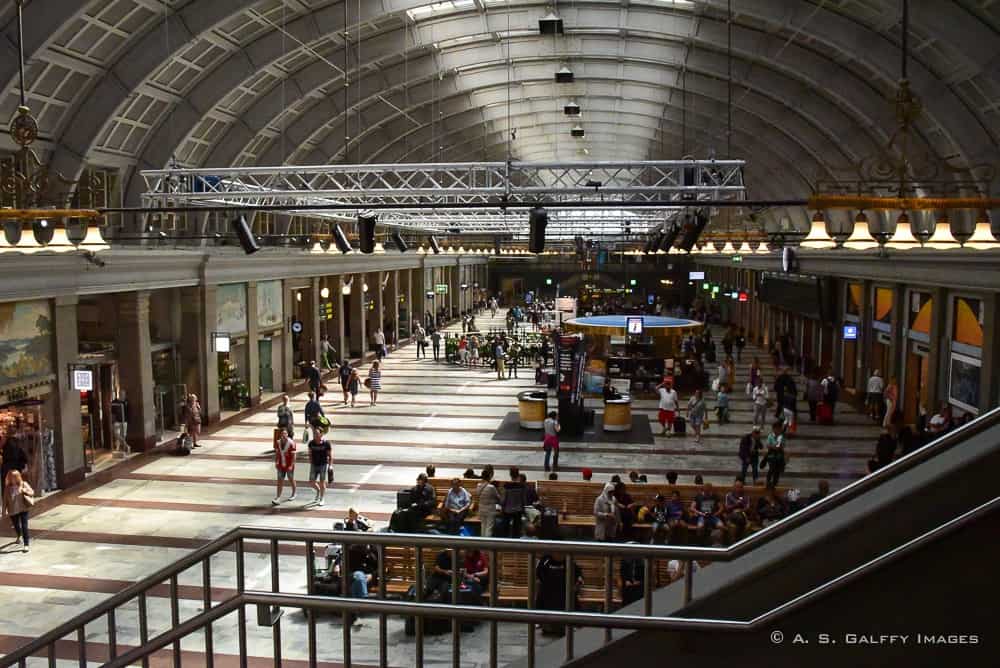 Credit Cards in Stockholm
Another good surprise was that you can use your credit card almost everywhere in Stockholm, even for very small purchases. You can actually get by without exchanging any Swedish Krona, which is very convenient. We didn't know that, so we came prepared with a few hundred Swedish Krona, but didn't have to exchange any more money after we spent our cash.
Best time to visit Stockholm
Summers are beautiful in Stockholm, not too cold, not too hot and with enough hours of light to allow you do anything you want. Sleeping is however difficult, since the light of dawn breaks at 4 am. June to August is typically the best time to visit the Swedish capital. While most European cities melt in the summer sun, Stockholm thrives during this time of year.
The Weather in Stockholm
The weather in Stockholm however changes unbelievably fast. The first thing you'll discover here is that forecasts are totally useless. It may be sunny and warm in the morning, then turn cold and windy in the afternoon. Or you may wake up to a gloomy rainy day that will become a spectacular sunny evening with clear blue skies sprinkled with fluffy white clouds.
When you visit Stockholm you should be prepared to put on and take off your clothes continuously. Dressing in layers is the best idea.
How much time should you spend in Stockholm?
This city has an impressive array of museums, parks, art galleries and great restaurants. If this is your first time in Stockholm, you should spend at least a week in Stockholm if you want to get a sense of the city and visit some of its main attractions.
By virtue of its location, Stockholm makes it very easy to venture outside the city limits for some nice day trips or weekend getaways in the beautiful Stockholm Archipelago.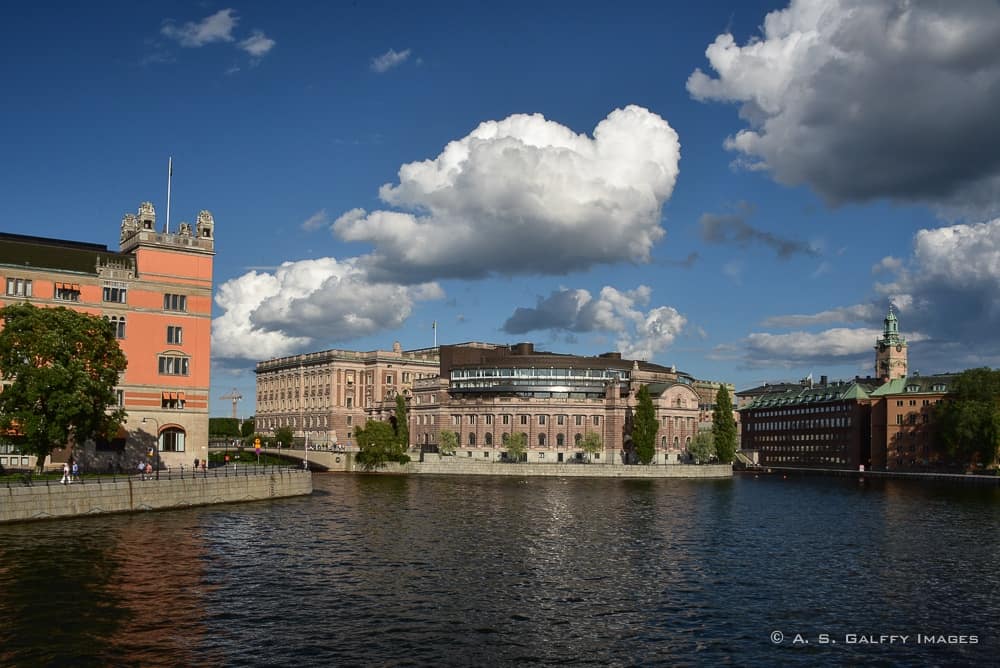 With so many attractions and cool places to explore, you can be sure you won't run out of things to do in Stockholm even if you have two weeks. You will probably need at least 3 days to cover most of the city's attractions. But even if you one have one day in Stockholm you'll still be able to see a lot.
They Speak Great English in Stockholm
My greatest surprise when I started visiting Stockholm was that everyone here speaks English. Even the older generation is fluent enough in English to be able to sustain a mundane conversation. This makes getting around the city really easy and it makes you feel welcome.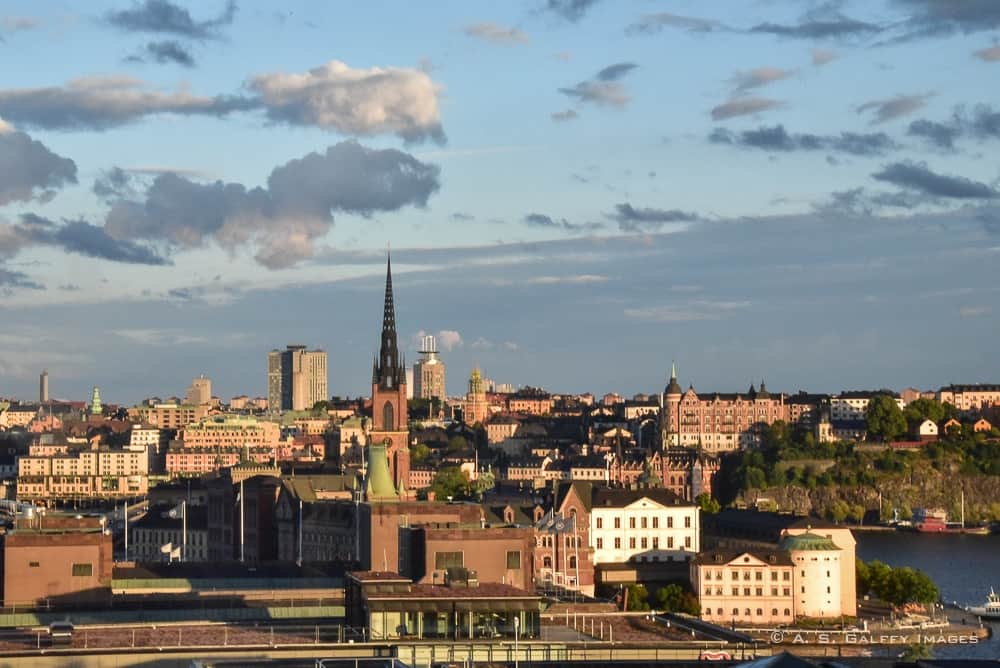 Food in Stockholm
Food in Stockholm is outstandingly good but equally expensive. Prices start at around 150–200 SEK for a main course at a restaurant, but the sky is really the limit. There are however plenty of inexpensive places to eat in Stockholm, from food halls and snack bars to decent budget restaurants.
No matter where you eat, Swedish food will not disappoint you. Starting with the hearty and diverse breakfasts that hotels serve and finishing with the elegant restaurants, there is something for every taste. You can taste everything, from traditional Swedish dishes to international extravagant delights.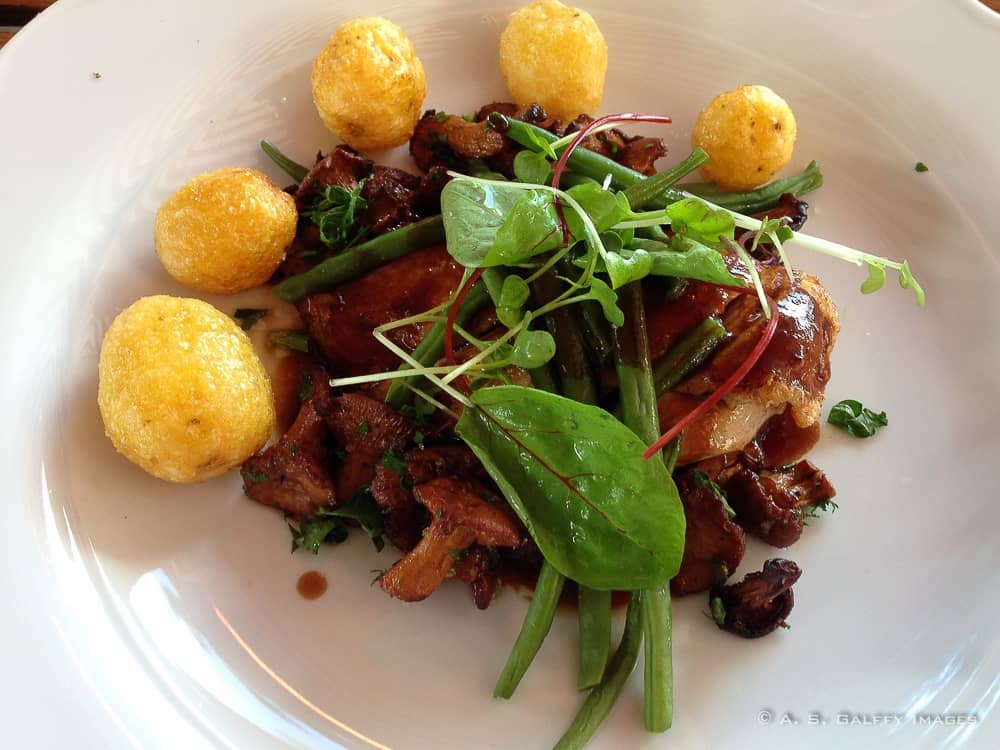 Chances are that you'll gain a few pounds during when you visit Stockholm.
Where to Stay in Stockholm
Hotels in Central Stockholm are expensive and offer a minimal level of comfort. However, it's very important to you stay close to the city center, especially if you only have one day in Stockholm. The rooms are clean but small, with barely any floor space to walk around. Nearly the entire room is taken up by the bed. There is not even enough space to put a small suitcase on the floor.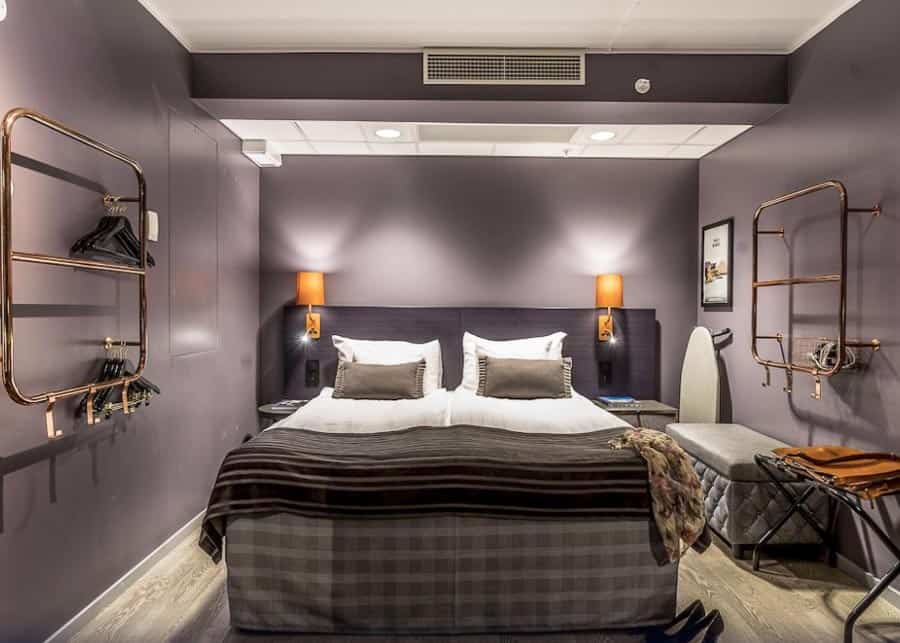 Most rooms offer a dressing mirror hanging on the wall next to a flat screen TV. There are no ironing boards, no sewing kits, no shoe polish utensils. Additional pillows and blankets are only on demand. Internet connection is not complimentary.
You can check prices here:
Furnishings are simple, with very modern lines, designed to save as much space as possible. The work desks are barely large enough to accommodate a laptop and a camera. The rest of your stuff will have to remain stored in your suitcase, as there are no dressers, or closets, or any other kind of flat surfaces around. Just a few pegs on the wall and a metal bar with hangers for your clothes.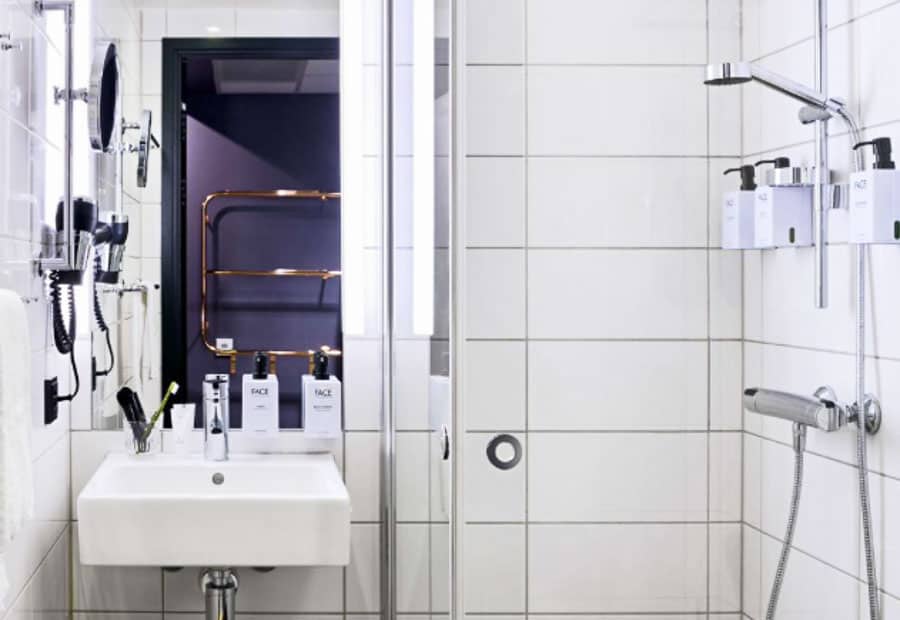 Bathrooms are equally tiny, with shower stalls that have no base, so the water leaks on the bathroom floor when you shower. We checked several 3 and 4 star hotels in the city center (in the $180-$250/night price category) and they all seemed to offer the same level of comfort. Breakfast however is complimentary and is excellent.
The People
People in Stockholm are nice and polite, but not particularly friendly. They are rather shy and reserved and will surely not return your smile. This appears even more evident when you are in an eclectic group of tourists and people get involved in conversations with other travelers. But not with the Swedes. They will just act like they are not even there. Saying 'hi' or having eye contact with a stranger, even in an elevator in the same building, is not their style. The wall, or the scenery is way more interesting!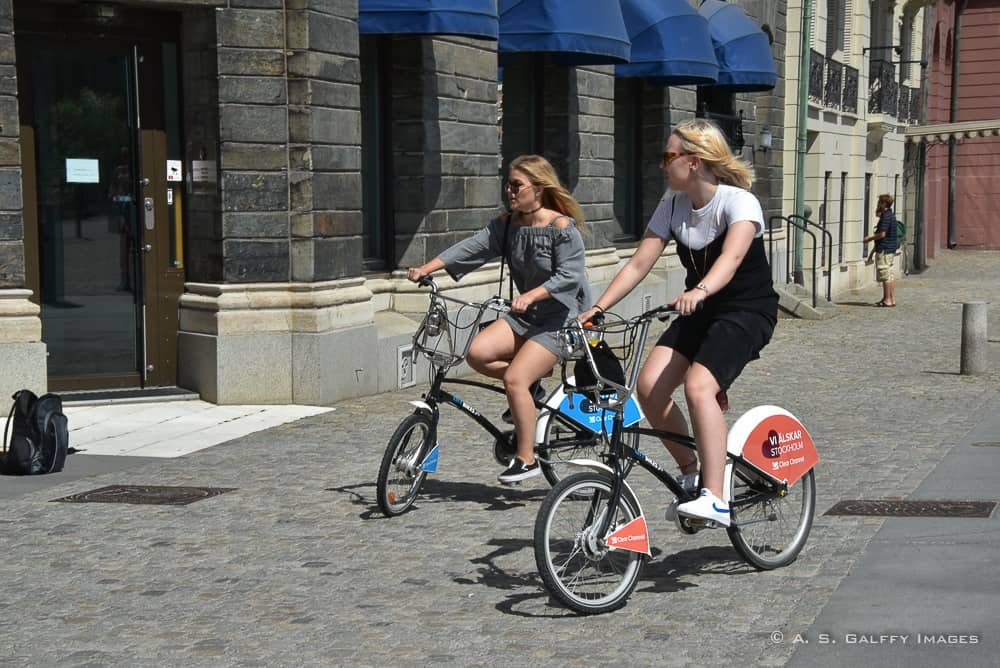 People in Stockholm love bikes and they use them in all weather conditions. What surprised me is that they leave their bikes on the sidewalks overnight without any security locks. It seems that the great majority of the population in this city owns a bike, so bike theft is not a concern. Sightseeing Stockholm on a bike is most likely the best way to get around and see the attractions.
YOU MAY ALSO LIKE: