High up above the village of Hohenschwanau, the elegant silhouette of Neuschwanstein Castle rises gracefully from the mist of the Bavarian woods. A symbol of extravagant taste and refined sophistication. The dream palace of Ludwig II of Bavaria – the so-called 'Mad King' who built it. Visiting the Neuschwanstein Castle was one of my favorite day trips from Salzburg.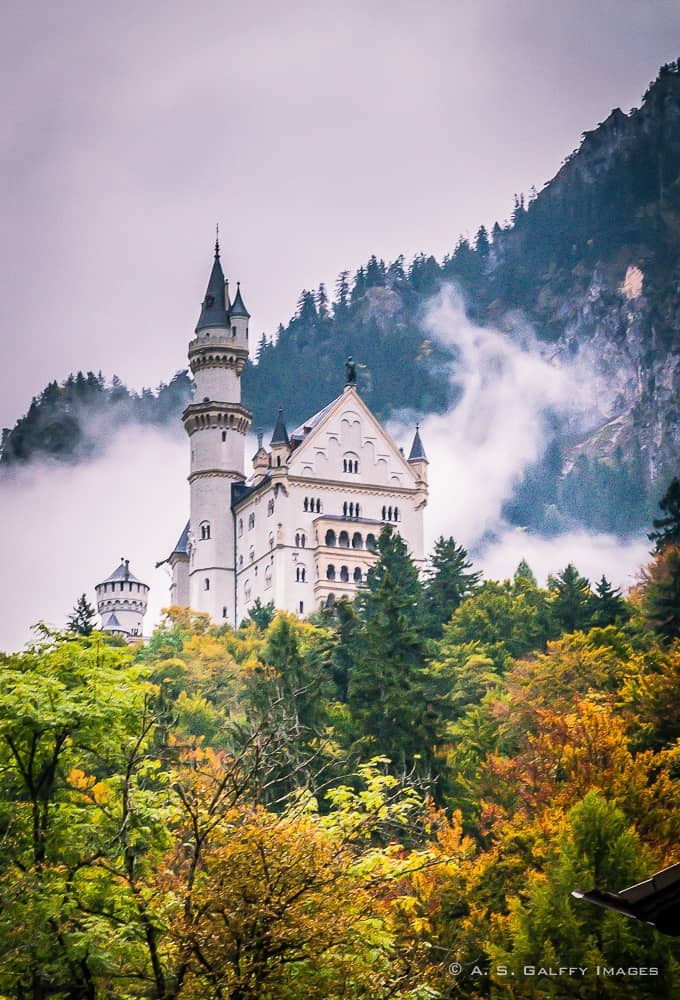 Neuschwanstein is one of Germany's most famous landmarks and visiting it is in every sense exciting. But it's not only its slim towers and delicate embellishments that stirs curiosity. It is also the interesting history and the mystery that surrounds the short and controversial life of its monarch. 
Was Ludwig II really insane? A paranoid man obsessed with grandeur and seclusion? Or just merely an eccentric and reckless spender? To get a better sense of Neuschwanstein Castle when visiting it, you'll need to know a little about Ludwig.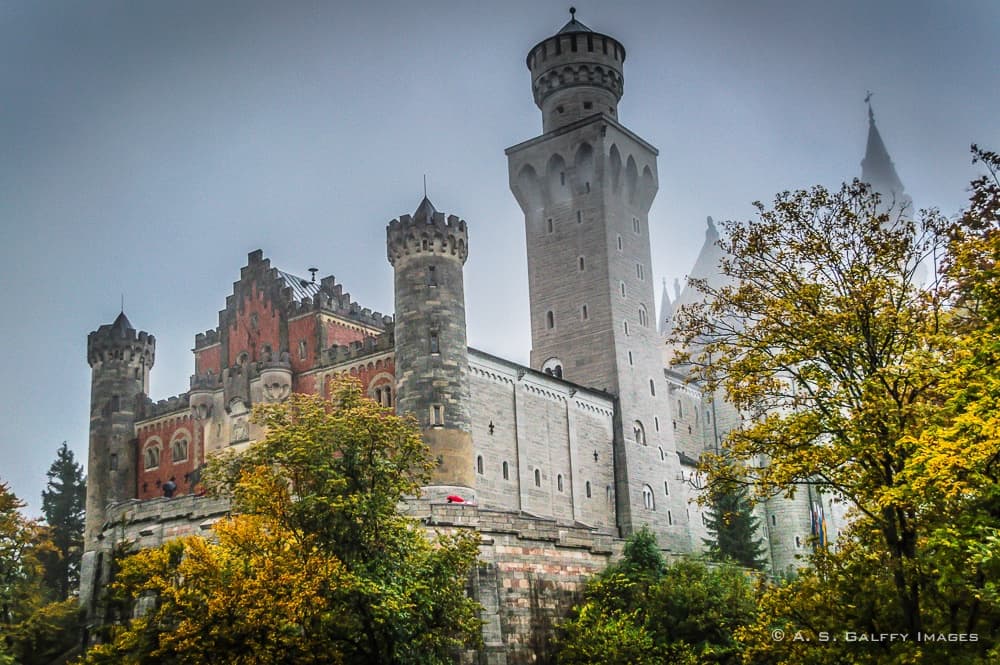 Ludwig of Bavaria, a King Obsessed With Wagner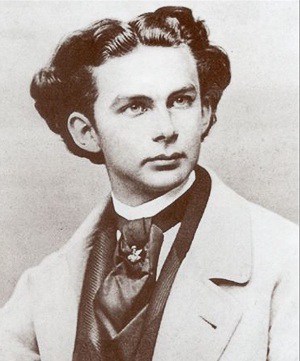 The son of King Maximilian II and Queen Marie of Prussia, Ludwig grew up in Hohenschwangau, a castle built by his father near the Schwansee (Swan Lake). Maximilian had made the swan the leitmotif of Hohenschwangau so, not surprising, Ludwig loved swans.
From an early age the prince had a vivid imagination and a tendency to detach himself from reality. Always a loner, he grew up immersing himself in the heroic tales of Lohengrin, a medieval knight of the Holy Grail who rescues a princess with the aid of a swan.
At the age of thirteen, after first hearing Richard Wagner's opera "Lohengrin," Ludwig became a passionate admirer of Wagner's music. But it wasn't too long before his passion turned into an obsession. He started impersonating Wagner's operatic characters, dressing up like them, dining with his imaginary friends, then going out for midnight carriage rides in the woods.
Ludwig was trying all along to create a fantasy world of his own. He always identified himself with the legendary Parsifal – the medieval knight who embarked on the sacred quest for the Holy Grail.
In 1864, the unexpected death of his father brought the eighteen year old Ludwig to the Bavarian throne. But the handsome and inexperienced boy wasn't ready to rule. He cared nothing for the matters of the government that were so different from his personal interests: music, art and architecture.
But Wagner wasn't Ludwig's only obsession. He was also fascinated with building extravagant castles. After visiting the Palace of Versailles, he returned to Bavaria determined to erect even greater edifices in his own country. Ludwig's most grandiose project was the flamboyant castle of Neuschwanstein. He built the palace just above the village of Hohenschwangau, near his childhood home.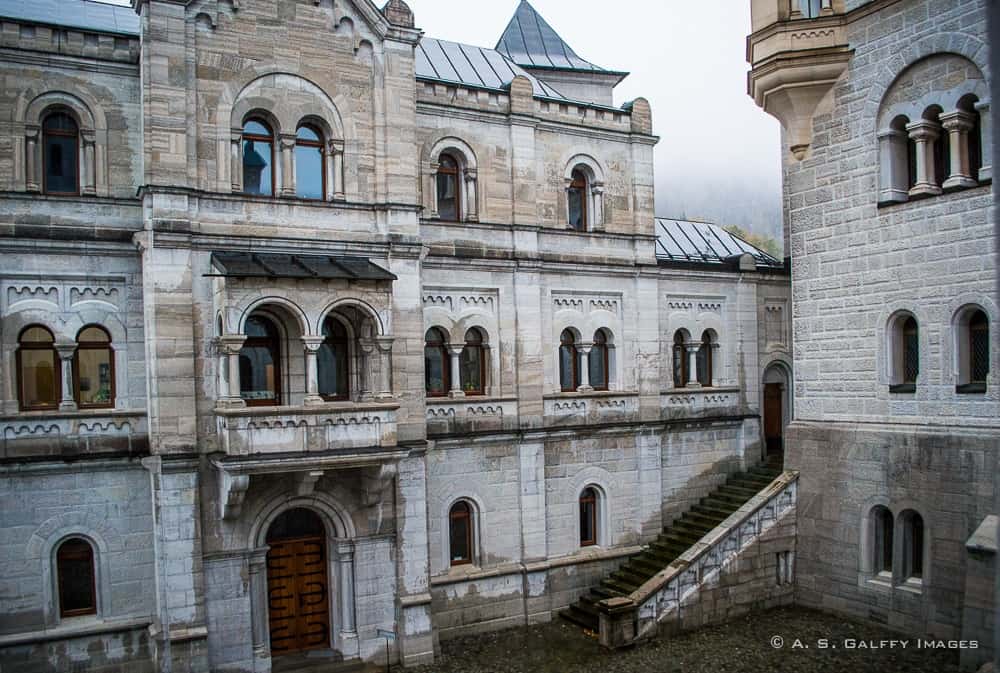 The History of Neuschwanstein Castle
The construction of Neuschwanstein Castle began in 1869. Neuwchwanstein was inspired by Wagner's operas, which themes are featured in almost every room of the palace. Even the name – Neuschwanstein (meaning "New Swan Stone") – is significant. It's derived from one of Wagner's characters – the Swan Knight.
Neuschwanstein Castle never had a functional purpose. Ludwig's goal was to build a replica of an old German medieval castle, that would be a shrine to Wagner and a grand location for the composer's operas performance.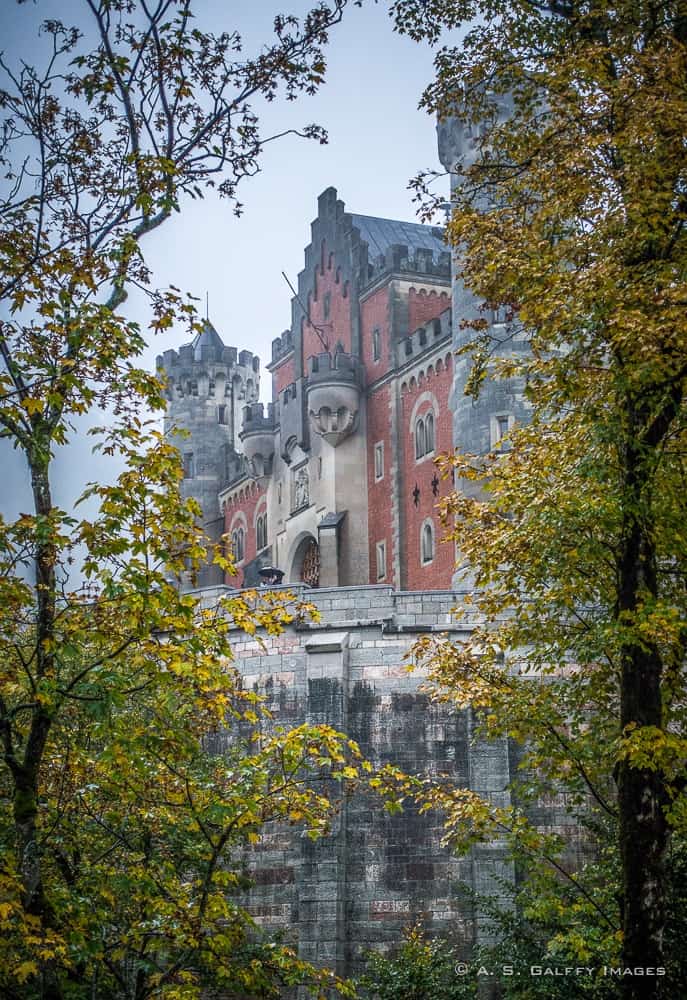 During the construction, the anxious king lived next door, at Hohenschwangau Castle, so that he could supervise the process. From the second floor at Hohenschwangau he could peer across the valley and followed the progress through a spyglass. But the vast and opulent Neuschwanstein took much longer to build than the king expected.
In 1884 Ludwig moved to Neuschwanstein while it was still unfinished, but stayed only 6 months in his dream castle before he was found dead, drowned in a nearby lake. Only 15 of the 200 rooms planned had been completed before Ludwig's mysterious death. Ironically, Wagner for whom this castle was planned, died without ever setting foot in Neuschwanstein.
Visiting the Neuschwanstein Castle
Visiting the Neuschwanstein Castle is quite an experience. You'll never see another castle quite like it! The castle's architecture follows a Medieval style.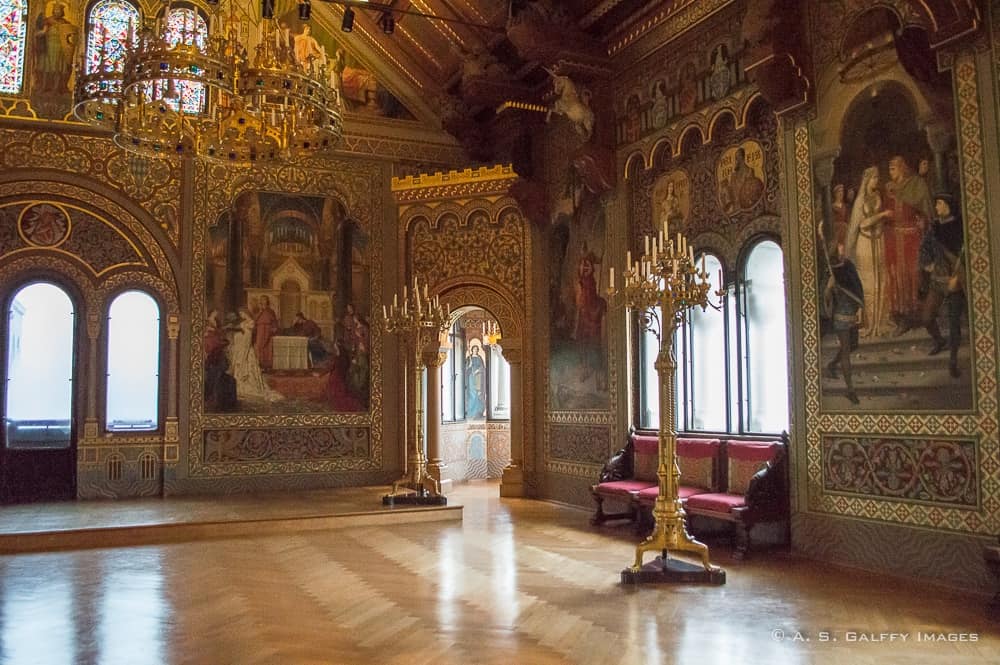 The interior is very eccentric, overly ornate, and quite colorful. Everywhere you look, there are paintings depicting scenes from Wagner's operas, Biblical narratives and Bavarian legends.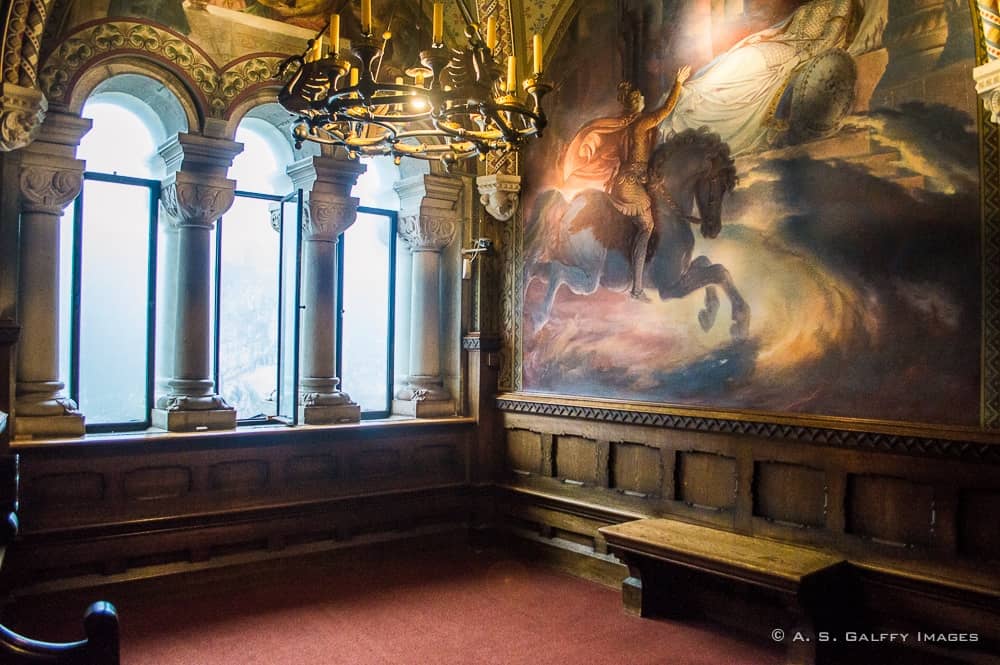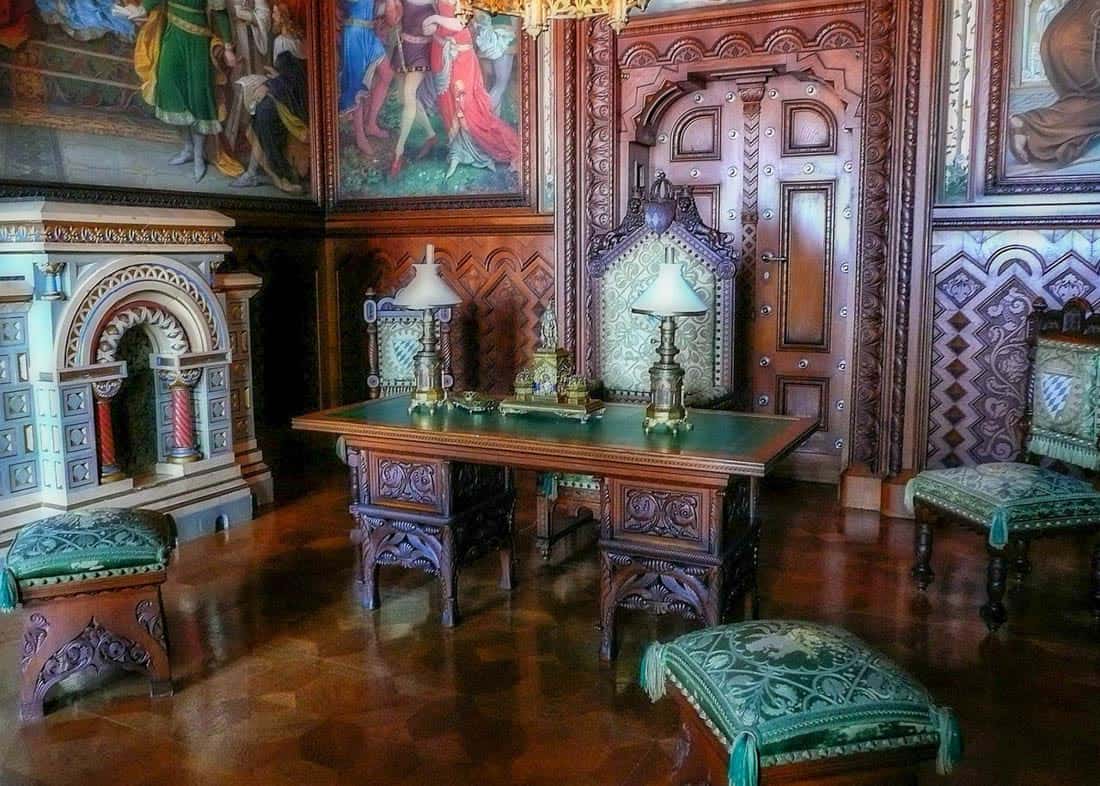 Practical Information for Visiting the Castle
• How to Buy Tickets for Your Visit
Unfortunately, you can't visit Neuschwanstein Castle on your own. If you want to enter the grounds, you have to book a guided tour. You can purchase tickets in advance online, or at the ticket office on the day of your visit. If you want more flexibility, you should buy them in person.
When you book your tickets online you'll have to choose a time for your visit. Be sure to arrive a little before the appointed time, not to miss your tour. Also, be aware that you can't print the tickets you buy online. You will have to go to the ticket office to pick them up in person. However, the line for the tickets purchased in advance is much shorter.
• How Long is the Castle Tour?
Most people visit the Neuschwanstein and Hohenschwangau Castles together, given their proximity. Visiting both castle (plus the time between the tours) takes about 5 hours. The visit at the Neuschwanstein is actually quite short (only about 30-40 minutes) and not very informative.
Like on any guided tour, you are constantly moving at a pace that makes you feel rushed. You can't lag behind and you are not allowed to take any photographs in the castle. Stealing a couple of shots is really difficult, as you are under constant supervision.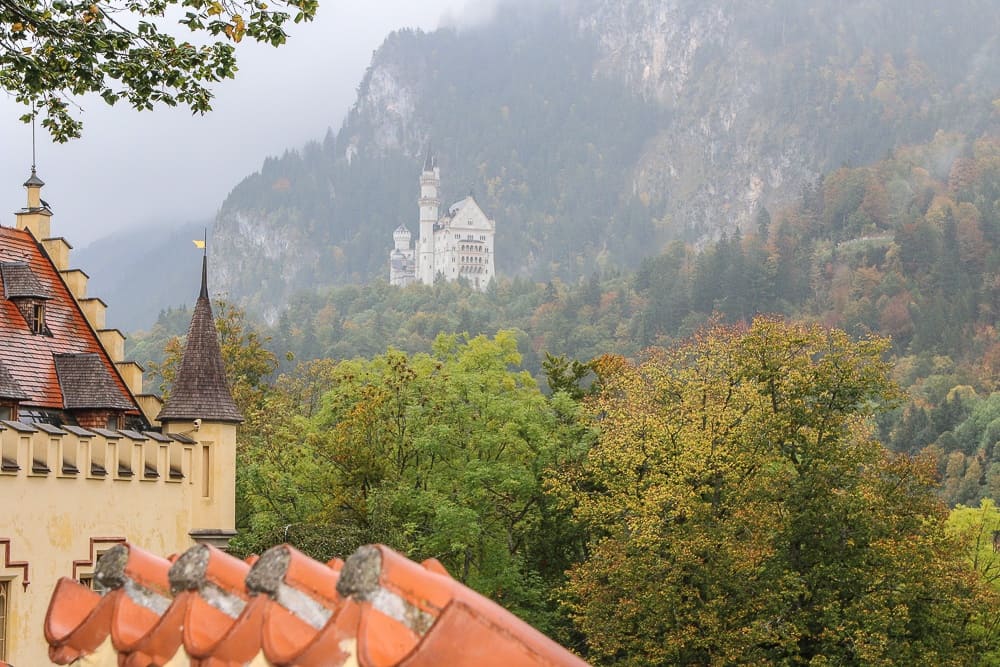 • Is Visiting Neuschwanstein Really Worth It?
After what I mentioned above, you may be thinking that touring Neuschwanstein may not justify your efforts. And I agree that it takes a bit of an effort to put this visit together. Especially if you come here from Münich.
But despite the long distance from the city and the many inconveniences of this tour, Neuschwanstein remains one of the most impressive and sophisticated castles you will ever see.
If you like castles, don't just stop in Hohenschwangau. Most people see Neuschwanstein as THE quintessential castle to see in Germany and forget that Bavaria has so many other castles and gorgeous cities to offer besides this. A day trip to Bamberg for instance would reveal many other treasures along the way.
• How to Get to Neuschwanstein Castle
Neuschwanstein Castle is located in Fussen, a small town just north of the Austrian border. The castle can be reached from Munich, either via train, rental car, or big-bus tour company.
However, depending on how much time you have in the region, I really recommend staying in one of the smaller towns near the castles. This will help you avoid the crowds and even choosing the right time of the day for the best pictures. The small village of Hohenschwangau would make a convenient base for visiting Neuschwanstein Castle and its sister, Hohenschwangau Castle.
Pin for later: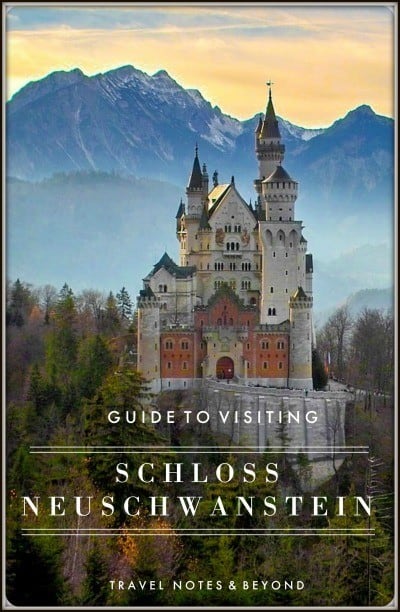 YOU MAY ALSO LIKE: