If you are planning a 2 weeks trip to Europe and need some itinerary ideas for your vacation you have come to the right place. As someone born and raised in Europe, I can give you some good advice when it comes to my home continent.
14 days may sound like a long trip, but not on this incredibly diverse continent. With so many attractions, sights to see and cultures to experience, your 2 weeks vacation in Europe will go by in the blink of an eye!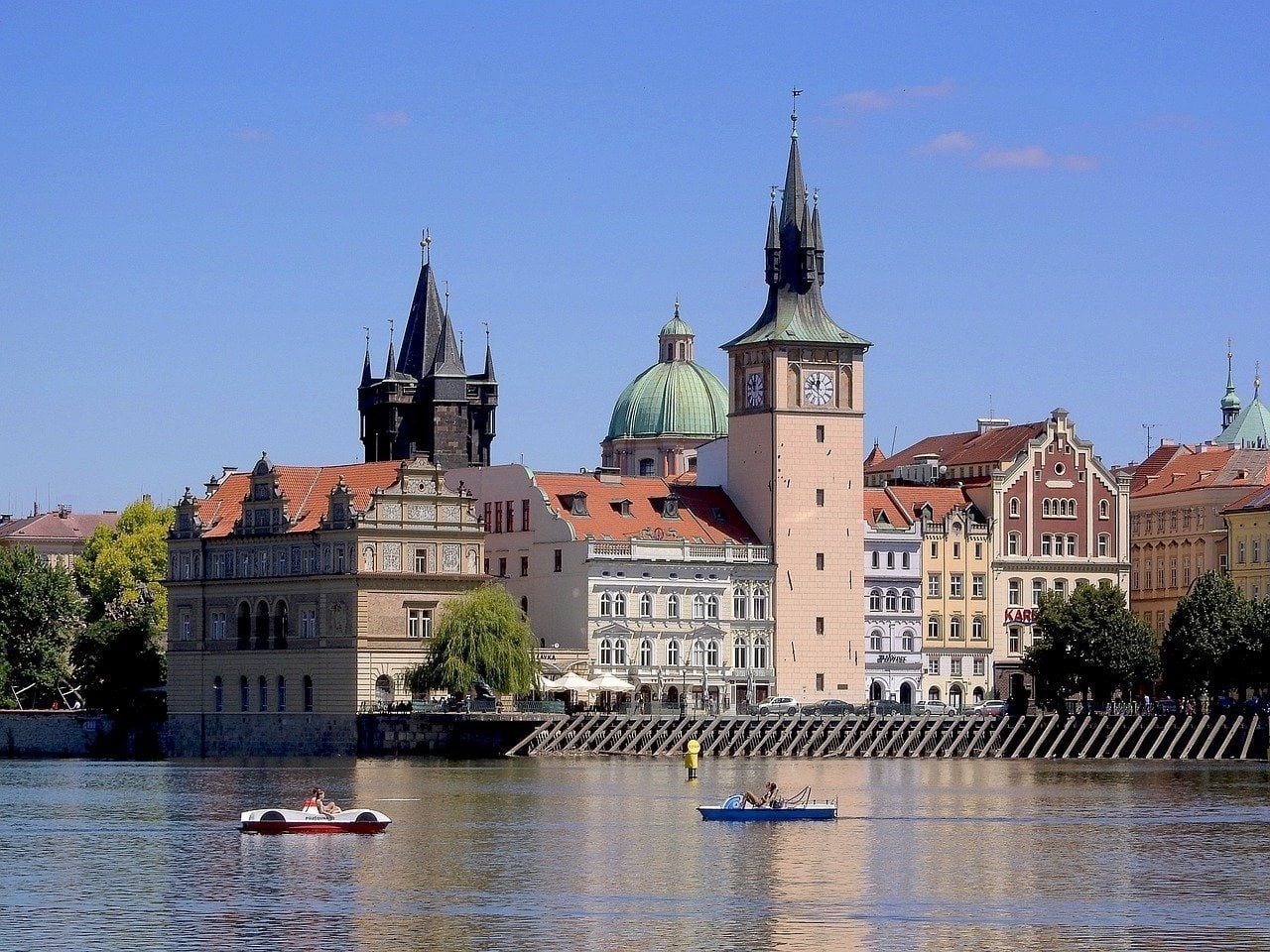 How to Plan a Perfect Europe Trip Itinerary
If this is your first time in Europe, you probably have quite a few places on your Europe bucket list. Without knowing anything about you or your interests, I can only give you basic, generic advice.
Below is a list of 10 suggested itineraries for for a 2-week trip to Europe. The itineraries are grouped according to the different European regions. However, you can choose any combination from the cities listed here, according to your tastes and interests.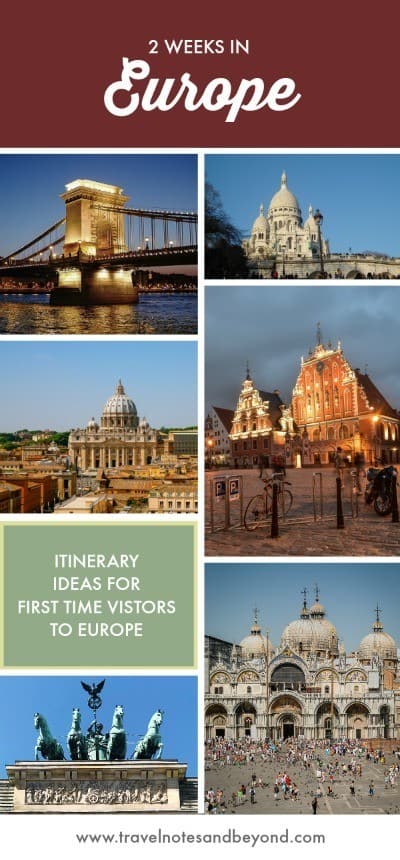 Best Western Europe Trip 2-Week Itinerary

• London, Paris, and Amsterdam
These three cities have more than enough to keep you engaged for 2 weeks. You can easily spend the entire two weeks in Paris, if you were to visit all its amazing churches and museums.
London, Amsterdam and Paris are among the Europe's greatest cities and enjoy a perennial popularity, despite the many problems they have been facing lately. I think they are worth seeing at least once, even though they are always crowded.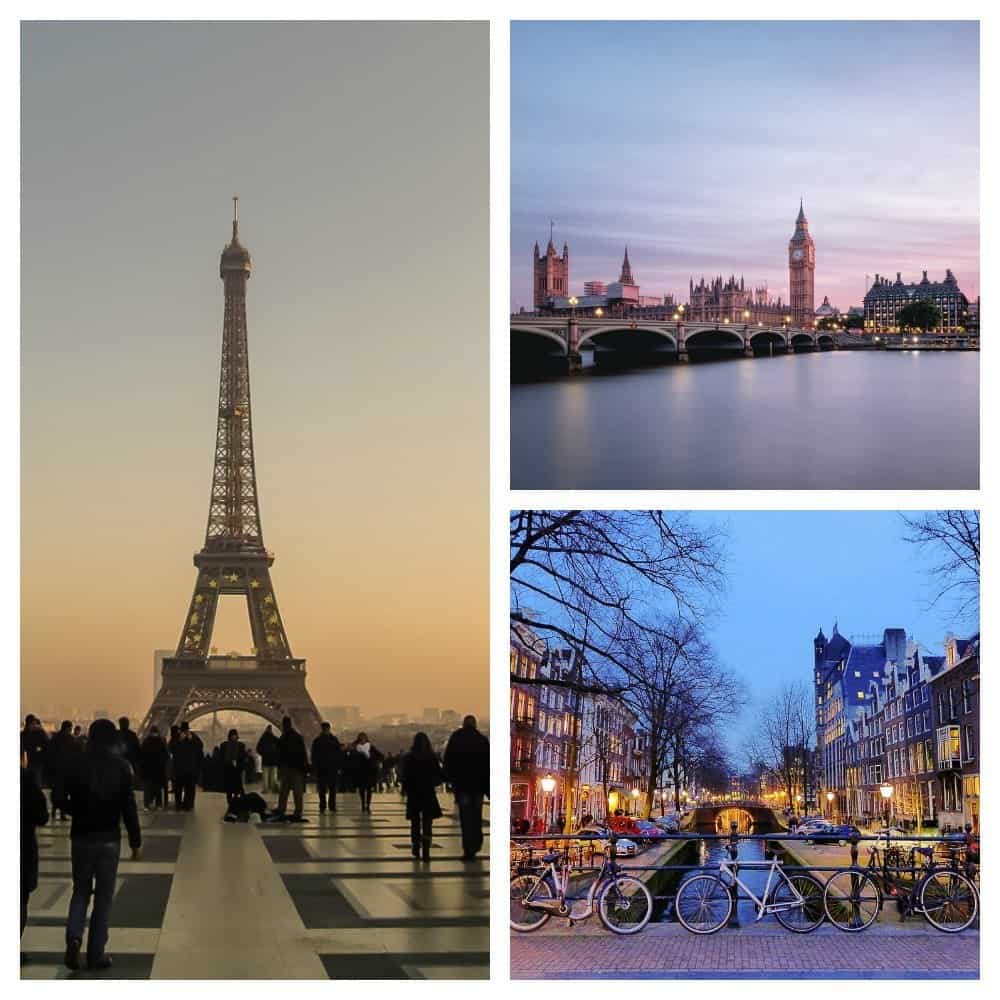 You have excellent direct flights, trains, or bus connections between all three. There are overnight trains between Lisbon and Madrid that run daily, departing at 11:34 p.m. and arriving in Madrid at 8:40 a.m. Also, there are direct flights, trains, or busses from Madrid to Barcelona.
• Lisbon, Madrid, Barcelona
All these Iberian cities are packed with culture, culinary delights and incredible landscapes. They are easy to reach from most major airports from around the world.
Although you could easily spend two weeks in Spain alone, visiting other historical places like Toledo, or Cordoba for instance, I suggest including Portugal in your European itinerary as well. Lisbon, its capital city, is not only very romantic and cultured, but also quite inexpensive.
Book this private walking tour of the highlights of Lisbon and enjoy the history of this city.

• Rome, Florence, and Venice
These are three of Italy's most captivating and rewarding cities. If you like archeology, you'll love Rome! Florence and Venice are also very charming cities, although quite different from Rome. If you prefer to spend your time in one single country, this combination is one the best itineraries for a 2 weeks trip to Europe.
Italy has a wealth of archeological sites, most of which are concentrated in relatively compact areas. These three cities also have excellent train, bus, and plain connections (buy your ticket on omio.com).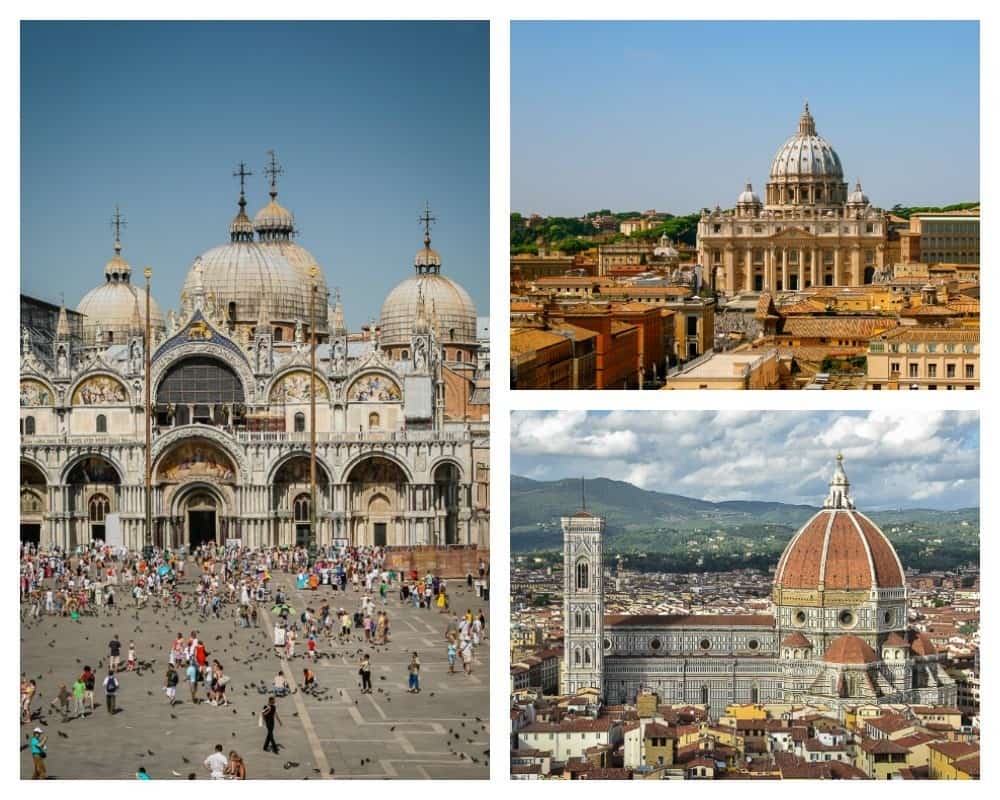 Sicily is another great place in Europe where you can easily spend 2 weeks. There are so many archeological sites and beautiful towns in Sicily to add to your list! I promise that you won't get bored if you choose to spend your entire European vacation on this island.
Palermo alone can easily justify a 10-day Italy itinerary. You have good bus connections between cities, but Sicily is best explored by car. You can choose visit the nearby Malta if you go to Sicily.
Central Europe 2 Weeks Trip Itinerary
Central Europe is becoming increasingly popular. 30 years ago, cities like Prague, Budapest, Dresden, or Wroclaw were largely unknown to the world traveler. But after the fall of communism, Central Europe experienced a strong cultural and tourist revival.
• Prague, Vienna, and Budapest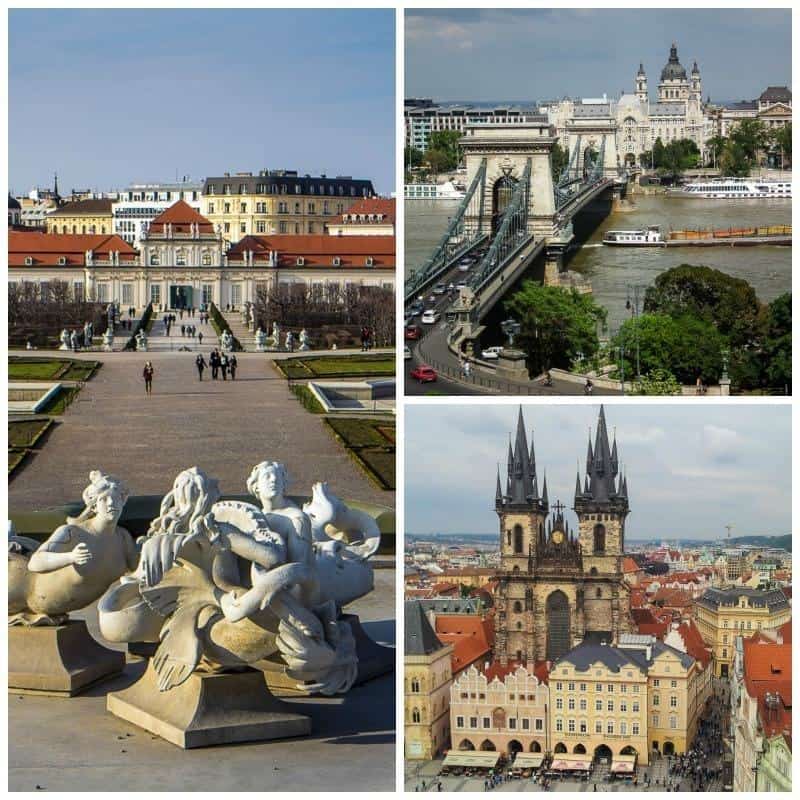 These three capitals have it all: beautiful architecture, fascinating history, packed concert calendars, and delicious food. For those who want to tour Central Europe, this trip itinerary is perfect.
Traveling by rail is the best way to go between these three, as distances are relatively short. You can buy tickets at the station right before the train is scheduled to depart.
READ NEXT: Budapest Travel Tips and Practical Information for First Time Visitors
• Berlin, Dresden and Wroclaw
Combining the cosmopolitan Berlin with the phoenix-city of Dresden and the picturesque Wroclaw, will give you a great understanding of what makes this part of Europe so fascinating. You have direct trains between all these cities.

• Zurich, Lucerne, Lugano and Milan
You can never go wrong with Switzerland and the northern part of Italy! Cities like Lucerne, Zurich, Lugano and Milan have stunning scenery, art museums, old cathedrals, historic palaces, and more charm than you can imagine. However they are not very big, so 2-3 days in each one would most likely be enough.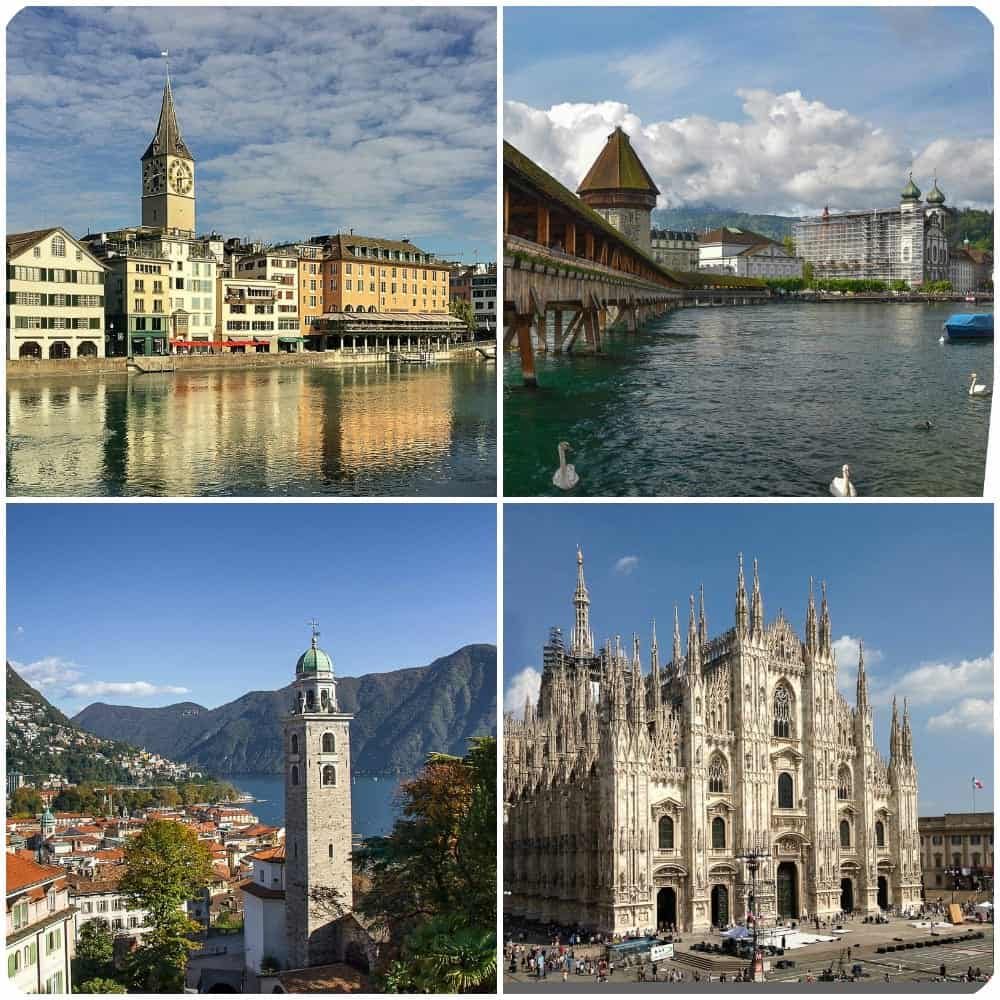 The best way to move between these cities is by rail. Switzerland is famous for its top of the line panoramic trains, so you can choose to travel from Lucerne to Lugano aboard the Gotthard Panorama Express. You can also take the same route on a non-panoramic train if you want to avoid paying the mandatory reservation fee.
READ NEXT: 10 Days in Switzerland Itinerary by Scenic Trains
Northern Europe 2 Weeks Itinerary
• Oslo, Stockholm, Copenhagen
These three cities are definitely in a league of their own. Although they can't compete with Rome's historic sites or with the charm of Paris, Copenhagen, Oslo and Stockholm have stunning architecture, world-class museums, and some of the best shopping and dining in Europe.
If you plan to spend your 2 weeks vacation in Northern Europe during the summer months, this trip itinerary is your best bet. While the rest of Europe is be boiling hot, Northern Europe enjoys much cooler temperatures and longer days in summer.

READ NEXT: 10 Fantastic Things to Do in Stockholm in a Week
• Riga, Tallin, and Vilnius
I can't mention Northern Europe without including a tour of the Baltic capitals. The Baltic States of Latvia, Estonia, and Lithuania weren't even on the map when I was growing up. But like many other European countries that lived in the shadow of the Soviet Union till the 90s, they have enjoyed a true renaissance in the past years.
If you want to travel somewhere your friends haven't even heard of, you should visit the Baltic capitals. Plus these are among the cheapest countries to visit in Europe.

South-Eastern Europe – 2 Weeks Trip Itineraries
The Balkan Peninsula is the most culturally diverse in Europe. This region has also an extremely varied topography. Bordered by the Adriatic and Ionian Sea to the west, Aegean Sea to the south, the Sea of Marmara to the southeast and the Black Sea to the east, the Balkan countries are stunningly beautiful.
There are so many great destinations in South-Eastern Europe, that it's difficult to decide which ones to include into your trip itinerary. Here are two suggestions:
• Athens, Istanbul, Bucharest
If you plan to build your itinerary around these three cities, you could spend 3 days in Athens, 7 days in Istanbul and 2-3 days in Bucharest. Or you can choose spend your entire 2 weeks trip to Europe by visiting just one country. We did that last year and took a road trip in the Peloponnese. It was an unexpected success, it was pleasant and we had a great time there. Peloponnese is one of the less explored parts of Greece, but is so beautiful that you won't believe. It has plenty of beach town, some of which are nicer and more sophisticated that the Ritzi Greek island, like the beach tow of Nafplio.
Countries like Greece, Turkey, or Romania have plenty of amazing sites to keep you entertained and engaged for 14 days.

The best way to travel between these 3 countries is by plane. Between Istanbul and Athens you an use Pegasus Airlines (a budget airline) and between Istanbul and Bucharest you can use Turkish Airlines.
These four cities will take you through 3 of the most beautiful countries in the Balkans: Slovenia, Croatia and Montenegro. The best way to travel between these cities would be by car or by bus, as there are no train connections between Split and Dubrovnik.
For those who want to rent a car to drive through the Balkans, I recommend this 14 days Balkans road trip itinerary. If you have a car, you can extend your itinerary to some other points of interest in this region.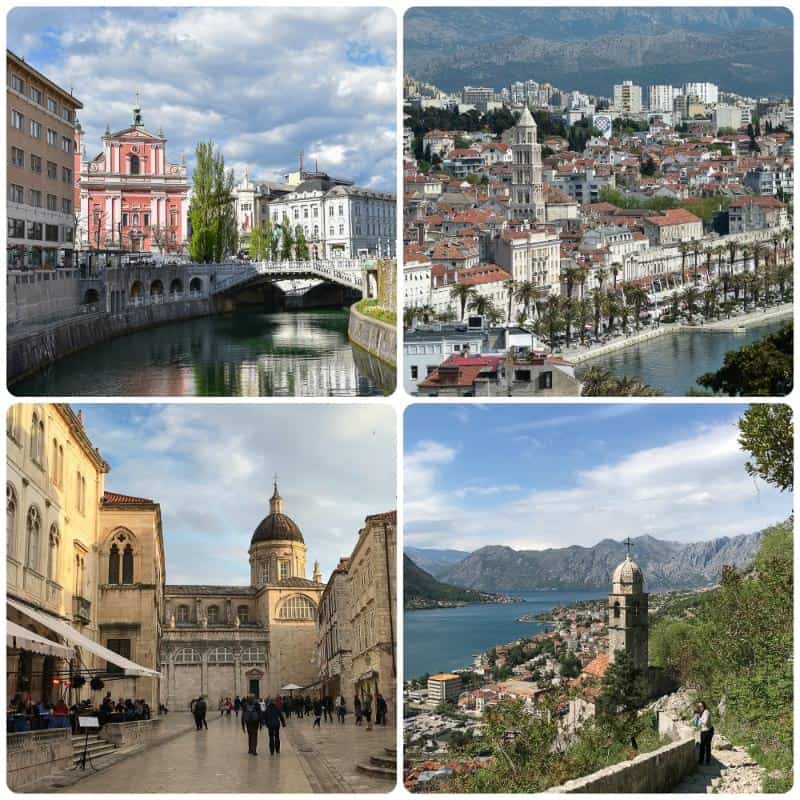 Planning a trip to Europe? Read next: 12 Tips for Traveling to Europe Like a Pro
How to Plan a 2 Weeks Trip to Europe
Being born and raised in Europe I always get asked these two questions: when is the best time go to Europe and what is the best itinerary for a first time visit to Europe. My answer it's always the same: it depends what you want to do in Europe and how much time you can spend there.
If this is your first time in Europe and all you have is 14 days, there are a few things to consider before deciding what to add to your list:
• Keep your travel plans simple
Most first time visitors to Europe are determined to see as much as possible on that first trip. Keep in mind that Europe is a big and diverse continent. There is a lot to see everywhere you go. Fitting all your bucket-listed locations in a 2 weeks trip to Europe is nearly impossible.
• Start with the most popular cities
Your first trip to Europe is not the best time to go off the beaten path. I recommend sticking to the big cities, even though they are more crowded. Major European cities have it all: top notch museums, beautiful architecture, great restaurants and a vibrant nightlife.
Besides, they are big transportations hubs and are cheaper for flying in and out of Europe.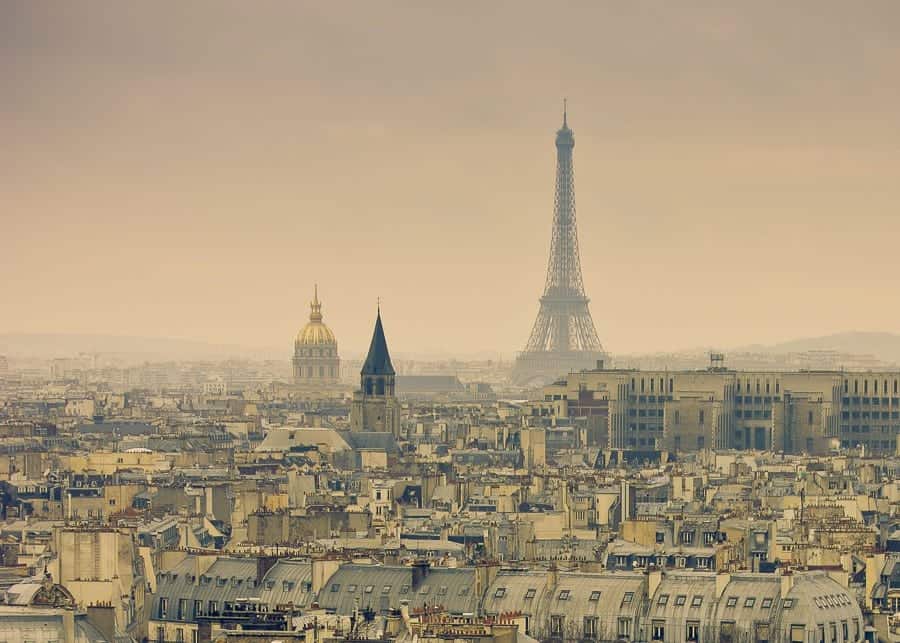 • Choose to visit places that are close to each other
The closest major European cities are at least two hours apart, whether you travel by car, by train, or by plane. Transit between cities takes at least half a day, if you consider the time you need to check out of one hotel and check into your next one. Therefore, you won't be able to do much sightseeing on the day you travel.
• Plan to spend at least 3-4 days in each city you visit
While it's possible to cover more than half a dozen countries in your 14 days in Europe, just running between destinations doesn't mean you actually visited them! If you want to see at least the major sights, you should plan to spend a minimum of 3-4 days in each city you visit.
• Book an open-jaw ticket
If you plan on touring a specific region or doing a multi-destination trip, you can often save a lot of time and money with booking one.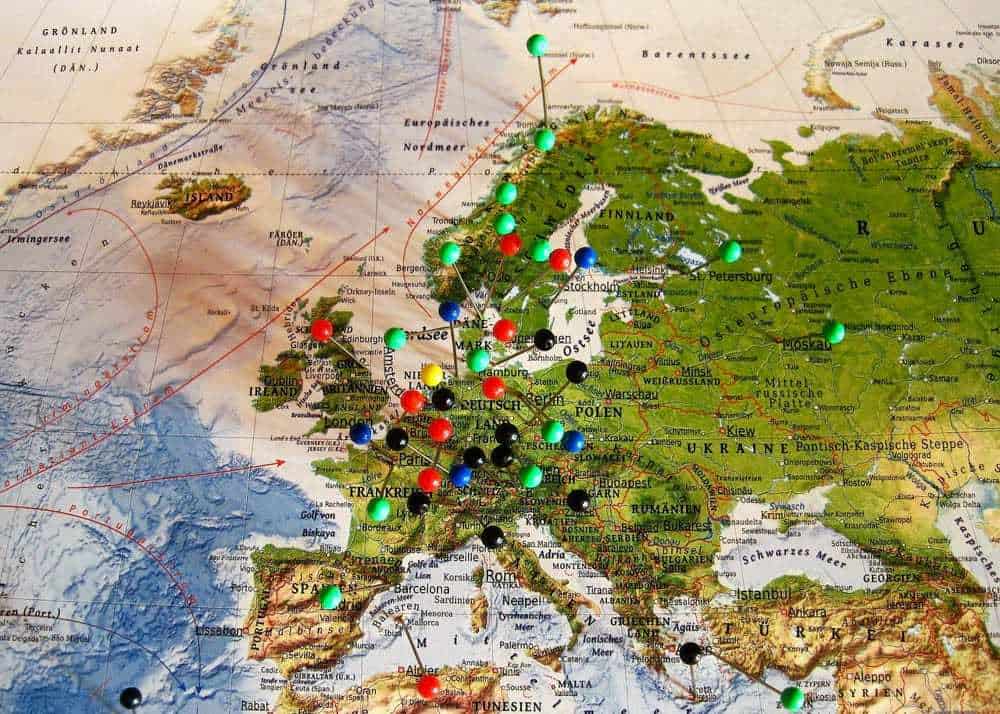 Once you're further along in your planning process, you can use our Travel Resources page for the best deals in airfare, accommodations and local guided tours.
• Rent a car only if you are planning to travel outside the big cities, where parking is expensive and difficult to find. Nonetheless, sometimes renting a car will save you a lot of time and is obviously more comfortable. We usually use Discovercars when we travel in Europe.
Tips for Spending 2 Weeks in Europe
• Book accommodations in the city center
Hotel rates are higher in the city center, but it's worth paying the extra dollars if you can afford it. You'll save time and money on transportation.
• Use Hotel Alternatives
AirBnB or VRBO for lodging instead of booking hotel rooms, especially if you travel in a bigger group. They are a much better deal and have beautiful apartments all around the world. For the same price you would pay for an average hotel, you could rent an entire apartment.
• Don't exchange money in the airport
Airports, train stations, or tourist areas have the worst exchange rates. But if you look for an exchange office outside these areas, your hard earned money can go a way longer way. If no exchange booths are around, use the ATM machines throughout the city.
• Consider using public transportation
Driving a car Europe is an expensive and inconvenient complication. None of these European cities were built with cars in mind, so the roads are crowded and full of restrictions. Rather than worrying about parking fees, one way streets, and pedestrian zones, consider using public transportation during your 2 weeks in Europe.
• Travel by train, or use budget airlines
Train travel through Europe is one of the best ways to see the continent. The rail network is extremely developed and train service is very reliable. For longer distances, flying one of the many European airlines is also a great option.
There are over a dozen budget airlines in Europe that fly anywhere on the continent for unbelievably low prices. They charge extra for seats and luggage, but even so you can fly for as low as €30-40/one way.
• Dress comfortably
Dressing comfortably when you travel to Europe is very important, but avoid looking like a tourist. Not sure how to blend in with the locals? Read my guide about how to dress like a European.
Buy the best shoes you can afford. I can stress enough the importance of wearing comfortable shoes while traveling in Europe. Many of the old European cities are still paved with cobble stones which are very rough on your soles.
• Travel off season
Everyone wants to travel when the weather is stable, but summers can be brutal in Europe: big crowds, expensive accommodations and airfare, busy trains and public transportation and very hot.
The best time to visit Europe is in fall or in spring, when temperatures are milder and there are less crowds. December is also a very popular time of year to visit Europe, when most European cities dress up for the holidays.
• Get acquainted with the European lifestyle
Most travelers to Europe expect to encounter cultural differences, yet when confronted with them they are always caught off guard. I wrote a very detailed post about what will surprise you as a first time visitor to Europe. These are very useful tips that you will need before traveling to Europe.
READ NEXT: 15 Cheapest Countries to Visit in Europe
A Final Note
This guide is a good resource if you intend to visit Europe independently. However, if you prefer an organized tour there are plenty of great tours of Europe to choose from.
Hope the itineraries above gave you some idea on how to travel Europe in 2 weeks. And if you like a place you saw, make a plan to return and explore it more in depth. Two weeks in Europe will not be enough to see this magical continent.
Did you enjoy this post? Please pin it to help other travelers to Europe: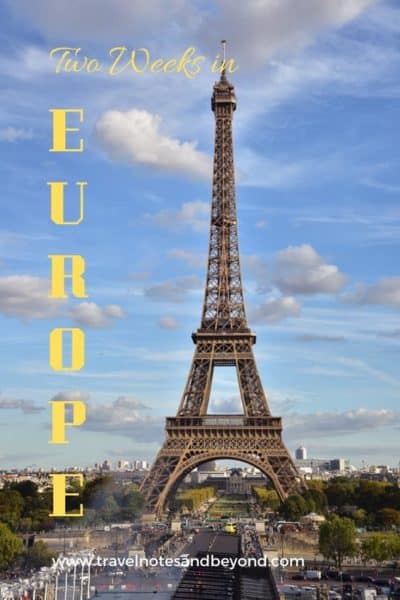 RELATED POSTS: