Visiting Europe in winter may not sound very appealing to some people. There are fewer hours of light, chilly temperatures and many attractions are closed. But depending on what you are looking for, winter may be a fantastic time to visit Europe. Besides, many European cities are best to visit in December.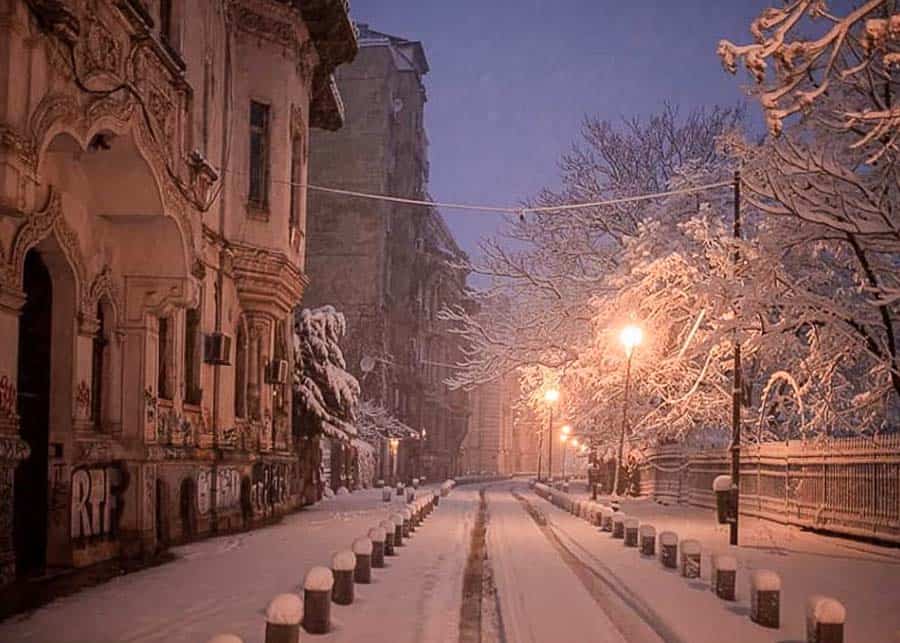 December is particularly beautiful in Europe. All cities dress up with fairy lights, candy canes, and lovely Christmas trees to welcome the Holidays. Although it's cold, December isn't usually the coldest month of the year so you can still walk around and do some sightseeing. So if you are looking for the best European cities to visit in December, here are some recommendations from the experts.
Best European Cities to Visit in December
Salzburg, Austria
There's something magical about European cities in winter and the historic city of Salzburg, in Austria, is one of the best places to celebrate the season. Its magnificent setting becomes even more obvious in winter, when snow covers the beautiful mountains around the city.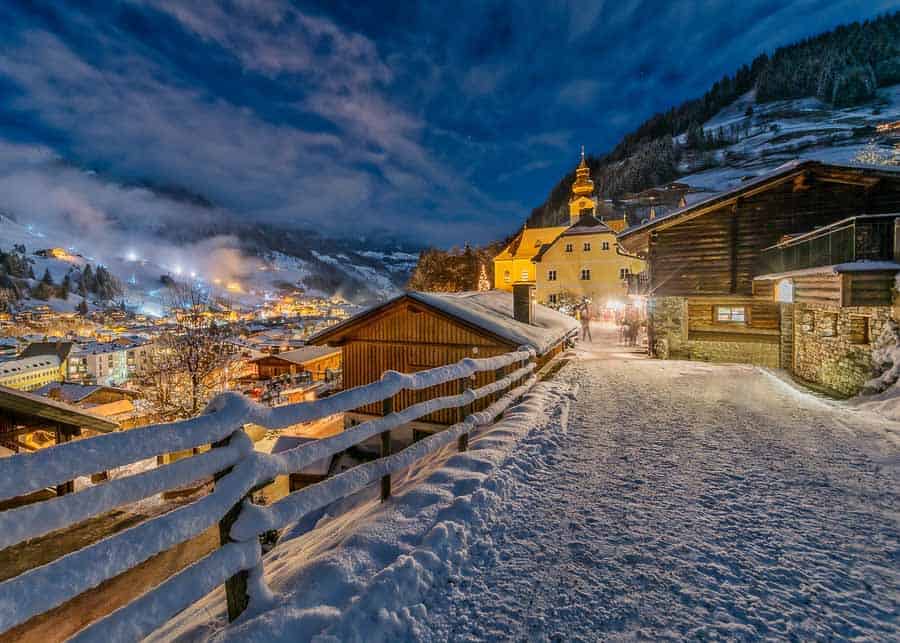 The twinkling fairy lights hanging on the trees, crisp frosty nights and the smell of mulled wine make everything seem very special. While the city's famous Christmas markets are the ones that attract most visitors, the warmth of the churches resounding with music and the festively decorated restaurants, compete for the crowds.
London, England
(contributed by Katy, from Untold Morsels)
No European city embraces the festive season quite like London, which becomes a Christmas wonderland. By December, stores have dressed their windows and the streets are adorned with sparkling lights and decorations. Rosy cheeked shoppers browse the Christmas markets along the Thames and in Leicester Square, which is also one of the best areas to stay in London. Carol singers fill the air with merry tunes.
In Hyde Park, London's Winter Wonderland festival is the place to go for Christmas gift and food stalls, fairground rides and of course the big man in the red suit. December is a great month to try a more unusual experience like a themed afternoon tea in London.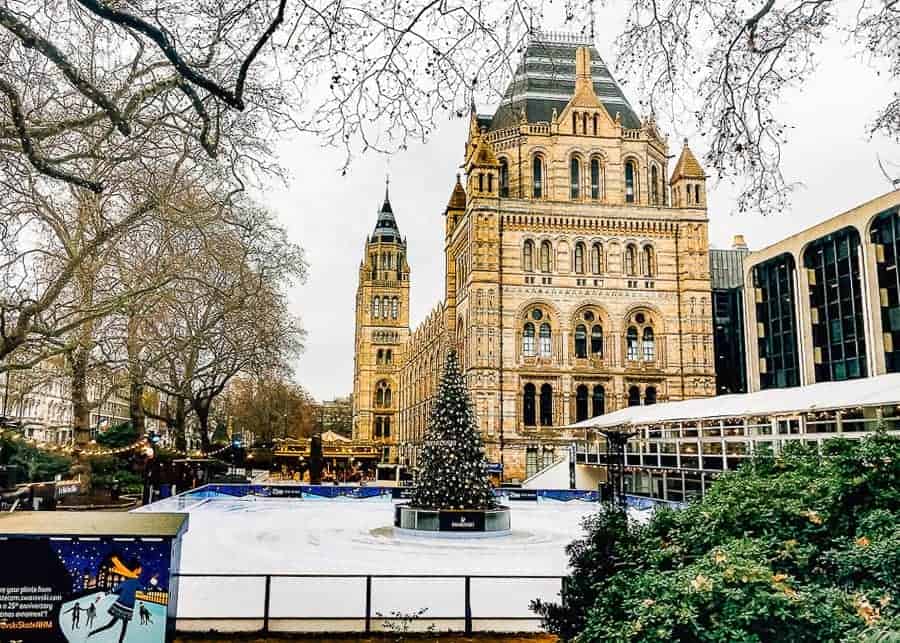 For the ultimate Christmas in London activity, join the skaters at the Tower of London or Natural History Museum ice rinks. Even if you are just watching, seeing these iconic buildings dressed for Christmas is an enchanting sight. December is a great month to spend one or two days in London. If you are lucky enough to see the city blanketed in snow, you will remember it forever!
Dresden, Germany
(contributed by Maria, from Europe Up Close)
If you want to get into the Holiday spirit, Dresden is one of the best European cities to visit in December. Streets are adorned with twinkling lights and special decorations.
Town squares are filled with booths selling candied almonds, roasted chestnuts, and steaming cups of Glühwein. Germany is famous for its Christmas Markets and the oldest one of them is in Dresden: the Striezelmarkt (1434). The Market bears the name of a traditional German Christmas cake, known today as Christstollen.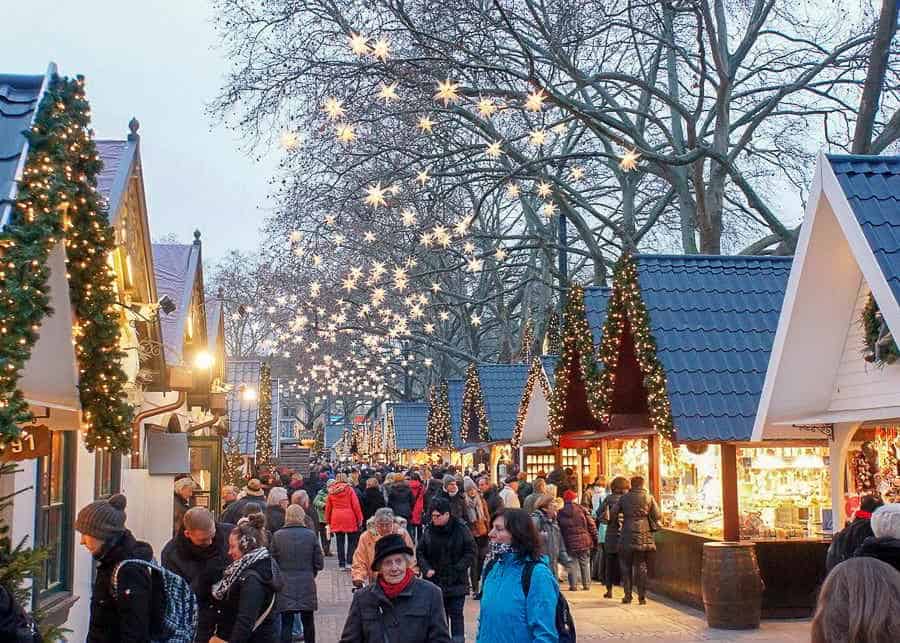 Dresden has been organizing a Stollenfest each December for 25 years now and 8 years even broke the world record of the largest Christstollen. The flaky cake filled with nuts and candied fruits is a must try for any visitor to the Dresden.
READ NEXT: 20 Amazing Experiences to Add to Your Europe Bucket List
Zurich, Switzerland
(by Sharon of Simpler & Smarter)

Zurich doesn't enjoy much snow, but it's nonetheless on of the best European cities to visit in December. The city is home to one of the largest indoor Christmas markets in Europe, as well as many outdoor ones.
The train station is the perfect first stop to visit this large Christmas Market. You can warm up with a gluhwein (hot wine), eat some Swiss food, and listen to some carols. The Market's biggest attraction is a 15 meter tall Christmas tree decorated with Swarovski crystals. Next stop should be the city's oldest Christmas Market in the Old Town.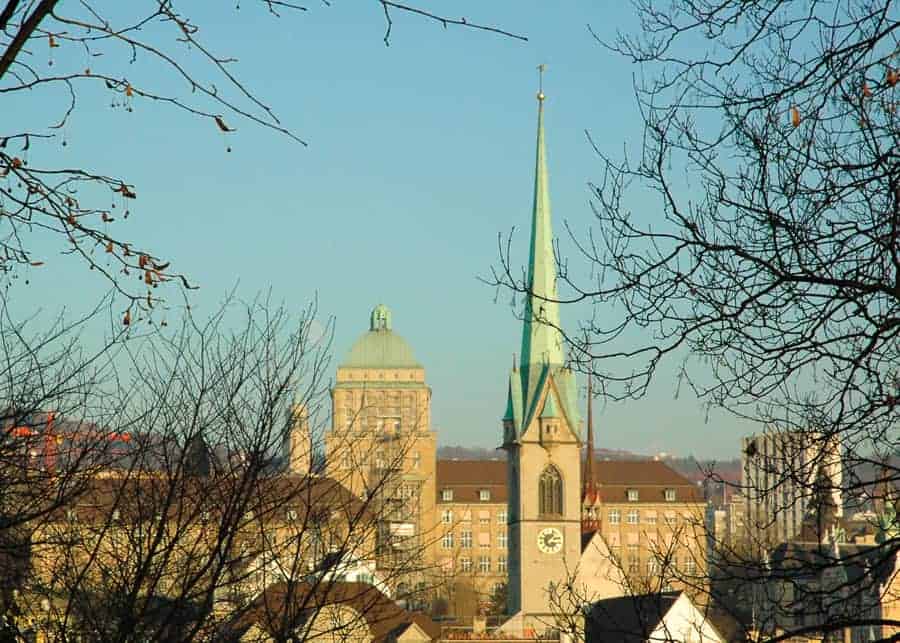 There are also children shows and many Christmas light displays around town. One of the best is the 30-minute show with interactive light installations, at the National Museum.
And while here, have a bite at one of the special food stalls. Or try your skating skills at the nearby skating rink. You can also visit the Grossmünster, one the most famous cathedrals in Zurich, the Kunsthaus art gallery, or simply walk around the Old Town.
Aosta, Italy
(contributed by Gemma, from "A Girl and Her Dog on the Road")
One of the most enchanting places to visit in Italy in winter is Aosta. In fact, the valley is a stunning place to visit at any time of the year, but December is particularly beautiful here. Nestled amongst the spectacular Italian Alps, Aosta is an outdoor enthusiasts' paradise! The city is packed with gastronomic delights, historical gems and is home to many festive activities at this time of year.
The most famous one is the annual Christmas Market, Marche Vert Noel, that runs all throughout December on the grounds on the Roman Theatre. Within this impressive backdrop, the Alpine Village displays over 50 stalls packed with local specialities and gifts.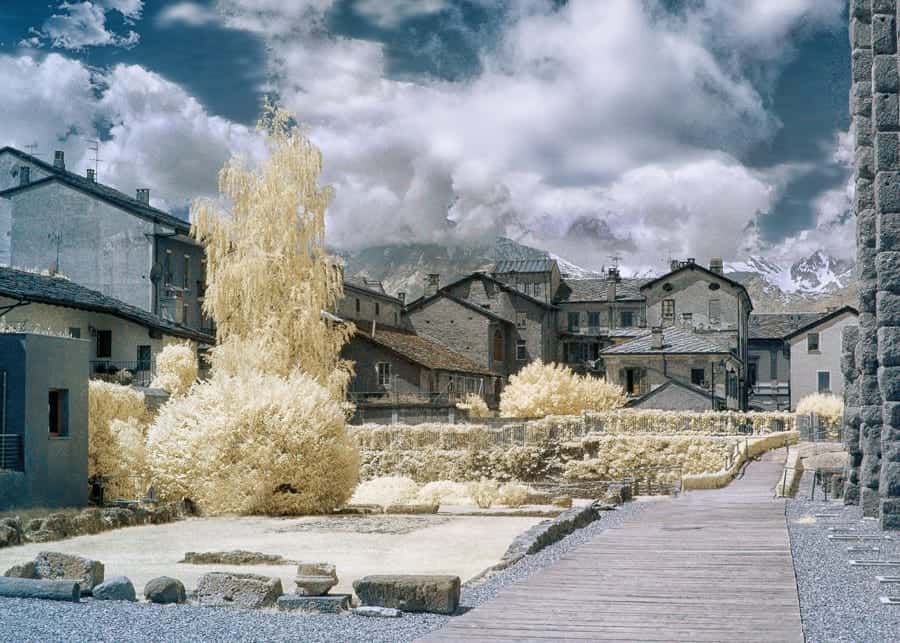 For visitors staying until the end of December, the Torchlight Procession at the Cable Car in Pila is not to be missed. Staff and ski instructors from the resort form a torchlight line down the slope. There is an impressive fireworks display and a fun party atmosphere for locals and tourists alike.
Belfast, Northern Ireland
(contributed by Allan, from It's Sometimes Sunny in Bangor)
Belfast is relatively unknown when it comes to winter getaways. At least when compared to the bigger cities of Europe. But it undoubtedly has a unique charm that is perfect for the run up to Christmas and the festive season. Although small enough to uncover on a weekend, Belfast has plenty of excitement to keep you thoroughly entertained throughout.
The centre of the seasonal excitement is always around the Christmas Market, held each year on the grounds of the Belfast City Hall. The City Hall itself marks the centre of the city, as well as the start of the surrounding shopping district. Just around the corner is the lively Victoria Square, always beautifully decorated with lights and baubles during the winter season.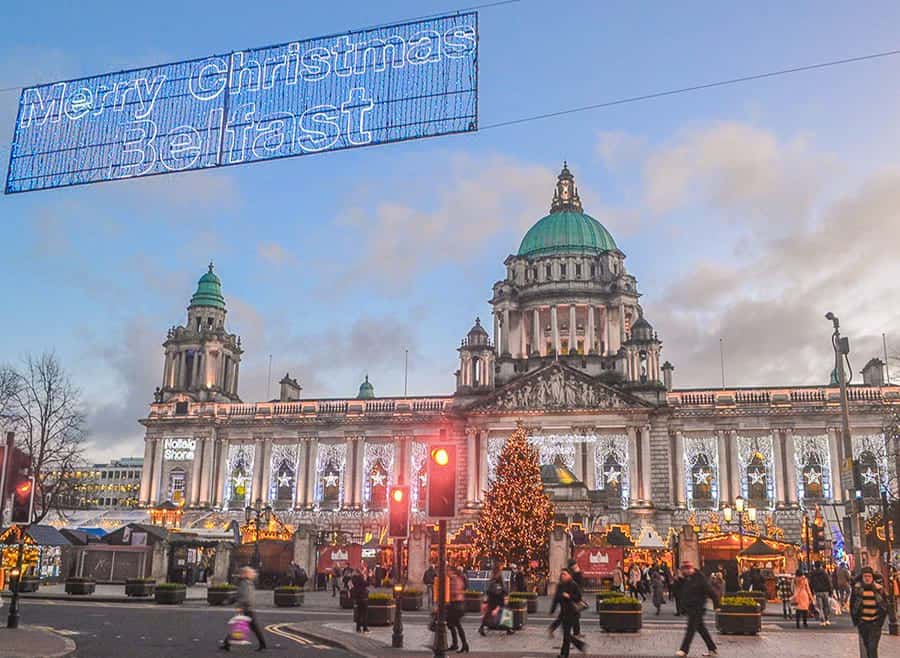 In the evening hours, the fun continues through the various traditional pubs and bars of the city centre. The Duke of York Bar in the Cathedral Quarter is a good starting point if you want to experience city's nightlife. This is where you'll hear the 'craic' (a Northern Irish term used for banter). Or, if you are looking for a more serene visit to Belfast, there is always the romance of the riverside, with a walk along the Lagan.
Bergen, Norway
(contributed by Corinne, from Reflections Enroute)
Bergen is a magical city no matter what time of year you visit. But when the snow starts to fall, it really comes alive. When thinking of a winter holiday, everyone wants to enjoy sledding and a hot cup of chocolate. Bergen's Mt. Floyen right in the middle of the city is where young and old go for this. Take the funicular to the top, stop to take in the view of the city from above, drink your favorite hot beverage and then plop down on the rump-slider – the smallest plastic toboggan – and down you go!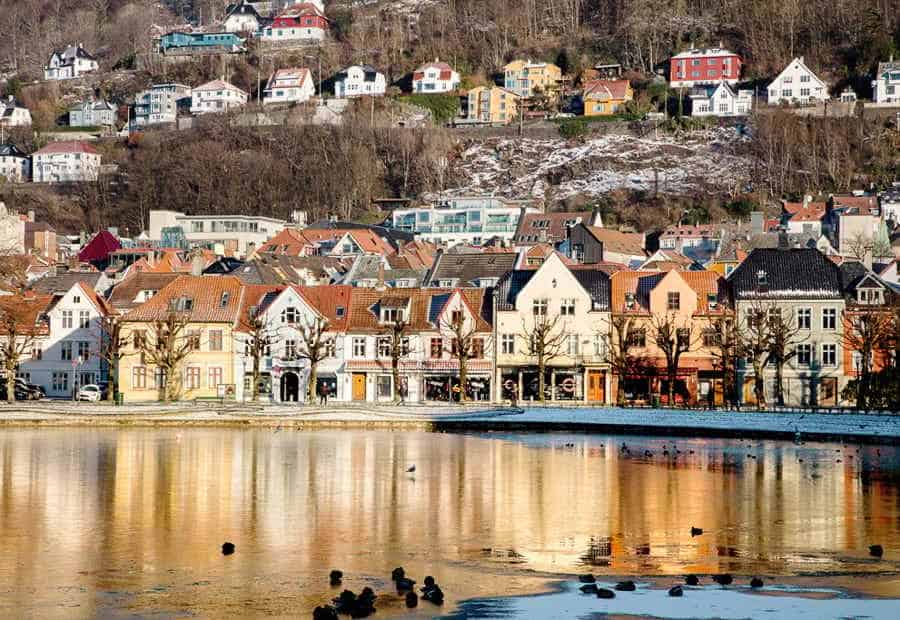 Other activities like taking a fjord cruise, visiting the many, many museums, having a fresh fish dinner at the Fish Market, and even taking the kids to the aquarium are all open and lively during the winter as well. Souvenirs are even more appealing in December. One of the most popular things to buy is a woolen sweater, too hot for any other time of year! This and much more makes Bergen is the perfect destination in December
Berlin, Germany
(contributed by Kristin, from Be My Travel Muse)
Europe in winter may be really charming. Especially in December. And Berlin is no exception. Each year, Berlin turns festive as Christmas markets turn up all around the city. And if we get lucky, we might even get a dust of snow as well. Although there are dozens of Christmas markets in Berlin, some of the best are at Charlottenburg Palace. Over 250 vendors and 40 local pastries open their booths, selling Christmas decorations, traditional foods and sweets. There is also a medieval themed market at Urban Spree.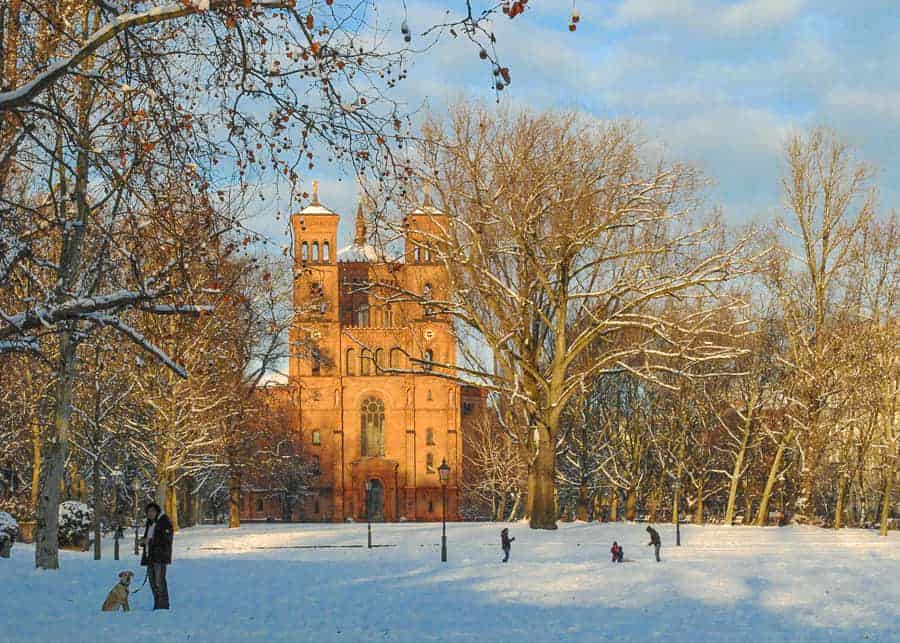 Another favorite of mine in Berlin is the Botanischer Garten which has a Christmas lights display beginning mid December. If Christmas isn't your thing, then dip into the sauna culture and stop by another favorite of mine, Vabali spa.
Keep in mind that eastern Germany is free with nudity, and you're not allowed to wear bathing suits inside this coed spa. Embrace it and enjoy the different culture while alternating between hot and cool saunas and pools. There's no better time to enjoy Berlin than in December.
Nuremberg, Germany
(contributed by Jo, from Frugal First Class Travel)
Nuremberg is a German city infamous for its dark Nazi past and its role in the prosecution of post War 2 war criminals. But come December, the city plays host to the most famous Christmas market in Germany.
While all German Christmas markets are special, the one in Nuremberg became famous for its tiny spicy Nurmberger sausages and the pretty heart shaped gingerbread. Nuremberg is well worth a visit on any December trip to Europe, to enjoy the famous market. Even if the day is absolutely freezing (it didn't get above -15ºC all day when we visited in mid-December) the Christmas market is colourful and won't disappoint.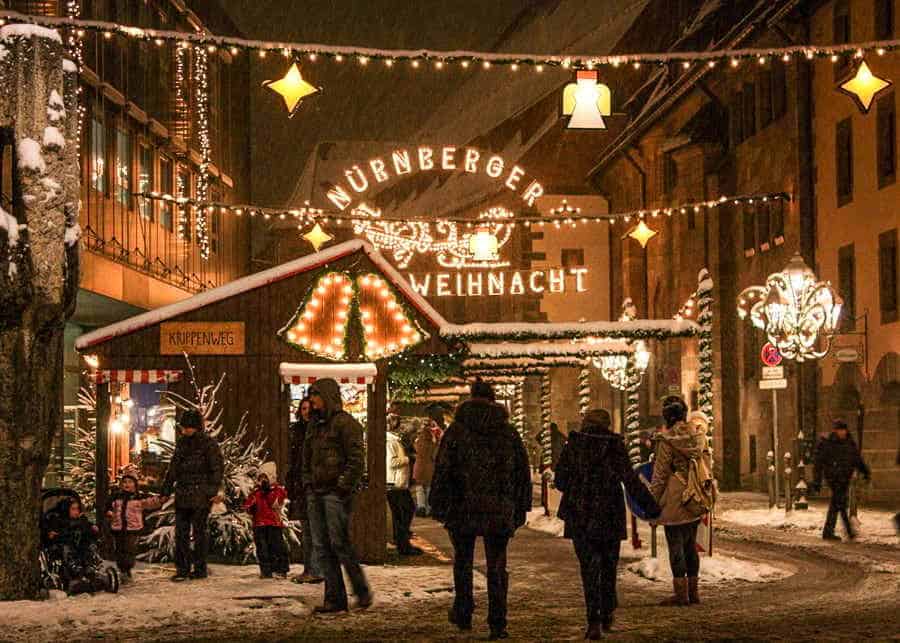 Enjoy walking the Medieval streets of the old town, and if like us, you aren't used to cold weather, marvel at the birds roosting comfortably on the frozen river. Come nightfall, the soft lights of a traditional stube will welcome you for schnitzel, sauerkraut, and good dunkelbier (local dark beer). A truly magical way to finish a magical day, in a magical location! Just pack plenty of warm clothes.
Prague, Czech Republic
(contributed by Claudia, from My Adventures Across the World)
Prague is one of the most wonderful European cities to visit in December, when the atmosphere gets all Christmassy with the gorgeous decorations and the many Christmas markets scattered around town. Despite the overcast and cold weather, Prague remains a fantastic winter destination. There are many things to do there, that can keep a visitor entertained for days.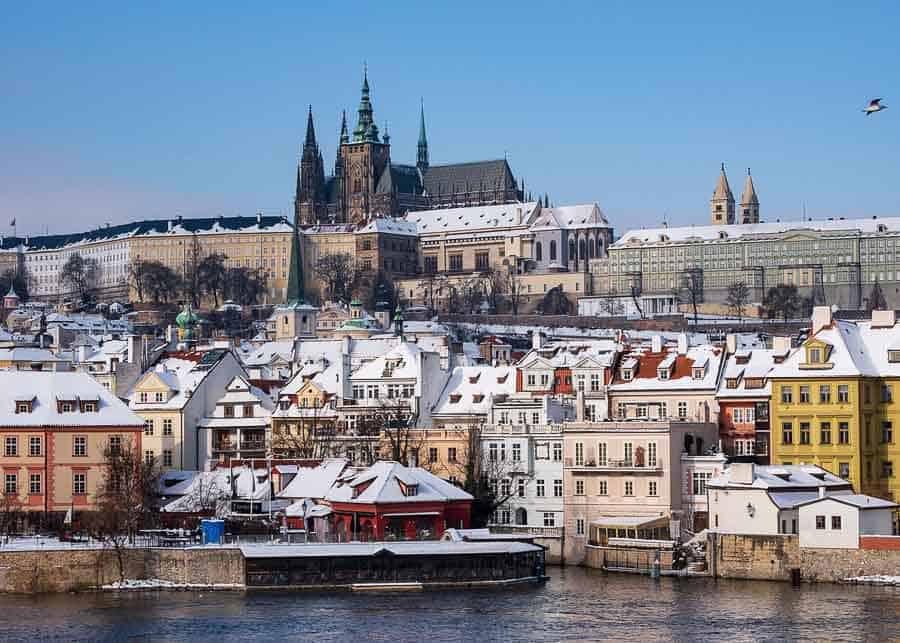 Besides the Prague's many attractions that can be enjoyed year round (like Charles Bridge, the Dancing House, or Prague Castle), it's the Christmas markets that make the city special at this time of year. Imagine small and larger markets with many stalls selling anything from traditional food and drinks, to nice gifts such as handmade hats and gloves, toys, and Christmas decorations. And if the cold becomes unbearable, there are many nice restaurants and cafés where to go drink a cup of hot tea or, better, hot chocolate.
Budapest
I love Budapest in winter! Especially during the holiday season when tinsel garlands, Christmas wreaths, and sparkly ornaments turn the city into a winter wonderland. Stores dress up with lights to create a magical experience for shoppers, hotels welcome their guests with eye-popping Christmas trees, and Christmas markets lure you with the smell of hot apple strudel and chestnuts. Everywhere you turn it's a holiday feeling!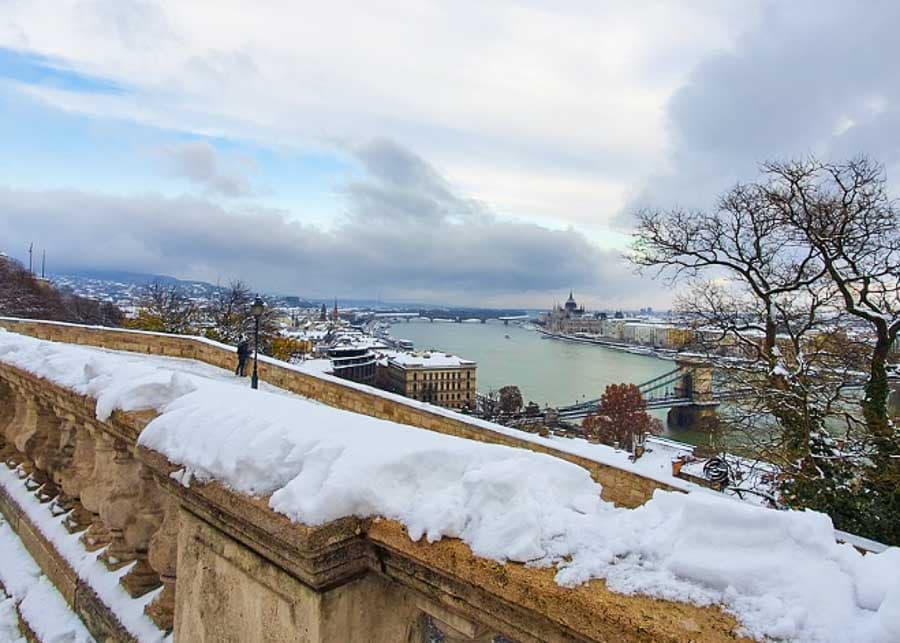 Many people fear that winter may not be the best time to travel to Europe, but let me tell you: Budapest is one of the best European cities to visit in December! The best place to go if you want to feel the holiday spirit!
Sofia, Bulgaria
(contributed by Allison, from Sofia Adventures)
Sofia makes a wonderful, off-the-beaten-path winter destination in Europe. Sofia in December is a magical place, as there are a lot of Christmas-themed activities going on. For example, there is the annual Christmas Market in Borisova Gradina, which serves German-themed snacks and beverages like wurst and glühwein. A few open air ice rinks open up all over the city where you can ice skate in one of Sofia's many beautiful green places.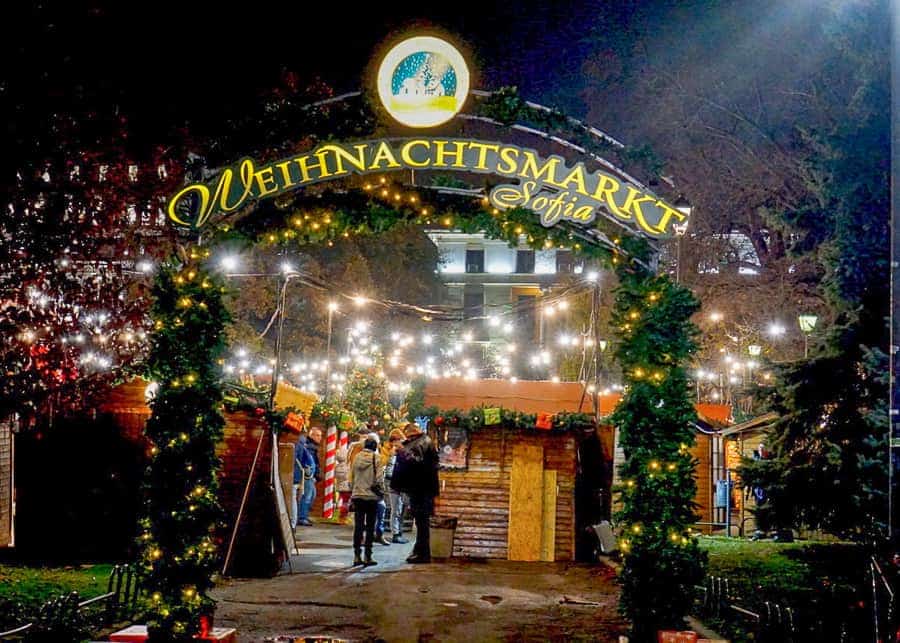 Finally, December is not too cold in Sofia (remember, while Bulgaria may sound cold, it's actually just north of Greece!). Yet even though Sofia won't be too cold, the nearby 2200-meter mountain, Mount Vitosha, will be capped with snow. This makes for beautiful photos, lovely winter hiking, and possibly even skiing if there is enough snow.
Finally, a lot of places in Sofia are actually open on Christmas Eve and Christmas Day, as the country follows the Orthodox calendar, so that Christmas falls on in the first week of January instead. So if you are planning a trip over the Christmas week, it is actually quite convenient to go on a city break somewhere where many places will be open as usual on December 25th.
READ NEXT: 12 Tips to Help You Visit Europe Like a Pro
Stockholm, Sweden
(contributed by Leona, from Wandermust Family)
To me Stockholm is one of the best cities in Europe to visit in December. In fact, I believe Stockholm is better visited in winter than it is in summer! Summers may be very crowded here, but in winter the city is quieter and more full of locals. In winter the dark sets in early which adds to the atmosphere of the city. The cold weather offers many opportunities to experience Fika, is a big part of the everyday life in Sweden. The city actually looks like a winter wonderland in December, especially when it snows.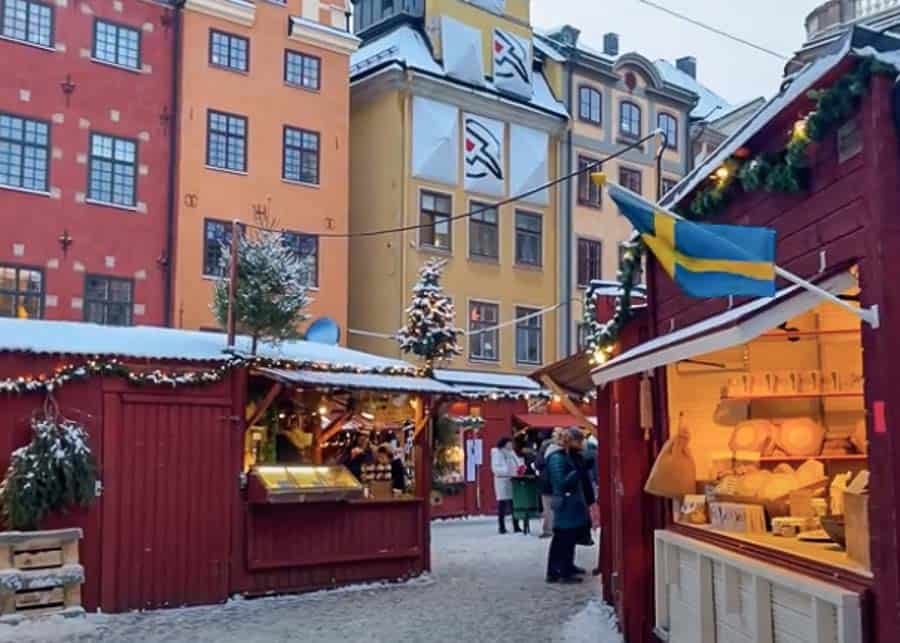 Stockholm is cold in December, but there are plenty of indoor activities to keep you entertained. There is a wealth of indoor museums, such as the Vasa Museum, the Royal Palace, or the famous Stadshuset, just to name a few. But for me the best thing about visiting Europe in winter is experiencing traditional Christmas markets, and Stockhlom's best one is in Gamla Stan. It's a great place to stock up on last minute Christmas presents and buy some traditional crafts. And while there, be sure to grab a mulled wine!
READ NEXT: How to Dress Like a European – Packing Guide for Europe
Tallinn, Estonia
(contributed by Oksana and Max, from Drink Tea & Travel)
The picturesque city of Tallinn perfectly combines medieval charm with Scandinavian hip and comes alive with festive spirit over the month of December. Adorned with Christmas lights and decorations, the cobblestone streets of the Old Town seem to be have been made for the holiday season.
Tallinn's city center is compact and simple to navigate, so getting around on foot is easy even in the chilly winter months. Despite the cold weather, there are lots of things to do in Tallinn in December. Duck into one of the cozy restaurants or bars in the Masters' Courtyard, then peruse the nearby artisan shops for holiday gifts. Explore St.Catherine's Passage, Tallinn town Wall, and don't miss the Old town Square Christmas Market! It's the biggest one in the city.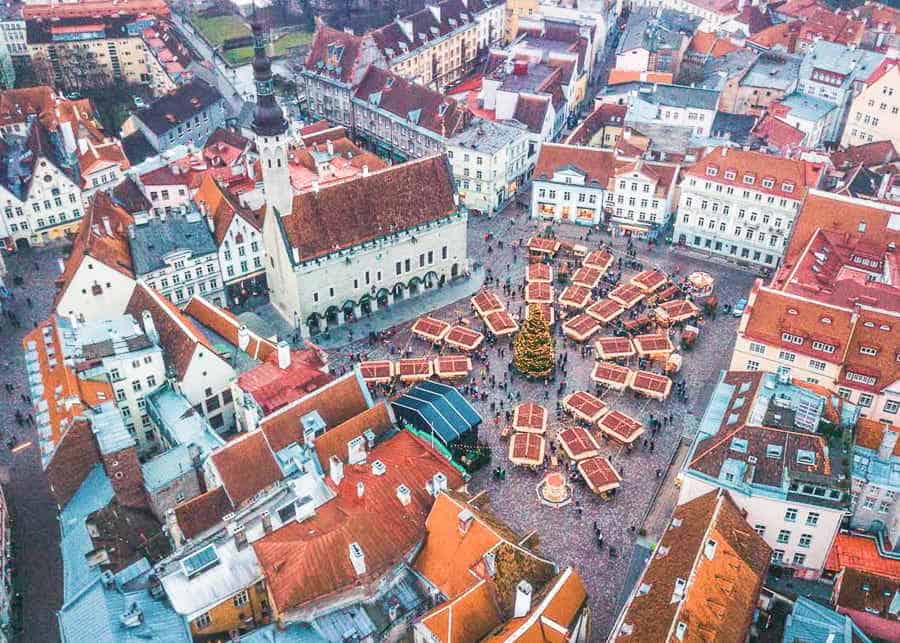 If you are looking for a more modern experience, explore the Telliskivi Creative City – an open outdoor area full of street art and modern designs. Or, if you are an outdoor enthusiast, check out Jagala Waterfall, a particularly impressive destination to visit in winter. By visiting Tallinn in December you'll reap the benefits of visiting during Estonia's low season. This helps the city combat over-tourism and eases extra pressures on its resources. Plus it gives you more accommodation options. A win win in our books!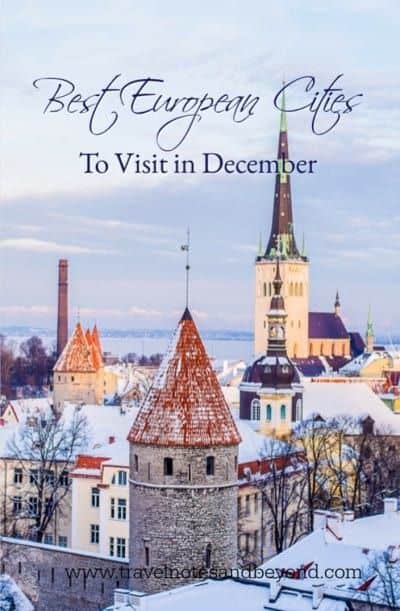 YOU MAY ALSO LIKE THESE: