Southern California is one of the best places to visit during the winter months. With daytime temperatures in the upper 70s, winter will be the last thing on your mind at this time of year. But even though it's not cold outside, L.A. surely dresses up for the Holidays and puts on a real show in December. So if you happen to be in town at this time of year, here are some fun things to do in Los Angeles in December: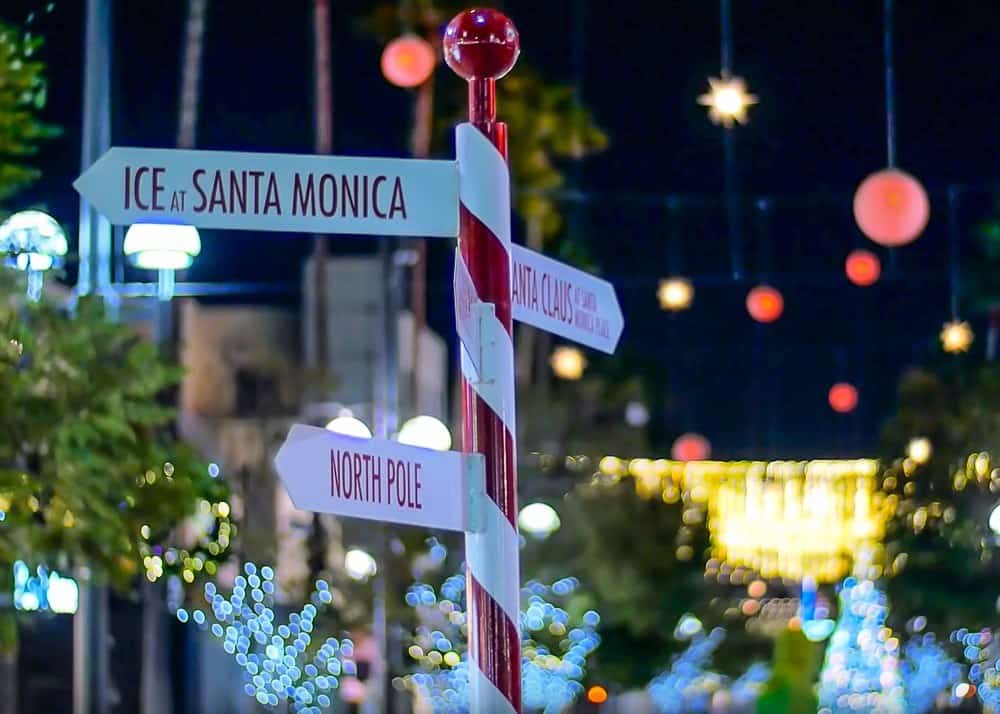 Fun Things to Do in Los Angeles in December
1. Visit the L.A. Auto Show
One of my favorite things to do in Los Angeles in December is attend the L.A. Auto Show. The show is an annual event that takes place at the Los Angeles Convention Center in early December.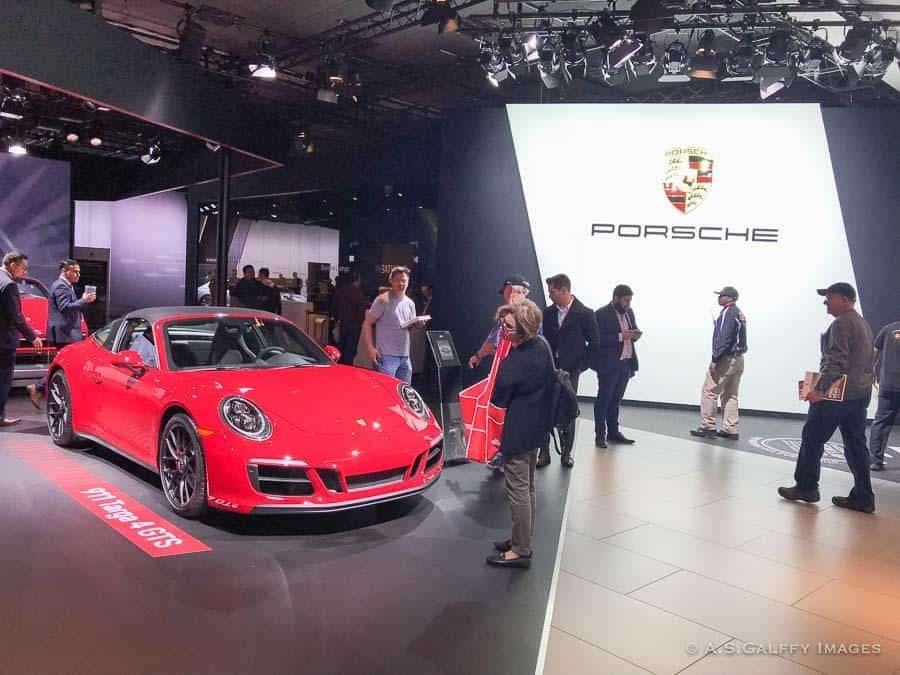 The event is open to the public for ten days each year, filling 760,000 square feet (71,000 m2) of exhibit space. Whether you love admiring the newest makes and models, or are simply looking to upgrade your ride, this is the place for you!
The Los Angeles Auto Show is perfectly designed and organized and it promises to capture the interest of every visitor. Even of those who believe they are not-so-much-into-cars (like me).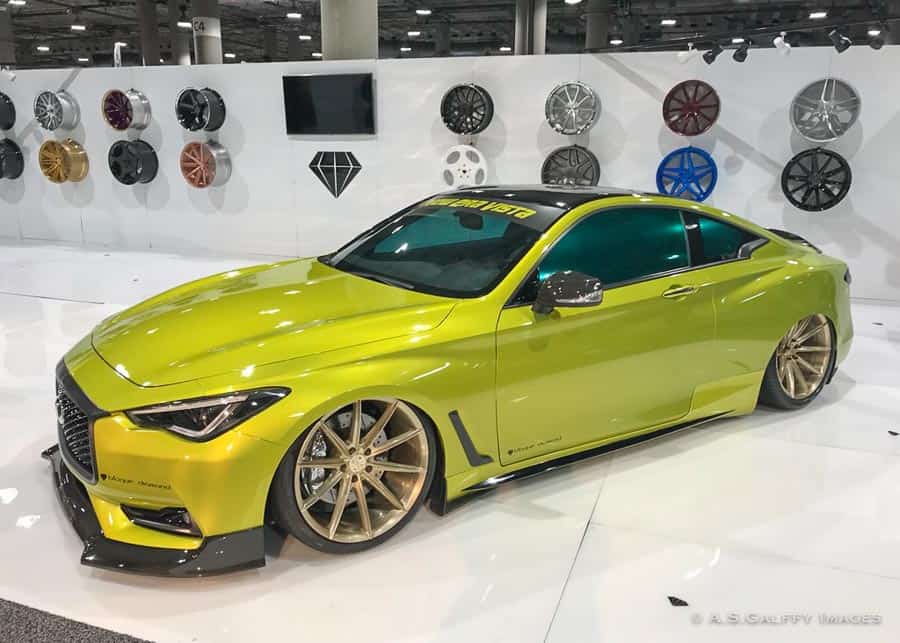 I was completely taken by the multitude of cars, the variety of models, and makes, some of which were so fancy and luxurious. It's amazing how much progress the automotive industry has made in such a short time.
2. Attend a Christmas Concerts at Walt Disney Concert Hall
Another fun thing to do in downtown Los Angeles in December is attend one of the many outstanding Christmas Concerts. Among the most beloved musical events in December are the numerous Christmas Concerts at Walt Disney Concert Hall.
From internationally acclaimed groups like the Canadian Brass, or Chanticleer, to local celebrities like the LA Master Chorale, or the A Philharmonic Orchestra, you will be delighted with the most outstanding music.
And if you have never visited Walt Disney Concert Hall –a truly architectural marvel– now is the best time to test its perfect acoustics.
3. Experience the Enchanted Forest of Light Show at Descanso Gardens
If you visited Los Angeles but have never heard of the beautiful Descanso Gardens in La Cañada-Flintridge don't feel bad. Many Angelenos didn't hear about it either, although it's one of Southern California most beautiful gardens.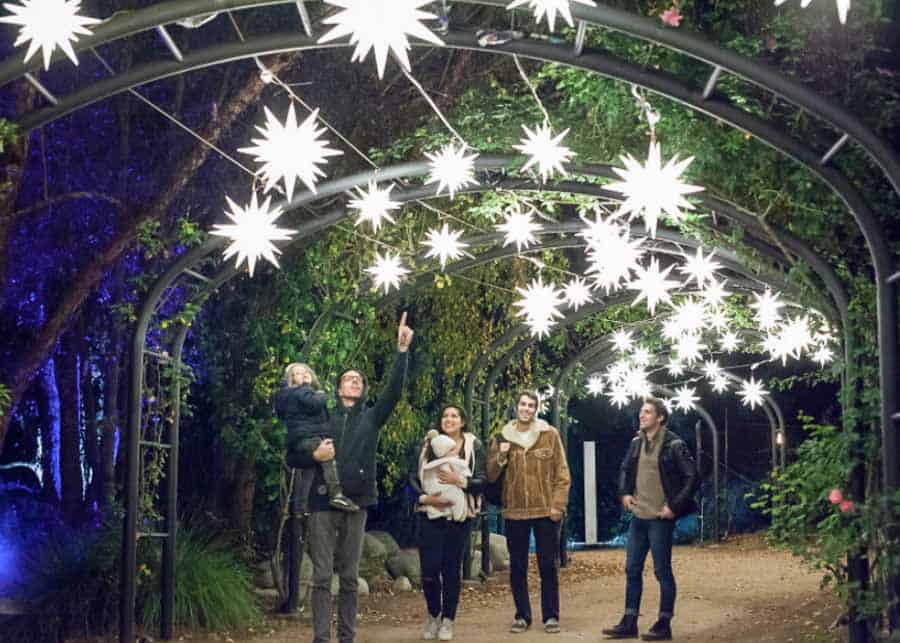 In a way that's understandable, since getting there from Downtown L.A. requires driving through a confusing combination of freeways. But if you happen to be in L.A. in December, make sure you attending the light show at Descanso Gardens.
Every evening starting November 20 through January 8, Descanso lights up with a beautiful holiday light display called Enchanted Forest of Light. The light show features several interactive displays which let you manipulate lights and sounds in the garden.
READ NEXT: How to Spend One Day in L.A. – the Ultimate Itinarary
4. Enjoy the Newport Beach Boat Parade and Ring of Lights
Christmas parades are always fun to watch. They kick off the holiday season and put everybody in a festive, holiday mood. How about a parade that instead of floats on the street has boats on the water and fireworks?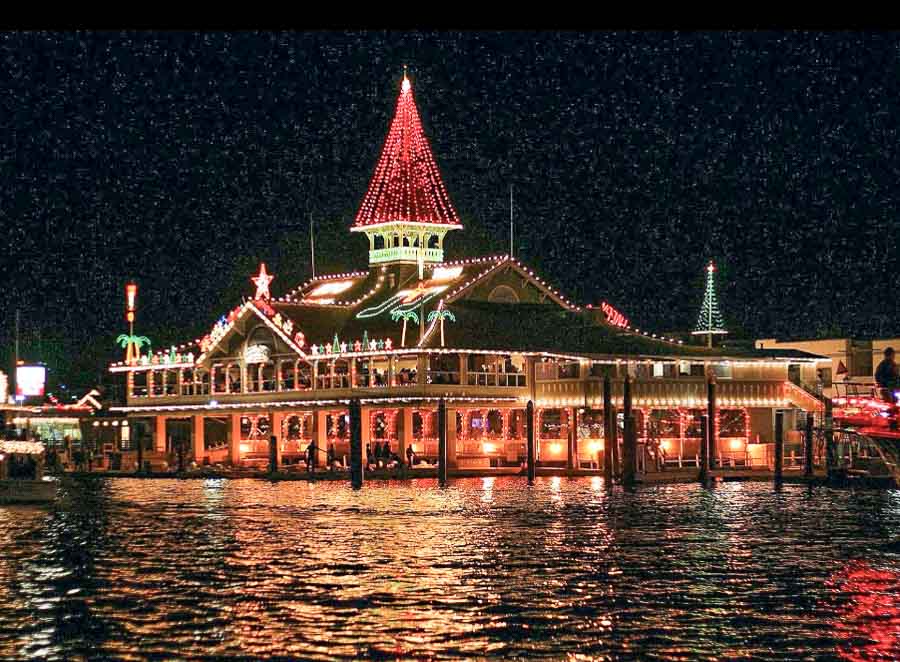 Every year for 5 days in December Newport Bay is richly illuminated with millions of lights and hundreds of themed estates. This isone of the largest decorated boat parades in the country!
Hundreds of decorated ships of all sizes compete for top awards in different categories.
The 109 year old tradition is watched by over 1.5 million people each year and is one of the largest boat parades you will likely ever see. Millions of holiday lights are a part of the Newport Beach Boat Parade and Ring Of Lights decorations making Newport Bay a "must see" for the holiday season.
5. Surf and ski in the same day in L.A.
I'll let you in on a little secret that only Angelenos know. One of the most fun and cheap things to do around Los Angeles in December is ski in the morning and surf in the afternoon. Not many cities in the world can brag about this.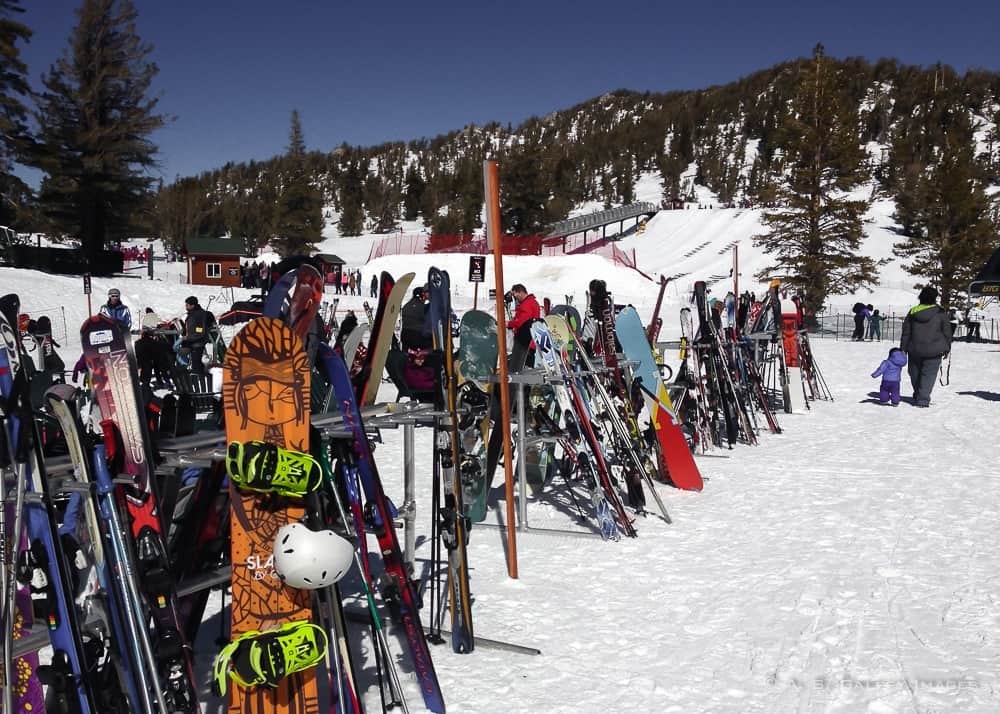 Skiing in the morning and sunbathing in the afternoon at Santa Monica is one of our most beloved Christmas traditions.
The closest ski resort from Downtown L.A. is Mount Baldy, an easy 55 minute drive (46.9 mi) via CA-60 E. There is also Big Bear, a much bigger resort in the San Bernardino Mountains, about 2.5 hours from Los Angeles. In fact if you are spending more than just a few days in L.A, you should take time to visit Big Bear. It's one of the nicest weekend getaways from Los Angeles.
The closest beach from Downtown L.A. is Malibu, a straight 42 minute drive (32.8 mi) on I-10 W and CA-1 N. Although the water is too cold for swimming in December, the air temperature is always pleasant for sunbathing.
6. Enjoy a Queen Mary Christmas
The legendary Queen Mary Ship which is now permanently stationed in the Long Beach port invites everyone to embrace the holiday spirit at the Queen Mary Christmas in December. This legendary ship is one of the biggest attractions in Los Angeles, so don't miss it.
What you can expect? There is ice skating at the outdoor North Pole Village, then you can jump aboard the QM Express Train, enjoy the strolling performers, or watch some live entertainment aboard the Queen Mary.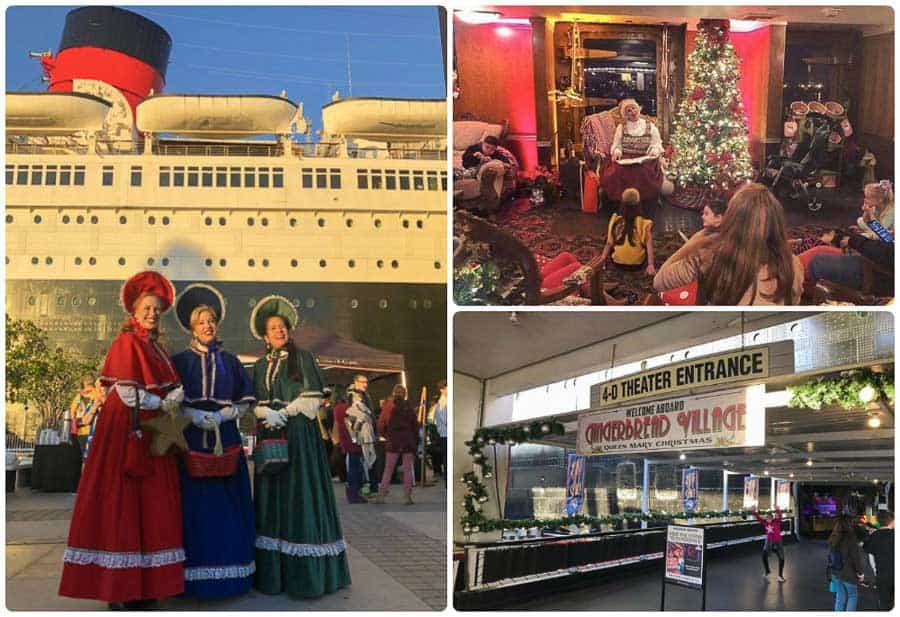 Aboard the ship you'll find Old Saint Nick greeting people and Mrs. Claus reading stories to the kids. There is also a 4-D Theater aboard where you can watch Christmas movies like The Polar Express and others. It's a truly magical experience!
7. Drive down the most festive street in Los Angeles
Temperature wise, it may not feel a lot like Christmas in Los Angeles in December. But when it come to the Holiday spirit and Christmas decorations, there is no place like L.A.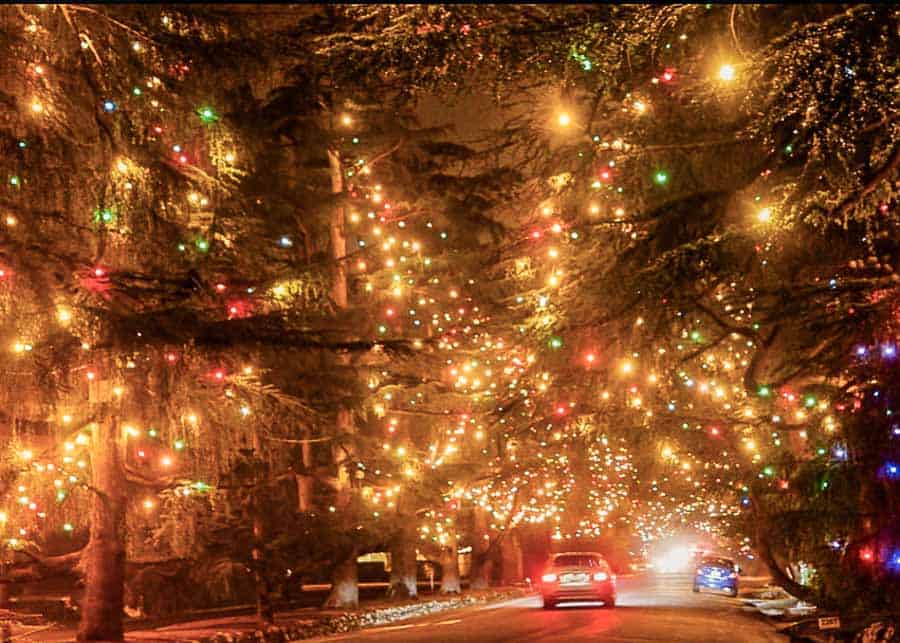 If in summer we are used to driving down streets lined with Palm trees, in December we drive down streets filled with lights and Christmas decorations. And the most festive one of all is Altadena's Christmas Tree Lane.

TOURS WE RECOMMEND:
8. Watch the Hollywood Christmas Parade
The Hollywood Christmas Parade marks is quite the extravaganza that you shouldn't miss if you happen to be in Los Angeles in December. The parade takes place December 1 and winds its way from Hollywood Boulevard (right at the Chinese Theatre) all the way to Vine Street.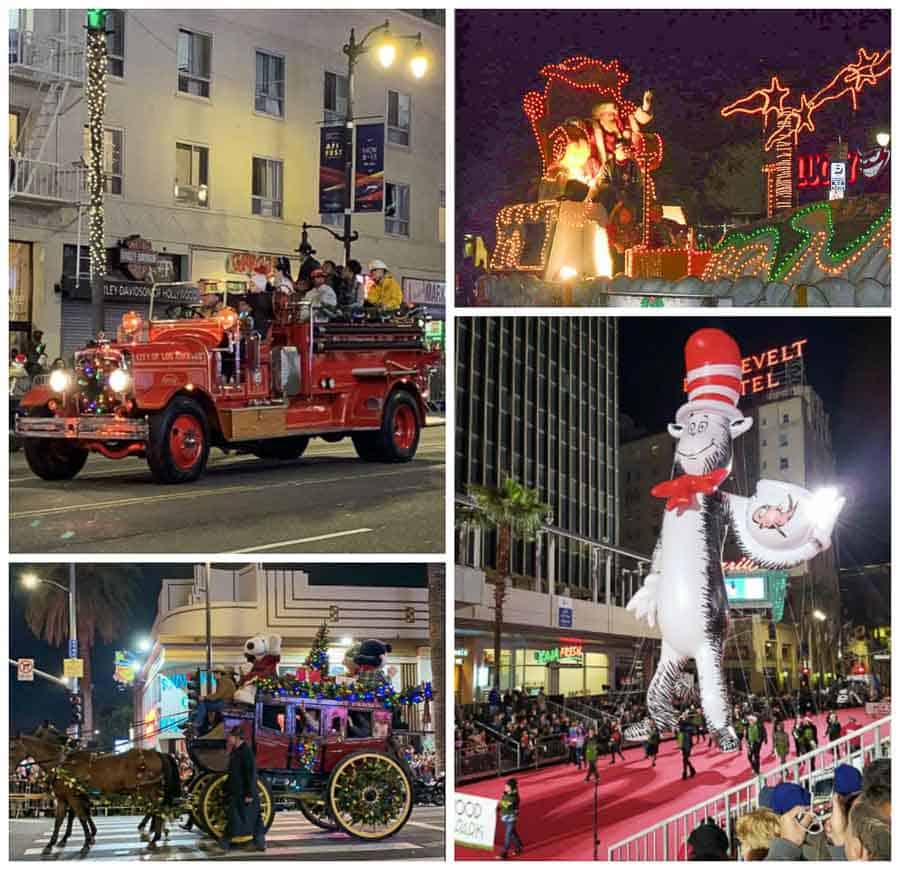 There is live music, marching bands and a huge array of famous characters and floats. And of course, you will also see Santa Claus!
9. Visit the Unique L.A. Holiday Market
This December skip the Mall and shop at the Unique L.A. Holiday Market where more than 150 local small businesses and independent artists will share clothing, jewelry, apothecary items and other gifts. The Market will be held Saturday and Sunday, December 10 and 11, at the California Market Center in downtown Los Angeles.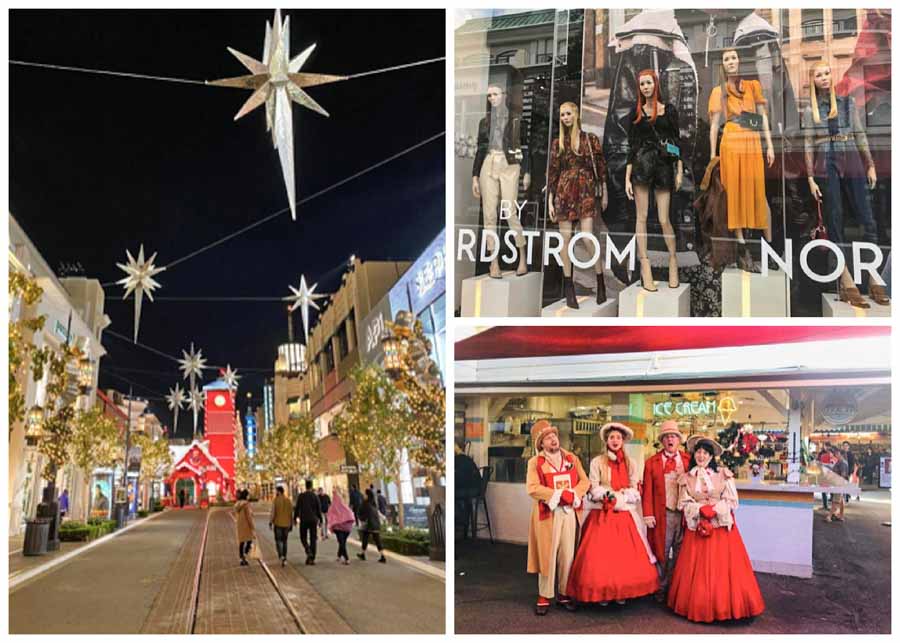 The organizers promise the "Best shopping experience in LA!" Besides shopping from the best up-and-coming designers, artists & brands, you'll also get free drinks, DIY projects, food, and DJs!
General Admission is $15/person and includes a brand new nylon tote (worth $12), free drinks + bar.
VIP Admission is $50/person which includes a cozy winter VIP bag, a set of merino wool coasters, a chic enamel mug, and another surprise gift – plus a brand-new nylon tote bag (worth $12).
All Weekend Pass costs $20/person and allows you to visit the market on both days (Saturday & Sunday).
10. Experience the Tournament of Roses Rose Parade
The famous Tournament of Roses Rose Parade actually kicks off on January 1, but we can still consider it as part of the best things to do in L.A. in December.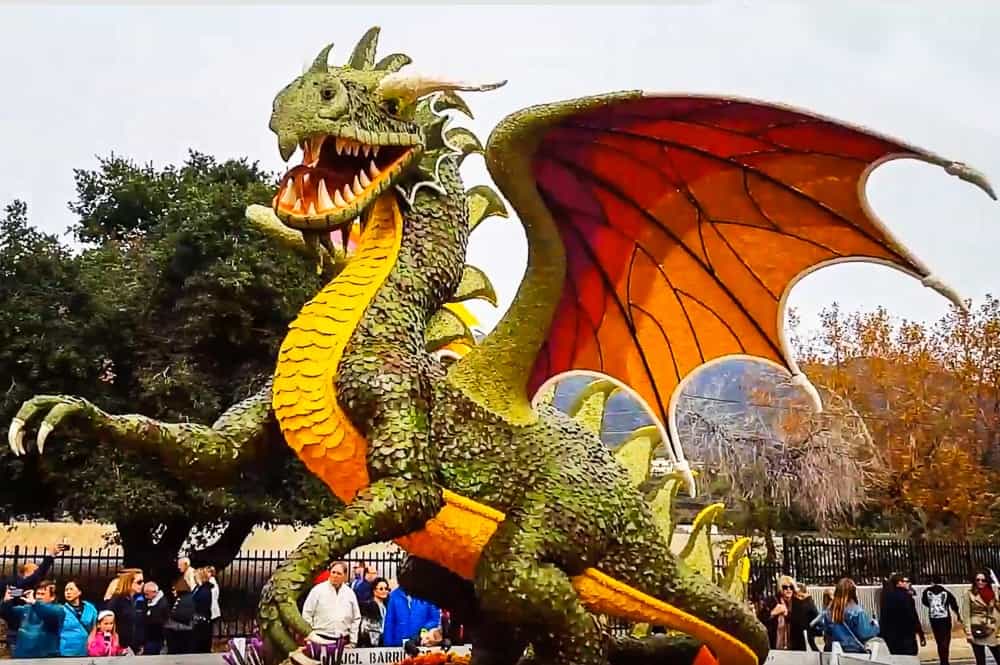 The parade takes place in Pasadena, along Orange Grove Boulevard and Colorado Avenue. The Rose Ball Parade, which is nationally televised on New Year's Day, is an extravagant display of floats that are constructed with thousands of flowers, roses and other beautiful blossoms.
All the big local companies and business are represented in the parade, like Honda, Bank of America, etc. Beside the floats, there are numerous marching bands, horse-drawn carriages and more.
11. Ice Skate at the L.A. Kings Holiday Ice Rink
One of the most fun things to do in Los Angeles in December is ice skate. So where can you do it? The LA Kings professional hockey team presents an annual outdoor ice skating rink in downtown Los Angeles, right next to Staples Center, where the team plays.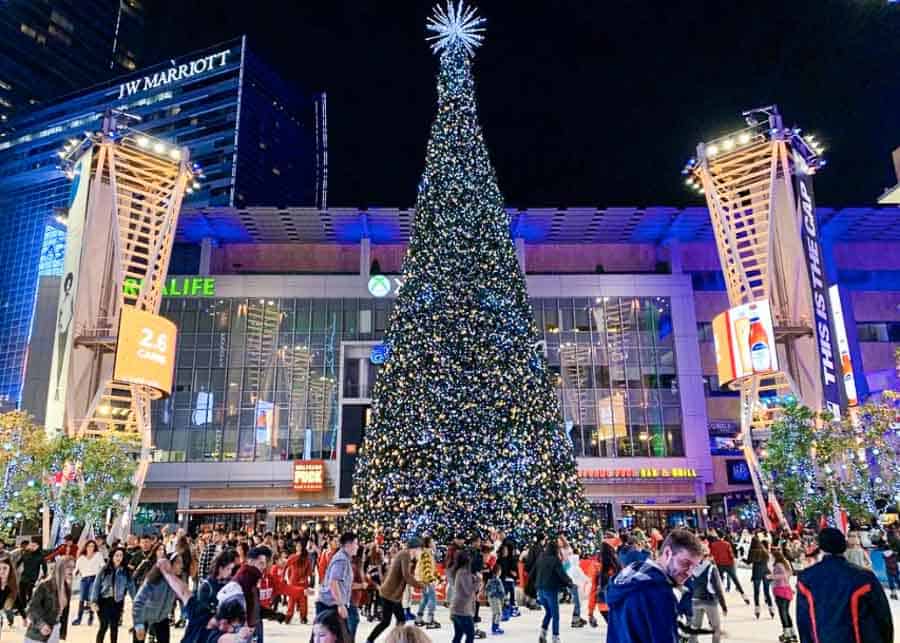 Kids and adults alike can ice skate in the pop-up rink, operating is open between November 30 to January 12, including Christmas Eve and New Year's Day as well. If you want to skip the line, you can purchase a Fast Pass online and be the first to get to skate.
If you found this post useful, please pin it to help other visitors to L.A.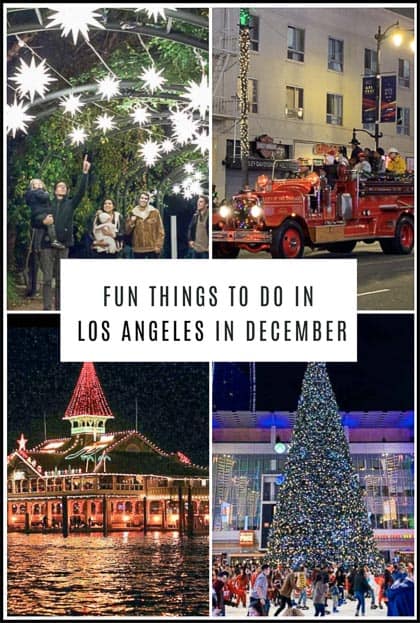 YOU MAY ALSO LIKE: