If you only have 3 days in LA and are wondering where to start, you've come to the right place. As a local, I can give you some good advice and tips for visiting the city. I can also help you plan the perfect 3 days Los Angeles itinerary that will leave you with lots of great memories. The city has many attractions, but they are not concentrated in one single area like in other cities around the world.
How to Spend 3 Days in LA
It's hard to know where to start when you visit a city like LA. There's so much to see and do here at any time of year! If you are coming from a smaller place, this place will feel overwhelming. Whether you come Los Angeles for a month or just for a weekend trip, chances are that you will quickly fall in love with it.
3 days in this huge city may may seem very little, but with a little planning and the right itinerary you'll be able to catch a glimpse of LA's most famous places.
The Perfect 3 Days Los Angeles Itinerary
The 3 days Los Angeles itinerary below will take you to some of the city's most iconic places. You shouldn't worry about squeezing in more into these three days. As someone who has been living here for 30 years, I can assure you it's simply not possible. Some of the places that I included in this list are totally free, which is always a plus. So here is your Los Angeles trip plan:
Los Angeles Itinerary Day 1: Santa Monica Pier, Malibu and Venice Beach (free!)
Santa Monica is one of the most romantic getaways in California. The 72 miles of coastline and approximately 330 days of sunshine are a magnet for the visitors of LA. Besides, the coastal areas are among the most scenic places in Southern California. In all, there are over 60 beaches on this incredible stretch of coastline, so it's best if you start your Los Angeles itinerary at the beach. The closest and most popular ones to downtown LA are Santa Monica, Venice and Malibu.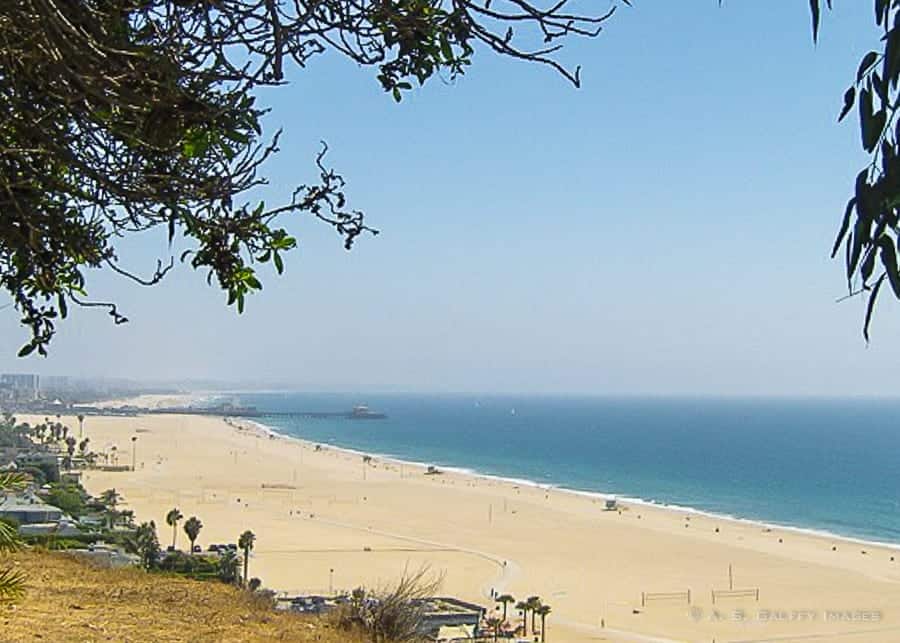 Stroll on the Santa Monica Beach and Pier
You can start your 3 days itinerary at the Santa Monica Beach, just a short 20-minute drive from the downtown LA. Santa Monica Beach stretches along either side of the historic Santa Monica Pier and has plenty of parking, restrooms and several beach side cafés. The paved path that follows the shoreline all the way to Venice Beach is a paradise for rollerblading, biking, or walking.
There are many small shops where you can rent bikes, rollerblades, boogie boards, chairs, and umbrellas. If you don't want to lay down on the beach, grab your skateboard or bicycle and cruise from Santa Monica Pier to Venice and back.
The most popular spot in Santa Monica is the Pier at the foot of Colorado Avenue. This bustling wooden wharf is where the action is. With its shops, small restaurants, arcade, roller coaster and giant Ferris wheel, the historic Santa Monica Pier continues to be the main attraction in Los Angeles for families with kids.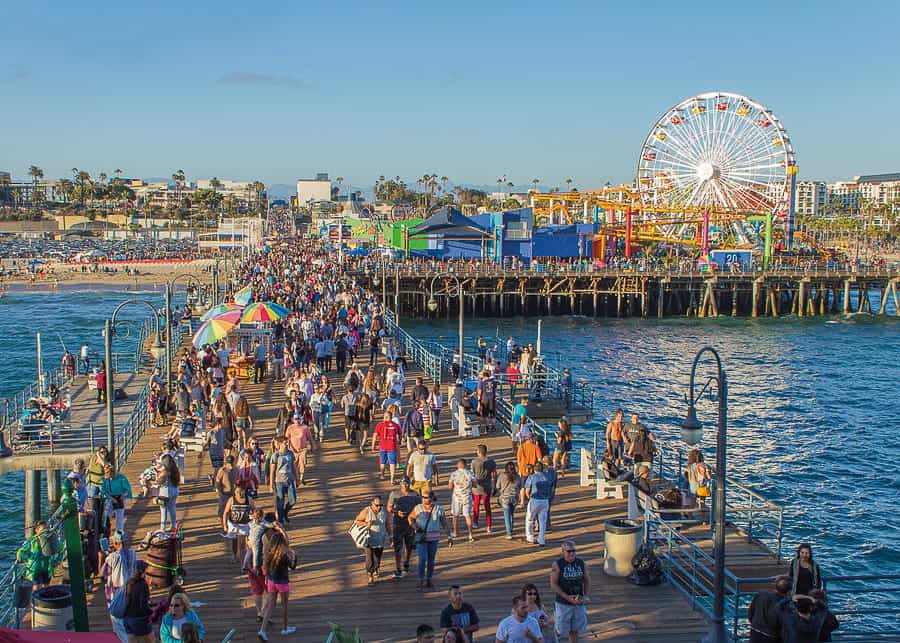 Walk (bike, or rollerblade) to Venice Beach
Just South of Santa Monica is one of Los Angeles's most popular and eclectic places: Venice Beach. However, this beach is a mixed bag that isn't for everyone. If you want to experience the bohemian spirit of Los Angeles, you should definitely come here. There are so many things to do on Venice Beach!
Be advised however that the free-spirited Venice Broadwalk may shock you with its colorful graffiti, street performers, and funky shops. You will see some things that you've never seen before and will shake your head. But you may very well find all these very entertaining.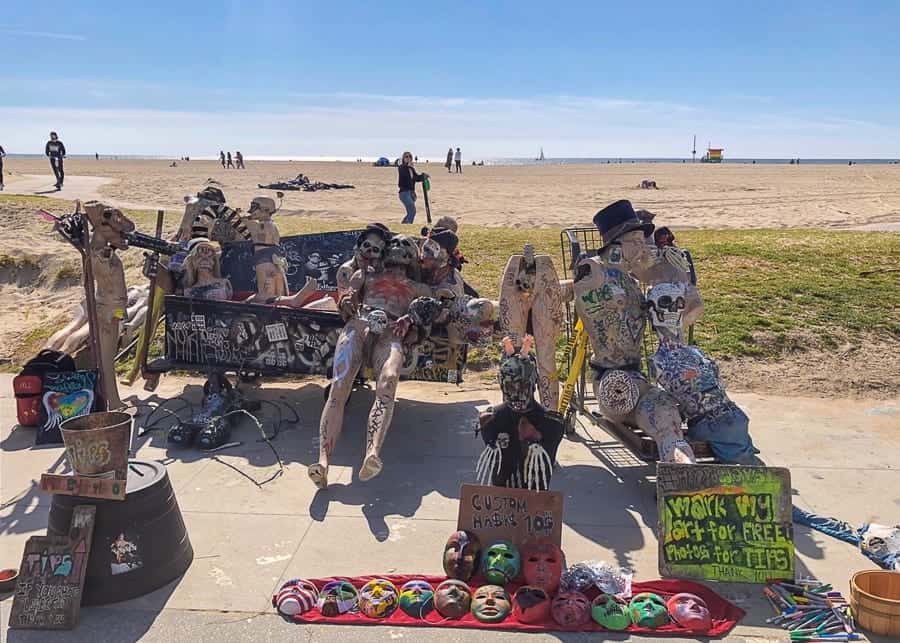 I love Venice Beach, always have. It has an indescribable vibe that I have only experienced here. When we were younger we used to rollerblade from here all the way to Santa Monica and back. If you enjoy people watching, then this is the place to be. It is for sure one of the most unique beach-going experiences you'll have.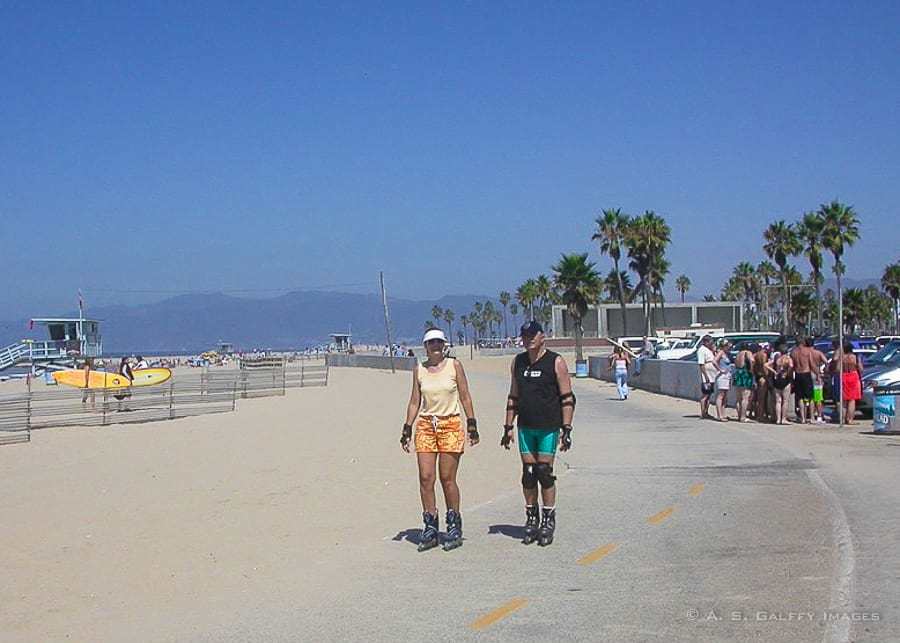 Drive to Malibu
Malibu is a must, no matter how many days you have in LA. This where the famous Pacific Coast Highway drive starts. Here is where you'll see some of the most picturesque stretches of beach in Southern California. They are however very different from the beaches of Santa Monica or Venice. Some of them are private, so they allow alcohol on the beach (Paradise Cove), but they are notorious for the huge parking fees.
In Malibu you will find surf beaches and stretches of shore with tide pools, caves and strange rock formations (Leo Carillo). If you want to explore the caves and rock formations, you should come prepared with good shoes because you'll have to walk down a big bluff.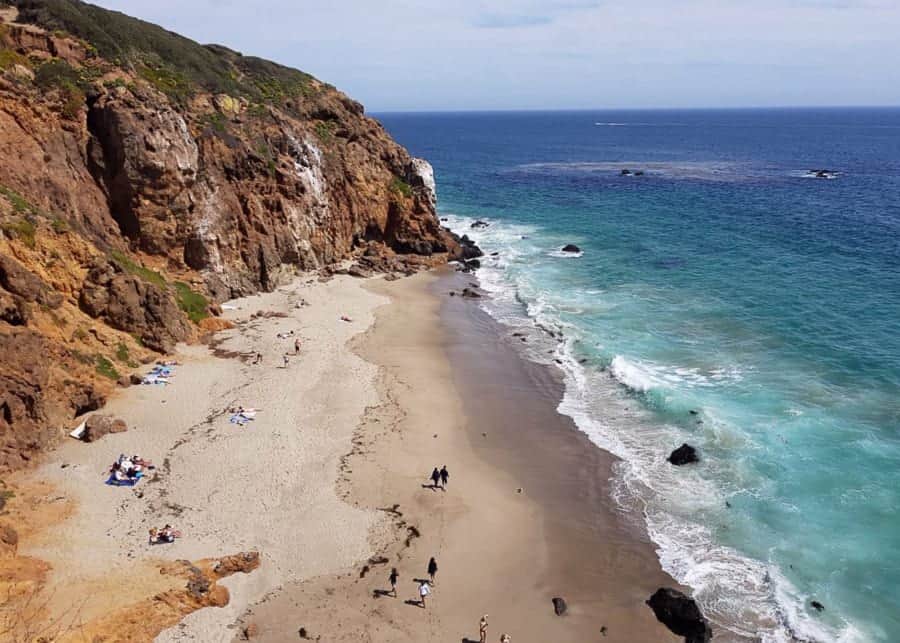 Malibu beaches offer a truly laidback experience where you can just lay in the sand and dip in the ocean. And if you are in Los Angeles when the whales migrate (Dec.-Jan, April-May) you're likely to see some gray whales, dolphins and seals here. Especially if you visit Malibu early morning.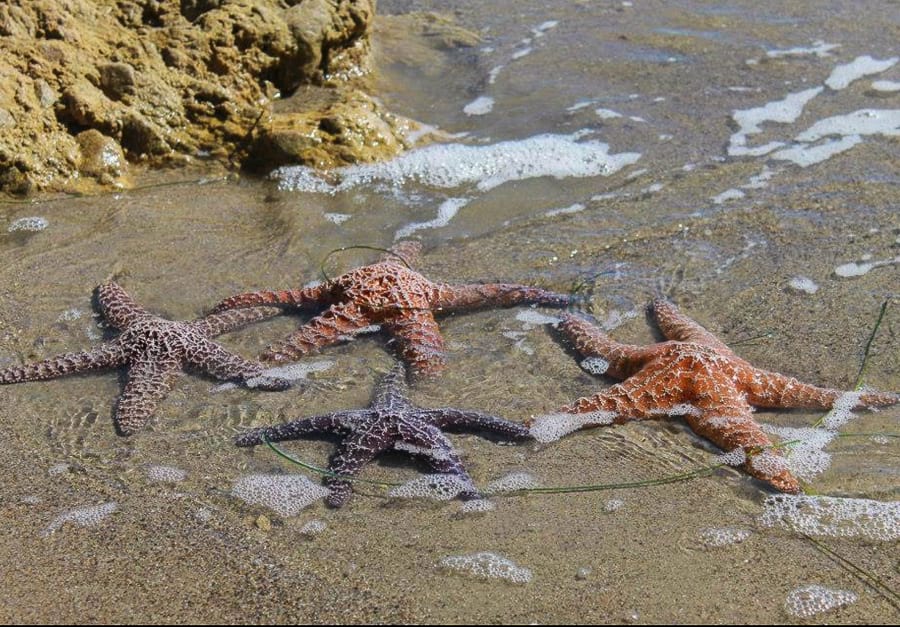 Los Angeles Itinerary Day 2: Getty Center and the Griffith Observatory
You should make your second day in Los Angeles a museum day. But not just any museum! The Getty Center is a more than just a museum and is a very impressive place to visit. You don't have to be a huge art or museum devotee to fall in love with this iconic site.
Getty is not just one of my favorite art museums in the world, but one of Southern California's most popular attractions. The Getty Center (not at the same location as the Getty Villa) sits high up on a hill overlooking the city and is connected to the parking lot at the bottom by a funicular. The museum has numerous galleries that spread out in multiple buildings. The Center holds the best and most valuable art collection in Los Angeles.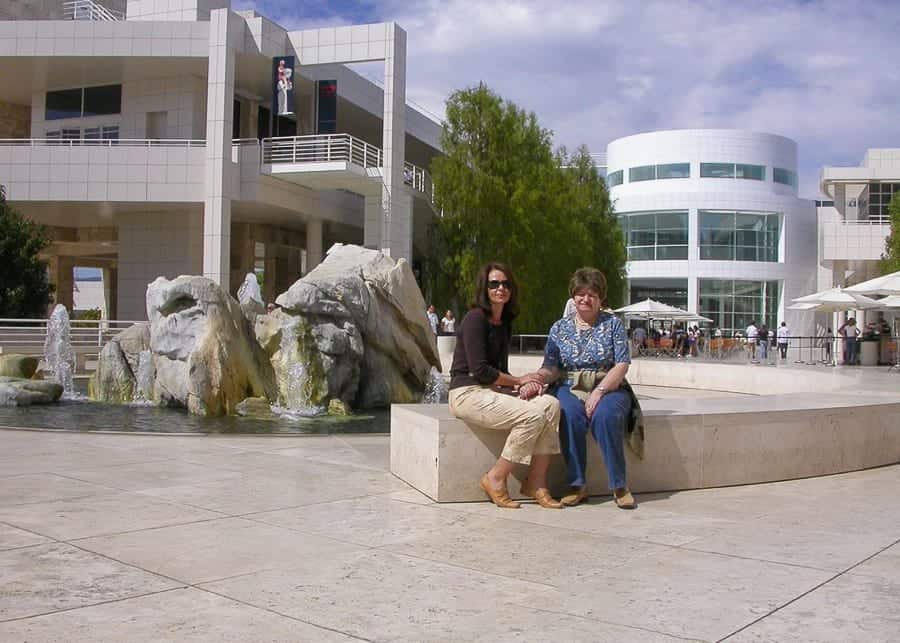 In addition to its extensive artwork collection and unique architecture, the Getty Center features an impressive garden. The Central Garden, designed by artist Robert Irwin, sprawls over 134,000 square feet of green space.
The garden contains 500 species of plants from around the world and is a beautiful place to walk around and relax. You can easily spend an entire day here, admiring the outstanding art collections.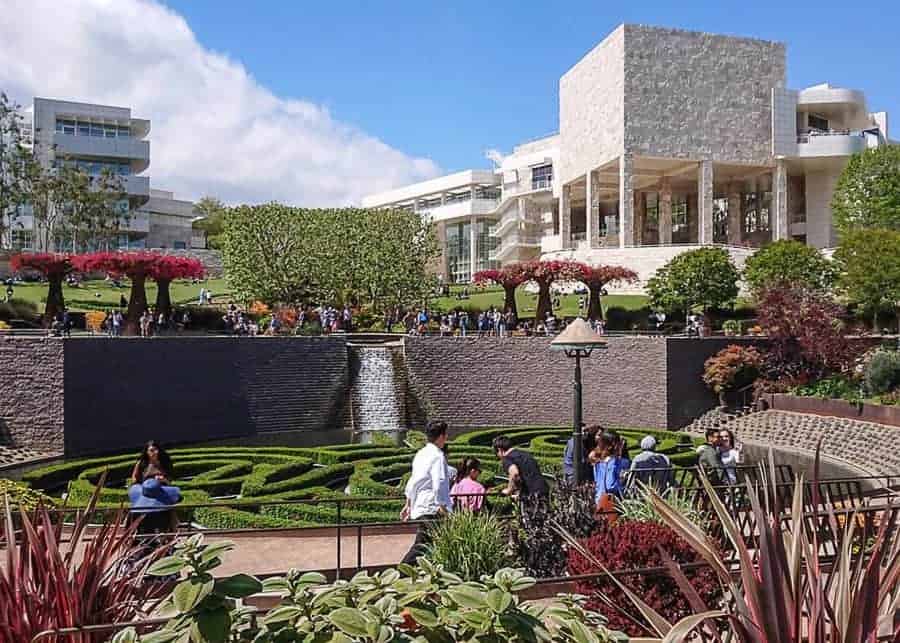 There are several options for lunch at the Getty Center. You can either bring your own food and set up at the picnic tables at the lower tram plaza. Or, if you just need a quick bite between exhibits, you can grab a bite from one of the coffee carts in the museum courtyard. But if you're looking for something more substantial than the coffee cart, the Getty Center has two on-site cafés and a fine dining restaurant.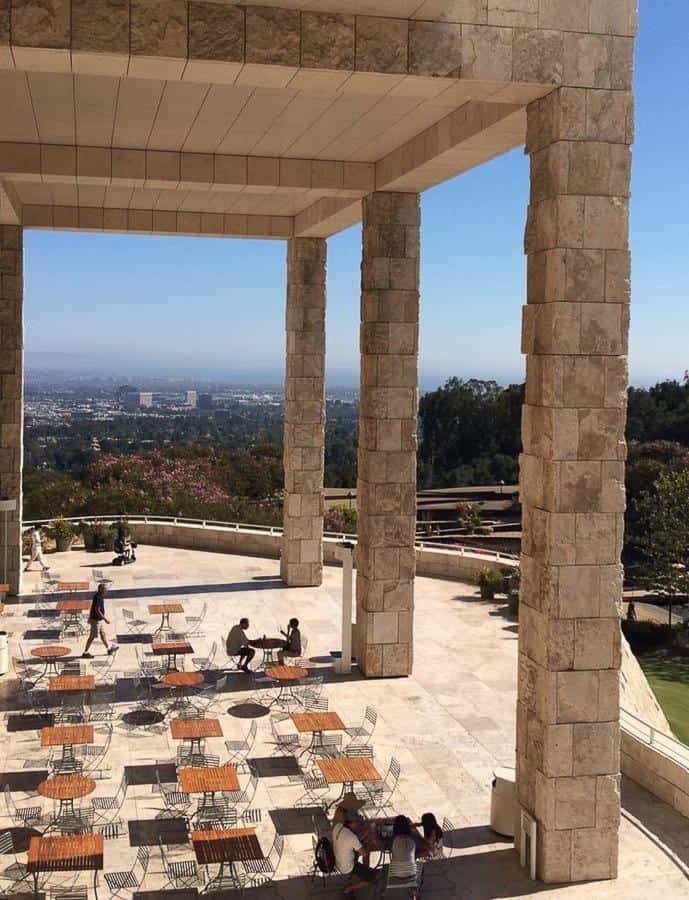 Visit the Griffith Observatory (free!)
You can end up your 2nd day in L.A. with a sunset visit at the Griffith Observatory. The Observatory features space-related exhibits, star shows in the planetarium, and a telescope.
Admission to the Observatory building, grounds, and telescopes is always free. However, you will have to buy tickets for the planetarium show.
The grounds of the Observatory are very beautiful, featuring some terraces from where you get a bird-eye view of the entire valley. On a clear day, you can see all the way to Santa Monica from up here. This is the best spot to take a panoramic picture of the downtown Los Angeles. Also from up here, you can catch an unobstructed view of the Hollywood Sign, which is on the opposite hill.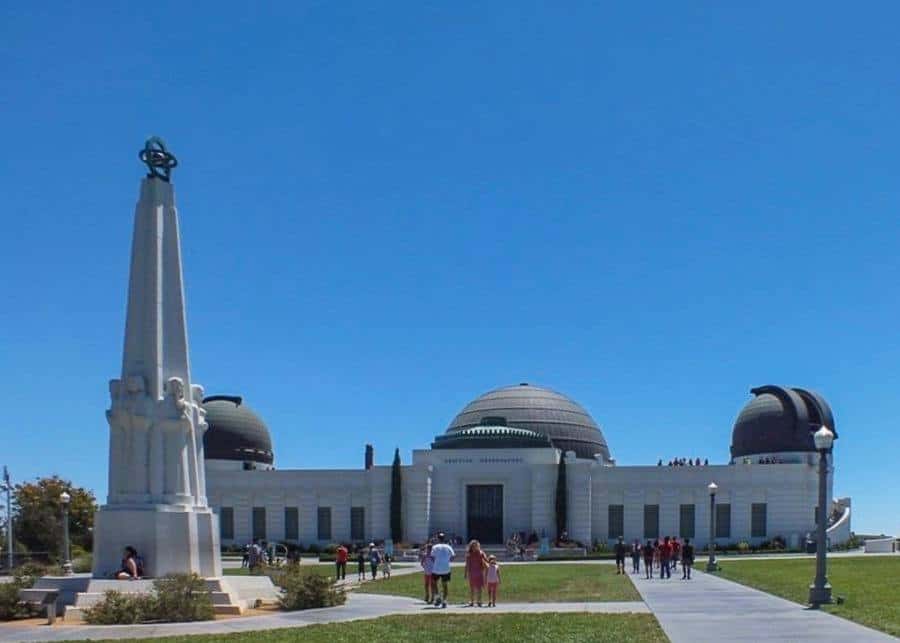 The best time to visit the Observatory is late afternoon towards the evening when you can stick around to see the sunset and city lights.There are several ways to get to Griffith Observatory: via public transportation, shared ride, by bike, or simply by walking from parking elsewhere in the park. There is also parking near the Observatory ($8.00 per hour), but is very limited.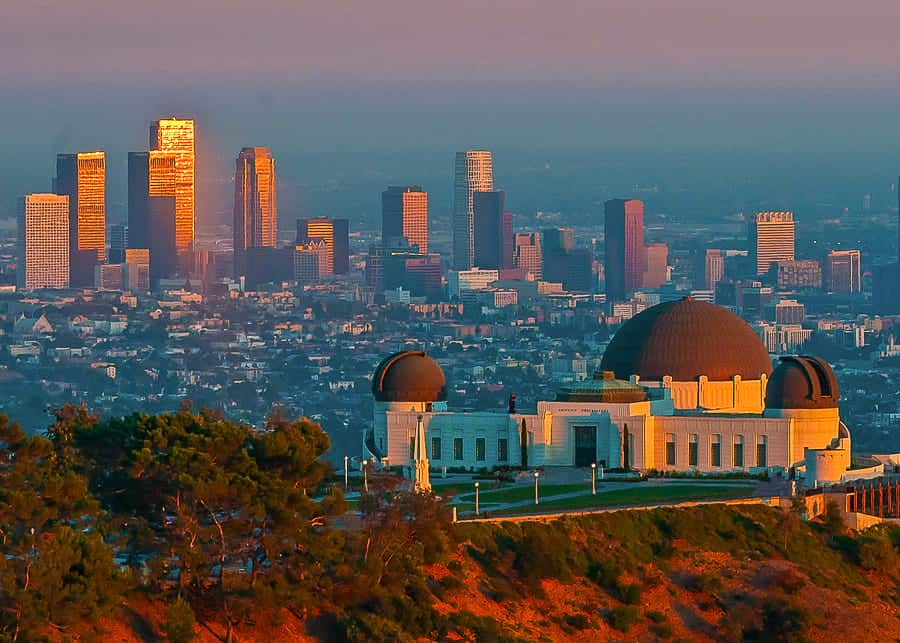 Los Angeles Itinerary Day 3: Hollywood (Sunset Strip, Chinese Theater, Dolby Theater and Hollywood Walk of Fame
No Los Angeles itinerary would be complete without a visit to the famous Hollywood. As touristy as this place may be, it should be part of your L.A. list of attractions. Especially if this is your first time in the city! Hollywood enjoys an international reputation like no other place in the world. Although some parts of the area are undeniably derelict, Hollywood still sparkles with glamor.
Walk the Sunset Strip (free!)
You can start your last day in Los Angeles with a walk on the famous Sunset Strip. The strip is the 1.5 -mile stretch of Sunset Boulevard that passes through West Hollywood. Sunset Boulevard extends from Hollywood all the way to Beverly Hills.
The Sunset Strip is home to flashy boutiques, high end restaurants and nightclubs, as well as huge, colorful billboards. And it's not impossible to bump into a celebrity at one of the hotel bars in West Hollywood, or in one of the high-end boutiques on Rodeo Drive, in Beverly Hills.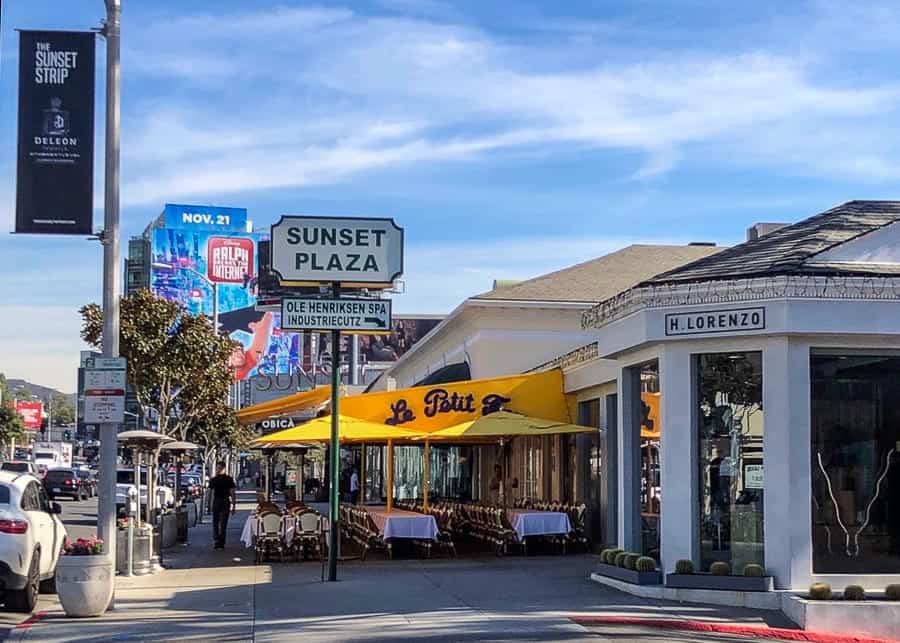 Visit the Chinese (free!)
The Chinese Theater became famous for being the venue of the Academy Awards ceremony from 1944-1946. But most visitors are lured here by the celebrity handprints and footprints in the concrete of the theater's forecourt.
The tradition began during the theater construction, when one of the Hollywood legends at the time accidentally stepped into the wet cement outside the building. Instead of covering the imprint, theater owner Sid Grauman encouraged other celebrities to repeat the "mistake." And so it all began. The courtyard is usually cluttered with tourists trying to snap a shot of the famous imprints.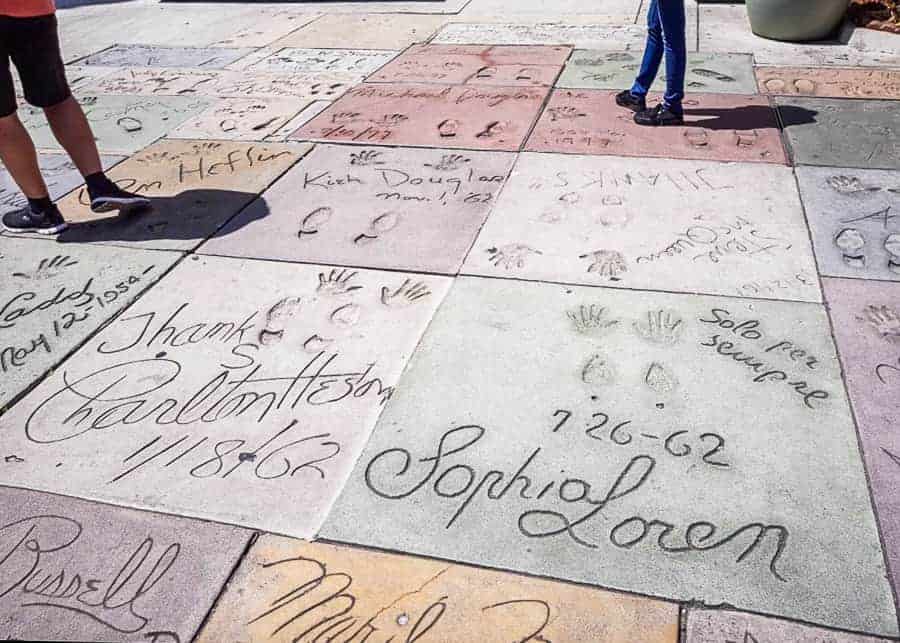 In 2013, after extensive renovations, the The Chinese Theater was turned into a grandiose 923-seater IMAX auditorium that projects stunning quality movies. If interested, you can still watch a movie in this iconic landmark.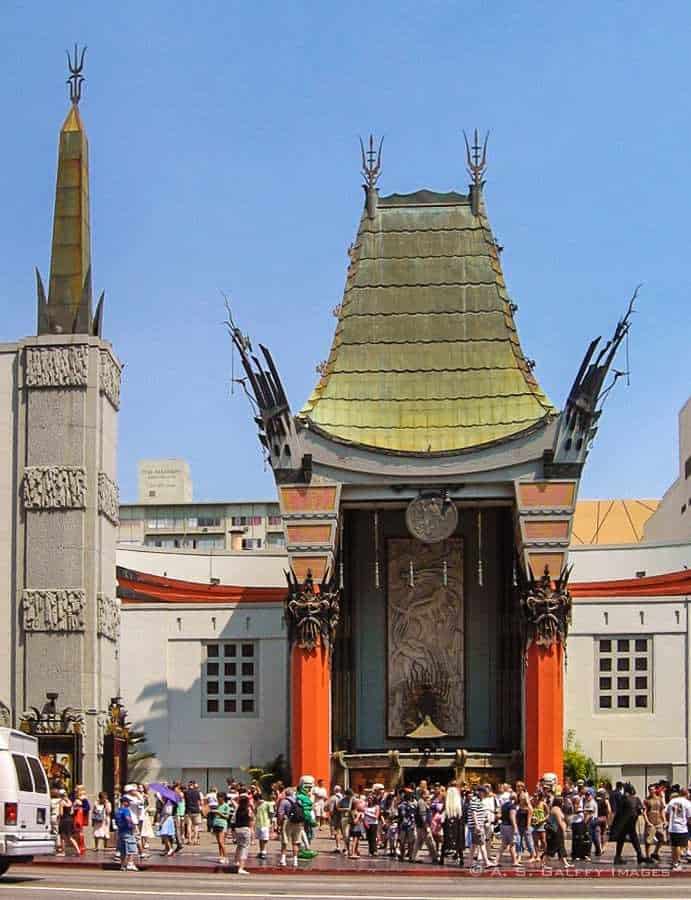 Tour the Dolby Theater
Right next to the Chinese Theater on Hollywood Boulevard is Dolby Theater – the current and permanent home of the Academy Awards. Dolby Theatre opened its doors in 2001 as the Kodak Theatre. Its façade is at the front of the Hollywood & Highland Center, a nice shopping area with boutiques and souvenir shops.
You can take a guided tour of the theater all year round, except for the time leading up to the Academy Awards in February, when the Dolby Theater is off limits.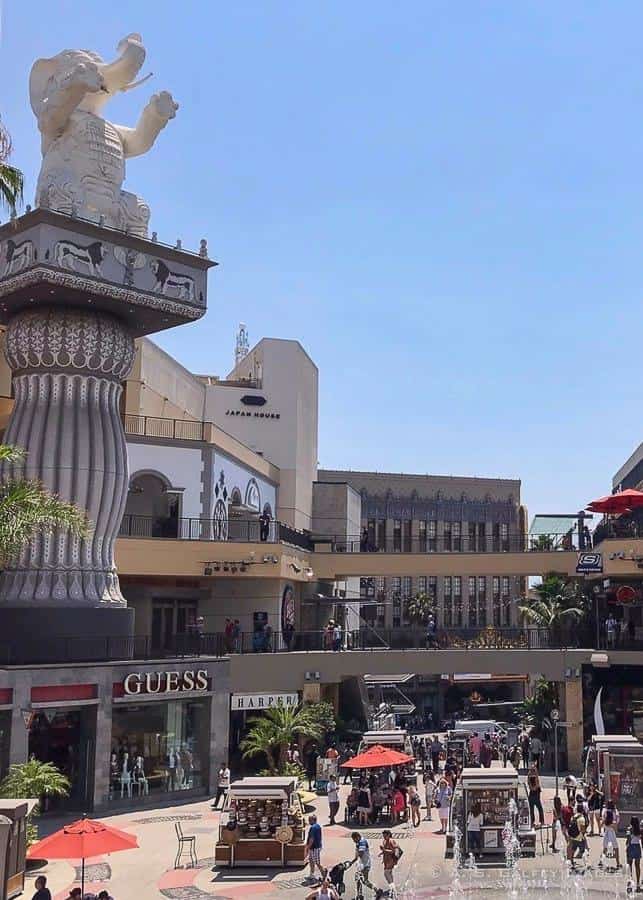 If the Oscars are your thing, you'll find the tour very interesting. The guide will take you on the red carpet path that the celebrities follow from Hollywood Boulevard into the theatre. You'll see the VIP Room, the Green Room and then you'll go out onto the stage. You will also see where the actors seat while they wait to hear if their names will be called.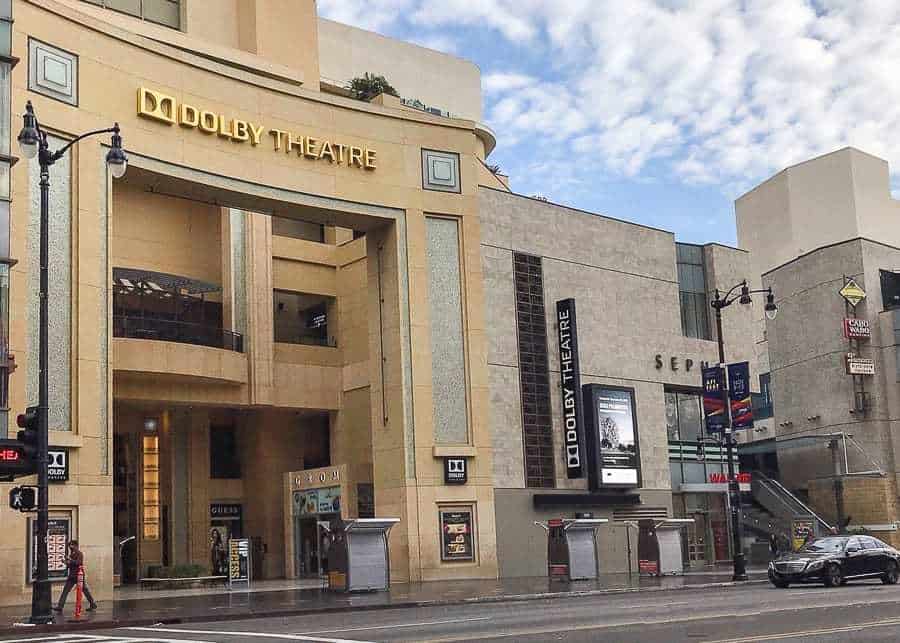 Walk the Hollywood Walk of Fame (free!)
The Walk of Fame is an internationally recognized Hollywood icon. It encompasses over 2,600 five-pointed stars made of terrazzo and brass and embedded in the sidewalks along Hollywood Boulevard.
The stars bear the names of famous musicians, actors, directors and producers and are given in recognition to achievements in the entertainment industry. What began as a Chamber of Commerce marketing tactic, is today one of Los Angeles's biggest magnets. It attracts an estimated 10 million visitors each year. If can read more about the history of the Walk of Fame here.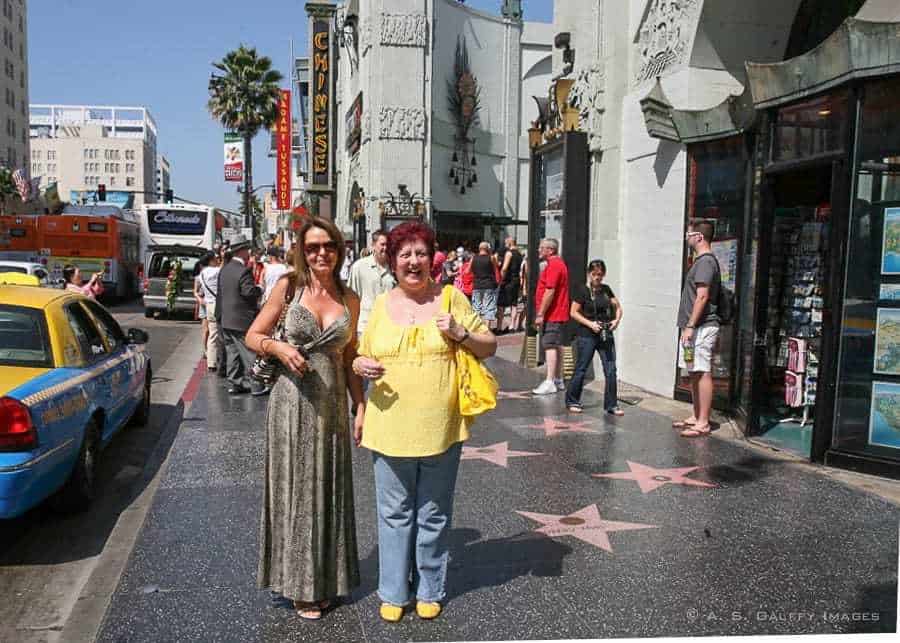 Unfortunately, the Walk's fame (pun intended) ruins its appeal. It is always crowded with costumed characters offering to take pictures with the visitors, illegal street vendors handing out CDs and tickets, and shady characters.
Most people who ever visited the celebrated Walk of Fame will probably tell you it's not worth your time. And truth be told, walking the entire 15 blocks (1.3 miles) from east to west on Hollywood Boulevard is not something I would recommend. However, you shouldn't skip this famous landmark if you are in Los Angeles for 3 days. Even if you only take a few steps up and down the street to see what the buzz is all about.
If you have more than 3 days, I would recommend visiting the
Hidden Treasures of Los Angeles
Los Angeles County Arboretum
How to Move Around in LA: Public Transportation vs. Renting a Car
The places of interest in Los Angeles are as spread out, so you won't be able walk between them. Whether you have one, two, or three days in L.A. you'll either have to rent a car, or use public transportation.
By Car
The best way to explore the city is definitely by car, but driving in L.A. may be quite challenging. If you don't want to face the city's infernal traffic and tricky parking signs, you will be better off using public transportation. Plenty of Los Angeles neighborhoods are not only walkable, but connected to one another by train. The L.A. Metro system works good and has many stops.
By Public Transport
To use the Metro, purchase a TAP card at any Metro station from one of the vending machines. The Red Line, which begins at the Union Station in downtown L.A, will take you to Los Feliz, Hollywood, and to Universal City (home of Universal Studios).
The Purple Line will take you through Koreatown, and the Gold Line goes through neighborhoods like Chinatown, Highland Park, and Little Tokyo. The Expo Line goes all the way to Santa Monica, just a short walk from the famous Santa Monica Pier and the beach.
What You Should Know About Los Angeles Before Planning Your Trip
There are some facts about Los Angeles that you probably already know. But the first thing you should be aware of is that Los Angeles is massive! This fact pervades nearly all the advice that follows and will definitely influence your Los Angeles itinerary.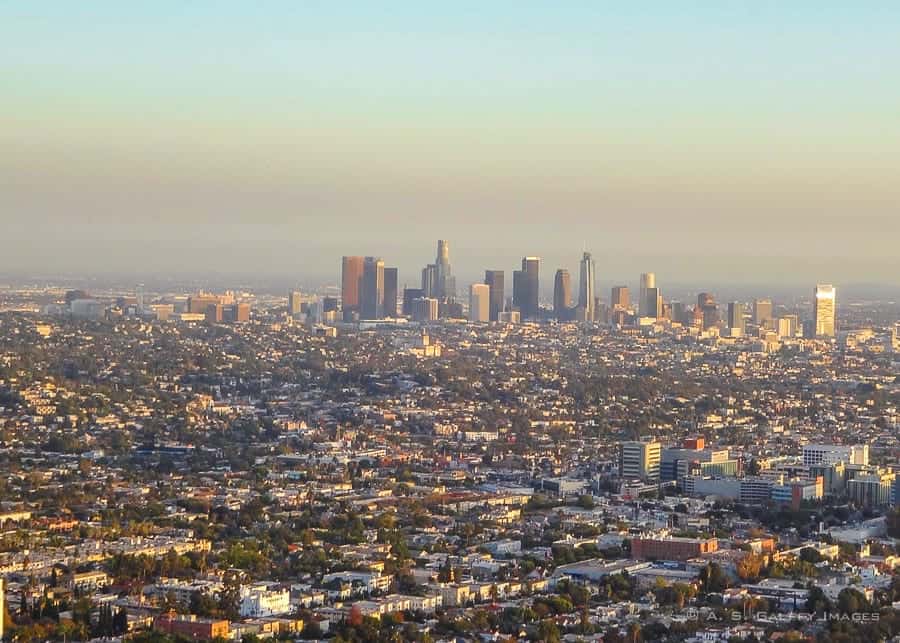 If this is your first time in L.A., it can be hard to imagine just how spread out this city is. Los Angeles's points of interest are spread quite far apart from each other, so don't assume that you can figure out an itinerary as you go. Chances of stumbling upon a great site accidentally are quite slim.
Another important thing to know is thatLos Angeles is very eclectic. It's made up of hundreds of neighborhoods that look and feel quite different from each other. Deciding what's the best area to stay in Los Angeles as a visitor may be difficult. While Downtown L.A. is modern and contemporary, neighborhoods like Altadena, or North Hollywood, are way calmer and laid back.
Best Time to Visit Los Angeles
In case you are asking yourself what would be the best time to travel to California (and L.A. by this token), you should know there is no good or bad time for your trip. The weather is perfect in Los Angeles almost year round. However, you should be aware that during July and August temperatures sometimes climb up to 100ºF (or over!). That may be a concern for spending too much time outside (except for the beaches).
How to Save Money on Your 3-Day Trip to Los Angeles
Visiting Los Angeles is on many travelers' bucket lists, but the costs involved scare many people away. The good news is that 3 days in Los Angeles won't break the bank. There are many inexpensive hotels in the suburbs around L.A. that you can choose from. You can also choose to rent an entire house, or an apartment through AirBnB, or VRBO.
The best way to save money on sightseeing is to buy the Go Los Angeles Card. You can buy an all-inclusive card, or build-your-own. The all-inclusive card saves you up to 50% of the gate price for the attractions.
All you have to do is just pick the number of days you are in Los Angeles and you are ready to do unlimited sightseeing. The build-your-own card will save you only 20% of the gate ticket price, but you can choose to see only what interests you.
I hope this guide will help you make the most of your three day trip to L.A. and go home with some good memories. If you have more than 72 hours in the city, there are some great getaways from Los Angeles to consider
Pin this post for later: