Attempting to visit a city like L.A. in only one day is an ambitious project, but it can be done. As a 30-year resident of Los Angeles I know it's difficult to visit this big metropolis in such a short amount of time. Ideally, you should spend at least 3 days in Los Angeles to visit it properly, but if 24 hours is all you have, let's make the best of it!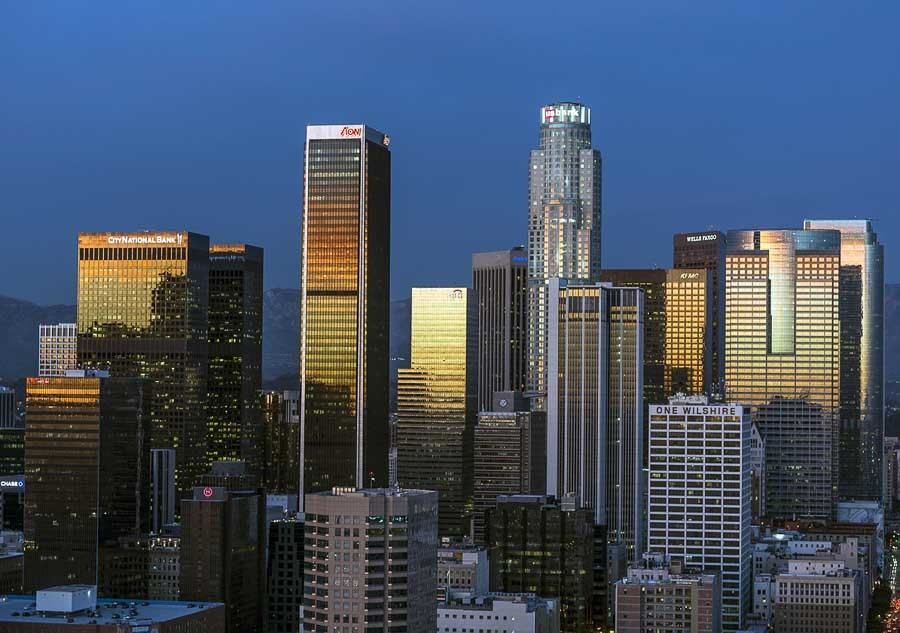 With that in mind, I've put together a step-by-step itinerary that can help you see the best of L.A. in only one day, including the time needed for each site. In this guide you'll also find information about places to eat, where to park, and how to get around in the City of Angels in one day.
PLANNING A ONE DAY VISIT TO L.A.
There are some trivia facts about Los Angeles that you probably already know. Like the fact that we don't walk practically anywhere in this city. Or that restaurants won't serve you any hot entrée after 9 p.m. But the first thing to keep in mind when planning your visit is that Los Angeles is MASSIVE!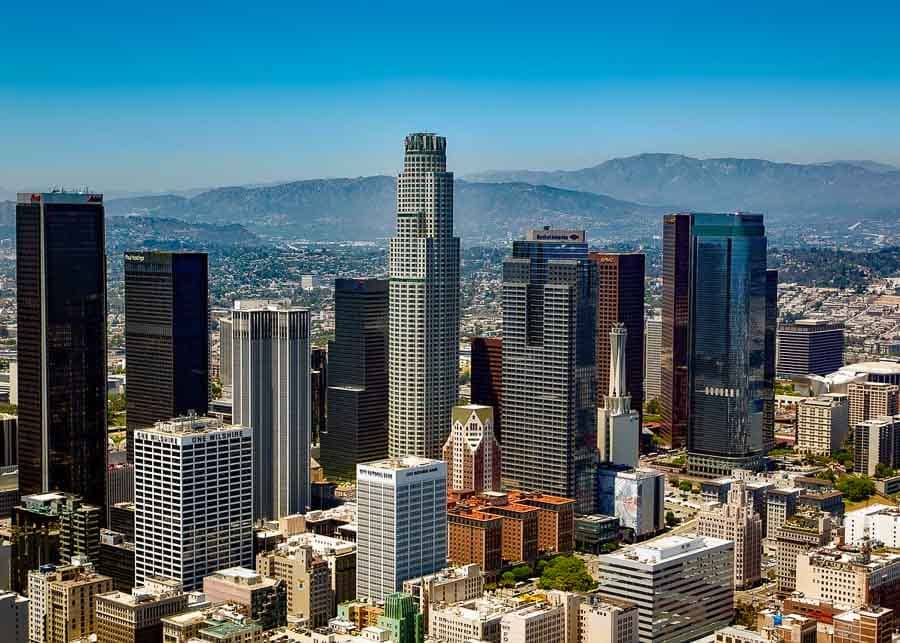 If this is your first time in L.A., it can be hard to imagine just how spread out this city is and how far apart its points of interest are. Unless you choose to spend your day walking through Downtown Los Angeles, you will either have to rent a car, or use public transportation in order to accomplish your itinerary.
Another thing to consider when planning your one day itinerary is the notorious L.A. traffic that will limit your ability to cover a lot of ground. You can count on spending at least part of your day sitting in traffic. That means you'll have to limit your list of objectives to what is realistically achievable. And one last thing: if you only have one day in L.A., the best place to stay is in the Downtown area.
HOW TO GET AROUND LOS ANGELES IN ONE DAY
By Car
The best way to go around Los Angeles is definitely by car. Having your own means of transportation will give you not only flexibility, but also save you time. But driving in L.A. may be challenging, so if you don't want to put up with the heavy traffic, you may be better off using public transportation.
Public Transportation
While it is entirely possible to reach the sites on this itinerary using a combination of busses, Metro system, and ride-sharing apps, it's not time efficient.
Public transportation is the cheapest way to get around L.A., but I wouldn't waste my day worrying about bus combinations and schedules. However, if you want to give it a try, there are some apps to help you calculate public transit travel times in Los Angeles.
Lyft or Uber
Another other option to consider is using Lyft or Uber to go around Los Angeles. Although the costs are higher, this is a hassle-free solution and a good compromise between public transportation and car renting.
10 AMAZING THINGS TO DO IN LA – ONE DAY ITINERARY
NOTE: Almost all the points of interest included in this itinerary are totally free.
Creating this itinerary was a bit of a challenge, as I tried to think of the best approach. Therefore, I listed the sites on this itinerary an order that will help you spend a minimum amount of time commuting.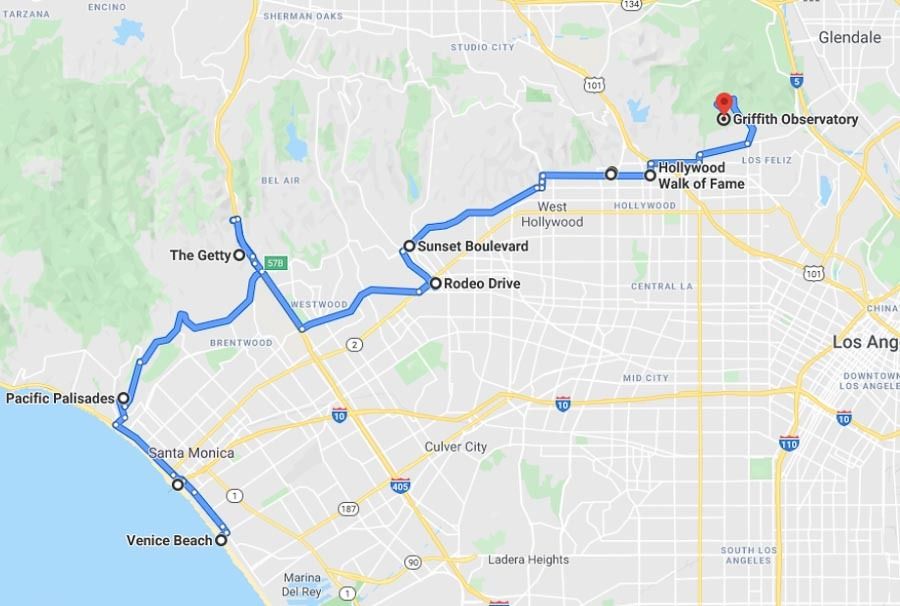 I also gave you an estimated time needed for each site, driving distances and parking information. Since traffic in Los Angeles is one of the worst in the world, my advice is to avoid the freeways during rush hours (6:00 – 9:00 a.m., 4:00 – 7:00 p.m.).
1. Start Your Day at Venice Beach (free)
Start your day at Venice Beach, one of L.A.'s most eclectic places. This place is kind of a mixed bag that not everyone may enjoy. But if you want to experience the bohemian spirit of Los Angeles, you should come here.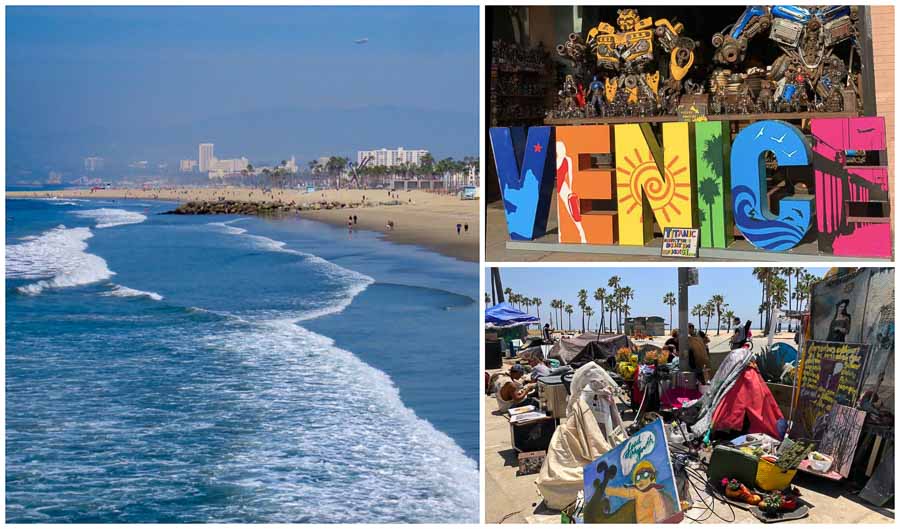 After breakfast, you should take a walk along the free-spirited Venice Broadwalk – a wild display of colorful graffiti, street performers, and funky shops. You may see some things along the way that will shake your head, but you may very well find all these very entertaining.
And if the eccentric crowd on the Broadwalk is not exactly to your linking, just spend some time on the beach. This stretch of golden sand washed by the blue waters of the Pacific is perfect to relax at any time of year. If you have more time, you can also take a surfing class and enjoy the waves of this beach
Time needed on the site: about 2-3 hours
Places for Breakfast in Venice Beach
If you are in a rush to start your day, grab a cup of coffee and a croissant at the Cow's End Café (34 Washington Blvd.) just a few steps from the beach. This is where the locals hang out. Or if you want a more consistent breakfast, try the Beach Restaurant a little higher up on the same street (3100 Washington Blvd.)
2. Visit the Historic Santa Monica Pier (free)
Just 3 miles north of Venice Beach is the world famous Santa Monica Beach, one of the most romantic getaways in California. The beach, which stretches along either side of the historic Santa Monica Pier, has plenty of parking, restrooms and several beach side cafés.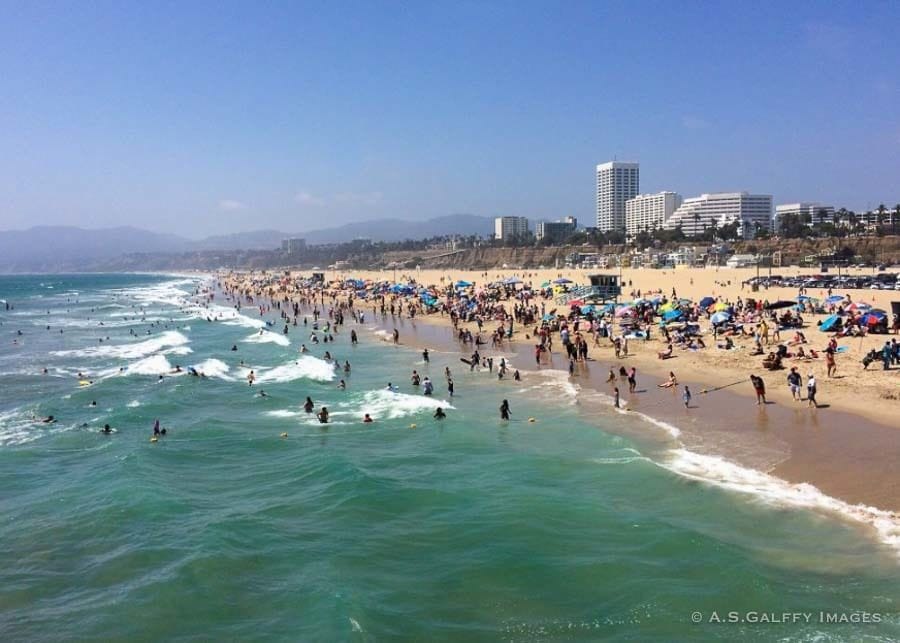 The paved path follows the shoreline all the way to Venice Beach. This place is a paradise for rollerblading, biking and walking! However, you won't have time to spend much time on it on your one day in L.A.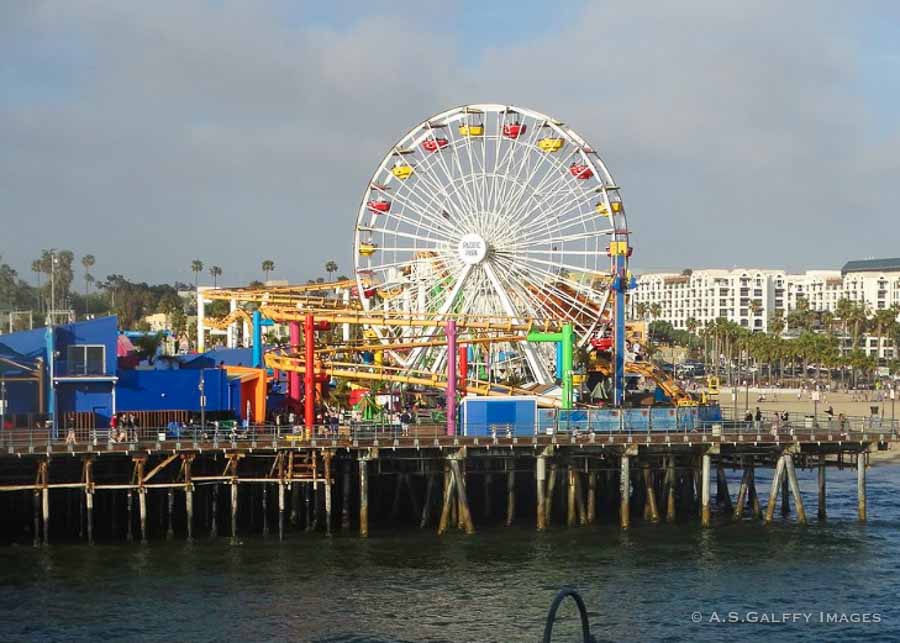 Instead, just head to the Santa Monica Pier, which is actually the most popular spot in Santa Monica. This bustling wooden wharf is where the action is: shops, restaurants, an arcade, roller coaster and a giant Ferris wheel.
Places for Lunch on Santa Monica Pier:
There are several decent restaurants on the Pier, like Bubba Gump Shrimp Co. (seafood), Maria Sol (Mexican), or The Albright (seafood).
Time needed for the site: 1.5 hour (including lunch time)
Driving distance from Venice Beach: 3 miles
3. Stroll Along the Clifftops of the Pacific Palisades (free)
Just above the Santa Monica Beach and Pier are the spectacular cliffs of the Pacific Palisades. From up here you'll get expansive ocean views mixed with the sound of crashing waves and the sweet scent of salty air. The views stretch north to Malibu and south to the Santa Monica Pier and beyond.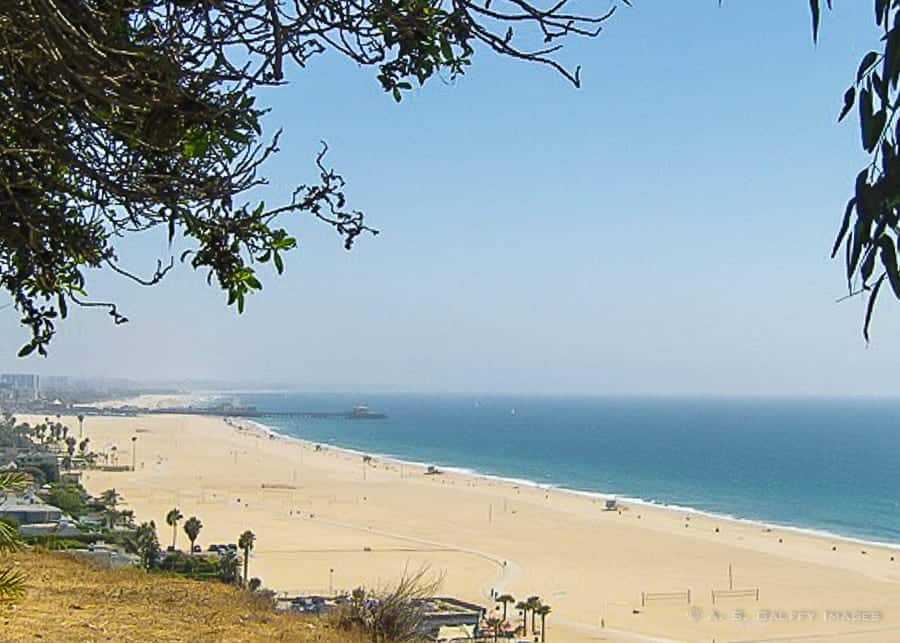 Take a walk on the beautiful path that borders the cliff tops, hanging about 50 feet above the Highway. There is a green park with towering palms, rose bushes and succulent plants that stretches for several miles along the path.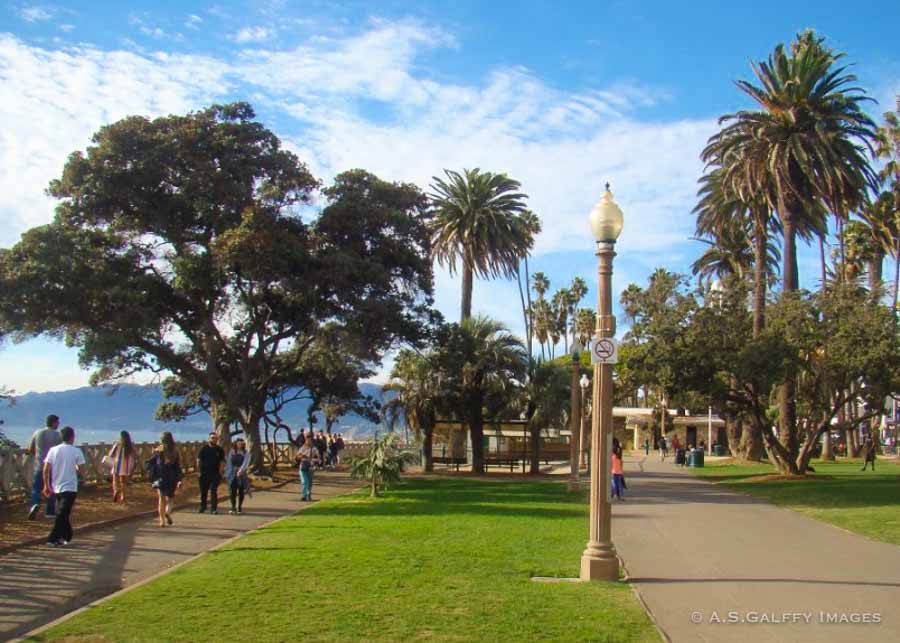 You can picnic anywhere in the park, although most of the picnicking is of-the-blanket-on-the-grass type.
How to reach the Pacific Palisades from Santa Monica Beach: drive northwest on Palisades Beach Road/CA-1 N, turn right unto Entrada Drive, left unto Mesa Rd., then left unto Latimer Rd. There is parking along the street (Ocean Ave).
If you feel particularly energetic, there are scattered paths down to the Highway and across to the beach on which you can hike to the Pacific Palisades.
Distance from Santa Monica Beach: 1.8 miles
Time needed on the site: 1/2 hr.
4. Visit the Getty Center
The Getty Center is one of L.A.'s most popular attractions and a must-see, even if you are in town for a short day. The museum complex sits on a hilltop in the Santa Monica mountains.
Parking is available at the bottom of the hill ($15/vehicle) and includes the funicular that takes you to the entrance at the top of the hill.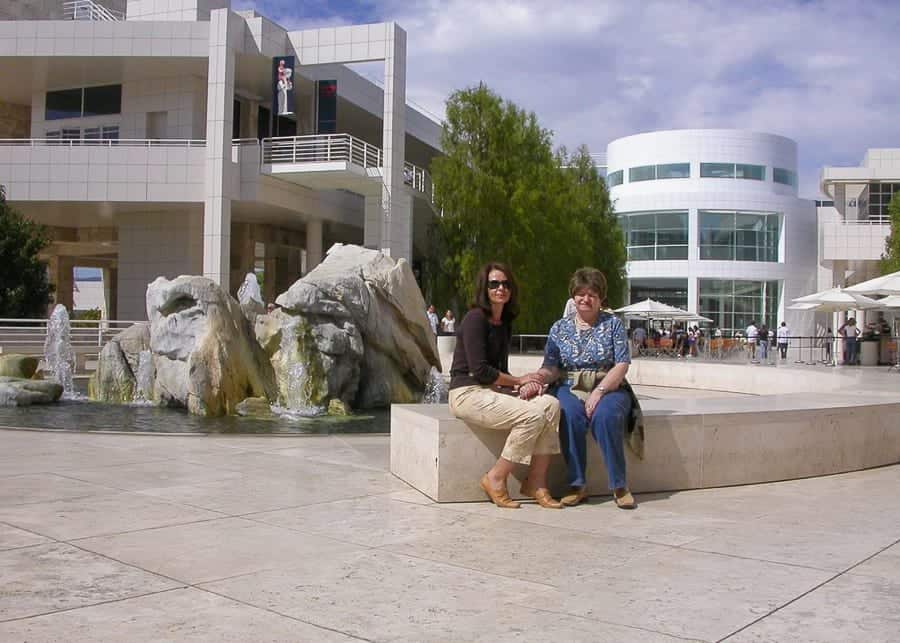 The museum has numerous galleries that spread out in multiple buildings. The Center holds the best and most valuable art collections in Los Angeles.
In addition to the extensive artwork collections, the Getty Center features an impressive garden that sprawls over 134,000 square feet of green space. Click here to get a private tour in Getty Center.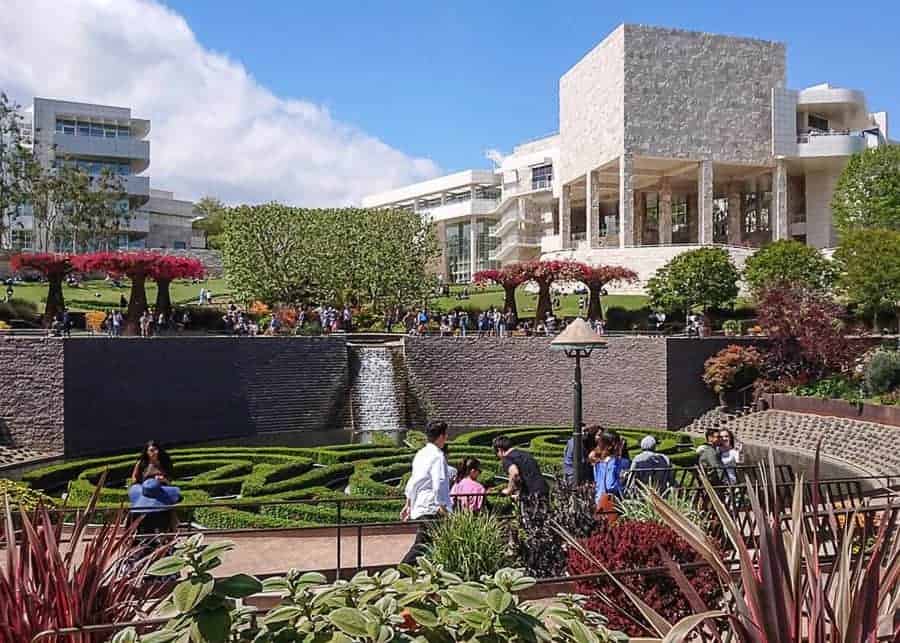 Distance from the Pacific Palisades: 6.6 miles
Time needed on the site: at least 2 hours
Places to eat at the Getty Center
There are two on-site cafés and a fine dining restaurant at the Getty Center. The cafés are self-service (sandwiches, salads and soup), while the restaurant is full service (gourmet appetizers, entrées and decadent deserts). The restaurant has a beautiful dining room with panoramic views of the Santa Monica mountains
5. Go Window-Shopping on Rodeo Drive (free)
Rodeo Drive is so famous that almost every visitor to Los Angeles wants to see it. It's also one of the many dog friendly spots in LA, so if you are traveling with a dog you'll feel quite a home here.
Many people end up disappointed by the fancy shopping street in Beverly Hills. So before deciding whether to add it to your one day L.A. itinerary, you should know what to expect.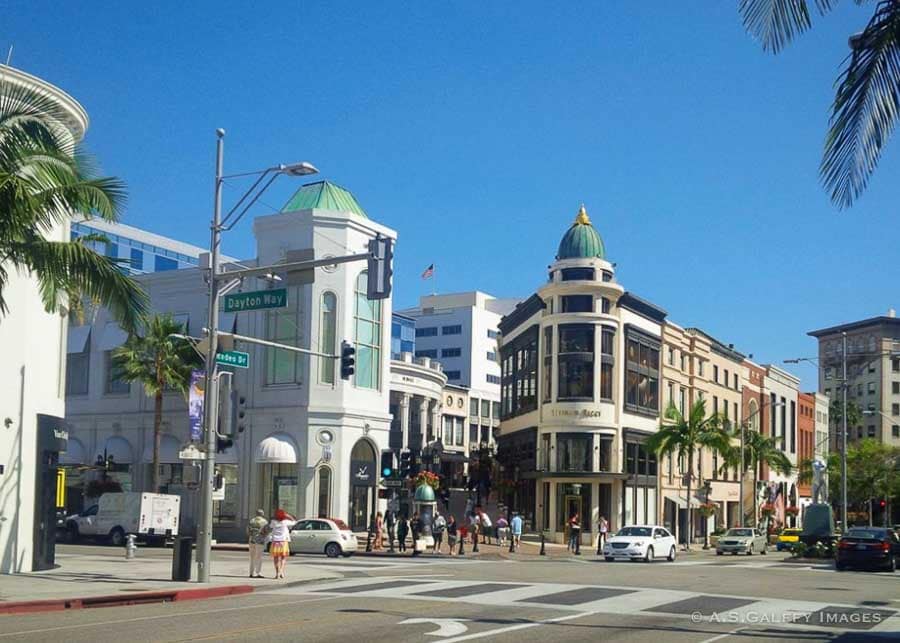 As you probably already know, Rodeo Drive is a high end shopping area that stretches between Wilshire Boulevard and Santa Monica Boulevard and encompasses 3 blocks. The street itself – Rodeo Drive – is approximately 2 miles long.
If you expect to see some celebrities roaming around with hefty shopping bags, you'll be disappointed. You'll probably meet more tourists than locals around.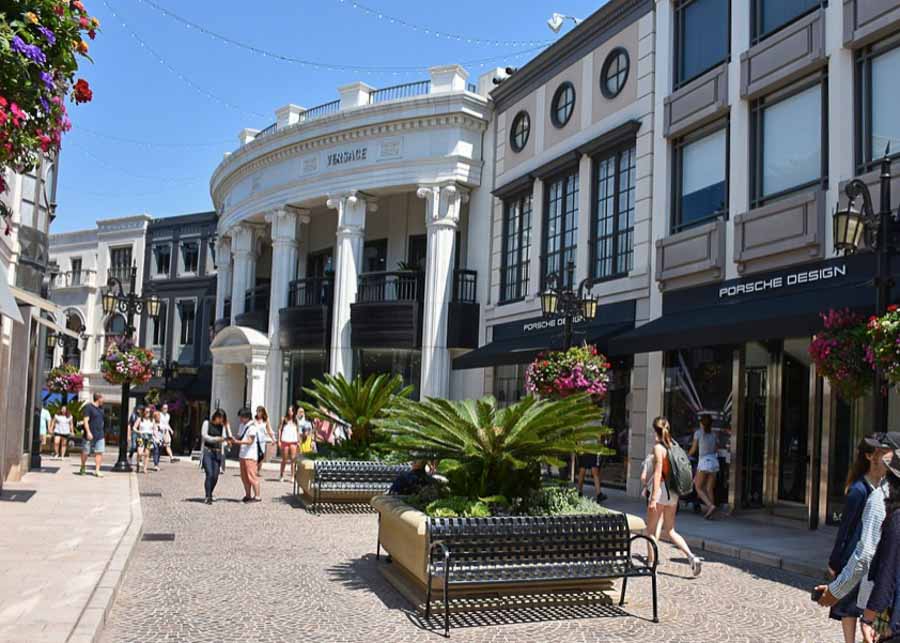 So what can you do on Rodeo Drive? Probably just window-shopping and people-watching. You pass by designer clothing shops by Armani, Gucci, and Coco Chanel; jewelers like Cartier, or Tiffany and some exclusive couturiers where you'll need an appointment just to get in the door.
There are a few parking garages in the area that offer free parking for an hour. One of them is on Camden Drive, the street parallel with Rodeo Drive.
Distance from the Getty Center: 6 miles
Time needed on the site: 1/2 hours
Places to eat around Rodeo Drive
There are a quite a few awesome restaurants in this area, like: Mr. Chow's ($$$$•Chinese), Ladurée Beverly Hills ($$•French Bistro), Villa Blanca ($$•Mediterranean), or Il Fornaio ($$•Italian).
6. Drive Along Sunset Boulevard (free)
Sunset Boulevard extends from Hollywood all the way to Beverly Hills. The most interesting part is the strip, a 1.5 mile stretch of Sunset Boulevard that passes through West Hollywood.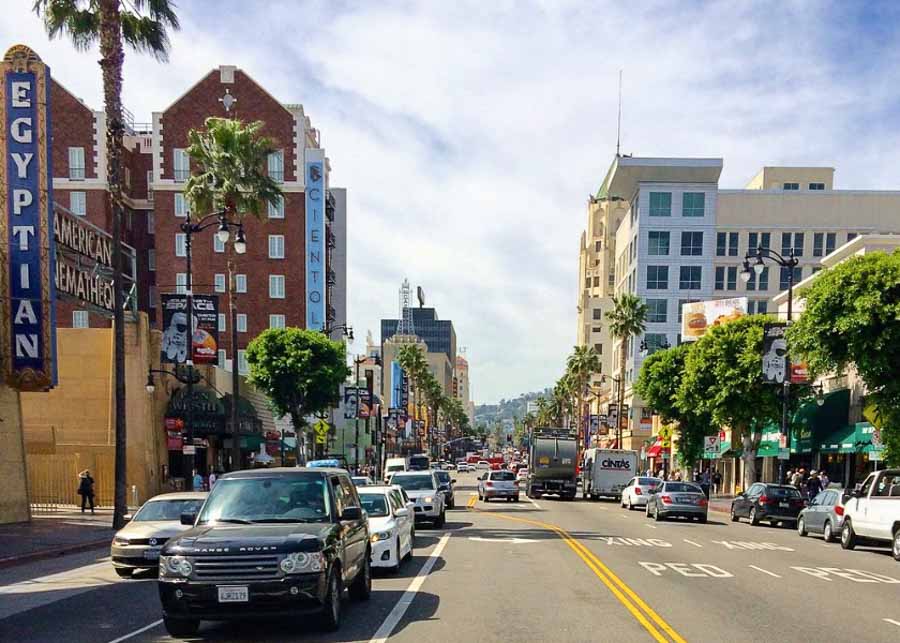 The Sunset Strip is home to many flashy boutiques, colorful billboards, high end restaurants and nightclubs. This is one of the city's most famous neighborhoods. So if you have more than a day in Los Angeles, you should make it a point to visit it.
Driving distance: about 6 miles
Time needed: 25-30 minutes
7. Visit the Chinese Theater (free!)
The Chinese Theater became famous for being the venue of the Academy Awards ceremony from 1944-1946. But most visitors are lured here by the celebrity handprints and footprints in the concrete of the theater's forecourt.
The tradition began during the construction, when one of the Hollywood legends accidentally stepped into the wet cement. Instead of covering the imprint, theater owner Sid Grauman encouraged other celebrities to repeat the "mistake." And so it all began.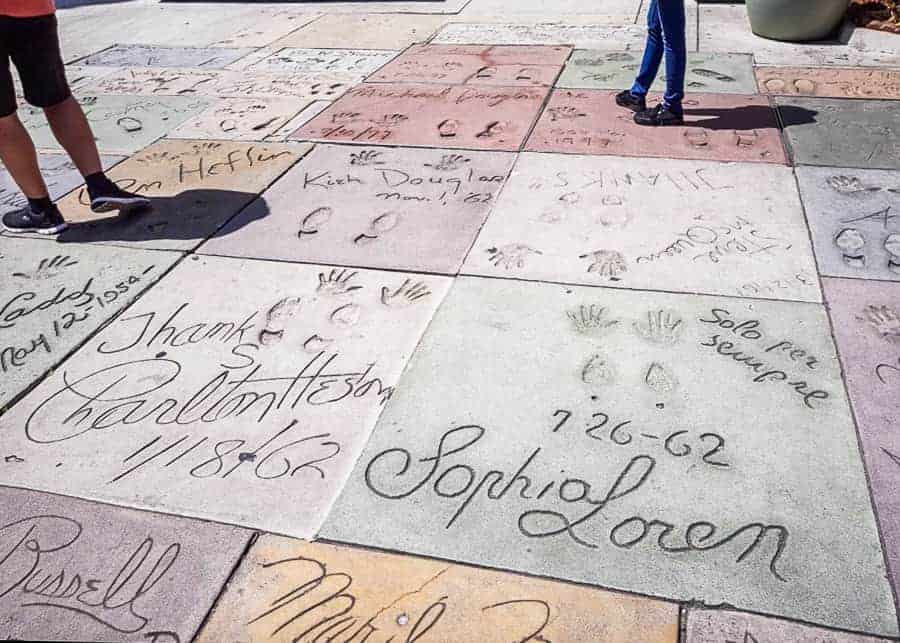 In 2013 the The Chinese Theater underwent extensive repairs. As a result, the interior you see today is a grandiose 923-seater IMAX auditorium that projects stunning quality movies. If interested, you can still watch a movie in this iconic landmark.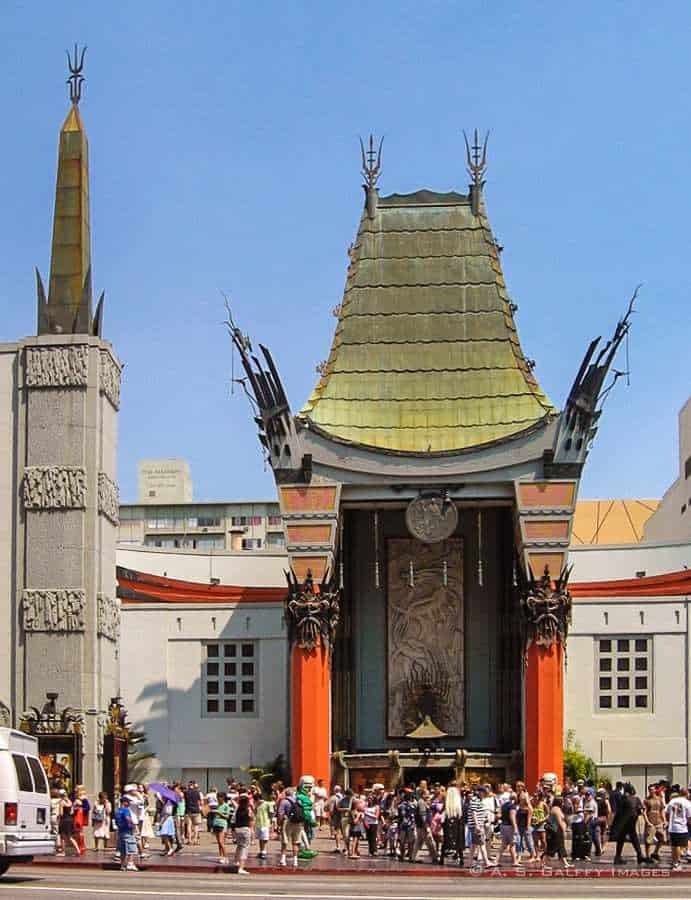 Distance from the Sunset Strip: 2.6 miles
Time needed on the site: 1/2 hour
Planning to visit Los Angeles for the Holidays? READ NEXT:
10 Fun Things to Do in Los Angeles I December
8. Tour the Dolby Theater
Right next to the Chinese Theater on Hollywood Boulevard is Dolby Theater – the current and permanent home of the Academy Awards. Dolby Theatre opened its doors in 2001 as the Kodak Theatre.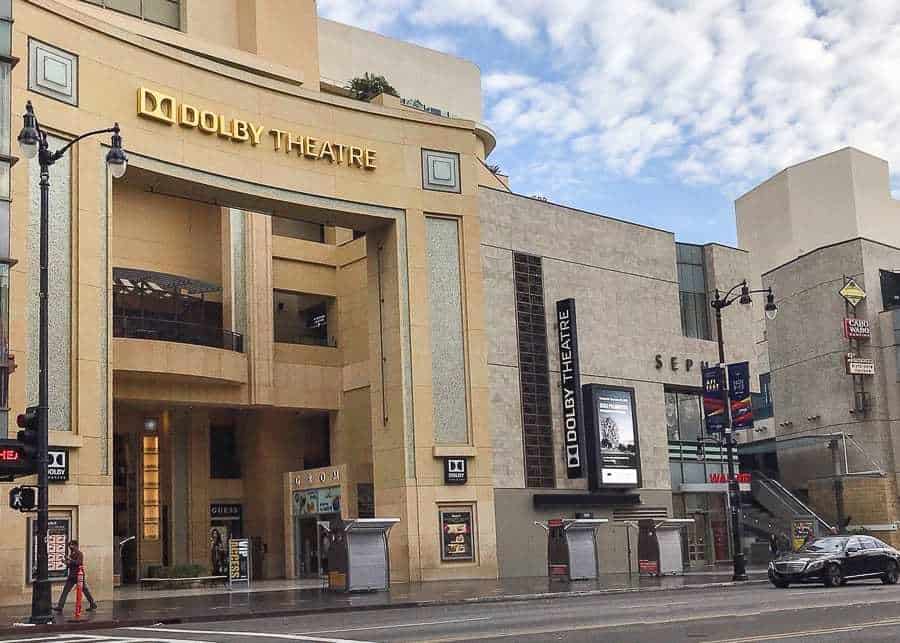 You can take a guided tour of the theater all year round. Dolby Theater is only closed to the public during the time leading up to the Academy Awards in February.
If you have like watching the Oscars ceremony, you'll find the tour very interesting. The guide will take you on the red carpet path that the celebrities follow from Hollywood Boulevard into the theatre. You'll see the VIP Room, the Green Room and then you'll go out onto the stage. You will also see where the actors seat while they wait to hear if their names will be called.
Behind the theater is a nice shopping area with boutiques and souvenir shops.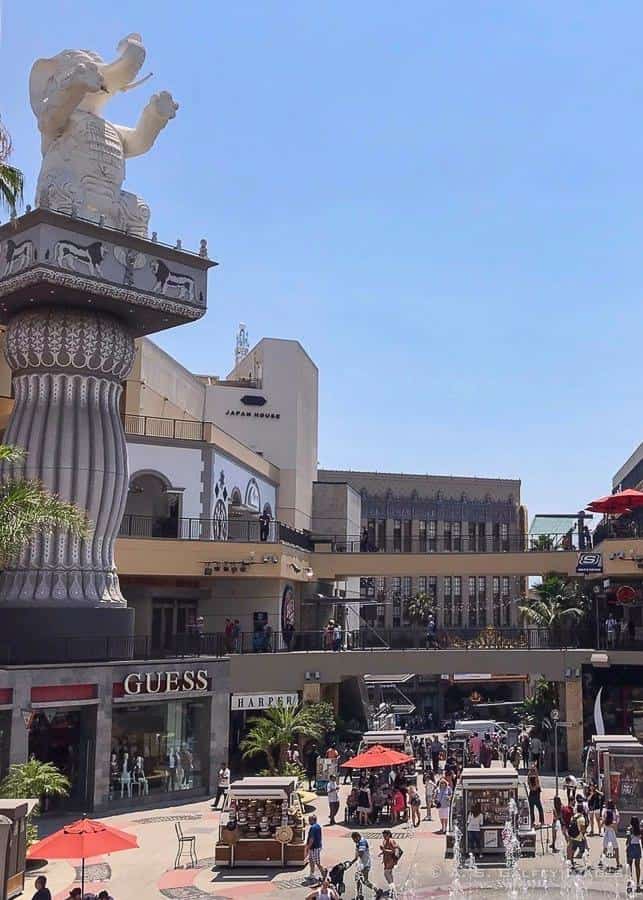 Parking for the Dolby Theater, Hollywood Walk of Fame, and the Chinese Theater is in the garage on Hollywood & Highland (right below the Dolby Theater).
Time needed on the site: 1 hour
Places to eat near the Dolby Theater
Whealthy (fast-food outlet serving potted noodle & rice dishes with grilled meat, fish & vegetables); Hard Rock Café (burgers and American classics); Trastevere (Italian).
9. Walk the Famous Hollywood Walk of Fame (free!)
The Walk of Fame is an internationally recognized Hollywood icon, consisting of over 2,600 five-pointed stars bearing the names of famous actors, directors, musicians and producers. The stars are made of brass and embedded in the sidewalks along Hollywood Boulevard.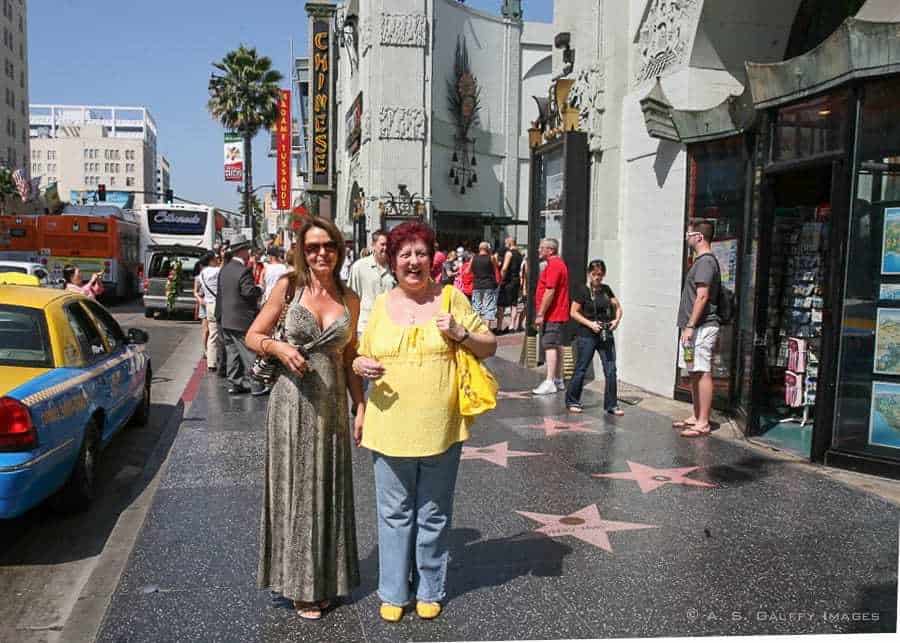 Unfortunately, the Walk's fame ruined its appeal. This place is always swarming with illegal street vendors and shady costumed characters offering to take pictures with the visitors.
The Hollywood Walk of Fame stretches over 15 blocks (1.3 miles), but walking the entire distance would be a waste of time. Just take a few steps up and down the street to see what the buzz is all about. The most recognizable names are around the Chinese Theater.
Time needed on the site: 1/2 hour
10. End your Day in LA at the Griffith Observatory (free)
Your day in L.A.'s will end in one of the most spectacular spots in town: the Griffith Observatory. Depending on the time of year when you visit Los Angeles, you will be reaching this point around sunset. This is the best time of the day to visit the observatory.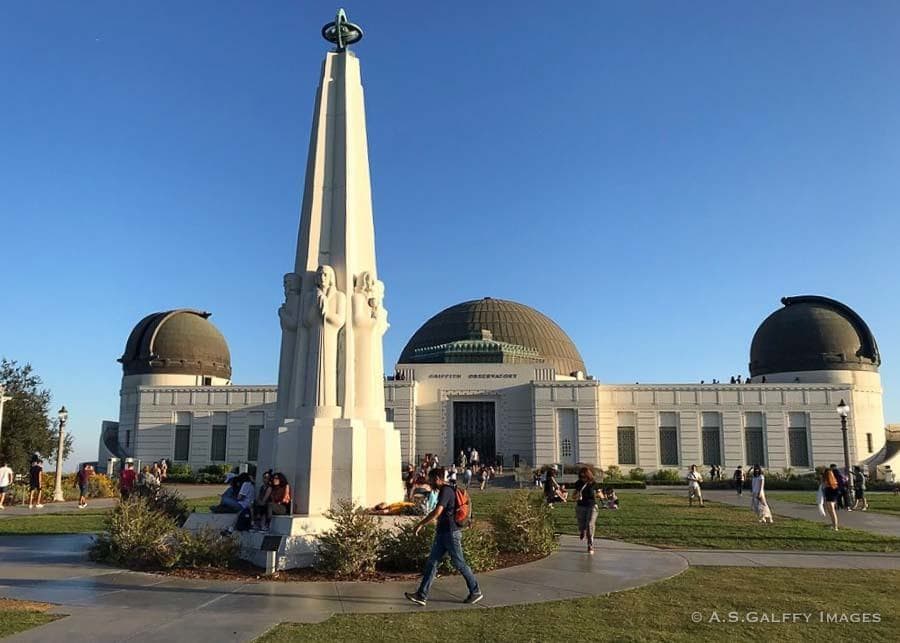 The grounds are also very beautiful. From the terraces of the Observatory you'll get a bird-eye view of the entire valley. On a clear day, you can see all the way to Santa Monica from up here.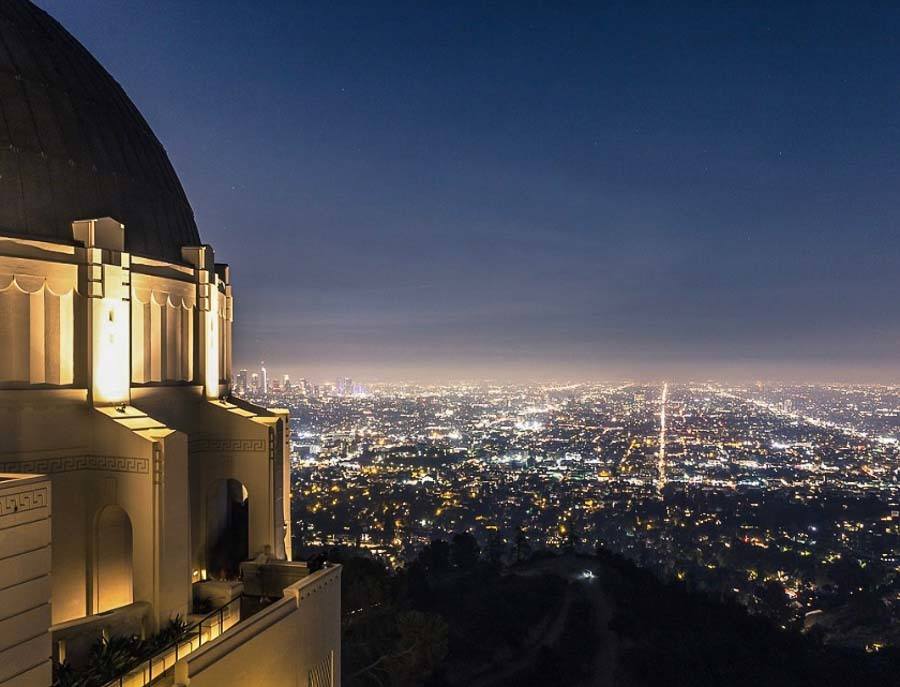 The Griffith Observatory features space-related exhibits, star shows in the planetarium, and a telescope. Admission to the Observatory building and the telescopes is always free, but you will have to buy tickets if you want to watch the planetarium show.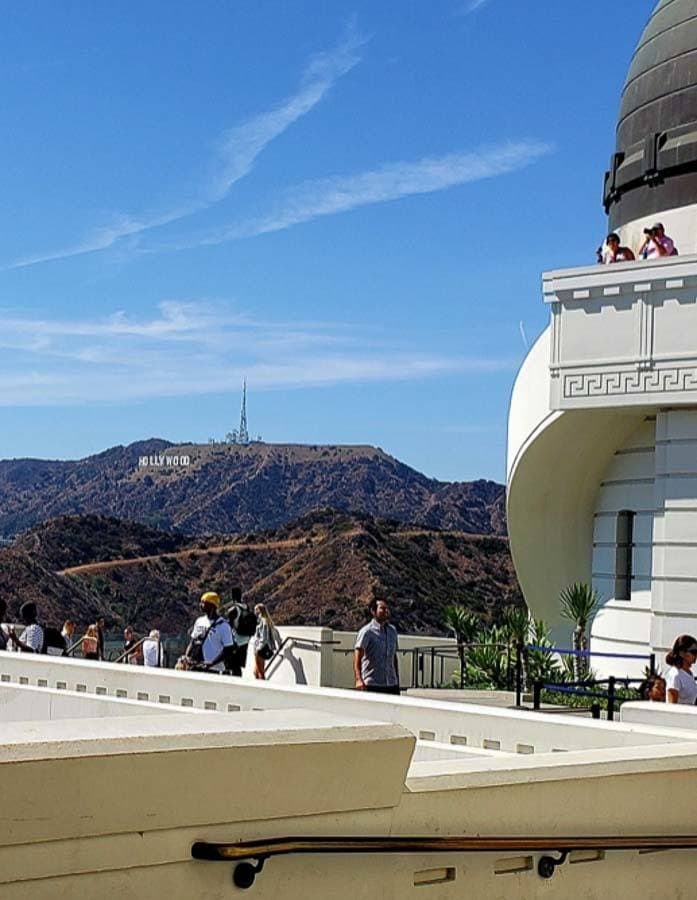 The Observatory is the best spot to take a panoramic picture of the downtown Los Angeles. Also from up here, you can catch an unobstructed view of the Hollywood Sign, which is on the opposite hill.
Time needed on the site: 1 hour
Parking near the Observatory costs $8.00/hour, but is very limited.
Places to Eat around Griffith Observatory
The perfect place for a casual meal or a quick bite is the Café at the End of the Universe. The café is on the lower level of the Observatory and is open from noon till 9:00 p.m.
Other places within a mile from the Observatory are: Sky's Gourmet Tacos (5303 West Pico Blvd Suite #01), the Trails Café (2333 Fern Dell Drive), and Little Dom's (2128 Hillhurst Ave).
TOURS WE RECOMMEND:

MORE THAN ONE DAY IN LOS ANGELES?
Los Angeles area has many other interesting sites. Therefore, if you are planning to return for more than a day, here are some fun places you shouldn't miss: The Crucifixion, the largest painting ever painted, Huntington Library & Botanical Gardens, Los Angeles County Arboretum.
If you have more than a day in L.A. and are looking for the best deal on accommodations, here is an interactive map of Downtown Los Angeles:

BEST TIME TO VISIT LOS ANGELES
Southern California weather is perfect almost year round, so no matter when you visit you'll you'll be able to spend a lot of time outside. Sometimes we can lie down on the beach even in December!
During the summer months (mid June to mid September) the temperatures may climb up to 100ºF (and over). Nonetheless, in the evenings temperatures is always very pleasant.
You may also find these articles useful:
Best Weekend Getaways from Los Angeles
12 Amazing Stops on the L.A. to San Francisco Drive
25 Best Beaches in Orange County, California
Best National Parks Near Los Angeles