Nobody walks in LA, right? Well, that's mostly true when you need to get from one place to another, since distances are quite big here. However, there are many walking opportunities in this city and quite a few places worth exploring on foot. So if this your first time in Los Angeles and you want to take a walking tour of the downtown area, here are the best places to visit.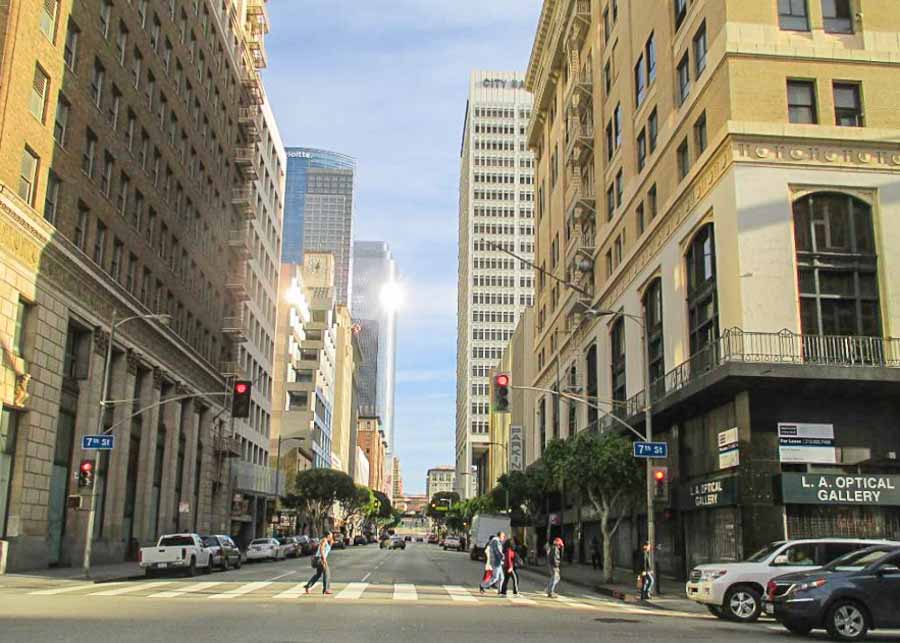 A SELF GUIDED WALKING TOUR OF DOWNTOWN LOS ANGELES
I have to confess that although we lived in Los Angeles area for over 30 years, it took me a while to discover how attractive this city really is. Despite being such a big urban sprawl, Downtown L.A. has all manner of walks. From shopping, to ethnic and architecturally themed choices, you can actually use your feet quite a lot in Los Angeles.
So here is a suggested self-guided walking tour that will take you through the most representative neighborhoods in Downtown Los Angeles.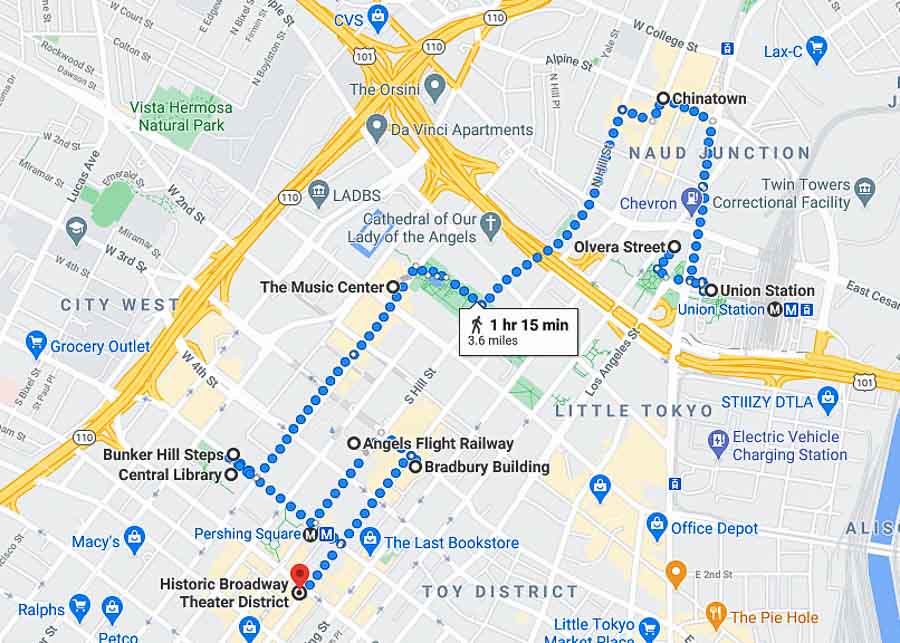 Historic Center & Olvera Street
Begin your walk in the Historic Center, the oldest area in LA. The Historic Center is concentrated around Olvera Street, a colonial-era alley lined with shops, popular restaurants and stalls selling everything from folk art to silver jewelry.
Start at Union Station (800 N. Alameda St.), turn left on W. Cesar Chavez Ave., then turn left again on Olvera St. and continue till you reach El Pueblo de Los Angeles Historical Monument.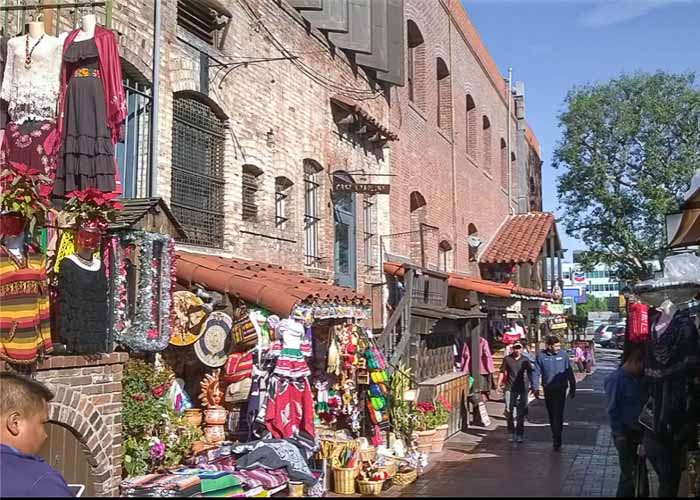 Olvera Street is the oldest part of the Downtown, so it's for a good reason called "the birthplace of Los Angeles."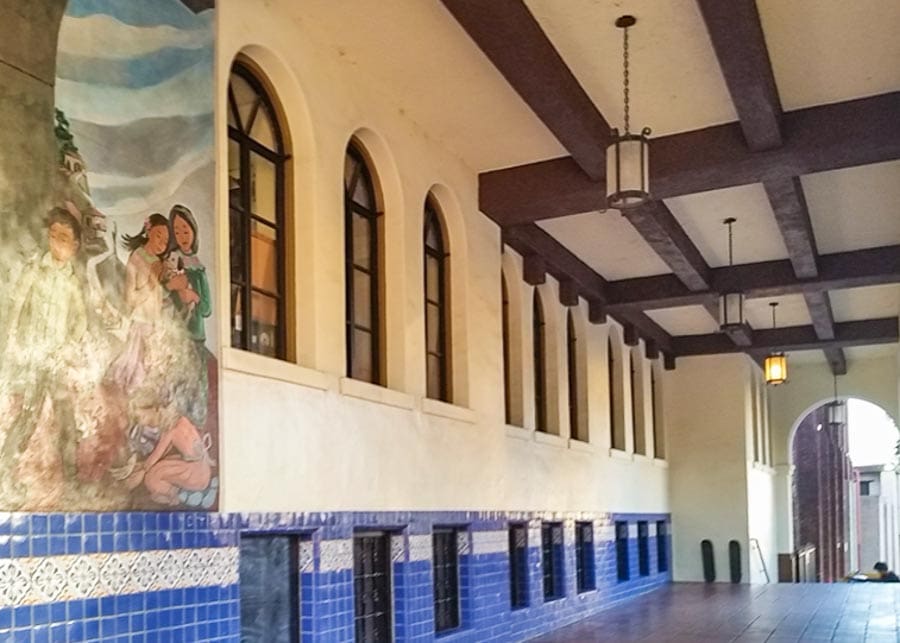 Some of the city's oldest structures are in this area. Among them is "La Placita" the first church built in L.A. (1822), which still remains a focal point for the Latino community.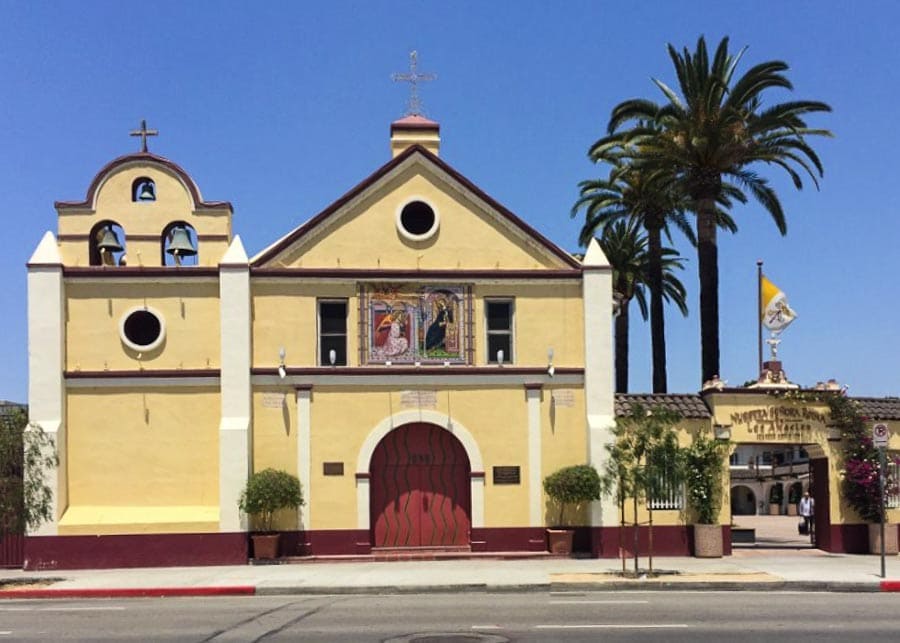 Union Station
Also in the Historic Center is Union Station, the main railway station in Los Angeles and the largest railroad passenger terminal in the Western United States.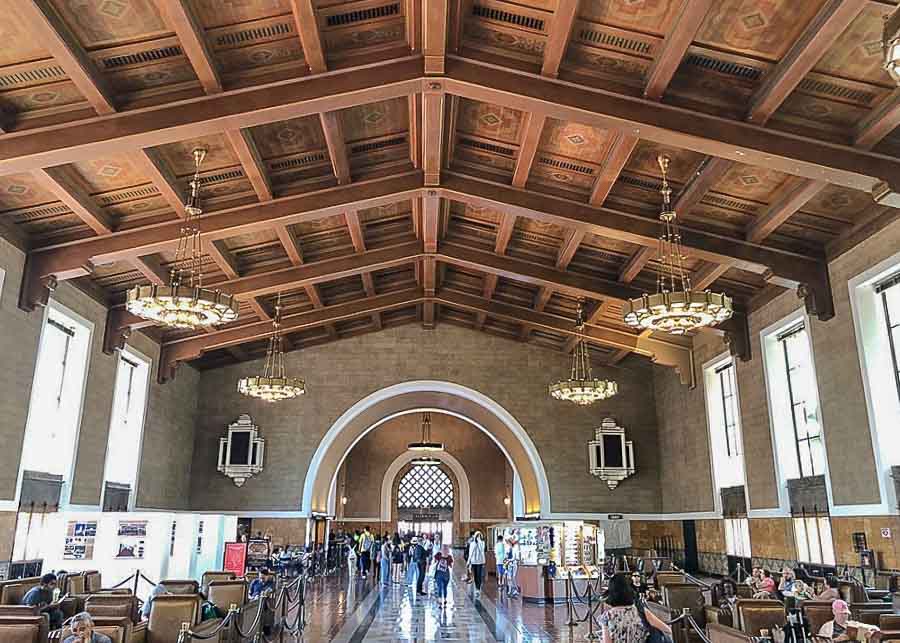 Since you are so close to it, I suggest taking a short tour. Union Station is more than just a bustling transportation hub. It's a true cultural center and one of Los Angeles' most important landmarks, so you won't regret visiting it.
Chinatown
Head next to Chinatown, one of LA's oldest neighborhoods, just a 10 minutes walk from Union Station via N Alameda St.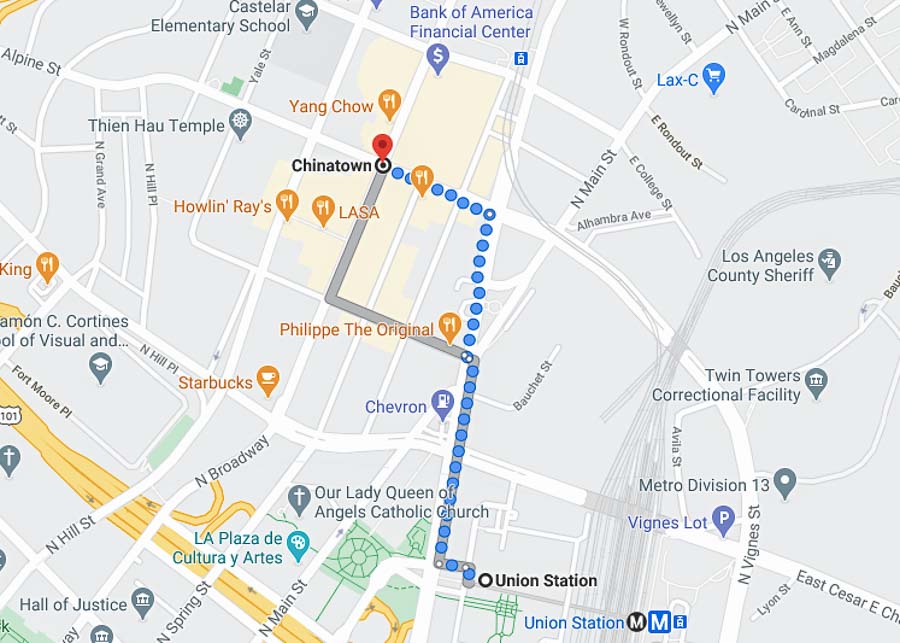 The original Chinatown, which developed in the mid-1800s, was demolished in 1930s, to make room for Union Station.
A walk through this neighborhood will take you past neon-embellished pagodas, funky shops filled with Chines herbs, goods, and lucky bamboo, and many Chinese eateries and businesses.
Start at the East Gate (930 N. Broadway) leading into Chinatown's Central Plaza, where tourists mingle with Westside families and Chinese seniors playing xiangqi (Chinese chess).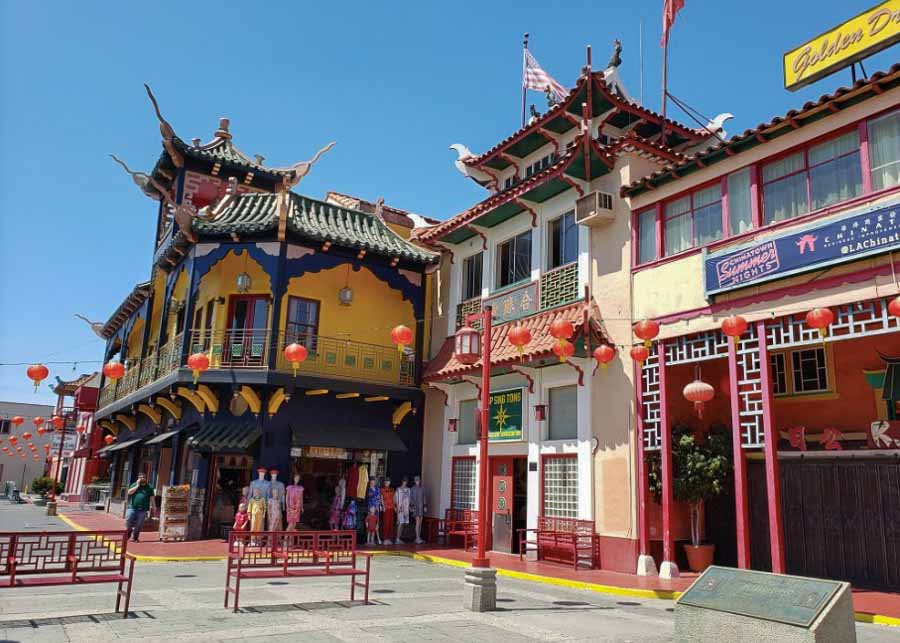 Head west across Gin Ling Way to the shops that sell an eclectic array of Asian-influenced collectibles, art and books. The area bustles with life, energy and color. Throw a coin for good luck into the wishing wells here, then cross Hill St. and turn south Chung King Rd. lined with art galleries.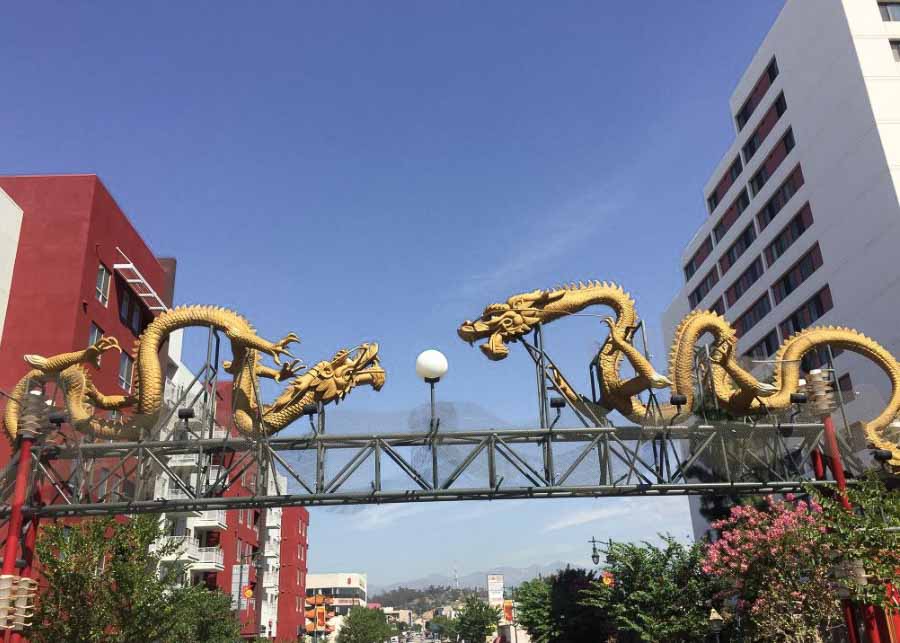 Although much smaller than the Chinese neighborhoods of New York, or San Francisco, you'll still find great food and numerous Chinese specialty stores in Chinatown L.A.
Downtown (Bunker Hill)
Continue your Downtown LA tour with a walk on Bunker Hill. Back in the 19th century, Bunker Hill was an exclusive suburb filled with filled with Victorian-style homes for the upper-class residents of Los Angeles.
But in the 1920s, the wealthy residents of Bunker Hill began leaving for more affluent enclaves, such as Beverly Hills and Pasadena. As a result, Bunker Hilled turned into a rundown working class neighborhood.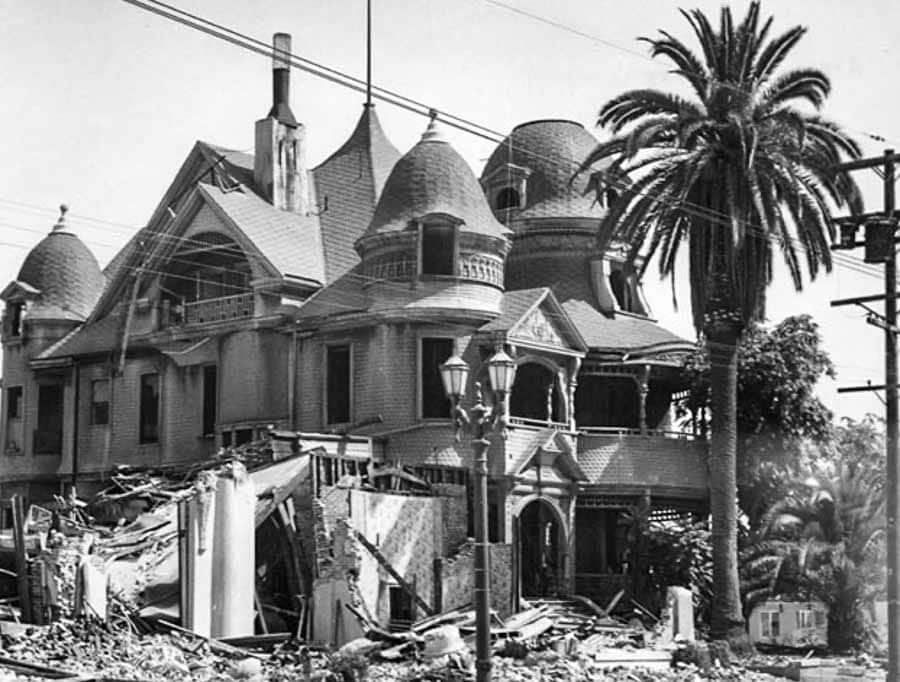 In the late 20th century, the hill was lowered in elevation, and the entire area was redeveloped with modern structures for residences, commerce, and entertainment. Today's Bunker Hill is a mixture of commercial high rises and arts venues.
There are quite a few places worth visiting in this area of the city, like the L.A. Central Library, Angels Flight Railway, Bunker Hill Steps, and Central Market.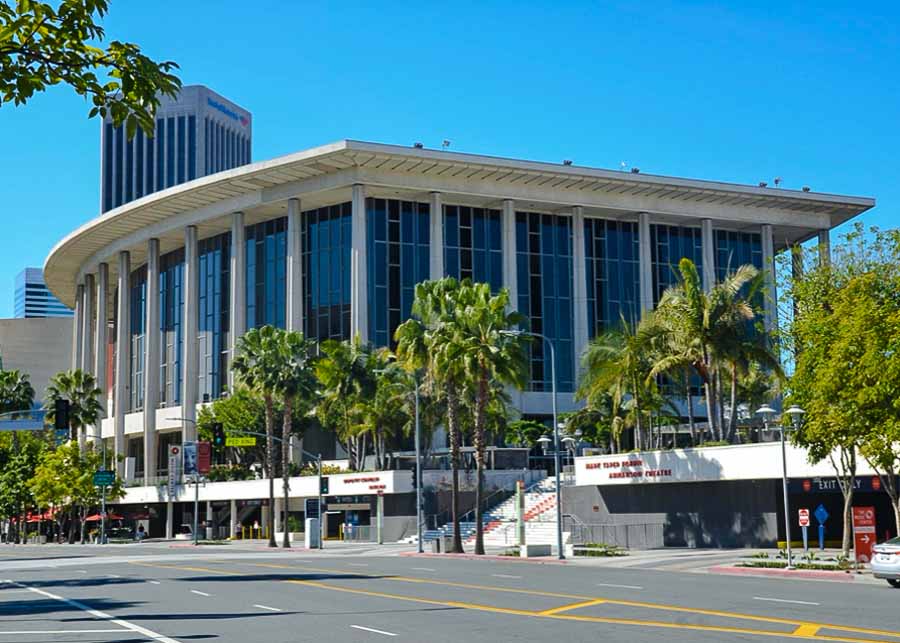 Start your walk at the Music Center Plaza, home to LA's most famous cultural venues: Walt Disney Hall, Dorothy Chandler Pavilion, and Ahmanson Theater.
This area of the Downtown is also home to some of the most amazing rooftop bars in Los Angeles, so if you have time you should drop by and admire the beautiful view of the city from high above.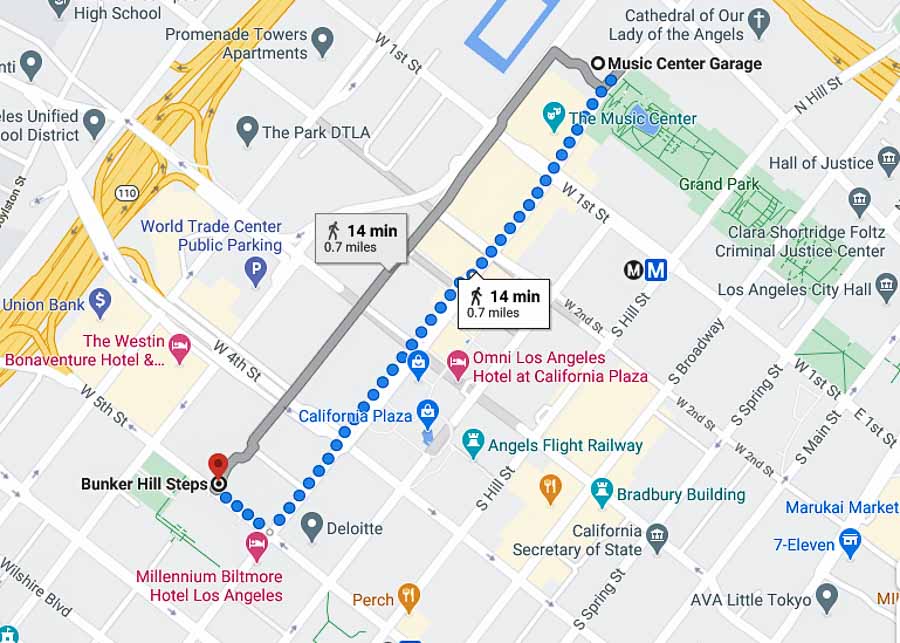 From the Music Center head southwest on N Grand Ave. then turn right unto W 5th Street to reach the Bunker Hill Steps. This is a 15 minute walk.
Bunker Hill Steps
The elegant steps provide a shortcut between Bunker Hill and the Los Angeles Public Library. There is a beautiful water fountain that cascades down to the bottom of the steps.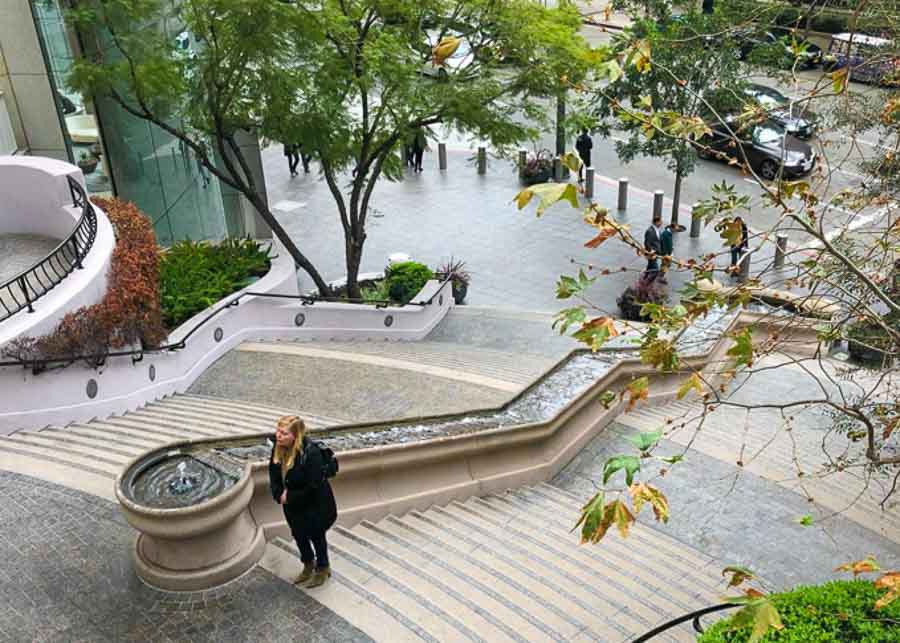 There are 294 steps, but luckily you'll be climbing down. This is a wonderful place to take a walk through, so don't forget to bring your camera.
L.A. Public Library
Right across from the Bunker Hill Steps, at 630 W 5th Street, is the Los Angeles Public Library, which has been designated a Historic Cultural Monument.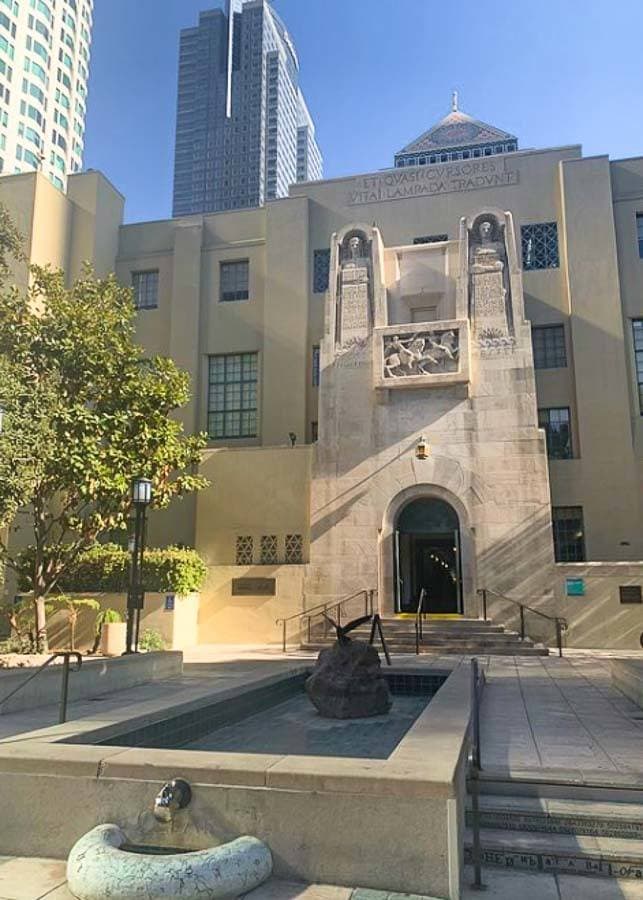 The building itself is an architectural gem, featuring a tiled pyramid roof and a beautiful garden. Inside the library there are many beautiful spaces, like the Atrium of the Tom Bradley wing, or the stairway outside the Getty Gallery.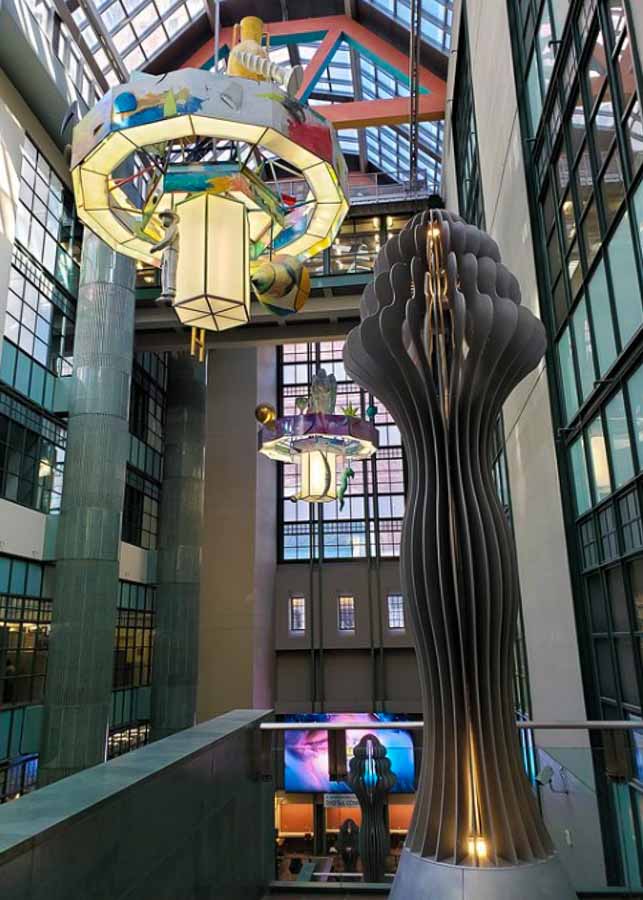 But the focal point of the library is the Rotunda, a huge hall covered with elaborate paintings and a gigantic dome ceiling.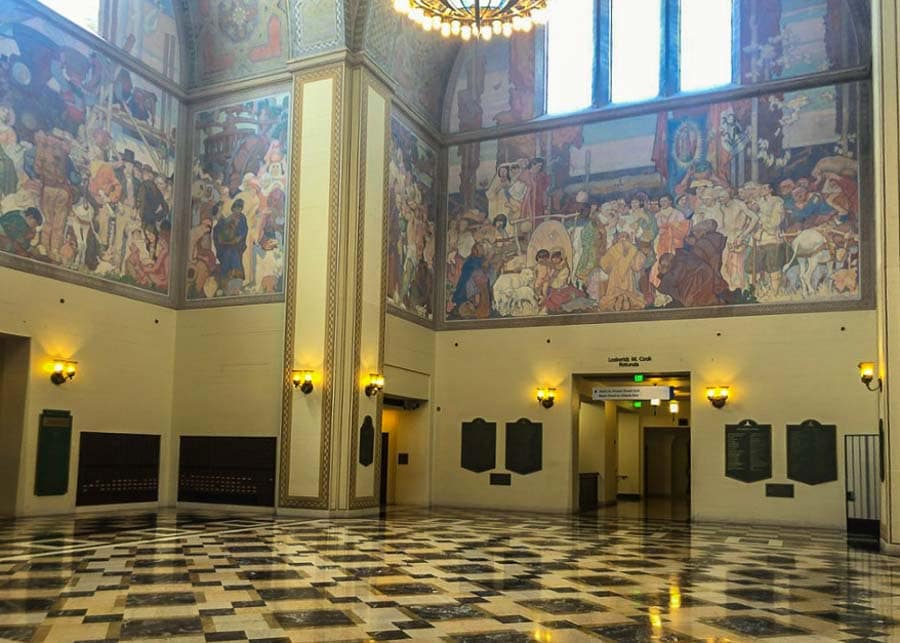 After visiting the L.A. Public Library, head southeast on W 5th St then turn left onto S Grand Ave then turn right to take the stairs towards Angels Flight Railway. This is a short 8 minute walk.
Angels Flight Railway
Just a short 8 minute walk from the LA Central Library will take you to one of Los Angeles' oldest landmarks: Angels Flight Railway. This 120 years old cable car that takes passengers up to the top of Bunker Hill from the Pershing Square Metro station, is the world's shortest ride. It takes only 50 seconds!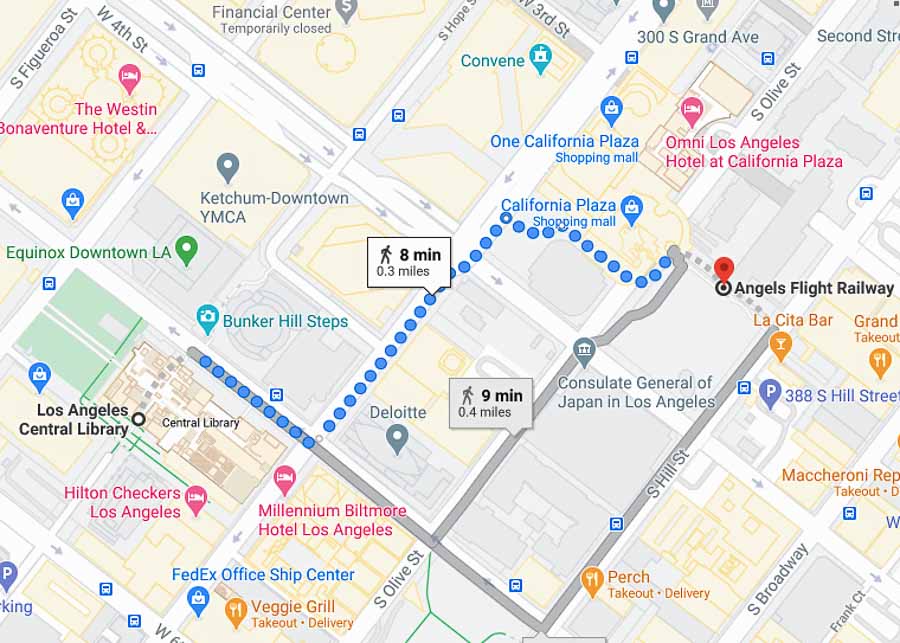 To get there, head southeast on W 5th St toward S Grand Ave., turn left onto S Grand Ave. then turn right and take the stairs.
If you ever wanted to ride the funicular from the movie La-La Land, here is your chance. The funicular appeared in movies ever since 1918, but more recently it was used to film Ryan Gosling's and Emma Stone's characters riding it in the 2016 film La La Land.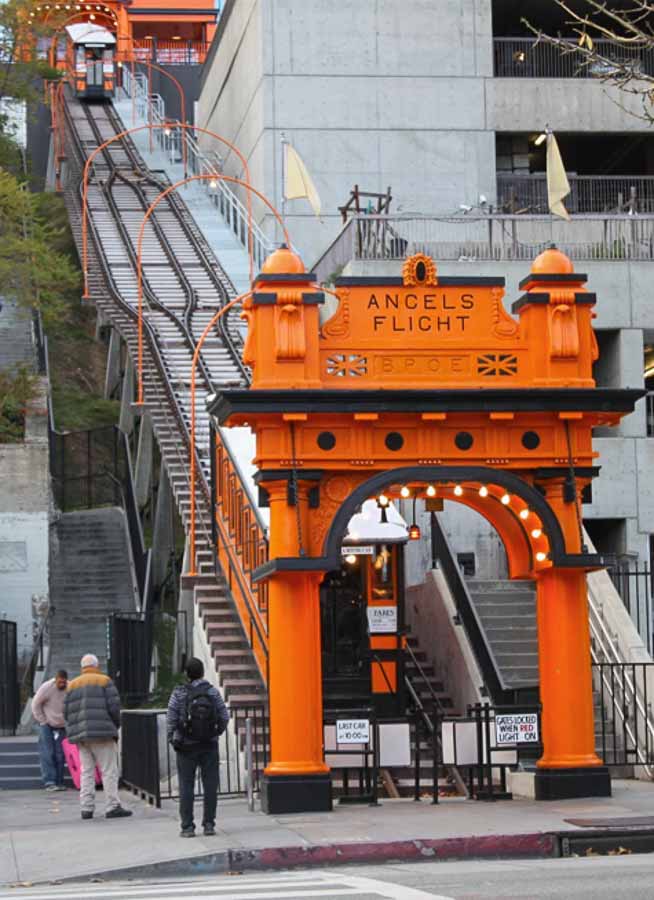 Angels Flight has two funicular cars – Olivet and Sinai – running in opposite directions on a shared cable. The cost is only $1 each way and the experience is really fun!
Bradbury Building
The Bradbury is one of the oldest commercial buildings in downtown L.A., just a short 4 minute walk from Angels Flight Railway. Head northeast on S Hill St toward W 3rd St., then turn right on 3rd Street. Bradbury Building is at the corner of Broadway and 3rd Street, at 304 S Broadway.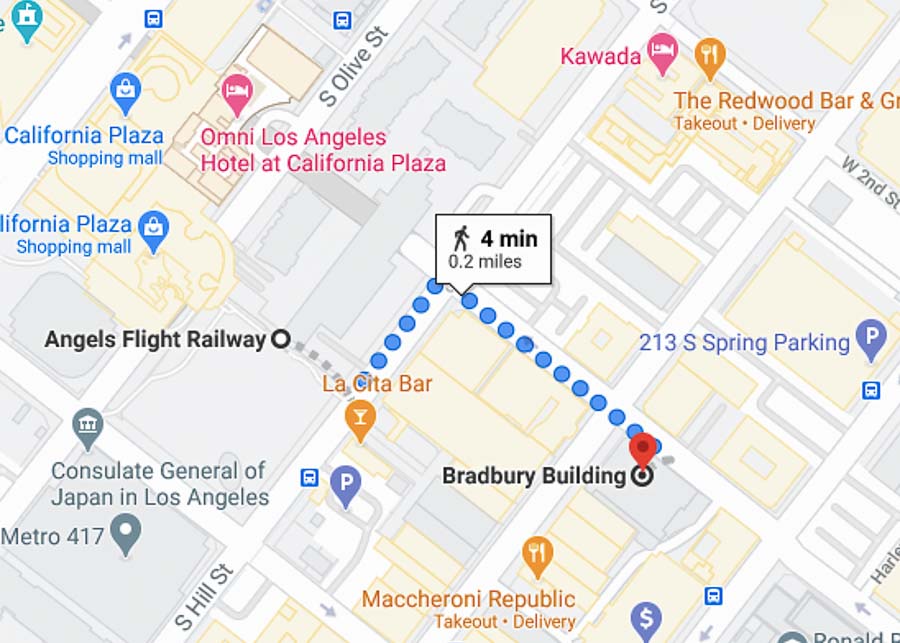 From the outside you may not think much of this structure, but when you step inside you'll be fairly impressed.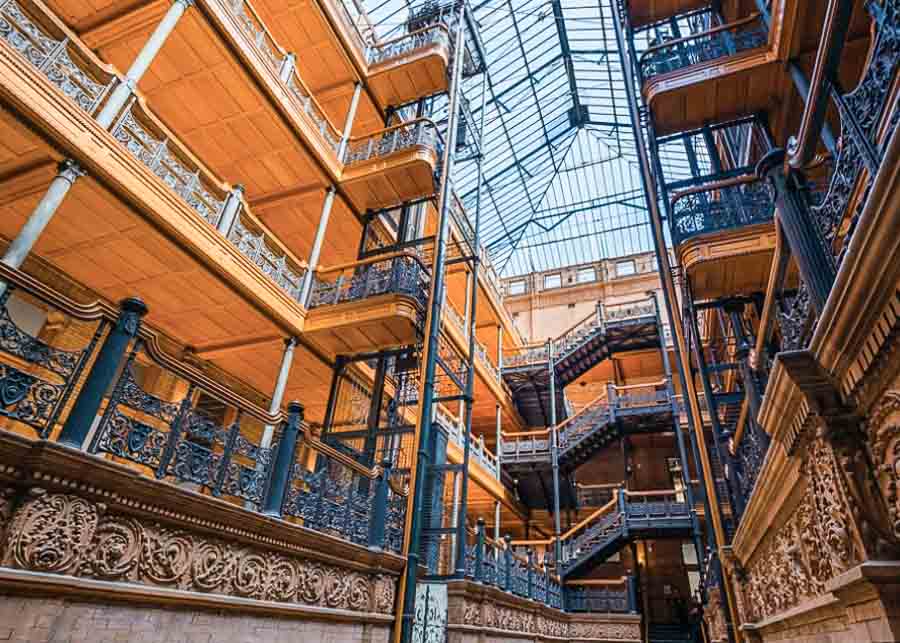 The interior is nothing short of spectacular, with marble stairwells, ornate iron railings and Mexican tile. There is also a set of bird-cage style elevators which I've only seen in the Art Deco buildings in Europe.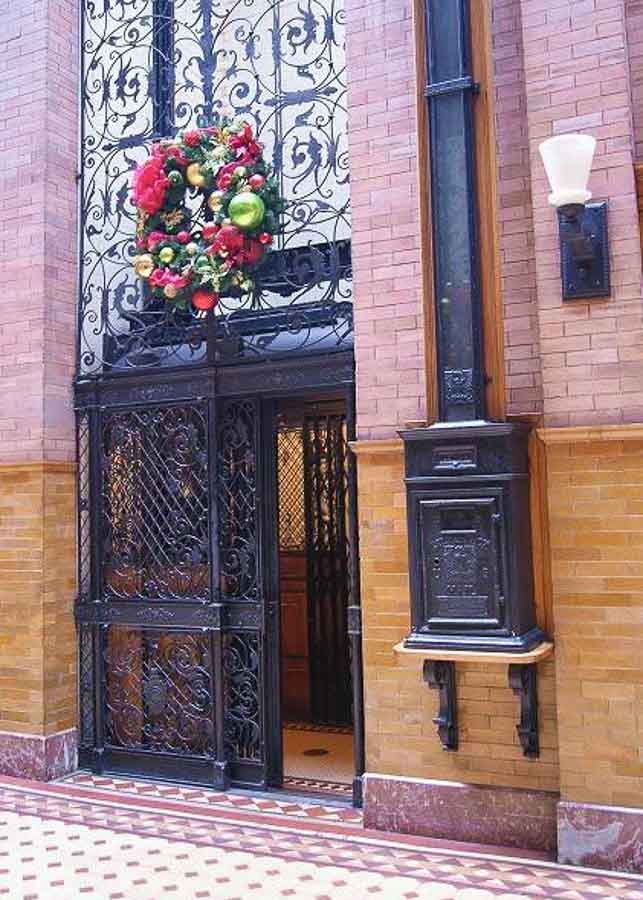 The great thing about getting inside Bradbury Building is that it's free. However, you can only go up to the first stair landing since there are working business there. Even so, it's still worth visiting this historic landmark.
Grand Central Market
Right half a block away from Bradbury Building, at 317 Broadway, you can visit the busy scene of the Grand Central Market. This iconic food hall is home to an array of multicultural stands and food stops.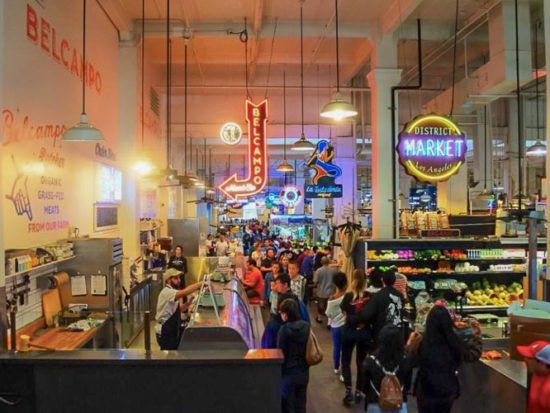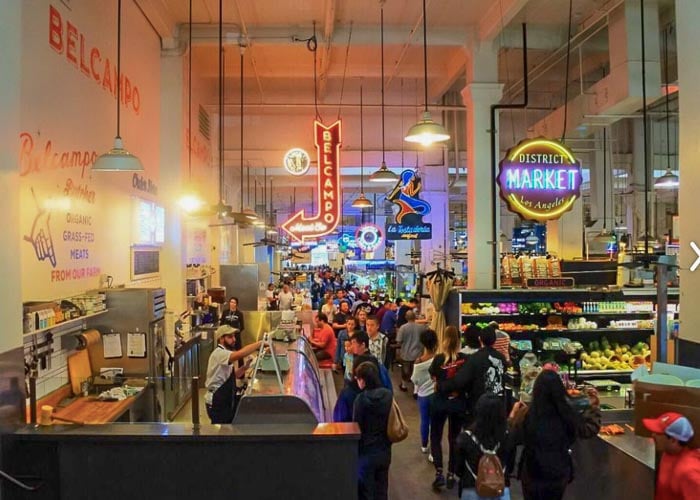 There are butchers, fishmongers, spice sellers, and dozens of cafés and food stands, each with their own unique history. But there are also long lines at Grand Central Market, so if you plan to eat here be prepared to stand in line. However, the food is awesome!
Broadway Historic Theater District
From the Grand Central Market continue on South Broadway for two more blocks, till you reach 6th Street. Here you'll find yourself in the middle of the historic Broadway Theater District, that stretches for six blocks from 3rd to 9th Streets along South Broadway.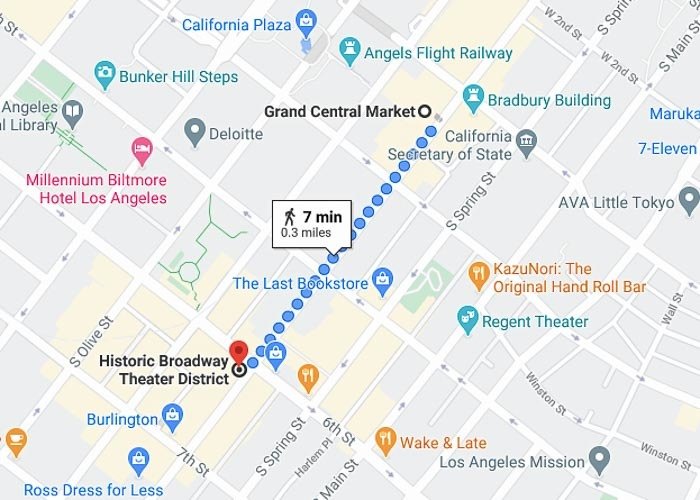 The Theatre District is home to a beautiful collection of grandiose old movie palaces built between 1910s and 1930's. Many of these theaters began as vaudeville stages and later transformed into movie theaters.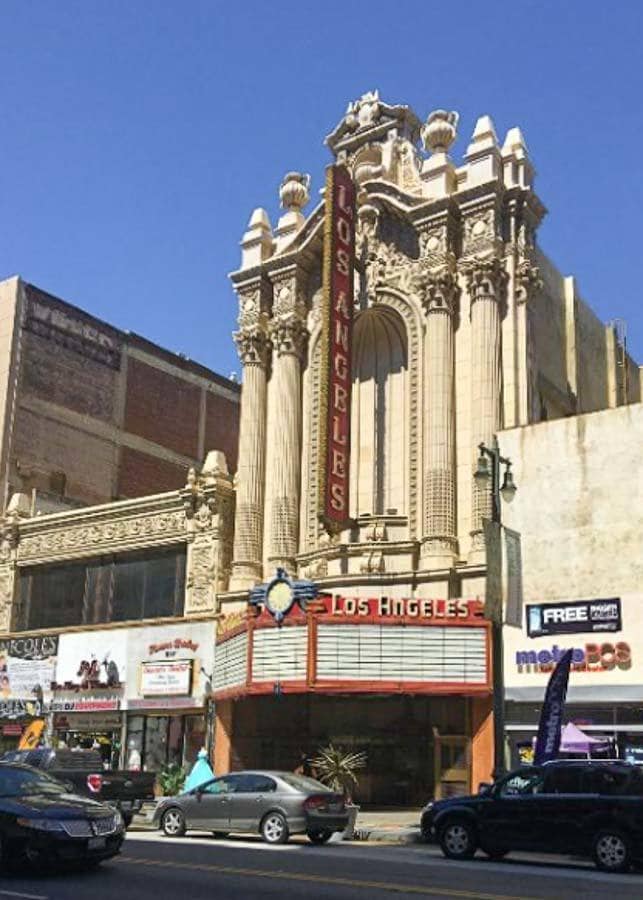 We didn't discover these historic buildings till recently, when we decided to take a tour of the Theater District. Walking into these theaters felt like looking through a window into the entertainment industry's heyday. What surprised us is that some of these historic buildings seem much bigger on the inside than on the outside.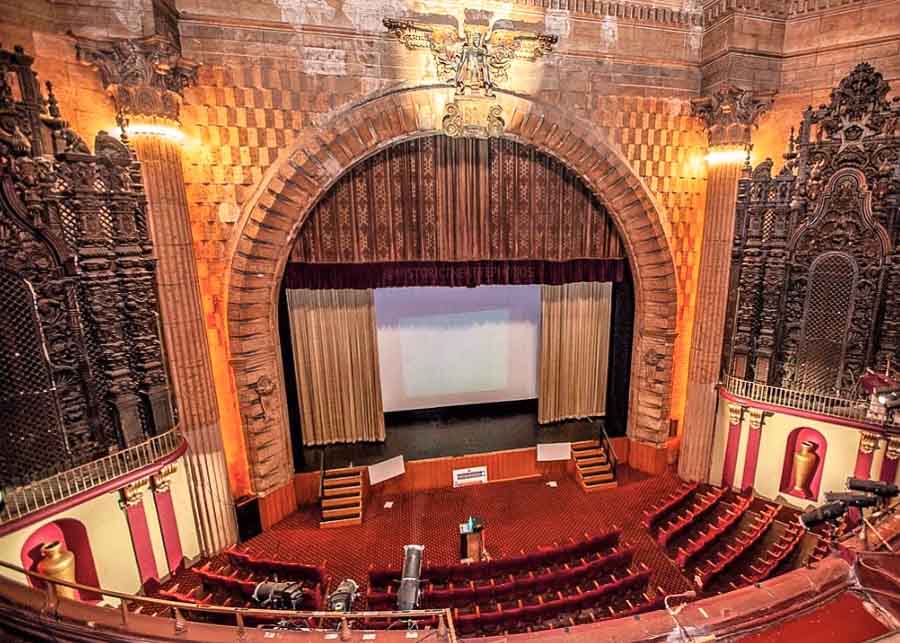 The tour takes you inside some of this ornate movie palaces, like Los Angeles Theater, Million Dollar Theater, Orpheum Theater, or the Theater at Ace Hotel.
READ NEXT: How to Spend 3 Days in Los Angeles – the Perfect Itinerary
Getting Around Downtown Los Angeles
Los Angeles is a collection of neighborhoods with distinct personalities, connected by streets that can stretch for miles. The points of interest may be very far apart from each other and some walks may include loops, slopes, or stair climbing.
So how are you going to manage if you have problems walking? Just do what the locals do: drive or take the bus to your favorite walk. Public transportation works pretty well in Los Angeles, although it's not always time efficient.
If you decide to drive, there are plenty of parking structures all around the city, but the fees may be quite steep. Another option is Uber or Lyft. However, I believe that taking a walking tour is the best way to explore Downtown Los Angeles.
Is Downtown Los Angeles Safe for Walking?
Like all large US metropolitan cities, Downtown Los Angeles consists of safe and quite unsafe areas for walking, especially after dark. There are some nice sections, and some very run down sections where you are likely to feel uncomfortable. For this reason, I recommend choosing very carefully where you want to stay in L.A., in case you decide to book a hotel in the Downtown area.
Overall, Downtown Los Angeles is not a dangerous place to walk during the daytime, or even early evening. But the scenery can change abruptly: now you are in a very populated place, with lots of activities around and then, a couple of blocks away, you find yourself in a poor and deserted and area with no people around. So have to know where you're going before starting your walk.
The walking tour suggested in this post however, will only take you through the safest areas in Downtown Los Angeles, where I myself feel pretty safe walking.
RELATED ARTICLES:
• Best Things to Do in Los Angeles in December
• Fun Things About Los Angeles That Not Even Angelenos May Know
• How to See the Best of L.A. in One Day
• Guide to the Best National Parks Near Los Angeles
Did you find this information useful? Please pin it for later: