That are not many places in the U.S. that can compete with the charm and natural beauty of Sedona, Arizona. Where else but in Sedona can you walk on red rock trails, discover hidden canyons, and then cool off in a slippery creek bed that acts as a natural waterslide? The good news is that most of the trails in Sedona are very accessible and relatively easy to hike for most people.
With more than 100 hiking and biking trails covering almost 300 miles in the region of Sedona, it's easy to find a new path to roam. What's difficult is deciding which one to choose. So here are my top favorite easy to moderate hiking trails in Sedona.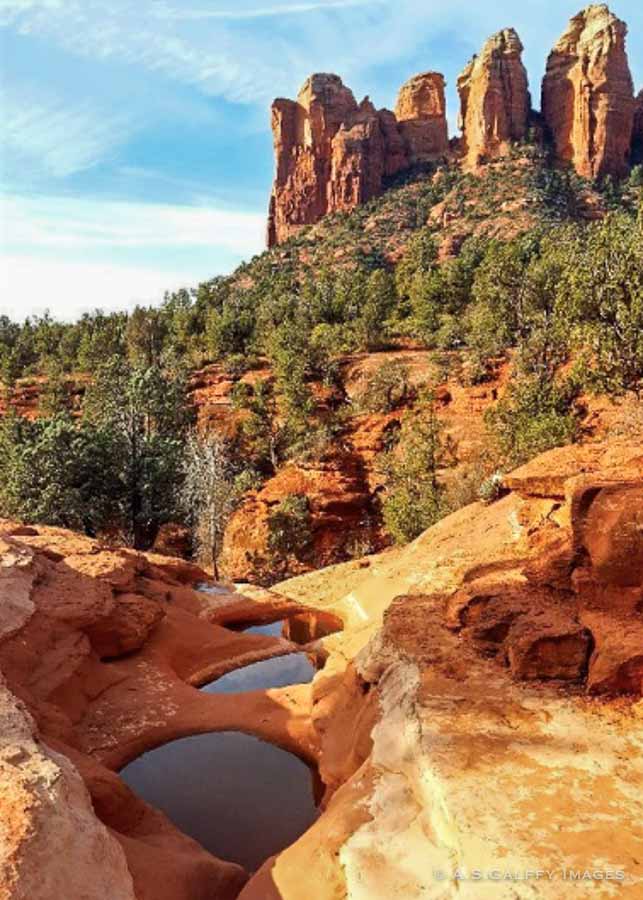 5 EASY TO MODERATE HIKES IN SEDONA

Brins Mesa – Soldier's Pass Trail Loop
Loop Length: 5.2 miles round trip
Elevation gain: 546 feet
Level of difficulty: easy to moderate
Dogs are allowed but they have to be kept on leash
Fee/Permit: $5.00 Daily Red Rock Pass, or Interagency Pass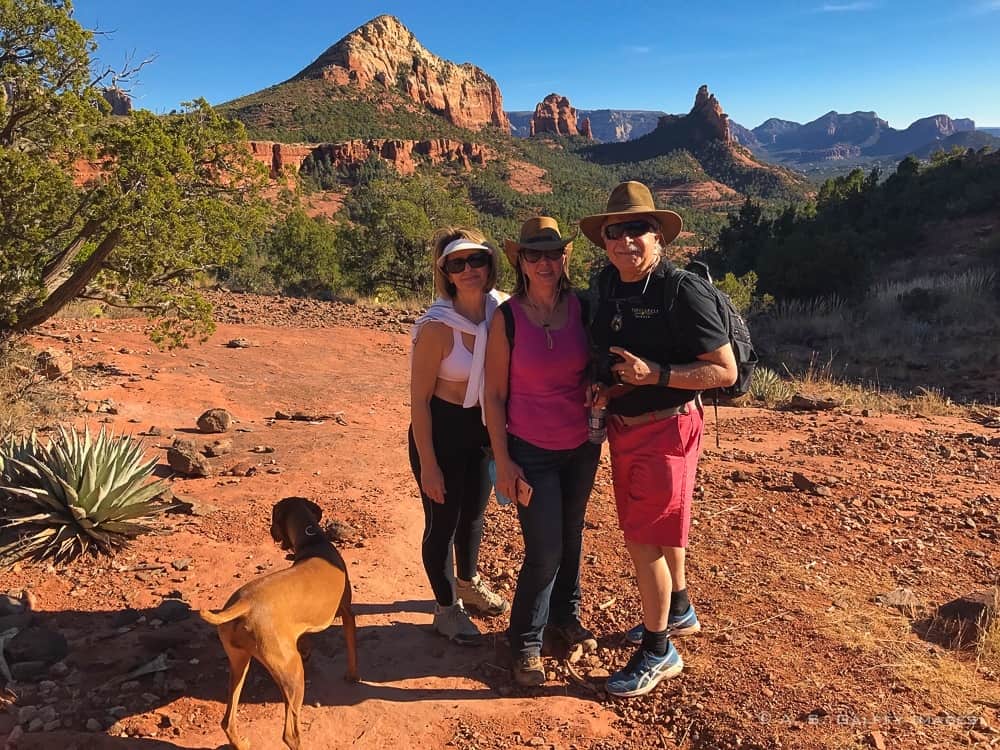 The Brins Mesa and Soldiers Pass trails form a 5.2 mile loop through stunning red rock formations and open desert. This is a moderate hike with great views, that passes by some very interesting rock formations like the Devil's Kitchen, the 7 Sacred Pools and the Rock Arches.
We started our hike on the Brins Mesa Trail and returned on Soldier's Pass because Brins Mesa seemed less steep and therefore easier on the way up. It's not that much difference however, so you can start either way.
Cathedral Rock Trail
Location: 3.5 miles from Sedona, Arizona
Hiking Distance: 1.3 miles round trip
Elevation gain: 775 feet
Level of Difficulty: moderate
Dogs are allowed but have to be kept on a leash
Cathedral Rock is one of the most popular hiking trails in Sedona. The hike is short but don't let the distance fool you. There are a few challenging sections where you'll need to use your hands, so reaching the top may require some climbing abilities.
If you want to take some fascinating shots of the different colors of Sedona landscape, I suggest hiking the Cathedral Rock at sunset. The trail is also less crowded in the late afternoon, early evening.
Devil's Bridge Trail
Location: Dry Creek Road, about 12 miles west of Sedona
Trail Length: 4.2 miles round trip (from the parking lot)
Elevation Gain: 564 feet
Level of Difficulty: easy to moderate (with a short steep climb)
Dogs are allowed on the trail, but have to be on a leash.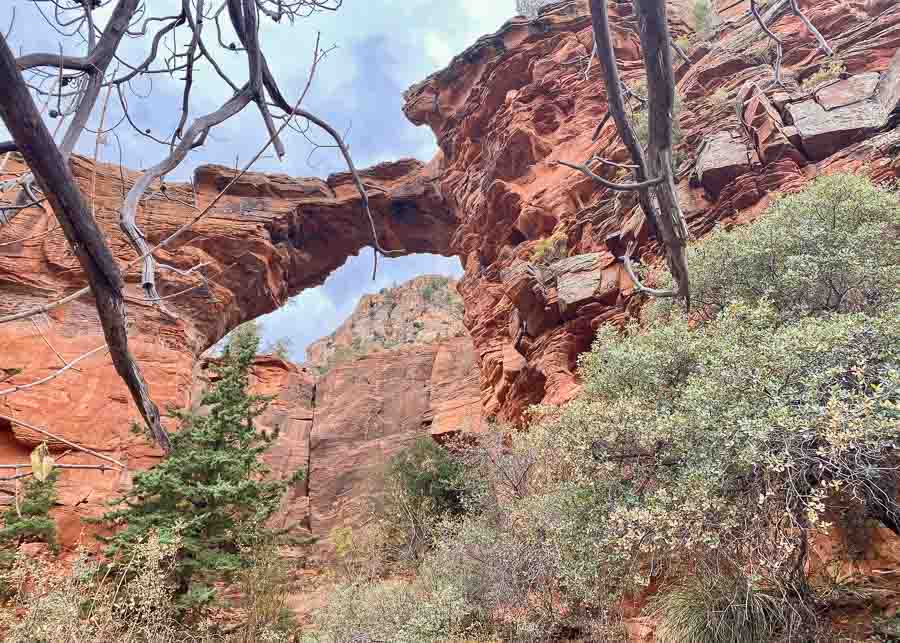 Devil's Bridge is one of the most popular hiking trails in Sedona. This is partly because it's easily accessible for most hikers. The trailhead is easy to reach, the path is easy, and the hike itself is fairly short, with just a short difficult part at the top.
Despite its dreadful name – Devil's Bridge – this trail is enchantingly beautiful, passing by gorgeous landscape and rock formations. The hike leads to a spectacular sandstone arch, which is the largest of its kind in the area of Sedona.
Red Rock Crossing Trail
Length: 1.8 miles round trip
Trailhead Location: Red Rock State Park, (Upper Red Rock Loop Road)
Elevation Gain: 50 feet
Level of Difficulty: Easy
Dogs are allowed but they have to be kept on leash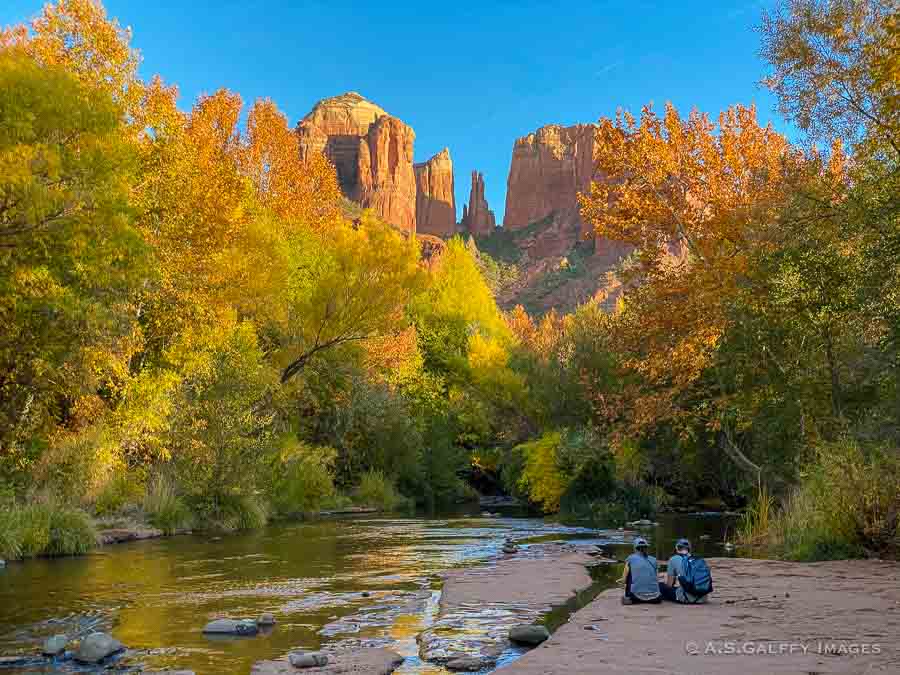 Red Rock Crossing is one of my favorite trails in Sedona because it's not only spectacular, but also very easy to hike. It's also the only location where you can get the iconic photo of the Cathedral Rock with the stream in front of it.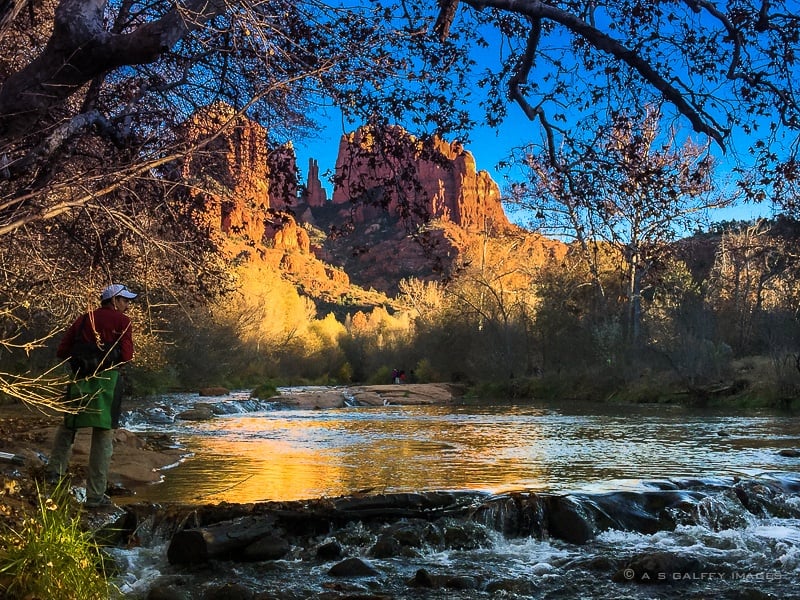 The beautiful 1.8 mile trail is located in the Red Rock State Park, just outside the town of Sedona, Arizona. The Park is a beautiful combination of high-country scenery and rugged charm, with lots of hiking trails for every skill level. The Red Rock Crossing Trail is fairly flat, twisting in and out of the forest and passing by swimming holes which are great to cool off during the hot summer months.
Bell Rock Trail
Loop Length: 3.6 miles
Elevation Gain: 370 feet
Level of Difficulty: easy to moderate
Dogs are allowed but must be kept on a leash.
Accessibility: Limited, paved parking is available at the trailhead.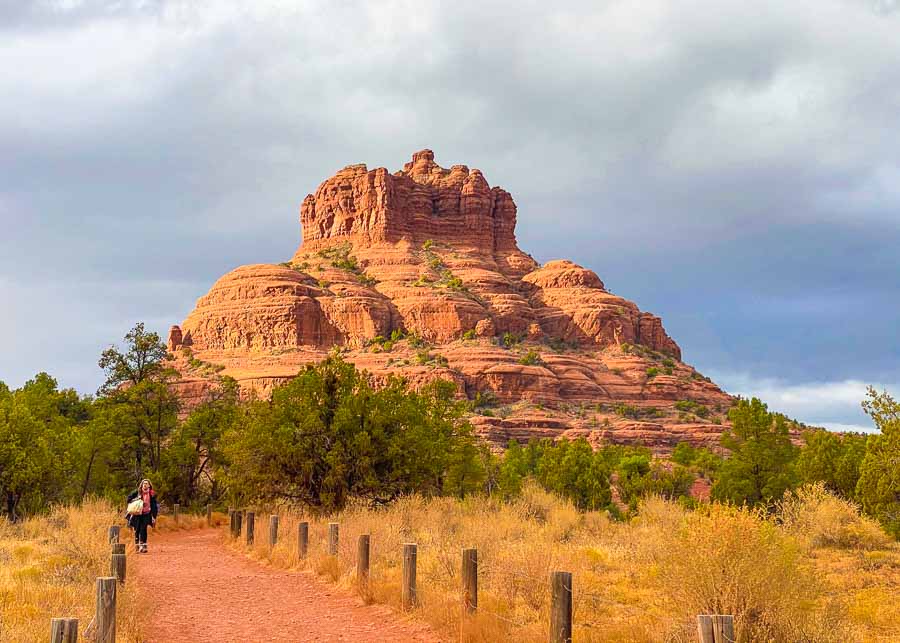 Bell Rock is perhaps the most easily recognizable formation in Sedona, with its dome-shaped silhouette hanging close to Highway 179. The Bell Rock Trail is an easy to moderate hike that will reward you with some majestic views of Sedona.
The trail forms a loop midway up, around the base of the Bell Rock. Some hikers try to ascend to the top by climbing up the slippery rock, but unless you have some experience with that I wouldn't recommend it. Obv
Tips for Hiking in Sedona
While Sedona's climate is not as harsh as some of the other areas in Arizona, you'll have to remember that it's still the desert. If you're hiking these trails during the summer months, bring your lots (I mean lots!) of water, a hat and sunscreen.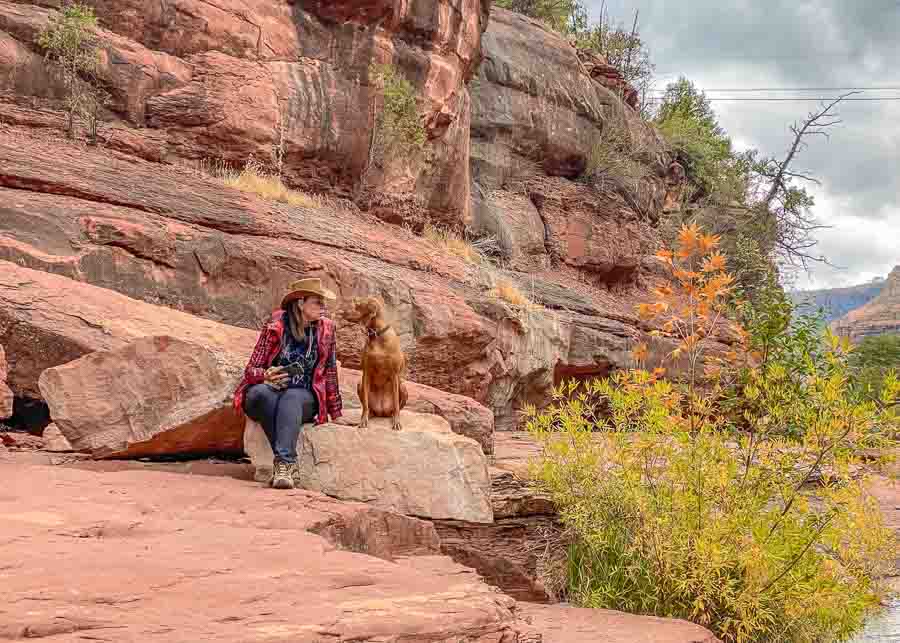 During the winter months Sedona's temperature cools down a lot and it may even snow, so if you plan to hike at this time of year bring warm clothes (preferably dress in layers).
Carry only a light backpack. Remember: the less you carry, the more enjoyable your hike will be, so travel as lightly as possible. The heaviest items in your pack should be your food and water.
Also, don't hike alone. No matter how fit you are, or how well you know the trails in Sedona, don't overestimate your capabilities. Hike intelligently. It's always a good idea to hike with at least another person.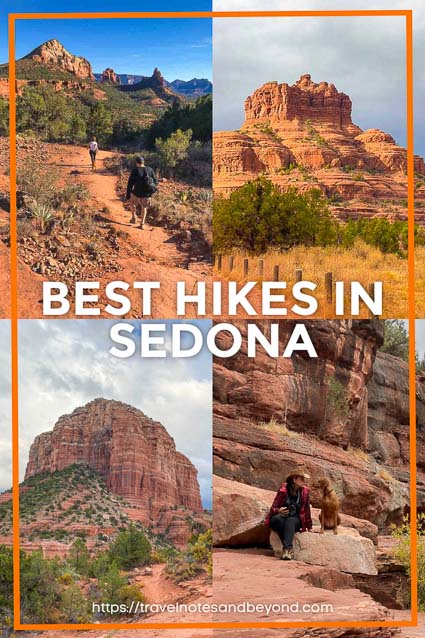 YOU MAY ALSO LIKE:
• Where to Find the Best Preserved Indian Ruins in Arizona
• Jerome Arizona – America's Largest Ghost Town
• 5 Sedona Wineries that Offer a Top Wine Tasting Experience