Sedona is one of Arizona's most amazing destination for geologists and outdoor lovers. Blessed with breathtaking scenery, the area around town has countless hiking trails like Cathedral Rock, Devil's Bridge, or Red Rock Crossing, which shouldn't be missed if you have more than one day in Sedona.
But my favorite trail is the Devil's Bridge, a hike leading to a spectacular sandstone arch, which is the largest of its kind in the area of Sedona. Despite its dreadful name – Devil's Bridge – this site is enchantingly beautiful.
DEVIL'S BRIDGE TRAIL GENERAL INFORMATION
Location: Dry Creek Road, about 12 miles west of Sedona.
Trail Length: 4.2 miles round trip (from the parking lot).
Elevation Gain: 564 feet.
Difficulty: Moderate.
Hiking time: 2.5 to 3 hours.
Dogs are allowed on the trail, but have to be on a leash.
Trailhead Location: You can reach Devil's Bridge trailhead either by the Chuckwagon Trail by parking at the Dry Creek Vista parking area or via Mescal Canyon Long Canyon Road.
The first route is 2.9 miles one way (5.8 miles round trip) from the parking area to Devil's Bridge. The first part of this trail is a wide dirt road which is a popular jeep trail, and therefore is kind of dusty. If you have a high clearance, 4-wheel drive you can also drive this portion of the road.

HIKING THE DEVIL'S BRIDGE TRAIL
The actual Devil's Bridge Trail is about 0.8 miles long and leads up to a broad valley. The trail goes over red earth and slick rock terraces, climbing gradually.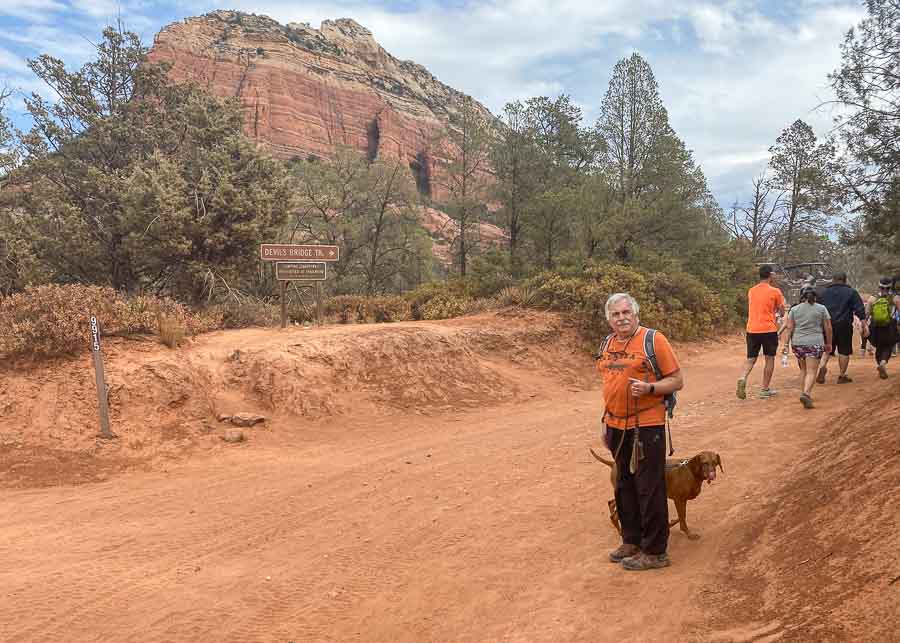 Hiking the Devil's Bridge trail is quite easy, with just a short, steep climb at the end. Most hikers find it quite accessible and not very strenuous.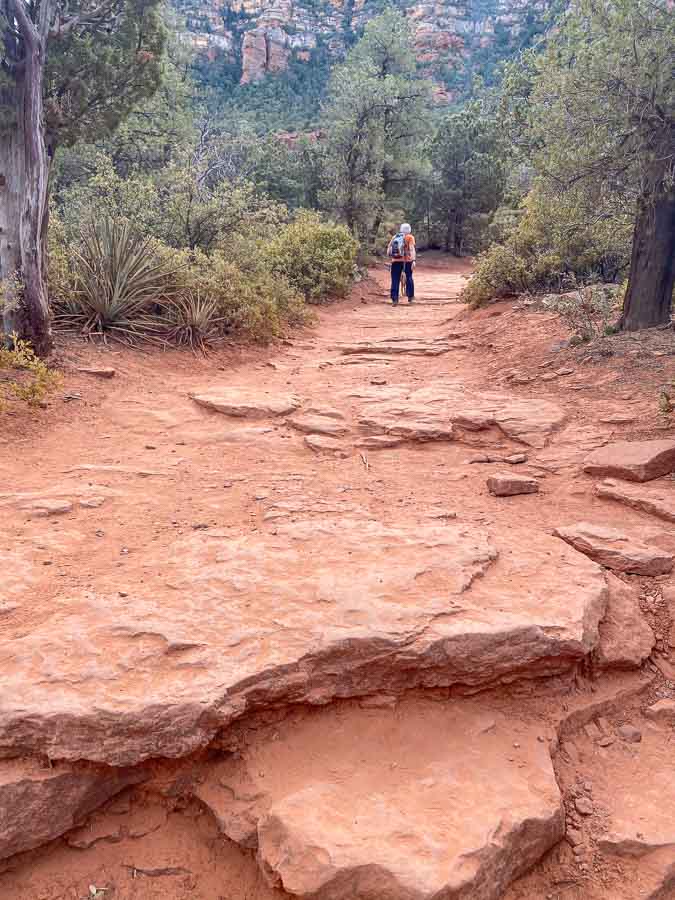 At some point the dirt road begins to narrow and the higher you get, the rockier and steeper the trail becomes.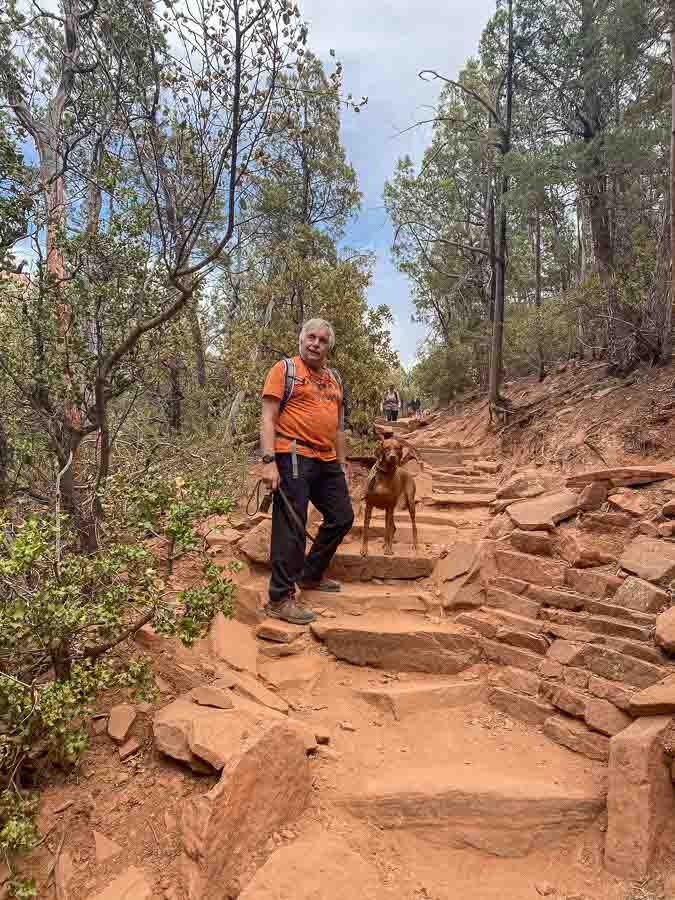 Towards the end there are some parts that require a bit of rock climbing, but they are not very long.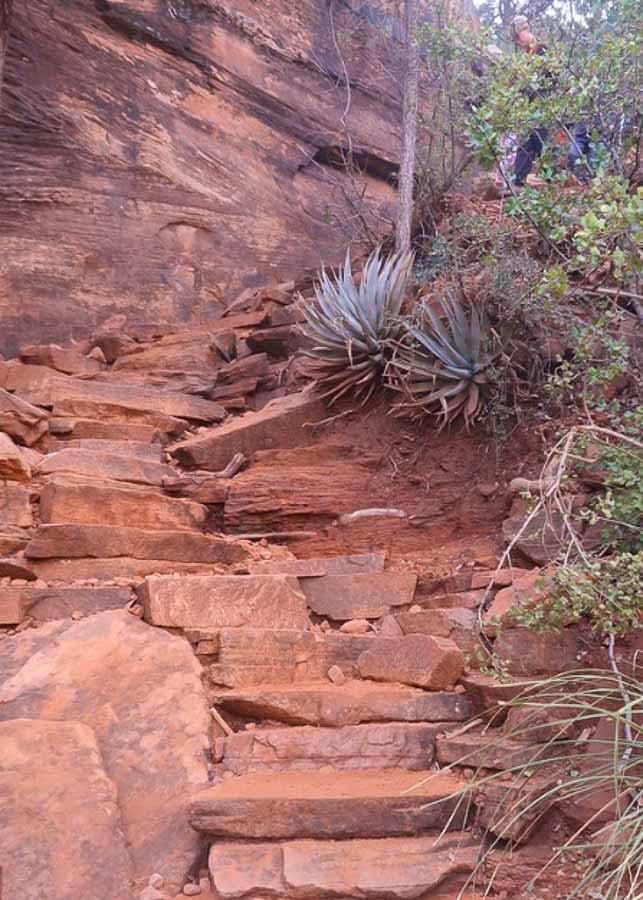 Hiking a 500 ft or so elevation may see difficult to some people, but there are plenty of beautiful places to stop and take a break. And if you can't hike the trail all the way to Devil's Bridge, you can return from any point without feeling unaccomplished. There are gorgeous views all around you.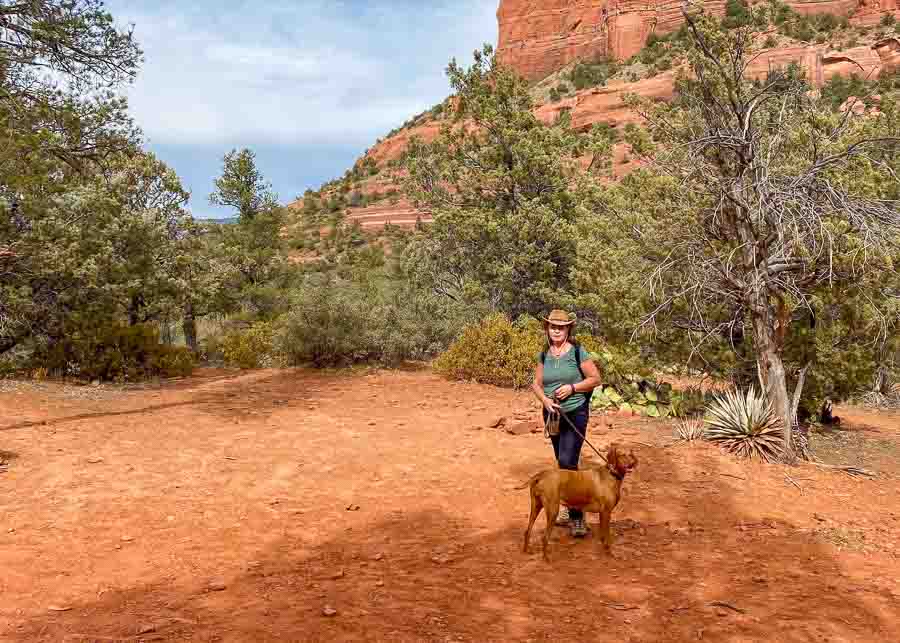 We did this hike on a Saturday morning, in mid November. The weather was cool and great for hiking, so we came across many groups of people, despite starting very early.
REACHING THE DEVIL'S BRIDGE
When you get to the base of the Devil's Bridge, the trail becomes very steep. From this point on there are some pretty steep rock steps to get to the very top, but it's well worth the effort.
The main trail ends right beneath the arch of the Devil's Bridge. From here there is another branch that ascends to the top, where the views are better.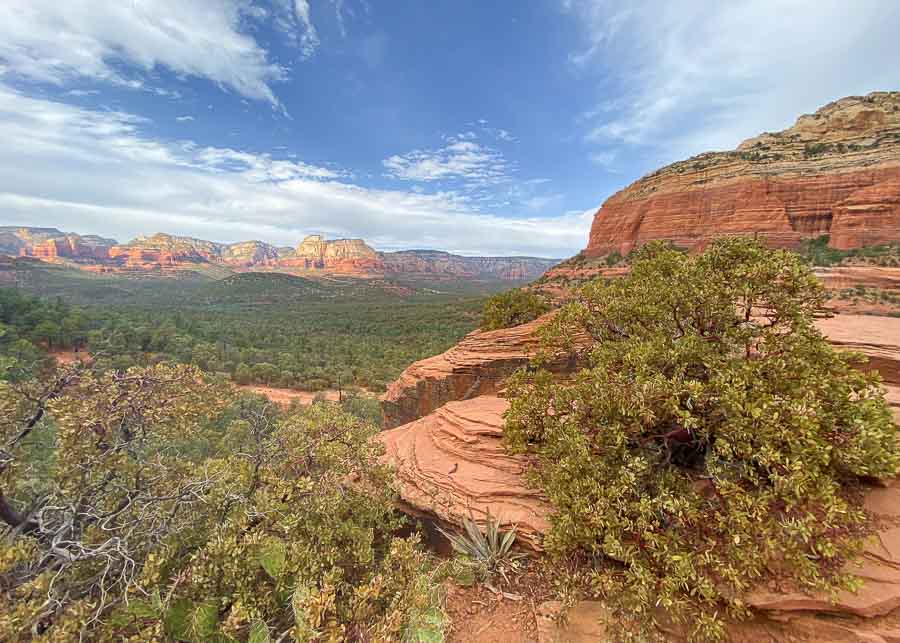 Devil's Bridge itself is a bridge to nowhere, but people like to walk across it anyway. The arch under the bridge has a 50 feet drop, so I didn't feel like crossing it, but my husband did. At its narrowest part Devil's Bridge is about five feet wide, but if you're good with heights you'll be fine.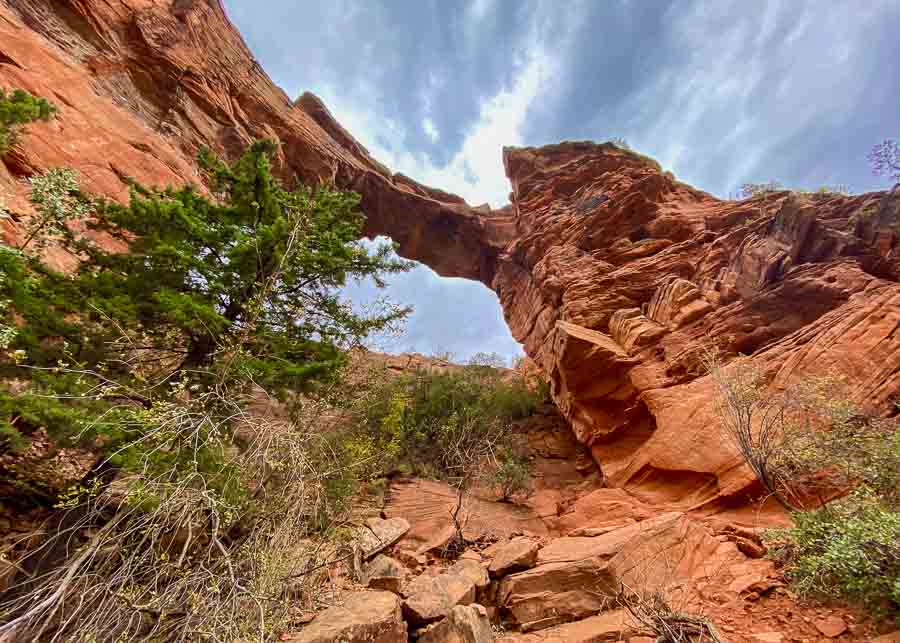 The bridge has formed at the edge of a plateau, directly in front of a cliff, therefore the best view is from behind it or from above.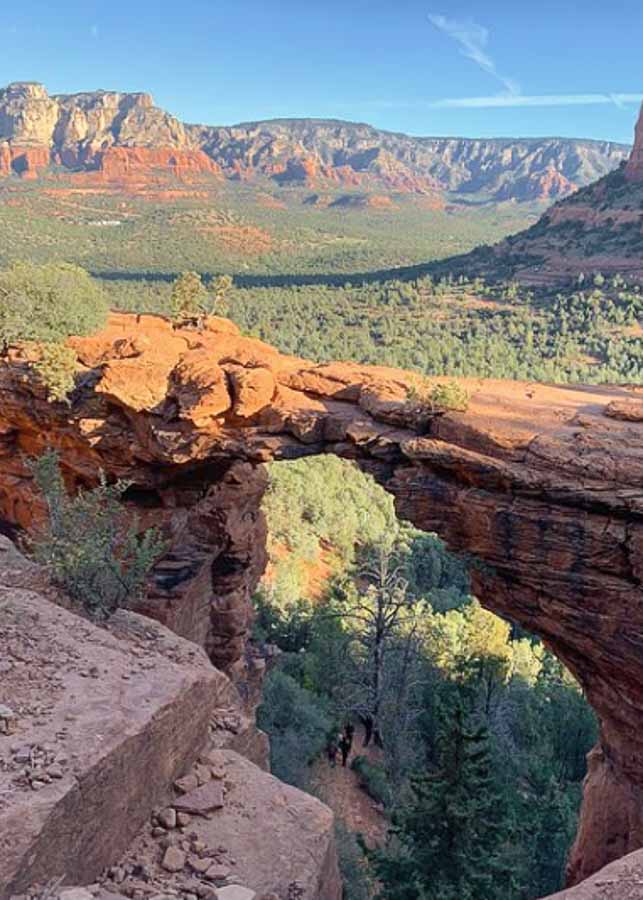 Devil's Bridge trail is surrounded by the typical Sedona vegetation of juniper, pinyon pine, opuntia, yucca and agave. Towards the base of the bridge where the path rises quite steeply, you'll see manzanita bushes.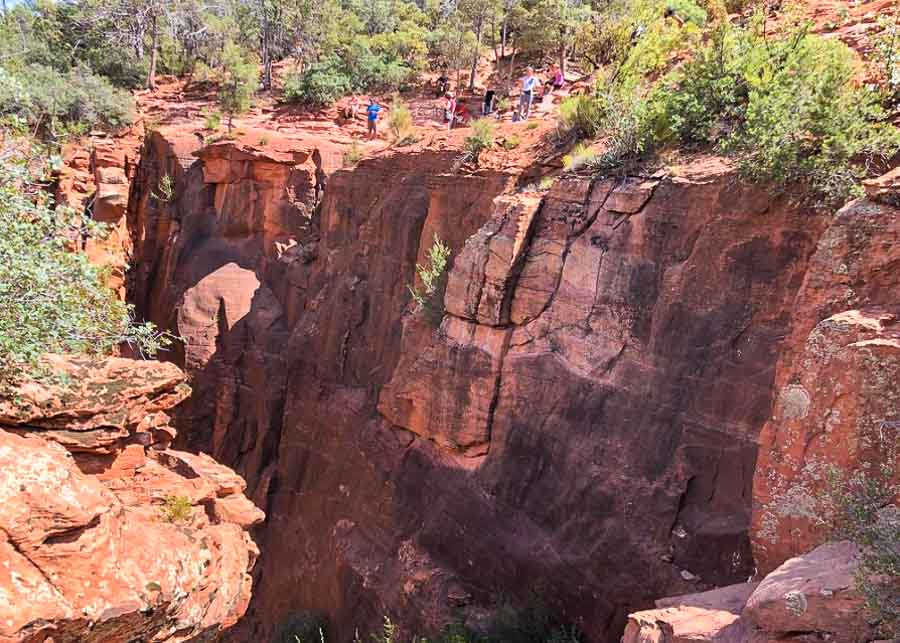 TIPS FOR HIKING DEVIL'S BRIDGE TRAIL IN SEDONA
We loved hiking the Devil's Bridge trail and found it really easy, except for a very short stretch towards the end. We believe it can be done by anybody with a moderate physical condition.
If you are doing this hike in summer, I strongly recommend starting very early in the morning to avoid the dreadful Arizona heat. Also, carry plenty of water with you to avoid dehydration.
We hiked the Devil's Bridge trail in November when the temperature was cool (in the upper 60ºF) and carried only two small bottles of water, but in summer they recommend taking around a gallon per person.
We also hiked the Red Rock Crossing and Brins Mesa Trail on this trip, which were relatively similar hikes. But if you are looking for a more strenuous hike, you should try the Bell Rock Trail.
READ NEXT: Where to Find the Best Preserved Indian Ruins in Arizona
WHERE TO STAY IN SEDONA
Sedona is a very expensive town, so no matter what time of the year you travel there you'll always spend top dollars for lodging. If you are traveling with bigger group, I suggest checking the many Airbnbs in Sedona, but they don't come cheap either.
We've been in Sedona many times before and stayed at different hotels. One that I really liked was Southwest Inn, near the center of the town.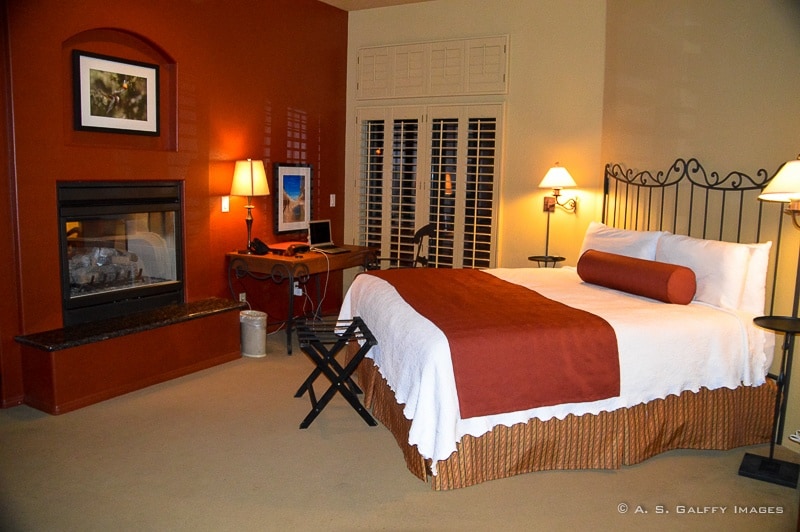 This time we stayed at Bell Rock Inn, a very nice property located just a few miles outside Sedona. The hotel features rooms with sitting areas and kitchenettes, a swimming pool and a beautiful garden.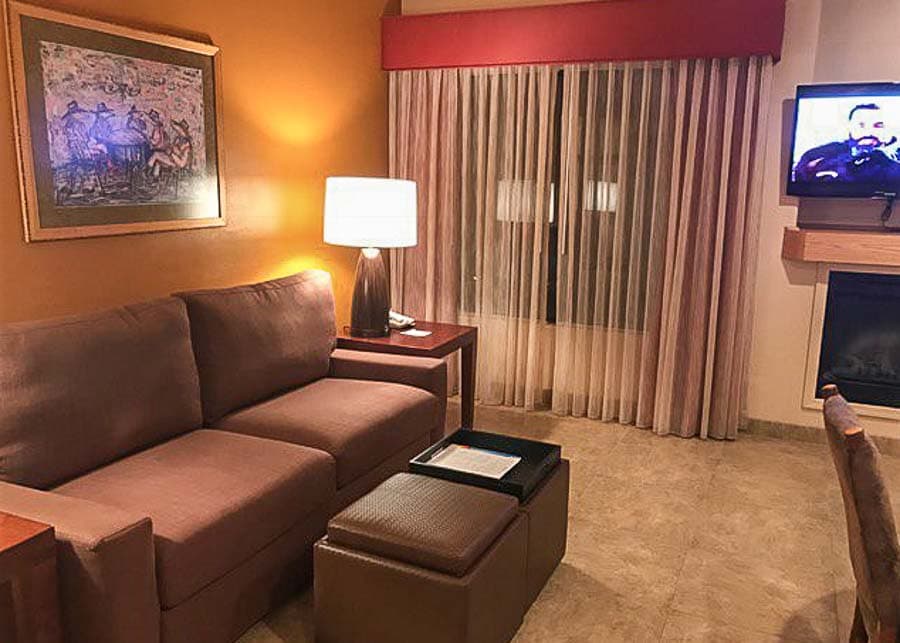 WHERE TO EAT IN SEDONA
There are plenty of good restaurants in Sedona and many of them feature patio dining, which is very pleasant during the warm summer nights.
If you are looking for a more upscale dining experience, I would recommend Dahl & Di Luca Ristorante a very romantic restaurant with a villa-themed decor, serving homemade pasta and Italian specialties.
We also dined at Creekside American Bistro, a casual yet upscale spot with creative seasonal meals and local beers, plus outdoor seating; Picazzo's Healthy Italian Kitchen and The Hudson Grill in Hillside Sedona Shopping Center.
If you have any further questions about hiking the Devil's Bridge trail in Sedona, please drop me a line in the comments below.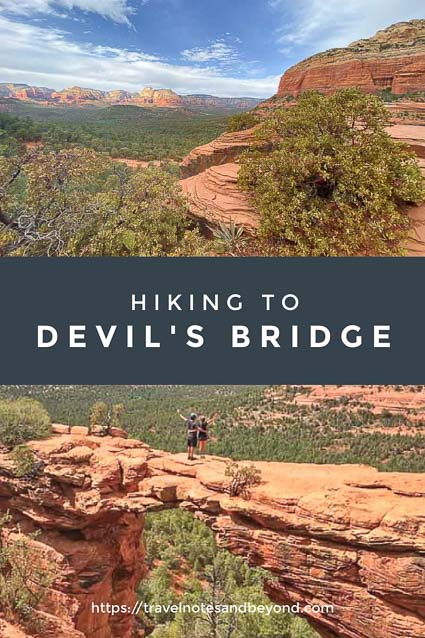 PLANNING A TRIP TO ARIZONA? YOU MAY ALSO LIKE: