Planning to spend 10 days in Italy and not sure where you should start your itinerary? You cannot go wrong with a country like Italy, no matter which way you go. From the hub of Rome to the Amalfi Coast, Italy is simply gorgeous and therefore a must of any European itinerary.
I visited Italy quite a few times over the past 30 years, therefore planning a trip to Italy is one of my favorite things to do. So if you need help with your travel plans, here are 4 itinerary ideas for spending 10 days in Italy.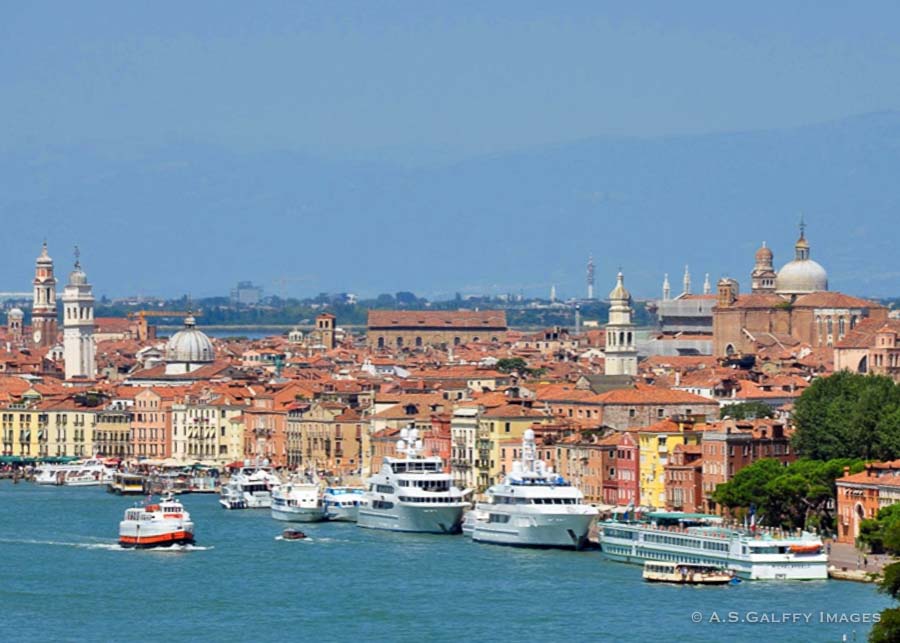 10 DAYS IN ITALY – 4 ITINERARY IDEAS
The suggested itineraries below are grouped according to the different regions in Italy. Nonetheless, you can choose a different combination from the cities listed here, according to your tastes and interests. You can also start each of these itineraries in reverse order.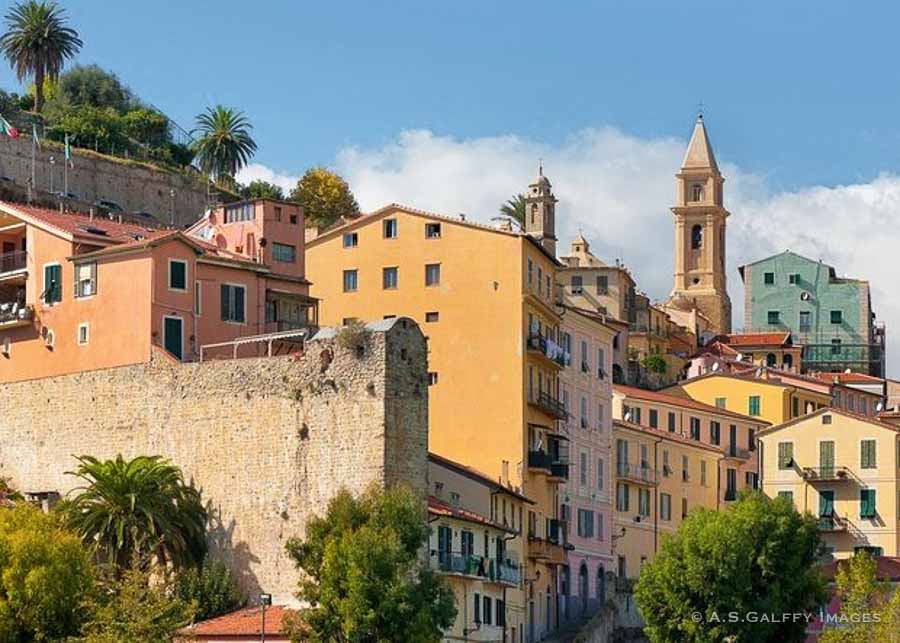 ITALY ITINERARY #1: QUINTESENTIAL ITALY
(Rome, Florence, Venice, Milan)
Day 1: Arrive in Rome
Day 2, 3 & 4: Visit Rome
Day 7 & 8: Florence
Day 9: Milan
Day 10: Fly back home from Milan

If you are a first time visitor to Italy, this is the best 10 day itinerary for you. First, because it includes four of Italy's most fascinating cities, which deserve a place on any European bucket list. Second, because all these cities have good public transportation and excellent train connections, so you won't be needing a car.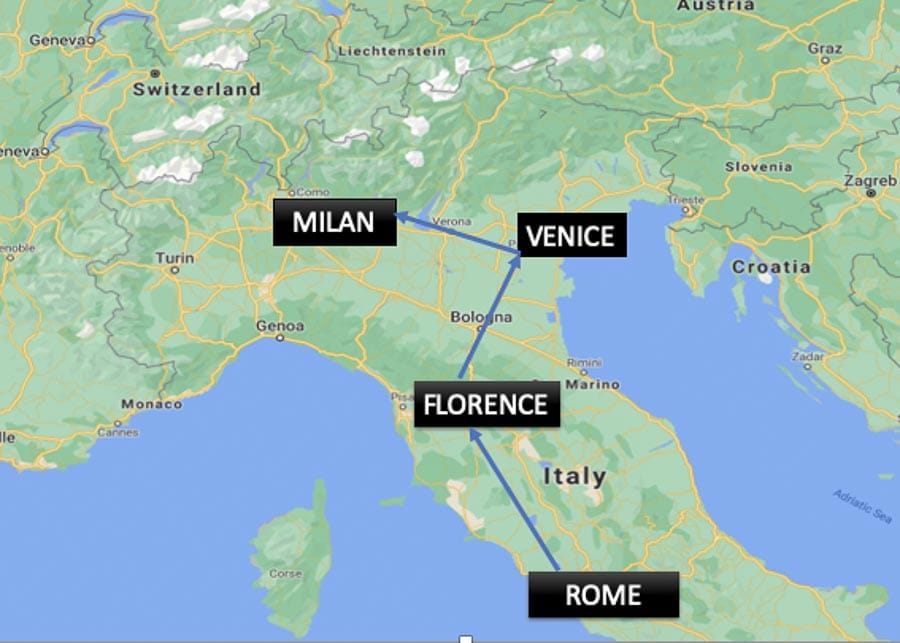 Best Time to go: from September to early November, or from April to June. In fall and spring there are less tourist around. Also, temperatures are cooler (upper 50s to mid 70s) and therefore it's more pleasant to walk.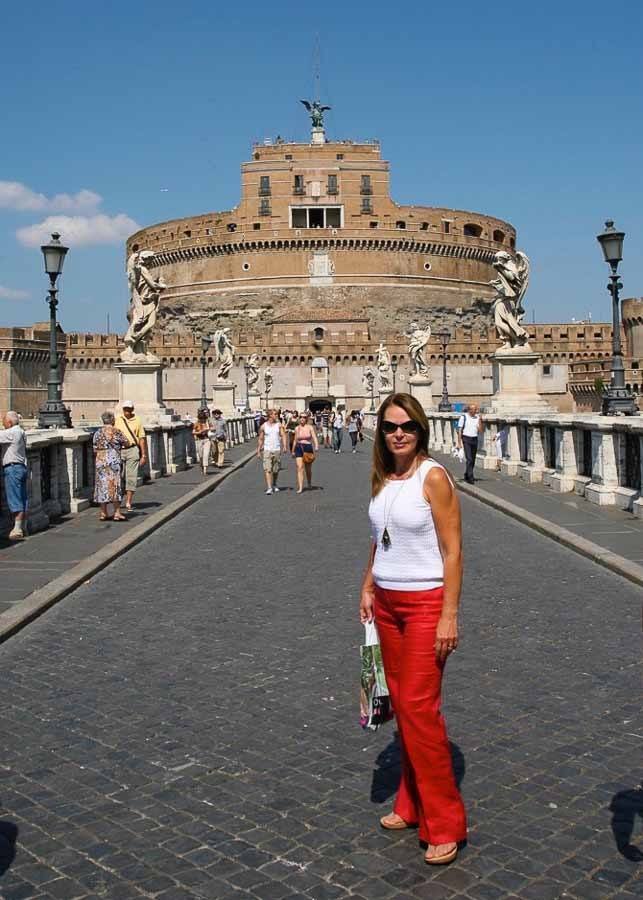 Day 1: Arriving in Rome
If you are flying to Italy from almost anywhere, you'll most likely land in Rome. It's the cheapest and the most convenient landing point, with direct continental and intercontinental flights.
Day 2, 3 & 4: Explore Rome
Rome is a fascinating city, filled with history, art, and great food. There are so many fun facts about Rome, so many attractions to see that could could easily spend here a few weeks roaming around. You need to spend here at least 2-3 days, although 3 days in Rome will feel like very little.
I would suggest starting your visit in the Historic Center of Rome (Centro Storico). Here is where you'll find the city's most notable attractions, such as the Forums, the Colosseum, the Pantheon, and more.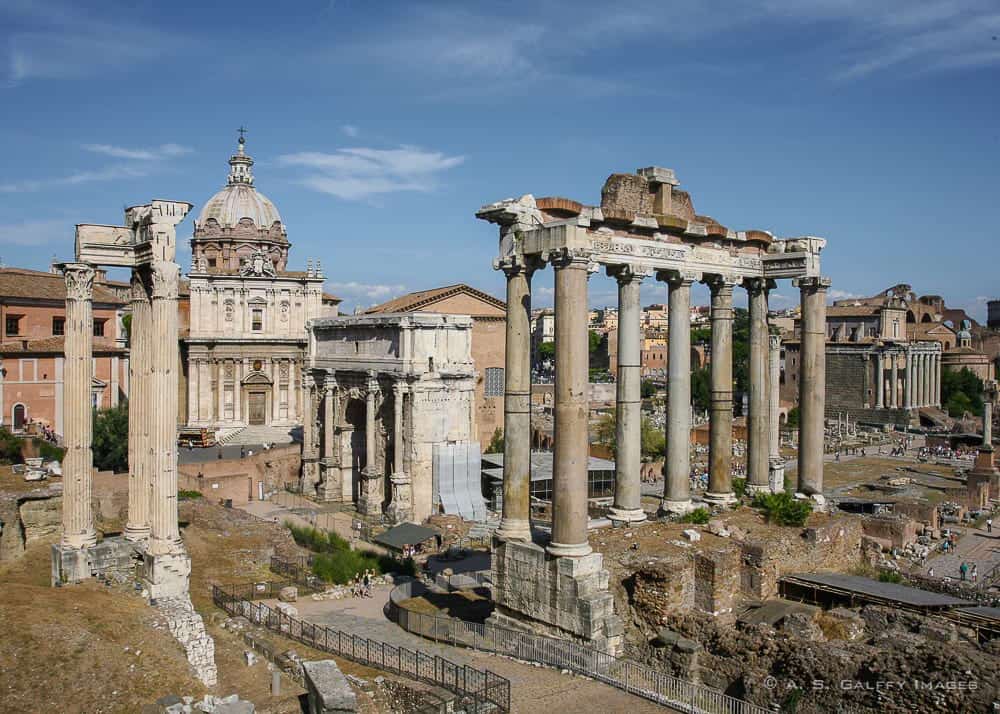 Don't miss the Vatican museums and the famous Sistine Chapel. After that you can stroll through Piazza Navona and continue to the Spanish Steps and Fontana di Trevi. You'll be walking a lot in Rome, so bring comfortable shoes.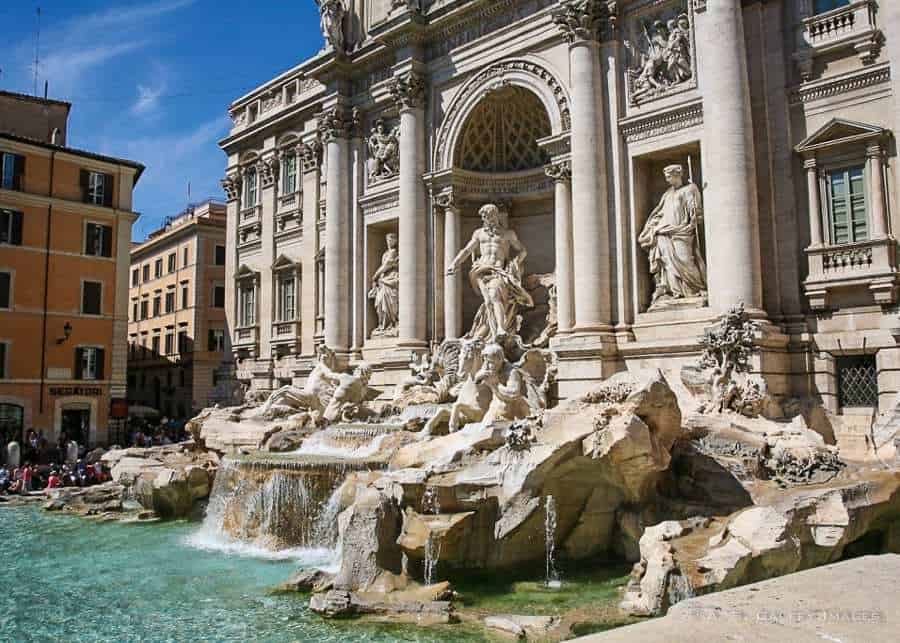 READ NEXT: Best Area to Stay in Rome – Guide to Rome's Neighborhoods
Traveling from Rome to Florence: there are about 40 trains that travel from Rome to Florence each day. The train passes through the beautiful Roman countryside and it takes an average of 1 hour and 36 minutes to get to Florence.
TIP: I suggest taking a late afternoon or early evening train to Florence. This way, you can check right into your hotel, rather than having to store your luggage in order to visit the city.
Day 5 & 6: Florence
Florence is one of my most favorite destinations in Europe, the birthplace of the Italian Renaissance and the jewel of Tuscany! With this itinerary you'll have 2 full days in Florence, which gives you a fair amount of time see the main attractions.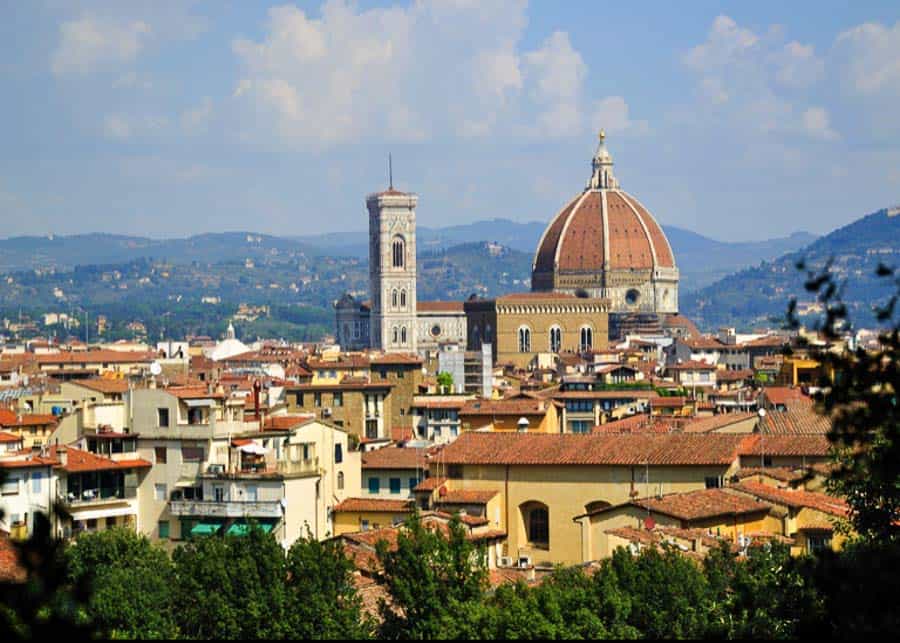 Don't miss climbing up the Campanile (Giotto's Tower). The 278 feet high tower offers the best views of the Duomo and Florence. Also, make sure you don't leave Florence without trying some authentic Florentine dishes at Mercato Centrale, the city's most famous farmers' market.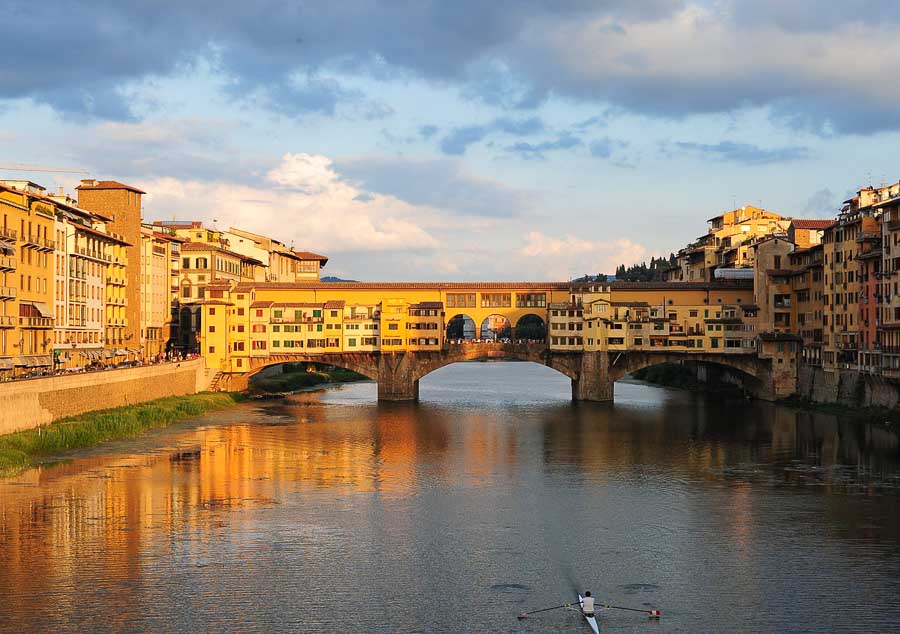 Another option would be to spend only one day in Florence and the following one take a day trip to Sienna, or to Lucca, which has plenty of things to see.
Traveling from Florence to Venice: there are about 19 trains traveling between Florence and Venice. Some of these are high speed trains, which will take you to Venice in 2 hours and 15 minutes. Trains leave from Santa Maria Novela Train Station and the the ticket cost is $15/person.
Crossing over to Venice city center from Santa Lucia Train Station takes about 25 minutes and can be done either by water bus which (called vaporetto), or by water taxi which is much more expensive.
Days 7 & 8: Venice
This itinerary gives you almost two full days in Venice, depending what time you arrive in the morning. That is enough time to visit the city's main landmarks, like the Dodge's Palace, Basilica San Marco, the Campanile bell tower, Rialto Bridge, and the Grand Canal.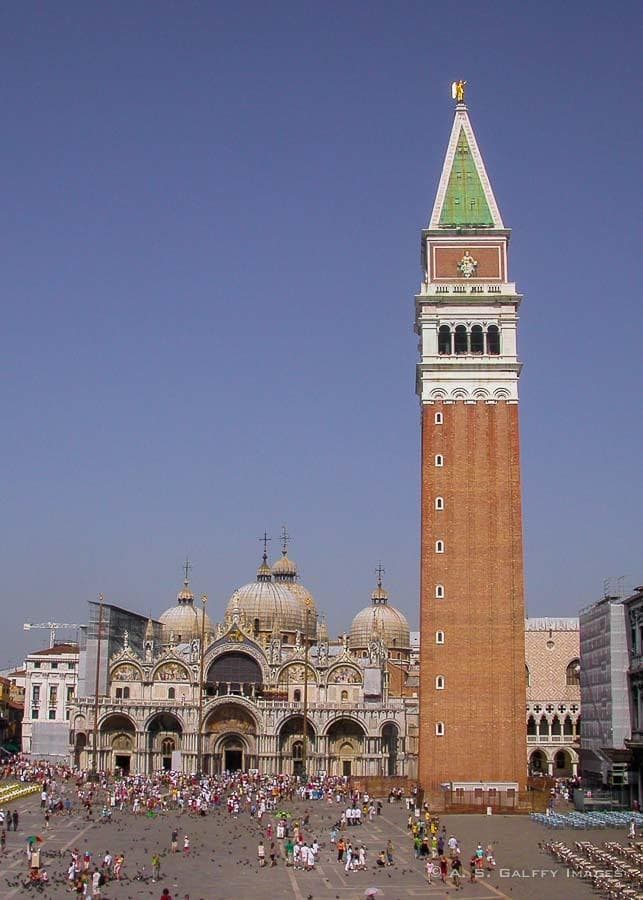 There are many other iconic sites in Venice that you can visit if you have more time. However, the city's charms lies in its quiet corners, small canals and colorful buildings. So just wander aimlessly on the streets, rather than trying to squeeze in more things to do.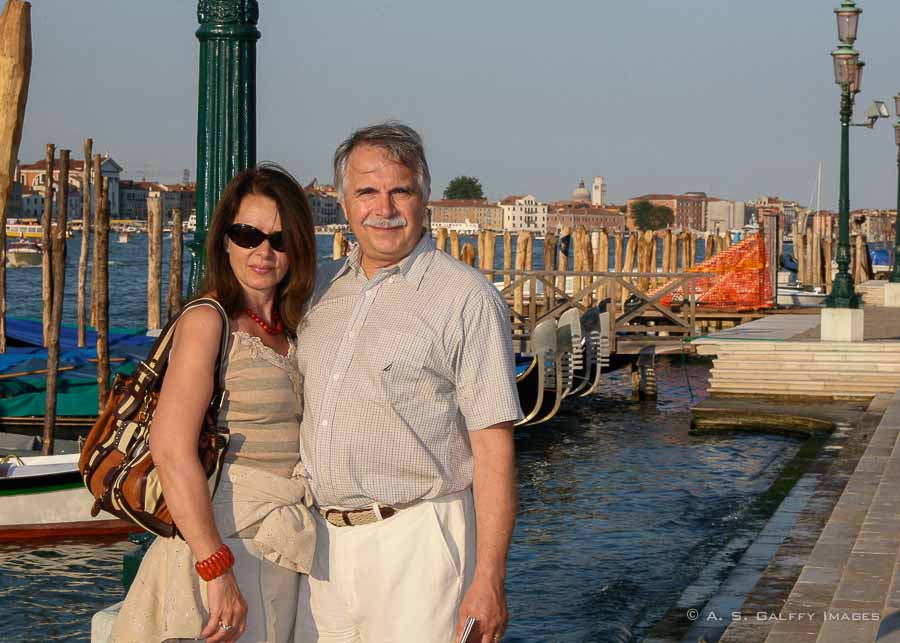 Traveling from Venice to Milan: the fastest way is by taking the Le Frecce high-speed train. The travel time only 2 hours and 25 minutes. Just remember that seat reservations are mandatory.
Day 9: Milan
On the 9th day of this Italy itinerary you'll be visiting Milan. The city makes a good departure point if you are flying to the USA.
You can get a pretty good feel of Milan in one day and you'll have enough time visit some the landmarks that make the city famous. The most important attraction in Milan is the Duomo, an elaborate Gothic cathedral that became the symbol of the city.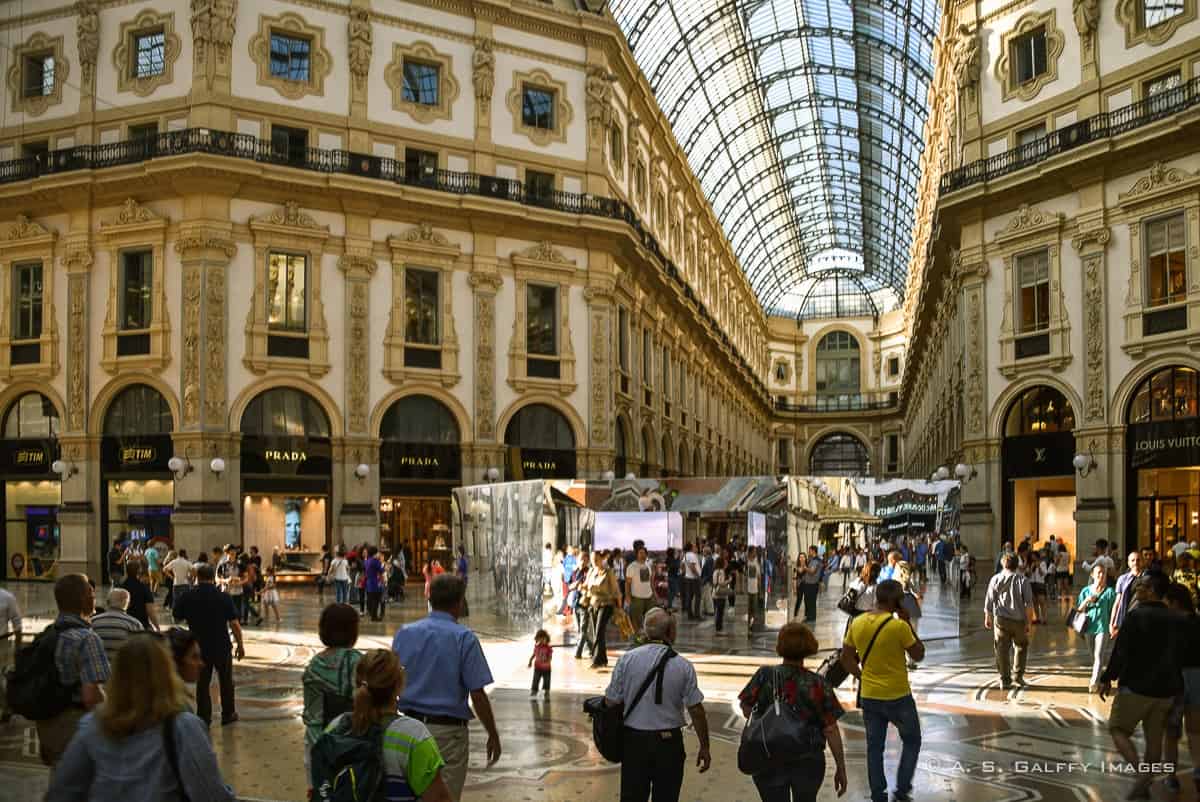 Also very impressive is Galleria Vittoria Emanuele, a five story shopping arcade made of glass and iron and decorated with mosaics and statues.
Day 10: Fly Back Home from Milan
Today you'll be flying home. Most international flights depart early in the morning.

ITALY ITINERARY #2: NORTHERN ITALY
(Milan, Como, Verona, Venice)
Day 1: Arrive in Milan
Day 2: Visit Milan
Day 3 & 4: Visit Lake Como
Day 5 & 6: Visit Verona
Day 7, 8 & 9: Venice
Day 10: Fly back home from Venice
This itinerary includes a couple of places that are unjustly overlooked in Italy: Lake Como and Verona.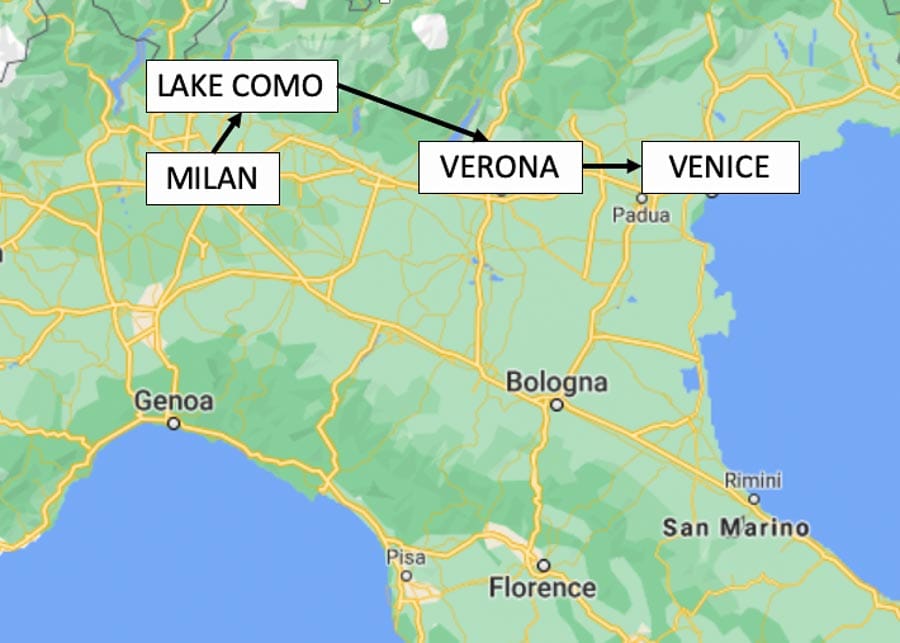 Best time to go. The best time to visit is between April and October, when temperatures are warm and the sun shines the most. Winter weather in Northern Italy (December through March) is cold, with temperatures that can drop below freezing. Summers (July and August) are hot and dry. However, the is great for swimming in the lakes.
Day 1 & 2: Milan
On this itinerary you'll have about a day and a half in Milan, depending on your arrival time.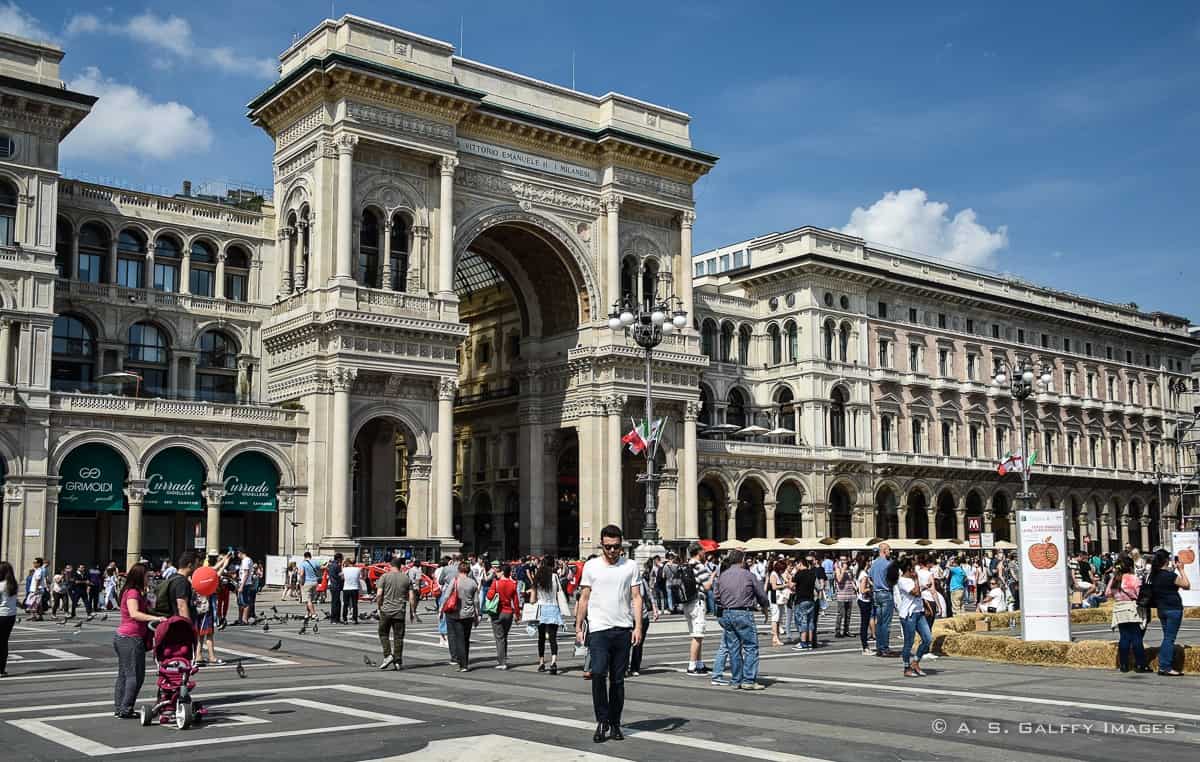 Day 3 & 4: Lake Como
Ideally, you should rent a car for visiting Lake Como, but you can also go by train if you choose to. This is an easy drive that takes about 1 hour and 30 minutes drive (51 km).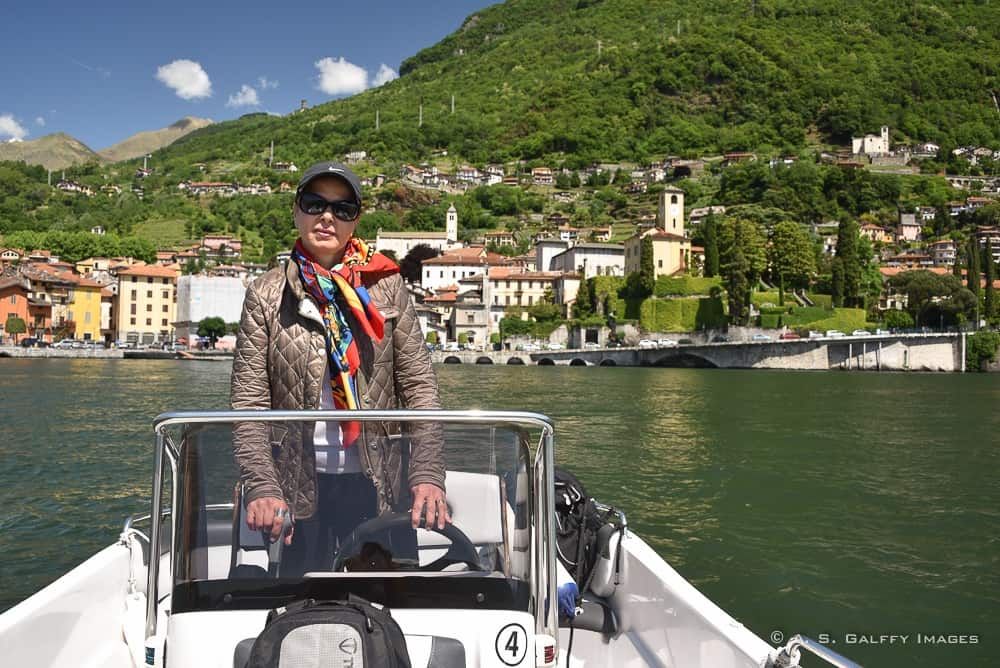 The beautiful villages and resorts around the lake have always been a magnet for the rich and famous. But until George Clooney's real estate purchase Lake Como was not on the radar of mass tourism.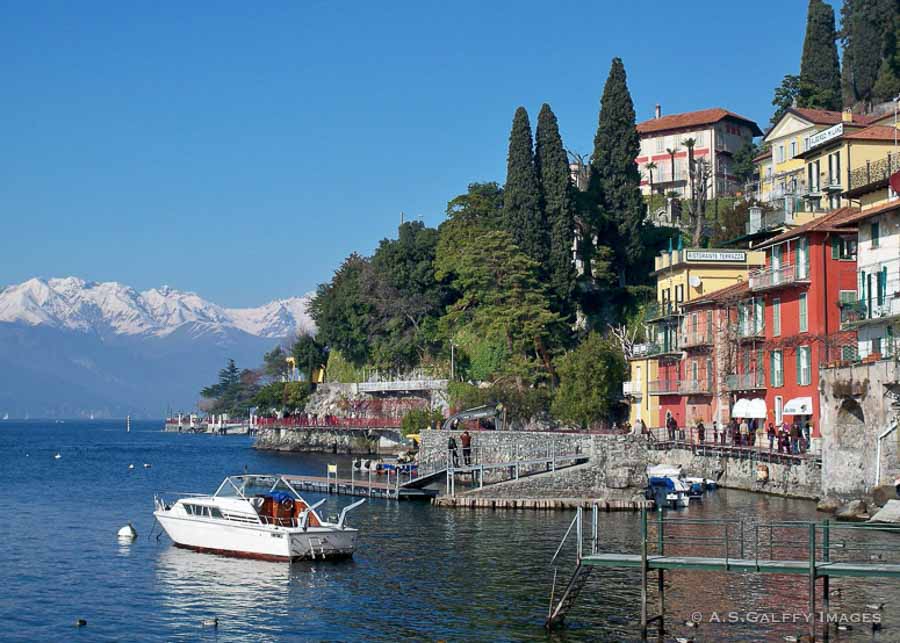 The fame of Como is more about the Lake, which is better experienced in the villages. I recommend staying in Varenna, which is stunningly beautiful. From Varenna you can drive around the lake and stop in different other towns, or take a boat and cross over to visit the famous Bellagio.
Day 5 & 6: Verona
You'll spend part of your 5th day traveling from Lake Como to Verona. If you rented a car for Lake Como, I recommend returning it as you won't be needing it for the rest of this itinerary. There is a direct train from Como to Verona.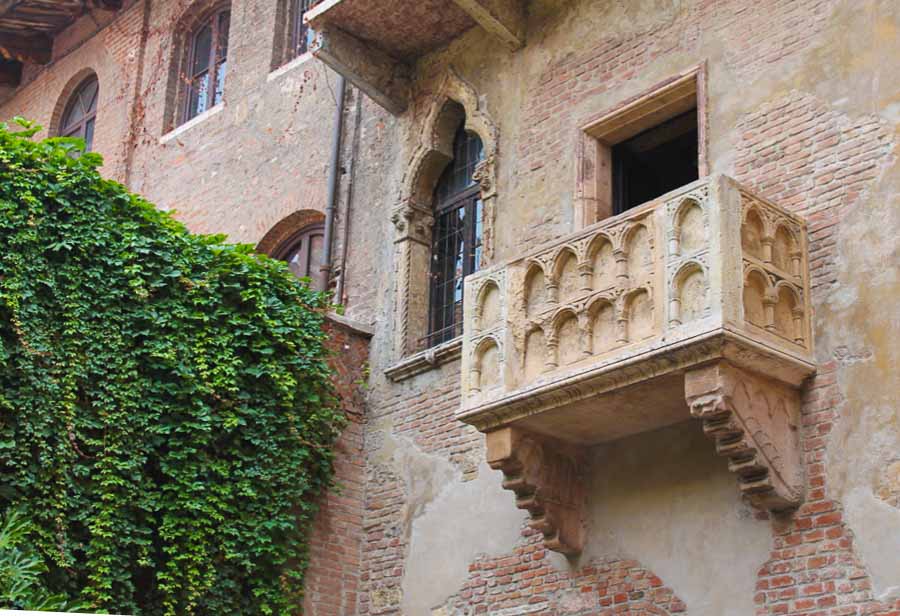 Verona will undoubtedly enchant you with its Roman Arena and Casa di Giulietta, the Gothic-style 1300s house said to have inspired Shakespeare's Romeo and Juliet.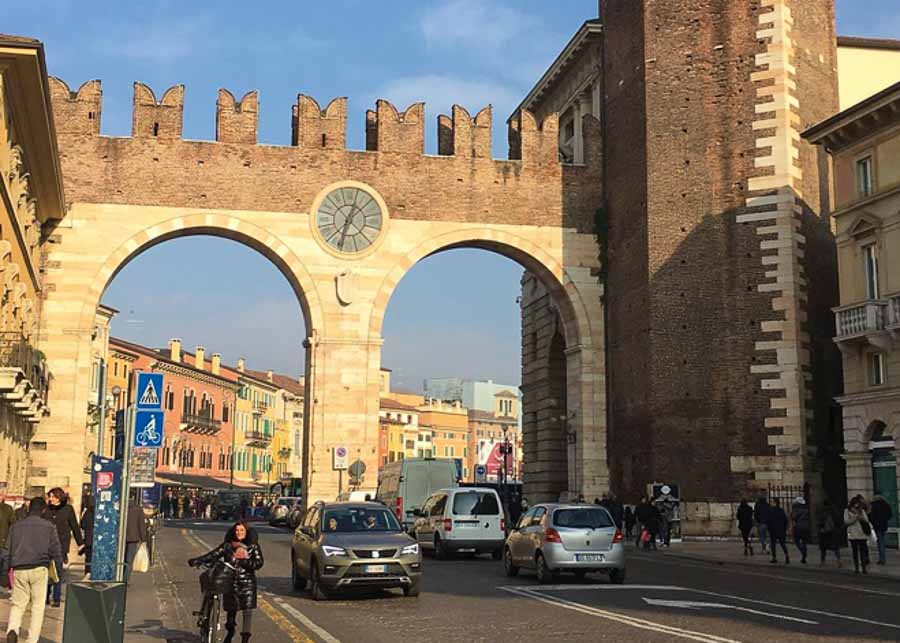 A day and a half should be enough for Verona, although if you can stay longer you won't run out of things to do. You can park your car near the historic center and explored from there.
Traveling from Verona to Venice: There are several direct trains from Verona to Venice. The journey takes 2 hours and 15 minutes on the Regionale (regular trains) and costs around $11 to $20. Or you can use the Regional Veloce (high-speed trains) which take about 1.5 hours and cost between $21 and $30.
Day 7, 8 & 9: Venice
On this itinerary you have 3 full days in Venice, which is about the right amount of time for properly exploring the city.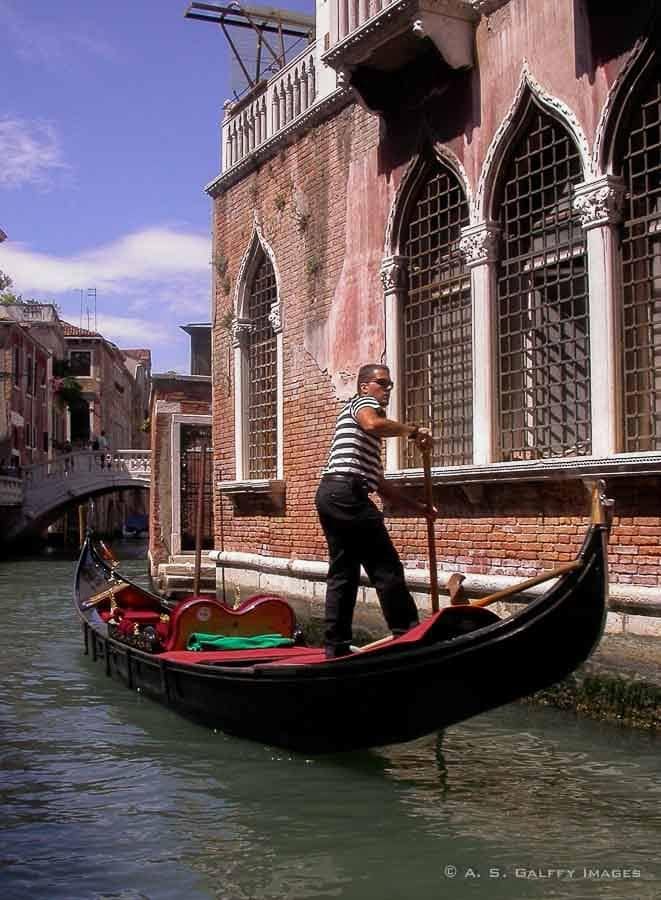 There is a lot to see and do in Venice if you want to spend the entire time exploring the city. However, you may use the extra day to visit the islands of Murano, Burano, and Torcello.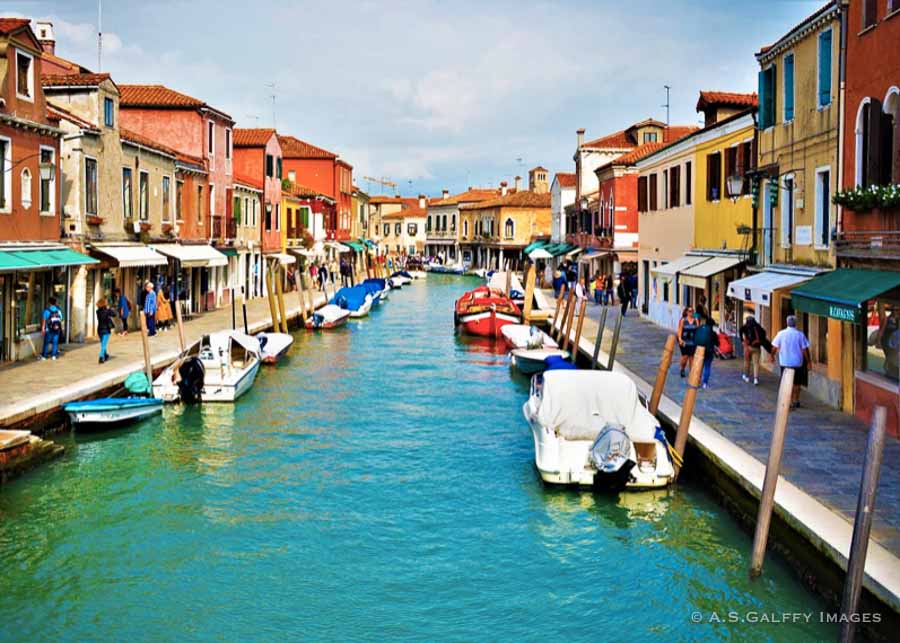 Day 10: Fly Back Home from Venice
Today you are flying back home. There are no direct flights from Venice to the United States, so you'll most likely connect in Rome or some other European city.

ITALY ITINERARY #3: Central Italy
(Florence, Siena, Bologna, San Marino, Perugia, Rome)
Day 1: Arrive in Florence
Day 2: Visit Florence
Day 3: Tuscany (visit Siena)
Day 4: Bologna
Day 5: San Marino
Day 6: Umbria (visit Perugia)
Day 7, 8 & 9: Visit Rome
Day 10: Fly back home from Rome

This itinerary offers a combination of big, vibrant cities and small medieval towns in central Italy. It's great for people who like big cities, but also like to go off the beaten path.
For this itinerary you should be renting a car in order to save time. While it's possible to do this by train, there are more direct routes when you drive.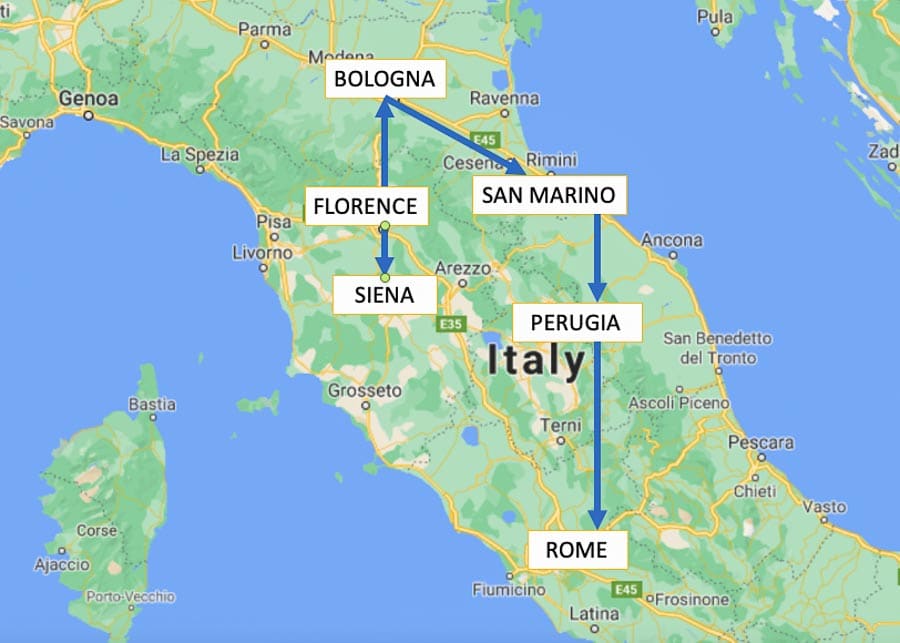 Best time to go: The best times for this itinerary is the spring and fall. From late May to mid-September Italy is overflowing with visitors. July and August are the worst months to visit.
Day 1 & 2: Florence
With this itinerary you'll stay 2 nights in Florence, but you only have one day to explore Florence, depending on the time of your arrival.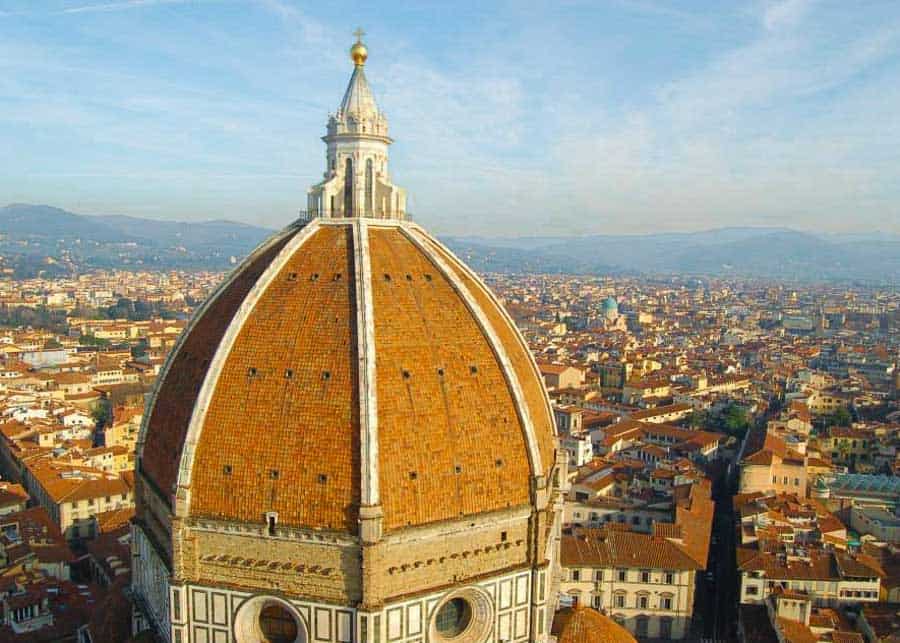 However, that should give you enough time to see the city's most important landmarks, like Like Piazza della Signoria, Palazzo Vecchio, Loggia dei Lanzi, Ponte Vecchio and the Duomo of Florence.
Day 3: Tuscany (Siena & San Gimignano)
Since you have a car, you should spend your 3rd day in Italy driving through the beautiful Tuscan countryside.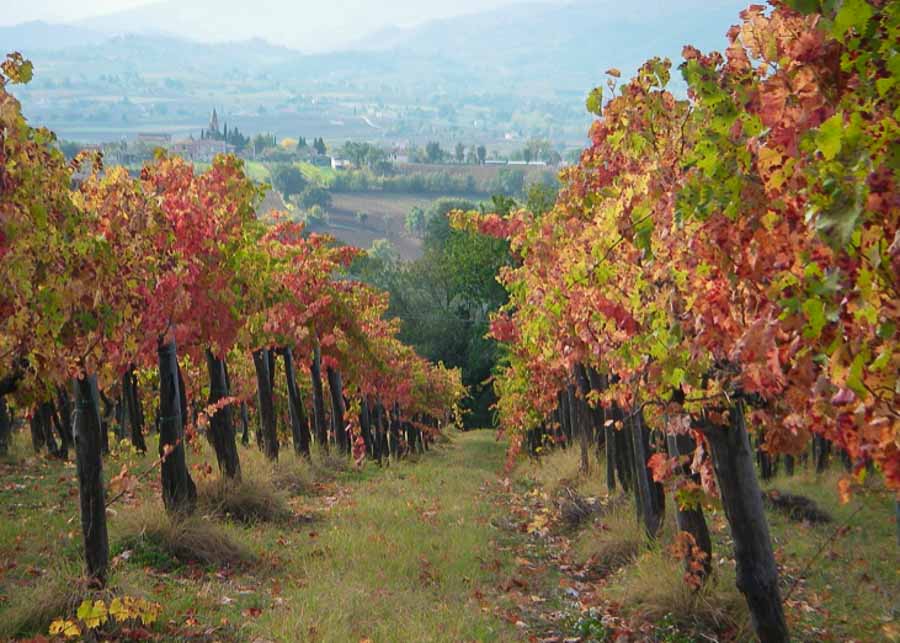 Tuscany is one of Italy's most popular travel destinations, famous for its medieval towns, rolling hills filled with vineyards and olive groves.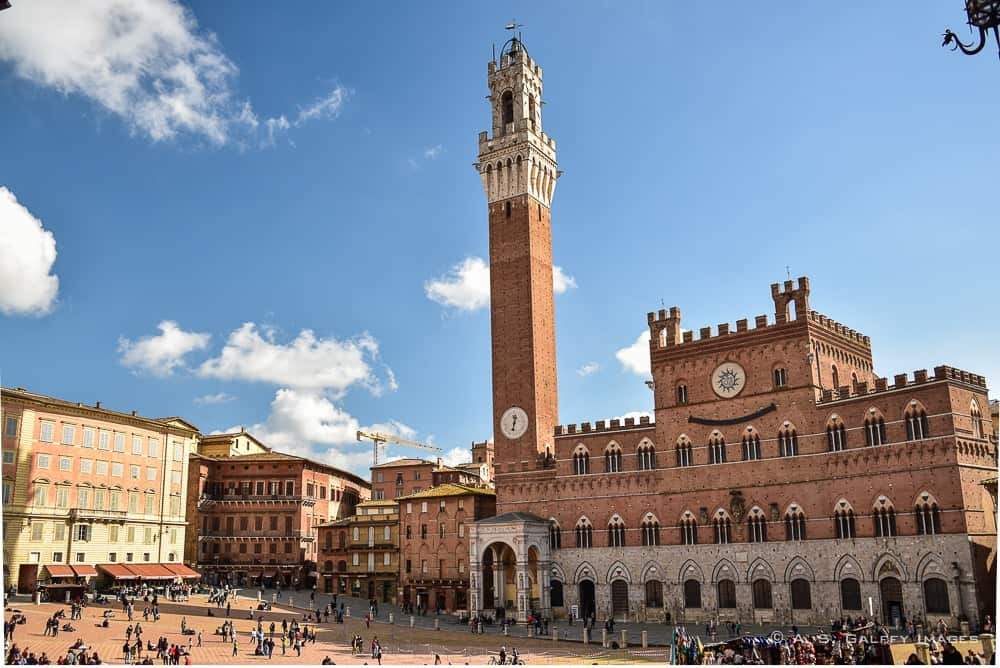 You should take an easy day trip to Siena, which is only an hour away from Florence. On the way you should stop in San Gimignano and try some fantastic ice cream at the Gelateria Dondoli. Their gelato is famous all over the world, so many celebrities come here for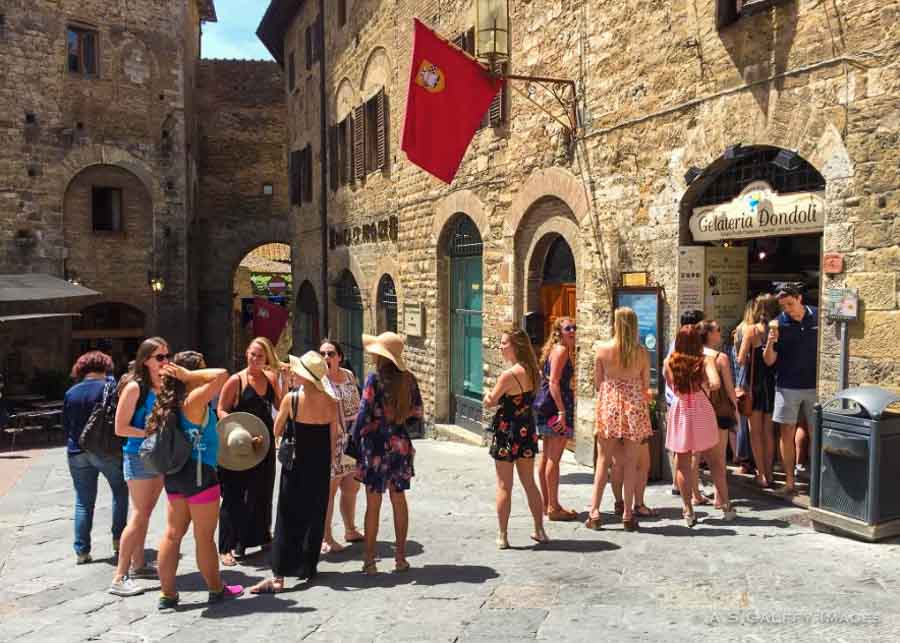 Day 4: Bologna
If you leave Florence in the morning, you'll have one full day to visit Bologna, which is more than enough to see its most popular sights, including the Two Towers, Piazza Maggiore and Archiginnasio.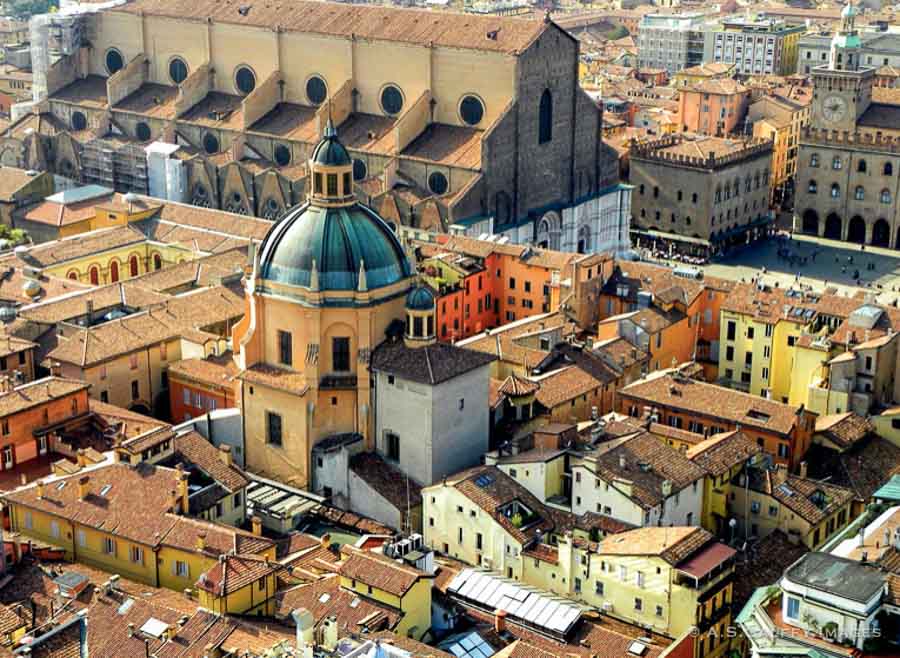 You'll love the city's lively atmosphere and delicious restaurants! Tonight you should check into a hotel in Bologna. The next morning after breakfast, you can start your drive for San Marino (it takes about 1 hour and 35 minutes.)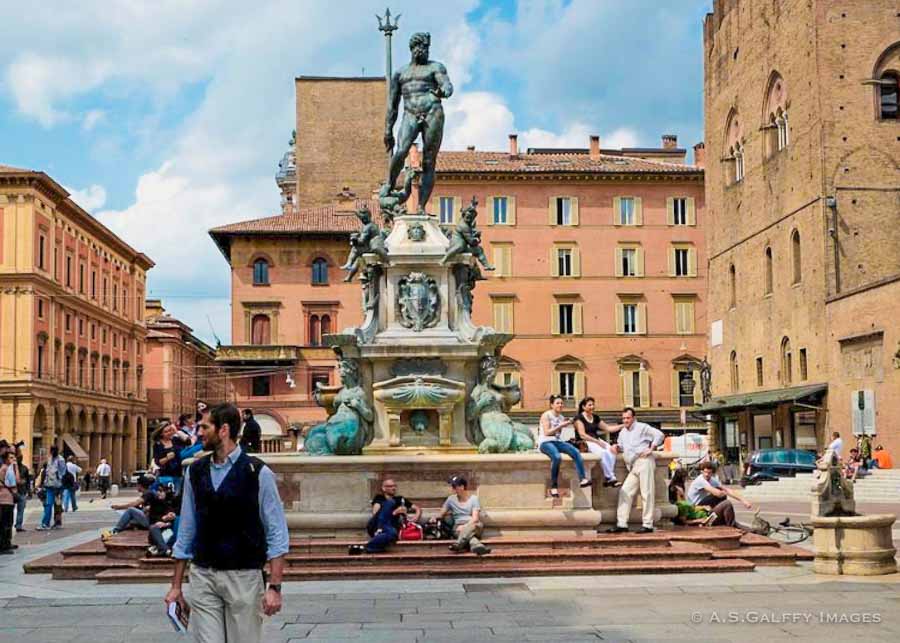 Day 5: San Marino
San Marino is actually a small country totally surrounded by Italy. Despite its fascinating location and charming old town, San Marino is one of the most underrated destinations in Europe!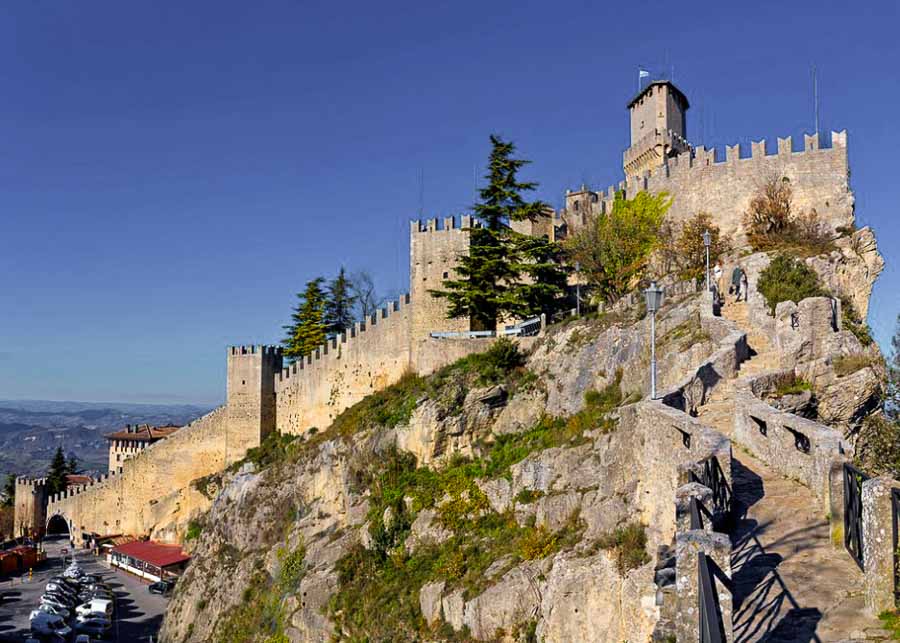 You'll only have a day to visit it, but you don't need more. The old town is actually really small, so most people visit San Marino on a day trip.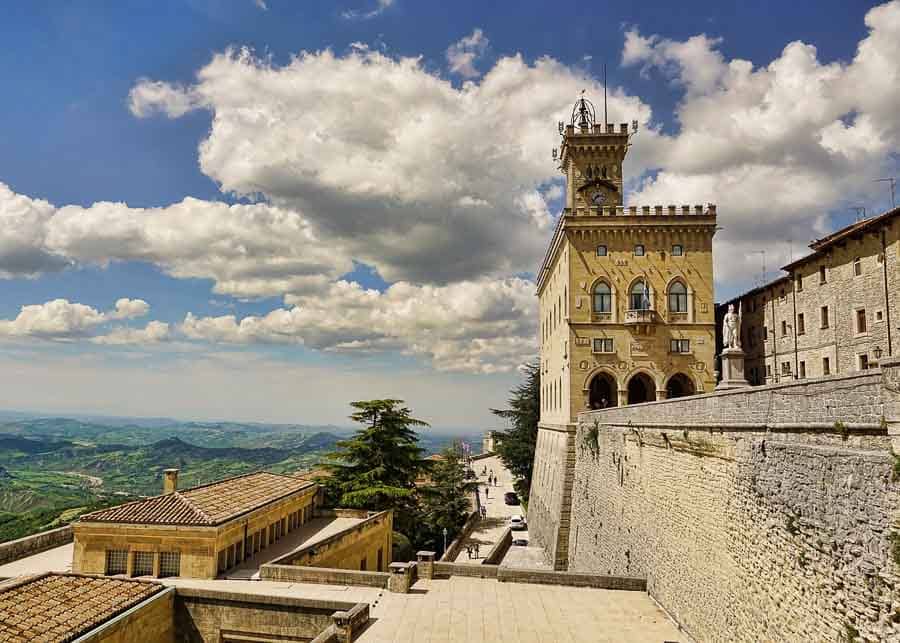 If you came by car, you can park in one of the parking garages at the bottom of the Old Town. From there you can either use the elevator to go up the mountain or take the funicular from the small village at the bottom of Mount Titano.
Day 6: Umbria (Perugia)
You'll be spending a good part of your 6th day driving through Umbria. This region has been called "Italy's Green Heart" because is green and mainly agricultural. There are plenty of interesting and historic towns to discover in Umbria, but on this itinerary I've only included Perugia, the capital city of the region.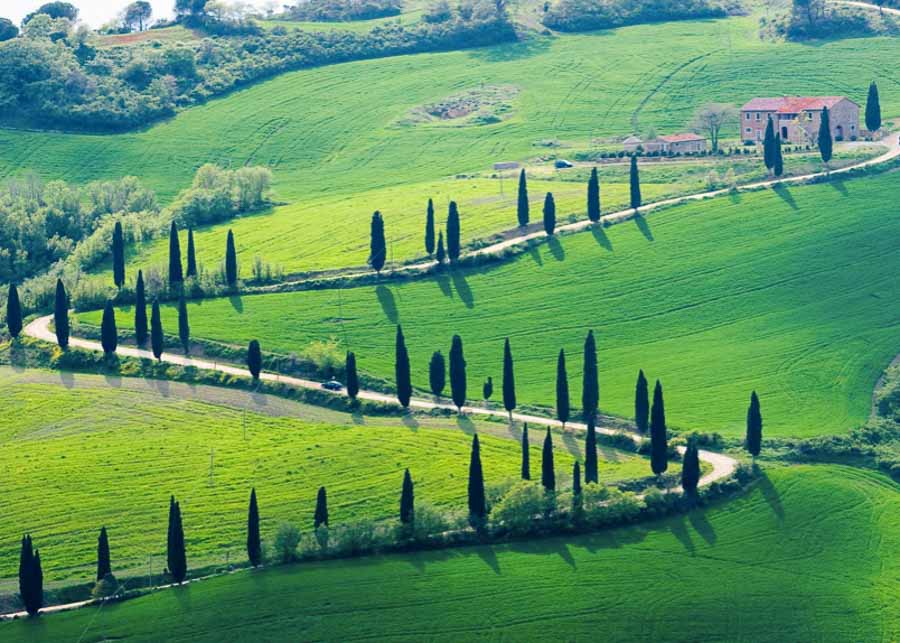 Perugia is a very old city, dating back to the Etruscan period. It doesn't have the frenetic pace of cities like Rome, but it has charm and it gives you a glimpse into the Italian lifestyle.
The city sits up on a high rock and kind of tumbles down the hillside – which means there is a LOT of walking up and down the hill to see it all.
TIP: There is a mini-metro you can take on one flank that allows you to reach each level. That will save you some time and energy.
Day 7, 8 & 9: Rome
You'll spend part of your 7th day on the road, driving from Perugia to Rome. If you start your trip after breakfast, you'll arrive in Rome around noon (driving time is about 2.5 hours). Drop your luggage at the hotel and then return your car, as you won't be needing it in Rome.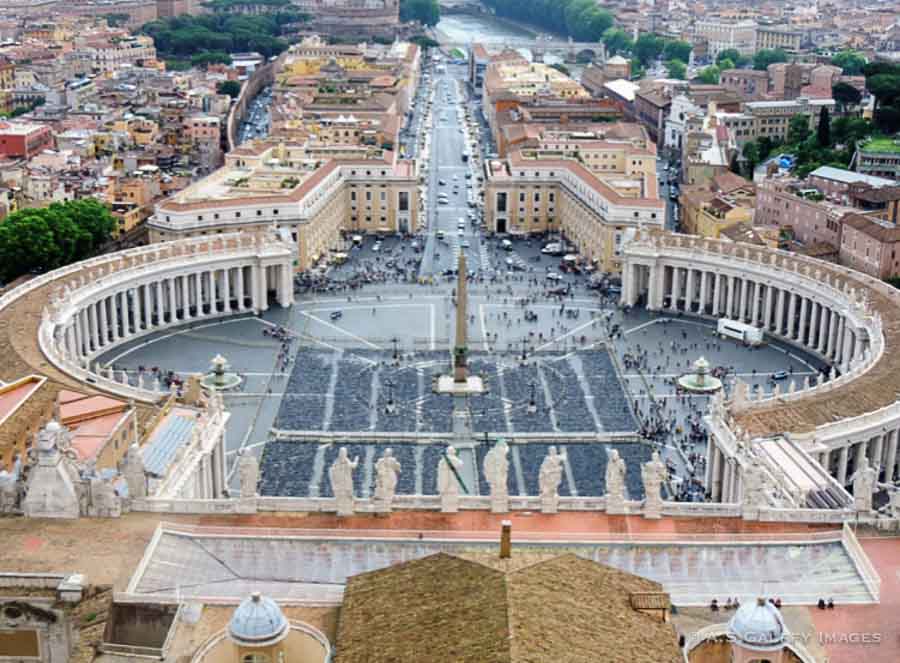 This itinerary gives you only two and a half days in Rome, so plan your time carefully as Rome has plenty of interesting sites to see.
Day 10: Fly back home from Rome
Your 10 days Italy itinerary ends in Rome, so today you'll be flying home. Most international flights depart from Rome very early morning.

ITALY ITINERARY #4: Southwest Italy (Amalfi Coast)
Day 1: Arrive in Naples
Day 2: Visit Sorento
Day 3: Capri
Day 4: Pompei & Herculaeneum
Day 5: Cumae Archeological Park
Day 6: Puzzuoli (Campi Flegrei)
Day 7: Amalfi Coast (Positano, Ravello, Amalfi)
Day 8: Salerno
Day 9: Paestum
Day 10: Fly back home from Naples
This itinerary includes a lot of archeological sites as well as some spectacular stretches of coastline. It does however require renting a car.
The only difficult part to drive is the Amalfi Coast, which is very similar to driving the Pacific Coast from L.A. to San Francisco. If you don't want to drive, you have the option of riding the bus, at least for the Amalfi Coast excursion.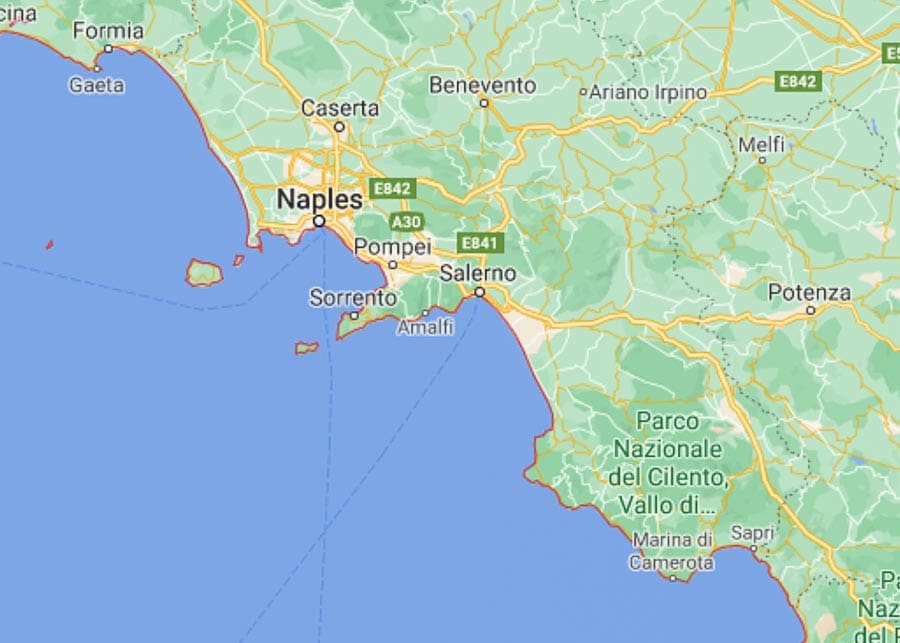 Best time to visit: this 10 day itinerary is based on a trip we took in southern Italy in late September, early October. Fall a good time of the year to travel to the Amalfi Coast and Calabria: the weather is still warm and the peak tourist season is over, therefore the beaches are not so crowded.
Day 1: Arriving in Naples
The best landing point for this itinerary is Naples. As a city, Naples is not particularly interesting, so you should head straight to Sorento.
Day 2: Sorento
Sorento is a very picturesque town overlooking the Bay from Naples and a great base for exploring the Amalfi Coast. Its historic center is a good place to wander, shop, or join the evening stroll.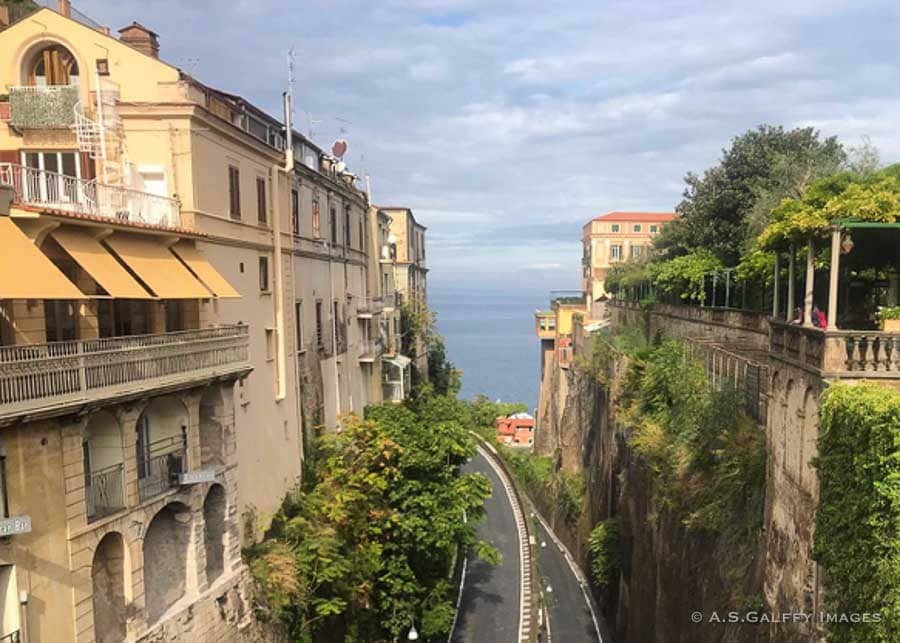 Day 3: Capri
You'll spend the 3rd day of your southern Italy itinerary visiting the fabulous island of Capri, which is just a ferry ride away from Sorento. Capri actually includes two towns: Capri and Anacapri.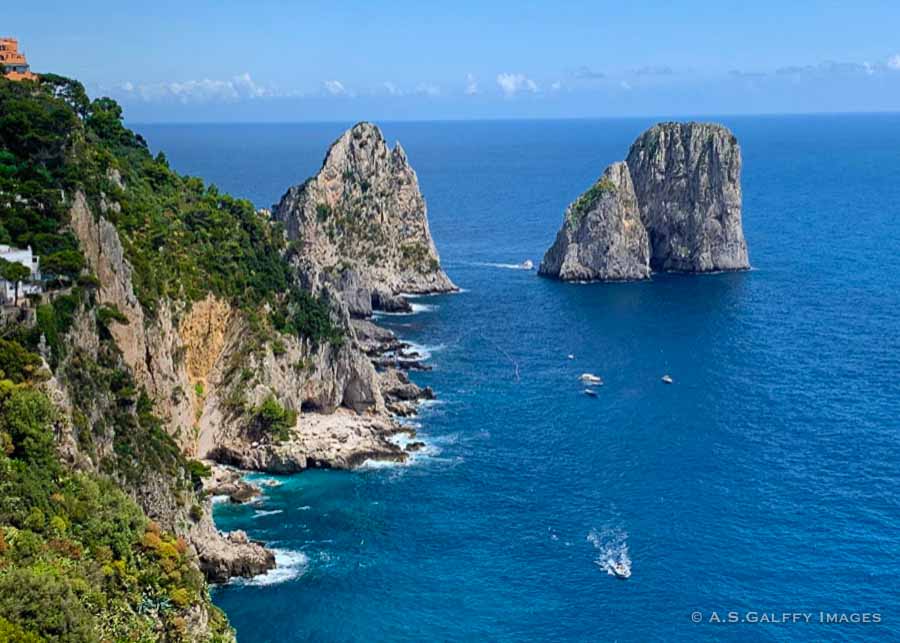 You have many choices on what to do on a day trip to on the island. You can do walks and hikes, visit churches, or just eating and relaxing. I strongly recommend a boat tour around the island and to the Grotta Azzura (Blue Grotto).
Day 4: Pompeii and Herculaneum
These two Roman cities were buried in ash during the eruption of Mount Vesuvius in 79 A.D. and are considered among the most important archaeological sites in the world.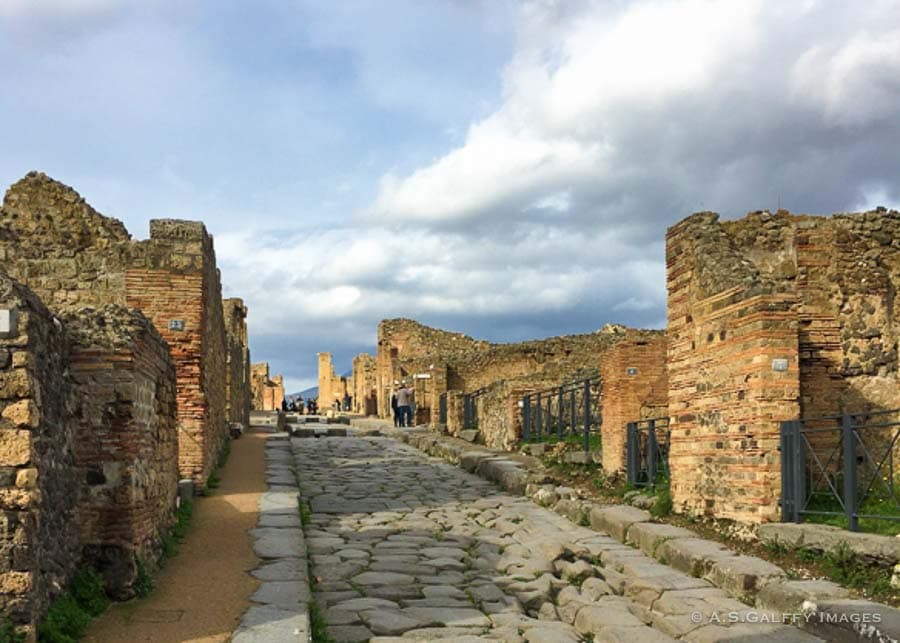 Both Pompeii and Herculaneum have been preserved in a state of "suspended animation." Life was suddenly frozen in time by the catastrophic volcanic eruption.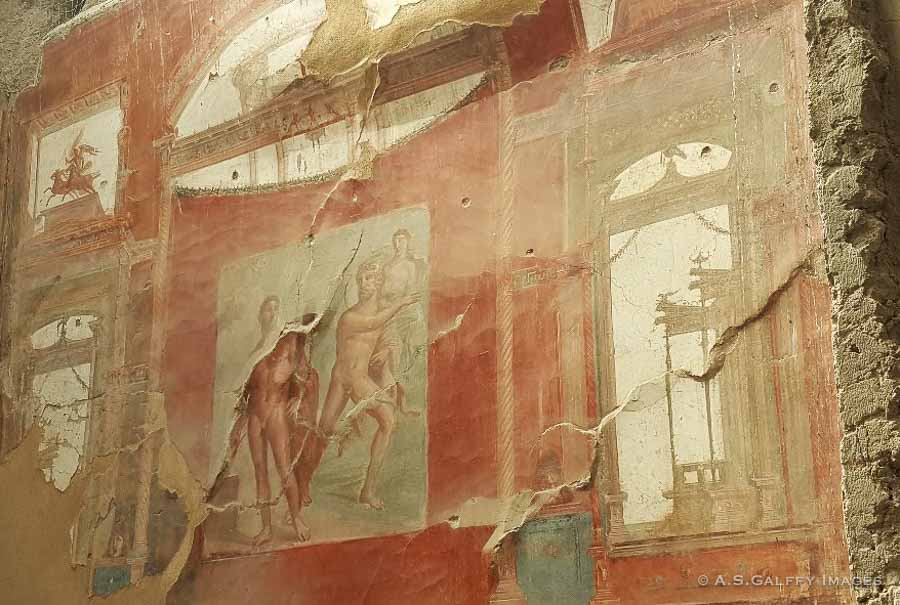 While Pompeii is a much larger and more striking site, Herculaneum is better preserved as it was covered in a layer of protective mud and volcanic ash.
Day 5: Cumae Archeological Park
Today you'll be visiting the archeological Park at Cumae. The park is home to the fabled Cave of the Sibyl—one of the greatest oracles of antiquity —who is said to have presided over the destinies of men.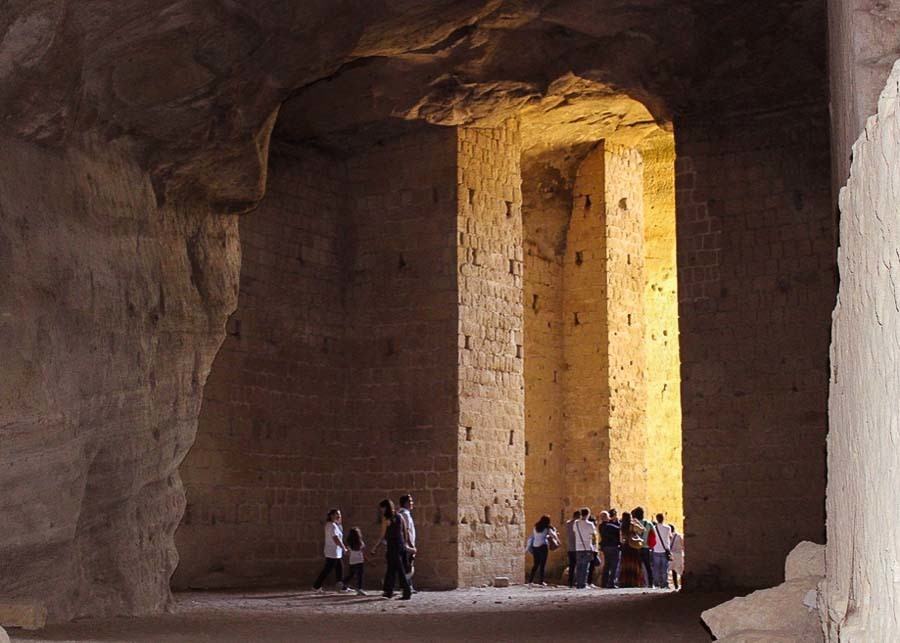 The site is about 1 hour and 15 minutes away from Sorento, by car.
Day 6: Puzzuoli
Puzzuoli is worth visiting for its "burning fields" (the Campi Flegrei) – a large, 13-km-wide nested caldera located under the Gulf of Pozzuoli.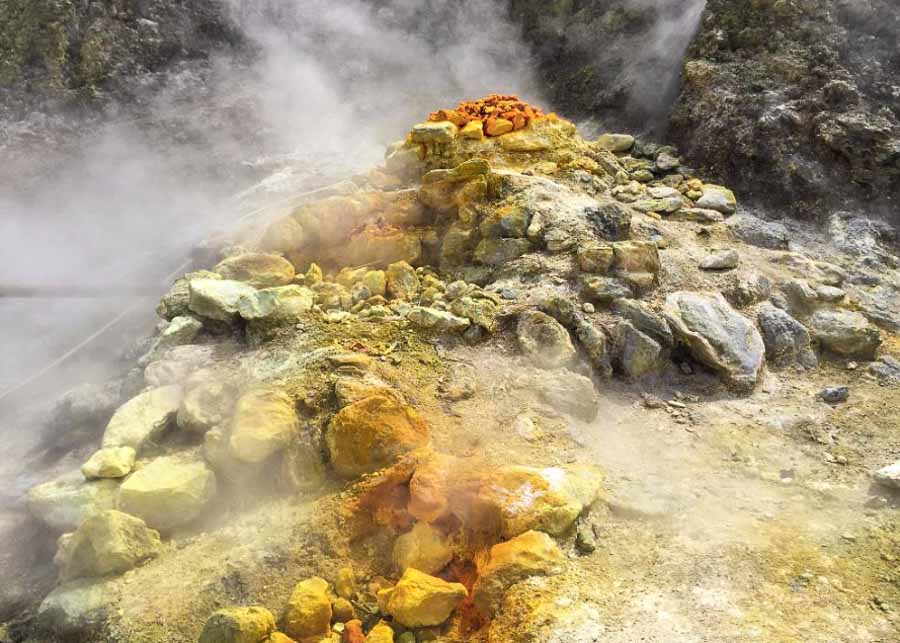 Another great attraction is the underground archaeological site of Rione Terra, an ancient Roman colony founded in 194 B.C. which later became the commercial port of Rome.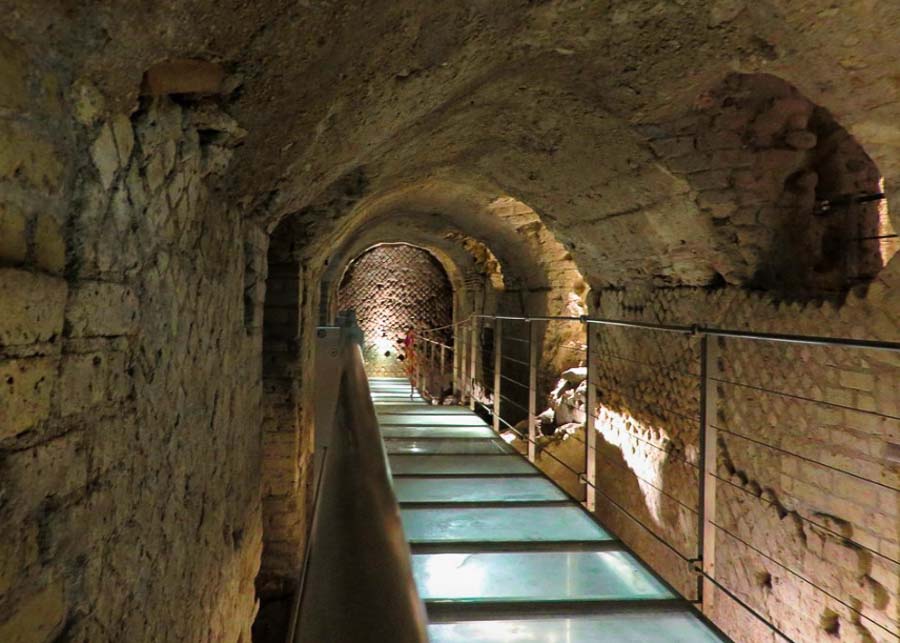 Day 7: Amalfi Coast
Today you'll be driving along the Amalfi Coast, stopping to visit some of the many small towns along the way.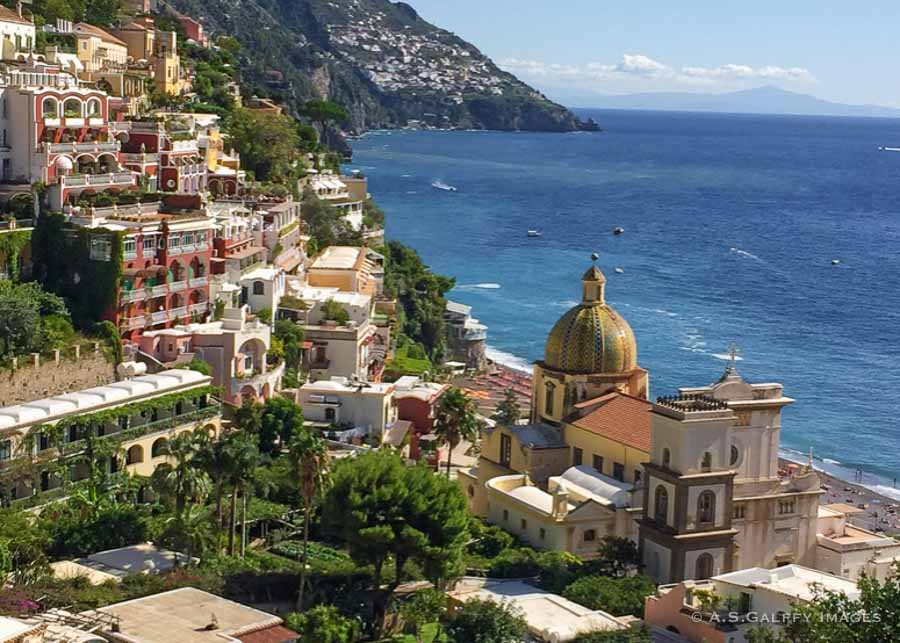 I recommend spending some time in Positano, Ravello, and Amalfi. All these seaside towns have beautiful beaches and excellent restaurants.
Day 8: Salerno
Spend your 6th day visiting the historical center of Salerno. You can walk along the Trieste Promenade, take a tour of the Arechi Castle, or visit the Minerva Gardens and the Villa Comunale.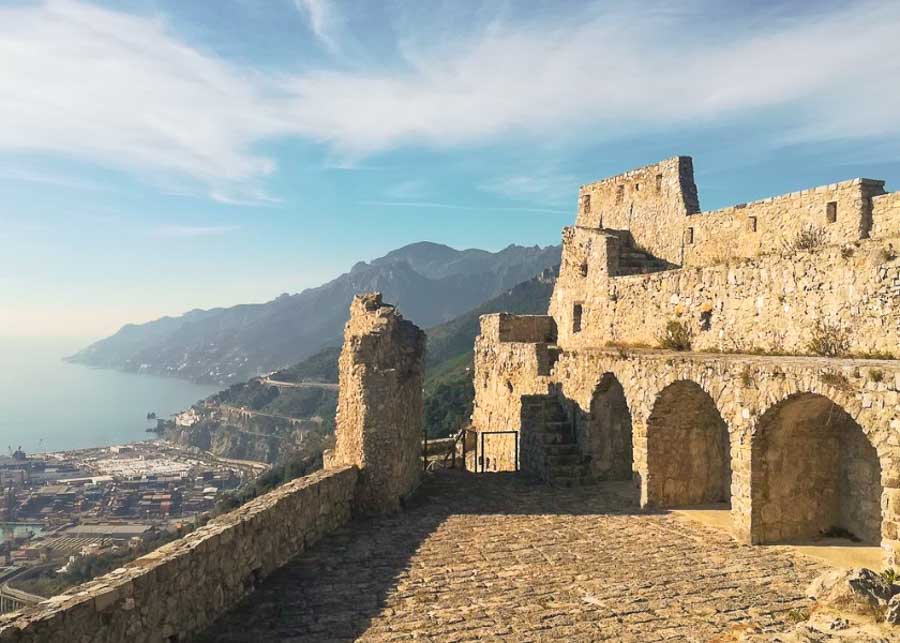 I recommend spending the night in Salerno, as your itinerary will continue south from here.
Day 9: Paestum
Paestum deserves a FULL day visit. The site includes the ruins of three ancient Greek temples dating from about 550 to 450 BC, which are very well preserved. The city walls and amphitheater are almost intact and very similar with the ones you may see in the Valley of the Temples, Sicily. I recommend touring the museum first.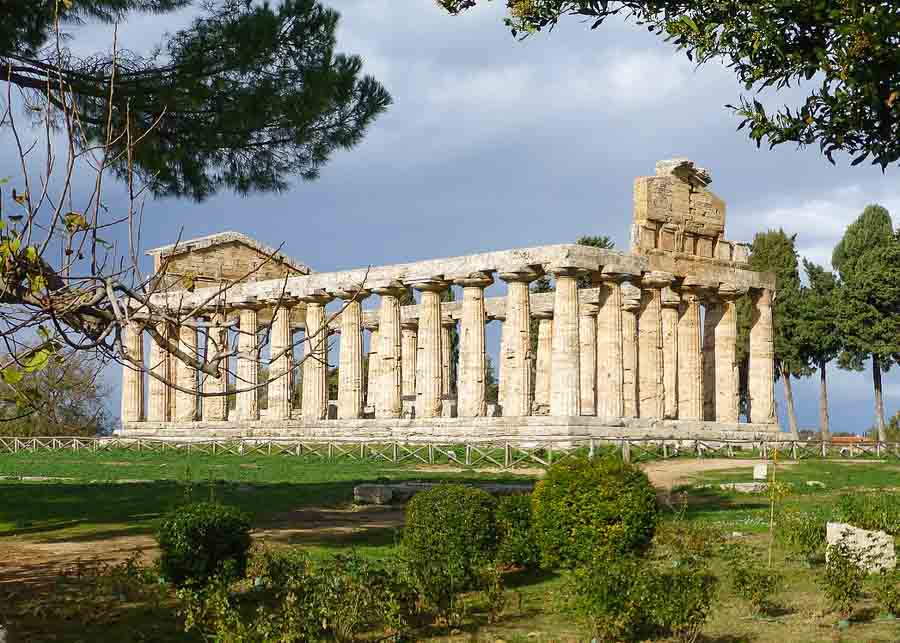 After visiting Paestum, you can return to Naples and check into a hotel for one night. Or spend another night in Salerno and drive directly to the airport the following day, depending what time your plane leaves.
Day 10: Fly back home from Naples
Your 10 days in Italy itinerary ends today. You'll be flying home from Naples. However, if you are headed overseas you'll have to change planes either in Rome or in some other European city.
More Than 10 Days in Italy?
If you have more time in Italy, you can extend the number of days you spend in each city. There are endless side trips that you can take from each one of them and many fun things to do.
A Final Thought
This guide is a good resource if you intend to visit Italy independently. But if you prefer an organized tour, there are plenty of great tours of Italy to choose from.
Hope the 4 itineraries above gave you some ideas on how to spend 10 days in Italy. And if you like a place you saw, make a plan to return and explore it more in depth. 10 days will barely be enough to scratch the surface of what Italy has to offer.

YOU MAY ALSO LIKE:
How to Dress Like a European – Packing Guide for Europe
Best Time to Visit to Europe – Understanding the Travel Seasons in Europe
12 Tips for Traveling to Europe Like a Pro

PIN THIS FOR LATER!